ELV note: We know the title of this web site is "Eating Las Vegas," but we also know that you know that we do not confine ourselves simply to the pleasures of dining in Sin City. Indeed, we travel the world, calibrating our palate to the cuisines of its greatest chefs, the better to give us (and you) a baseline from which to judge all great restaurants. Below is our love letter to the enchanting hotel we visited late last year in Germany's Black Forest ("Schwarzwald" – pronounced SCHVARTZ-vald). We hope you get a chance to visit there someday, but even if you don't, we hope you will take some pleasure in living vicariously through our travels, and through these words and pictures.
There's a lot to do at the Traube Tonbach. Spas, swimming (indoors and out), skiing, hiking, exploring the picturesque valleys and towns of Baiersbronn, all await you, all while taking in some of the crispest, cleanest, pine-scented air in the world.  If you're the shut-in type, you'll find nothing to complain about either. The 153 rooms are enormous, the bathrooms even more so, and it seems everywhere you look (out of giant, wood-trimmed windows) you see one stunning, forest view after another.
Calling the Traube enchanting is an understatement. From the traditional Tyrolean garb of the crackerjack staff:
…..to the oversized, Black Forest decor, everything about it has a formal-yet-friendly precision that seduces you from the moment you sink into an overstuffed chair or start sipping a crisp glass of Riesling. You can be as laid back or active as you wish at the Traube Tonbach, but what you really ought to be doing is eating.
Harald Wohlfahrt's Schwardwaldstube (pictured below) has held three Michelin stars since 1992. The name means "Black Forest Room" and the thickness of the wood, the chairs and the linens give not a clue as to the lightness and freshness of his cuisine.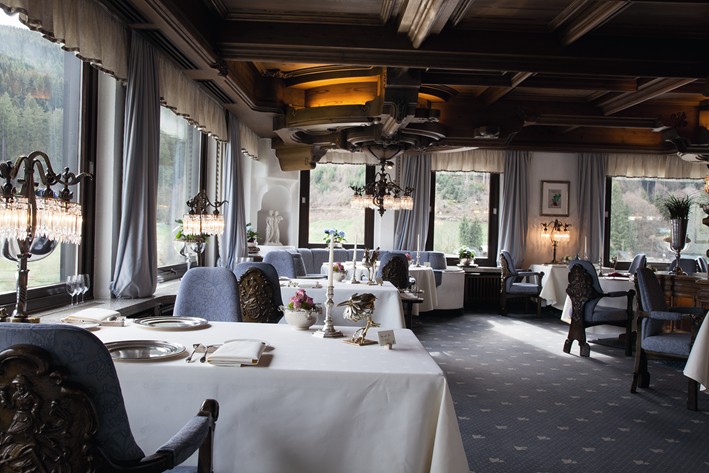 The room only seats 40 customers, but so precise is the food, you get the feeling that there are at least that many cooks in the kitchen. Wohlfahrt told me (through an interpreter) that his cuisine has become more international over the years, and like most chefs in this league, he now plays with flavors from around the globe. Some might fault him for letting these flights of foreign fancy overtake him, such as when he accompanies beautiful poached Gillardeau oysters with ponzu jelly, shredded beetroot and horseradish, plus a chives vinaigrette, but to my mind, everything harmonized the way it's supposed to with highfalutin fusion food. What Wohlfahrt's elemental, not-bashful cooking told me was that I was in a bigger, bolder, German version of a French restaurant, not a dainty Gallic one.
"Not bashful" would be my same description of the Swabia-meets-Bologna construct of  Wohlfahrt's ravioli. Stuffed with a moist, dense, "confit" of calves head, and garnished with sweetbreads, and tongue — it was elegant and earthy, not an easy feat in any language. Festooned with truffles, it was part French, part Italian, and definitely Deutsch, and genuflected to all three cuisines without surrendering to the heaviness of its pedigree.
 From there, our meal proceeded seamlessly through meaty slices of wild turbot in an intense, sea urchin nage, through local "homegrown" venison in a juniper sauce that tasted of a hunter's bounty, if he happened to be a Michelin-adorned superstar. This is cold weather, nip-in-the-air eating at its finest, I thought to myself — food that matched the evergreen forest surroundings as much as the heavy, carved wood upon which we sat.
 As wonderful, and of-its-place as our game and fish repast was, it was my wife's vegetarian meal where the kitchen really proved its mettle. Six courses of jaw-dropping variety that were even more stunning than the proteins — variation of carrots in a black tea emulsion, grilled pineapple and confit of fennel in a Ricard Pernod/passion fruit stock, and a potato-mushroom ravioli with caper jus and chanterelles — any and all of which could make you forget about meat altogether. This sort of high-wire, multi-dimensional, vegetarian cooking proves how exciting vegetables can be when placed in the right hands. As with my meal, every course was a show-stopper, but the highlight was an egg white souffle encasing a reinserted yolk with a white truffle sauce so intense I had to check my pulse.
About the only clinkers in the meal were the desserts, that seemed terribly overwrought — almost as if the pastry chef was trying too hard to keep up with the pirouettes taking place on the savory plates — and a serious service lapse towards the last quarter of the meal, when everything seemed to slow to a crawl. To be fair, there were several large parties in the restaurant, all of whom were spending way more money on wine than we were, so that may have backed up the kitchen. By the way, this was the third Michelin 3-star meal I've had in the last year — the others being at Meadowood in Napa Valley and Auberge de L'Ill in Alsace — where the highly visible and solicitous maitre'd seemed to disappear from the dining room for the second half of the meal. Perhaps this is the 21st Century job description: show up, look good, kiss hands, and then vanish. Or perhaps these impeccably groomed face men have second jobs posing in department store windows. Either way, it strikes a small, discordant note where there should be none.
As for wine, the list is extensive (750+ labels, 36,000 bottles) and shoulder deep in great German and Alsatian Rieslings.  Markups were more than fair — especially compared to New York and Las Vegas — with dozens of great bottles for 100 euros or less. My rule of thumb when star-grazing in Europe is to look for bottles in the 50-100 euro range, and I'm consistently amazed by the quality at those prices. I took the wine pairing with my degustation, and it, along with our young sommelier (who didn't disappear from the room) was superb.
The Schwarzwaldstube would be a fitting crescendo to anyone's visit to the Traube, but we worked in reverse order for our two day stay. Dinner number two found us again across the street from the main hotel (at the original, heavily timbered inn that now houses the "Black Forest Room," an international restaurant (that we didn't try), and a traditional restaurant (the Bauernstube) that we did. Those timbers, low ceilings, plaster walls and wooden benches give the Bauernstube (pictured above) a distinctly 18th Century feel, but this being the Traube, the linens are as thick and crisp, and the table ware every bit as formidable (if several clicks more casual) than at its starred sister restaurant down the hall. They share the same wine list, and the food is every bit as satisfying and rib-sticking as you would expect southwestern German food to be.
Being strangers to Swabian cuisine, we didn't know what to expect, although we suspected that the six mile hike we took earlier in the day was probably a good idea. As with every German restaurant, the difficulties of the language are always looming to surprise you with a disconnect between what was described, what you thought you ordered, and what shows up. For example: three, fist-sized stuffed ravioli are described as a "snack" on the menu, but what appears could fill up a sumo wrestler.
(In a similar vein, a chef once told us he mistakenly ordered a plate of butter as an appetizer in a German restaurant.)
Undaunted by our "snack," we sallied forth with the rest of our meal and found everything to be as enjoyable as a meal of golf ball-size sweetbreads (used to "garnish" a perfect blanquette de veau, no less), tennis-ball sized liver dumplings, football-sized noodles, and brook trout can be. The trout tasted as if it had jumped right from the stream onto our plate (because it almost did, we were told), and, filling or not, those dumplings, veal and sweetbreads are two dishes I'm still dreaming about.
My parents told me decades ago about the wonders of German breakfast buffets in upscale hotels, but it wasn't until I forced myself into an early awakening on my second morning here that I saw what they were talking about.
"Get here early," one of the staff told me, and so I did, bleary-eyed and still wrestling with my weightlifter's repast of the night before.
What I confronted was more temptation than any one man should face while he's still digesting Swabian dumplings: Every bread and pastry imaginable, right out of the oven. Miles of meats, cheeses, fruits, jams, and jellies. Scores of butters and spreads. Eight kinds of milk. A dozen fresh-squeezed juices. Every kind of smoked fish you've ever heard of and more sausages than you can shake a stick at. Carved beef, cured ham (four kinds!), smoked ham, eggs out the wazoo and half a dozen local honeys. Aged fromage from all over Europe, and did I mention the pastries and meats?
And the wurst was yet to come!
 Forgive me, but I've waited twenty years to use that joke in a food article, so you're stuck with it.
Everything from the coffee to the head cheese was exemplary, and the finest of its kind of any buffet I've ever been to. It was so good it restored my faith in overeating.
My parents were right: The Germans do breakfast better than anyone. Their hotels and 3-star restaurants concede nothing to the French, either, with everything correct down to the last detail. Michelin is right too: this magical place is definitely worth a special journey.
Our dinner for (two tasting menus + one wine pairing) at the Schwarzwaldstube came to 461 euros including a generous tip. (Yes, they tip in Germany, usually around 10%.) The Bauernstube dinner was 108 euros, and I don't remember what the breakfast buffet cost, but it's worth anything they want to charge for it.
HOTEL TRAUBE TONBACH since 1789 – Familie Finkbeiner KG
72270 Baiersbronn im Schwarzwald, Germany, Telephone +49 (0) 74 42/4 92-0, Reservations +49 (0) 74 42/4 92-6 22
Fax +49 (0) 74 42/4 92-6 92, reservations@traube-tonbach.de, info@traube-tonbach.de
Facebook Hotel Traube Tonbach – Baiersbronn