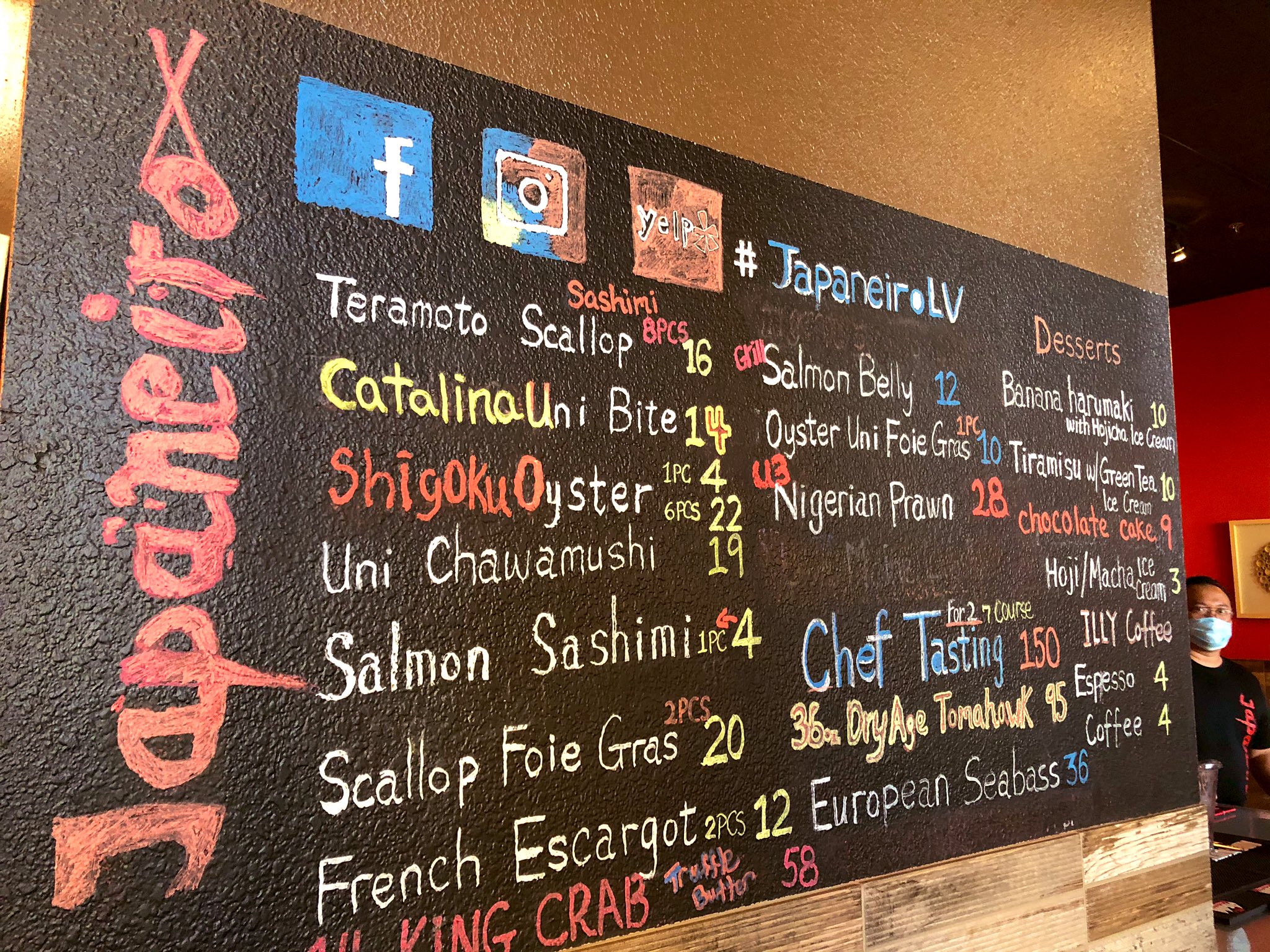 Day 57, May 12 – Surveying the Landscape

What's next? Who the fuck knows.
Trying to figure out what's next is the question on everyone's mind.
I, for one, have decided to stop thinking about it.
Fearing for businesses I love, and the futures of people I respect, has (literally) kept me up nights over the past six weeks.
But it's a "no win" game going on between my ears, because what's done is done and nothing I think, do, or say will affect what's going to happen.
All I can do is continue to put my money where my mouth is, and urge you to do the same.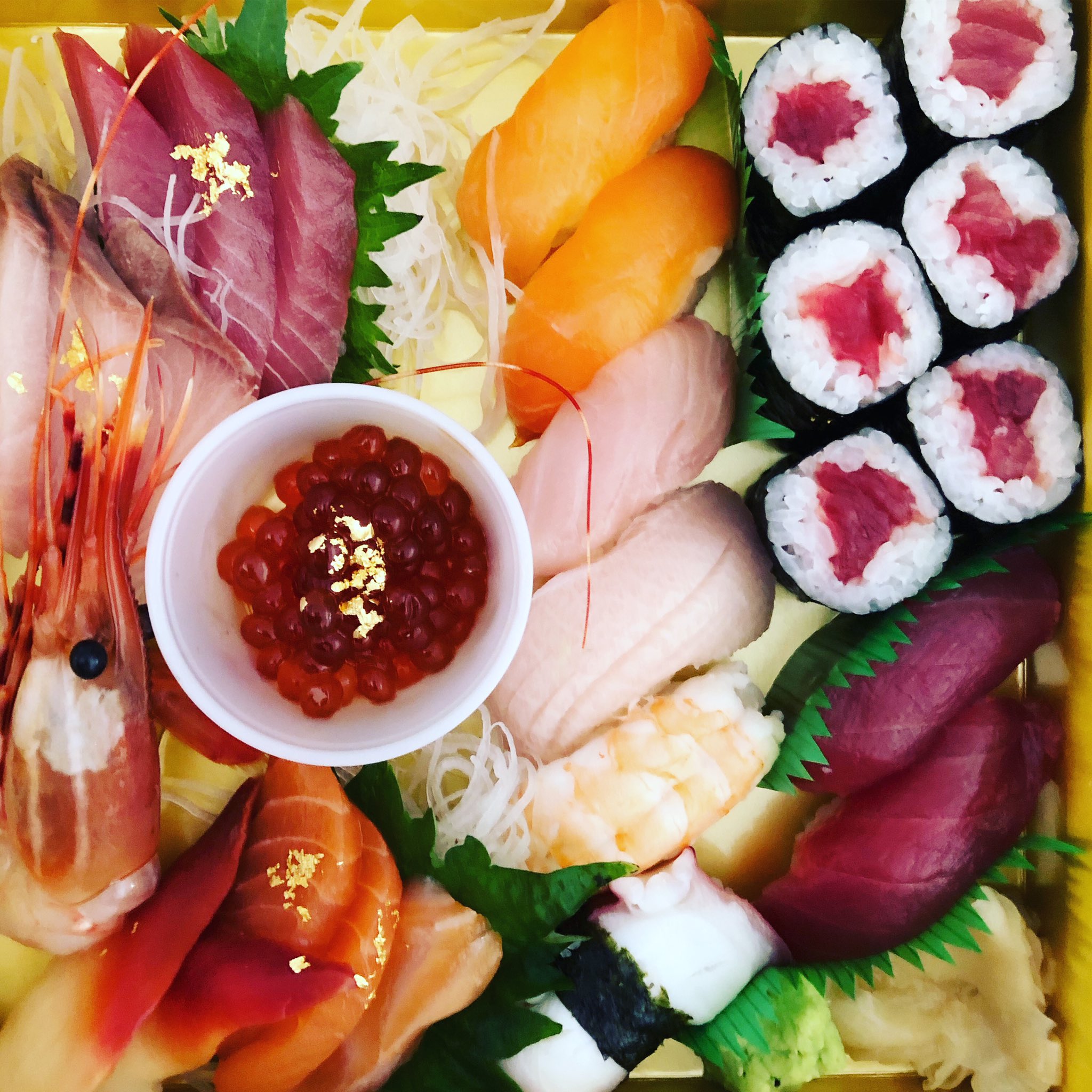 (Beauteous bento at Kaiseki Yuzu)
Trying to find a silver lining in the cloud that hangs over Las Vegas is a fool's game. Nothing good will come out of this.
Most cities are fearful for some peoples' jobs; Las Vegas has an entire industry that's been laid to waste.
We're talking entire hotels going under, not just a few small businesses, or the death of an outdated business model.
Imagine someone telling New York City it can re-open, but Wall Street has to remain closed "indefinitely" and you'll get the idea. Or Hollywood being told it can't make movies and TV shows in the foreseeable future.
(Las Vegas, say hello to your leetle friend)
Every city's economy will feel a ripple effect from this shutdown; in Vegas, it is more like a tidal wave, soon to be followed by another tidal wave…as Titanic after Titanic sinks.
If/when a place like Mandalay Bay goes down (with its thousands of employees), it'll be more like an aircraft carrier sinking.
To keep the maritime metaphor going, turning around Las Vegas's shattered economy will be like asking the 7th Fleet to change course.
The word is MGM Resorts is going to open only two hotels in its portfolio: Bellagio and New York New York. The Palms has been shuttered until a buyer can be found — taking with it a star-studded lineup of restaurants, including Vetri, Mabel's BBQ, Shark, and Scotch 80 Prime. The exquisite Mr. Coco is also history.
The Wynn/Encore group is making noises about re-opening everything (including all restaurants) this summer, but its statements feel more like a p.r. gambit than reality.
Venetian/Palazzo is a more unwieldy beast, with dozens of eateries leasing space in both the hotels and the Grand Canal Shoppes. Still, props to both hotel corps for being aggressive in trying to make themselves attractive to vacationers again — even if a quarter of all their customers have indicated they won't return to Sin City until a vaccine is found.
Nothing about the numbers looks good for the hospitality industry. The Nevada gubenator has mandated a 50% reduction in seating in all restaurants — as if businesses operating on 10% margins can make a go of it with their revenue stream cut in half.
Locally, Tivoli Village (a restaurant black hole in the best of times) is losing Brio and Hampton's, with perhaps more on the way. Unless some free rent deals are figured out pronto, expect others to follow suit.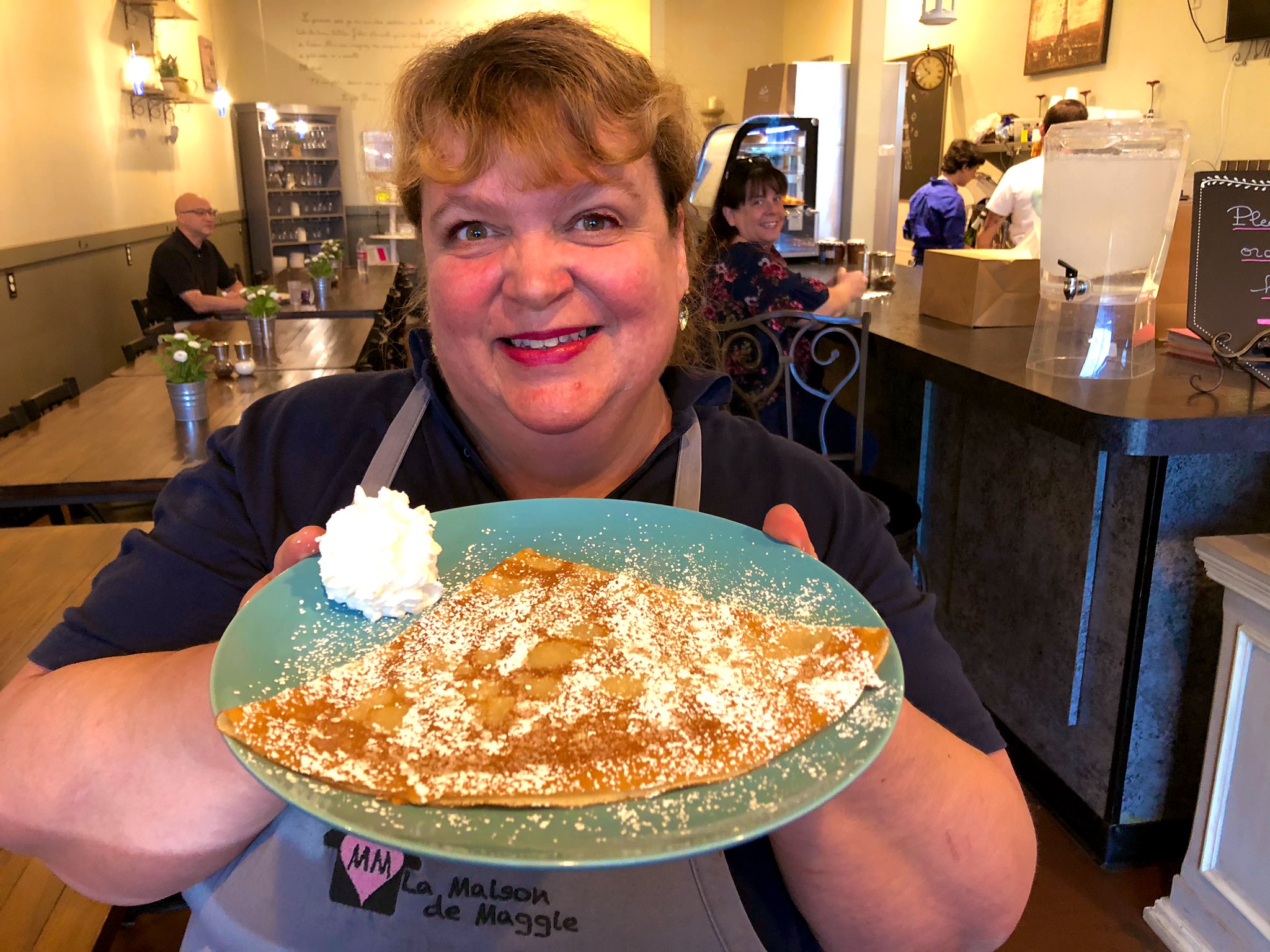 (Maggie the Magnificent)
The only good news I've been able to discern in all of this, after speaking with numerous chefs and owners over the past month, is this: small, personal, low-overhead joints may be able to weather this storm. Places like Japaneiro (top of page) La Maison de Maggie (above) Kaiseki Yuzu, The Real Crepe, Elia Authentic Greek Taverna, or Saga Pastry + Sandwich, might survive, with a little help from the government and their landlords.
These eateries are simple operations — little more than a chef/owner at the helm and a helper (often a family member) in the dining room or kitchen. I like to think of them as speedboats, rather than the behemoth battleships of the Strip. They can get by with less because their operations are so bare bones. This was a major part of their charm before, and it'll be what drives customers to them now.
Re-booting won't be so easy for chef-ier joints like Esther's Kitchen, Partage, Honey Salt, Sparrow + Wolf and Other Mama. Don't kid yourselves — for all the laid back vibe they project, these are sophisticated operations with lots of moving parts. The good news is they have loyal followings of diners just itching to return; the bad news is you may find a restaurant that, for the time being, is 50% of what it used to be in more ways than one.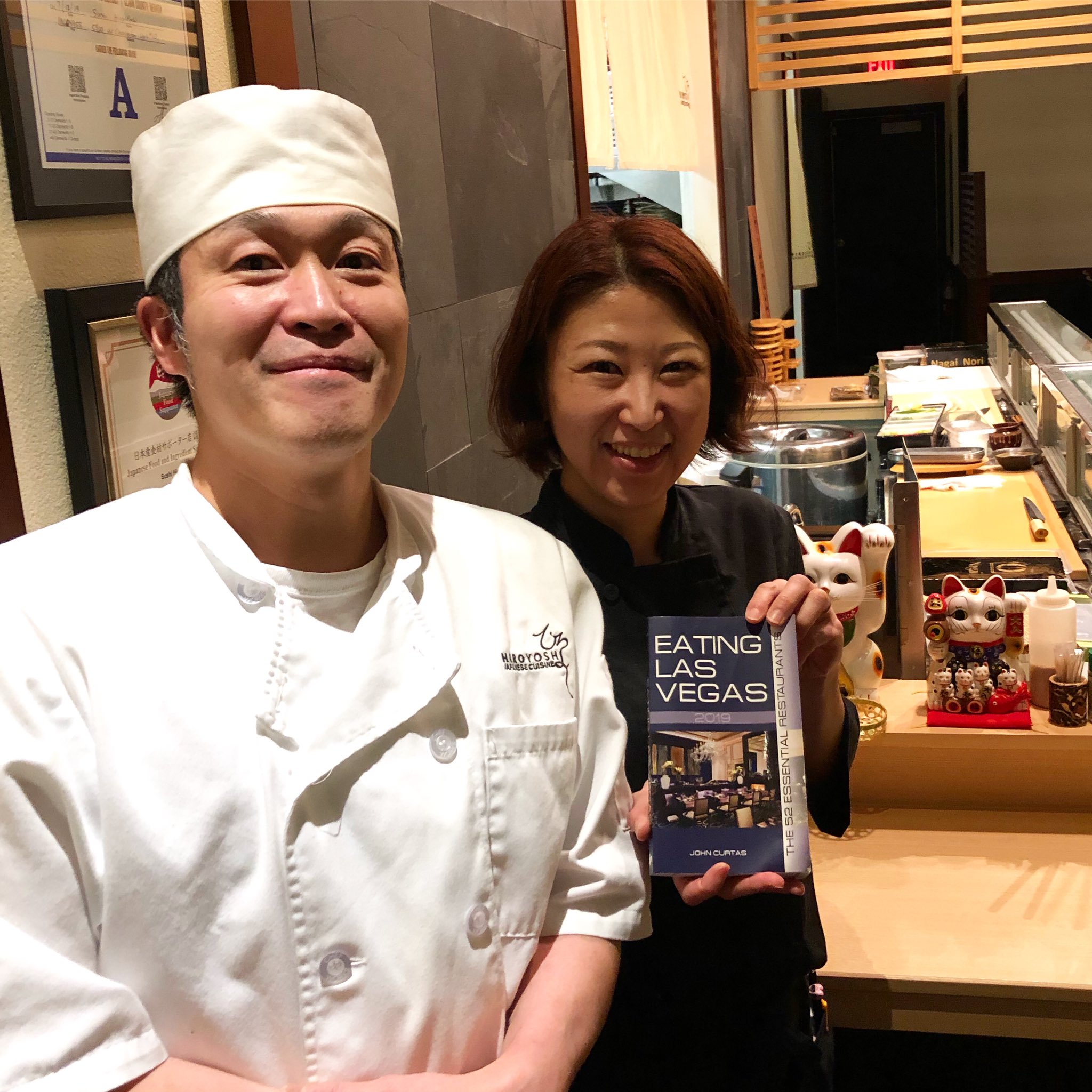 (Hiro-san slices heroic sushi)
If I was a betting man, I'd be betting on Chinatown. And by "Chinatown" I mean our pan-Pacific panoply of Asian eats all over town.
Never underestimate the resourcefulness of Asians, I say!  They've been bucking the odds in this country since the 1850s. Their restaurants, almost by definition, are lean and mean family operations. They expect less and have centuries of experience doing more with less, cooking-wise.
For a taste of Vegas like it was a couple of months ago, you can't go wrong with  Shang Artisan Noodle, Hiroyoshi, Monta Ramen, or China Mama, or scores of other joints up and down Spring Mountain Road.
Yes, nothing is coming up roses right now, but worrying about it accomplishes nothing. (Easy for me to say, I know.)
How quickly people forget that the reason for the lockdown in the first place was to "flatten the curve" and keep our hospitals from being overrun. Guess what? They never were, and the curve flattened long ago.
This is what happens when you turn public policy over to germaphobes, public health ninnies*, and fraidy-cat politicians. They've ensured that the picture ahead isn't pretty — but it might be pretty tasty if you know where to look.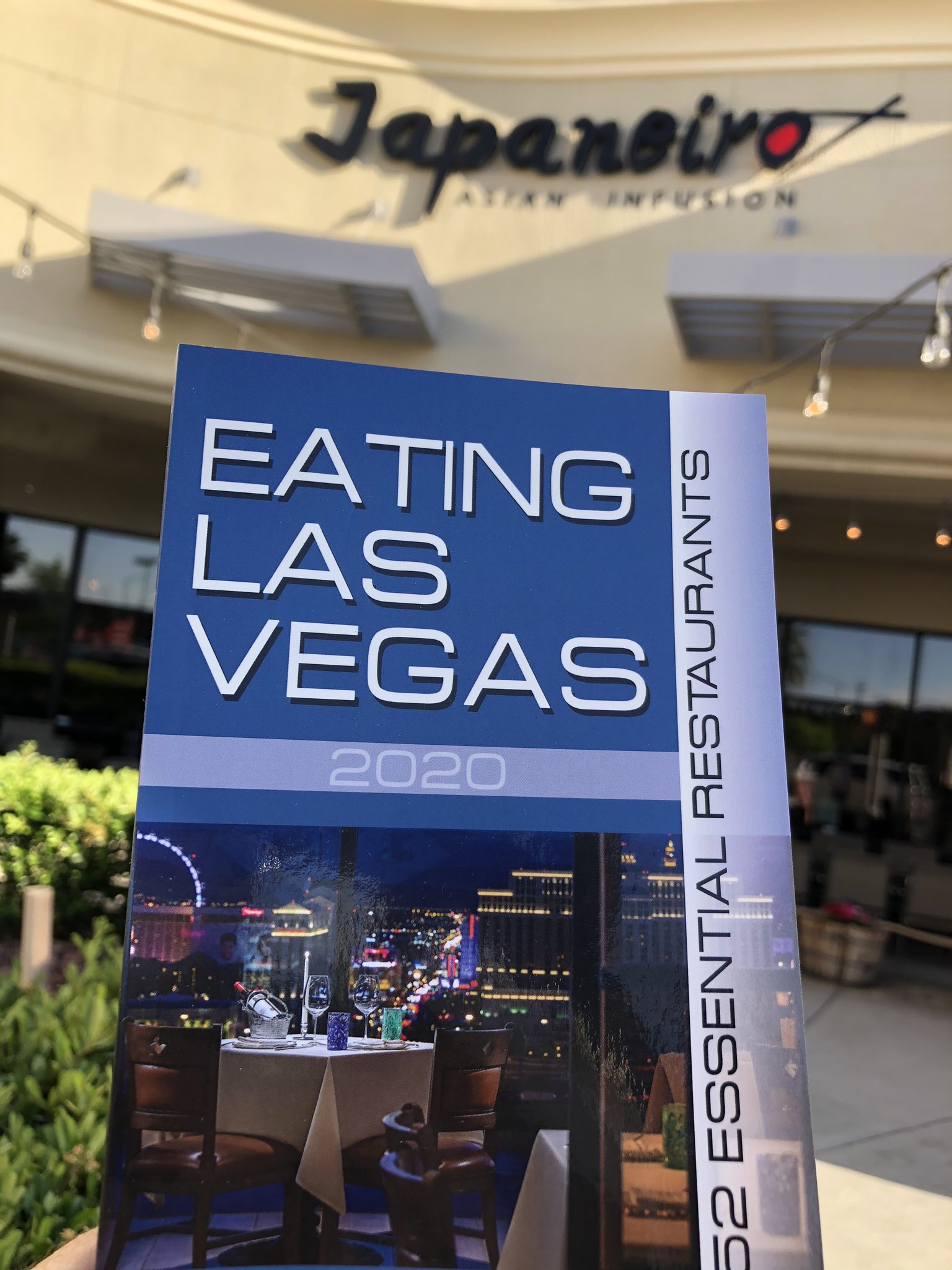 * Pardon my snark, but if pro-shutdown advocates are going to continue to treat Covid deaths (most of which are the very sick and old) as tragedies of biblical proportions, then I'm going to (continue to) to play the cynical skeptic.