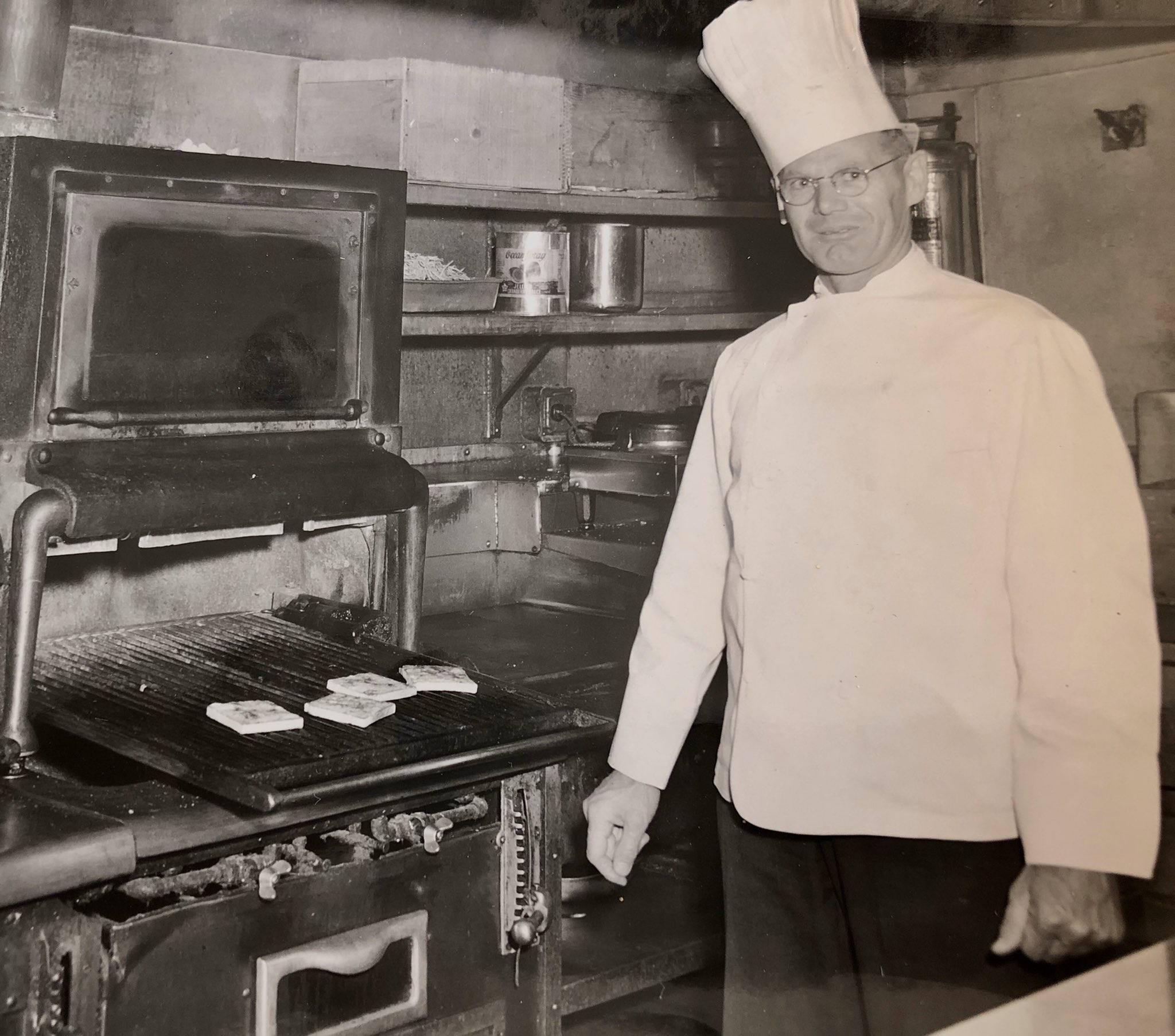 There was a chef who once lived in Las Vegas.
By happenstance, I came into all of this chef's possessions. All he had in the world when he died, as a very old man, back in the early 1990s.
From these I eked out the barest outline of his career.
German he was, at a time when German lots of chefs were.
Or maybe he was Swiss, as several postcards came to him from Reigoldswil, Switzerland. Only four cards, survived him, all in German, all of them showing the same, sad, sepia-toned building in a faraway hamlet.
Regardless, he as either German or Swiss or Swiss-German at a time when lots of chefs came from there.
He lived and worked here long before anyone thought celebrity and chef belonged in the same sentence…much less the same description.
When he lived and worked in Las Vegas, no one cared who the chef was. The only people who knew a chef's name was their family and their employer.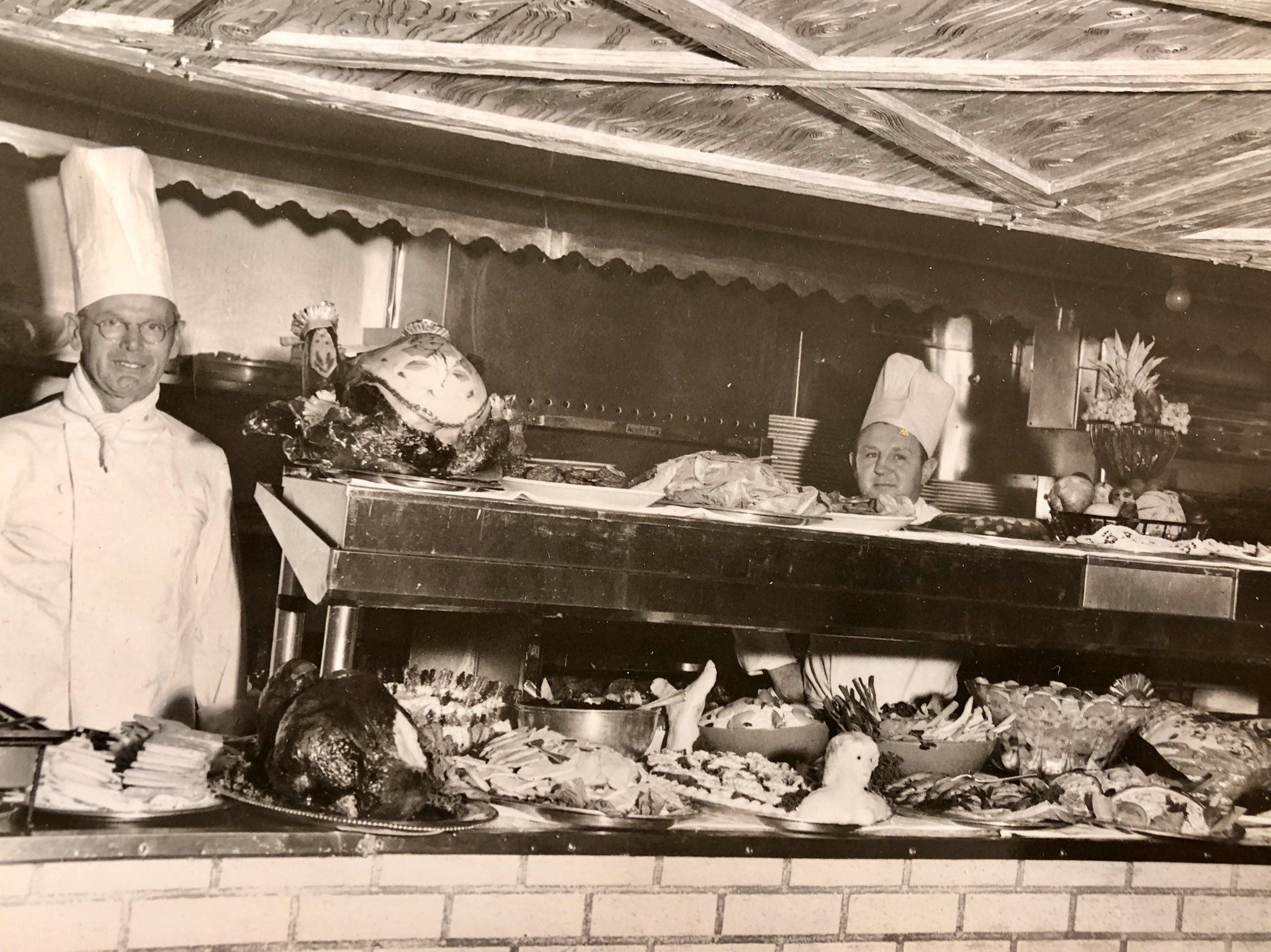 How he came to Las Vegas is anyone's guess, but from pictures it appears he first landed in Philadelphia as a young man, and then went to San Francisco, where, by 1946, he was being described as a "famous chef of the Sir Francis Drake Hotel." His "fame" allowed him to appear in a advertisement for a gas-fueled ceramic broiler sponsored by The Pacific Coast Gas Association.
He was very proud of this grainy, b/w photo in the corner of a west coast magazine few probably ever read. Proud enough to keep the cut-out page with him his entire life.
For whatever reason (money? a girl? health?), our "famous chef" wound up in Vegas in the 1950s (like a lot of my relatives), where he worked at the Last Frontier and then the El Rancho Vegas, before moving on to the Desert Inn and the Flamingo.
He ended up being a room service chef at the Flamingo in the 1960s. This feels like quite a drop from being a famous chef in San Francisco, but I think he was proud of being the room service chef at the Flamingo.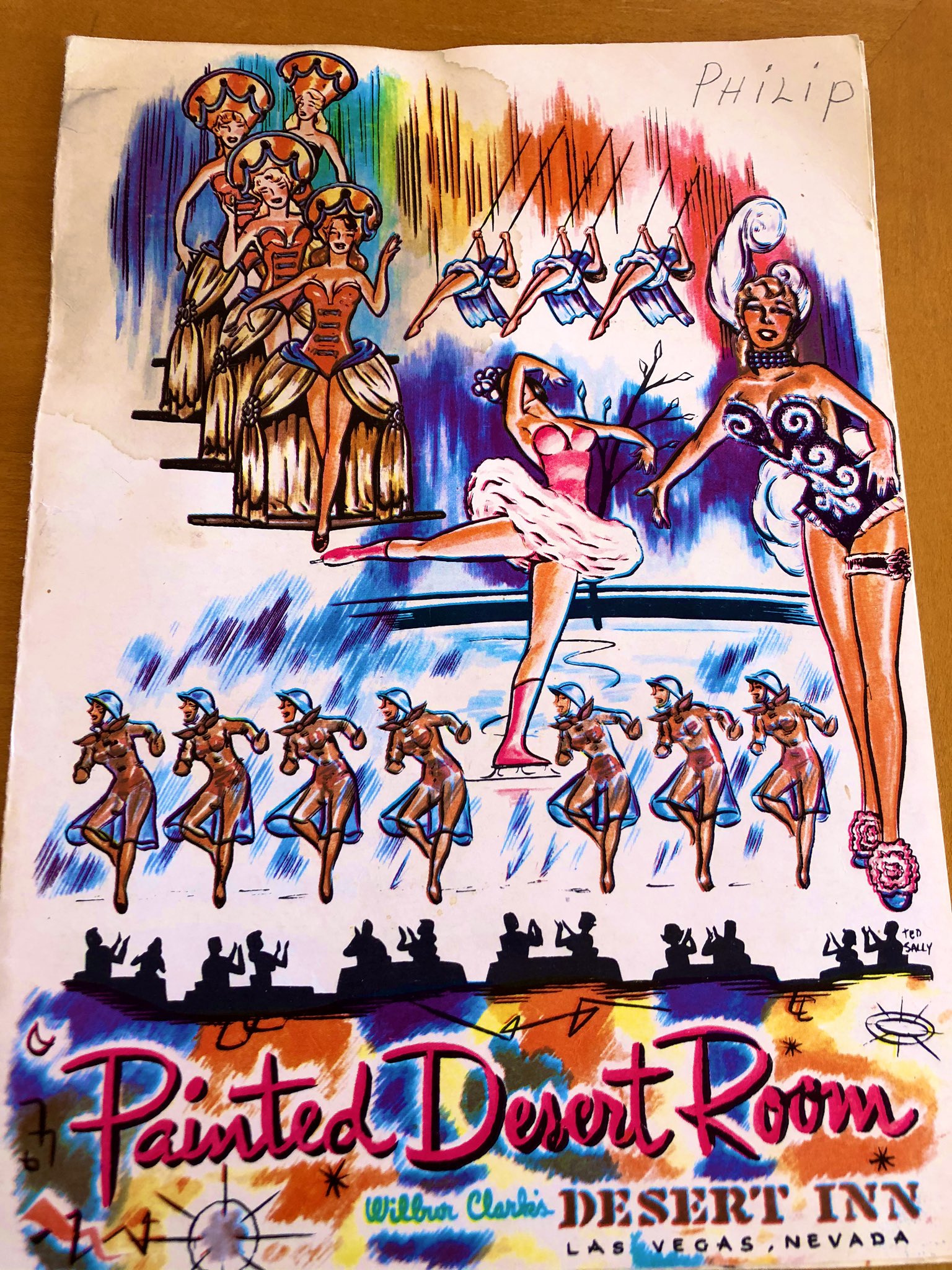 If the 8X10 glossies are any clue, he was a big fan of some movie stars — Ann Sothern, Dorothy "Dottie" Lamour, Gloria DeHaven — lights as dim as the memory of Swiss-German chefs who once came to this desert to run our kitchens and make food for hungry gamblers in the middle of the last century.
All he had when he died were those clippings, postcards, a snuff bottle, brass knuckles(?), some menus, and picture of himself as a very young man, and a few more of him as a working chef standing beside a wall of food he helped to create.
There were also two small, identical pins sporting narrow ribbons of bleu-blanc-rouge — no doubt some small honor accorded to him for mastering something French — he was proud enough of those to keep them with him his entire life.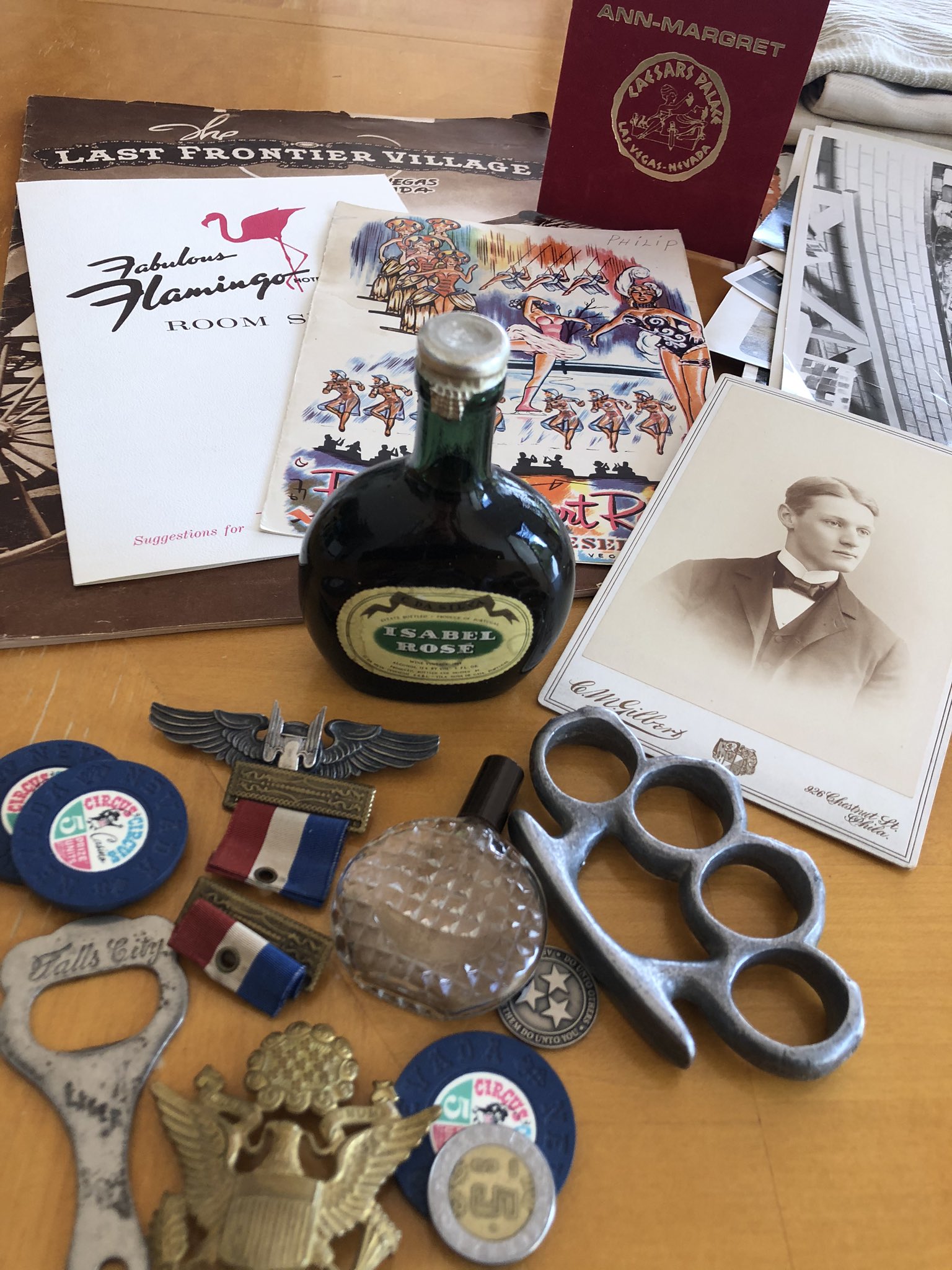 That's it; that was his life. Or all that is left of it.
Nothing is especially sad about these things, but they emit a profound sadness all their own. So few scraps. Such little evidence of a life — pieces of paper, pictures, and a handful of trinkets for a fellow who spent his entire adult life in professional kitchens — who learned a trade and traveled an ocean, and then a continent, to ply a trade when there was nothing star-studded about it, just hard work.
Work that started in Europe, then advanced to a fancy hotel in a major city, and ended in the banquet rooms and coffee shops of a desert casino. The work is what gave his life meaning, I think, and perhaps what gave it joy, I hope.
Max Weber was our chef's name.
He never married, nor had any kids.
His last years were spent in bed, in the middle of a room, in a small house in Las Vegas, being cared for by the family of a woman he had worked with. They were all he had.
At the end of his life, all of his possessions could fit in the bottom of shoe box.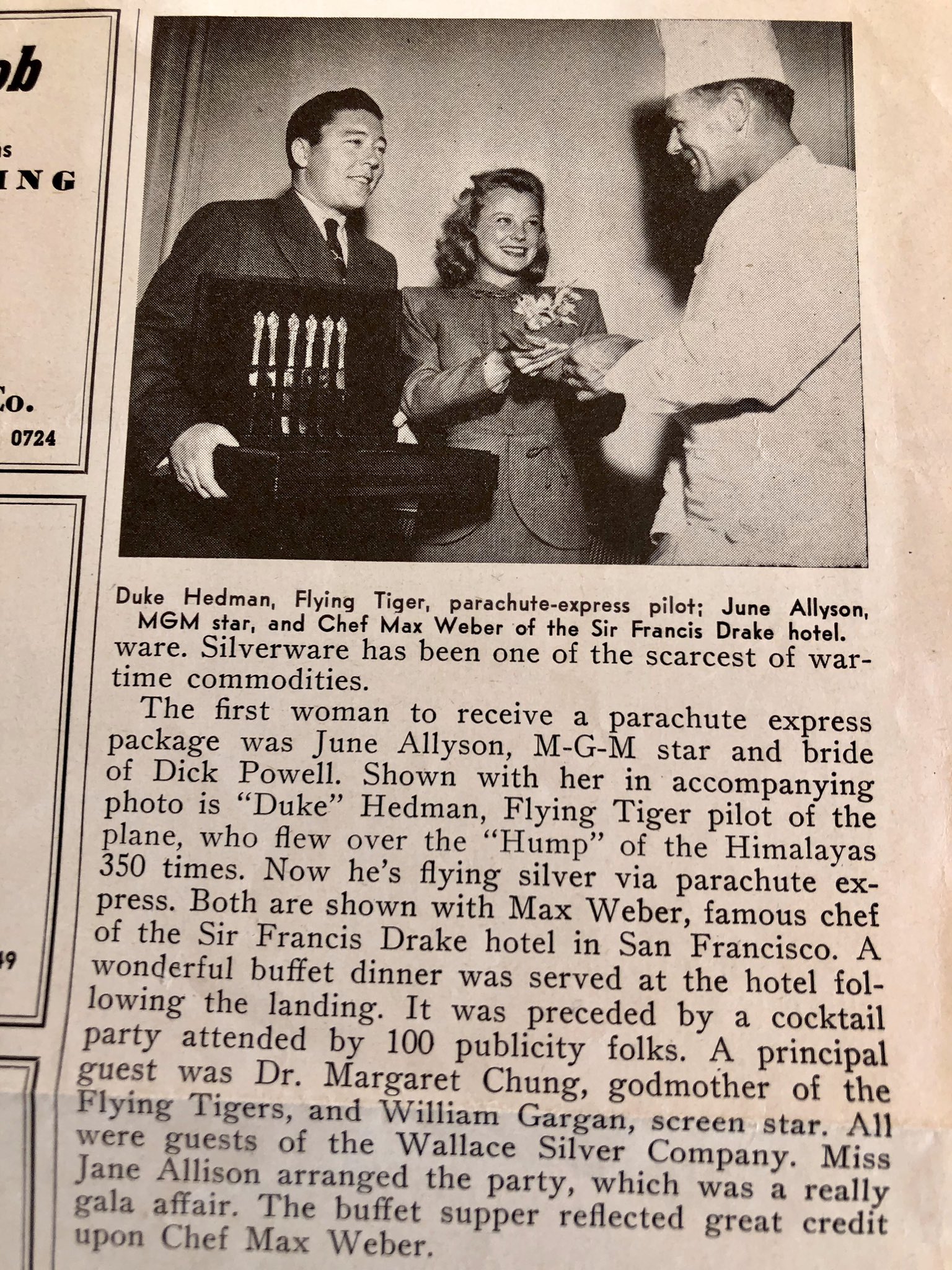 Does anyone remember him? Probably not. Now only me, not for the work he did, but for what he represents: a life spent feeding other people for a paycheck, because that is what he was good at and was trained to do. There was no glory in it then, and what little there was, Max tasted if only for a moment.
And then the vitality of fame fleeted, and Max had to get back to work.
Chefs like Max were the culinary backbone of Las Vegas — the spine and blood and sinews of hundreds, thousands of bent bodies, frazzled nerves and tired hands who fed tourists well, and kept them coming to Las Vegas again and again, until what you were eating mattered just as much as what you won. They built this town as surely as any game of chance, but no one knew their names then and no one cared.
But Max cared. You can tell from his shoe-box that he cared.
And he had his memories. Of posing with movie stars, and of long groaning tables filled with heroic proteins, miles of steam, architectural ice, and trenches of vegetables. Of midnight buffets and ceramic stoves he stood at at and advertisements with his picture in them. Of a little town in Switzerland he escaped, and a desert town where he landed. Where he ended up making sandwiches for people who knew nothing of this famous San Francisco chef who was somebody once — a man who traveled so far to feed so many….until at last the flame on the stove flickered no more.