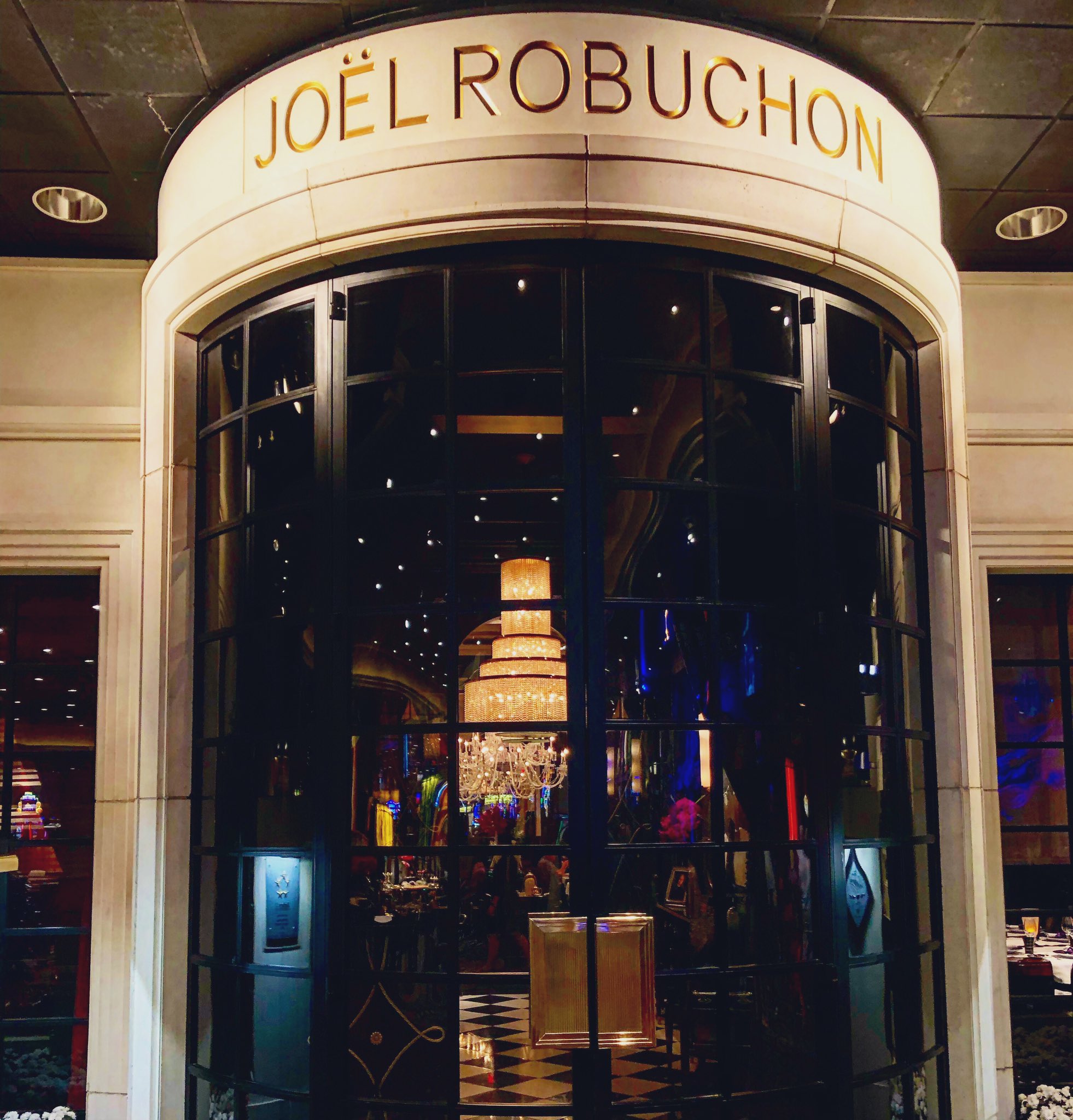 (Ed. note: In celebration of Nevada Day (and we suppose Halloween, although no one over the age of 12 should be celebrating Halloween), we at Being John Curtas thought an updated look at Nevada's best restaurant was in order.)
Having a Joël Robuchon restaurant in your hotel is like having a Vermeer hanging in the lobby, or Yo-Yo Ma playing in the house band: most people will walk right by and not know what they're missing. The cognoscenti will thank their lucky stars, while the rest of the world will just shrug. That's the way it is with quintessence. Most people wouldn't appreciate it if it bit them on the ass.
Imagine being so good at something that the only competition you have is with yourself. Every day the air you breathe is rarified; the tasks you perform, unparalleled in your industry, save for a handful of similarly gifted colleagues strung across the globe.
Then imagine that your toils take place within a soulless environment, populated by slack-jawed Philistines, sharp-eyed grifters and bulbous middle-managers. The town where you exist practically ignores you, and, but-for a handful of high rollers and black belt foodies, you are invisible. Nevertheless, you persevere in a corner of behemoth casino and perform at a level of craftsmanship almost unequaled…anywhere in the world.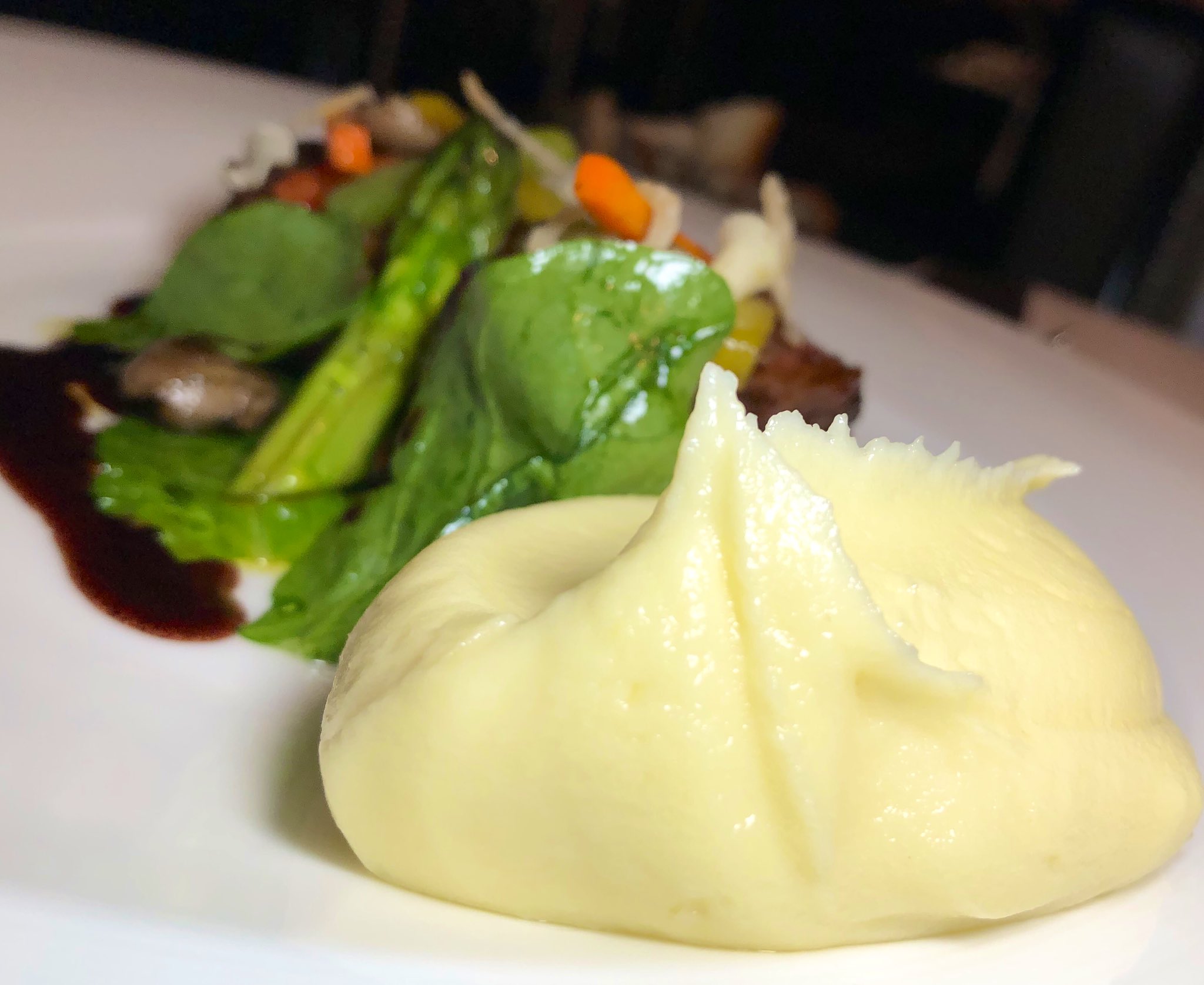 (A little potato with my butter, s'il vous plait?)
Such is the role of Joël Robuchon in Las Vegas – on any given night one of the best restaurants in the known universe; a restaurant that exists solely to provide a certain level of luxury for MGM patrons and destination dining for those gastronomes with the perseverance (and the coin) to find it.
Robuchon the man (who died in 2018) and the restaurant represent a level of high-toned, fanatical perfectionism that is impressive even by French haute cuisine standards. Nowhere but here will you find a bread cart so elaborate, the amuse bouche so precise, butter so luscious, or proteins so refined.
The good news is all of these can now be enjoyed during something less than a culinary forced march. There are a variety of 4-5 course menus offered that run well below the $455 degustation, and allow garden-variety gourmets to enjoy this cooking in a two hour time frame, and at a $150-$250/pp price range. Still steep it may be, but the climb isn't so daunting, and the payoff more than worth it.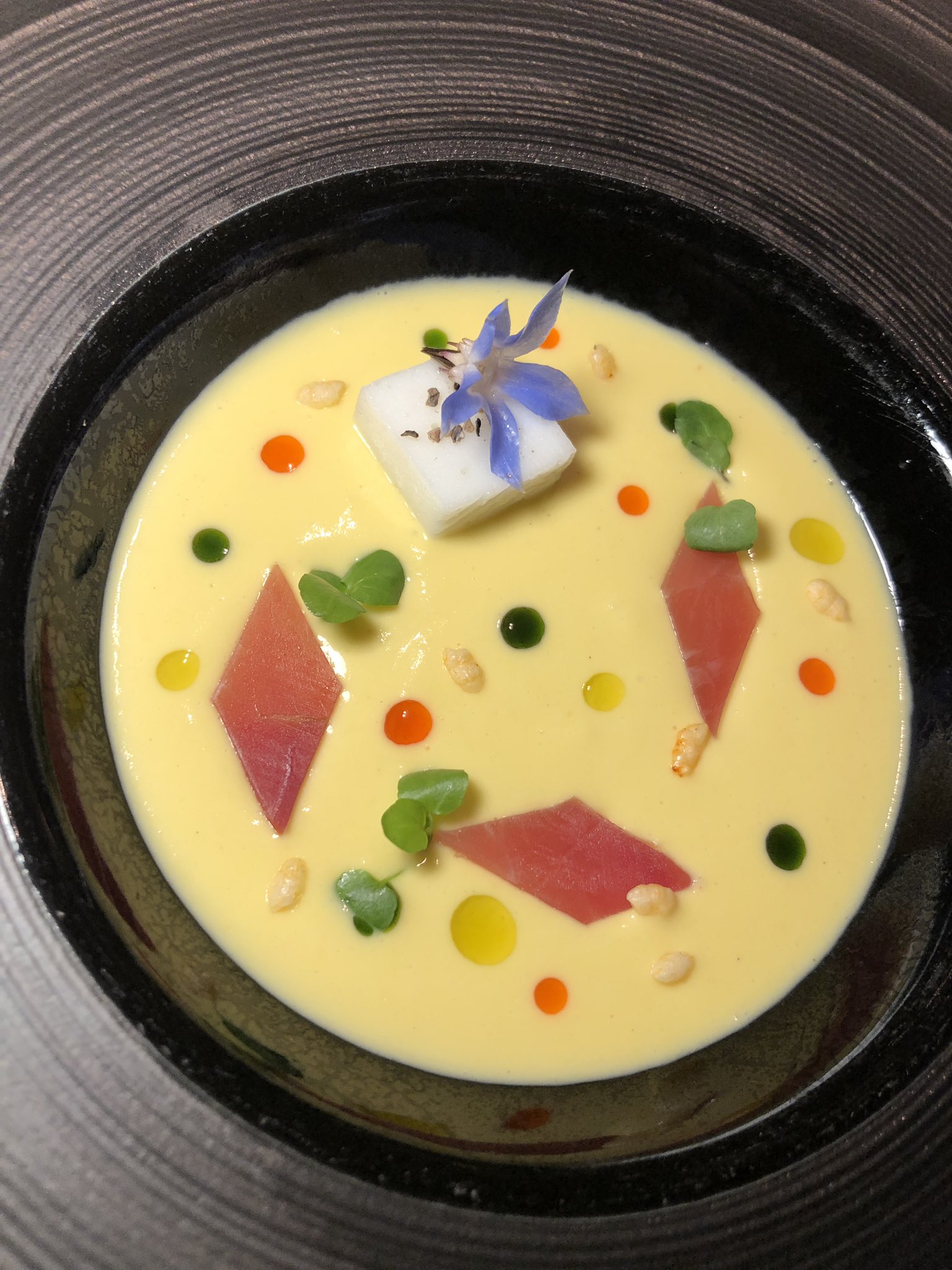 (Campbell's this is not)
What you get will be seasonal, extracted and intense. Chilled corn soup (above) makes you wonder how corn could be so silky.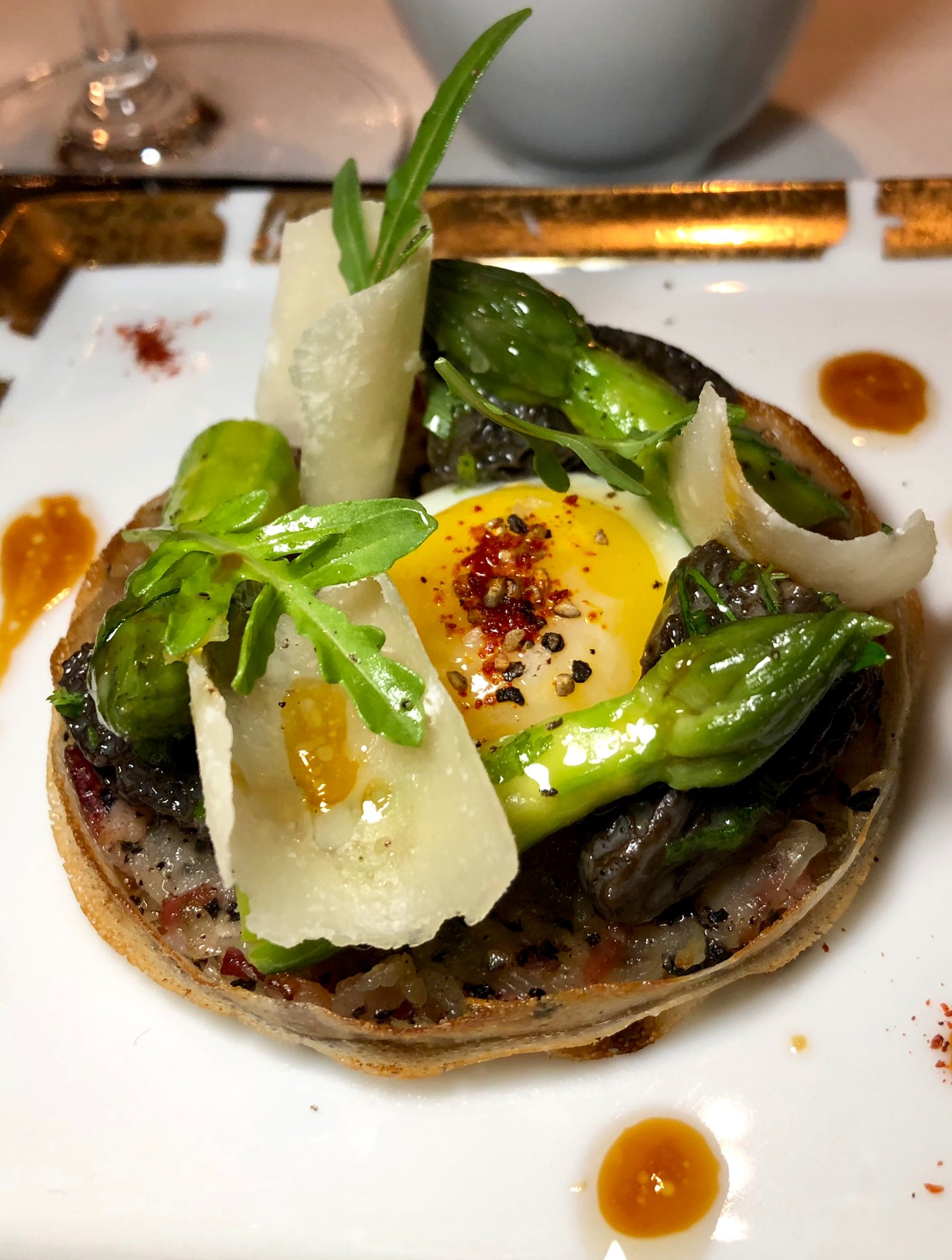 (Superveggies!)
Morels and asparagus atop an onion jam tart (above) ask the question: how can vegetables taste so much of themselves and yet even more?
Foie gras in whatever guise will make your knees weak, and however they're stuffing noodles (with truffled langoustines, perhaps?) will redefine your idea of how delicate a pasta can be.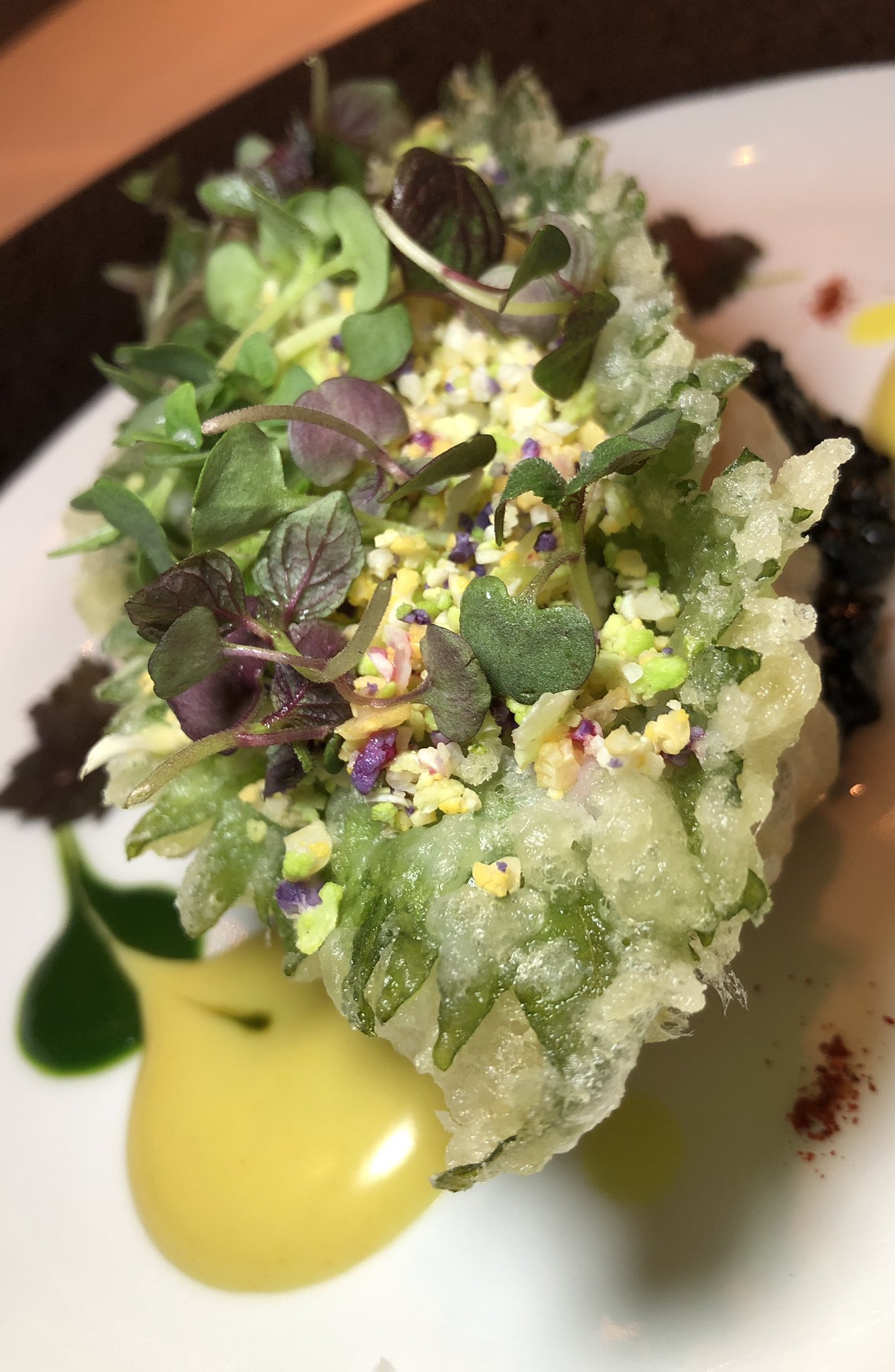 (Shiso beautiful)
They have fabulous beef here (and, of course beautiful duck), but seafood is the thing to get, whether it's scallops in green curry, a flan of sea urchin, or John Dory under a shield of tempura shiso leaf (above).
Another hit involves placing a soft-boiled egg in a light Comte cheese sauce topped with an Iberico ham crisp — and idea so layered with umami it ought to be illegal.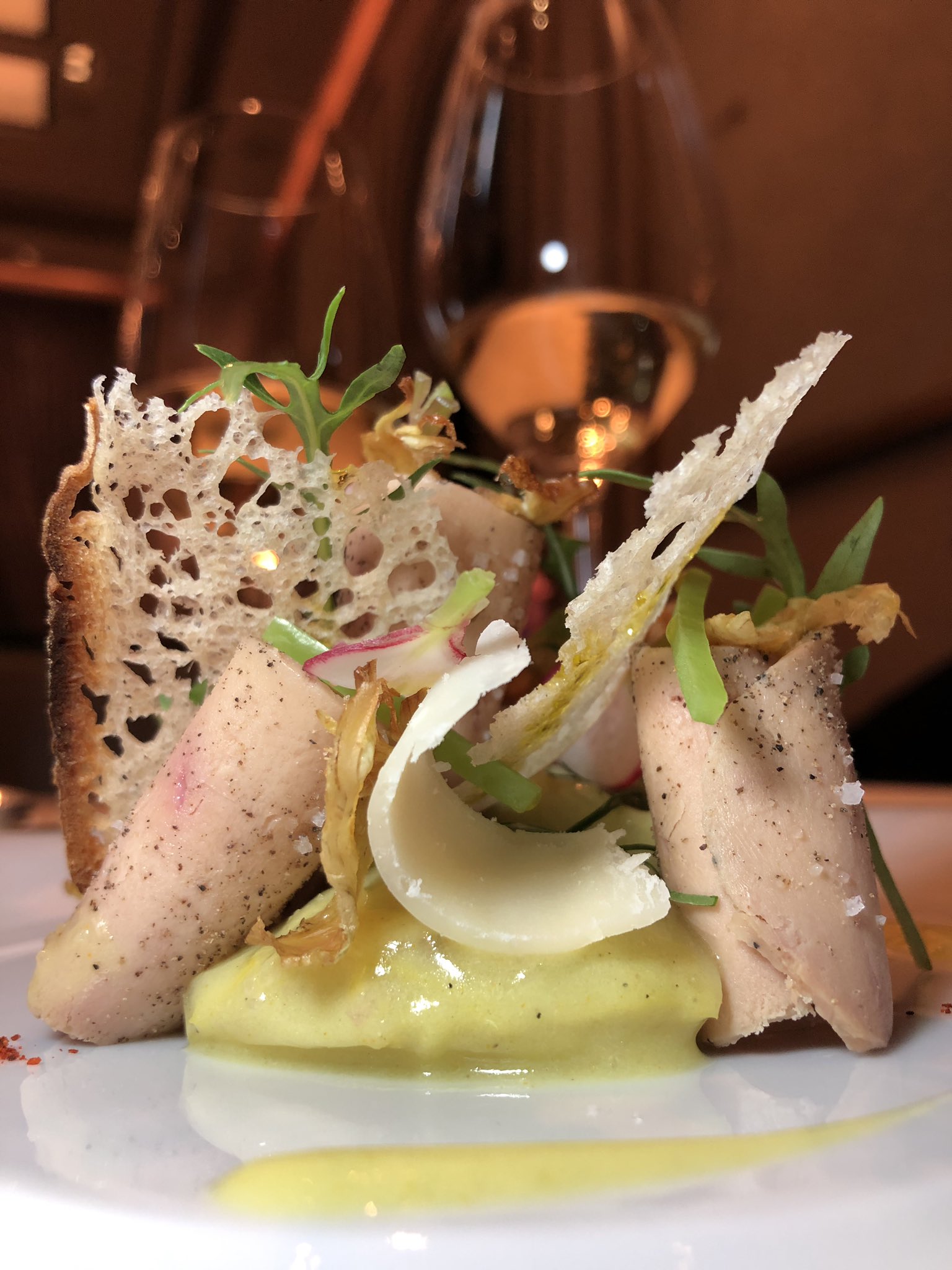 (No foie in New York? No problem.)
Commanding this brigade de cuisine is Christophe De Lillis, who, despite his youth, brings an artisans hand and a general's authority to the proceedings. At this level of cooking, mistakes are something other kitchens make. You won't be able to resist dessert or the petit fours cart so don't even try. I give Robuchon's cheese cart the nod over Guy Savoy's by the width of a ribbon of Tête de Moine.
As for wine, you oenophiles will be happy to know the Great Recession did for this wine list what my last divorce did for my sex life: improved it immeasurably with lots more variety at different price points.
Get this: Four-course menu; five-course menu; degustation menu (for tri-athletes with time on their hands); chilled corn cream soup; asparagus velouté; morel-asparagus tart; duo of beetroot and apple; Robuchon potatoes; foie gras; boiled egg with Comte sauce; sea-urchin flan; truffled langoustine ravioli; frog leg fritter; scallops in green curry; John Dory with tempura shiso leaf; caramelized black cod with pepper; spit-roasted duck; grilled wagyu rib eye cap; all the bread; all desserts; petit fours; mignardises.
In the MGM Grand Hotel and Casino
702.891.7925