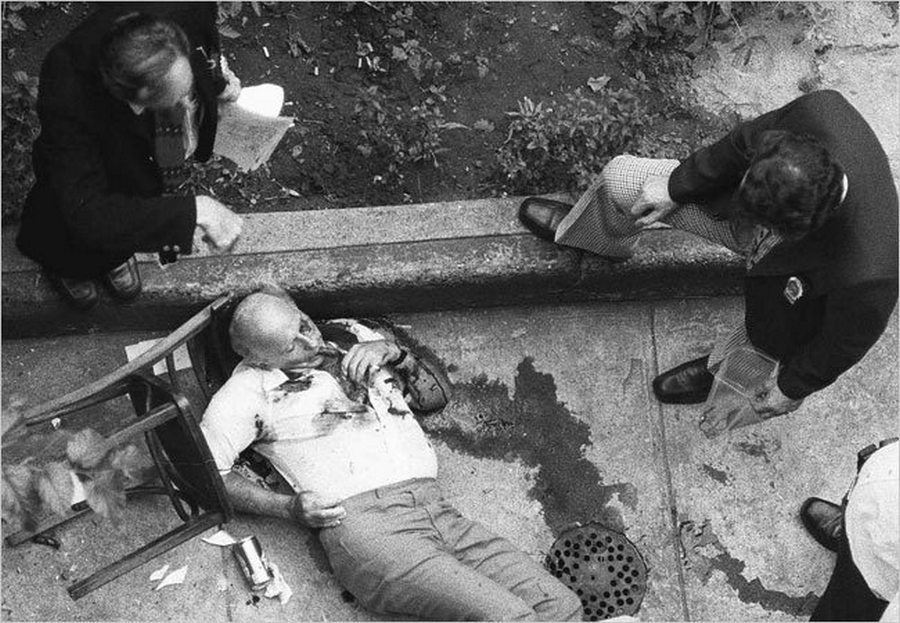 ELV note: We temporarily interrupt this web site's obsession with food in order to share with you a serious, personal anecdote. Because sometimes there are things much more important to talk about than where to eat, and because we believe everyone has a moral obligation to (try to) prevent murder.
Several decades ago, when I was still practicing criminal law, I happened upon a homicide scene where I knew the detectives. One of them with a particularly morbid sense of humor (homicide dicks are famous for their gloomy humor) asked me if I wanted to see the body. (He joked that since I might end up defending the perp, I might want to see the other half of the equation.) "Sure," I said, so he led me over to a parked car.
Inside was the driver with his head resting on the steering wheel and twisted to the left as if he were leaning forward and trying to see something out the driver's side window. His eyes were wide open, and you wouldn't even had thought he was dead if you just casually glanced at him. From a distance of about five feet, the only odd thing about the body was its stillness and a small black indentation — about the size of a nickel — just below the left cheekbone. There was no blood on his face, and it being nighttime, at first I saw no blood anywhere else, either.
"What happened," I asked the detective, "how did he die?"
"Since you asked, counselor, come with me."
With that we walked around to the passenger side, took out his flashlight and shined it through a curtain of blood and what looked like wads of chewing gum stuck all over the side window. Inside I could see a ragged, gaping hole the size of a large man's fist had been blown out of the back of the victim's skull. A mosaic of flesh, brains, blood and bone dripped from every interior surface as if someone had sprayed it there with a fire hose. I can still see the shards of skull stuck in globs of pink-grey brain.
"Must've ruined his whole fucking day," the cop quipped. It certainly did mine.
Impressions like that are powerful and never forgotten. They are far different from what you see in violent movies, or watching people shoot pumpkins with firearms. They also make you much more sensitive to what really happens when people are shot. You can't compartmentalize it with distant sympathy. You can't create a gauzy, intellectually-removed effect of poor bodies antiseptically slumped motionless in a sleep-death of sadness. No, what you live with is the knowledge of just how violent, bloody and revoltingly grotesque their death was.
Gun nuts and the gun lobby don't want you to understand just how destructive their implements of death are. Guns are, first and foremost, killing machines. And they do their work most effectively. Hunting is about killing things and self-protection is about killing people. Hunters at least are well aware of the power of firearms. I don't think they're the ones behind all the political nonsense spewed forth by the NRA. The self-protection nuts are the bigger problem. They are the ones who have been convinced they "need" guns for some unknown boogeymen who are out there (usually, other gun nuts), or that guns are cool.
If more people saw what a gun really does to a human body, that "cool factor" would be greatly diminished. If gun-control advocates (which greatly outnumber those who still believe in the myth of the 2nd Amendment) saw the blood, the wounds, and the faces of shooting victims, lying there in sticky, putrid, purple-black pools of their own fluids, the gun control movement might galvanize in the same way the Civil Rights movement did when the public saw pictures of lynchings and dogs biting through the legs of protesters.
It's time to show the bloodshed. There are photographs of those 20 Newtown children slumped bloody across their tiny desks with gaping bullet holes in their terrified, disfigured faces and little chests. There is, I'm sure, a photograph of the fatal neck wound my friend Cameron Robinson suffered on October 1st — a gun shot that snuffed out a young life just as it was beginning. People need to see this shit — literally see the shit, and the blood, and the guts, and the brains, and the bone shards — in order to break the murderous stranglehold the gun lobby has on our politics.
People need to have their whole fucking day ruined, too.