Anything too stupid to be spoken is sung. – Voltaire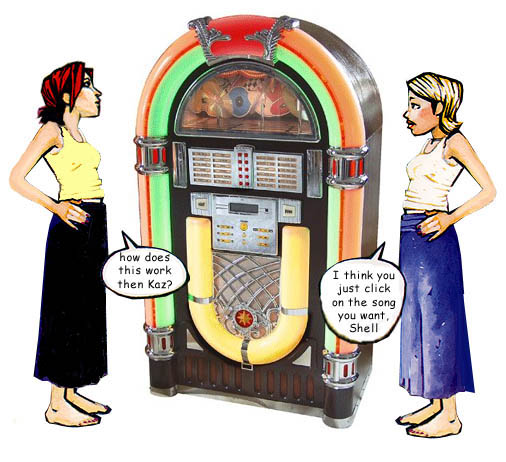 ELV note: Yours truly is often accused of hating music. This is not true. ELV doesn't hate music, he hates trite, tuneless, sappy, commercial, derivative, copycat, not-an-original-thought-anywhere music. Music that sounds like everyone else's music. And jazz. ELV really, really, really hates jazz. And Guns 'n Roses. He really hates Guns 'n Roses. Other than that, he loves the stuff. Sort of.
THE TOP 66 JUKE BOX SONGS OF ALL TIME*
You know the drill.
You've been there a hundred times.
You're in some bar with a friend or three. You're a little drunk, but not too. You might be hitting on new meat or playfully noodling your significant other. Everyone's happy and chattering away.  Tunes are playing on the Rock-Ola or Wurlizter, but no one's paying close attention.
Over in the corner, there might even be a few people boogieing away and singing along to some mildly inoffensive ditty from J. Geil's,  Billy Idol, Chili Peppers, Violent Femmes or Smash Mouth. Good times.
Then, just when things start peaking (a buddy has you in stitches, someone buys a round, she touches your knee/licks your ear/gently brushes the Amazing Python of Love, etc.) some punk-ass, lame-dick, shriveled-gonad pussy (or, even worse, some brain-dead, seen-better-days-bimbo) proudly strolls to the juke and punches in an hour of musical shite like Depeche Mode, "Satisfaction,"  "We Built This City on Rock and Roll," or anything from the Rolling Stones, Aerosmith, Fleetwood Mac or, heaven forbid, the Eagles (Joe Walsh excepted).
And do you know what happens next?
You know what happens next, don't you?
What happens next is the party grinds to a halt. Energy dissipates, voices get muffled and oxygen evacuates the room faster than blood leaving Mr. Happy at the thought of his parents having sex.
To cure this constant problem, we at ELV hereby offer the following assist to all of you musically-challenged folks who revert to Van Morrison, Journey, or the Rolling Fucking Stones whenever you can't think of what to play in public.
Keep in mind, each of our selections follows these 10 simple rules:
Rule #1: There absolutely, positively cannot be the word "Rock and Roll" in the title. (Songs with the words "rock" or "rock and roll" are like smart people who display Mensa credentials. If you are truly smart or rock, you don't have to advertise the fact.)
Rule #2: It can't be any hip hop, or sound-just-like-every-other-piece-of-shit-hip-hop–"party"-tune like Pit Bull's "Hotel Room Service."
Rule #3: Nothing from an 80's crooner-wannabe like that prissy fuck from Depeche Mode or those cock-less Cockneys from Oasis….or Morrissey.
Rule #4: Any song with "party" in the title.
Rule #5: All EDM, being an absolute joke and affront to musicality, is automatically disqualified. (p.s. if you have to ask what EDM is, take it from ELV, you wouldn't like it)
Rule #6: The song must have legs, meaning: it should sound just as good (and you should still want to hear it) ten-to-twenty years after it came out. No one, on god's green earth, is going to be listening to gangster rap, Beyonce, or Lady Gaga in 2020.**
Rule #7: You have to like it the first time you hear it. Great jukebox tunes aren't acquired tastes — like jazz, hip-hop, heavy metal, EDM and the entire oeuvre of Oasis….or Morrissey.
Rule #8: It has to contain a fair amount of testosterone. Jukebox tunes aren't about sappy, whiny emotions or nurtured feelings (see: Morrissey). Even songs written and performed by girls (see: The Chiffons at no.10. below) can have more balls than the average British poofter band.
Rule #9: The lyrics should contain at least a modicum of metaphor. "Drive My Car" (no. 25 below) is not, despite all appearances to the contrary, about finding a chauffeur. Rock and roll may be bad poetry but at least there's some there. The trouble with country music is it has none at all.***
Rule #10: Any and all songs that contain the words "baby," "baby baby," or "ohhhh baby" in the title or the lyrics are banned for life….along with that death dirge by Soundgarden. Anyone who plays Soundgarden should be shot on sight.
So, with these rules in mind, here they are food fans:
66 Tunes Your Jukebox (or iPod) Can't Live Without!
66. Sing Sing Sing – Benny Goodman (the percussive horns, call-and-response-brass, Harry James' trumpet, Benny on his horn plus Gene Krupa poundin' the skins…what's not to love?)

65. Peter Gunn Suite – Ray Anthony (relax…we are not about to bore you with antiquated songs from long dead musicians, but this tune will put you in the mood….either to seduce a sexy siren or go solve a murder)
64. Dancing in the Dark – Bruce Springsteen

63. Please Please Me – The Beatles (the greatest song about blue balls ever written, which proudly stands (like two, erect totems if you will) next to Rosie by Jackson Browne as the greatest odes to gonads in Western pop)

62. One Week – Barenaked Ladies (this song would confuse the fuck out of Benny Goodman)

61. Take A Chance/Waterloo – ABBA (the clothes! the hair! the awkwardness! everything about these four was awful except the music)

60. I Wanna Be Sedated – The Ramones (if you had lived through the 70's you'd know what they're talking about)

59. Back on the Chain Gang/Middle of the Road – The Pretenders

58. Message in a Bottle – The Police

57. The Reflex – Duran Duran (because ELV has a soft spot in his heart for over-produced, incomprehensible 80's songs from bands where every feathered-hair nancy-boy was named John Taylor and one of them was once lost at sea)

56. Fell in Love with a Girl – The White Stripes (it bears repeating: this is one,  great song in under two minutes)

55. Lawyers in Love – Jackson Browne (which is really only the second greatest rock song about lawyers — the first being: Lawyers, guns and money by Warren Zevon)
53. Turning Japanese – The Vapors (another great song about masturbation – do you sense a theme here?)

52. Bust a Move – Young MC (remember when rap had a sense of humor?)

51. Wild Thing – Tone Loc (featuring a nice nod to Robert Palmer in the video…say what?)
50. Should I Stay or Should I Go – The Clash
49. Red Red Wine – UB40 (extended version only – the truncated one feels like premature ejaculation)
48. Semi-Charmed Life – Third Eye Blind (every drug needs its own song and this one (crystal meth) even got its own movie – "Spun")
47. Two Princes – Spin Doctors (when looking like shit sold records)
46. Jessica – The Allman Brothers (because even the best party occasionally needs some cool, easy listening background music)
45. Folsom Prison Blues – Johnny Cash (which always raises the jurisdictional point in ELV's lawyerly mind: Why is he in a California prison for a Nevada murder?)
44. Gotta Get Away – The Offspring (the first minute of which essentially reverse engineers the way rock songs are written)

43. Take It on the Run – REO Speedwagon (because every playlist needs a cheesy, 80's power ballad)
42. Liar Liar – The Castaways (ELV was 13, Mary Ann was 27… alas, it was not meant to be. P.S. The Food Gal® prefers the Debbie Harry version.)
41. The Middle – Jimmy Eat World (that's ELV third from the left at 1:37 of the video)
39. Self Esteem – The Offspring
38. Simply Irresistible – Robert Palmer (this would solve the airlines' problems)

37. Legs – ZZ Top (remember when videos told a story?)
36. My Sharona – The Knack (because even pedophiles need a theme song)
35. American Idiot – Green Day

34. Life's Been Good/Funk #49 – Joe Walsh (like Joe, I can't complain, but sometimes I still do)

33. All the Young Dudes – Mott the Hopple (best enjoyed in a different kind of bar)

32. Hit Me With Your Best Shot – Pat Benetar
31. Can't Explain – The Who (everyone from the Sex Pistols to Green Day copies these mods)
30. Sloop John B. – Beach Boys
29. Macarena – Los Del Rio (we know it's a cliché, but it's infectious and we dig the two groovy old guys + all the hot, multi-cultural babes pretending to actually have some kind of talent)

28. My Maria – BW Stevenson (although the Brooks & Dunn version is a nice, note-for-note cover)
27. That's Not My Name – The Ting Tings (the greatest song ever written about nerdy girls who can't get a date)

26. And Your Bird Can Sing – The Beatles
25. Drive My Car – The Beatles (but I've got a driver and that's a start)

24. Hey Mickey – Toni Basil (so I've got a thing for ex-cheerleaders-turned-choreographers-turned one-hit wonders…so shoot me)

23. Hey Ya! – OutKast (cool/fun video of a strangely upbeat song about a decidedly downbeat subject – this song reminds ELV of his first three marriages)

22. MMMBop – Hanson (ELV considers Hanson the undisputed masters of catchy, irritatingly-indecipherable, pre-pubescent ditties of abstruse significance.)

21. Roam – B52's (you can have all the shack love and rock lobster you want…this is the best toe-tapper of their oeuvre)
20. Whoomp There It Is – Tag Team (Intricate, complex lyrics intrigue ELV. Throughout the song, one is left wondering exactly why something takes a whoomp to cause it to be there)
19. Shiny Happy People – REM (Katie Pierson was another one who broke ELV's heart…by playing for the other side.)
18. Vacation – The Go-Gos (like classical scholars debating the relative merits of Beethoven's 5th v. 9th, many consider Head Over Heels to be the superior work )

17. What's the Frequency Kenneth – REM (an ode to babble)

16. Lola – The Kinks (So, he's a guy who likes girls who meets a guy dressed like a girl who wants guys who like girls to like him being a girl who's actually a guy. This song confuses ELV.)
15. All The Small Things – Blink 182 (an ode to meaningless, rock star groupie blow jobs and the stupid young females who, thankfully, give them)

14. Poison Ivy – The Coasters ("you're gonna need an ocean of calamine lotion" might be the best rhyme in the history of nonsense songs)

13. The Ballroom Blitz – The Sweet
12. Maybe I Know – Lesley Gore ("It's My Party" got all the play, but this is the better song****. Fun puberty fact: Little Miss Lesley was the first gal whose breasts caused a tingle in ELV's nethers. Unfortunately, she also plays for the other side.)
11. Smells Like Teen Spirit – Nirvana (sure it seems hackneyed and overplayed now, but when Cobain (literally) put the pedal to the metal (9 seconds into the song), it saved humanity from a lifetime of Phil Collins and Whitney Houston)

10. One Fine Day – The Chiffons
9. We Are Family – Sister Sledge (yes, they truly are a family and their last name is Sledge and this was the Pittsburgh Pirates theme song the last time they won the World Series)
8. Walk Like an Egyptian – The Bangles (like the Go-Gos, an all-girl group one could enjoy either with or without sound)
7. I'm Looking Through You – The Beatles (minor Beatles' hits were always the best)
6. The Lion Sleeps Tonight – The Tokens

4. I Only Want to Be With You – Dusty Springfield
3. Kentucky Rain – Elvis Presley (sure it's a bit of a downer, but it begs the question: did you prefer skinny Elvis or the young-girls-in-white-cotton-panties-waking-up-in-a-pool-of-your-own-vomit Elvis?)
2. Stacy's Mom – Fountains of Wayne (masturbation, I says)

…and finally, here it is: the absolute best, primo, numero uno, fabuloso juke box song of all time. Take us home, Warren:
1.

…and his hair was perfect.
<<<<<<<<<<<<<<<<<<<<<<>>>>>>>>>>>>>>
* We know what you are asking yourself: "Are these truly the greatest jukebox tunes of all time, ELV?" Of course not, silly. But each one of them has an upbeat sound all its own, as is a damn sight better than listening to "Don't Stop Believing" or "Old Time Rock and Roll" (see Rule #1) for the one millionth time.
** "The quality of the music is inversely proportional to the number of background dancers." – Bill Maher
*** The Brooks & Dunn cover to "My Maria" (no. 28 above) perfectly illustrates this point (and the general stupidity of  country music). BW Stevenson's song is about self-discovery, but Brooks & Dunn see it as a sappy-ass love song where some dude on a horse goes galloping around and annoying people — on a particularly windy day — while trying to find someone.
**** See Rule #4 above.
______________________________________________________________________
Final footnote: To keep some of his loyal readers off his back, ELV will hereby footnote a number of tunes that very easily could (should?) have been included, but for reasons of symmetry (he loved rounding off(?) his list at 66 songs) and length (he had already given you enough – 1,965 word to read) were not included:
Down Under – Men at Work
Mr. Jones – Counting Crows
Money for Nothing – Dire Straits
Twist and Shout – Isley Brothers
A Lover's Question – Clyde McPhatter
Knock on Wood – Eddie Floyd
Think – Aretha Franklin
Vaseline Machine Gun -Leo Kottke
Miserlou – Dick Dale
White Lightning – George Jones
Boys of Summer – Don Henley
Chain Gang – Sam Cooke
Green Onions – Booker T. and the MG's
All Along the Watchtower – The Jimi Hendrix Experience
Ain't That a Kick in the Head – Dean Martin
That's Amore – Dean Martin
Summer Wind – Frank Sinatra
Luck Be a Lady – Frank Sinatra (containing the classic line: "…or blow on some other guy's dice.")
500 Miles – The Proclaimers
Walk on the Wild Side – Lou Reed
You Ain't Seen Nothing Yet – Bachman Turner Overdrive
No Rain – Blind Melon
88 Lines About 44 Women – The Nails (triple the number, the angst and the craziness and you pretty much define ELV's life for the last hast half of the 2oth Century)
Dead Man's Curve/Little Old Lady From Pasadena – Jan and Dean
The Night Before – The Beatles (minor Beatles' hits were always the best)
You Might Think/Shake It Up – The Cars
Oh Girl – The Chi-Lites (because every evening needs to end with a melancholy R&B tune)