Music
In honor of the Winter in Venice festival going on at the Venetian/Palazzo today (especially the "How to Italian" food festival starting this morning), we at ELV thought a little music was in order:
Anything too stupid to be spoken is sung. – Voltaire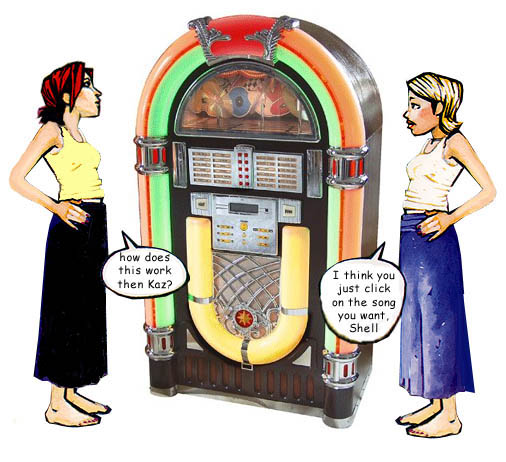 ELV note: Yours truly is often accused of hating music. This is not true. ELV doesn't hate music, he hates trite, tuneless, sappy, commercial, derivative, copycat, not-an-original-thought-anywhere music. Music that sounds like everyone else's music. And jazz. ELV really, really, really hates jazz. And Guns 'n Roses. He really hates Guns 'n Roses. Other than that, he loves the stuff. Sort of.
THE TOP 66 JUKE BOX SONGS OF ALL TIME*
You know the drill.
You've been there a hundred times.
You're in some bar with a friend or three. You're a little drunk, but not too. You might be hitting on new meat or playfully noodling your significant other. Everyone's happy and chattering away.  Tunes are playing on the Rock-Ola or Wurlizter, but no one's paying close attention.
Over in the corner, there might even be a few people boogieing away and singing along to some mildly inoffensive ditty from J. Geil's,  Billy Idol, Chili Peppers, Violent Femmes or Smash Mouth. Good times.
Then, just when things start peaking (a buddy has you in stitches, someone buys a round, she touches your knee/licks your ear/gently brushes the Amazing Python of Love, etc.) some punk-ass, lame-dick, shriveled-gonad pussy (or, even worse, some brain-dead, seen-better-days-bimbo) proudly strolls to the juke and punches in an hour of musical shite like Depeche Mode, "Satisfaction,"  "We Built This City on Rock and Roll," or anything from the Rolling Stones, Aerosmith, Fleetwood Mac or, heaven forbid, the Eagles (Joe Walsh excepted).
And do you know what happens next?
You know what happens next, don't you?