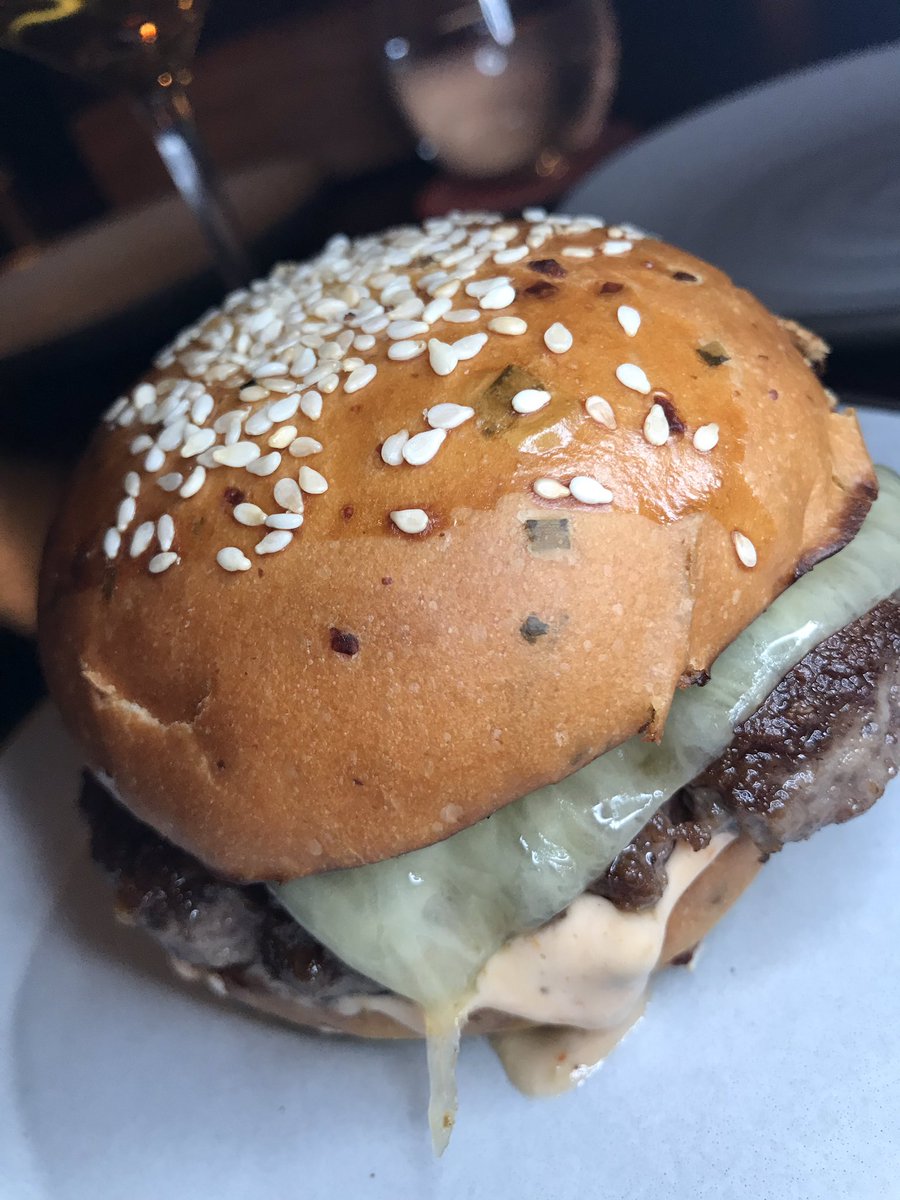 People have lots of opinions about hamburgers and hot dogs.
Only about pizza are they more passionate.
This is understandable because all three are among the most widely-consumed foods in America.
Rich or poor, everyone's been chowing down on burgers and frankfurters for their whole lives.
Even my 94 year old mother — a committed vegetarian for half a century — admits to a hankerin' for a hot dog occasionally.
The whole elevated-burger-thing started with Daniel Boulud's DB Burger back in 2001. By putting braised short ribs and foie gras inside a patty of deluxe ground beef, Boulud created a sensation, and also cleared the way for restaurants large and small to upgrade their burger game, and figure out how to charge $27 for one.
For a while, the the burger wars escalated beyond all reason. Few restaurants wanted to pursue the haute cuisine route pioneered by Boulud, but everyone wanted to get in on the game of making a better burger that would have diners beating a path to their door.
These burger wars begat monstrosities more renowned for their verticality than their taste.
Thankfully, the past several years have seen a retreat from these belly busters to creations more in line with what a hamburger is supposed to be: a simple, juicy, fresh, hot meat sandwich between two pieces of easy-to-handle bread.
A hamburger doesn't have to be gourmet to be great. All the perfect burger requires is two things: proportion and taste. Gargantuan burgers — no matter how fabulous the ingredients — whiff on the first part of the equation, rendering the second half a nullity. (Fabulous flavor gets lost when you're wrestling with something to get it into your mouth.) Don't get me wrong, the taste of any burger from a great steakhouse (great steakhouses always make a terrific burger) trumps anything Shake Shack or In-N-Out can throw at you, but cheaper cuts of meat — well-handled, seasoned and cooked — can make for a very satisfying burger experience.
But let's be honest here: when a great chef sets his mind to making a superb burger, the nominations close pretty quickly. I'm not talking about gourmet burgers as a social status signifier of omnivorousness, but rather, the simple fact that great chefs make food taste better than anyone else can.
And when Daniel Humm — the man some consider the best chef in America these days — puts his mind behind a beef patty, you can bet your bippy it will be memorable.
The cheeseburger at the top of the page is more than memorable; it is extraordinary beyond all beefy belief. It may be the best burger you've ever tasted.
It is made with dry-aged beef, in-house ground, and displays a dense, beefy funk on the palate like your average upscale burger can only dream of. You take a bite and immediately you recognize something is different with this ground meat. It haunts you as you chew, filling your olfactories with extreme beefiness, beckoning for another bite, a feat only the best dry-aged steaks achieve. This is not a burger for the masses; this is the ultimate connoisseur burger. Bradley Ogden used to make one (at Caesars Palace) that made you dream about it, days after you were done chewing, but this one tops it.
That it is of modest size is to its credit. Plenty for one, probably too small for two, it attains the longed-for sweet spot of being the perfectly-proportioned beef sandwich — just enough insanely fresh, sesame-studded bun, dribbled and dripping with cheese and dabbled just so with (thousand island-style ) special sauce.  Quantity-over-quality 'Muricans might blanch at its dimensions, but feinschmeckers will be licking their lips in satisfaction.
Then there is the Humm Dog: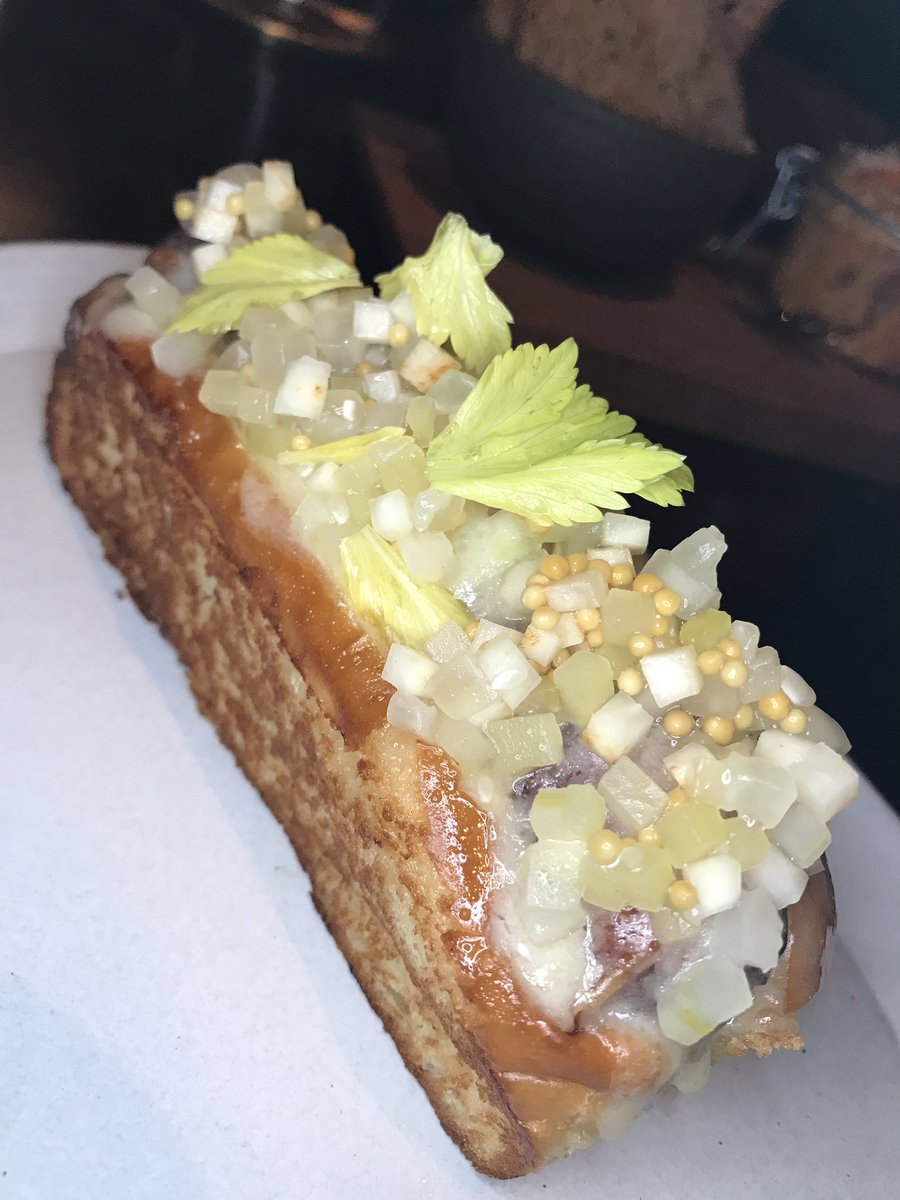 …what might well be the apotheosis of the tube steak.
There's not a lot we can say about it that hasn't been said before.
All beef, and (again) of modest girth, it claims its fame from being deep-fried with a bacon overcoat, and served with truffle mayo, melted Gruyère, and a tart, mustard seed/celery root relish. It is an impressive feat of food architecture, made more stunning by its elevation of the mundane to the magnificent. (Eating it can be a bit of a chore, as the balancing act of the sausage on that split bun must be overcome (or mushed down) before organoleptic bliss can be achieved.)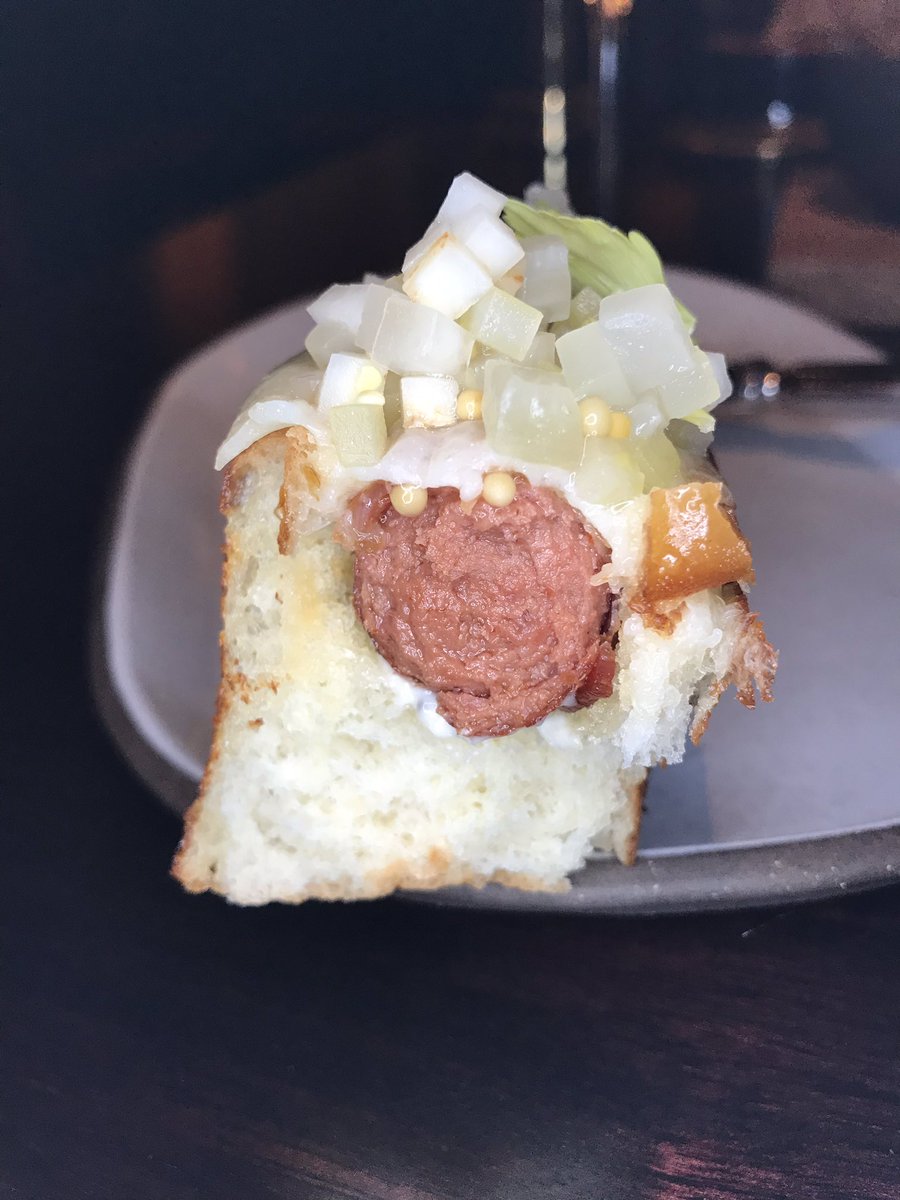 Both of these modest sandwiches represent a culinary transcendence of the ordinary into a realm they were never meant to approach. They are to be praised and damned for this. Praised for what they represent; damned for spoiling you for anything else.
I often tell people that in food and wine, you can never go back. Once you've tasted a certain level of quality — be it in a taco or a tempranillo — your mind and your mouth buckles at the thought of retreat. Neither my body or soul allows me to drink cheap chardonnay anymore. And now that I've tasted this hamburger and this hot dog, going back to what I used to be satisfied with will be difficult indeed.
The cheeseburger is $17 and the hot dog is $15.
NOMAD BAR
NoMad Hotel
3772 Las Vegas Blvd. South
833.706.6623