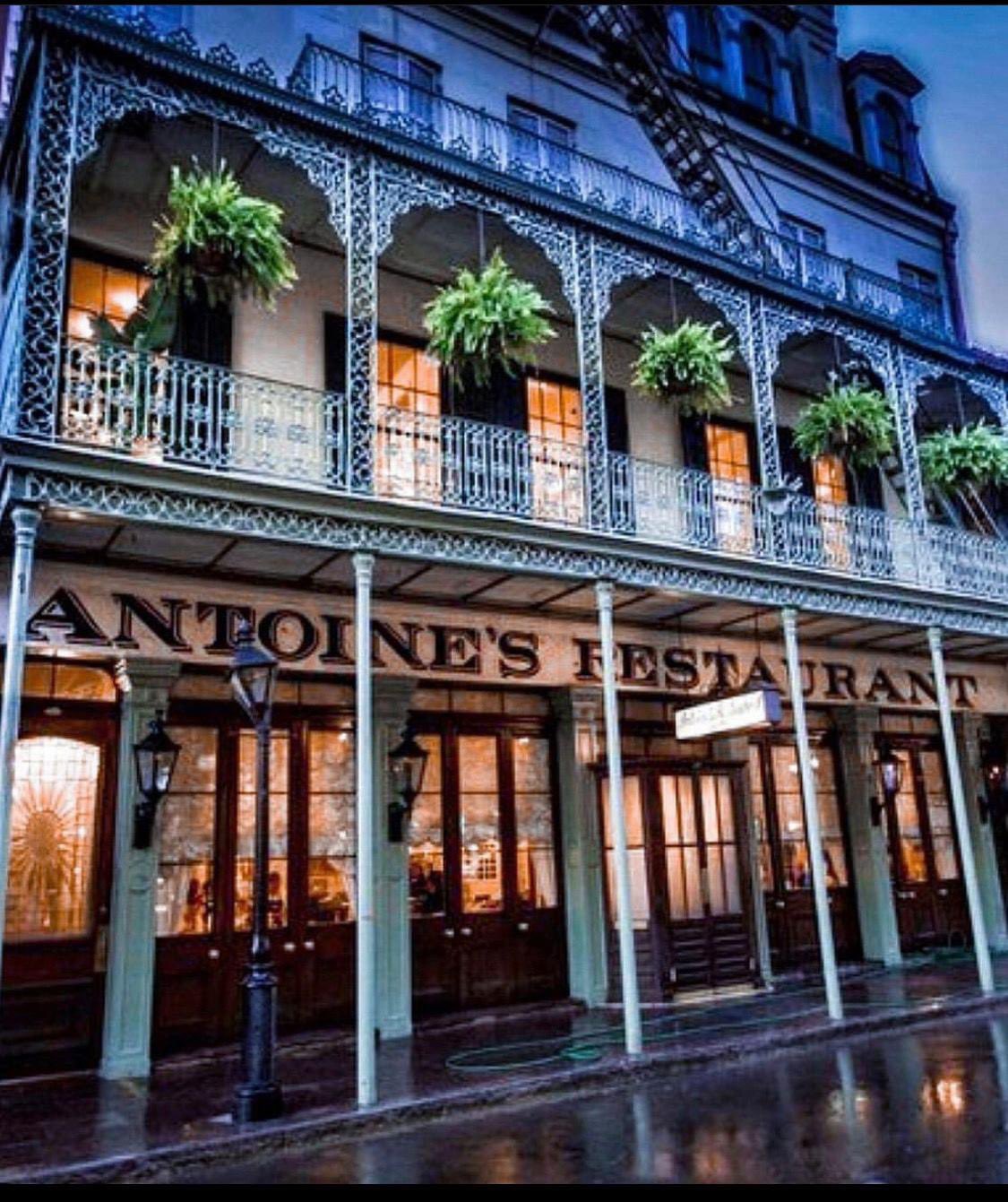 Epiphany (noun): an illuminating discovery, realization, or disclosure
Ask any food writer how they became interested in food and they will point to an epiphany, or perhaps several, that  spurred them into a life of obsessions. Here are a few of mine:
People are always saying Antoine's (est. 1840) isn't as good as it used to be…which is something people have been saying since the Civil War. Be that as it may, this New Orleans institution gave a 12-year old his first taste of extraordinary cooking when it placed a bubbling, sterling silver oval, about the size of a large candy dish, in front of him in the mid-60's. Filled with lump crab meat it was, spitting and gurgling sherry-tinged butter from its elegant confines. "Why don't you cook like this?" the 12-year old asked his mother. They all had a giggle, the butter gurgled, and the boy gulped it all down. You never forget your first time, he has often thought to himself in the ensuing half-century — with booze, drugs, sex, or crab meat bubbling in sherry butter.
Before there was Antoine's, though, there was fresh-baked bread and apple butter at Grandma's knee. In Wexford, Pennsylvania, just north of Pittsburgh, where yours truly first entered this mortal coil, he often visited his grandparents as a mere tyke. Sometime, as a little shaver (probably not more than 6), he recalls standing beside a huge white stove, his grandma (a big woman) standing there with her giant arms, slicing him a piece of bread right out of the oven, and slathering it with her homemade apple butter. Growing up in the 50s and 60s, bread was something with the texture of cotton balls you got out of a plastic bag. My grandma (Hazel Brennan Schroader) taught me that it wasn't, but it would be another 20 years before I would taste bread as fresh or as good, and back then (the 70s) I had to make it myself.
"This is the best tasting thing I've ever put in my mouth," is what the young pre-teen thought when he first encountered barbecuesauce — that heady mix of ketchup, brown sugar and assorted spices which is as common as ketchup now, but was a rare and exotic thing back in the day, outside of the barbecue belt. To this day, after eating 'cue across the country, and making everything from brisket to hot vinegar sauce from scratch, we still hold a special place in our heart for the standard, Kraft-level, sugary stuff. P.S. Stubb's make a fine one.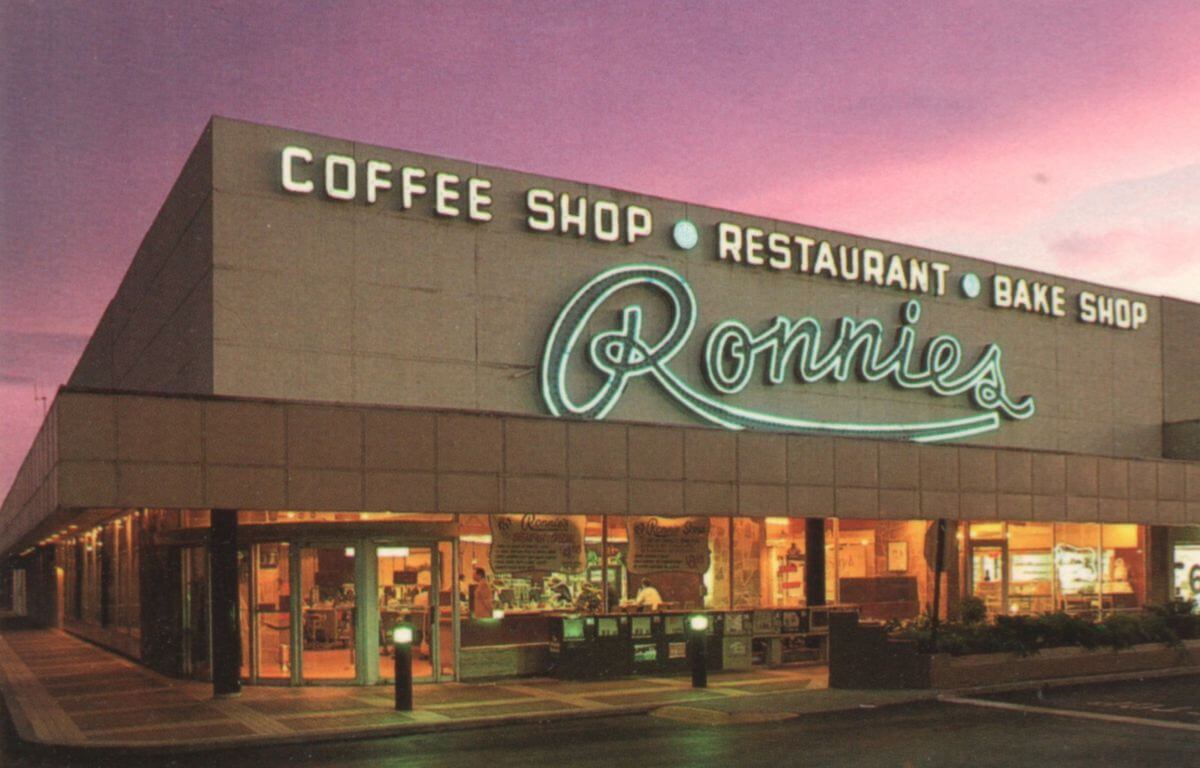 One wouldn't think a pumpernickel rollcould make such an impression, but the one's at Ronnie's in Orlando, Florida set a standard that is yet to be equaled. About the size of a small woman's fist, these dark-brown, double-folded beauties were filled with finely-chopped, melted onions, and possessed that malty, dark-roasted tang most brown breads can only dream about. And dream about it to this day I do– with smiling thoughts of eating them at home or in this booth (below), which my dad commandeered for our family of six almost every Sunday.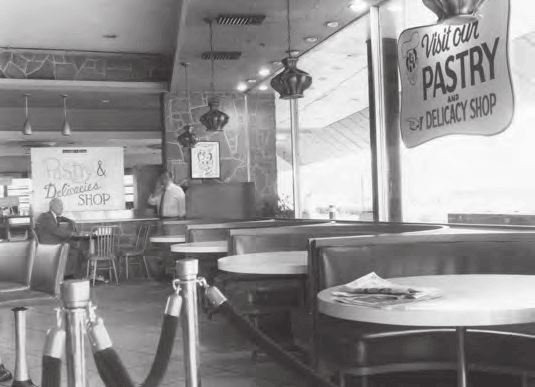 (Where we ate in 1958)
Her name was Syndie and she was small, cute, fair-skinned and raven-haired and I was totally in love with her for about twelve minutes in 1968. On one of our first dates we went to Arby's. Yeah, that Arby's — the one with sandwiches made with a compacted brown substance having more in common with cardboard than actual meat. But this wasn't always the case. In fact, the case at the early Arby's were filled with actual roast beef, from which they would finely slice and pile high the ribbons of rib eye that would make this place a success. Like the original McDonald's, or the smashed, caramelized steakburger of Steak n' Shake fame (two other epiphanies), the original Arby's sandwich was a revelation in tasty fast food. Alas, they all have as much in common with the edibles that put them on the map as a cafeteria has with haute cuisine.
My first experience with oysters was with a college buddy named Bill Bardoe at a place called Lee 'n Rick's Oyster Bar in Florida, if memory serves. Don't know what happened to ole Bill, but still thank him for turning me on to these beauteous briny bivalves back in my college days. Try them steamed, Bill advised, and he had a point. To this day, it is how we prefer oversized Gulf oysters. Oyster epiphany #2 happened in Brussels two decades later — where the small, flat, coppery Belons (above) were so fresh they contracted when hit with a drop of lemon juice. These have been my holy grail of 'ersters ever since. Only in Paris have I come close to re-creating such perfection.
Nantucket seafood is its own thing: straight from the boats onto your plate, at a phalanx of restaurants with the coin and clientele to treat it right. Nowhere in the United States have I found the bounty of the sea as succulent…although on a good day the Pacific Northwest comes close.
Carnegie Deli corned beef — piled higher than a B-52, served by mock surly waiters — taught me more about New York eating than the Union Square Cafe and Lutèce ever did.
Unlike most oenophiles, I don't consider great wine with the reverence usually afforded it. Having had them all — from the classified growths to the Grand Crus to vintage champagne to the rarest of Rieslings — I have always kept it in perspective. Wine is a fermented grape beverage designed to be enjoyed with food, not fetishized like fine art. Screaming Eagle and DRC don't taste that much different from bottles costing hundreds (thousands?) less. That said, a private Grand Cru tasting of Chablis in NYC, back in 1988 with winemakers named Dauvissat, Raveneau and the like was quite the palate opener, spoiling me for mediocre chardonnay forever.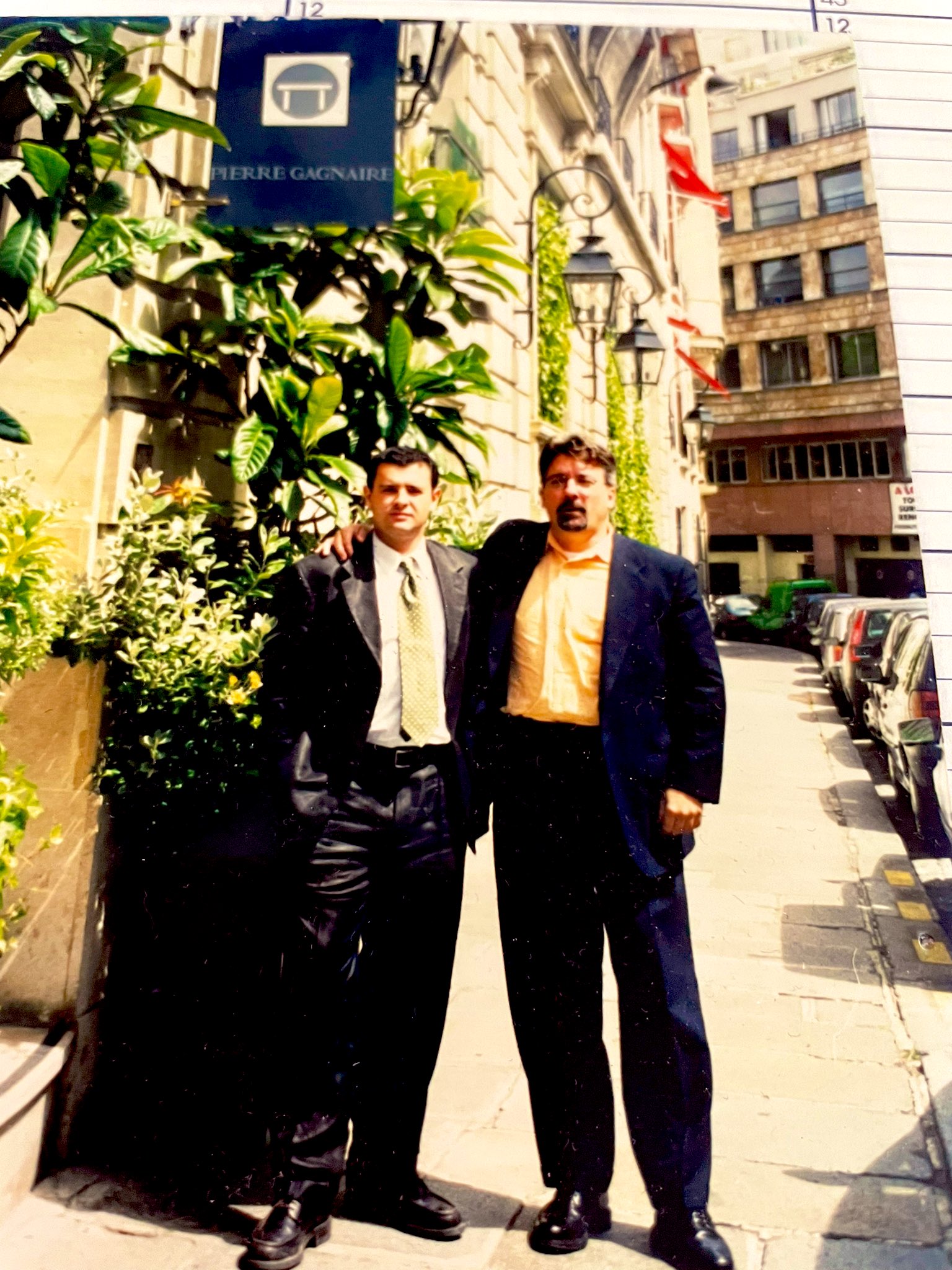 (With LT in Gay Paree)
For the epiphany of all French epiphanies, I heartily recommend spending two weeks in France with Laurent Tourondelsometime…eating in nothing but Michelin 2 and 3-star restaurants (see above). Gained 11 pounds. Was totally worth it.
Christmas at Duran's Pharmacy has nothing to do with the holiday season, and everything to do with red and green New Mexican chile (above). New Mexican food is its own thing: an amalgam of Native American, Mexican, and Southwestern cooking, and the lady Latino cooks at Duran's do it as well as anyone. Sitting at the counter, and watching them work, is almost as lip-smacking as polishing off their definitive carne adovada.
Our days of enduring marathon tasting menus are deader than Craig Claiborne. The spirit is willing but the flesh is weak for things like a four hour dinner at Le Grand Vefour.  When we go haute cuisine hunting in France nowadays, it's more likely to be at lunch than dinner. But way back when we were up for it all…including three-hour lunches followed by feasts that would make Lucullus blush. I've been back to LGV several times since that first meal in the early 90s, but it has stayed with me, right down to the perfume of truffles wafting from within a Bresse chicken, and slab of goose foie gras so silky it was like an Hermés scarf for your tongue.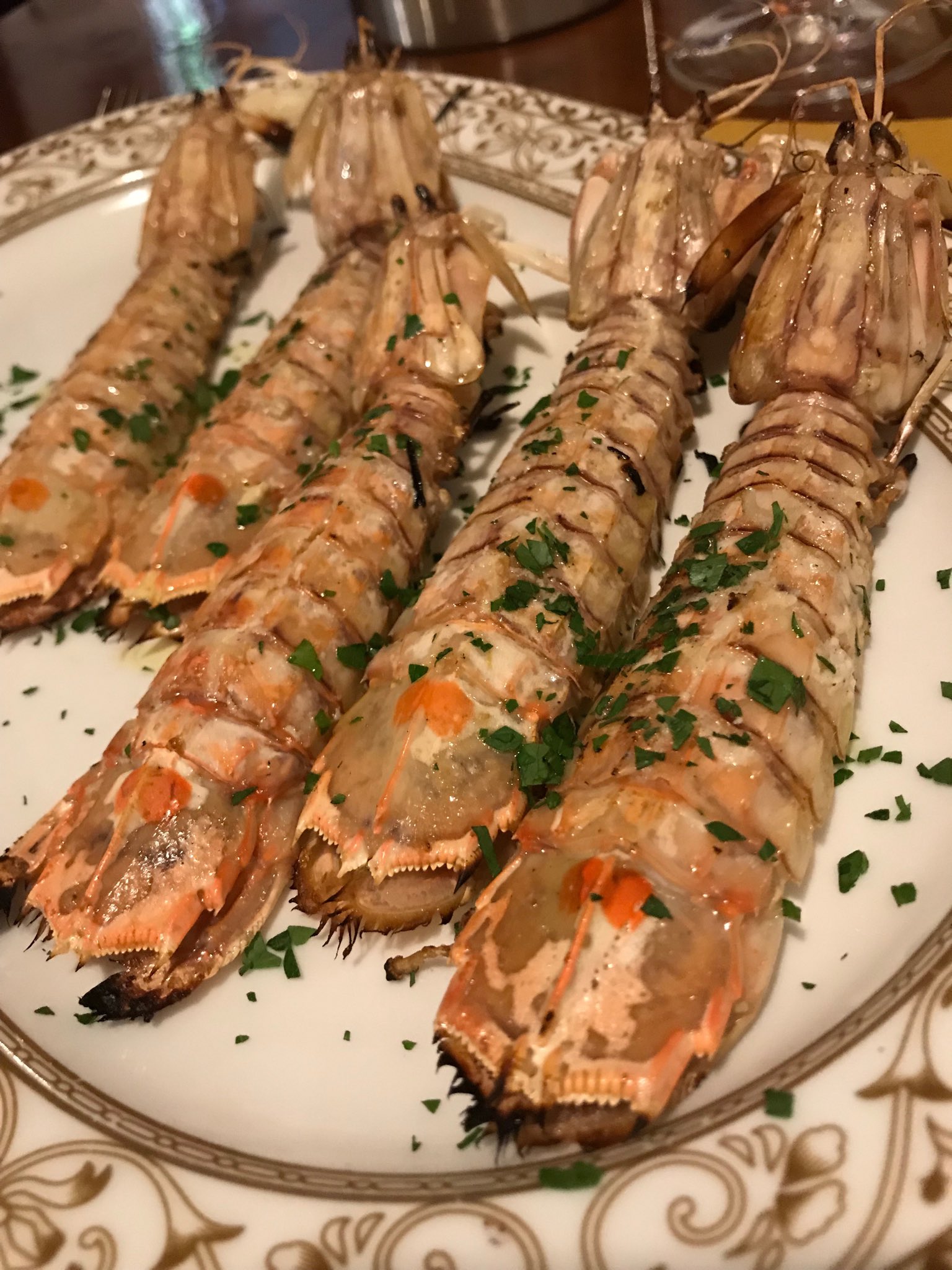 (Canocce – Mantis shrimp)
Our first sojourn to the original  Harry's Bar in Venice was love at first taste — that taste being of Venetian seafood that seems to attain an unworldly sparkle from the Venetian Lagoon and surrounding waters. Croatians may carp, Norwegians say nay, and the Japanese take umbrage, but the simple creatures of Venice are, to my mind, the greatest seafood on earth, perhaps because of the elegant, elemental way they are prepared.
Maison Troisgros is the finest French restaurant I've been to outside of Paris. So good I once accomplished a lunch-dinner-lunch hat trick there in a single 24 hours. Haven't been back since, to my everlasting regret.
That croissant outside of the Gare du Nord train station in Paris —  7:00 am on a freezing day and starving (after a night of carousing at Brasserie Flo), waiting for an early train back to Germany, I spied a lightedboulangerie a block from the station, just opened it seemed, with a few folks lingering outside in the morning chill. With time to kill I wandered over, drawn by the smell of fresh baked goods and patrons jockeying inside to get pastries directly from the oven. When it came my turn it was an easy order: "Un croissant et un pan au chocolat, s'il vous plait." (Pretty much the limits of my French at the time; pretty much the limits of my French to this day.) The pastries were still warm when I took them out of the bag on the sidewalk. Their crusts were as thin as tissue paper, as brittle as spun sugar, with a bronzed sheen of uniform perfection. They shattered with the lightest of bites, scattering shards of butter-soaked mille-feuille all over my jacket and pants. I can still see the little spots of butter soaking into my clothes. Never had a croissant since that was as satisfying.
The French practically invented the word epiphany (actually, the Greeks did), so it's no surprise many of mine have come at their hands, including:
L'Auberge de L'Ill's carte des fromages. Getting engaged to The Food Gal at this venerable Alsatian 3-star was nothing compared to jaw-dropping, heart-fluttering effect of first seeing this multi-level cheese cart in 2005. Did I try one of everything? You know I did.
Guy Savoy's wild turbot, Lièvre à La Royale, and buckshot in the grouse. "I told you eet was freshly keeled thees morning, " he beamed as we showed him the BB.
Daniel Boulud's masculine/feminine tasting menus, along with roasting a woodcock's brain over a candle at Daniel. Yes, you hold it by the beak until the thimble-sized cerebrum starts bubbling. (Sorry, no pics, this happened during the Stone Ages – 2002.)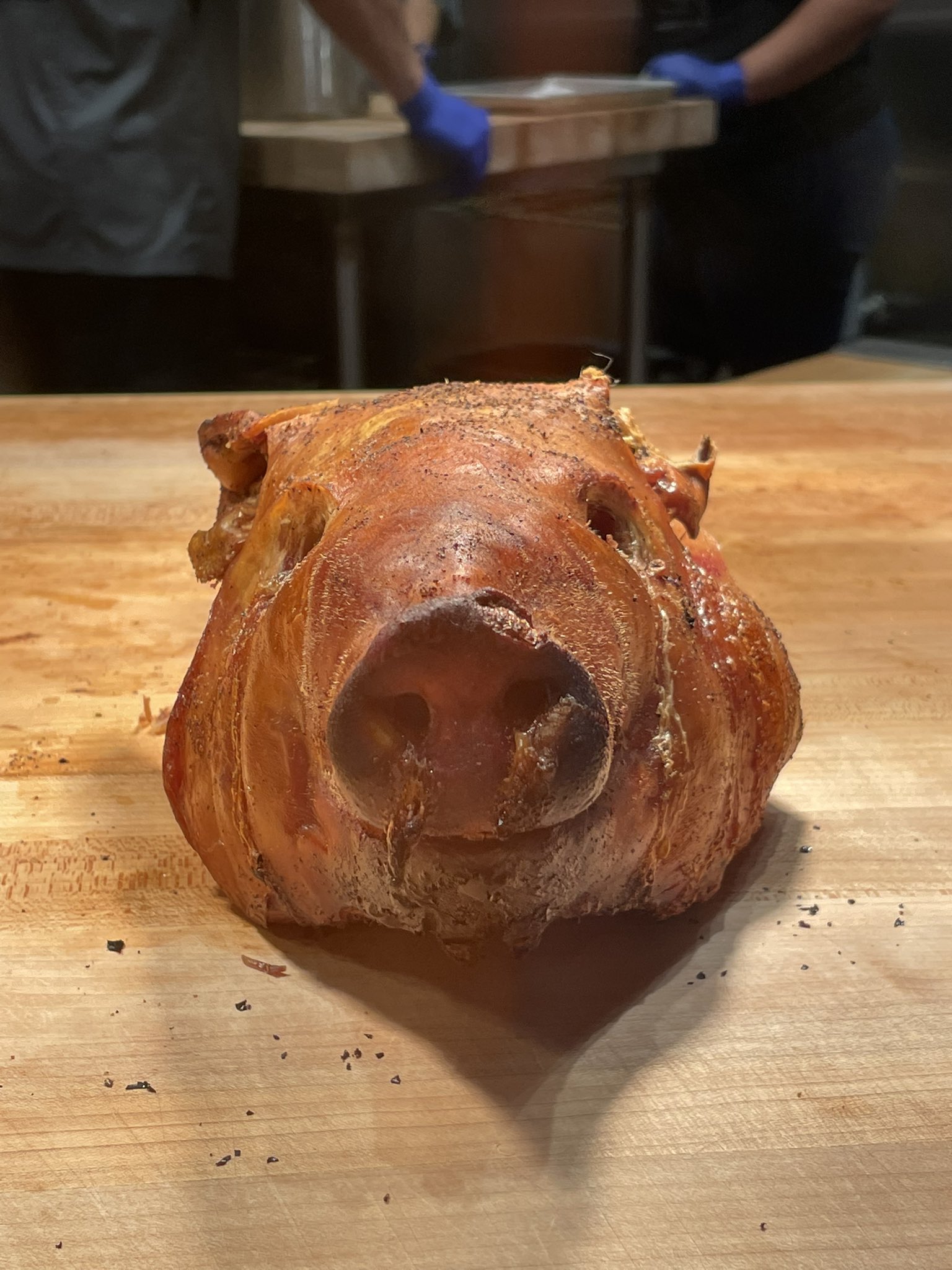 Lexington, Texas has one of the best briskets in Texas at Louie Mueller's; Lexington, North Carolina is chopped pork heaven with a host of local joints specializing in a simple sandwich. The whole hog rules in Ayden, N.C.. Until you make a pilgrimage to all of them (or at least one of them), don't talk to me about your weak-ass, set it-and-forget it 'cue.
And then there were the Alpine cheeses of the Savoie at La Bouitte — Comte, Gruyère, Beaufort — whose nutty, creamy, concentrated fruitiness can only be fully appreciated when you're gazing upon the pastures where the cows once grazed while you're eating them with a glass of vin jaune. Prosciutto slices at Sabatini in Rome, where the slicing of each piece is treated with the delicacy of a straight-razor shave. Tortellini en brodo in Bologna, a dish so deceptively basic it almost comes as a shock when its soul-satisfying qualities threaten to overwhelm your senses. And finally, Cecilia Chiang's minced squab lettuce cups, at the Mandarin in San Francisco, when you were but a neophyte feinschmecker, but one smart enough to know you were at the epicenter of a sea change in thinking about Chinese food.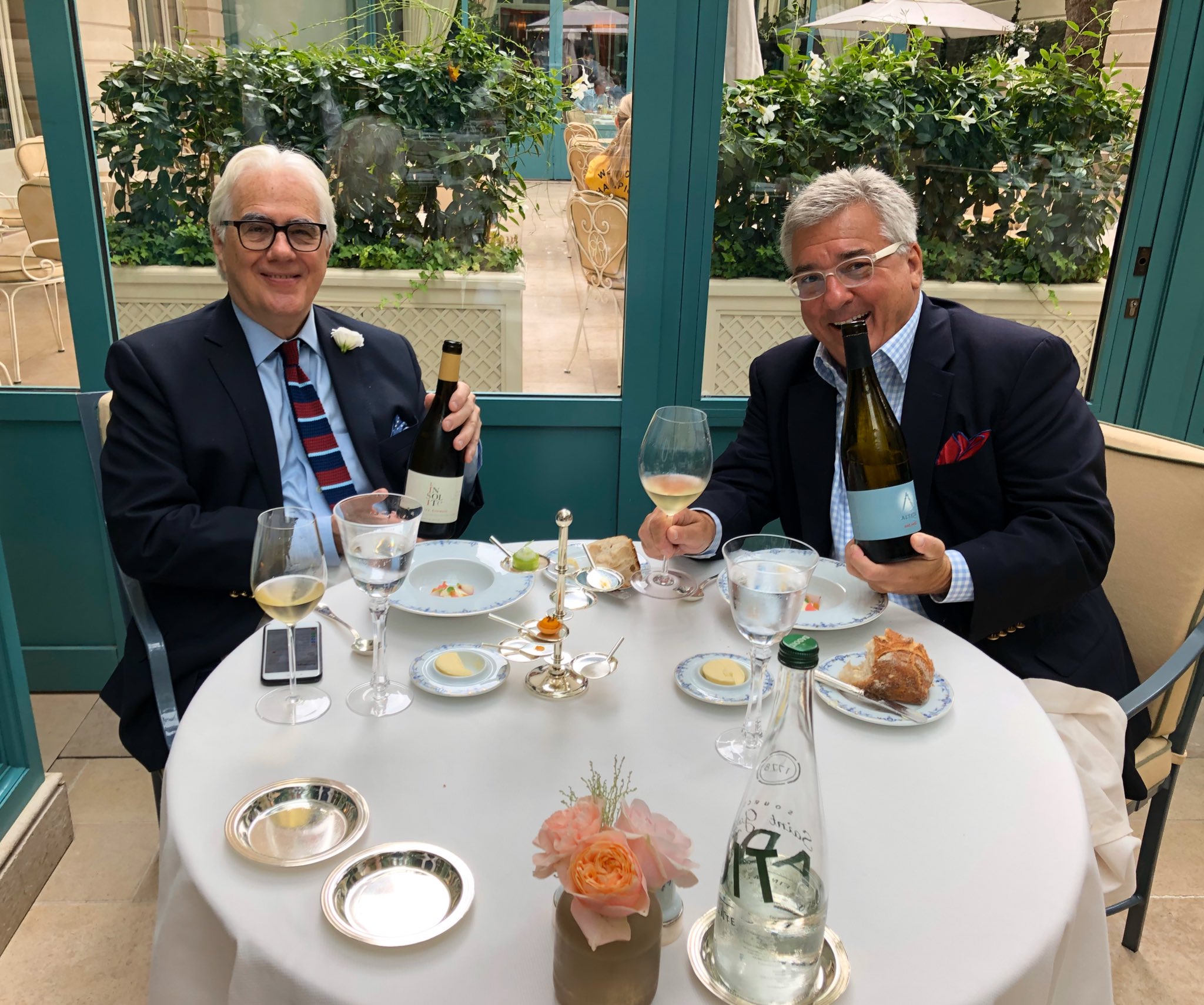 A lunch with John Mariani at the Ritz in Paris — the ideal gastronomic experience, where it was all about the conversation, the company, and the cuisine, with nary a false note on any front.
Epiphanies come fewer and farther between as you age. As with sex, the ground doesn't shake so often. But as with all life-affirming events, they stay with you.
I suppose, that's what these are all about: events seared in your memory as something so ethereal you can never forget them. An epiphany is always there, pulling, nagging, worming, tickling our thoughts with the sublime as we struggle with the corporeal and prosaic in our daily lives. Epiphanies give comfort that way — comfort and private little joys — soothing our souls while giving us the inspiration to carry on.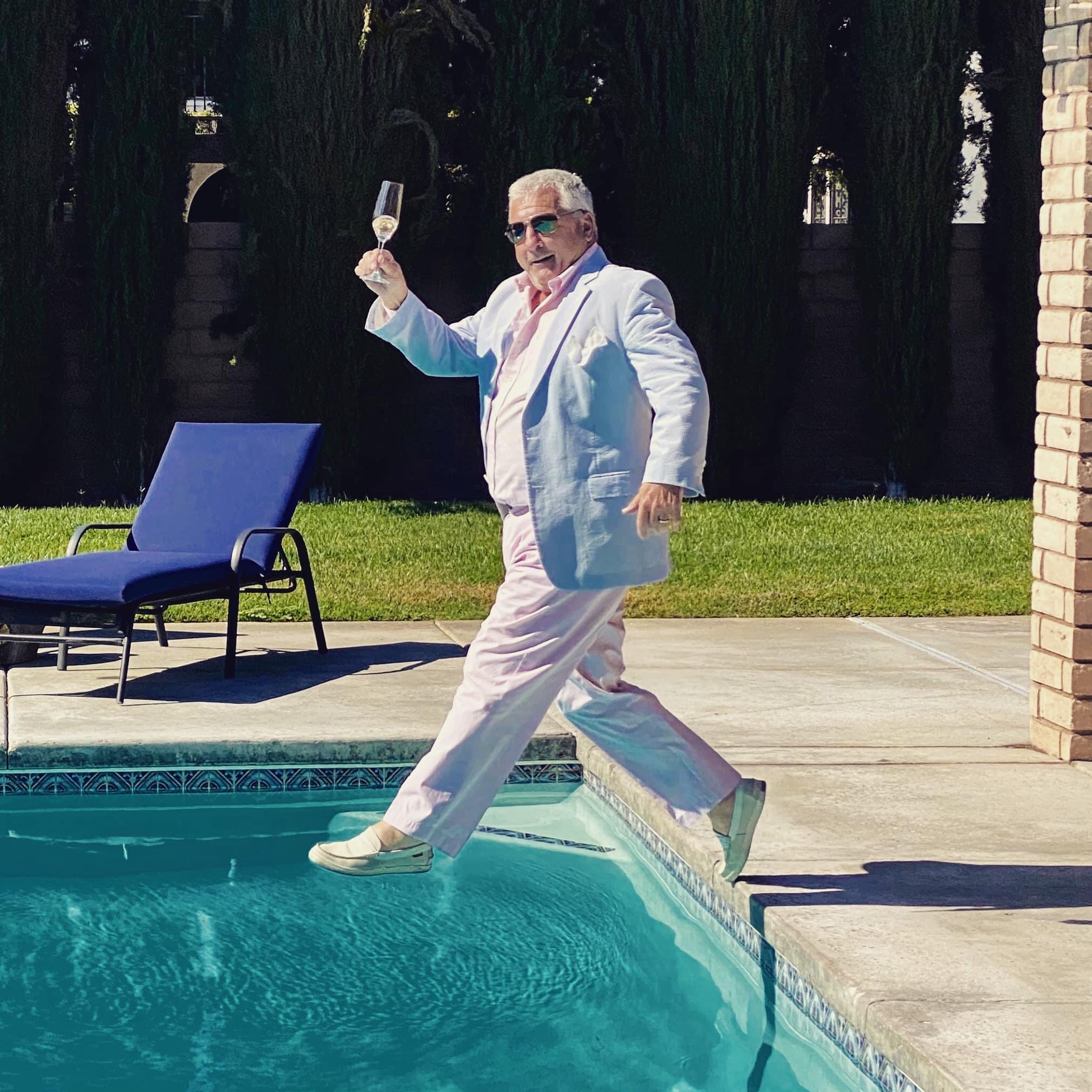 (Keep drinking and carry on)