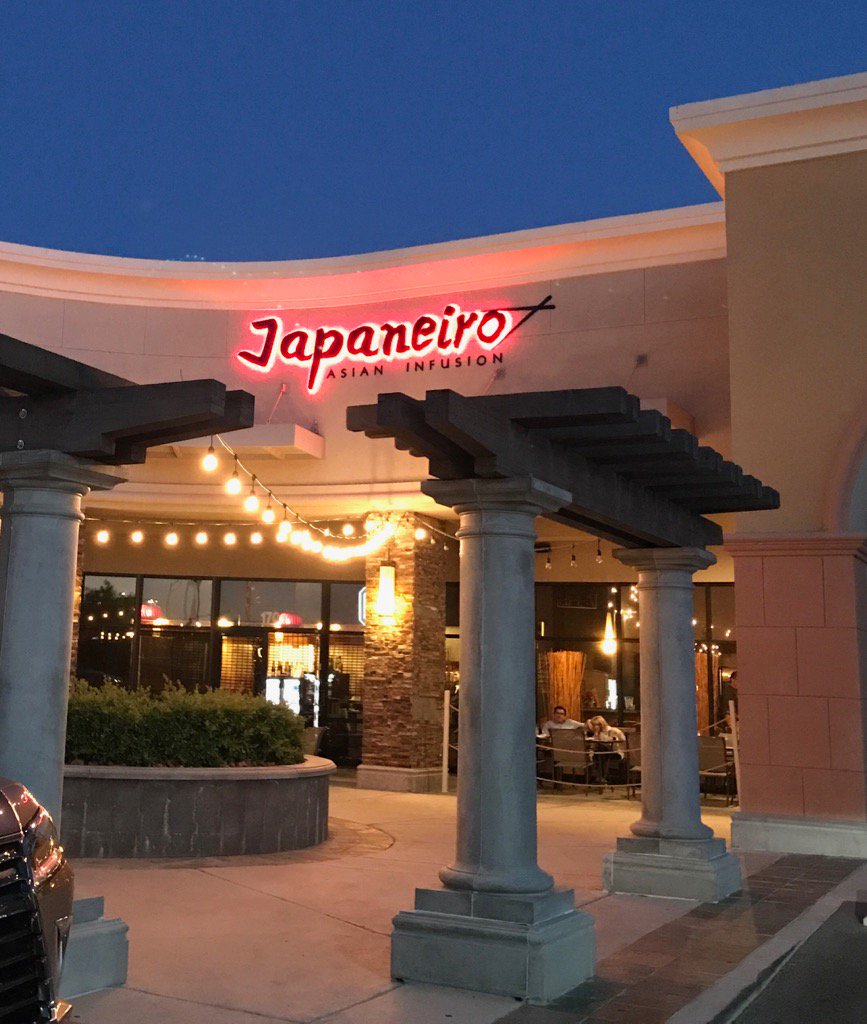 Kevin Chong's Japañeiro is going on 3 years old now.
To be perfectly blunt, its survival has always been in doubt to us. Not because it isn't exceptional, but because it is in an exceptionally difficult location — probably the worst in town for a place serving such fine food.
If you haven't been, allow us to paint a picture for you. On a desolate corner in the southwest part of town there is a strip mall — one of those L-shaped jobs with spaces for maybe 10 tenants. Japañeiro occupies the corner space, while a few other renters hold on, as they weather the various stages of going into or out of business. There is a sad looking video poker bar on the corner pad, and a lot of depressing dust and emptiness on the other 3 corners of Warm Springs and Tenaya. If you were picking the worst place in town to create extraordinary meat and Asian seafood combinations — dishes that would make even the fussiest gourmand sit up and take notice — you couldn't pick a more dire location.
But survive Chong has — against all odds. And how's he's done it is by bringing in everything from true Belon oysters, to live Japanese abalone to Kegani Hokkaido hairy crabs in season. He's done it with technically precise combinations and point perfect cooking.
He's done it by doing Asian fusion food as well or better than anyone on or off the Strip.
Chong previously worked at Nobu, and his facility with blending Japanese ideas with in-your-face seasonings shows his pedigree, and the influence of his sensei, Nobu Matsuhisa. You won't find better kumamoto oysters with uni and foie gras anywhere — and that includes at Nobu. He toggles back and forth between Asia, France and the U.S.A. with equal aplomb — plating gorgeous escargot with the same flair he shows to giant Nigerian prawns doused with truffle butter, or the best beef gyoza in town: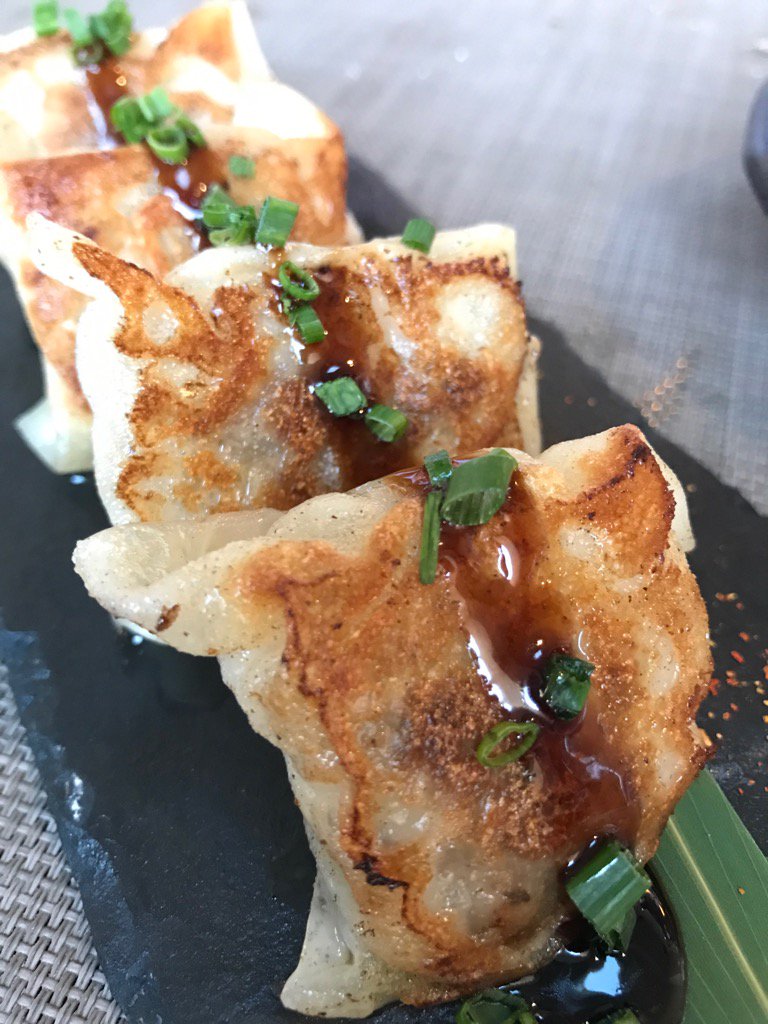 Speaking of meat, there isn't a better cut of beef in the 'burbs than Chong's 24 oz. dry-aged rib eye, sliced and cubed off the bone and served with an array of salts and dried garlic: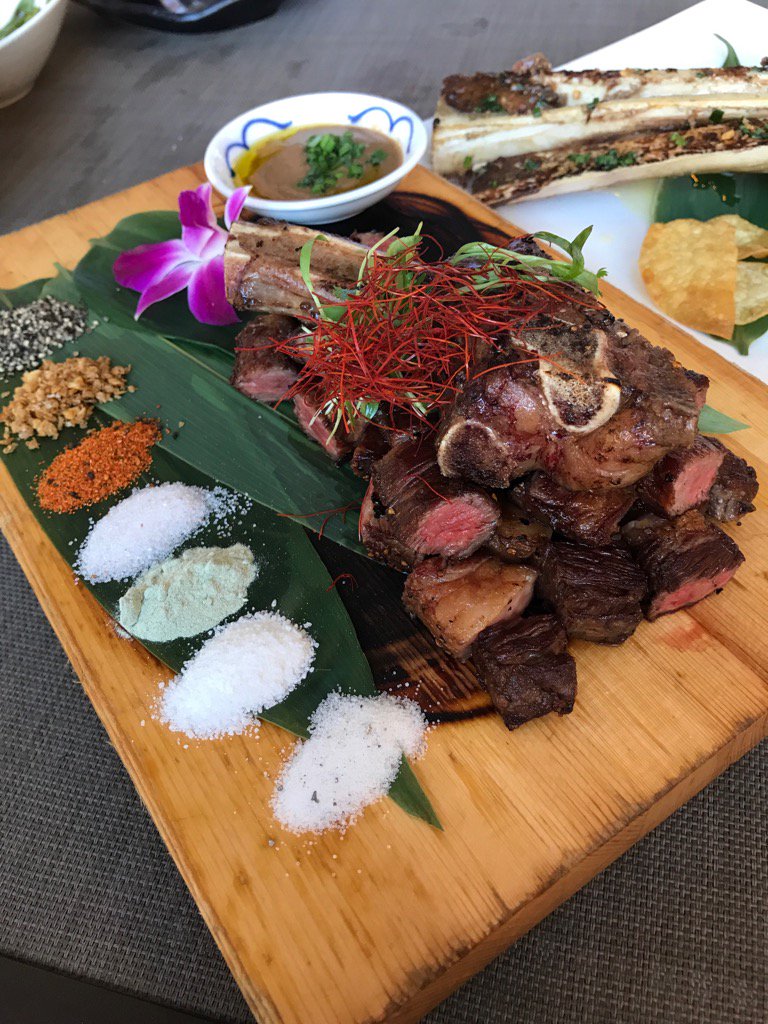 He also does top shelf sashimi: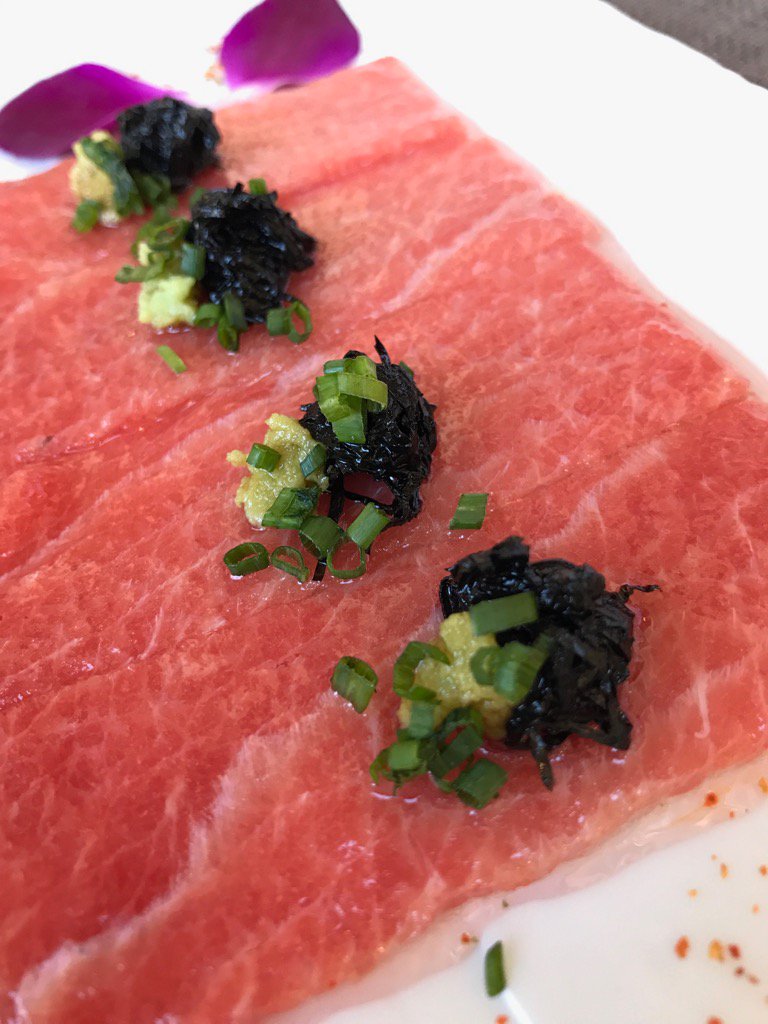 ….and a green tea tiramisu and fried bananas to beat the band: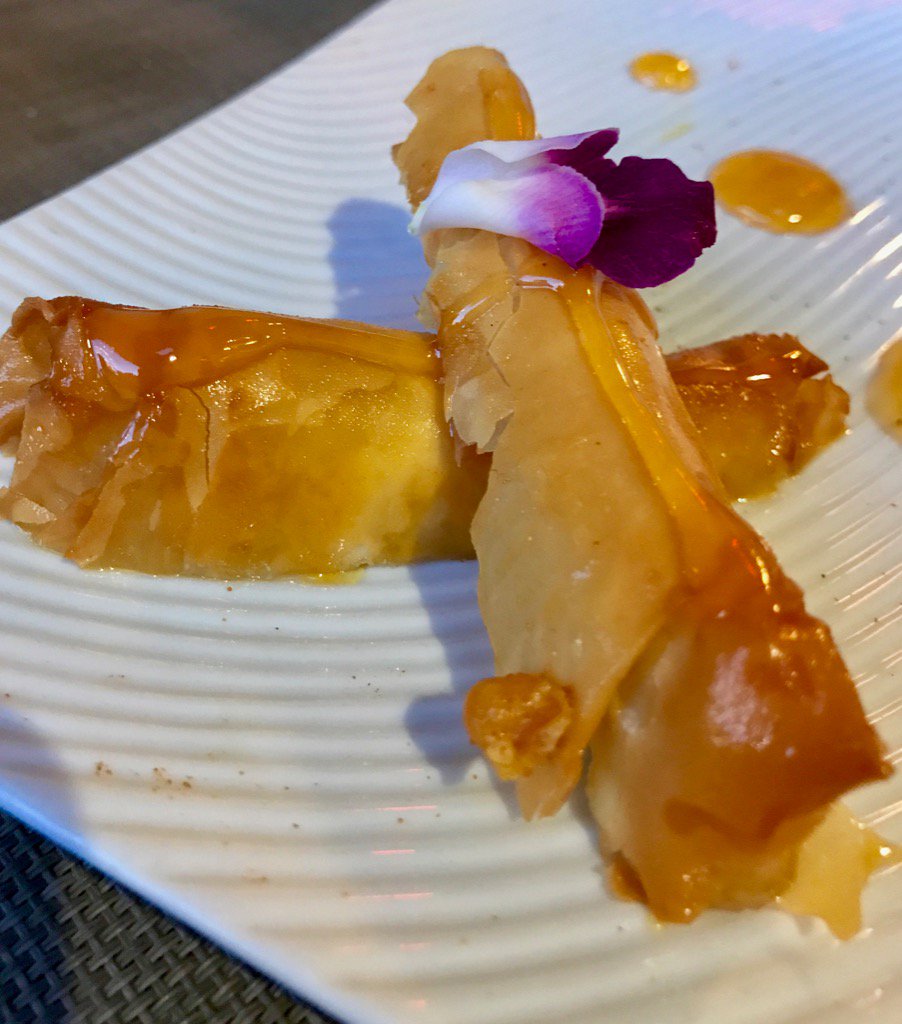 Put it all together and you have one of our most unique, tastiest, chef-driven restaurants — the type of place foodies are always pining for, and that Las Vegas has precious few of.
With all this in mind, you might be asking yourself, "Why isn't there a line out the door for this food?"
The answer, of course, has something to do with the location, and a little more to do with the price point. This is not the place to come for bargain basement fusion food. It is the place to come for some of the most unique creations in Las Vegas, made by a chef who's passionate about what he does. Chong, like Dan Krohmer at Other Mama, is sourcing Strip quality ingredients and giving them an East-meets-West spin that always maintains a delicate balance between creativity and understatement. Cooking this fine is worth the tariff, even if a tab for two can get to $150 very quickly — $75 being price of his multi-course omakase dinner. Ordering a la carte will  keep things right around a hundy for a couple.
Those who blanch at that tariff will be happy to know there's a happy hour (where everything's under five bucks), and that the (huge) rib eye (at $65) is a flat out steal.
Location or not, anyone interested in interesting food ought to be eating here.
ELV's dinner for two with a bottle of $50 wine came to $200 and we left a $40 tip.
JAPAÑEIRO
7315 West Warm Springs Road
Las Vegas, NV 89113
702.260.8668