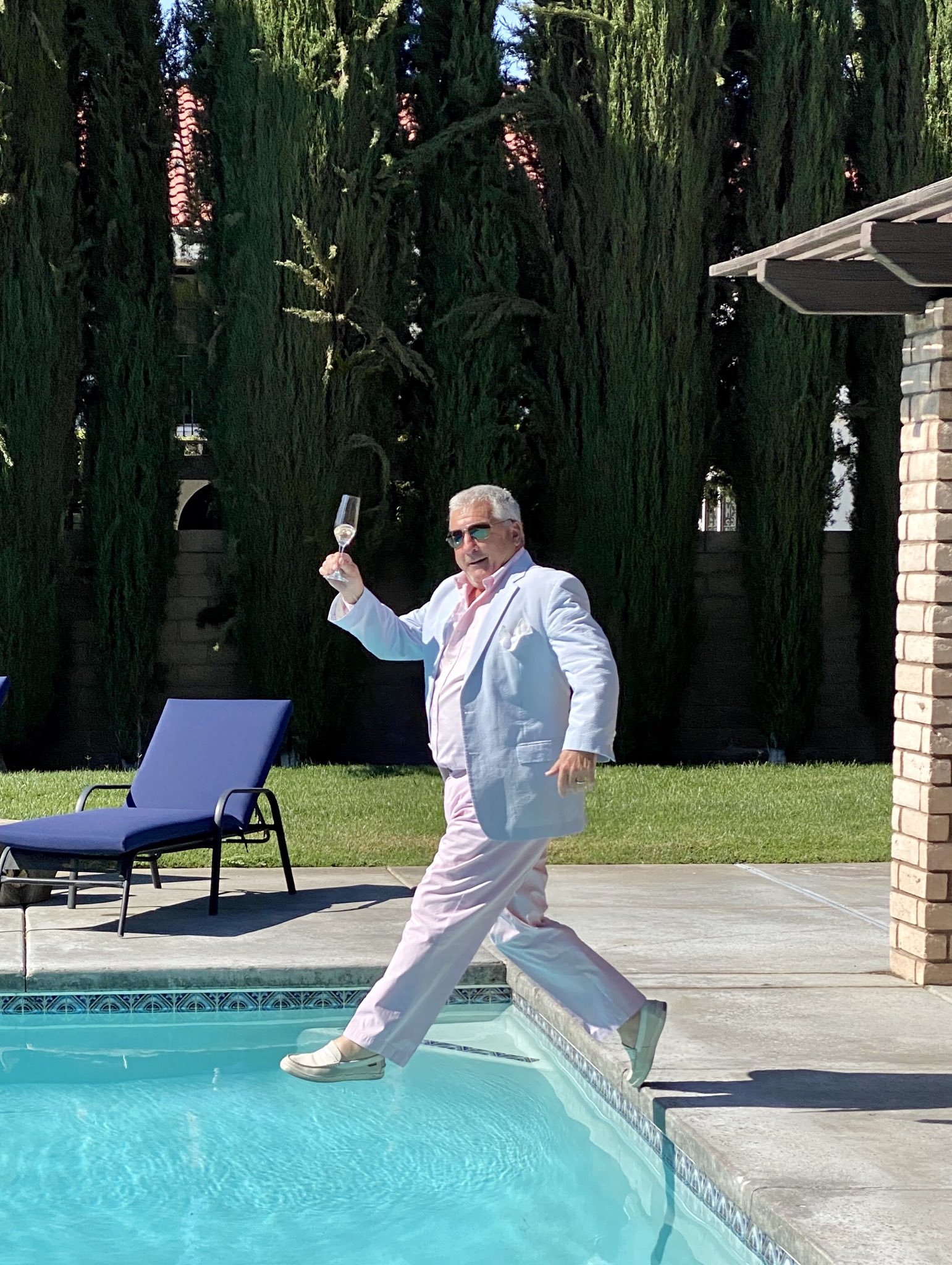 My House:
It was never supposed to last this long.
What started as a mild flirtation with Vegas has turned out to be the longest commitment of my life.
What brought me here was a woman (the second Mrs. Curtas), what's kept me here has been my house.
Before buying this property, my transience was legendary.
Between 1970 (the year I left my parent's domicile) and 1995 (when I settled here), I estimate I changed residences 22 times. College, law school, children, divorces, moving cross-country three times — things were pretty hectic for 25 years. The longest stretch in a single abode was four years; the shortest were nights spent couch surfing at the houses of sympathetic friends.
Then, one day in June, 1995, my then wife-to-be (the third Mrs. Curtas) stumbled upon an unprepossessing bungalow, smack dab in the middle of town (in old but not really old Las Vegas), and we fell in love at first sight.
With the house at least. Four years later we were splitting the sheets. She moved; I stayed.
It was a bachelor pad/party house for a few years and served all the functions necessary to those pursuits (nothing gets a woman out of her clothes faster than a hot tub), but it fell into disrepair as those exploits faded and the Great Recession took hold. It was nip and tuck for a while whether I could keep it up (insert dirty joke here), but through bailing wire and financial duct tape, things held together.
Now, the final Mrs. C (the long-suffering Food Gal®), has restored its former glory, and I wouldn't live anywhere else in Las Vegas if you gave me a McMansion on a golf course with a butler.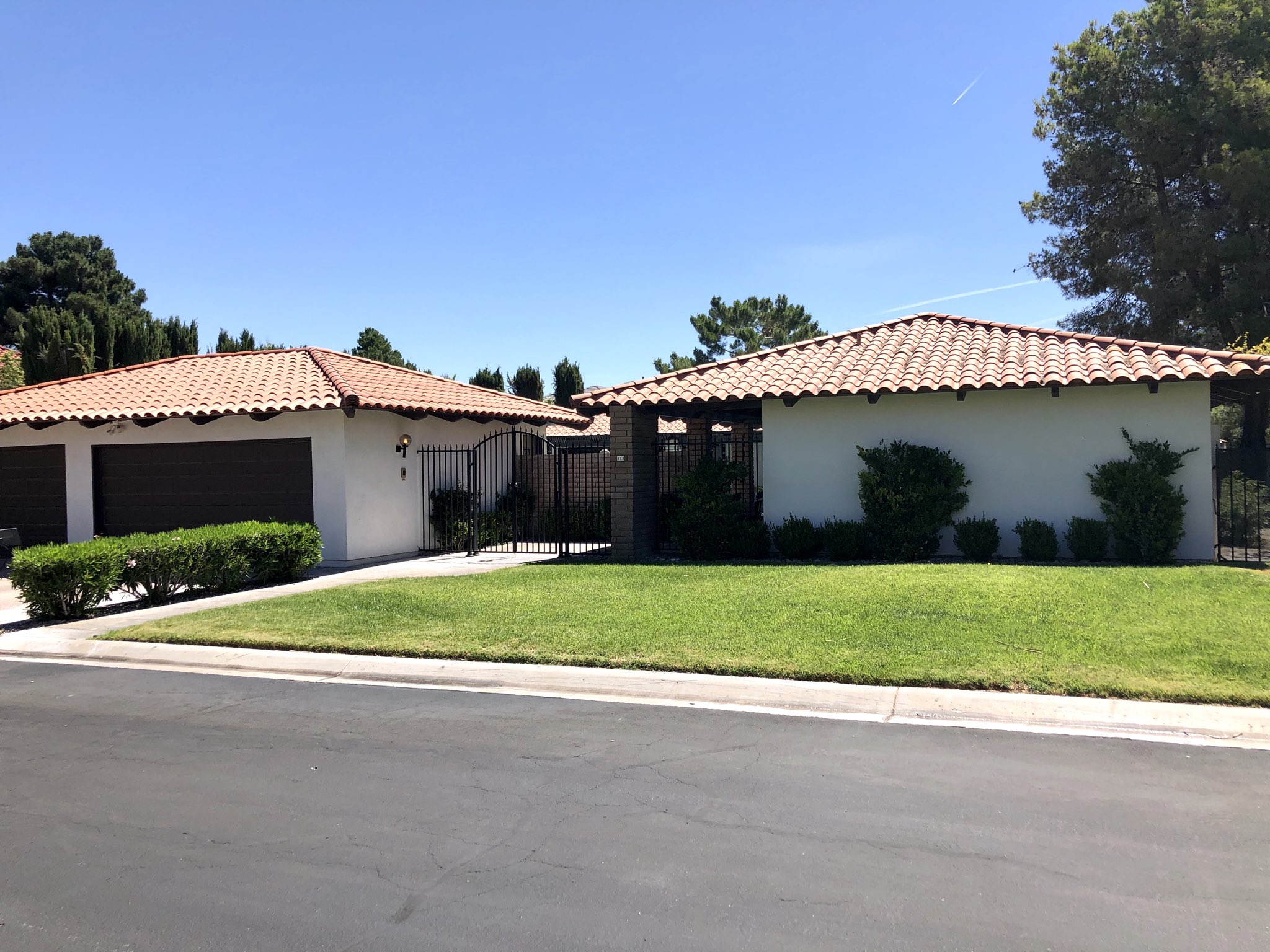 (Feng shui 100, Curb Appeal 0)
As much as I love it, my house has zero curb appeal. There's barely even a front. All you see from the street is a three-car garage with an iron gate beside it. But as anyone in real estate can tell you, fancy frontage frequently foretells edificial falsity. Or something like that.
The best thing about the place is its shape. Feng shui they call it, and you can't help but notice the feel-good quality as soon as you walk in the iron gate. That shape is a "U" which wraps around a small rectangular swimming pool — exuding coziness from the get-go.
Most houses have walls; mine has windows. Big ones. Lots of them, some with giant sliding glass doors and some without. More natural light streams in than the Bellagio Conservatory; so much radiance the warmth of the sun is almost all we need to heat the place in winter.
One side of the U is the garage, the other two sides are the "L"-shaped living structure — nothing fancy but laid out for maximum comfort. You feel good when you walk through that iron gate and suddenly see the pool wrapped on three sides by the house. Everyone does. I've never had a person come over who didn't remark how charming the layout is — even at the height of my bachelor revelries when dirty ashtrays, empty bottles, and womens' underwear strewn about.
Somewhere around 2000 one of those parties ended with my couch — a fully functional living room couch — sitting at the bottom of the pool. Another soirée found some drunken lass spewing chunks all over my master bathroom, after I begged her….BEGGED HER…to stay outside on the lawn if she wasn't feeling well. Took me three hours and a gallon of Clorox to clean up. Still remember going to court that morning stinking of bleach, no sleep, and middle-aged bachelor despair. Good times.
My house is more masculine than feminine, more Palm Springs than Palm Beach. It feels like it should've belonged to someone in the Rat Pack — not Frank or Dino or Sammy, but a minor hanger-on like Joey Bishop. It practically screams for men in Sansabelt slacks and cigarettes to be strolling around, asking the missus (in a beehive of course) when the martinis will be ready.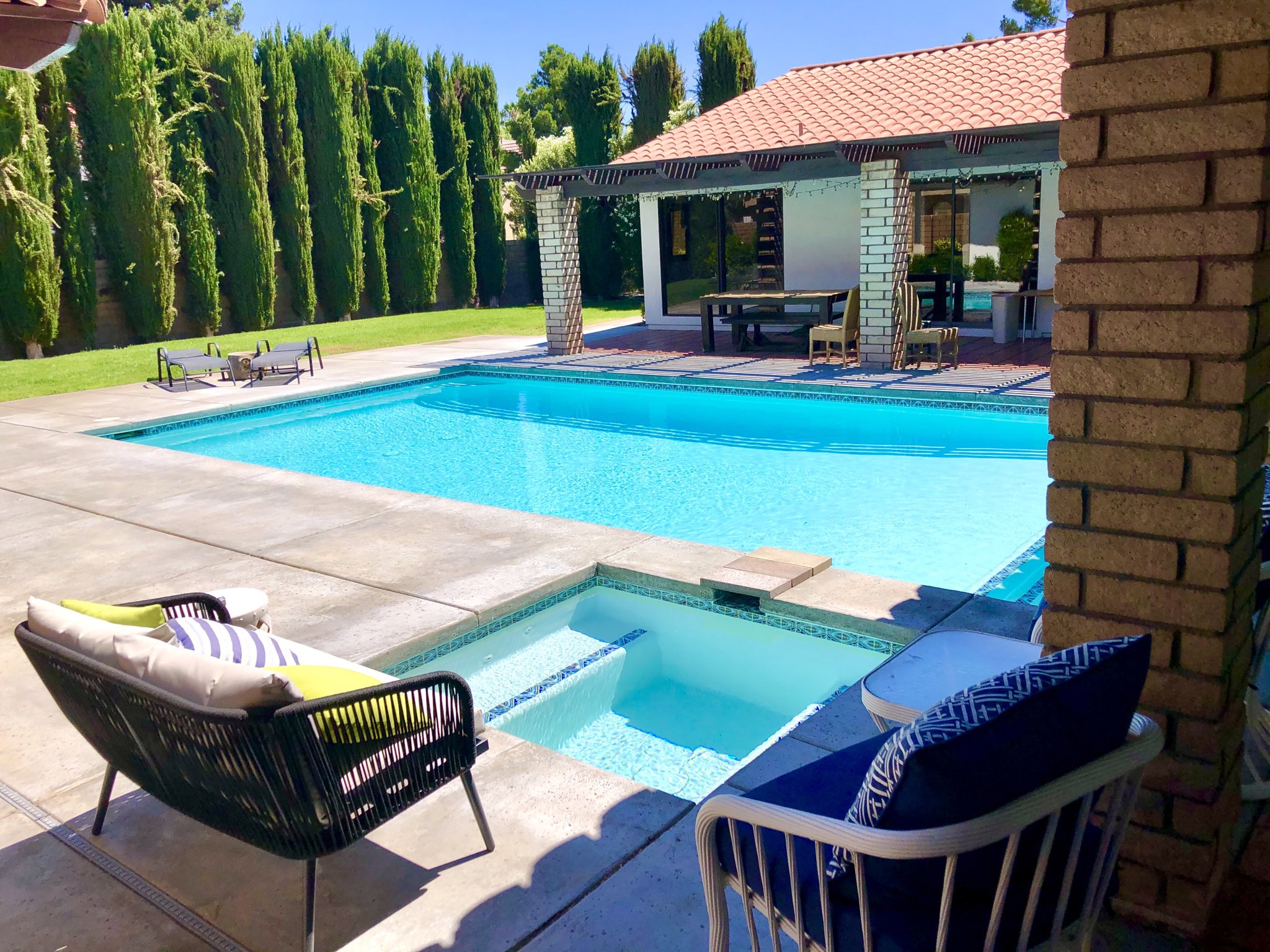 (If hot tubs could talk…)
My Neighborhood:
Like I said, smack dab in the middle of town. Practically its geographic center. Two miles from downtown; 3 miles from the Strip. Five minutes by car to the Sahara Hotel, ten to the Bellagio. Twelve to Chinatown. The only places too far for me to get to are areas (Summerlin, Green Valley) I don't want to go to anyway.
Being one of Vegas's older precincts, there are trees aplenty, walk-able streets are right outside my gate, and the neighborhoods don't look like a stucco farm. I know my neighbors well-enough to knock on their doors and ask for help in an emergency, but not so well that we're always in each other's business….which to my mind is exactly how well you should know your neighbors. I'm sure they all think of me as slightly anti-social, which is just fine with me.
Mine is the shittiest house in a fancy neighborhood — surrounded on two sides by two-story structures too big for their lots (very Vegas that), and sheltered on two others by the circular street containing the other eight houses. ("Always buy the lousiest house in a good neighborhood," my dad used to intone, and that's exactly what I ended up doing.) Between the unassuming front, and being tucked among more impressive digs, we are sheltered from attention and the wind and that's just the way I like it.
A Starbucks, and a supermarket and the best bagels in Vegas are only a five minute walk from our front door. There's also a serviceable pizza parlor in the same center, and the UMC emergency room a quarter mile away, if things get out of hand — like they did in 2008 — when some bad oysters had me retching, fainting, and breaking my face (nose and eye socket) twice in one long night. Never was any man happier to be within walking distance of a hospital.
My neighborhood isn't perfect, but it's closer to the things I love (good food and wine, downtown, my office, the Strip) and far enough from what I hate (soulless suburban sprawl), to make it as perfect as you can get in Las Vegas.
My City:
Calling my relationship with Vegas "love/hate" is an understatement. You have to make your peace with Las Vegas, I've told people hundreds of times over the years. If you don't, it will eat you up.
Everything Las Vegas doesn't have — taste, neighborhoods, culture, museums, art, music (show tunes don't count, neither does whatever the fuck this is), intellectuals, education, people who give a shit, residents who care about something other than money — will drive you crazy if you let it.
What it does have — weather, convenience, friendliness, good jobs, a great airport, proximity to California, some of the greatest restaurants on earth, a burgeoning local food scene, great Asian food out the wazoo — makes living bearable. (The awesome assortment of Asian eats is what we'd miss most if we left town.)
Let's face it, though, in terms of community, Vegas ranks somewhere between a prison colony and a dormitory — our miles and miles of strip malls and stucco (made possible by politicians who sold their souls to real estate developers decades ago), have sapped and stifled all community spirit from the place. It's why our schools are so crummy and no one ever feels connected to the place. Heck, even The Food Gal® (born and raised here) doesn't feel connected to the place.
In Vegas, you co-exist with your neighbors, you don't really share anything with them. Go to any neighborhood in any season — the number of people who are out walking, sharing, feeling connected to their environs you can count on one hand. Las Vegas is a place to make a good living (until recently) and that's what it's always been, and what it remains, 40 years after I moved here.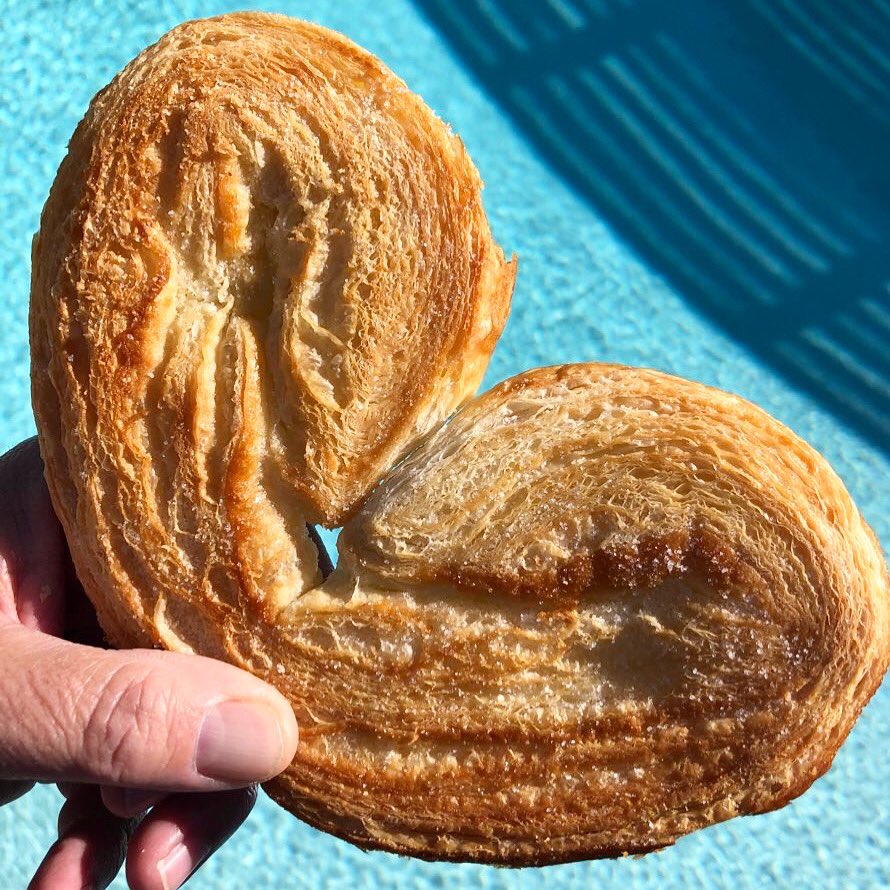 (We heart French bakeries)
So why do I stay? Well, I love my job, and my wife and my house. I love my swimming pool in summer, and walking to work anytime it's not summer. I love our coffee culture and and the young chefs who DO give a shit and want to make this place a better place to live.
I'm nuts for all the good bread and the few French bakeries you can find around town, and I love going to Chinatown every Sunday — something I've been doing since 1995.
I love our Thai restaurants (one of which is the most famous Thai restaurant in America). I love big, fancy, expensive restaurants that are better than any big, fancy restaurants anywhere that isn't New York or Paris.
As nice as these amenities are, I've always hated the fact that there's nothing organic about our town — it exists solely because of tourist money. The only thing that's ever grown here are monuments to human greed and stupidity: casinos.
But things have grown better over thirty years. Downtown may have a long way to go but it's now live-able and walk-able — something unthinkable twenty years ago. There are good bars and great coffee and a dozen good restaurants to choose from. I walk to my haircuts these days, and I buy wine from the a store that would be right at home in a much bigger city.
But our supermarkets are shit, and there's only two independent bookstores in the entire county, and our movie theaters don't show anything that isn't a tent-pole blockbuster.
And we're still saddled with a single cheese store, no seasons, and a terrible newspaper.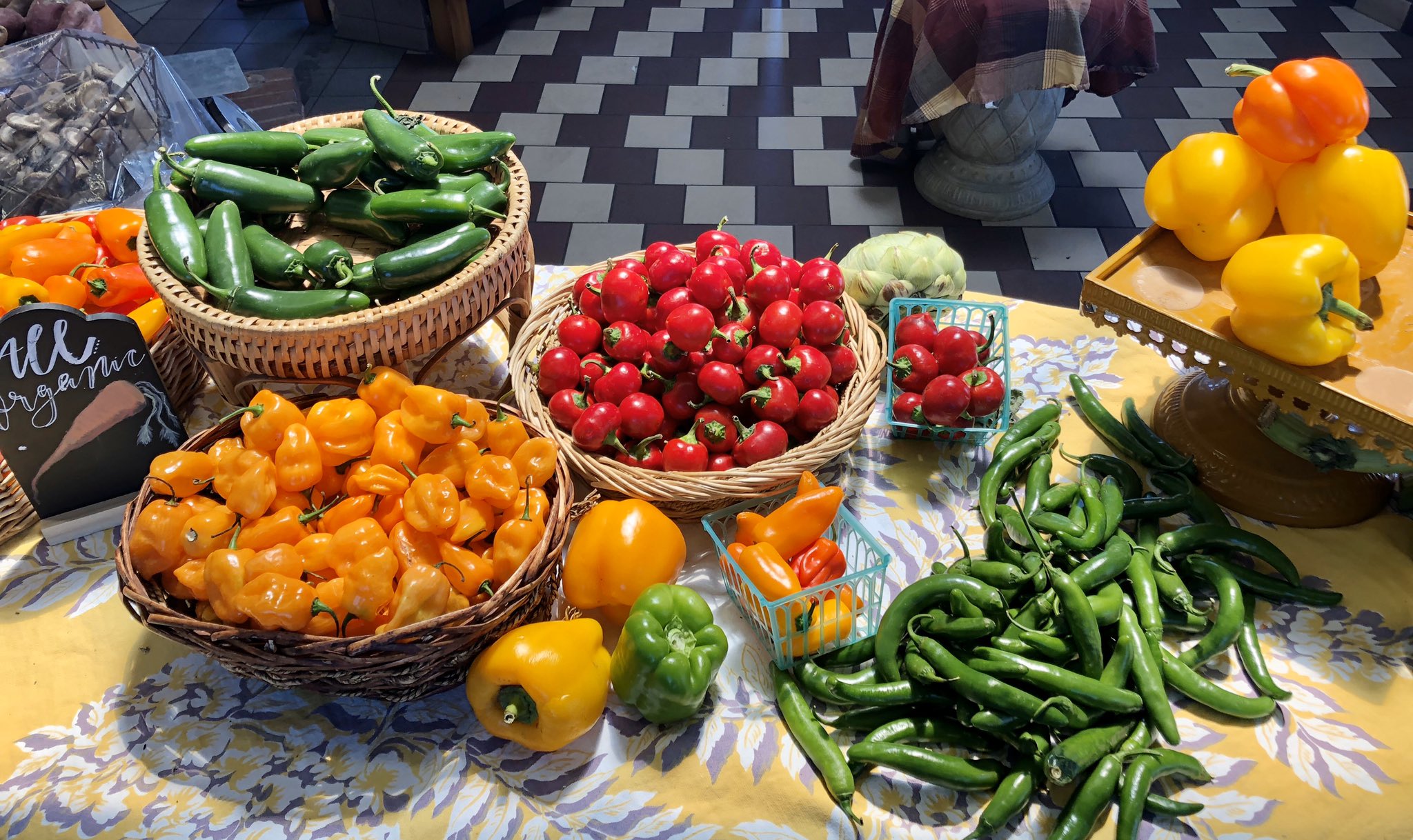 (Summer bounty at Intuitive Farmers Market)
God bless the scattering of "farmers markets" around town, but they are so small as to be a drop in the bucket — and you'd better fill your bucket early and fast if you want to get the good stuff.
You have to face facts about Las Vegas: it is, and always will be a tourist town, populated by folks who make a living off of others who come here to solely to drop sizeable amounts of disposable income in our buckets. Gambling is the greatest business in the world, my father used to say, a commercial transaction without a product. We don't make anything; the only thing we sell is hope.
And hope is in short supply these days.
As gambling has receded as Vegas's primary source of income, the livability of the town has increased. And it's become a nicer place to live not because of its parks, or sports or music. We've done it with food and drink, like I predicted we would twenty years ago. That's the good news.
The bad news is figuring out whether we have truly reached peak Vegas, and if our economy is going to remain mired in muck for years to come. Put another way: Is a boom town worth living in if it is no longer booming?
It's all so exhausting these days. But when I get tired of these contemplations, I can always retire to my humble abode, and thank my lucky stars for a cool pool and the house surrounding it. In Las Vegas, in summer, sometimes that's all you need.