Zydeco Po-Boys — that bastion of casual N'Awlins cooking in Downtown Las Vegas — will shut its debris doors for good on March 3rd.
Here are some of the comments (taken off Facebook pages) from some of its fans and other folks about its demise:
This was predicted by City planning when they recommended to deny Container Park's box enclosure plan realizing it would artificially cut off the streets behind it from normal urban flow. Making it many times harder for a business to succeed. But Council let amateurs make planning decisions for better (sometimes) and worse (most times).
"Unfortunately, people don't want to be eating inside a restaurant while watching someone dig in the trash directly outside the window." – Chef Bradley Manchester – Glutton (Who knows a thing or two about operating downtown.)

This is the most pathetic excuse I have ever heard. Obviously chef Bradley Manchester has never been to San Francisco or any other major metropolitan area in the United States. To even make a comment like this is beyond the pale. I can't even believe I spent a dime at Glutton.
Parking rates are too high and parking control hovers around more than a panhandler needing a fix.
Parking, planning, panhandlers…what caused the failure? Well, to answer the question, we put it to the chef/owner Brandon Trahan, a thoughtful fellow who poured his heart and soul into the business for the past two years. Here's what he had to say:
Was it the landlord?
No, not at all. The Downtown Project did everything they could; they built the space and gave me every chance to succeed.
Was it your location?
In a way, yes. It's hard to get tourists to make the trek just a couple of blocks over from East Fremont Street to here.
Was it the closing of Glutton?
That didn't help. Glutton created foot traffic on the block that we definitely benefited from. Once they closed, there were a lot less people walking by. Also, after Glutton closed the street got much darker at night. It's really dark down here and not having that business open on the corner did not help things.
Are there too many places downtown?
Maybe. Maybe there aren't enough people (living) here to support all of us. VegeNation does great though, so does EAT, Carson Kitchen and the Donut Shop. They've been great neighbors. We're like a community down here.
Was it the bums?
Not really. I didn't see some of the bad activity that others have described. Besides, anywhere you go in any big city you'll see lots of bums. You've been to San Francisco, right? There, you can be having a fancy meal and see all sorts of homeless right outside the window of a nice restaurant.
Was it your food?
People here don't really understand Cajun food. They think it's real spicy. It can be, but it mostly is just well-spiced. We also fry a lot of things so it isn't a light cuisine, but, of course, that's where the flavor is.
What about parking? Everyone always wants to blame the parking.
Everyone wants to blame the parking situation, and it could be better, but I don't think that causes a business to fail.
What would it have taken to stay open?
40%. 40% more customers, 40% more gross revenue. Without that it just didn't make any economic sense to continue.
Any parting words?
We tried our best. The landlord was great, it was all on me to make a success of the place. They let me do my thing my way, and for that I am very grateful. In the end, there just wasn't enough daily business down here to keep the place open. Some days we were busy; some weekends I'd see a line out the door at EAT and we'd have only a handful of customers the entire day. I'm sad but I gave it my best.
We'll miss Brandon — a second career chef who went to culinary school and left Louisiana after the Hurricane Katrina disaster wiped him out. We'll miss his warmth and good humor, as well as his gumbo and shrimp po-boys. He also fried the best skinny onion rings on earth: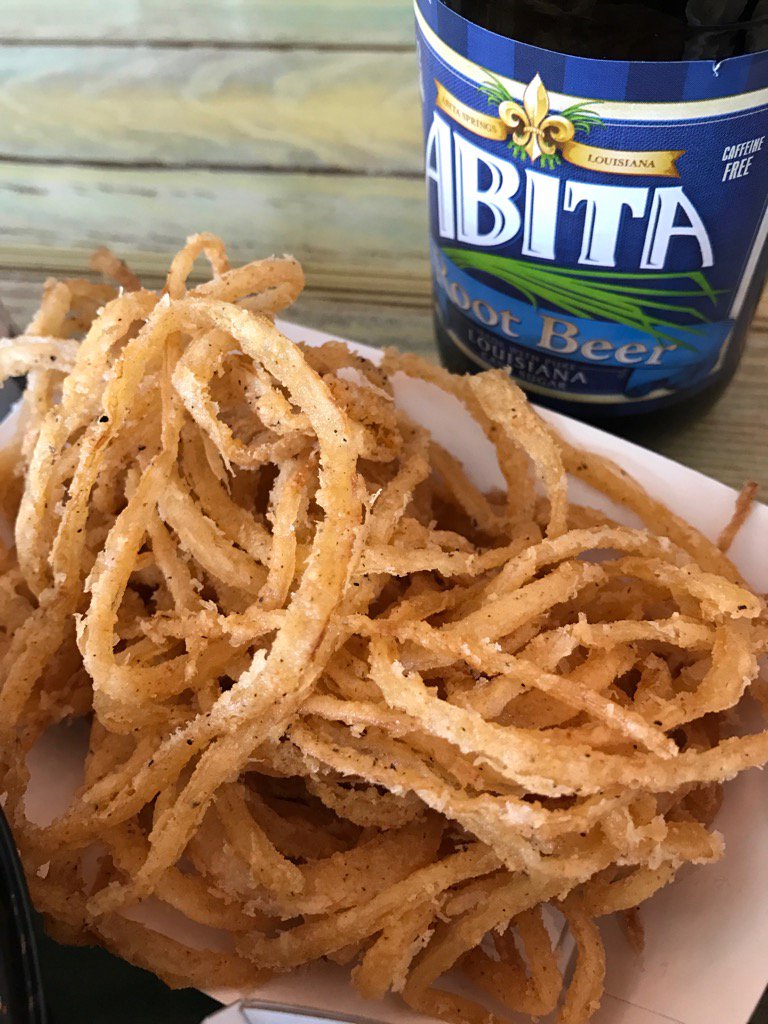 If my waistline would've allowed it, I would've eaten his food at least once a week.
Zydeco Po-Boys closes a week from tomorrow – March 3, 2017.
ZYDECO PO-BOYS
616 East Carson Street
702.982.1889