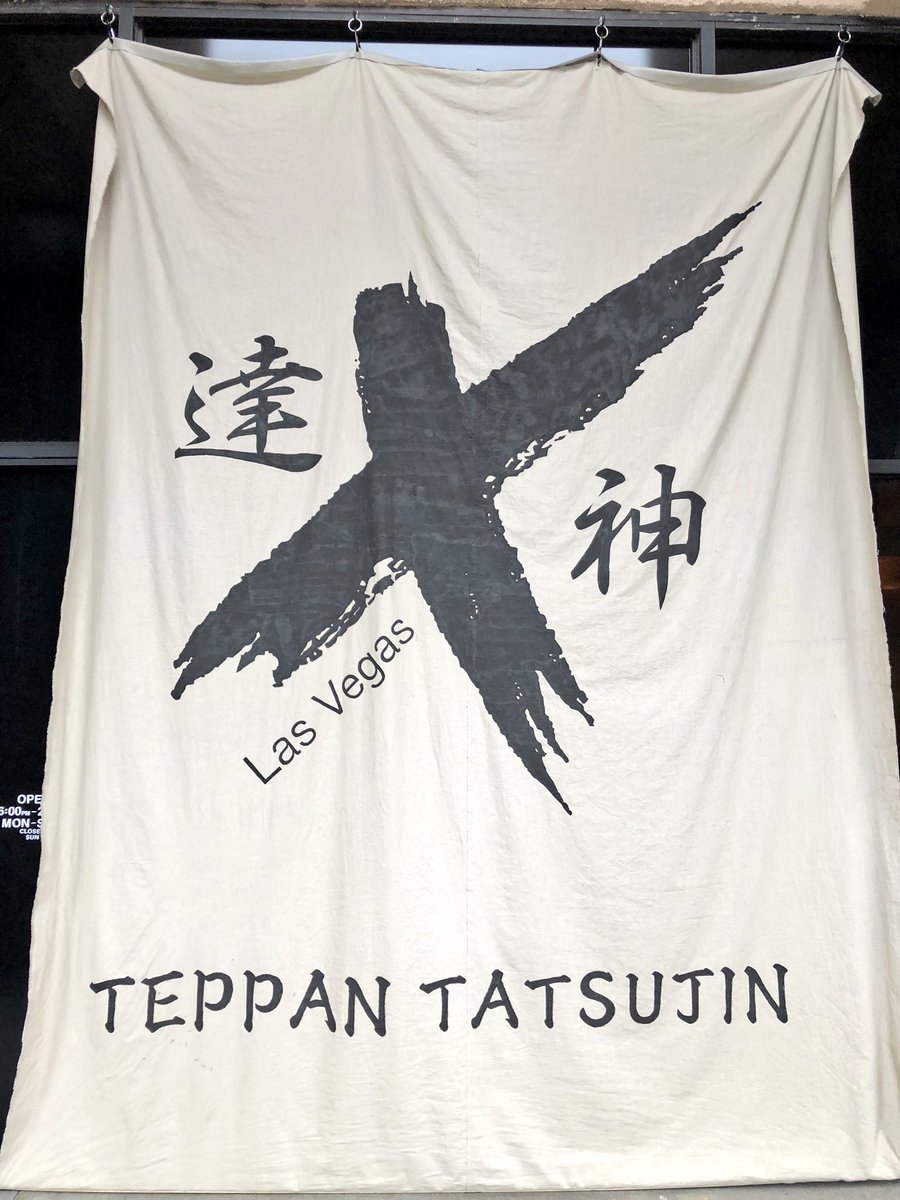 Anyone who knows me knows I'm nuts about Japanese food. I was crazy about it for years (decades really) before I actually went to Japan.
For me, going to Japan was like having sex for the first time — something I thought about, read about, and fantasized about before it really happened. Then, once I went, I realized what I'd been missing. And like a love-struck teenager, all I could do was fantasize about doing it again.
It was in Tokyo when I realized that eating Japanese food in America was really nothing more than foreplay — most Japanese food here being but a teasing, pornographic representation of the real thing. The real deal envelopes you, transports you, titillates the senses and pleases the palate in ways that get lost once the recipes travel across the Pacific. (A country obsessed with fresh fish and umami will do that to you.)
But as with many things edible and Asian, things have improved immeasurably over the last decade. Our finest Japanese places — Kabuto, Yui Edomae Sushi, Raku, Kaiseki Yuzu, Monta, et al — do a fine job of recreating the food of their homeland. Thanks to an influx of dedicated chefs (and the wonders of air freight), faithful re-creations of noodle parlors and intimate sushi bars are now in our backyard. The fact that many of them are tucked away in odd locations only adds to their verisimilitude.
(A good rule of thumb when looking for the genuine article in Japanese food is to look for any Japanese word in the title of the restaurant. ( Korean-owned "Japanese" restaurants usually just slap the word "sushi" up there, knowing everyone will come for their California rolls.) Any nebulous Nippon nomenclature generally is a good sign, even if it tells you nothing. Because when it comes to most things Japanese, the more obscure something is, the better. )
And it doesn't get much more obscure than Tatsujin X.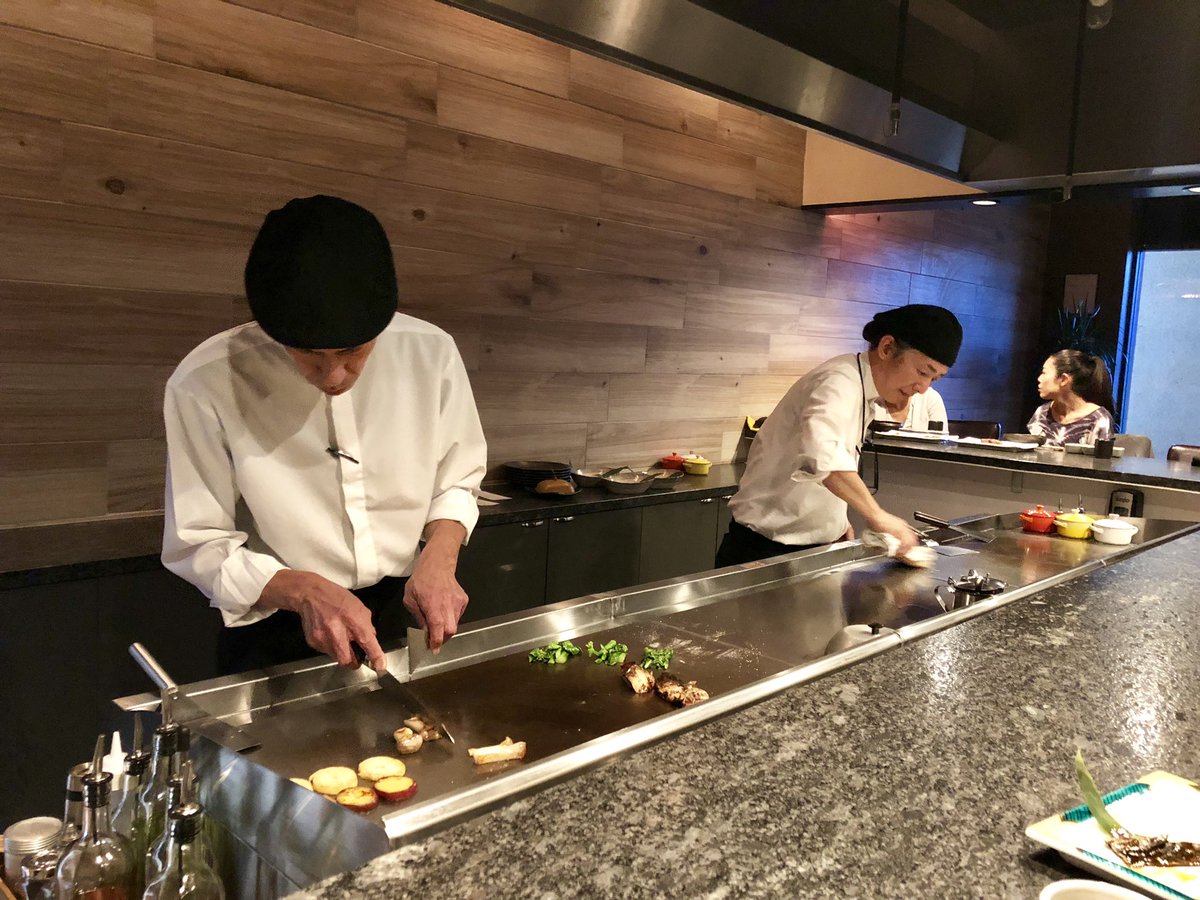 (Poetry on a teppan)
Stuck in the middle of an old strip mall in the shadow of the Palms Hotel, Tatsujin X (the name means "master") is the most recent addition to our expanding catalogue of authentic Asian eats, and might be the last word in nondescript eateries. Only the noren cloth awning out front gives you a hint that something strange and wonderful lies within. As in Japan, the signage tells you nothing but the name.
Those in the know will discern its name to denote the teppanyaki cooking of Japan — the flat, steel griddle (teppan) upon which various foodstuffs are grilled, broiled or pan-fried (yaki). Call it a teppan or plancha or good old frying pan, what you get is food prepared on a hot, smooth metal surface upon which a dexterous chef can work wonders.
The showier aspects of this food gave rise to the post-WWII Japanese steak house craze, where knives got thrown and food got flamed, all to the oohs and ahhs of prom dates everywhere. But crowd-pleasing this place is not.  Tatsujin is to your average "Japanese steakhouse" what Jiro Dreams of Sushi is to Beer Fest.
Think of Tatsujin as Benihana with a PhD.
What Grand Chef Yoshinori Nakazawa aims for at this bare-spare 13 seat counter is not the applause of wet-behind-the-ears teens or well-lubricated tourists. He is shooting for appreciation on a deeper level: the sort of gratitude bestowed by black belt epicureans who know the right stuff when they taste it. And what they taste is an 8-course meal like nothing in Vegas.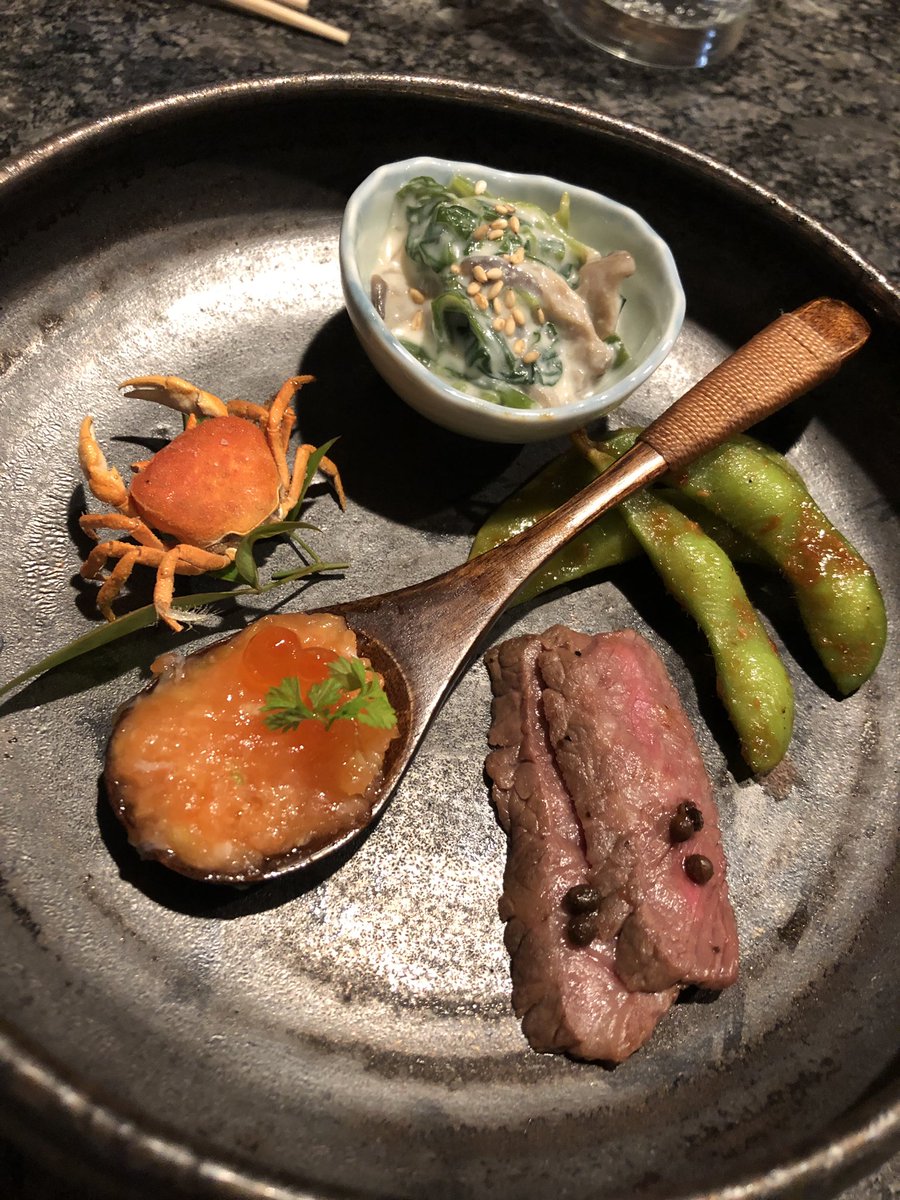 You have to go to a Shinjuku alleyway to find food this good, starting with a "chef's choice" platter (above) of a crispy sawagani crab  flanked by a bright salmon tartare, spicy edamame beans, a soy salad and meltingly tender strips of barely-grilled rib eye. All of it sets you up for a well-paced courses to come, from a sparkling wakame (seaweed) salad, to a dashimaki-tamago omelette gently wrapped around strands of king crab and oozing sea urchin. If there's a bigger umami-bomb in town than this egg concoction, I've yet to find it.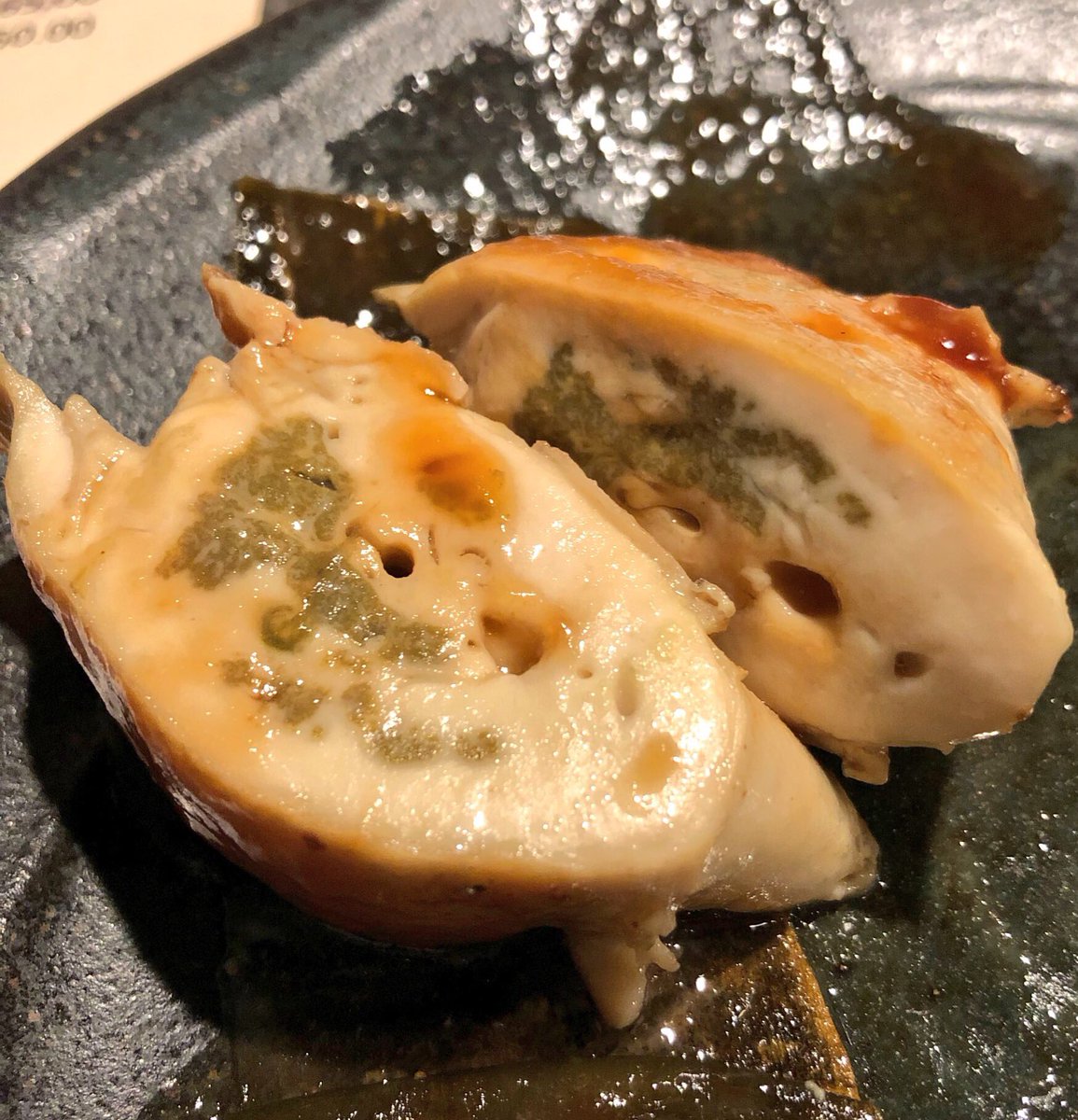 ('erster innards – yum)
As you're swooning from the seafood omelette with its cross-hatching of mayo and sweet ponzu sauce, you'll notice the seafood star of the show: a Brobdingnagian oyster the size of a filet mignon. It is designed to intimidate the most ardent 'erster eater (me), and it does.
These five-year old beauts come from Washington State, and are not meant to be slurped, but instead, they are meant to be grilled and sliced…the better to see and taste all that fleshy bivalve muscle and those oyster innards. (There's no way around it: what you see and eat are the oyster's intestines. The good news is the only thing they're filled with is algae and other microscopic sea veggies.)
Before you get to that big boy, however, you'll first be served a hot, oily broth containing big, meaty chunks of clams. One of my dining companions called it a clammy bagna cauda, which pretty much summed it up. Both of these sweet bivalves will have seafood lovers in hog heaven. Less adventuresome types should take their favorite intrepid foodie friend along to share what they can't handle.
From there you'll move on to simple, teppan-grilled vegetables which act as an intermezzo to the proteins.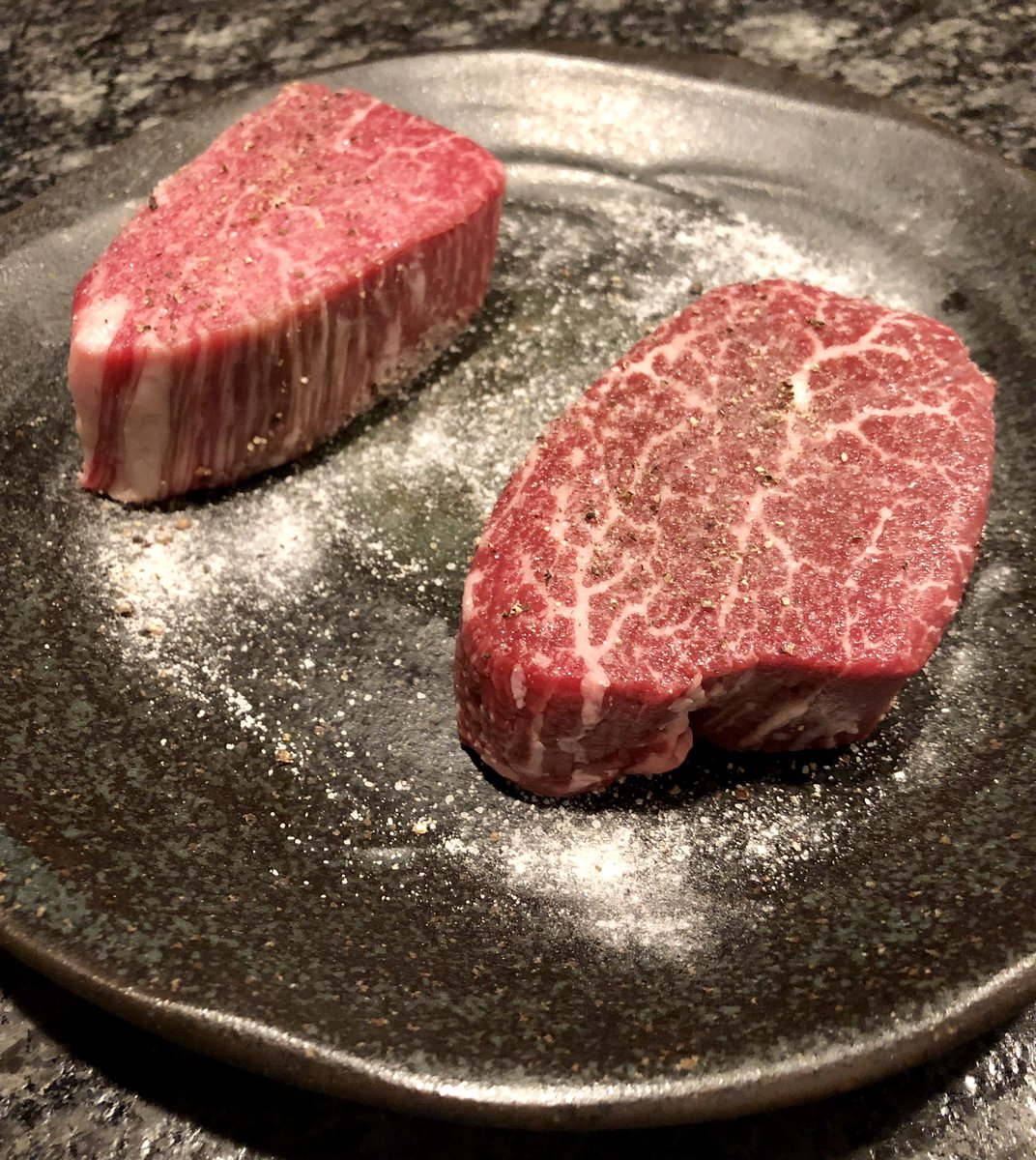 (Strip-san meet Rib eye-san)
Three steaks are offered (fillet, rib eye, strip), with a forth of imported Japanese wagyu for a $35 surcharge). Sea bass (excellent), salmon (good) are a bone thrown to non-meat eaters. Both are perfectly fine pieces of fish, well-handled and cooked, but they sort of miss the point of the joint. The steaks are the stars here, and they are lightly seasoned and gently cooked as perfectly as beef can be. There's no denying the melt-in-your-mouth appeal of the expensive wagyu, but my Japanese friends profess to like the denser, beefy quality of the American "Kobe" better. Either way, the cuts are seared to a level of subtle succulence you don't achieve with the pyrotechnics of charcoal grilling.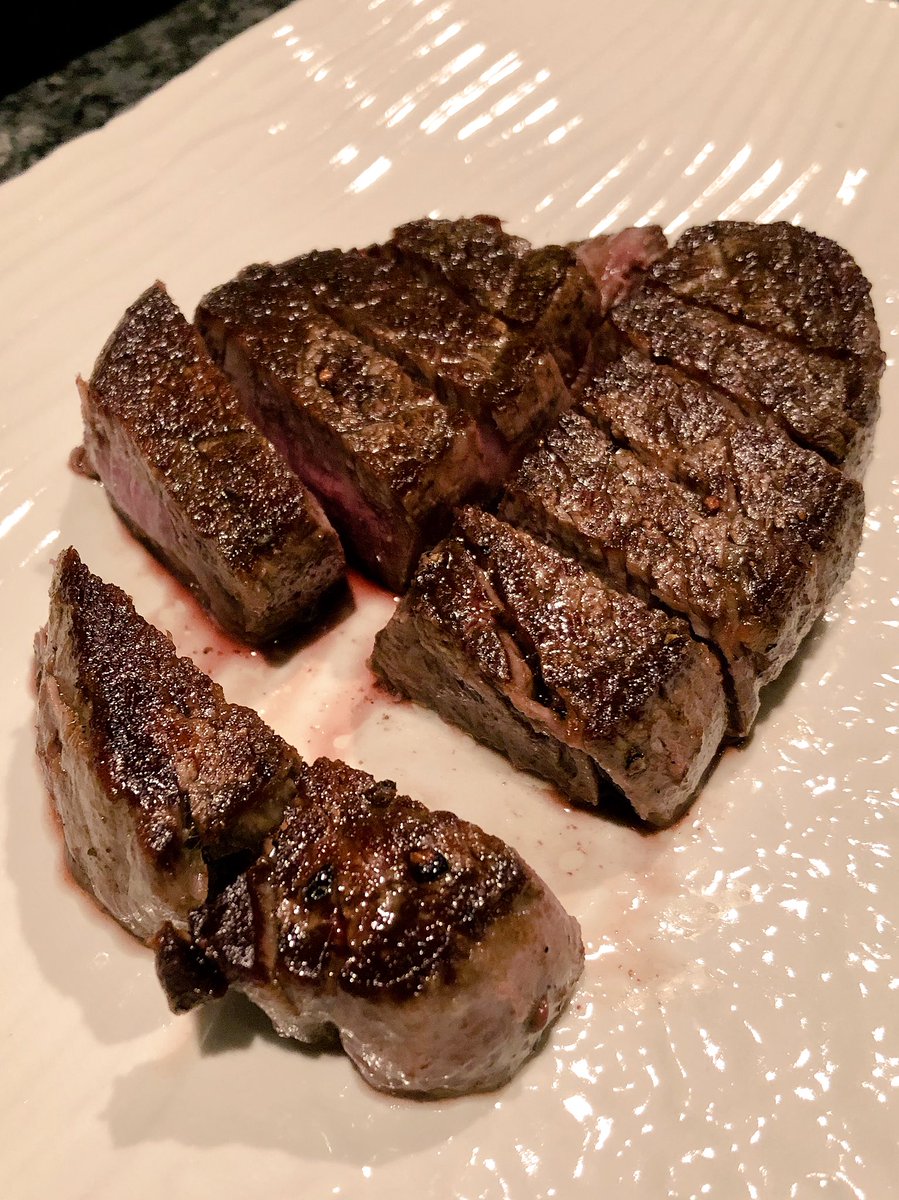 (American rib eye)
There probably should be a chicken option too, but as soon as Nakazawa starts trying to please everyone, this place will lose the vibe that makes it so special. The specialness comes from remaining true to the single set, coursed-out meals that defines many small restaurants in the Land of the Rising Sun. Japan is not a "something for everyone" culture — not eating-wise anyway. Restaurants do what they do well, and you're expected to value them for their individual styles of cooking, not demand that you want something "your way." This is going to be a challenge for Tatsujin as it moves forward.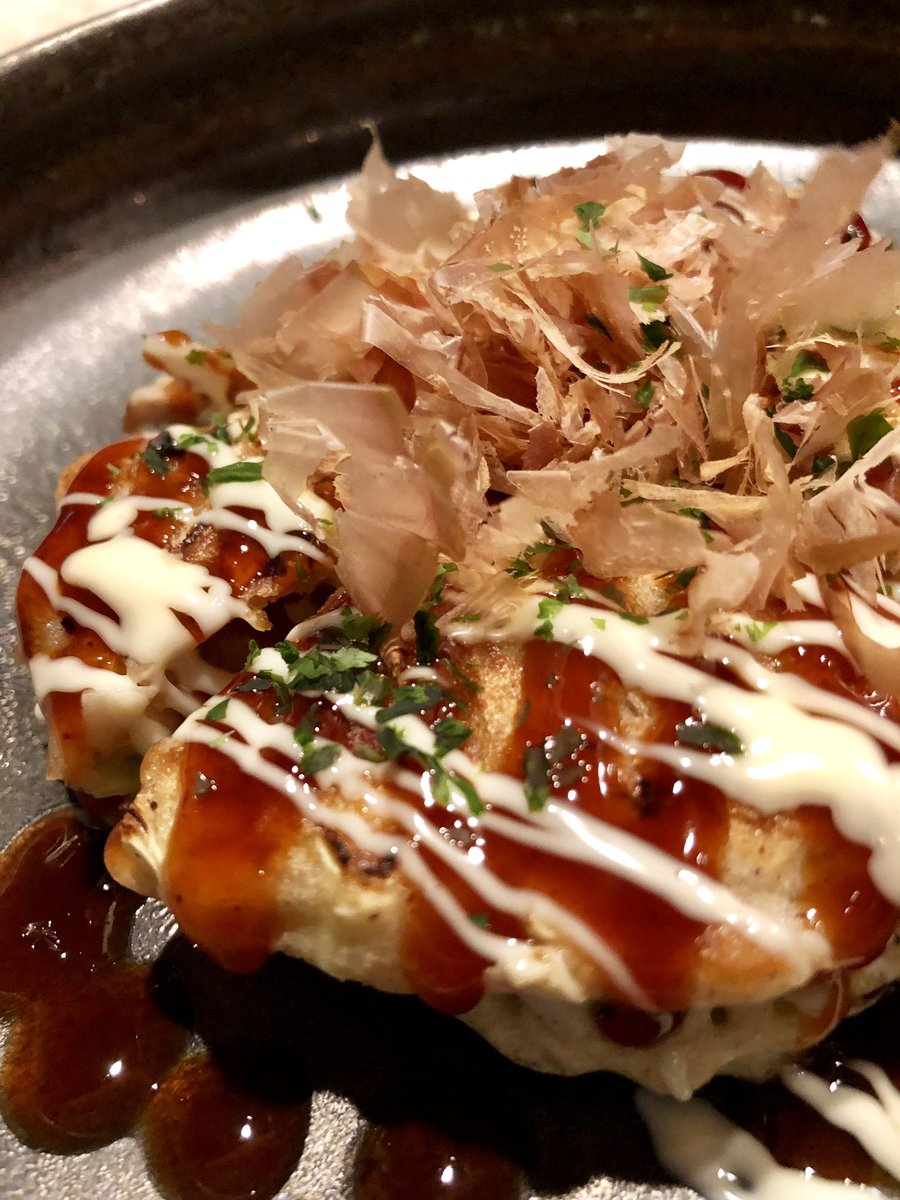 However you like it, there's no way to improve upon the final savory course. Choose either a thick, pork-filled okonomi-yaki pancake (above), or garlic rice. Both will have you dropping your chopsticks in awe. The pancake, served with waving katsuobushi (bonito) flakes dancing atop it, would almost be a meal unto itself somewhere else, and the garlic rice is a testament to great food coming in deceptively simple packages. It's not much to look at, but soothing-sweet-nutty garlic permeates every bite of the sushi-quality grains. This is a grown-up rice dish for connoisseurs of starch.
Desserts are three in number and very Japanese. If you're very Japanese, you will love them. If you're not, stick to the ice cream.
To recap: Tatsujin is basically a fixed-price, fixed-meal steakhouse. (In Asia they call these fixed-course meals "sets.") You pay one price (from $50-$70) and you receive eight dishes, four of which give you some choice (salad, protein, and whether you want the pancake or the rice, and dessert). It is not a menu for picky eaters; nor is it a place to take someone who demands to know whether they will "like something" before they order it. The whole idea behind teppanyaki restaurants is to sit down, enjoy the show and let the chefs work their magic.
Sitting at the bar watching the chefs work, I felt like I did in January, 2008, at the early days of Raku. Then, I was watching the birth of a new kind of restaurant — one that plugged into a new, sophisticated zeitgeist of budding internet gastronauts learning about Japanese food. Will Tatsujin be the next Raku (albeit with a much more limited palette)? Or will it be another Omae (remember it?) — a genre-bending, ultimately unsuccessful attempt to broaden Las Vegas's Japanese food cred?
Only time will tell, but we are a much more knowledgeable food community now than we were ten years ago. Our Japanese food scene has also increased exponentially since then. The time would seem to be right for us to embrace this sort of cooking in this sort of restaurant. Tatsujin is now our most unique Japanese restaurant and steakhouse, and it is certainly the closest you can get to Tokyo without flying there.
(The prices above do not include beverages, but as of this writing only water, tea and some soft drinks are offered. You can BYOB but they ask that you tactfully hand your covered bottles to the staff upon entering, and they will pour your (beer, sake, wine) from the kitchen into ceramic cups as you request. For the quality of the meat and the cooking and the show, and all the attendant dishes, this place has to be considered the best steak deal in town. One of our meals was comped, the other, with the Japanese wagyu surcharge, came to $225/two, including a $50 tip.)
4439 W. Flamingo Road
Las Vegas, NV 89103
702.771.8955