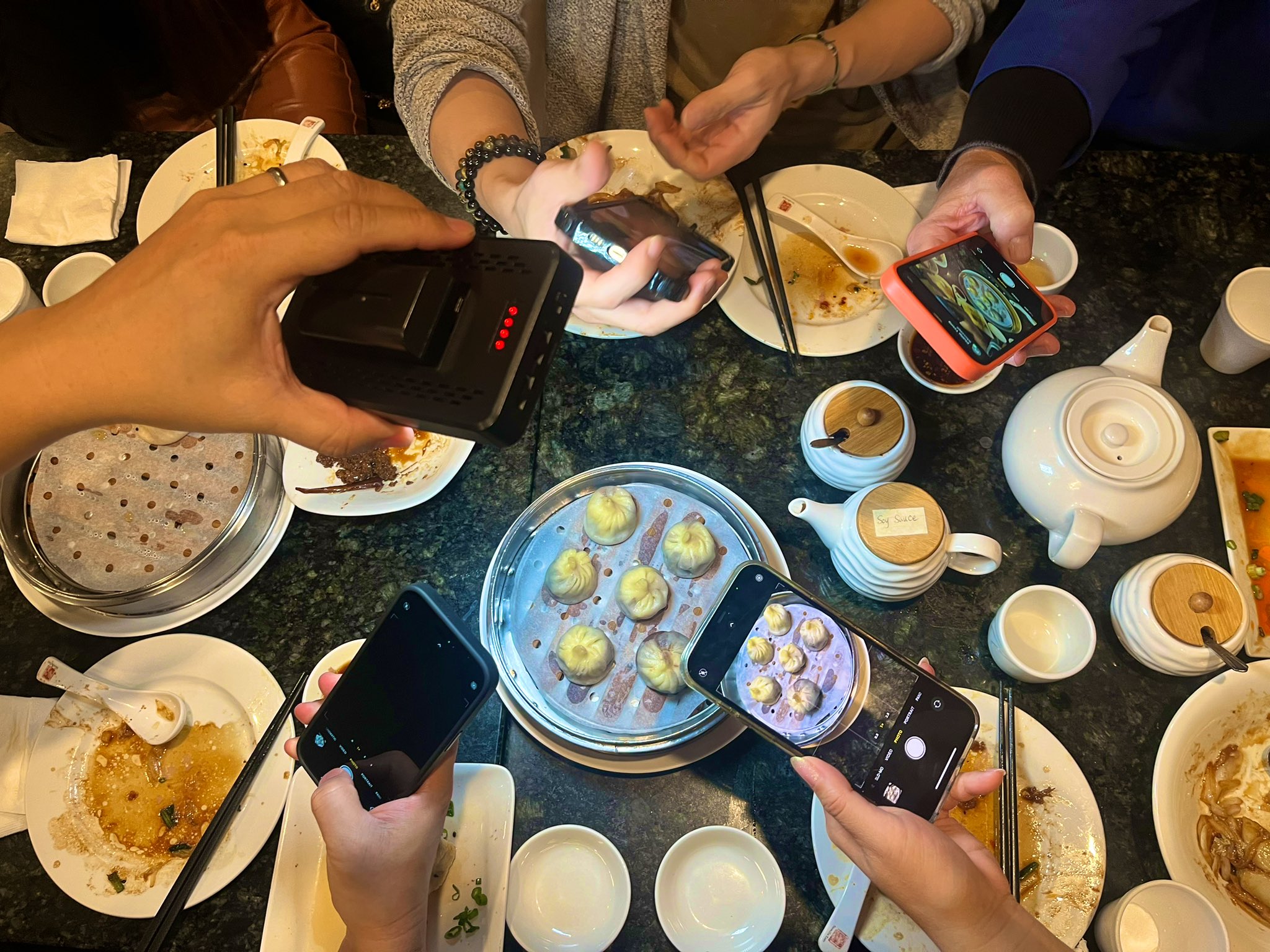 (When influencers attack!)
If you have an appetite for life, stay hungry.
Such has been my mantra for 50 years. Half a century of searching for the best things to shove down the ole pie hole.
And apparently, I'm not done yet. Our new podcast — Eat. Talk. Repeat.  (w/ Sam Mirejovsky and Ashley Watkins) — is keeping me busy most weeks, searching for good meals and food topics of interest. As long as someone is listening, I'll still be flapping my gums.
Who am I kidding? I'd still be gasbagging away even if no one was around to hear me. At this point, I'm having fun eating what I want where I want when I want, and not being controlled by the dictates of putting out a guidebook (although that was a blast while it lasted), or paid-for writing gigs. Being on podcasts and not having to actually produce one is more fun than shooting monkeys in a barrel. Color me happy as a clam in linguine.
Along the same lines, I am determined to champion the great food of our Chinatown as long as I can pick up a chopstick. To that end, I've started an Asian Lunch Bunch with a few writers, influencers, and other Asian aficionados to figure out ways to help the best places along and around Spring Mountain Road, many of which do not have the savvy or wherewithal to do much marketing on their own. Suffice to say, when we invade, the food photogs are out in force (see pic at top of page).
It's been nine years since I did a survey of every place along SMR. In 2014, there were 112 eateries up and down the three miles between Valley View and Rainbow. I'd venture the number has almost doubled since then. Shanghai Plaza alone has almost twenty restaurants in it, and several other strip malls have popped up in the past few years — each studded with eateries from all over the Pacific Rim.
If there's a food scene for which Las Vegas should be famous in the 2020's, it should be this one. The Strip (with a few exceptions) has become more boring than a Donny and Marie concert. It'll be interesting to see what Fontainbleau brings to the party, but when Martha Stewart, Peter Luger (a 136 year old brand) and the Voltaggio Brothers (whoever they are) are the best you can do, you're just milking the old cows for all they're worth. And as much as we love Vetri Cucina, Balla, Cipriani, and Brezza (and have had nice experiences at Amalfi by Bobby Flay and RPM), if one more Italian opens to a bunch of forced fanfare, I'm gonna commit seppuku with a splintered chopstick.
As usual, every place listed has been visited by me recently (and by recently I mean the last six weeks), and all places come highly recommended unless otherwise noted.
THE LIST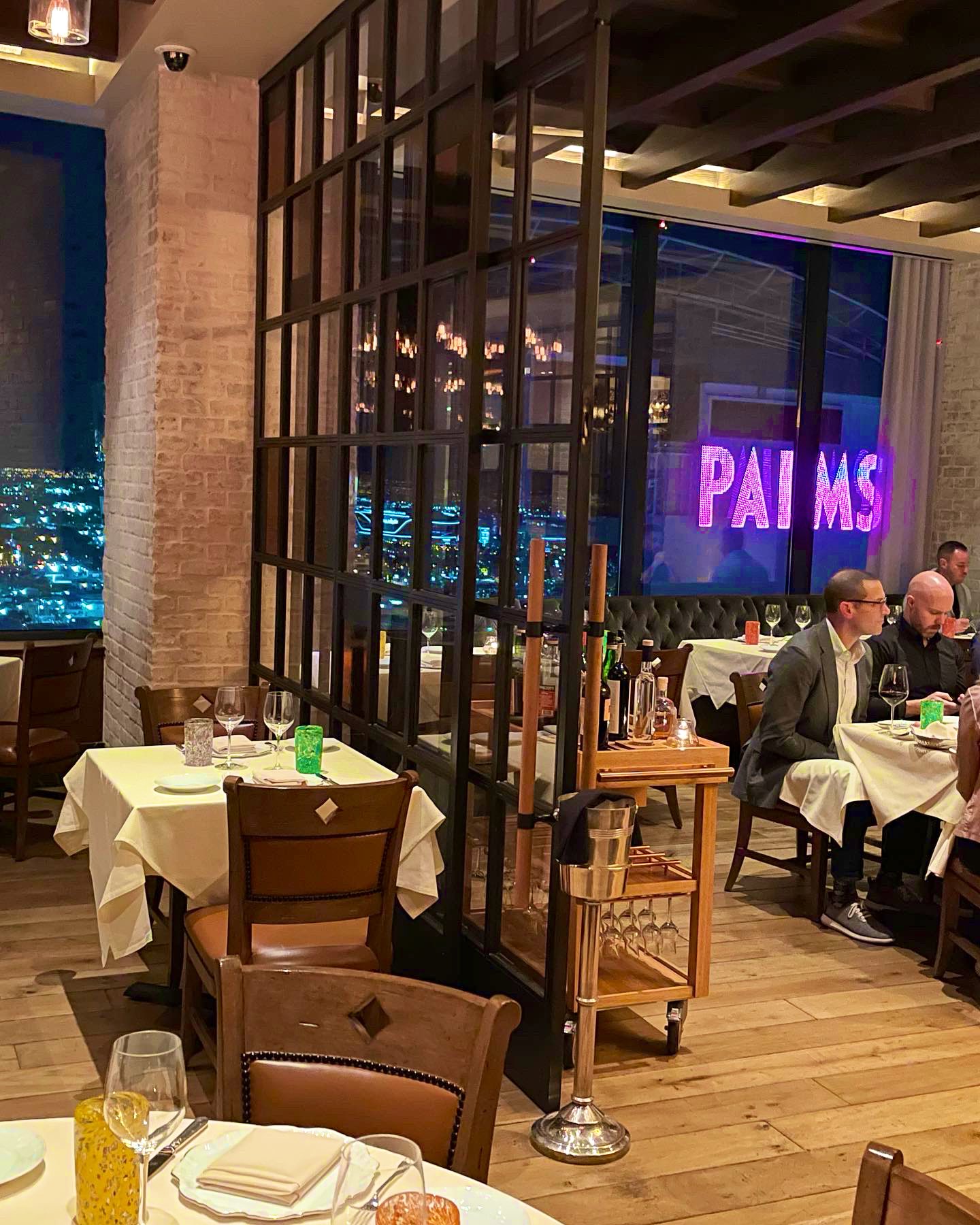 Best Italian in town. Don't even think about arguing with me about this.
Need proof? Here ya go: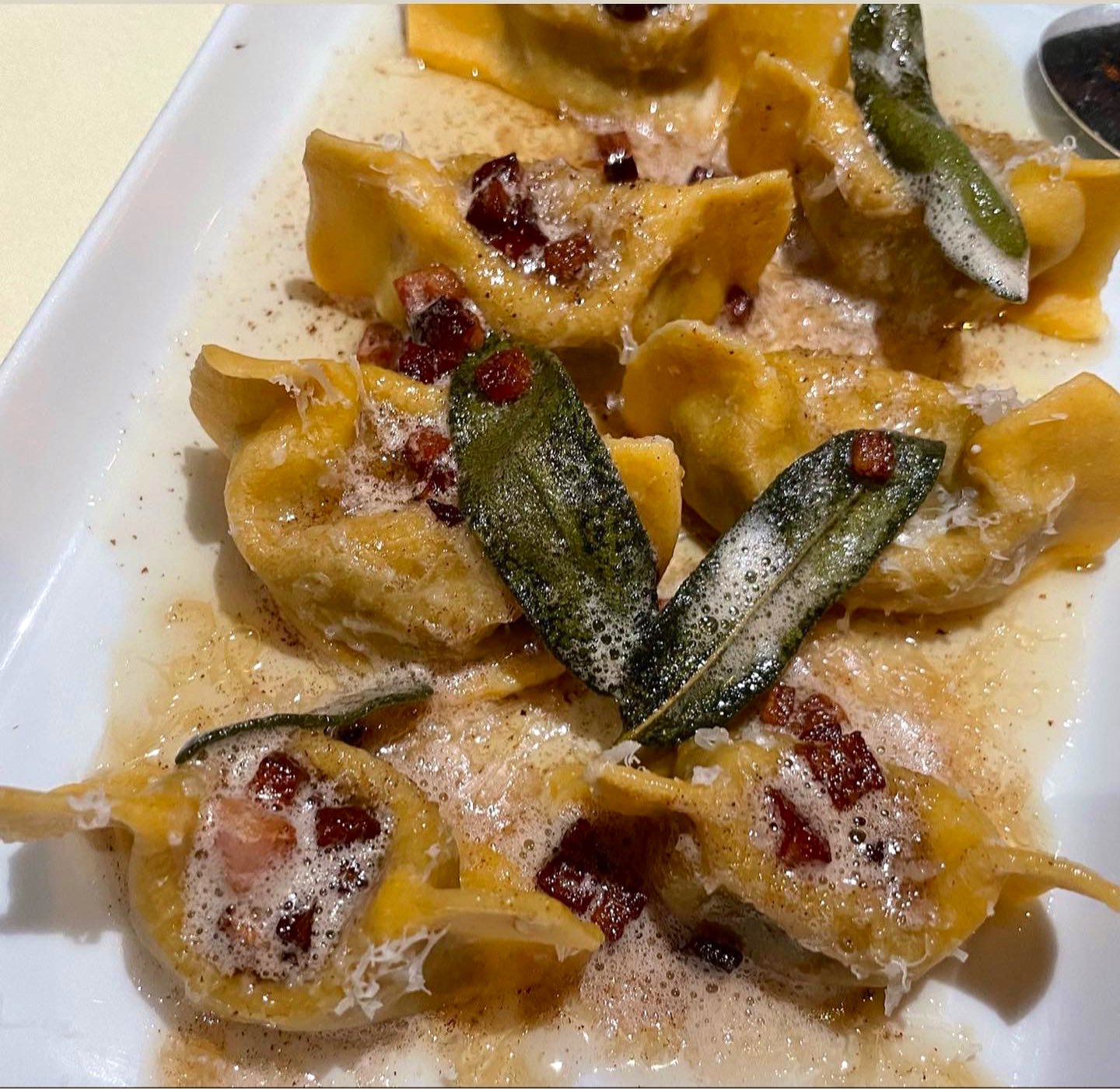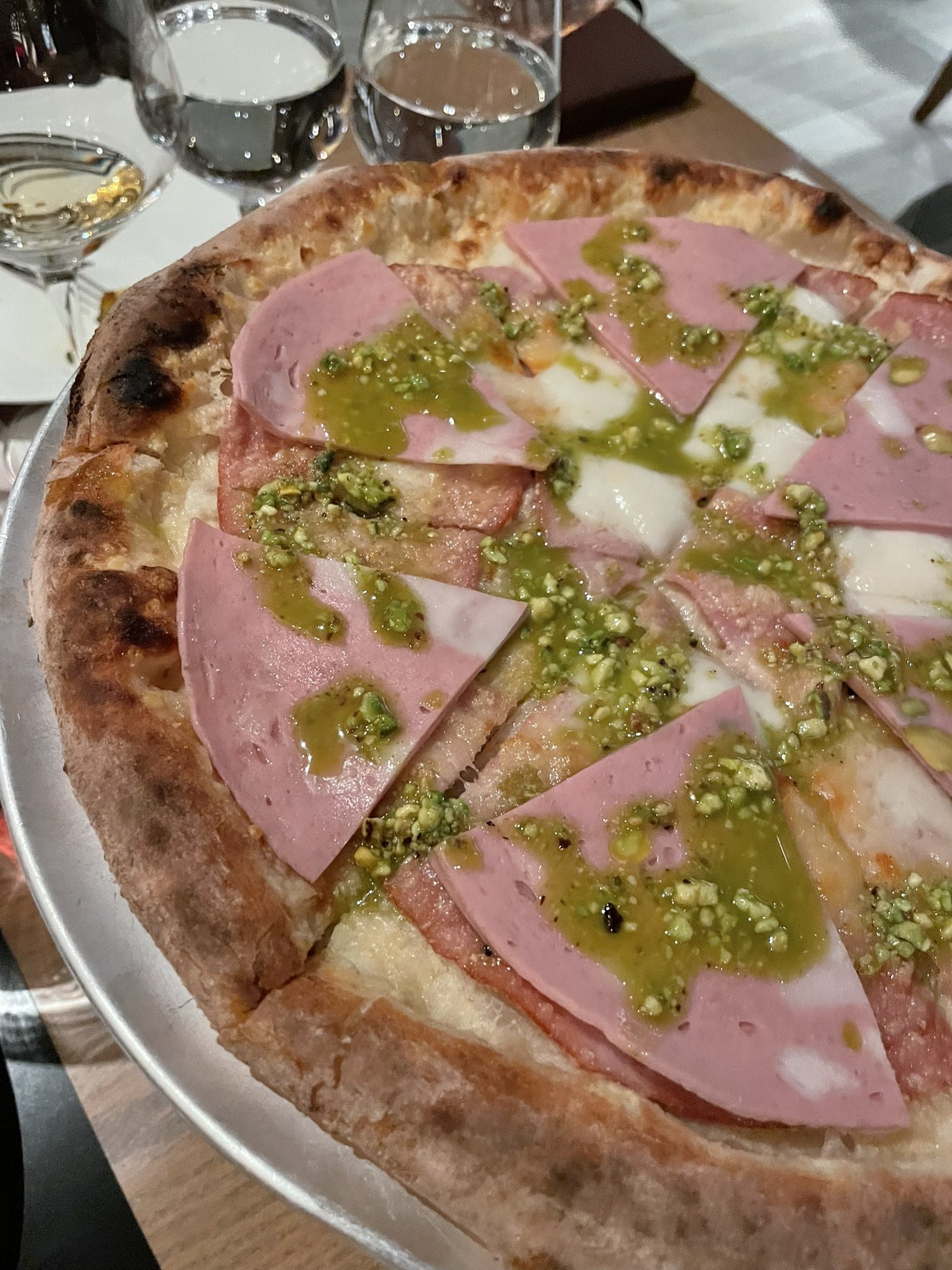 (Pistachio > pineapple on pizza)
Sorta like Vetri-lite, but still damn tasty at a friendlier price point, with outdoor seating and the same great cocktails and wine. The weird-looking pizza above (mortadella/capicola  with pistachios) raised an eyebrow when ordered but then sent a shiver down our spine when we tasted it. Marc Vetri's food will do that to you.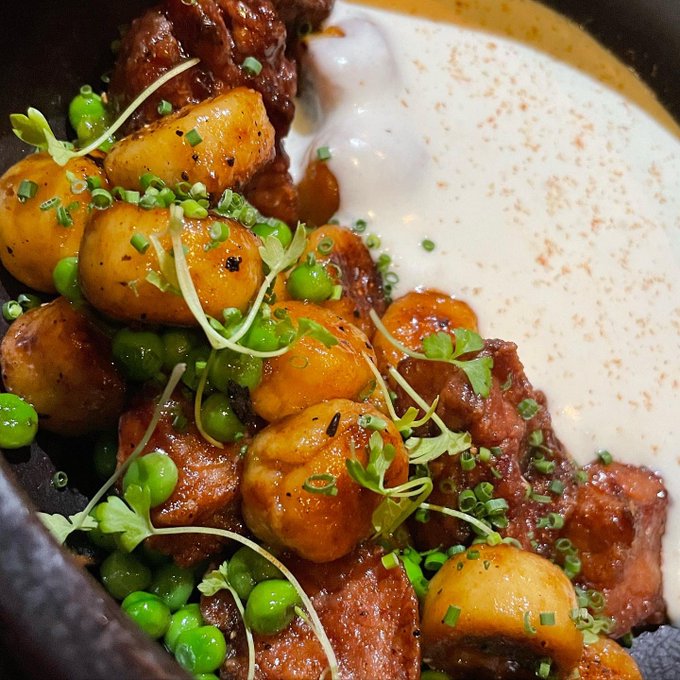 (Don't try this at home)
Brian Howard's food can astonish, and it can confuse, but it's always damn tasty, vividly composed and never boring. Witness the gnocchi with sweetbreads above — garnished and sauced to a fare thee well.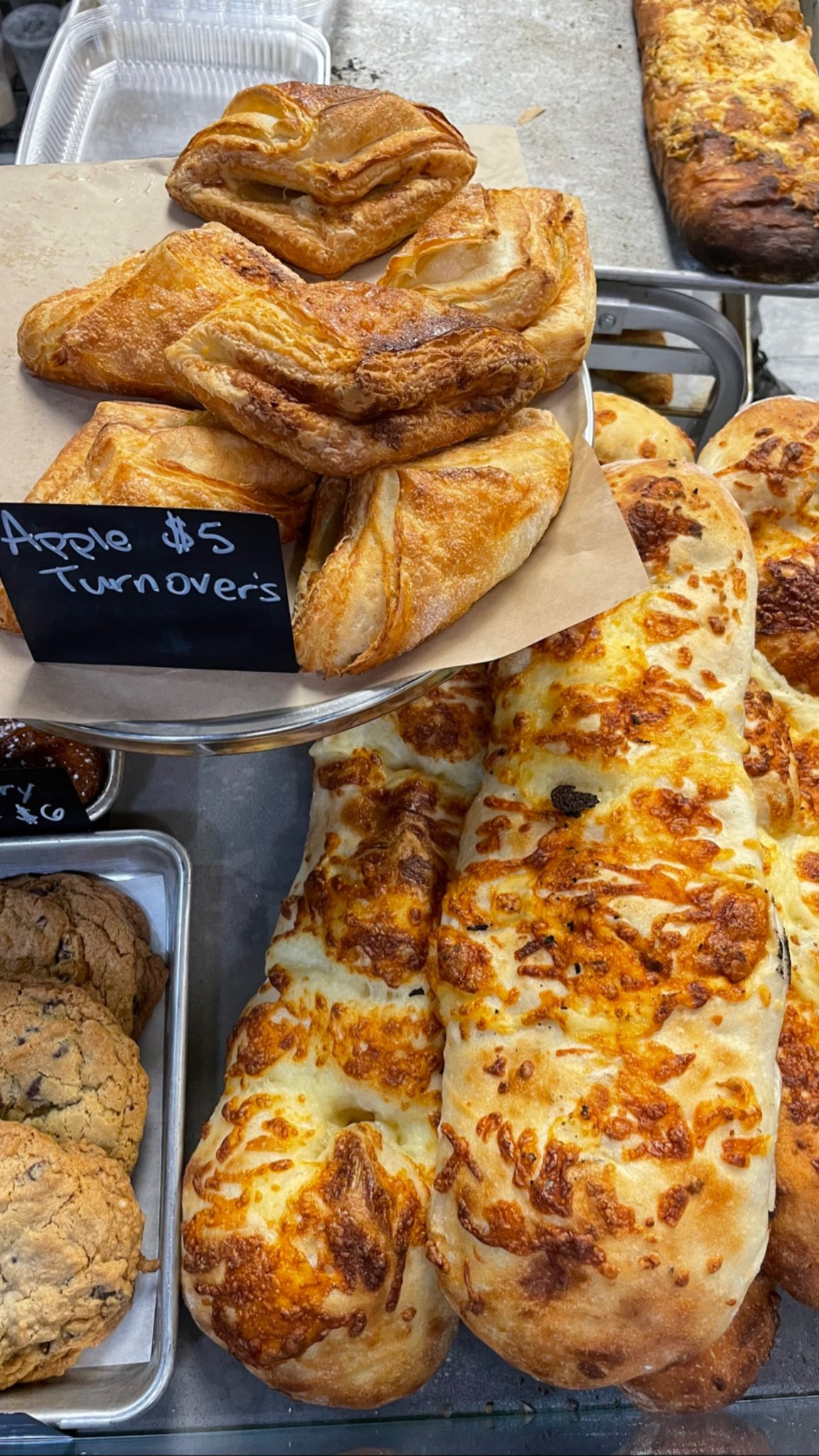 (You dough'nt want to miss this)
Go early. go often, for the best artisanal baked goods you'll ever taste next to a fake lake.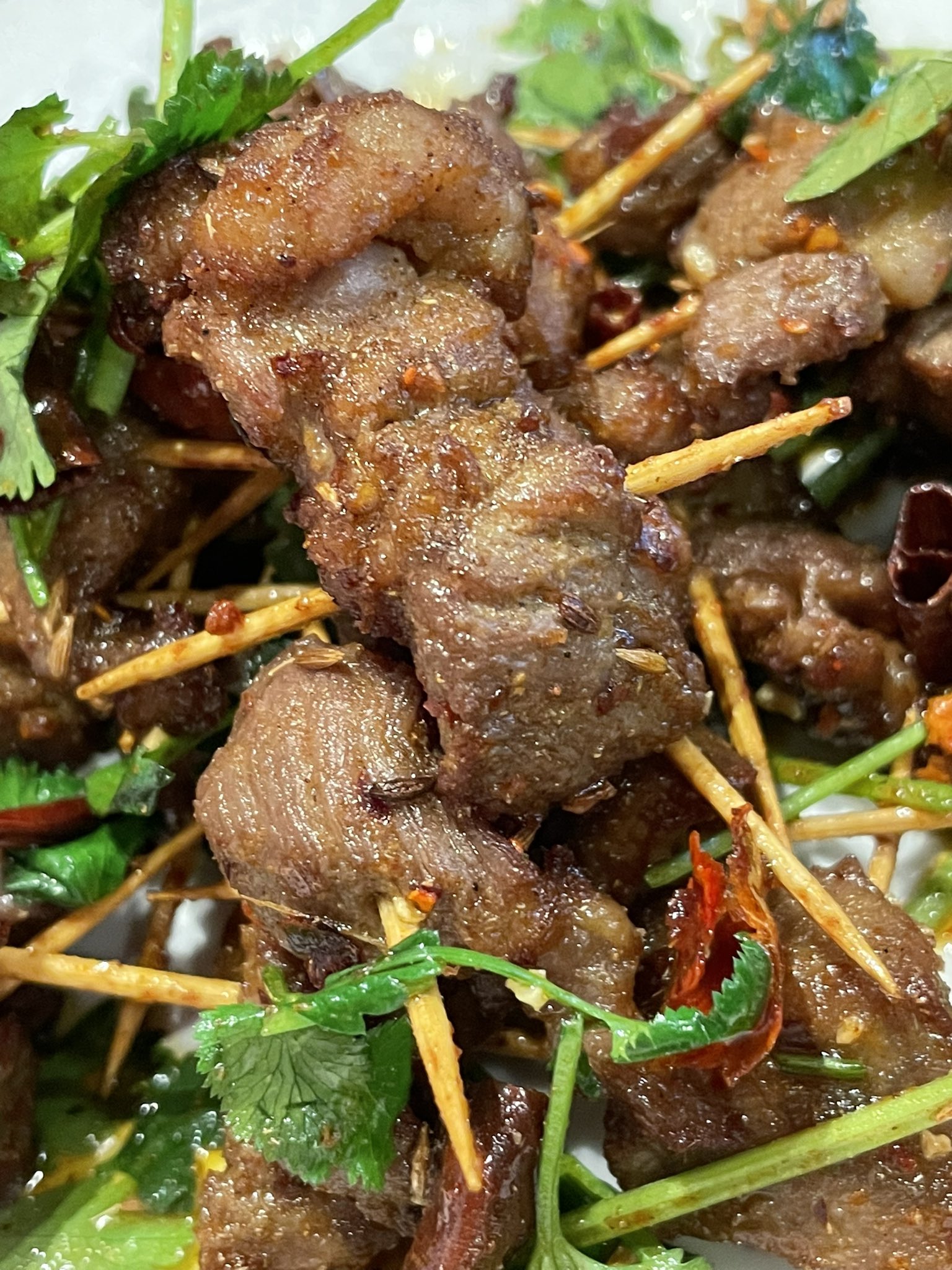 (Not-as-innocent-as-they-look lamb skewers)
The best of Szechuan, tucked away behind Spring Mountain Road and impossible to get into at dinner. Pro tip: Go early for lunch — like around 11:30.
Pro tip #2: Bring a crowd. This food is best enjoyed family-style with 3-6 folks at a table.
Pro tip #3: Bring a firehose (see below).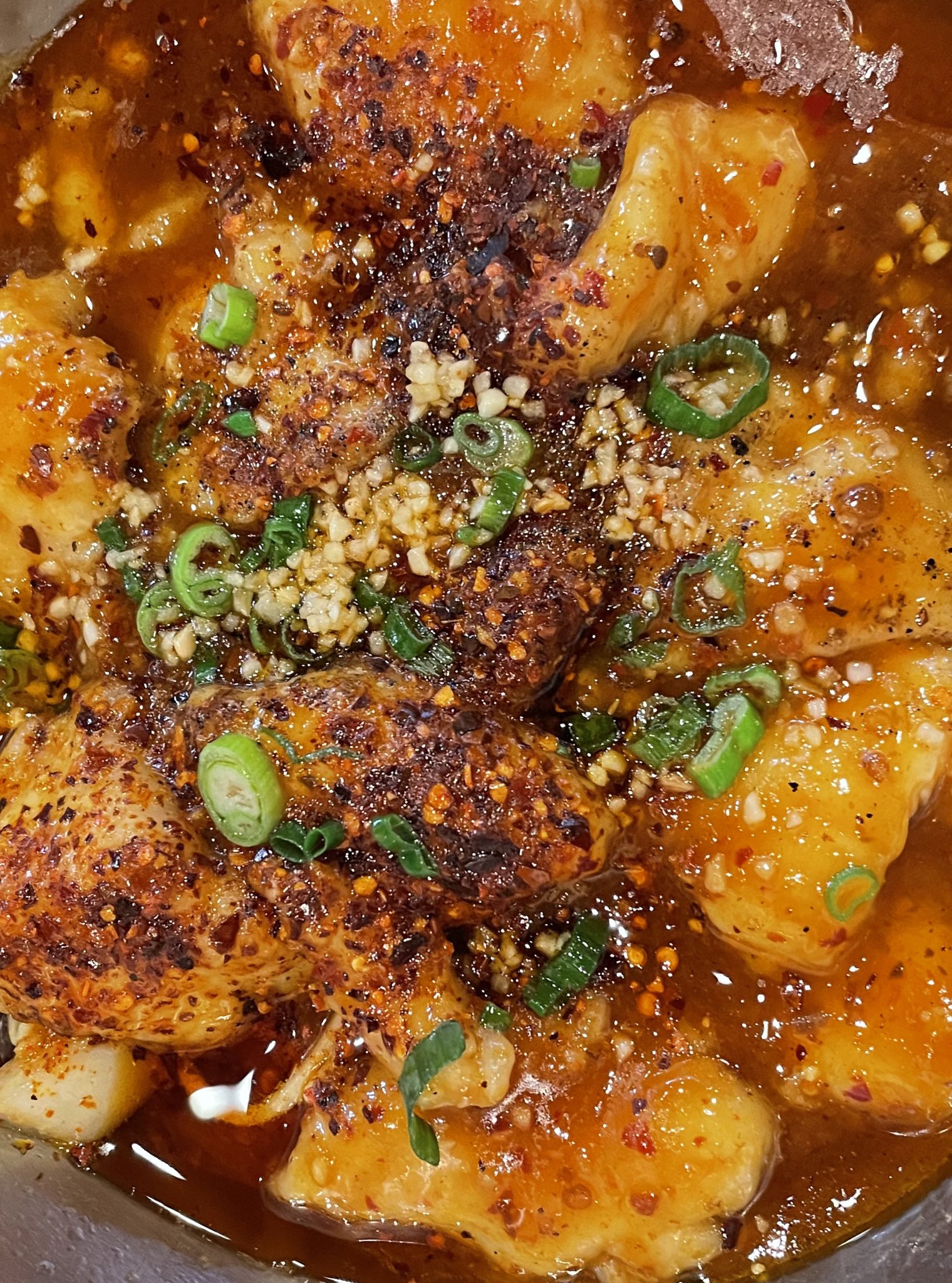 (Asbestos-lined palate required)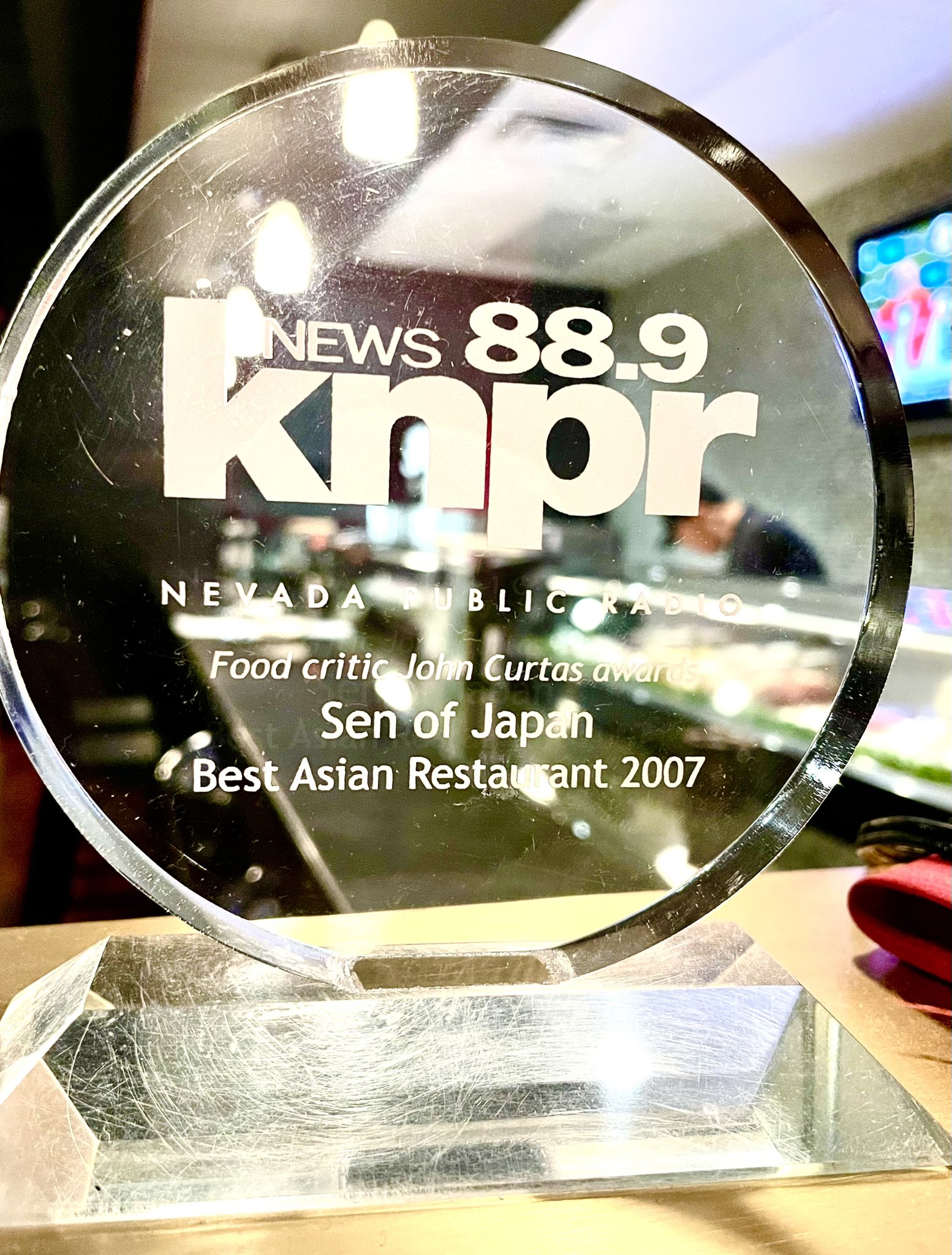 (Oh, the salad days of 'o7)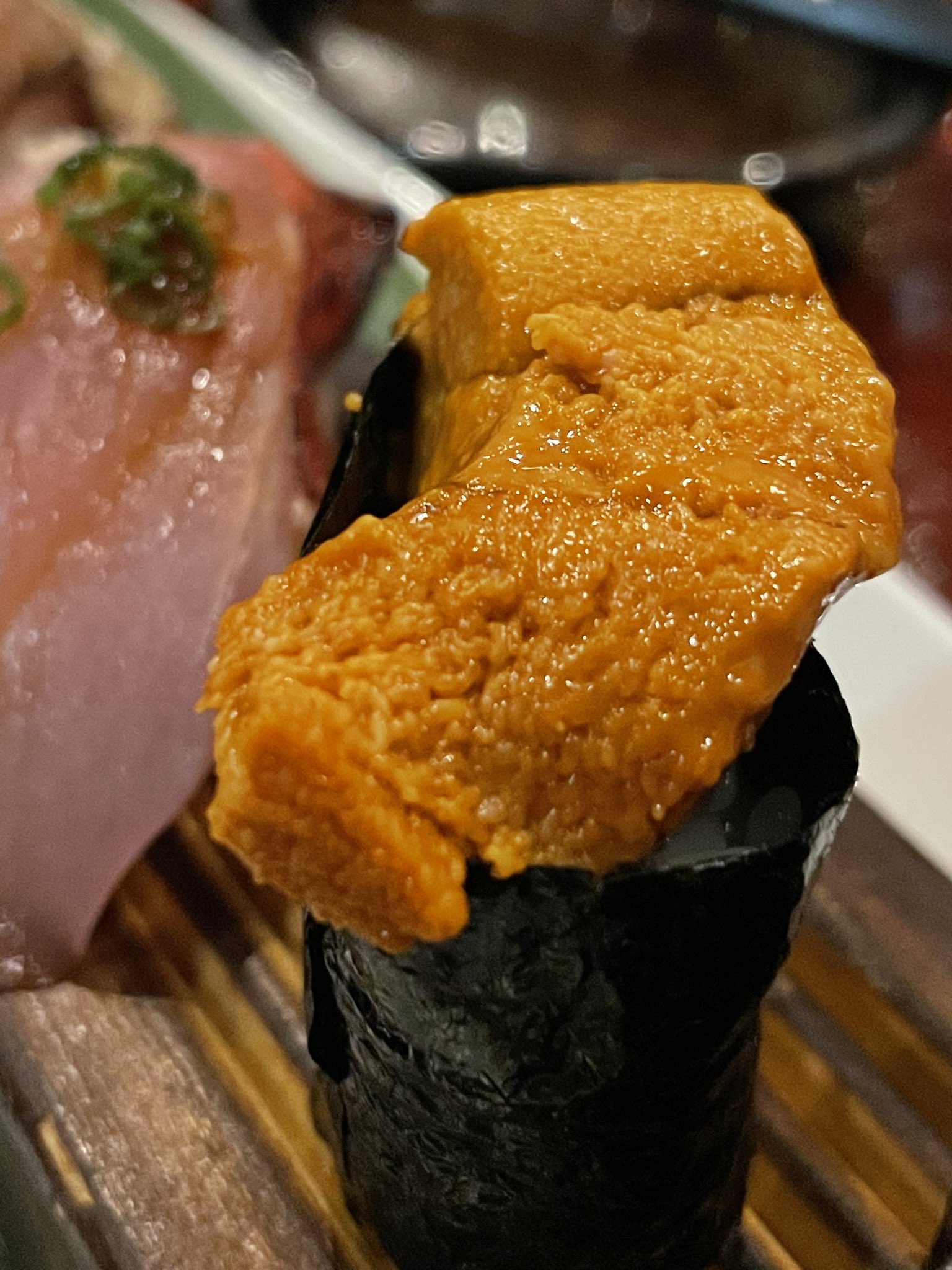 (Uni'd to try this omakase)
A granddaddy among our sushi mainstays. Still brings the goods and always comforting, always welcoming, even if it doesn't compete (or try to match) the higher end Japanese joints opening up everywhere these days. The $100 omakase is a steal.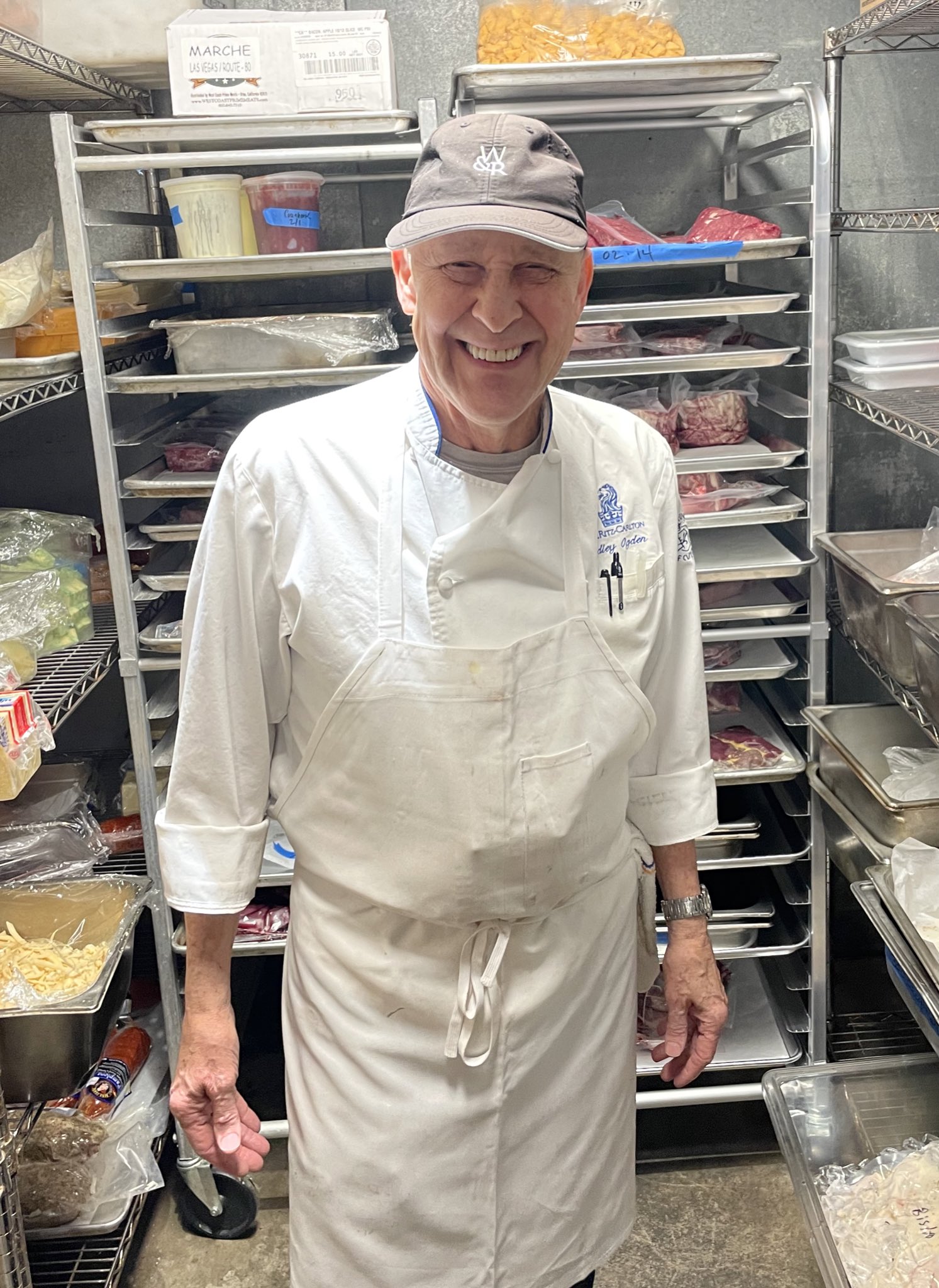 (Bradley O. has his work cut out for him)
Bradley Ogden has taken the helm of one of the toughest gigs in town. He's not ready to retire and has a kitchen expansion (sorely needed) and menu upgrade in mind. Restaurants are like sharks: they have to constantly move forward or die. If Ogden can pull it off, he'll have a Great White on his hands.
PublicUs –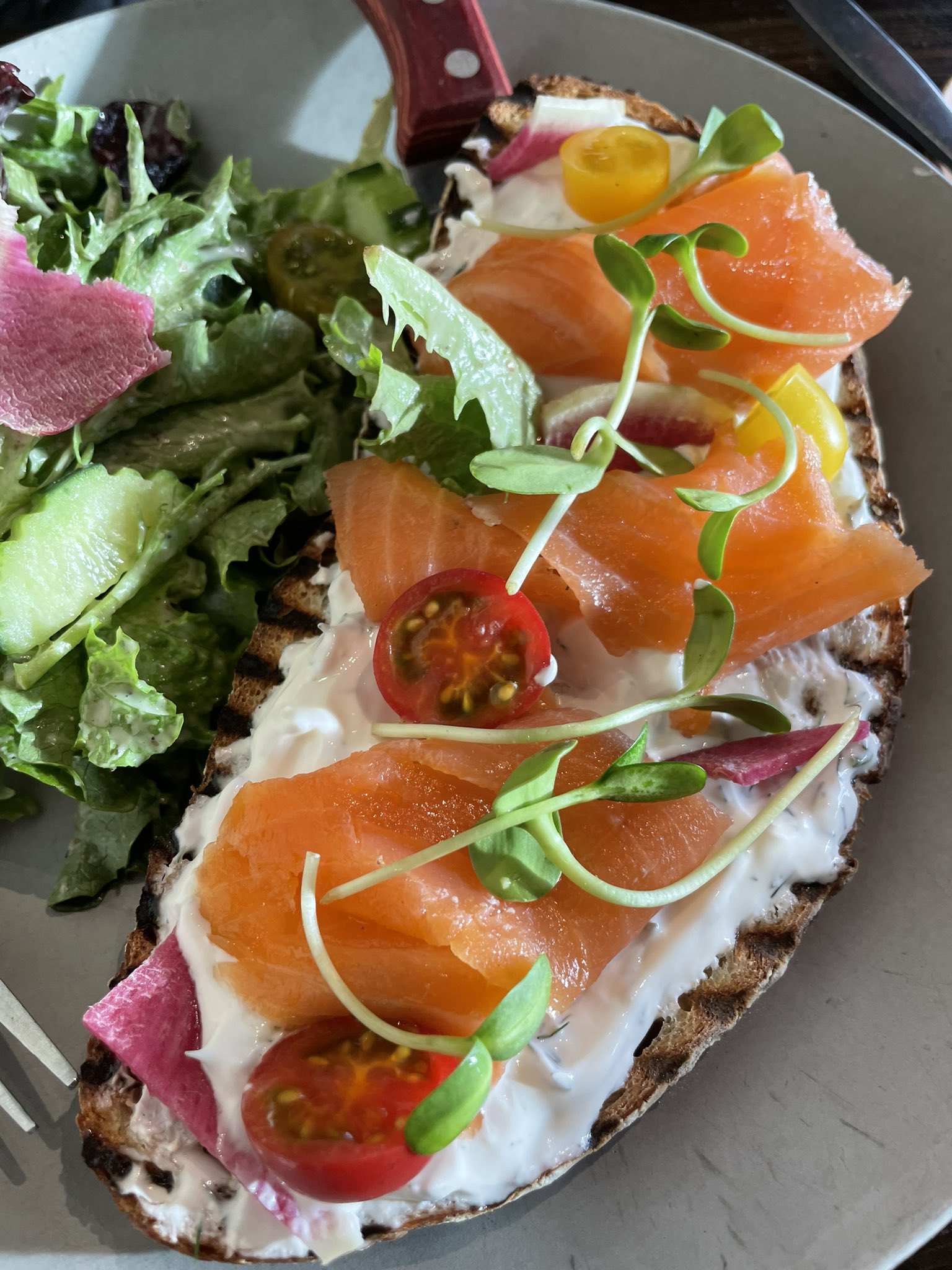 (Salmon-chanted breakfast toast)
First-class coffee; house-baked savories and sweets; incredible bread; never a misstep for nine straight years. And me and The Food Gal® come here, all. the. time. PublicUs is a downtown phenomenon: a major success in a location that defines the term "challenging." But its customers know quality when they taste it and this place  never fails to deliver the goods.
Pro tip: Breakfast is faster than lunch, but both can be maddeningly slow at peak times (they make everything to order and slowness is the price you pay). Go early or go elsewhere if you're in a hurry. Or show up Sunday mornings at 7:00 am like we do and be the first in line.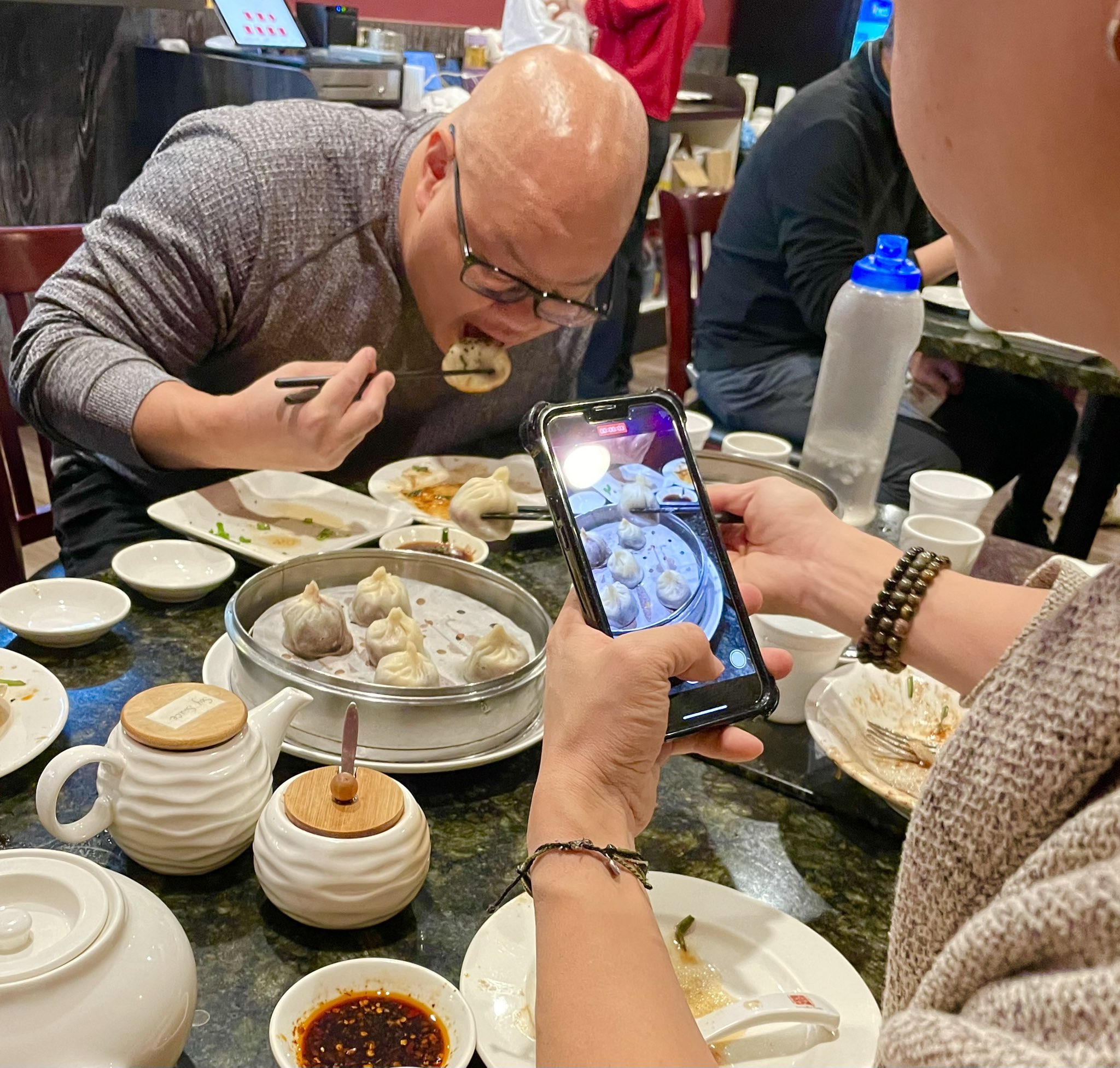 (Las Vegas Fill-ing up)
We don't get into "Who has the best xiao long bao?" debates. Soup dumplings are like sex: the worst we ever had was still pretty good. (Funny how women never agree with this statement.) That said, these are the best, and Jimmy and Jeng Li are two of Chinatown's treasures.
<<<<<<<<<<<<<<<<>>>>>>>>>>>>>>>>>>>>>>>
We temporarily interrupt this food blog bloviation for a….Nusr-Et v. Yukon Pizza BURGER THROWDOWN! 
How do you take your burgers? Thick and juicy and dripping with onion jam: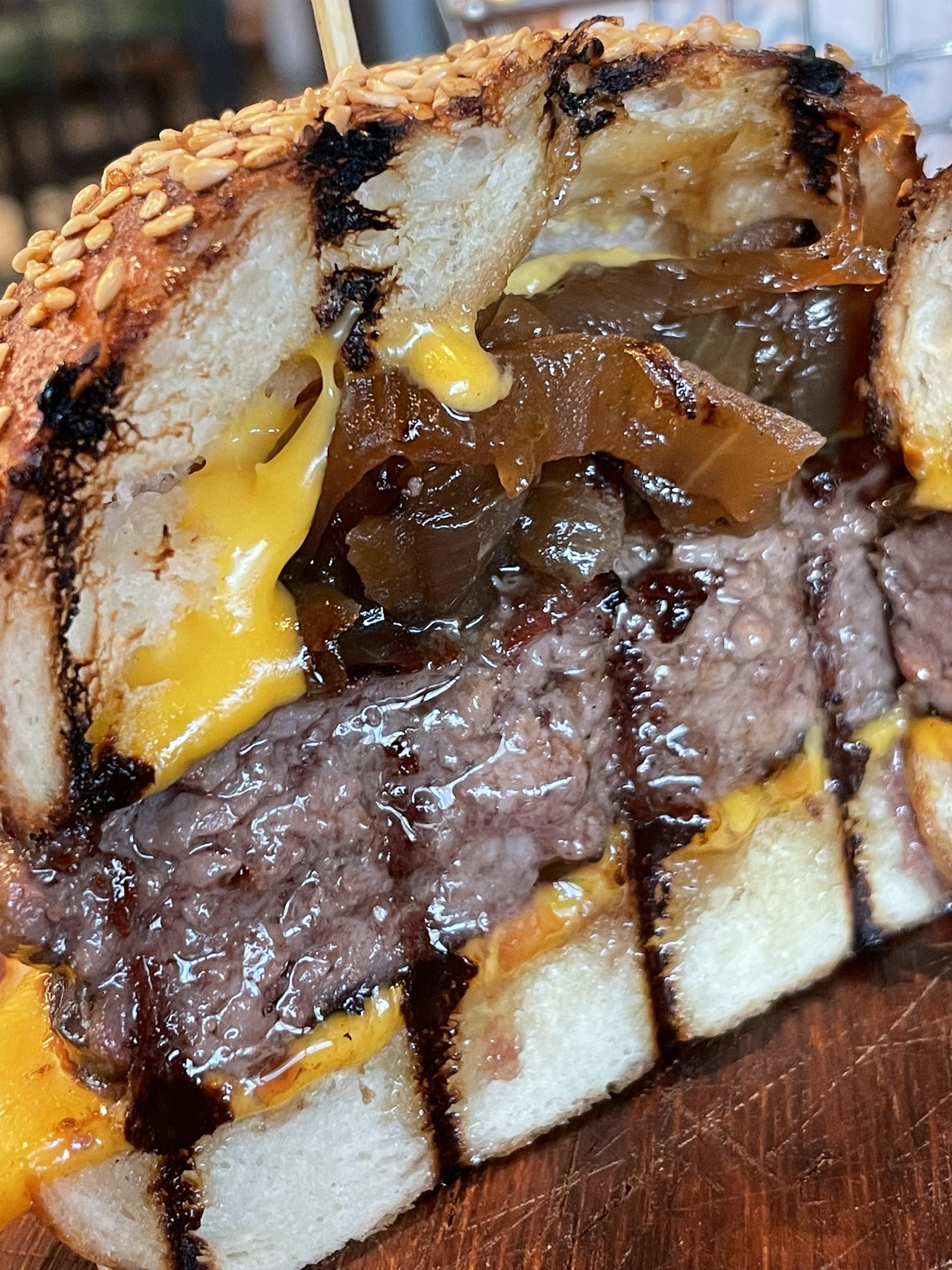 (Be my burger bae?)
….or are you more of a griddled, smashburger kinda person?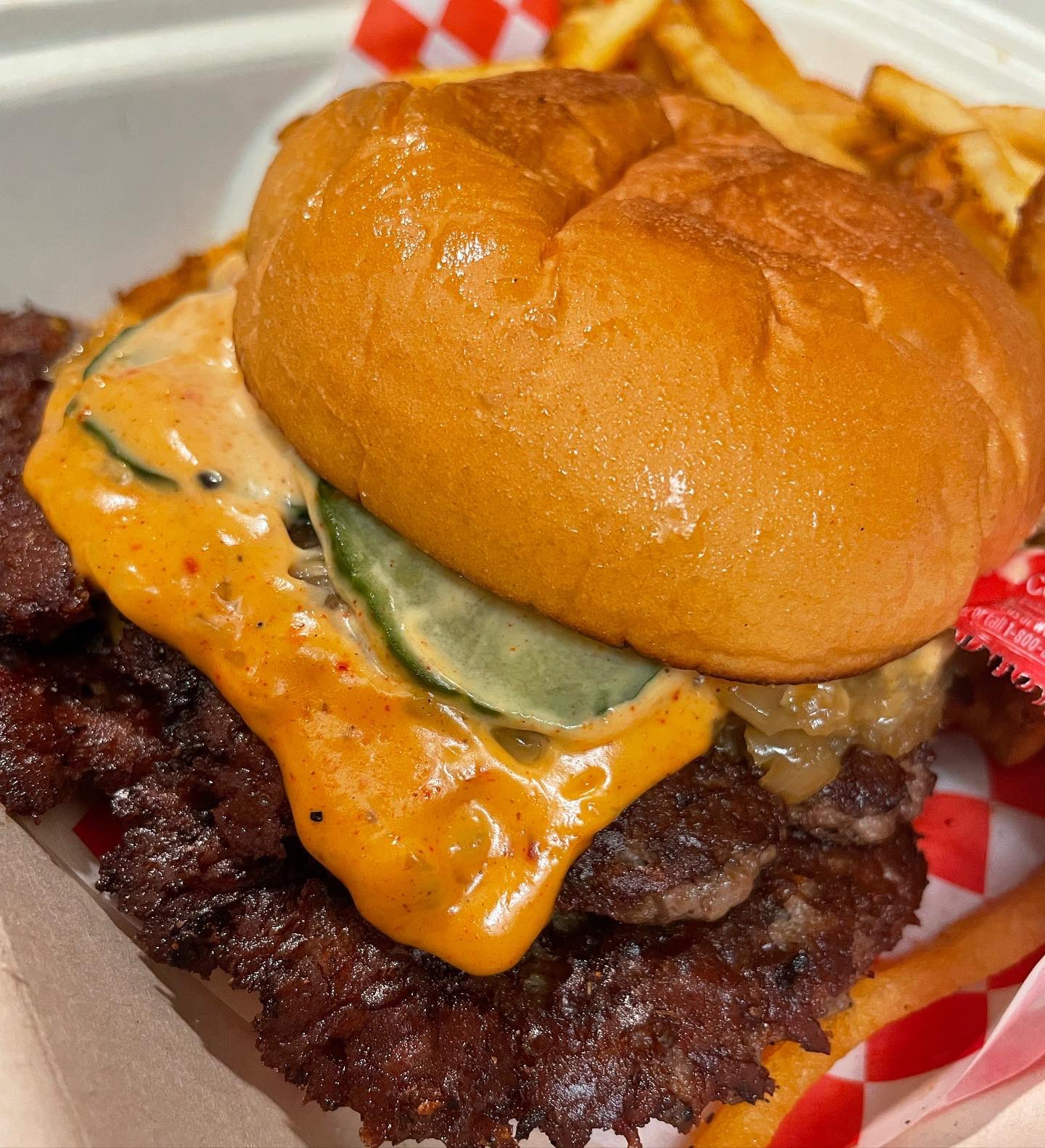 (Smashing)
However you grind it, these two beauts will take your breath away. Nusr-et's at $32 is a wonder of barely-held-together, fatty wagyu, slicked with fat and dripping with beefy intensity. Yukon's double-burger ($14) took me straight back the Steak 'N Shake steakburgers of my youth, and with its house-made pickles, American cheese,  grilled onions and sweet/tangy sauce is the last word in ground Maillard-reactive meat umami.
We've pitted these two meat patties against each other in our head for weeks, and can't decide on a winner. Nusr-et is open for lunch and is always empty, so your burger will get special attention if you're the only one in the joint. Yukon is open for service continu (as the Frogs say) every day but Monday and Tuesday, and has been a hit from the jump, so you'll have to either call ahead or elbow your way in. Good luck solving this delicious connundrum.
<<<<<<<<<<<<<<<<<<<<>>>>>>>>>>>>>>>>>>>>>>>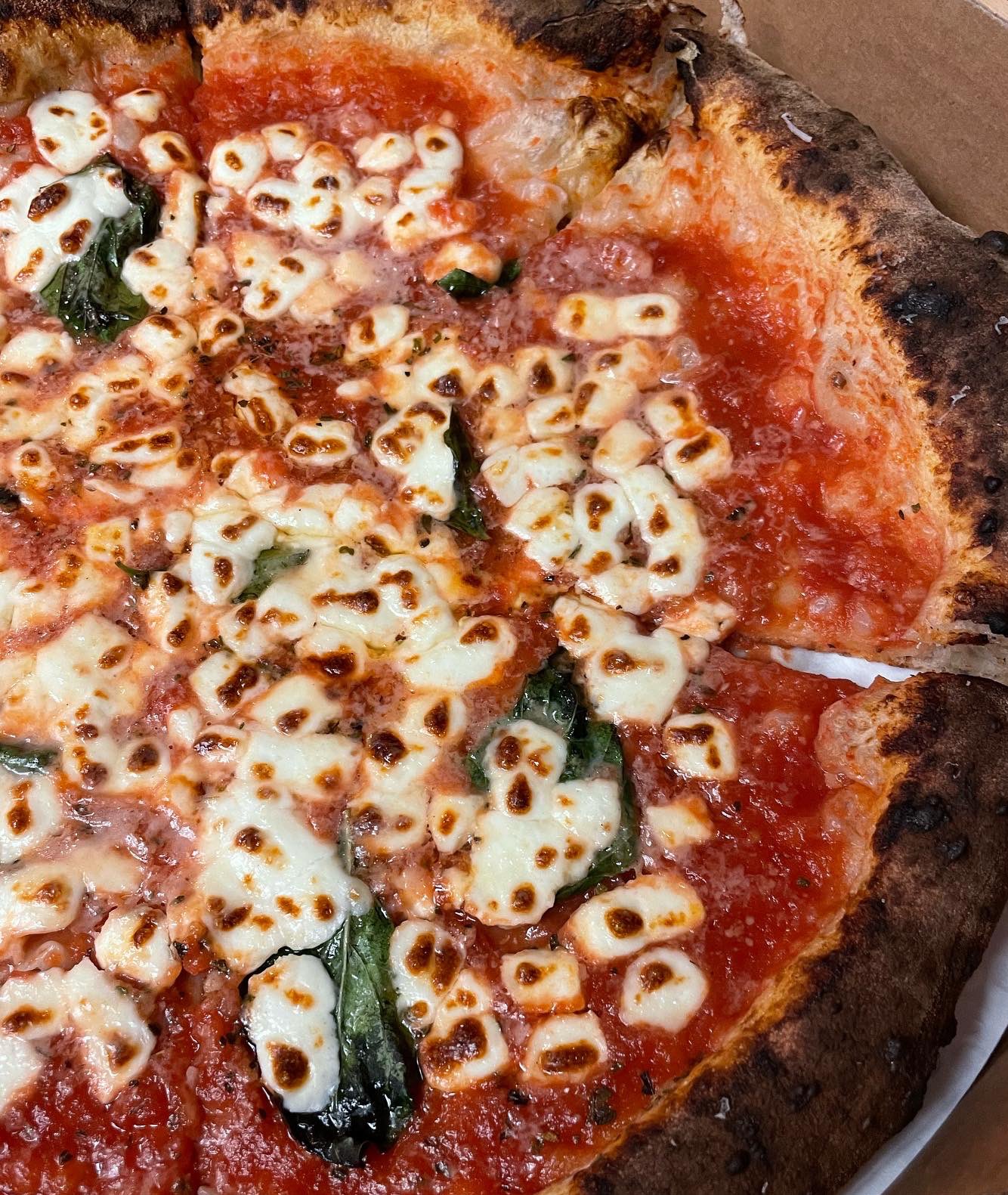 (A crust above)
Best dim sum? Top burger? Pizza wars? Who cares? The only thing that counts is quality, and Yukon has it in spades. The tiny space (seating about a dozen, tops) has been crowded every moment since it opened with pizza hounds who know a properly blistered and charred cornicione when they taste one. Between the pies and the burger, I'm going to have trouble keeping The Food Gal® away from this place.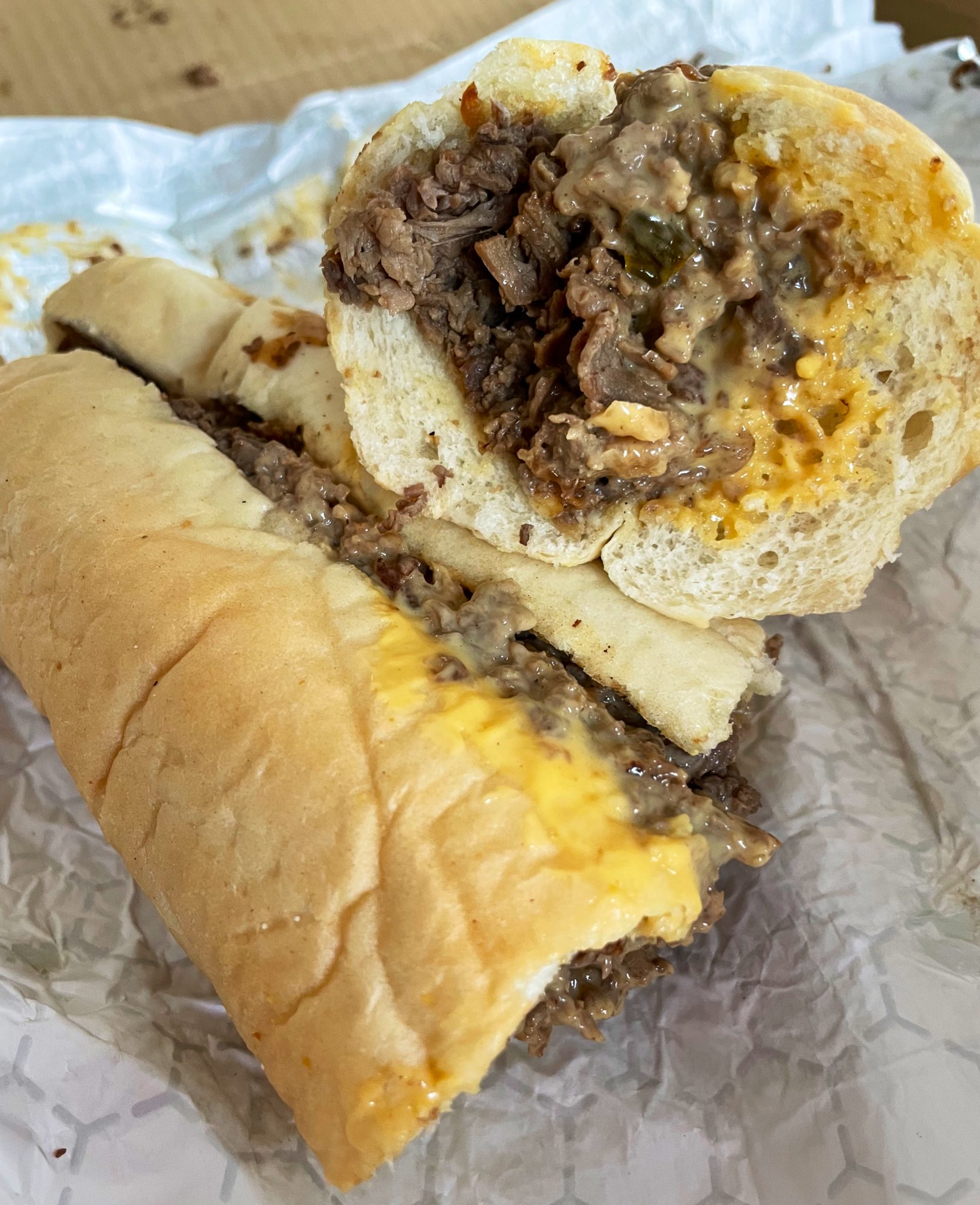 Come for the pizza; stay for the cheesesteak. Actually, there's no staying at The Lakes location — it's take-out only.
Consumer warning: the "Pizza Margherita" should renamed Pizza Garlicrita — best eaten alone or far away from any sentient human beings.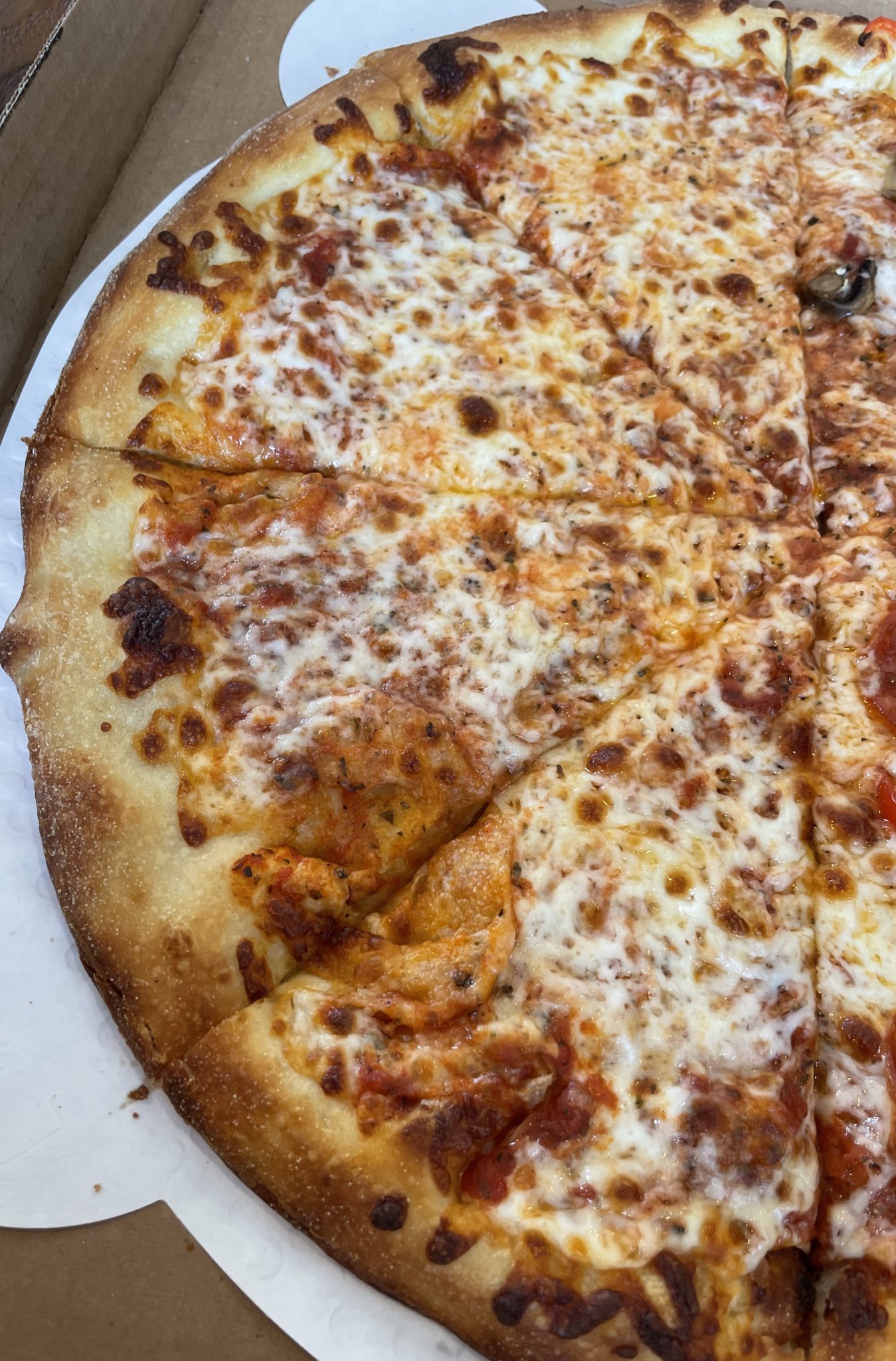 Ash Watkins said this pizza ranked 37th in the United States on Yelp's list of "Best Pizzas in America" (#eyeroll), so we had to trek out to the southwest to taste for ourselves. Yelp rankings always smack of paid-for advertising, and this joint is obviously playing the game. It's a decent facsimile of a deck oven New York slice and that's about it. (#Yelpsucks)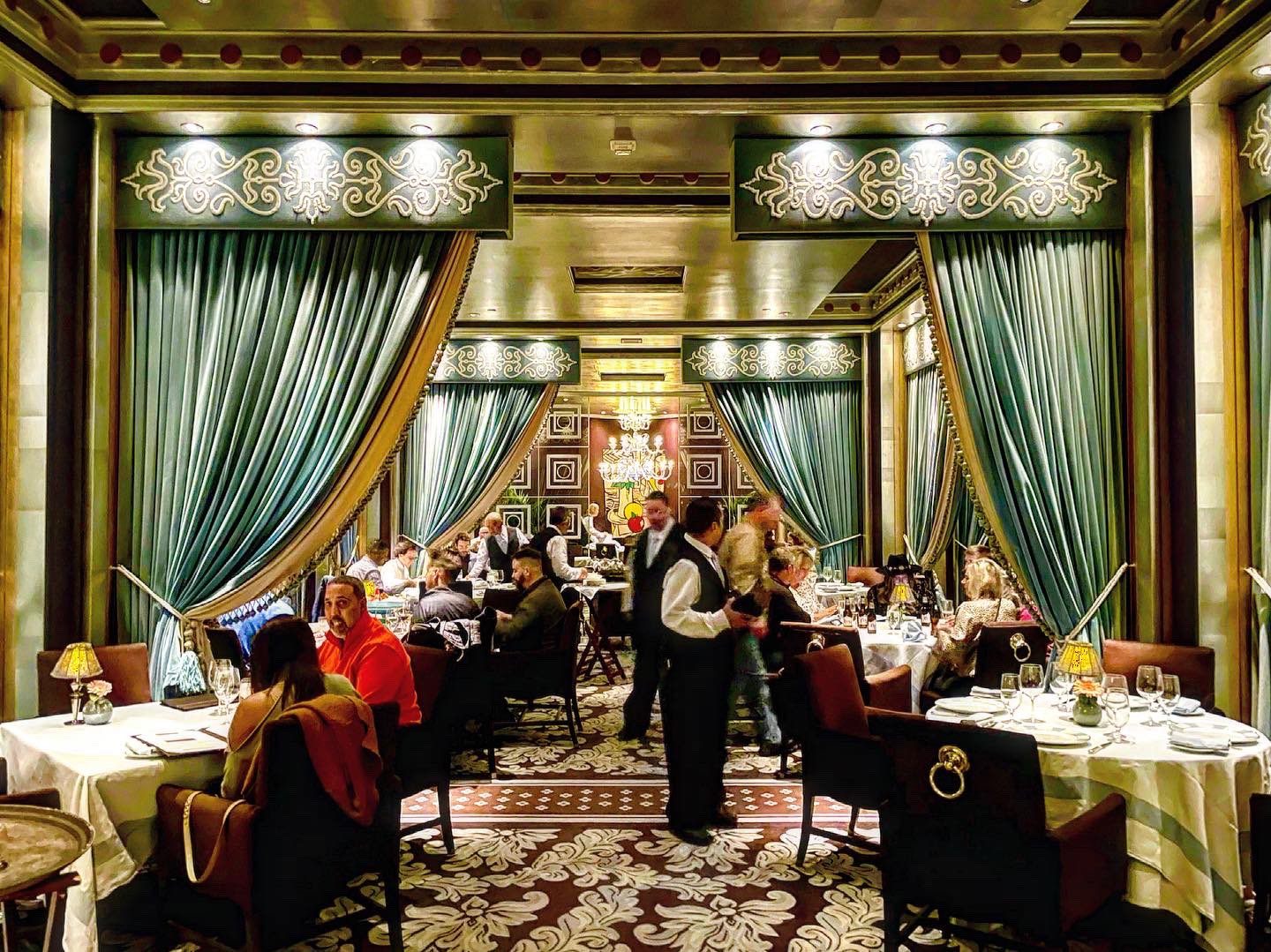 What doesn't suck is this grand dame — still, after 25 years, the prettiest steakhouse in America. The menu's barely changed in that time, and the tuna tartare is way too cold and the mixed "Greek" salad not that great and the crab cake too deep fried…but we still hold it dear to our hearts…mainly because the steaks and the sauces (and the Parmesan-crusted chicken) still tickle our fancy: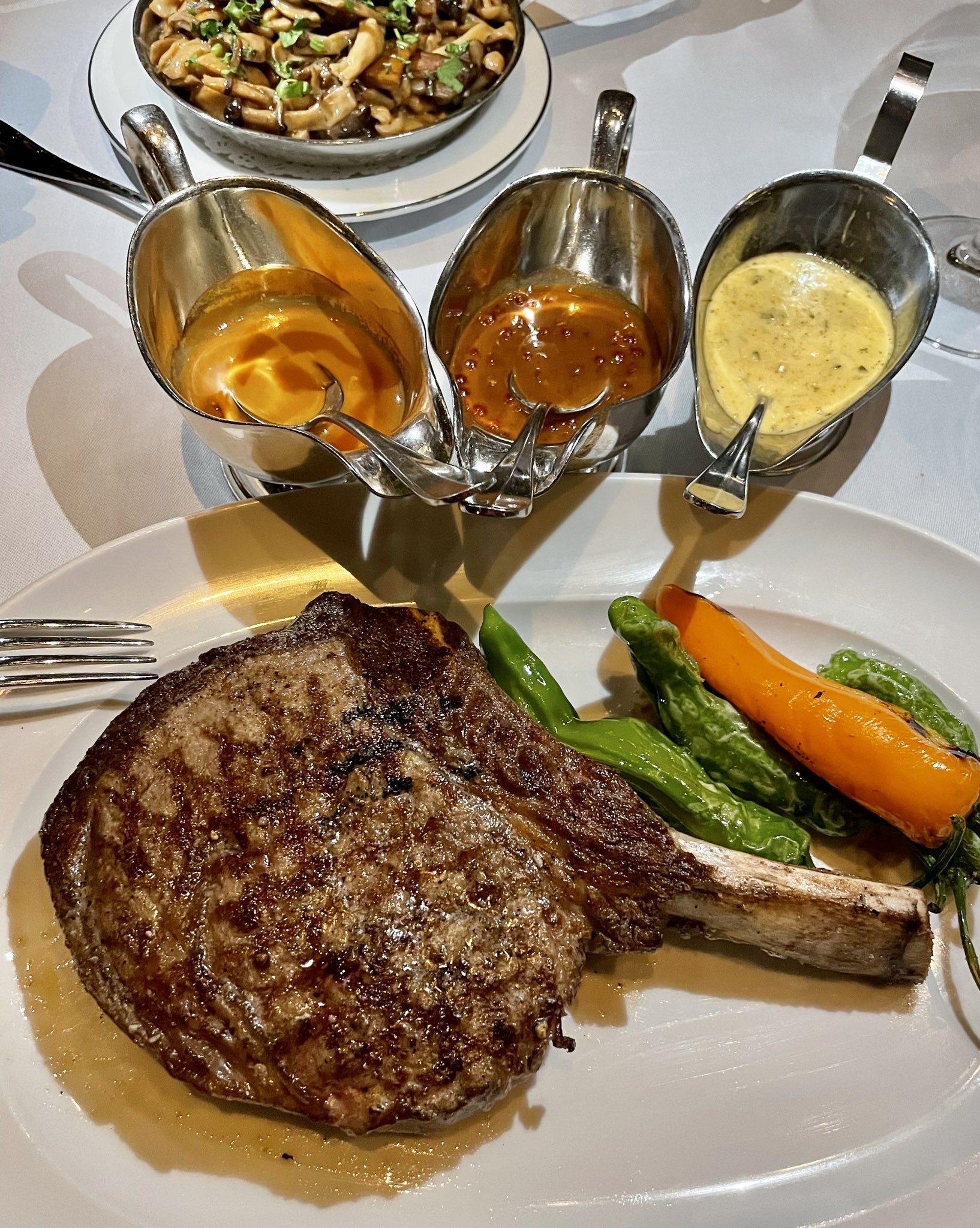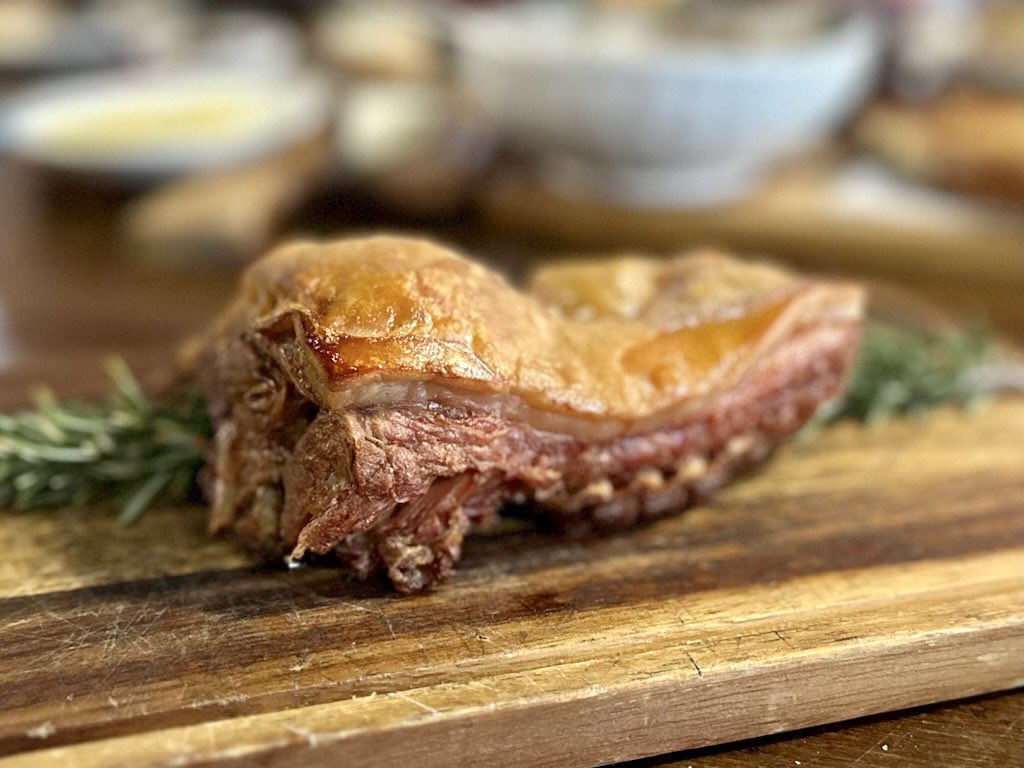 We're sad about Chef Rafael moving his hard-to-find ode to Spanish cuisine all the way to Henderson, but we'll be happy for him if he finds a more appreciative audience out there. His food is an exquisite rendering of the best of Spain, with paellas like you won't find anywhere not named Jaleo. He plans on moving at the end of April, so get your jamon Iberico fix in now before he disappears into the wilds of Boulder Highway.
Weera Thai (3 locations) –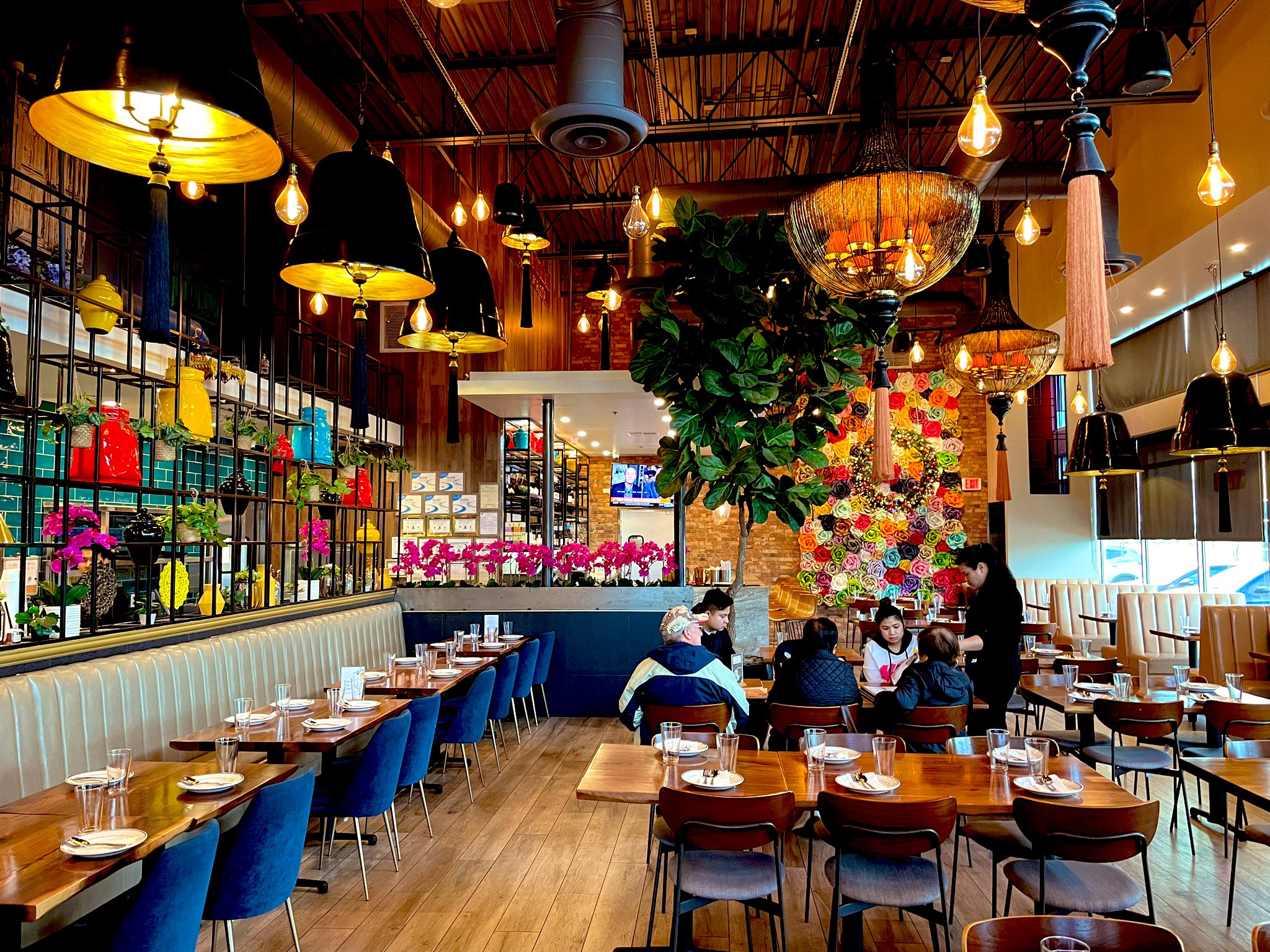 The new one on south Rainbow is stunning (above). The slightly older one in Chinatown is a smaller version and the perfect venue to tuck into some roast duck  pad Thai or pumpkin red curry. The original on west Sahara is no less popular, and between the three of them, you're never too far from some incendiary Khua Kling, bone broth soup, or a ginormous pork shank: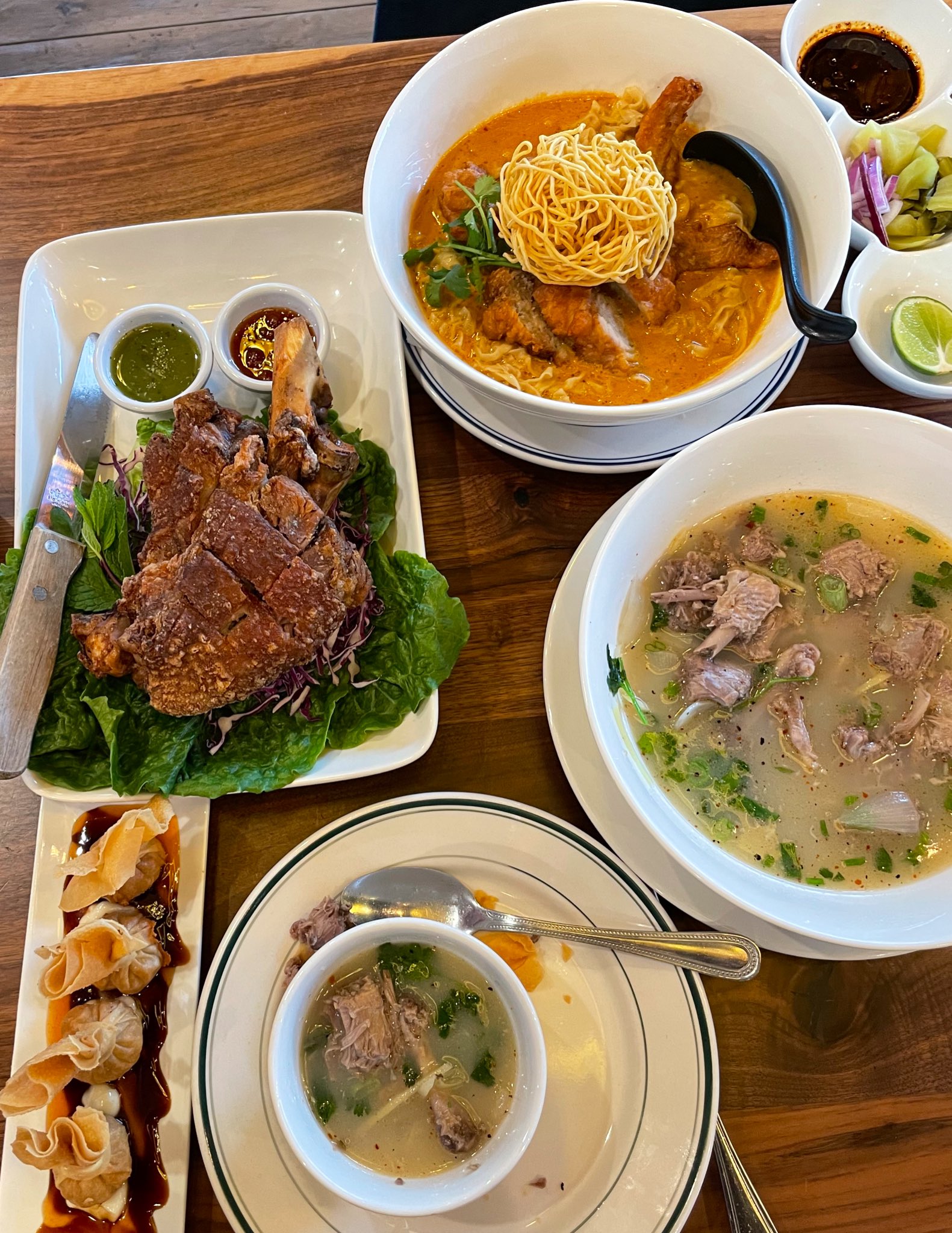 Balla –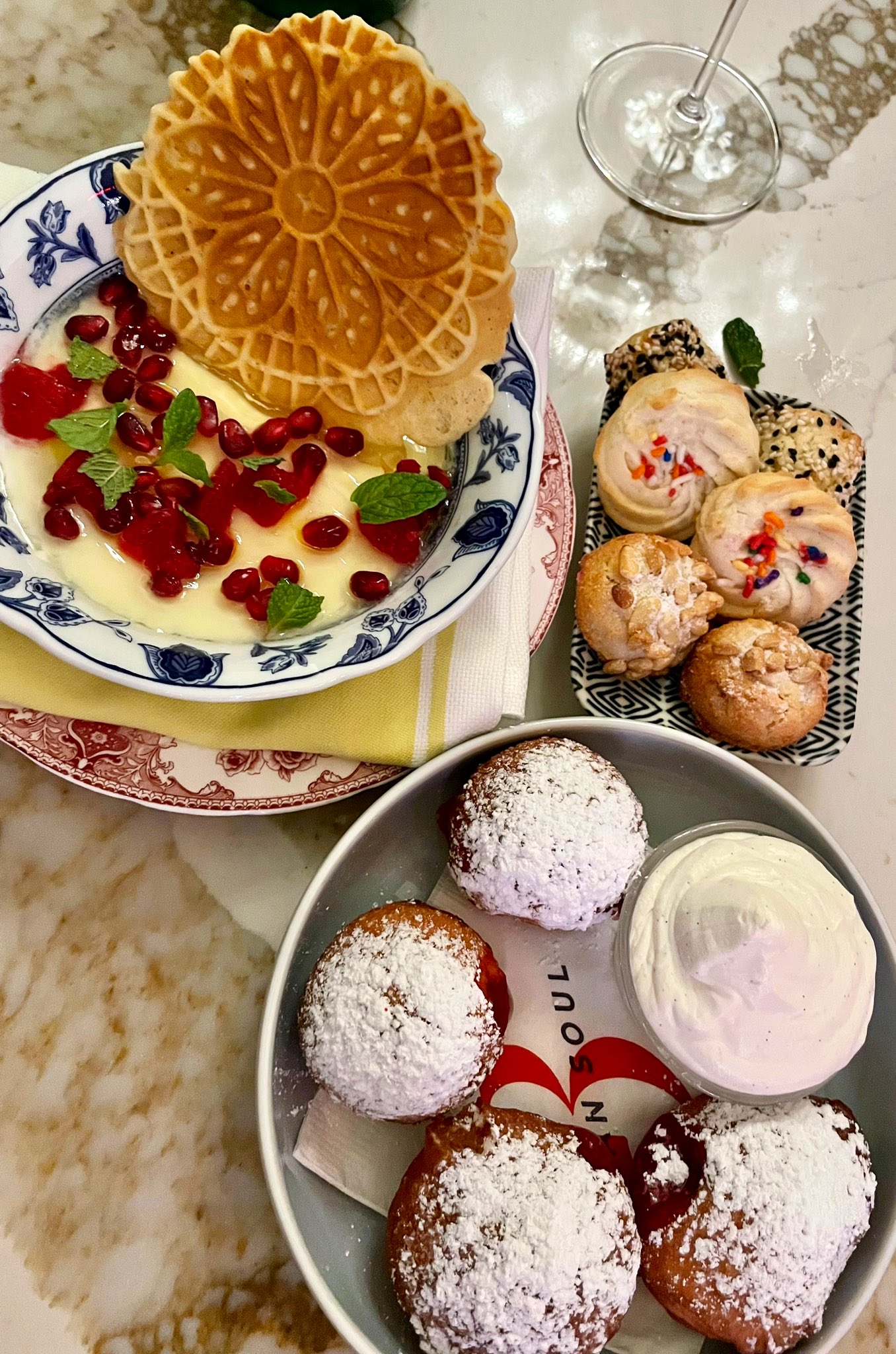 If Vetri Cucina tops them all these days, Shawn McClain's Balla is running a close second. It's menu isn't quite as adventurous and the setting is not as dramatic, but it's easier to get to, the short wine list is a knockout, and everything from the artichokes to the bomboloni (above) tastes like they were imported from Rome. The wood-fired veal Milanese and lamb tartare are not to be missed. This old beet hater even found something to like for McClain's beets — dripping with agrodolce (a sweet/sour dressing) and festooned with mint and hazelnuts.
After two visits, we can't wait for a third.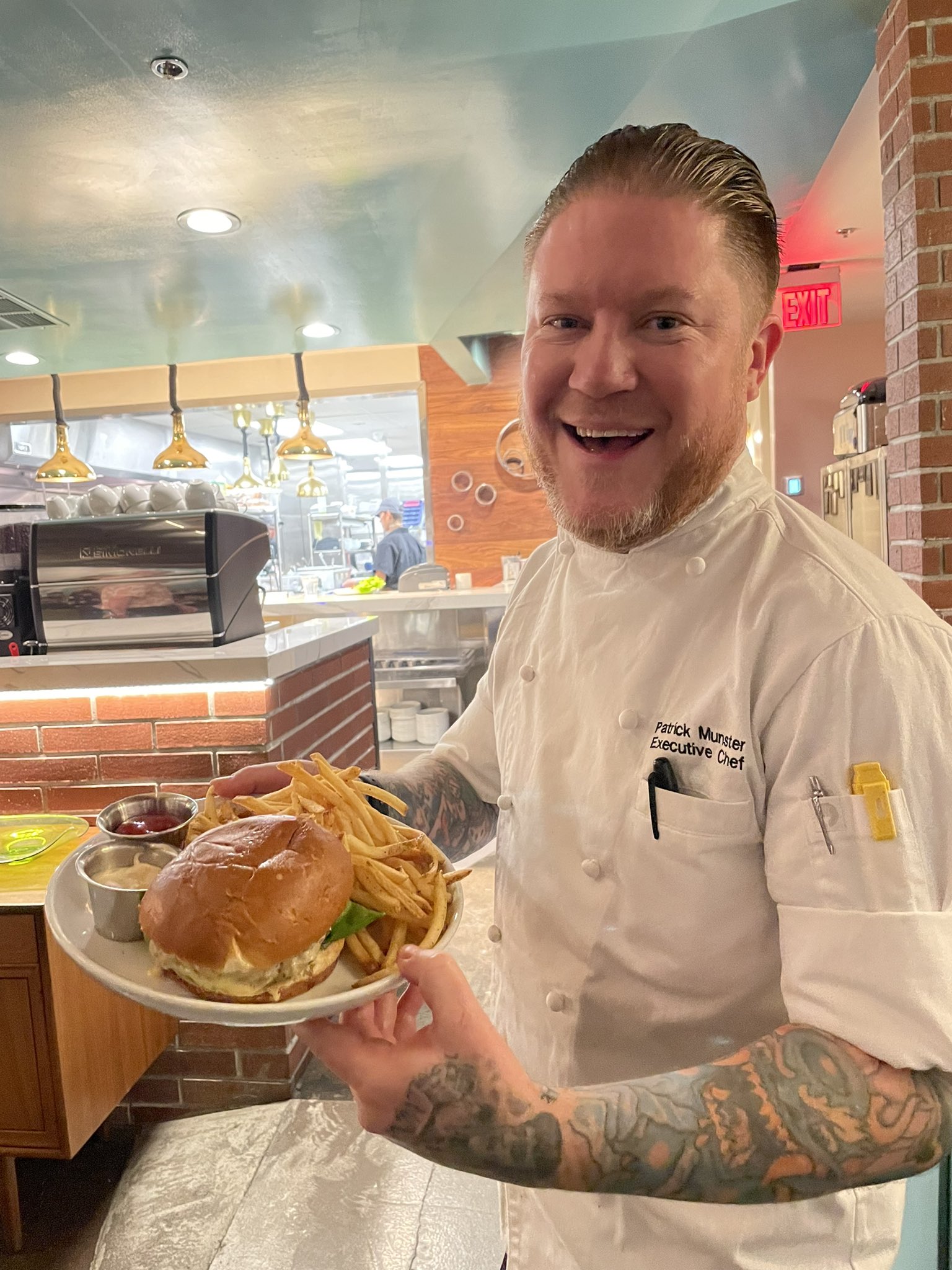 Patrick Munster is killing it with a gutsy menu that fits downtown like a hipster's fedora.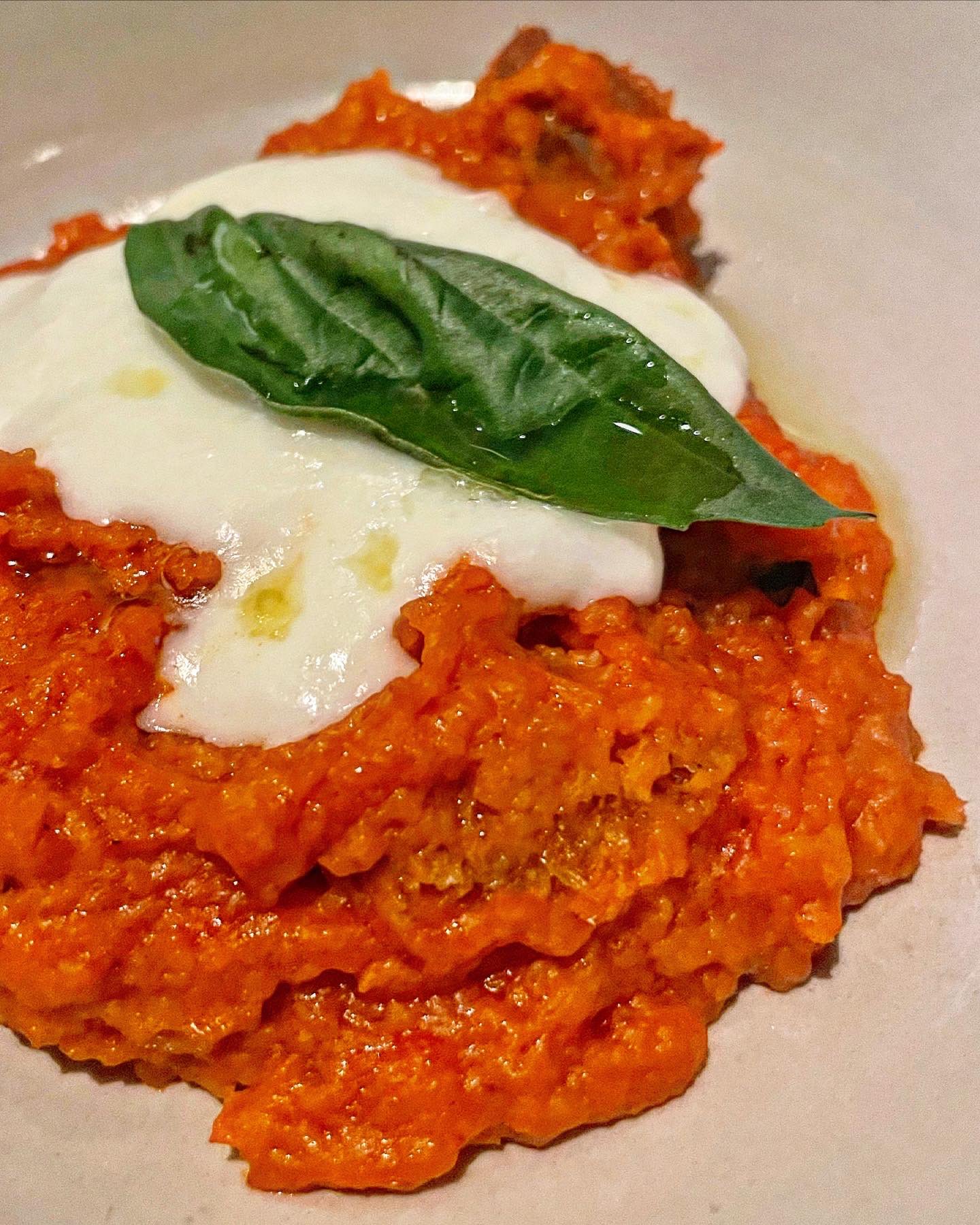 (Come to Pappa al pomodoro)
There are so many great Italians in town right now, hauling one's ass to the far reaches of whatever they're calling the Monte Carlo these days to eat makes about as much sense as putting your paycheck on double-aughts at roulette. Regardless, haul our sizeable arse we did to Eataly for a San Marzano tomato tasting that confirmed why I stopped going to press events ten years ago.
For the record: the tomatoes were great (see the pappa al pomodoro above) and the restaurant perfectly fine, but putting out 100+ plates of the same, tepid food at the same time is no way to deliver pasta…or rice. Risotto waits for no one, and is almost impossible to serve at volume. Most of the crowd didn't notice the gumminess though — they were just happy to be eating for free.
Raku –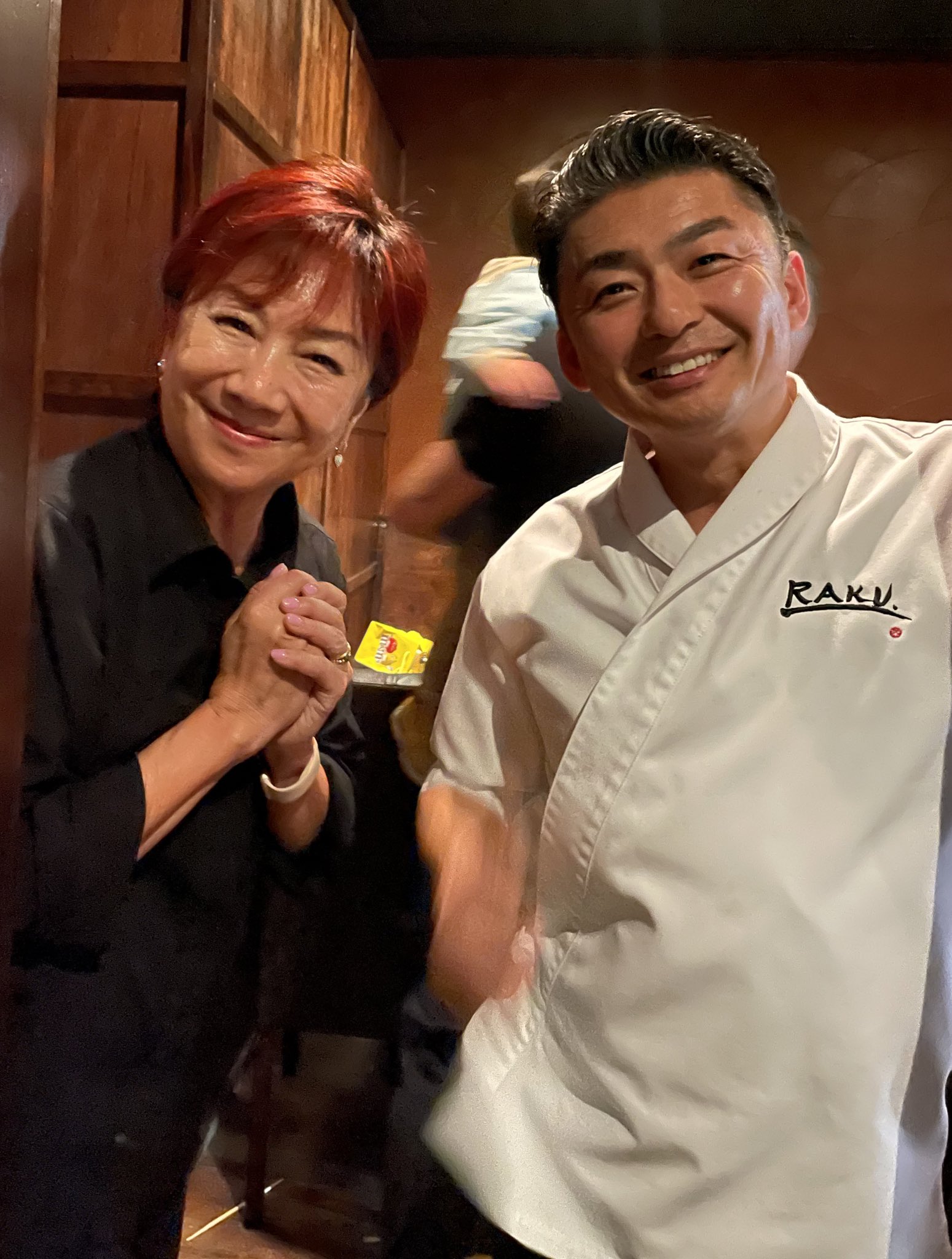 (Spring Mountain superstars)
For my money, Raku is Las Vegas's greatest restaurant — a chopstick-dropping combination of precise cooking, authentic recipes, pristine ingredients, and unwavering  consistency…for fifteen years. Strictly for Japanese fanatics, though. Raku is not the place to ooh and aah over enormous slabs of A-5, or tuna the size of a canoe. Everything is about subtlety and precision here. If you don't like your fish with eyeballs, look elsewhere. I've never had a bad meal at Raku; I've never even had a bad bite. If there is such a thing as an exquisite izakaya, this is it.
We broke the story on social media a couple of weeks ago about Mitsuo Endo taking over the convenience store fifty feet away from Raku's front door, and turning it into a "members only" omakase restaurant with only eight seats. We intend to be a member.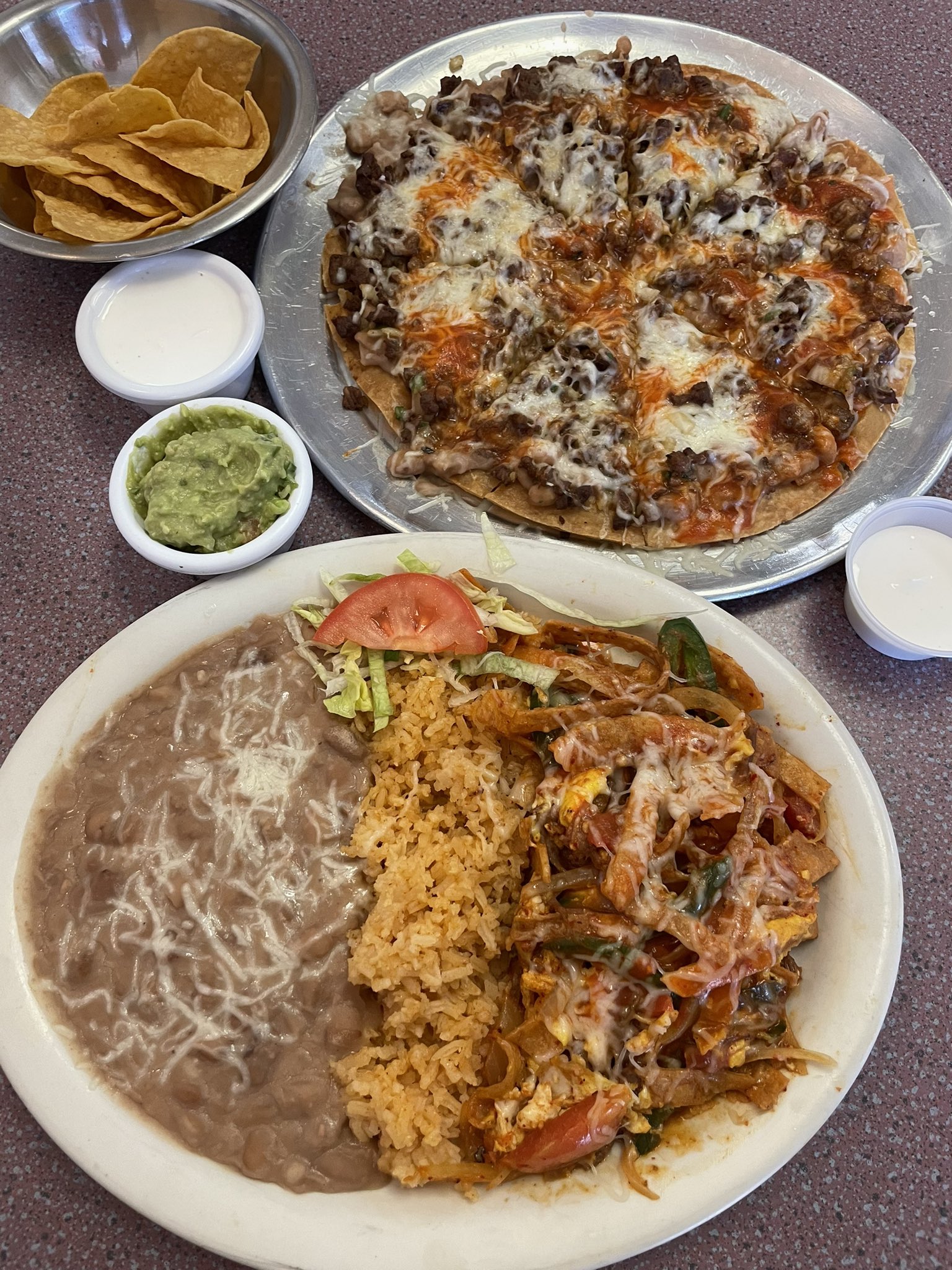 Everyone should have a default Mexican hole-in-the-wall and this one is ours. Nothing super special, just solid renditions of chilaquiles and a nice Mexican pizza (above).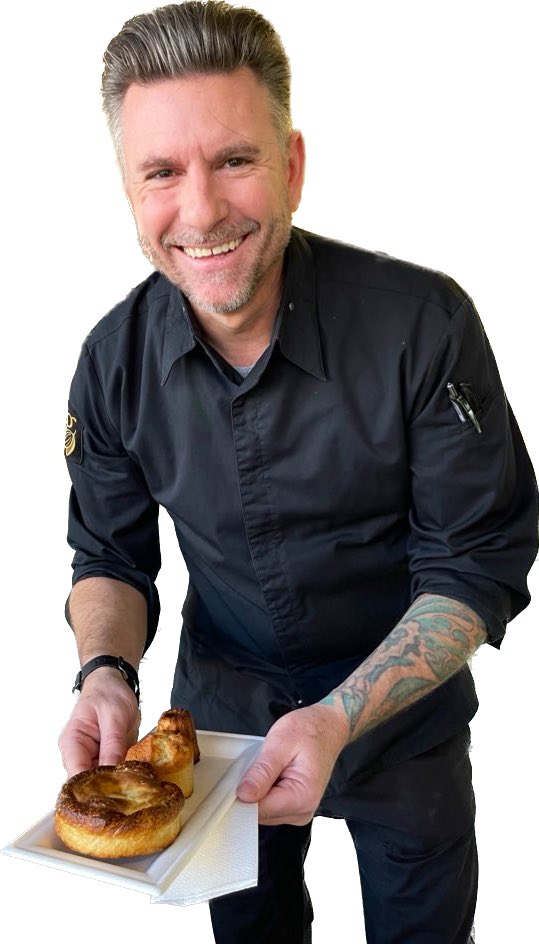 …where Michael Gillet runs the cutest little French pastry shop in all of Vegas — hand-crafting the best of France all by his lonesome in a spot which is too good for its location.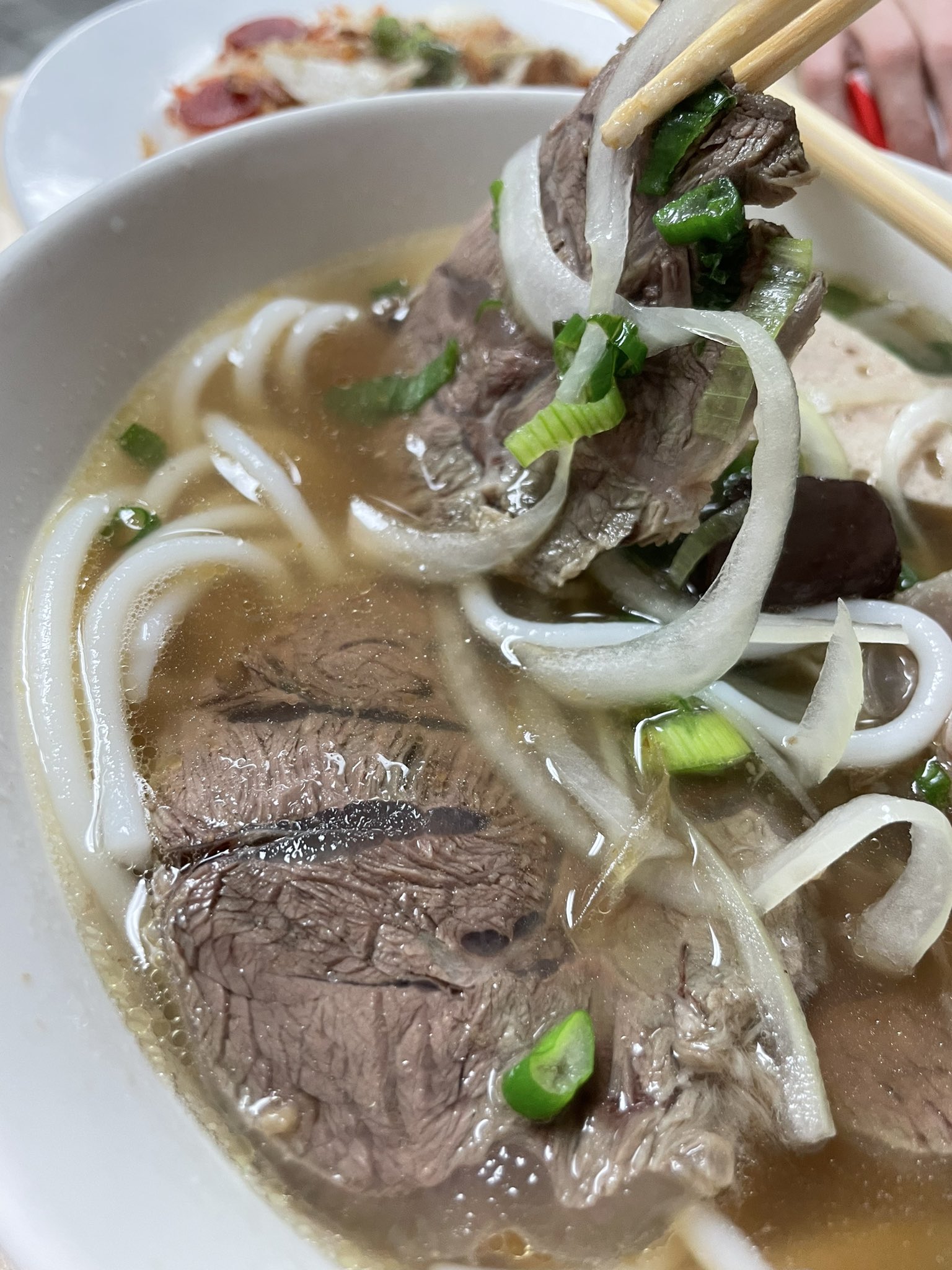 Vietnamese food tastes maddeningly the same to us, no matter what the restaurant. Or so we thought, until we took one sip of the cleanest, clearest, most intensely rich broth in our Bún Bò Hué (above)  we've encountered up and down SMR. Shockingly good, and the perfect antidote to the same old same old pho parlor. P.S. the Banh xeo (a huge crispy turmeric rice flour pancake) was a show-stopper as well. As are the soups. All of them.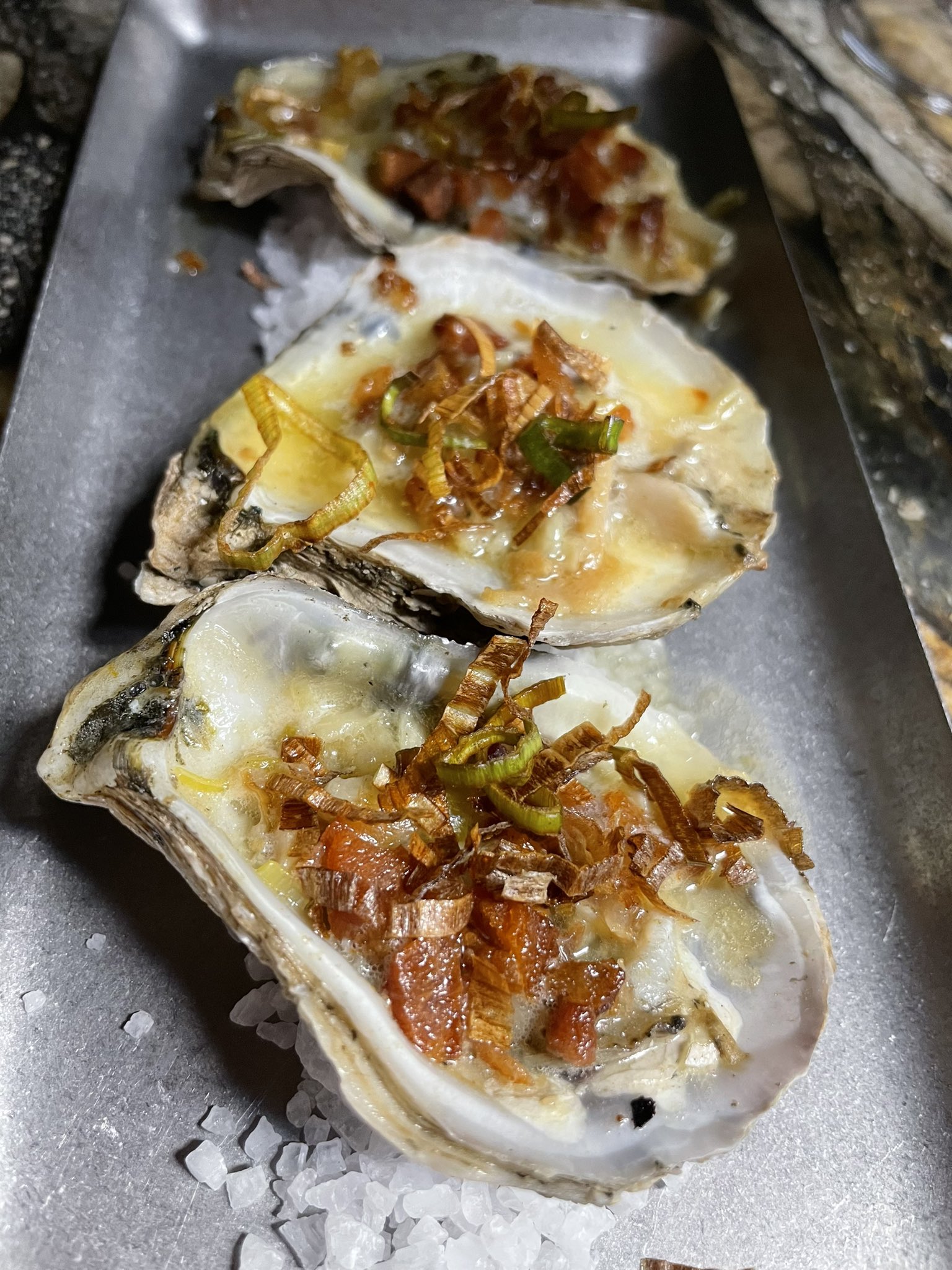 We hit CK at the very end of last year to give its new menu a spin. There wasn't a clinker in the bunch as we plowed through grilled oysters (above), roasted cauliflower, wild boar tacos, and a crispy, deeply succulent sandwich most foul which we called "Kentucky Fried Duck."  A new expansion has opened an outdoor patio in the back of the restaurant, but we think a seat at the six-person bar is still the way to go. CK has always been too industrial (and too loud) for our tastes, but there's no denying the talent in the kitchen. This new menu reminds us of why it was love at first bite, almost nine years ago.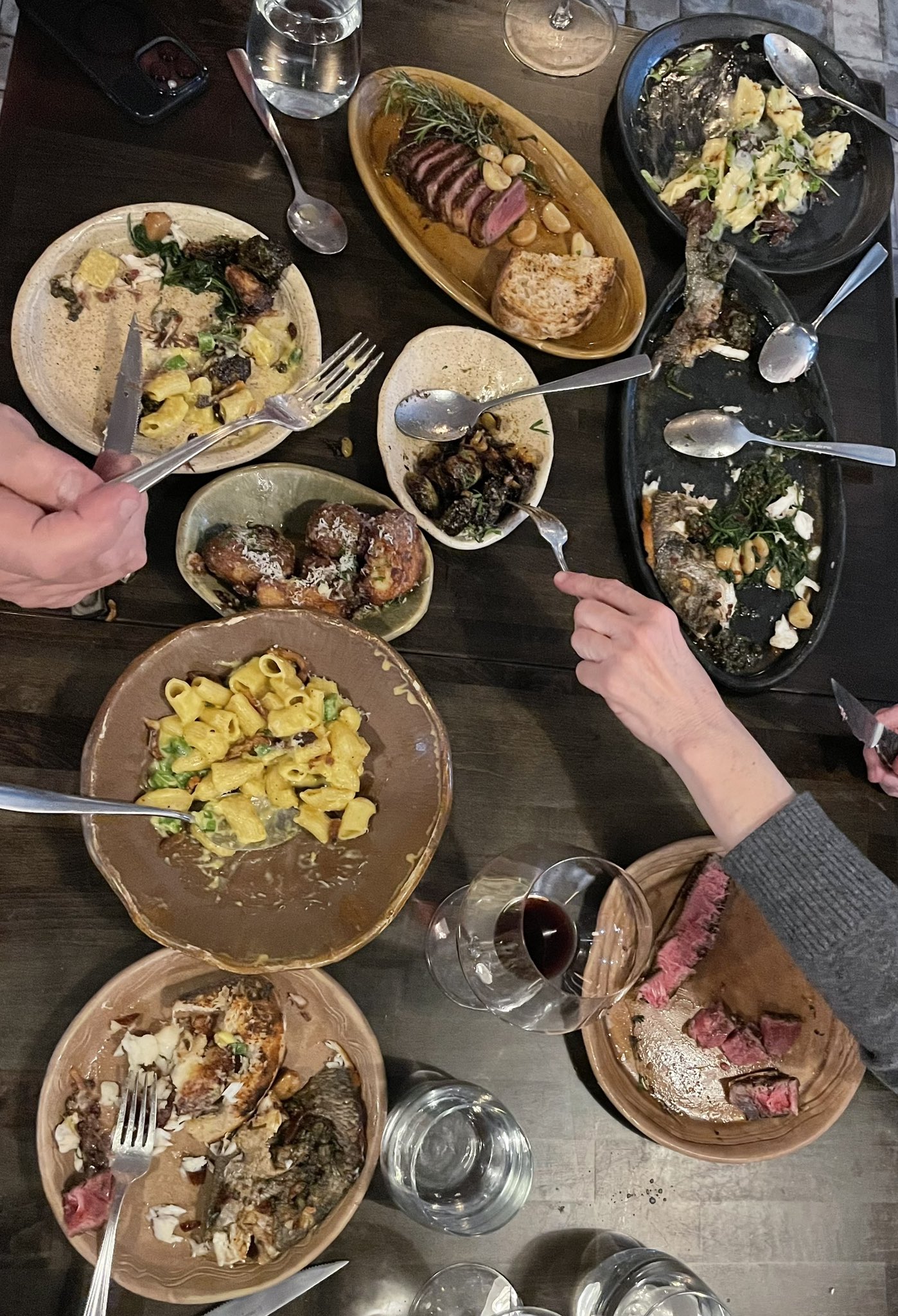 (Our usual at EK)
"That place is so crowded no one goes there anymore," is our favorite saying about this place. Can you believe it's been five years since James Trees started the Arts District culinary revolution? People who says it's lost its fastball don't know what they're talking about. The can get slammed, putting both the kitchen and bar in the weeds, but when the drinks and dishes show up, all is forgiven.
<<<<<<<<<<<<<<<<<<>>>>>>>>>>>>>>>>>>>>>>
For the umpteenth time in the past four decades, I tried to find something to like about Filipino food. Hungry as hell one day last month, I scurried over to some rando roach coach near City Hall and walked away with this pork belly sisig: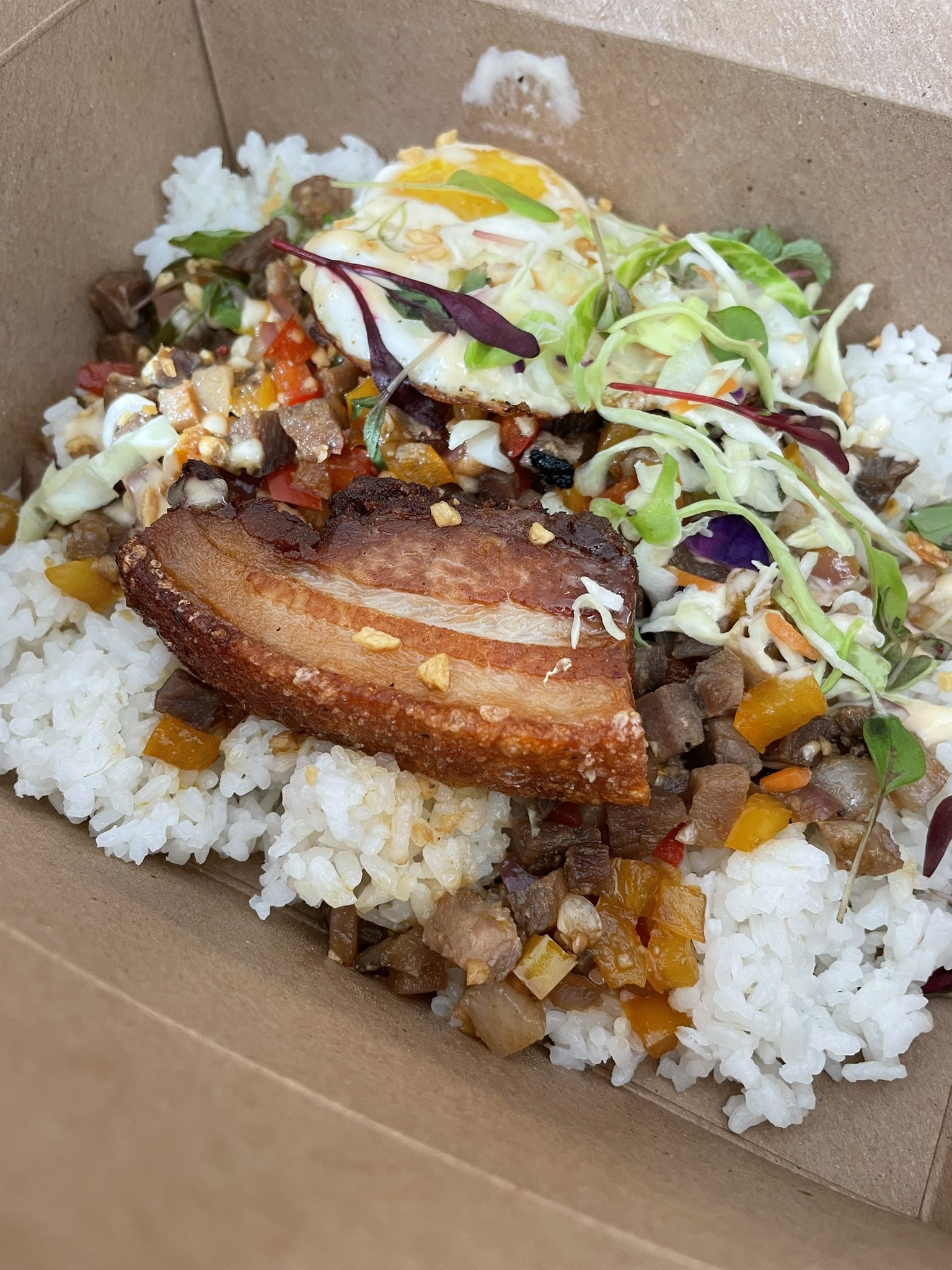 …hoping against hope to find some appealingly porky rice with which to sate my hunger. What I found was some sour, off-tasting melange of chopped veg and protein bits which seriously detracted from a fine slice of crisp, fatty belly. The thick, dull lumpia didn't help the cause, nor did waiting almost 20 minutes for my order…when I was the only one in line. At this point, I've concluded most food found in the Philippines was conceived on a dare, and the reason Filipinos are so skinny is they never overeat, for good reason. Or maybe to get the good stuff you have to go to someone's home. Either way, include me out.
<<<<<<<<<<<<<<<>>>>>>>>>>>>>>>>>>>>>
Let's end on a high note, shall we? Rather than dwell on Filipino food fails, let us celebrate the best service staff in Las Vegas, and some squid:
Cipriani –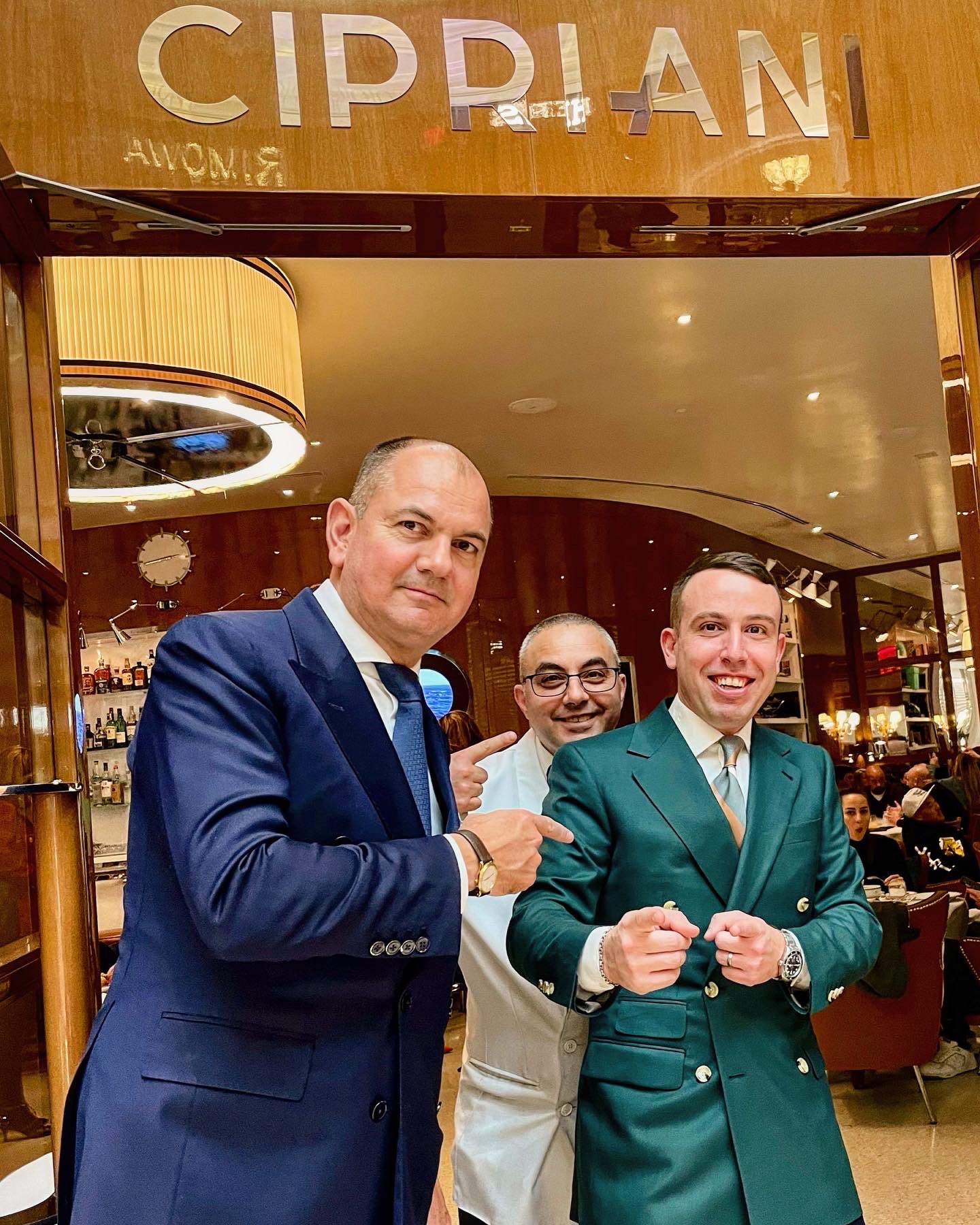 (The Dream Team)
Everyone knows the service at Cipriani is the tits….but we wouldn't be there multiple times a month if it weren't for dishes like this:
https://twitter.com/eatinglasvegas/status/1620236917131587590?s=20&t=bl5sbwFOZ7WH3Cafm1U65A
Squid ink risotto (Risotto al Nero di Seppia), may not be everyone's cup of cephalopod, but it's as faithful to the flavors of Venice as a gondola.
Regardless of mixed metaphors, the fact remains that the Big C puts out the best lunch in Vegas. You find me a better one and I'll come to your restaurant three times a month, too.
At my age, I'm too old to eat in mediocre restaurants anymore, and at my age, can you blame me?
Cheers!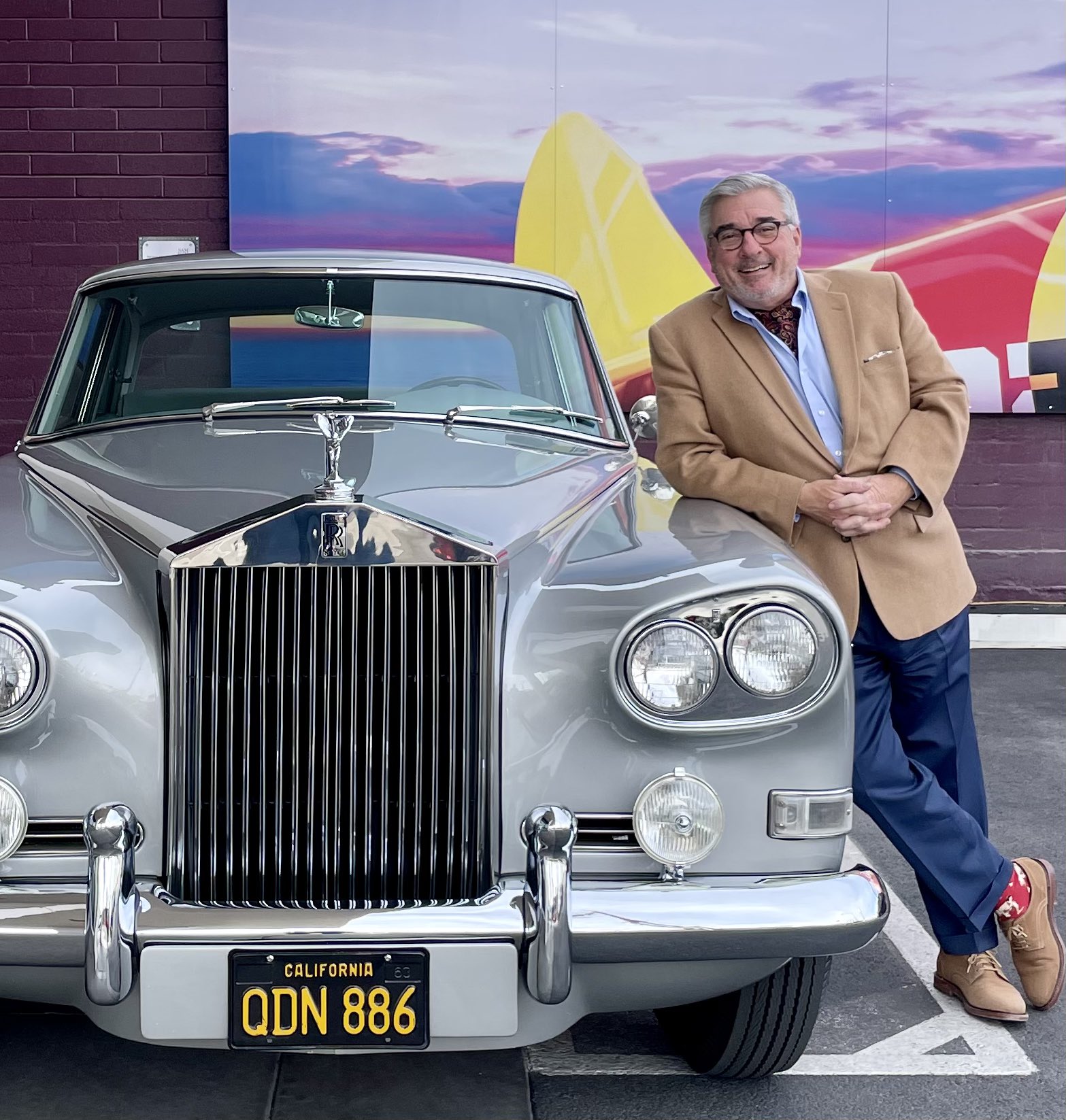 (Luxury looks good on me, even if I can't afford it)