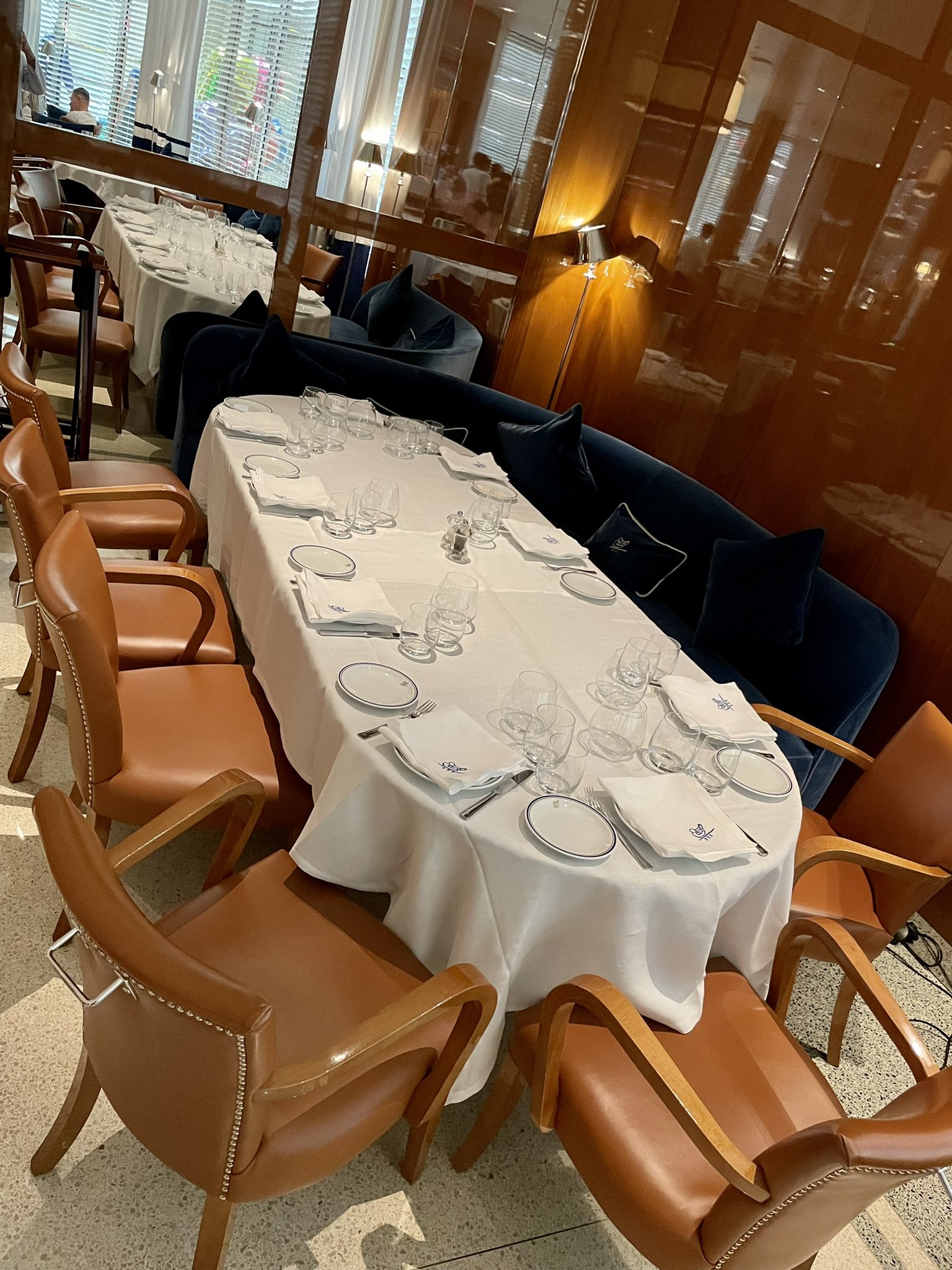 Yours truly is a world-class luncher. Dejeuner makes my day. I revel in my midday repasts like Andrew Cuomo hovering over a female cheek.
Lunch is when my appetite shines — senses are keenest, taste buds sharpest, and my bonhomie in its fullest flower. If breakfast is only good for thinking about lunch, then lunch does its best work by making you forget about dinner. And couldn't we all do with a little less of the latter?
I didn't always think this way. Back in the day I indulged in fabulous feasts lasting deep into the night. My first Michelin 3-star meal (at Le Grand Vefour in the early 90s) started before 8 pm and didn't finish until after midnight. My early excursions to Paris, New York, 'Frisco, Lyon, Rome and Milan were filled with 8 o'clock dinner reservations at nothing but the toniest supper spots.
But time passes and what once seemed exotic now feels tedious. My upcoming trips to Europe will concentrate on where to get the best midday meal, mostly with locals, not a bunch of tourists with more money than manners, whooping it up after dark.
But I digress.
We are here to discuss midday meal suggestions…but permit me another small digression before getting to those.
Lunch is an urban invention. Back in the day (way back in the day), the midday meal was the biggest – when you ate the most (after a hard morning's labor), and giving you sustenance for an afternoon of grueling work.
The actual word "lunch" stands for a small something you can hold in one hand, kind of like half a sandwich, or David Chang's brain.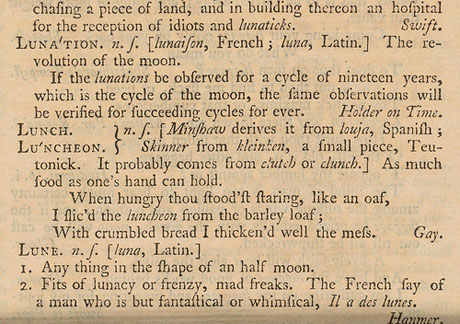 As people became less agrarian, the middle meal kept moving to later in the day. By the nineteenth century, according to this historian, after the invention of electricity, all the proper English were "dining" after 5:00, so copycat Americans followed suit. Thus, with such hoity-toity pretensions (along with the rise of the industrial working classes) eating at noon moved from being our main fuel to being merely a pit stop in the daily rat race. Pity.
'Tis sad because lunch – and by "lunch" we mean a proper, sit-down lunch – is the best time of the day to gather yourself, reflect on a morning's hard work, and gird your loins for whatever action lies ahead. Not to be crude (okay, to be crude), but sex on a full stomach is as much fun as running the high hurdles with hemorrhoids.
Gluttony and fucking are as incompatible as chocolate and cheese. Exhibit A: Have you ever heard of anyone getting laid after a huge Thanksgiving dinner? (I REST MY CASE.)
I mean who even thinks about bumping uglies after taking down six jumbo shrimp, three dinner rolls, a bleu cheese wedge, a giant rib eye, potatoes au gratin, two bottles of wine and three desserts at a late supper? (PROVE ME WRONG!)
Stuffing yourself after dark is sheer lunacy. It also makes you fat. Something the good ole Romans understood two thousand years ago:
"[Romans]….believed it was healthier to eat only one meal a day…They were obsessed with digestion and eating more than one meal was considered a form of gluttony. This thinking impacted on the way people ate for a very long time." – Caroline Yeldham
Maybe that's why I'm at Cipriani every Friday, chowing down on one simple, spectacular lunch after another: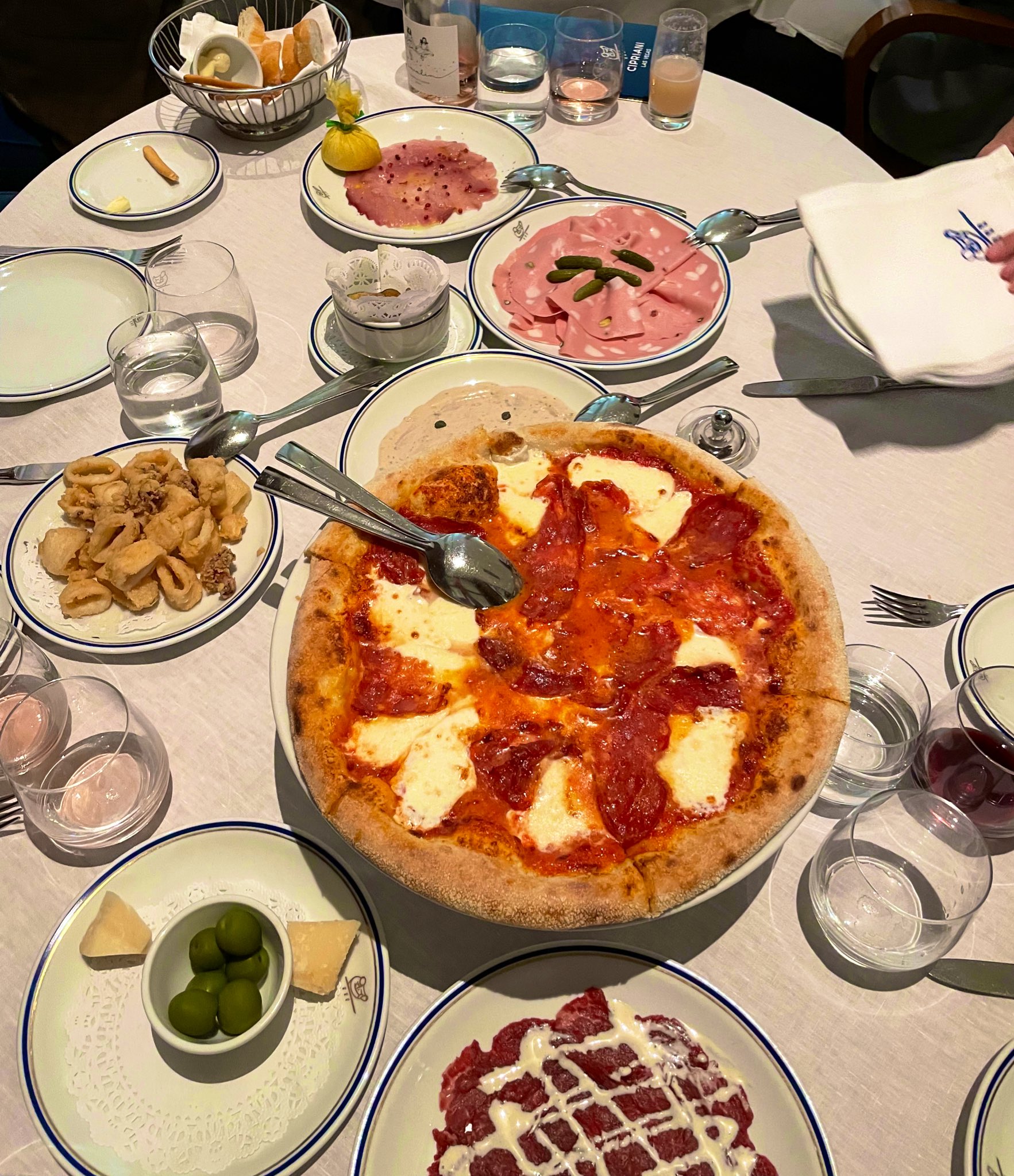 End of history lesson.
Las Vegas isn't a lunch town. Few towns are these days. Bureaucrats eat at their desks, real estate types are driving around all day, lawyers are nailed to their computers, and casino execs do nothing but fret into their phones. With no white collar infrastructure to sustain a proper lunch environment, the pickins are slim when it comes to eating well at noon.
But do not despair mon ami, lunch is not a total loss. There are dining gems buried amongst the fast food zircons. You just need to know where to look.
And not to brag (okay to brag) but I probably eat better lunches than anyone in town.
So here they are, my highly vetted, very personal list of the best place for a midday meal in Las Vegas, with commentary, of course.
Crème de la Crème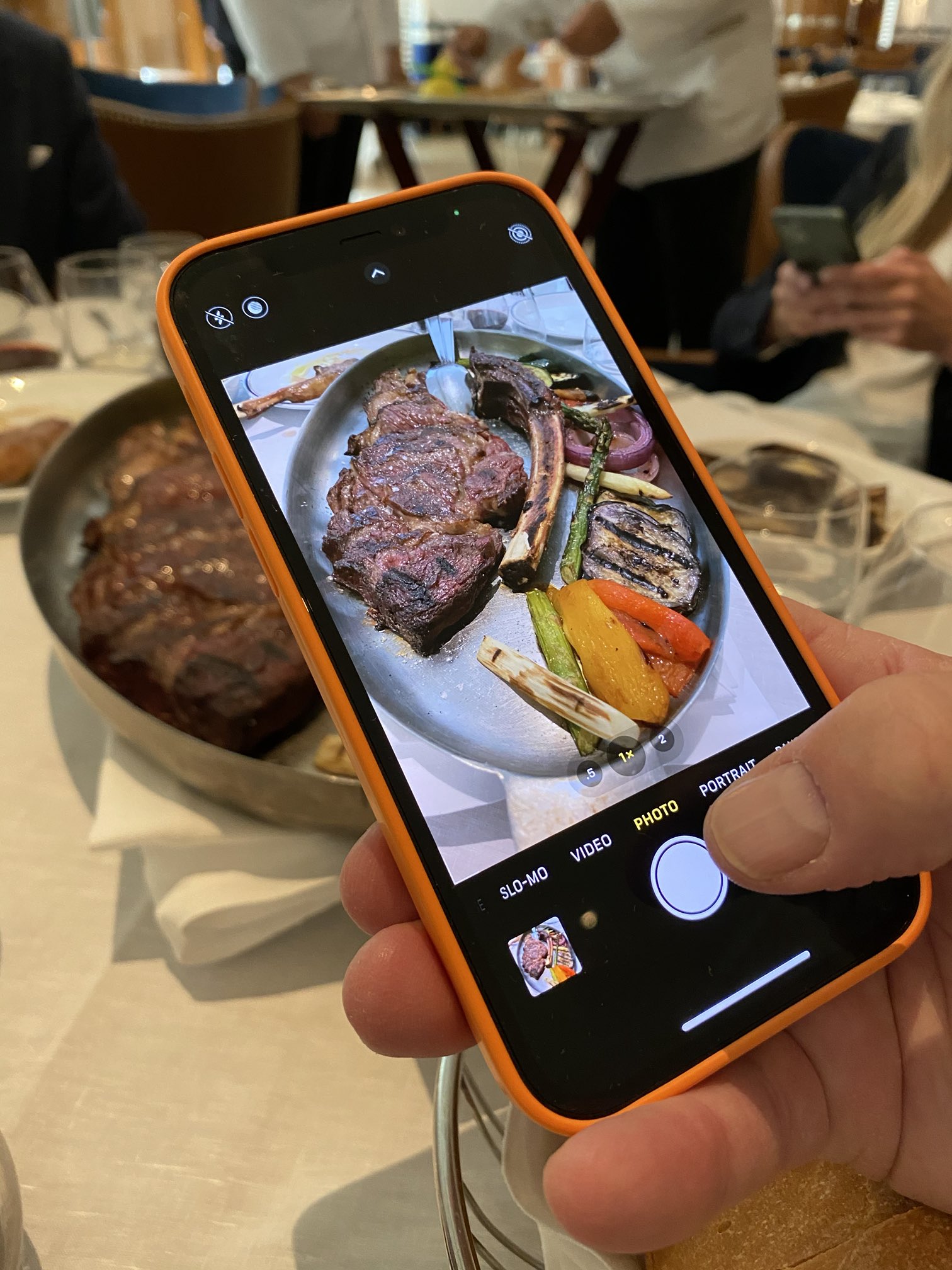 (Friday vibes)
Note: Many, many places that used to open for lunch on the Strip are now closed. (This includes some former favorites like Spago, Jaleo, Delmonico, Bouchon, et al.) Good luck finding a decent sit-down midday meal in any big hotel…which is one of the reasons for this post.
Brera/Matteo's – these sister spots have some of the best pizzas and pastas in town. Matteo's downstairs at the Venetian is the quieter alternative, without music so loud you can't hear yourself eat. Some of the pies upstairs at Brera will take your breath away, but fuggidabat any conversation until the stupid cruise ship music takes a break.
Brezza – for the time being, Nicole Brisson's showplace is a 7 day lunch and dinner affair. Her extraordinary pastas need no introduction, and she even does an outstanding burger: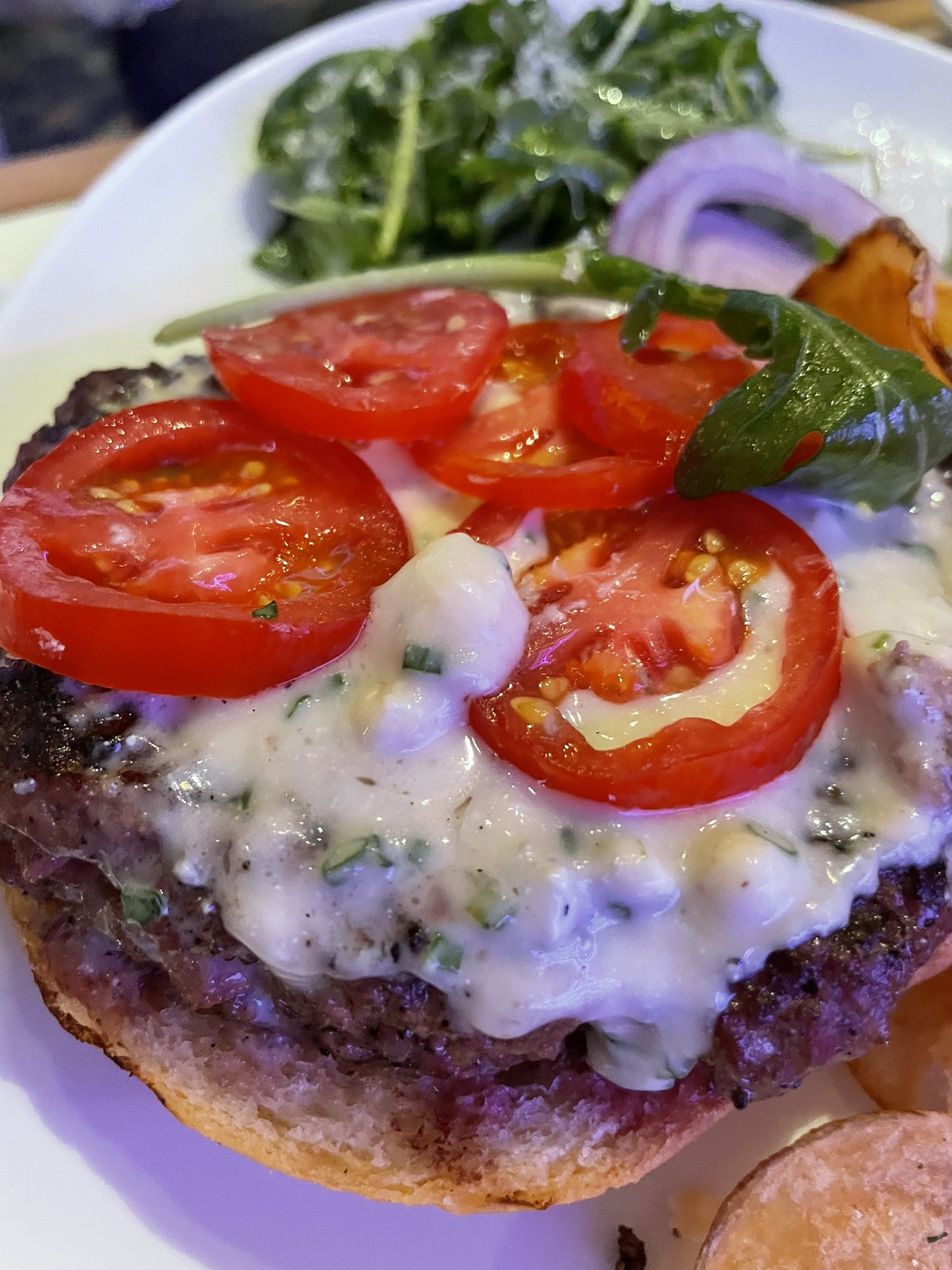 (BREZZA's boffo burger)
(Update: As we predicted two weeks ago, BREZZA has now"postponed lunch" after serving it for less than a month. We knew it was too good to be true)
Cipriani – I eat here every week for a reason.
Capital Grille – the best chain steakhouse. Good steaks, great service, fabulous view. Some of the meat is standard issue, and the menu never changes, but it is huge and cozy at the same time (no mean feat that), and gals love it. Also good for business meals.
Milos – love it or hate it, but the Venetian has more decent midday meal options than any Strip hotel. It also now has our premier Greek seafood restaurant. Not quite the lunch bargain it used to be, but still a deal. Fabulous fish.
Marche Bacchus – still soothing after all these years. Still a wonder of wine and the best al fresco in the 'burbs.
Wally's – our newest fine wine/destination dining spot might have the best prices in town for expensive fermented grape juice. The store is a bargain hunter's dream — if your idea of a bargain is getting a (normally) $400 bottle for two bills. Chef Eric L'Huillier is in charge of the kitchen, and is in imminent danger of turning this place into Las Vegas's greatest French steakhouse.

Downtown's Fabulous Food Faves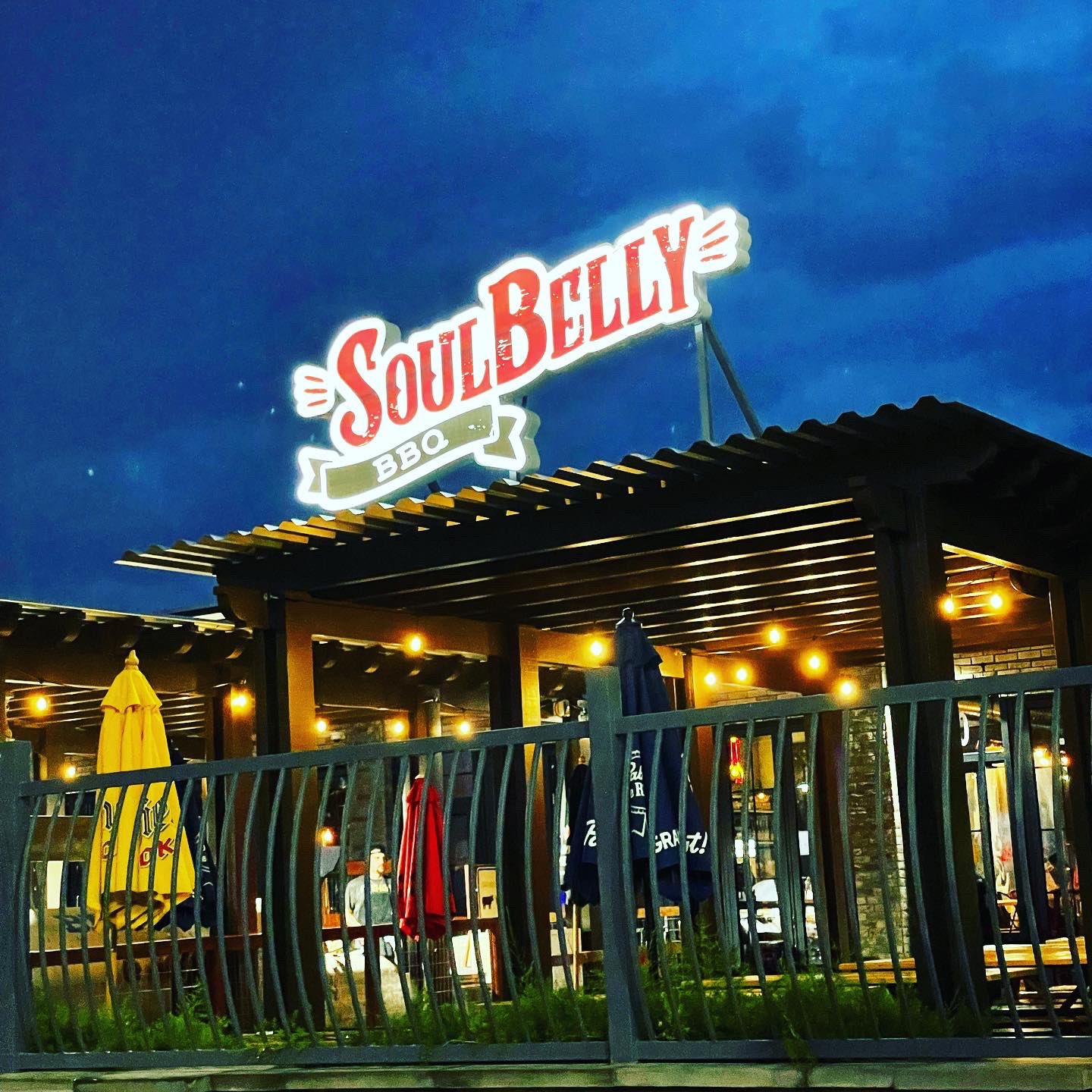 Note: I work in downtown Las Vegas, and live two miles from my office, so you could say I eat out here All. The. Time. I eat out so much in DTLV I get bored with most of these — not because they're not good, but because I've memorized the menus.
Carson Kitchen – still humming after seven years. Small menu; superb service.
DE Thai Kitchen – anything off the secret menu (which ain't so secret) is great. So is the stuff not on the secret menu, like this incendiary green papaya salad: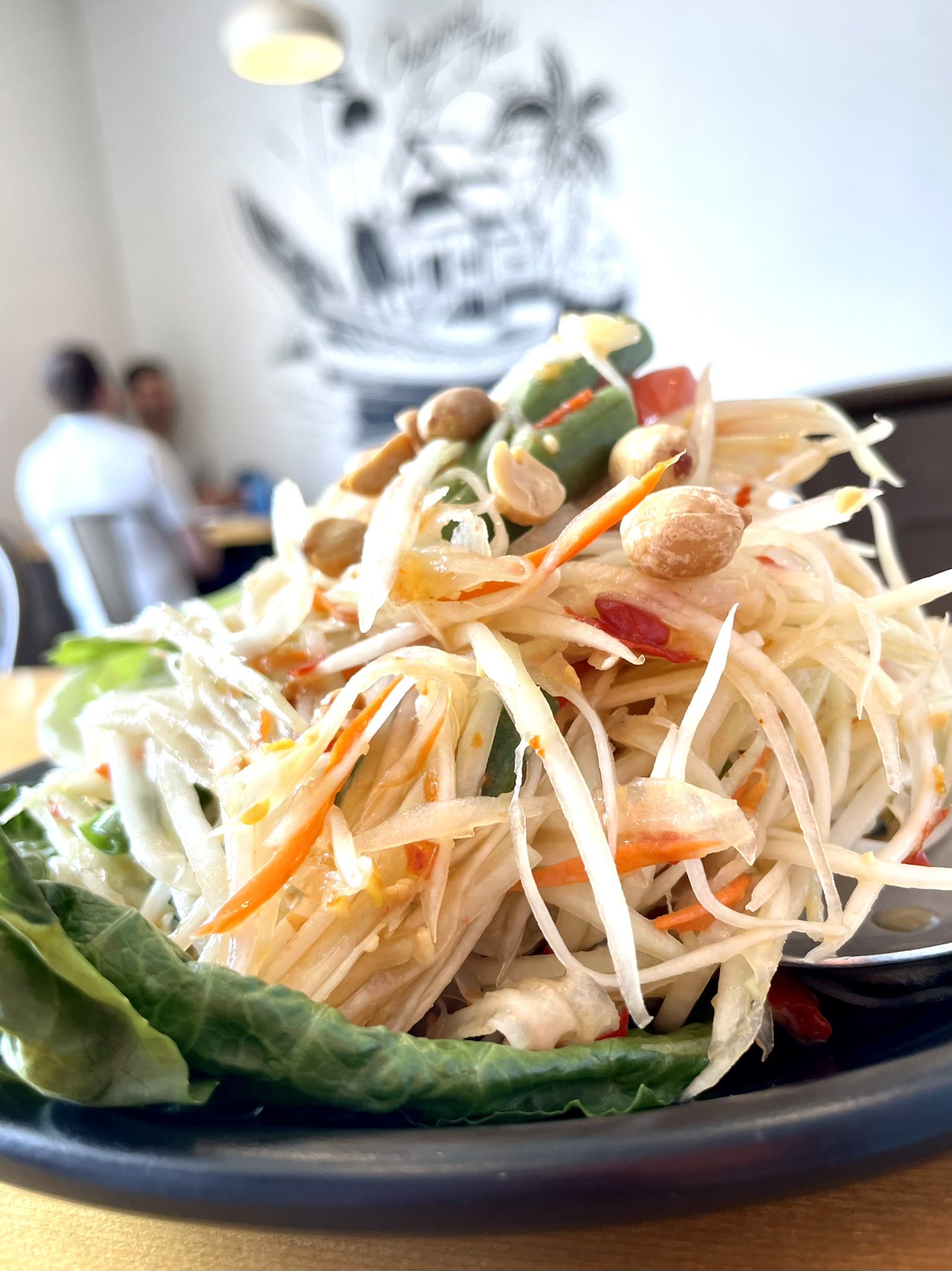 EAT. – get there early for one of Nat Young's soul-satisfying breakfasts, serious sandwiches, and huevos motulenos.
8East – not so convenient unless you're staying in the Circa hotel, but Dan Coughlin's food is worth searching out.
Esther's Kitchen – wait for it…wait for it…this place is so crowded no one goes here anymore.
Letty's – tacos, tacos y mas tacos!
Saginaw's Deli – I love Paul Saginaw's food, but there's only so much deli my waistline can take.
7th & Carson – There is nothing surprising on the menu (except the stellar "Irish Breakfast"), but every time I eat here I walk away impressed by the execution.

Soulbelly BBQ – the No.1 barbecue in town and it isn't even close. Excellent, out-of-the-ordinary sauces and one of our best burgers, too.
Chinatown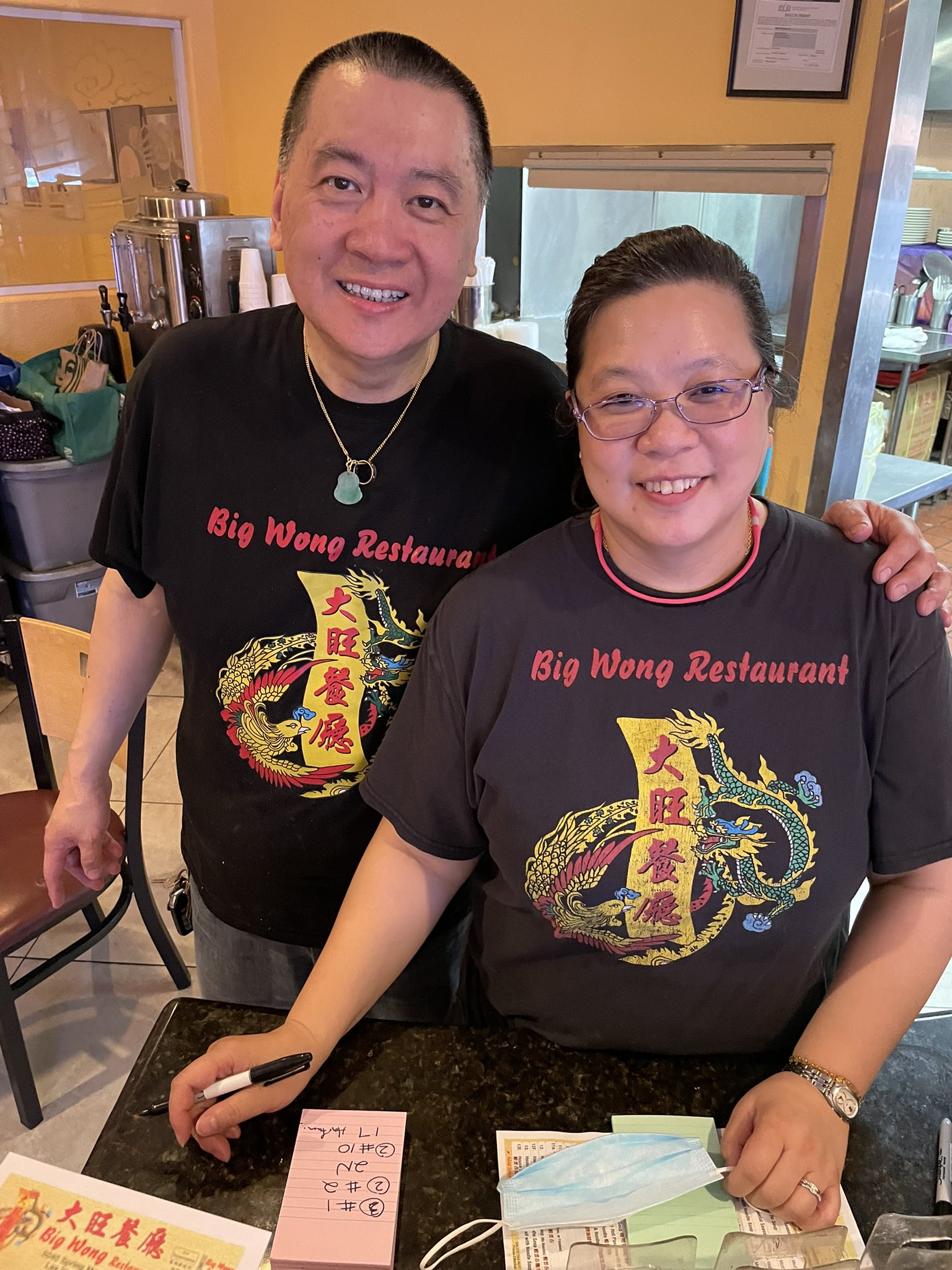 (Wai and Connie, still going strong at Big Wong)
Note: Chinatown (both the original on Spring Mountain Road and the new one popping up on South Rainbow) are their own thing. Most joints are open for lunch and dinner and everything in-between. Here are a few favorites, but there are dozens more where you can't go wrong.
Big Wong – if bang for the buck was the only criteria, this Chinatown mainstay would be the best restaurant in town.
Chanko Shabu & Izakaya – swish swish your way to above average izakaya fare in a dark, clubby setting.
China MaMa – our best Chinese restaurant. That's all there is to say.
Curry Zen – The Food Gal's® fave, for good reason. Simple rice, Japanese curry, and a few gyoza are just the thing when you need to munch and run.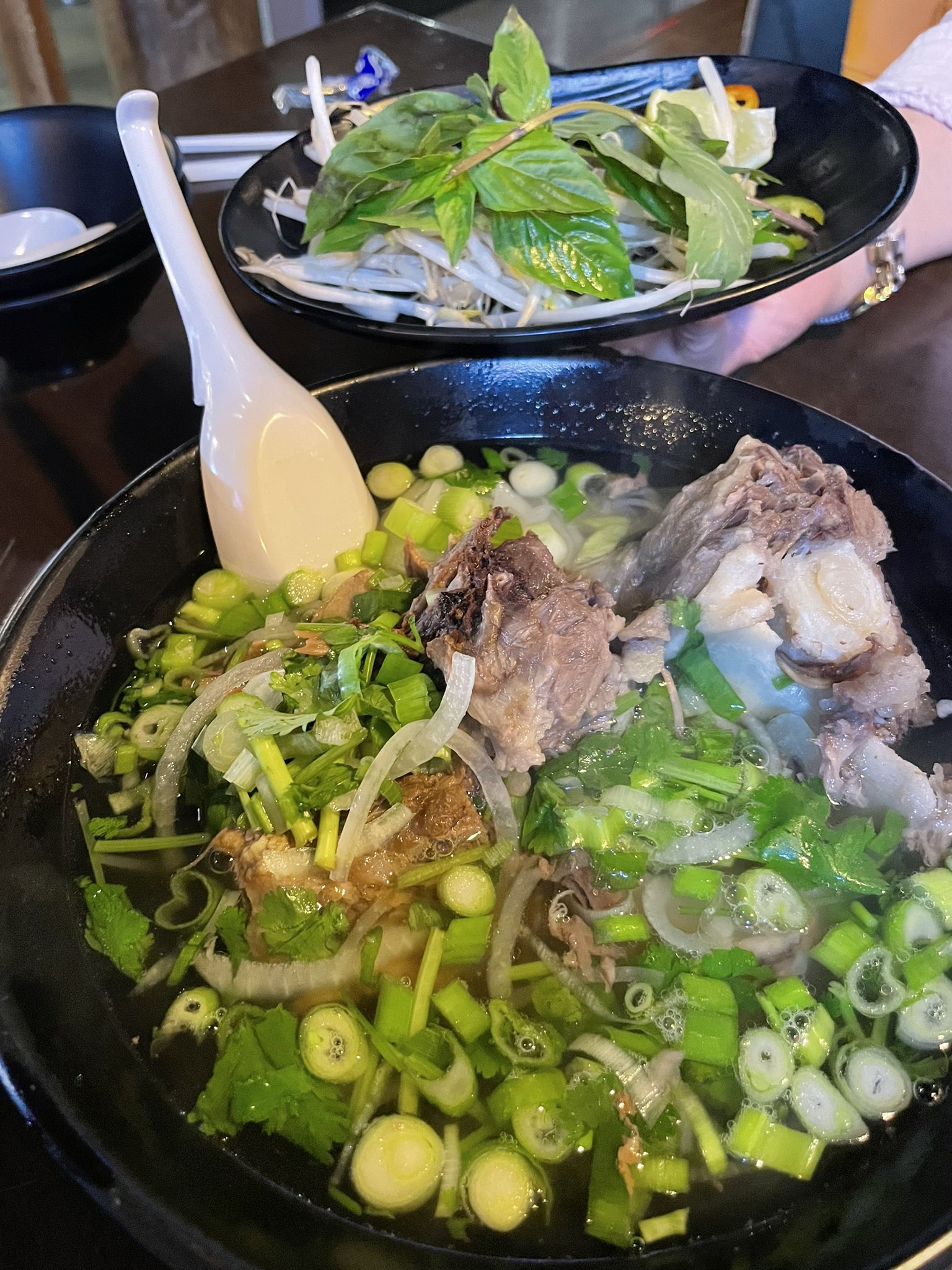 District One – Let's go get the oxtail soup (above), she says, and we willingly comply, even if we're there for the Vietnamese carpaccio.
Lamaii – open for lunch, even on weekends. Top flight Thai. Incredible wine list priced to sell.
New Asian BBQ & Noodle – the second best dim sum in town (after Rainbow Kitchen).
Shanghai Taste – the best xiao long bao until someone proves to me otherwise: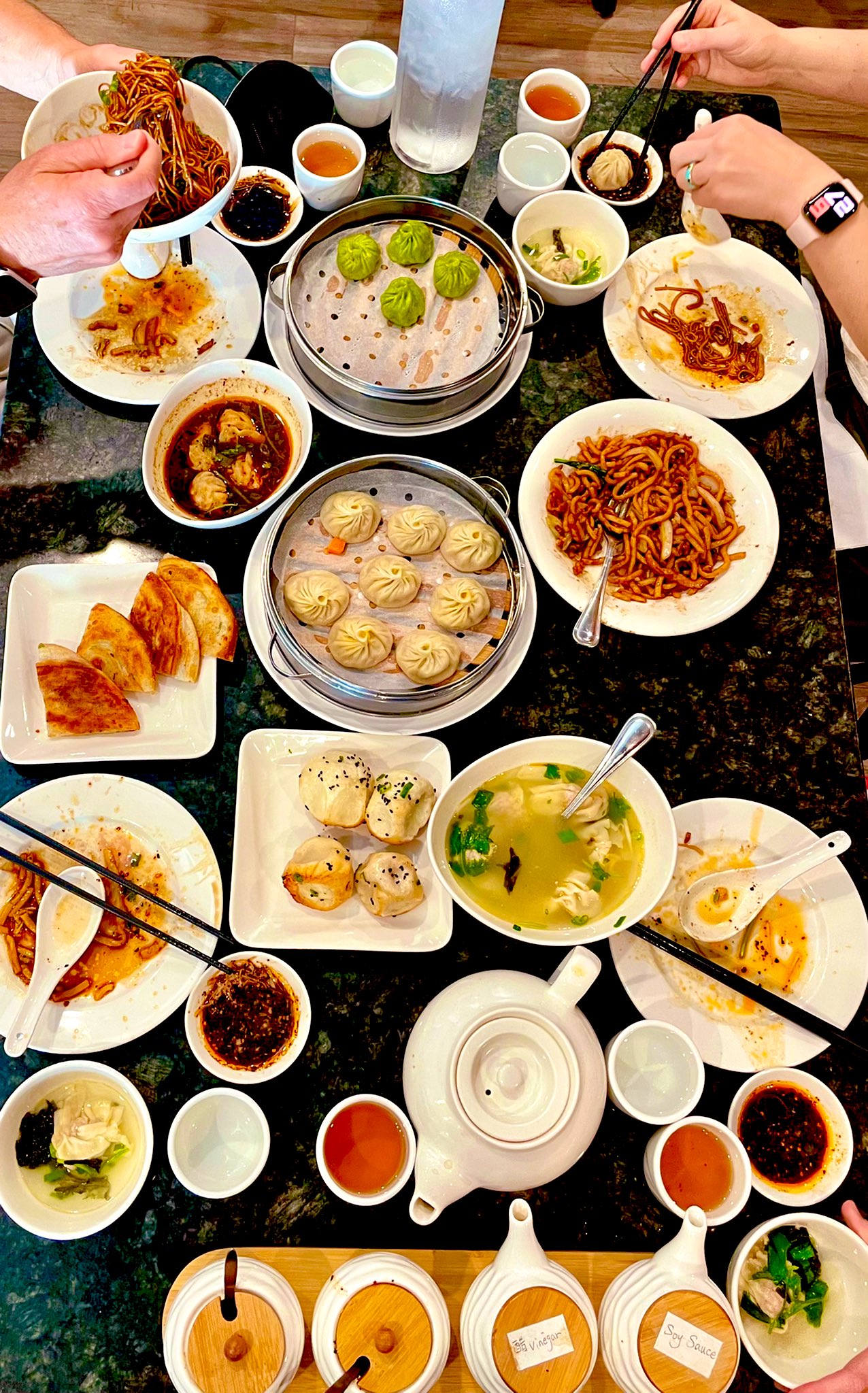 Shang Artisan Noodle – not actually in Chinatown, but that's how we're listing it. Extraordinary soups.
Rainbow Kitchen – giving China MaMa a run for its dumplings in the Chinese food supremacy department.
Rincon Buenos Aires – we forgot about RBA until we popped in for lunch a month ago. We had also forgotten about how piquant their chimichurri sauce is, and how the "lomo completo" sandwich (below) is one of the best meat and carbo loads ever: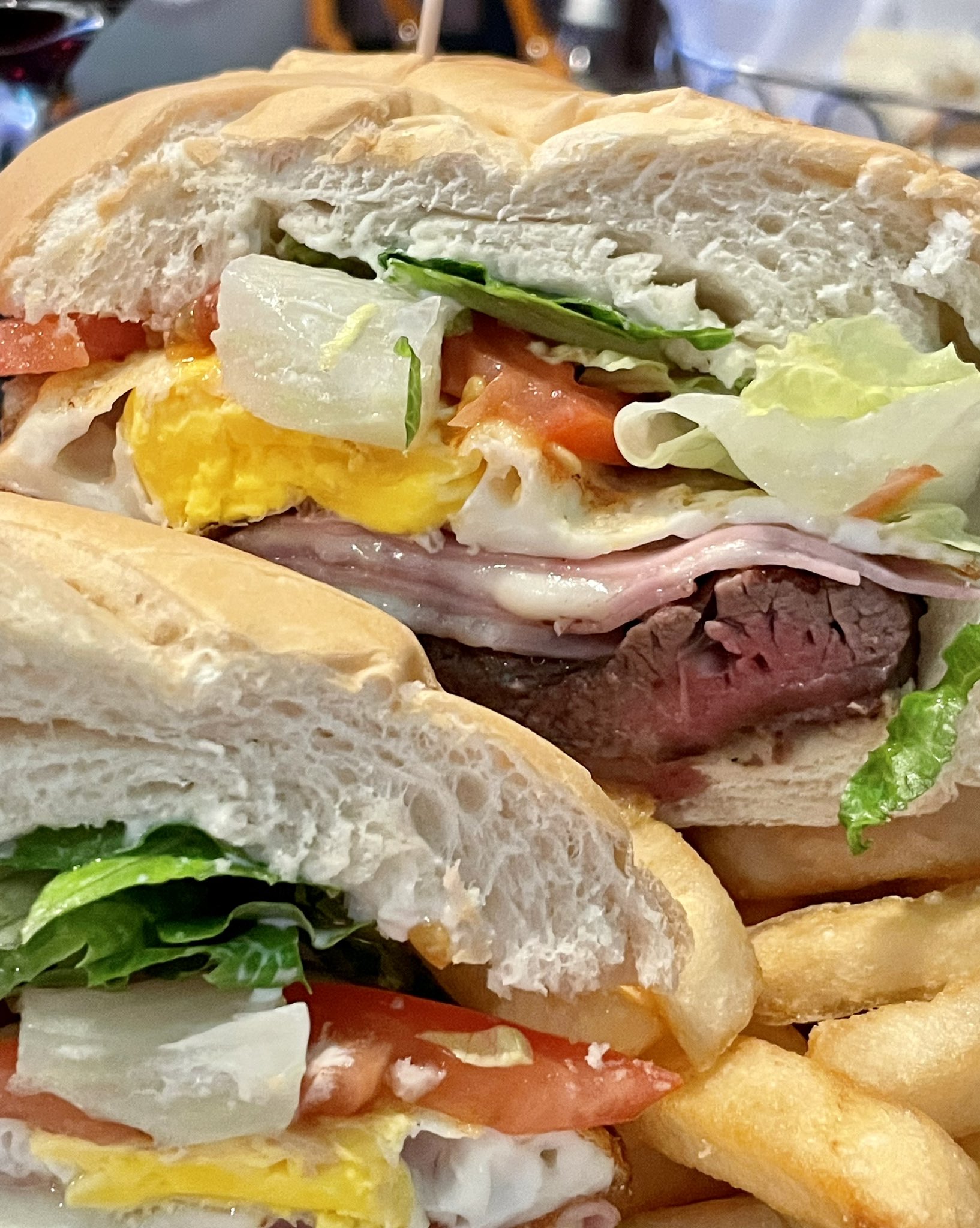 (Complete with meat that's tough to beat)
Weera Thai Kitchen – speaking of piquant: it's tough to beat this en fuego menu of Thai street classics. Not for gringos and that's the way we like it.
Outliers of Excellence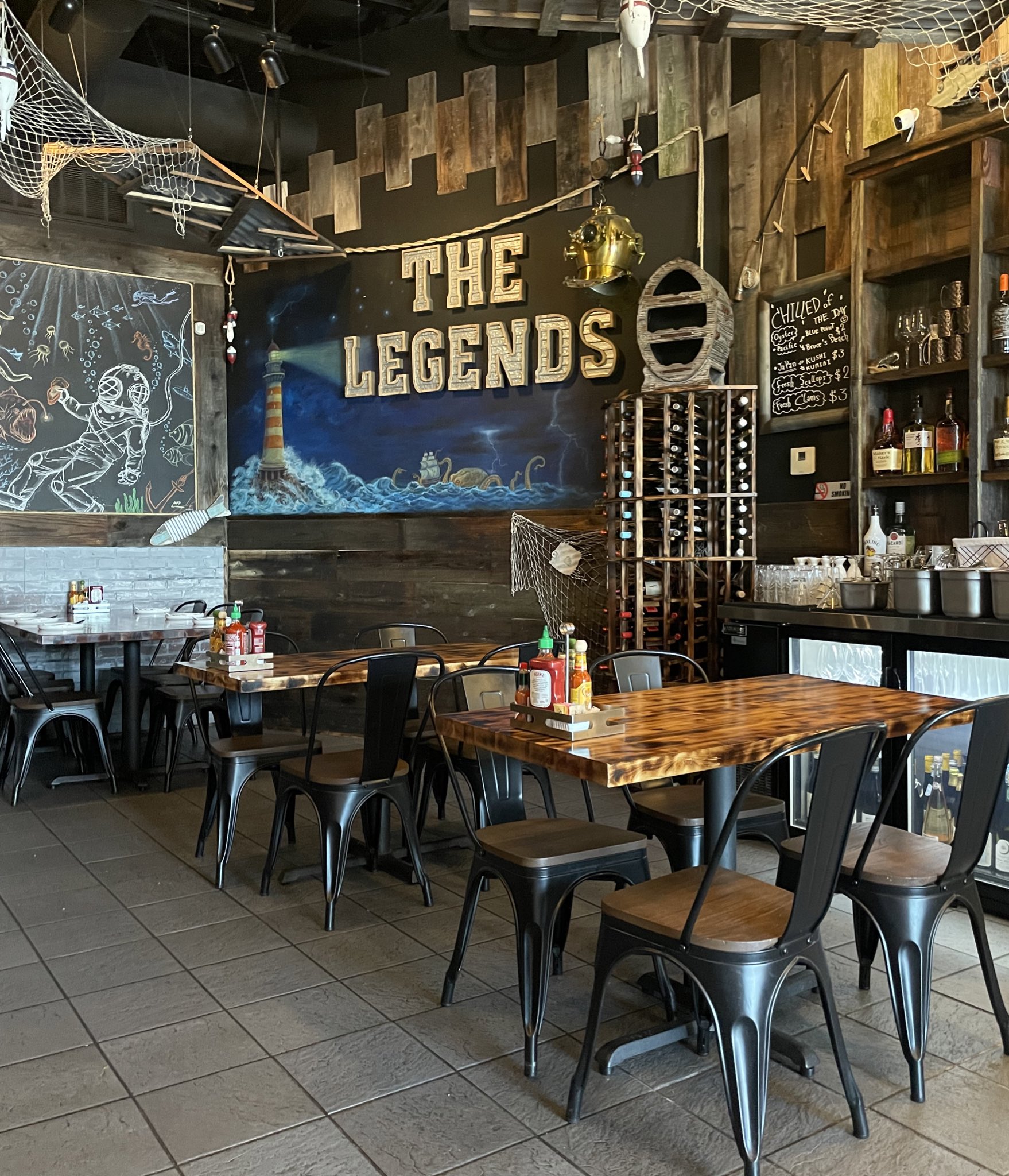 Note: These are not exactly convenient unless you live near their 'hood, but if you do, you should be ducking in to one for a midday bite on a regular basis.
Jamon Jamon – I don't know what behooves Rafael Salines Catalá to stay open weekdays for lunch but I'm damn glad he does.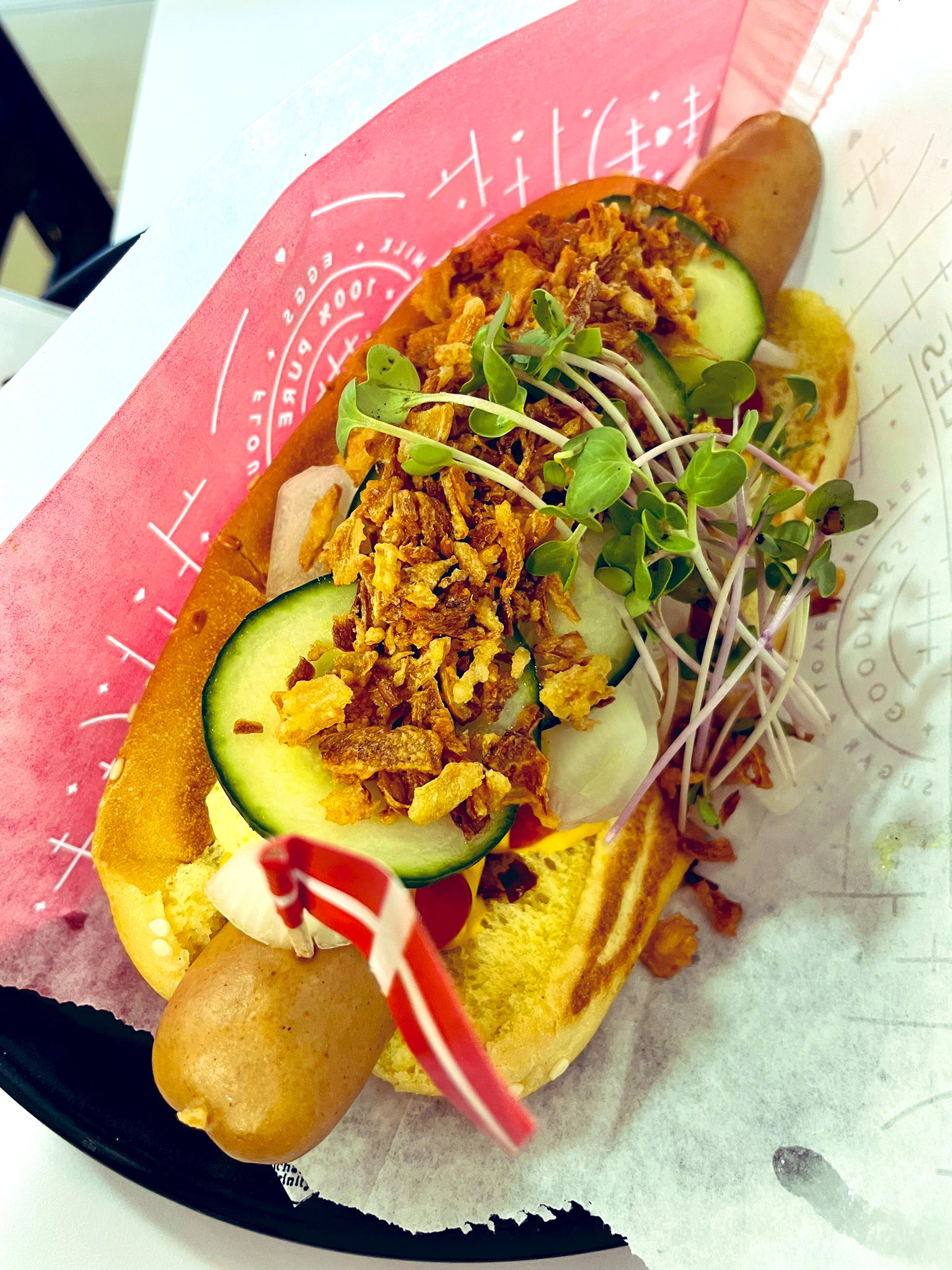 (Hot diggity Danish!)
Saga Pastry + Sandwich – is finally unshackled by Covid restrictions, and is hitting its stride with Scandinavian open-faced sandwiches and a Danish hot dog to beat the band. Those tiny shrimp alone are worth the trip to Henderson.
The Legends Oyster Bar & Grill – opened in the midst of the pandemic, in a weird-ass location with failure written all over it. Hopes are higher for this incarnation — the seafood is just too damn good. Classy/funky little build-out, too (sea above).
Win Kee Hong Kong Noodle & BBQ – Chinese 'cue, soups and seats that make you think you're in a Hong Kong alleyway. Criminally cheap, too.
>>>>>>>>><<<<<<<<
So why am I such a lunch lush these days? Some of it has to do with age and digestion — I find big evening meals simply don't sit that well with my iron stomach, and can impinge on a good night's sleep, even without wine.
Secondly, when I travel, I've found the great dining destinations of Europe to be friendlier, cheaper, and easier to access for the midday meal. Even a three hour repast at some destination dining palace leaves you plenty of time to walk it off and see the sights.
In Vegas, quite frankly, dinner on the Strip bores me. Have you tried parking there recently? MGM properties are the worst and Caesars isn't far behind. Valet now costs $25+ at most hotels, and even on weeknights, getting in and out of the garages on the south Strip is a pain in the ass. (It was a pain in the ass even in the best of times, but at least it was free.)
Since 1998, I probably haven't gone 4 weeks without stopping into the Bellagio. Now, I haven't been in 6 months and still don't see any reason to return.  What's the point? To watch drunk day-clubbers stagger around?
The only reason to hit Caesars is Restaurant Guy Savoy. (Who exactly gets a boner over Bobby Flay doing Italian these days? No gastronome I know.) The shitshow that is Mandalay Bay? Are you kidding me? All the good places in these former dining destinations are either closed, on the rocks, or open for dinner, "Thurs-Sun 5 pm-10 pm." Yeesh.
There's a reason you find me these days hanging out at the Venetian/Palazzo, Wynn/Encore, and Resorts World and those reasons are: welcoming environment(s), ease of access, and most of all, good food…available at noon.
See you at lunch.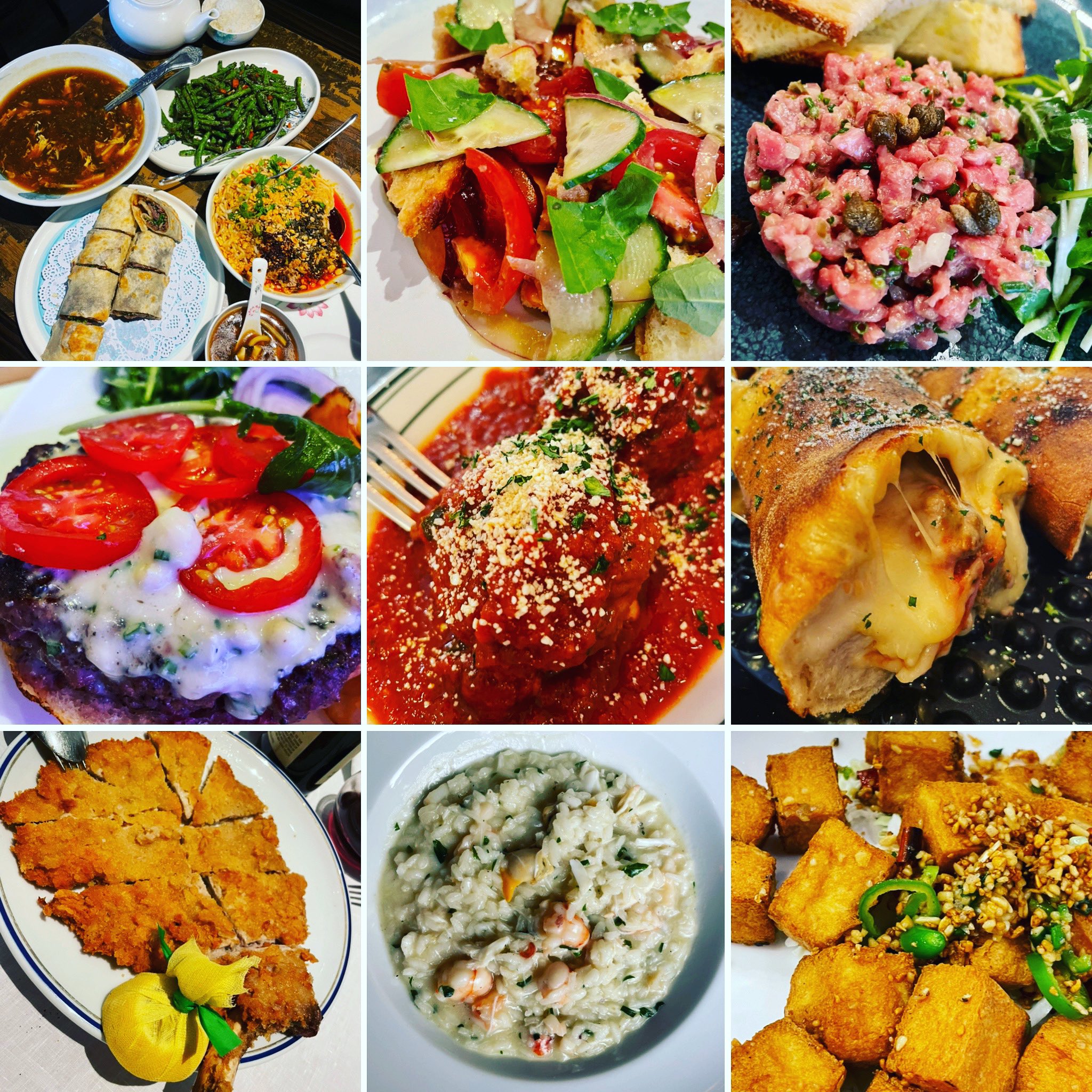 (See what you're missing by eating at your desk?)