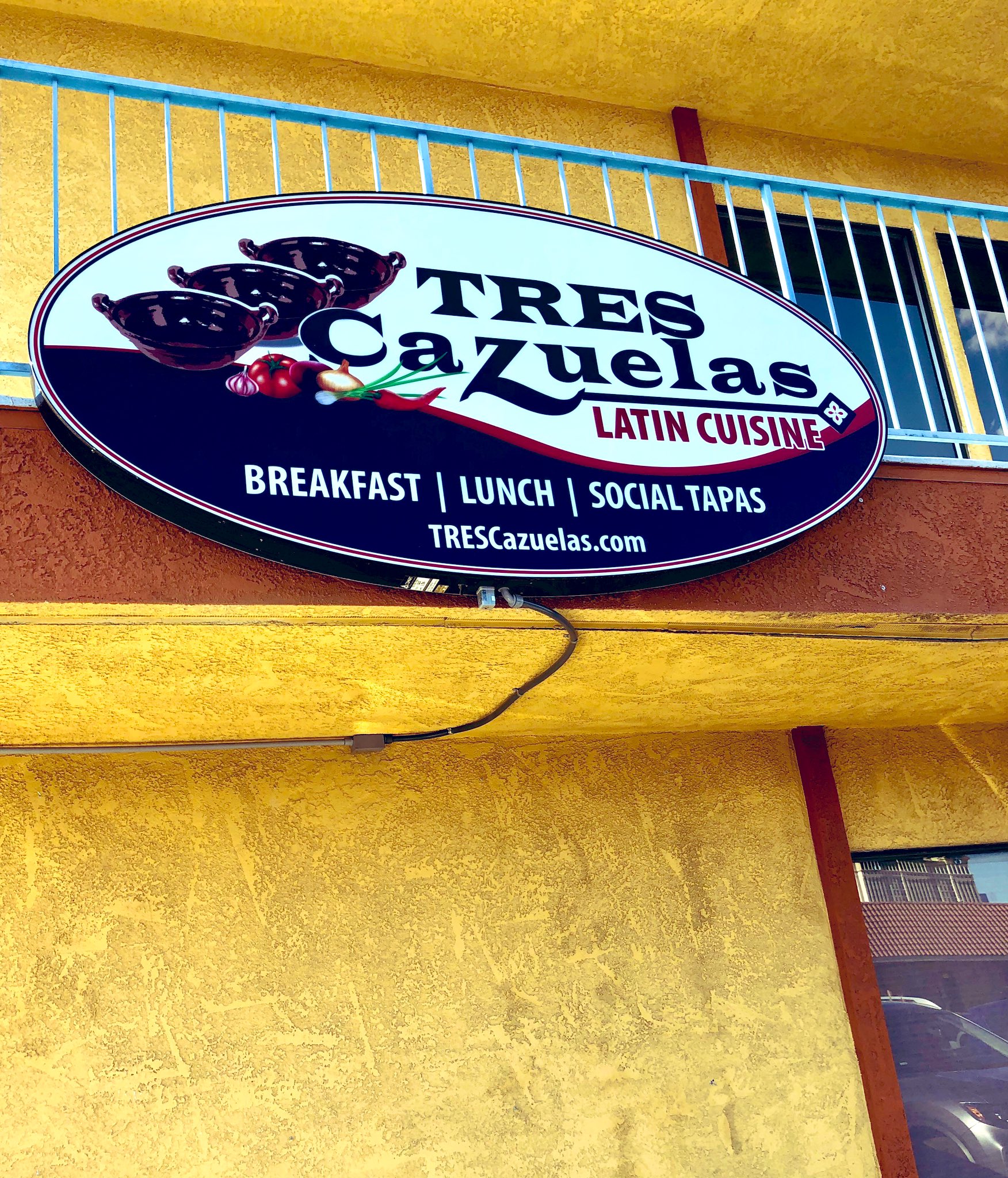 At first glance you might think Trés Cazuelas has the worst location in town.
But what seem to be liabilities are actually assets.  Yes, it's tucked into a corner of a worn out building that houses the Sand Dollar Lounge and not much else. True, it faces an industrial side street only used by commercial trucks and crafty cab drivers. And of course there is zero bustle and no buzz in the neighborhood. Curb appeal is negligible; pedestrian traffic nil.
But look again, pilgrim. The Strip is only a half-mile east; Chinatown's food mecca beckons a quarter mile west. Large open windows face that street, and behind them something cozy and comforting this way comes. Parking is a breeze (you pull up right to the front door), and as soon as you step inside, smells of moles, chipotles, and achiote waft over you.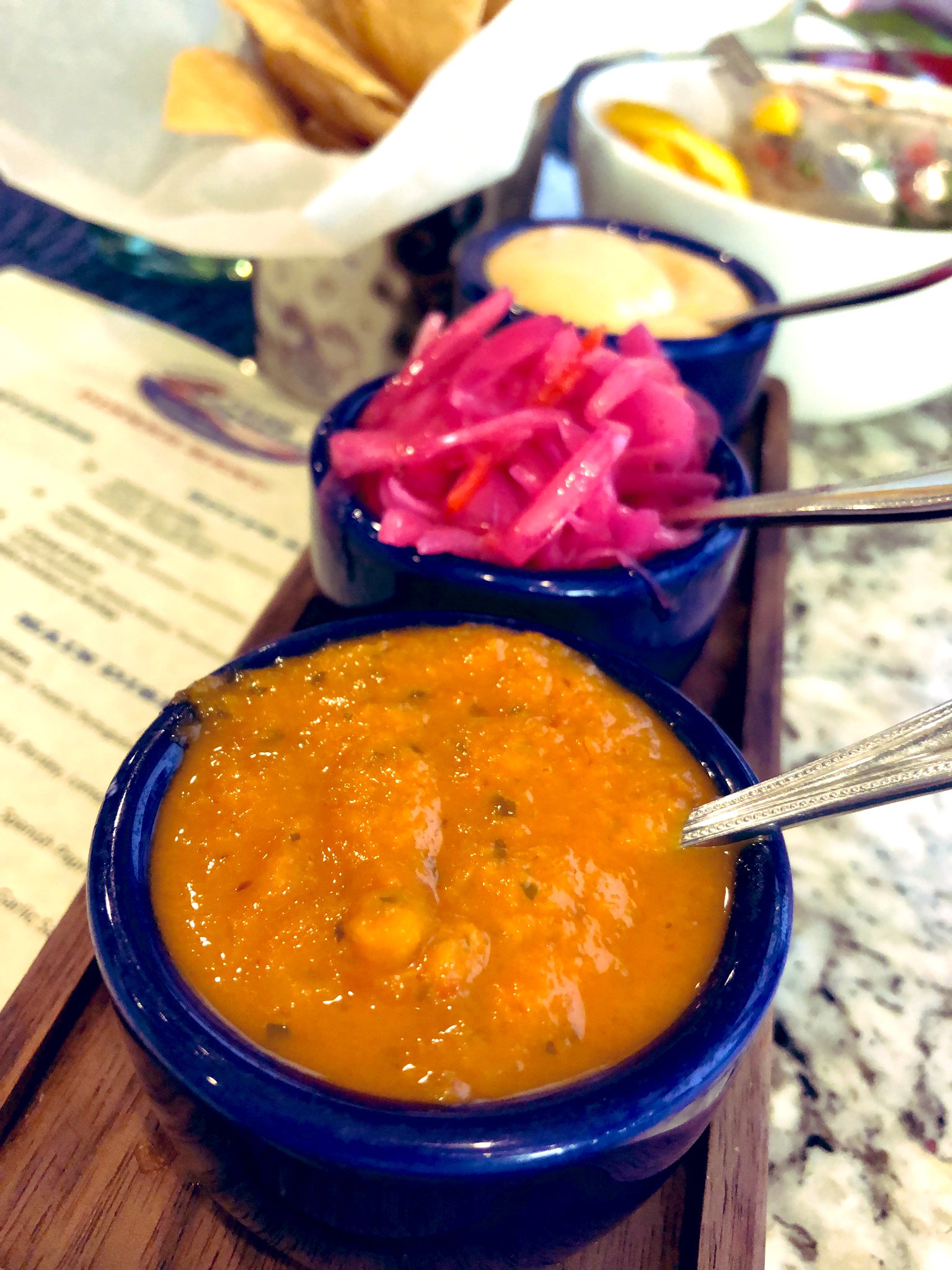 The place is tiny — no more than 40 seats — but the tables are well set and sturdy, the chairs are comfortable, and the vibe is as if you've found the coziest cantina on a Guadalajaran side street.
Fresh-made warm chips and three dips (spicy mayo, pickled onions, and habanero chile-mix, above) greet you, and it takes about three seconds to forget all about the industrial park outside.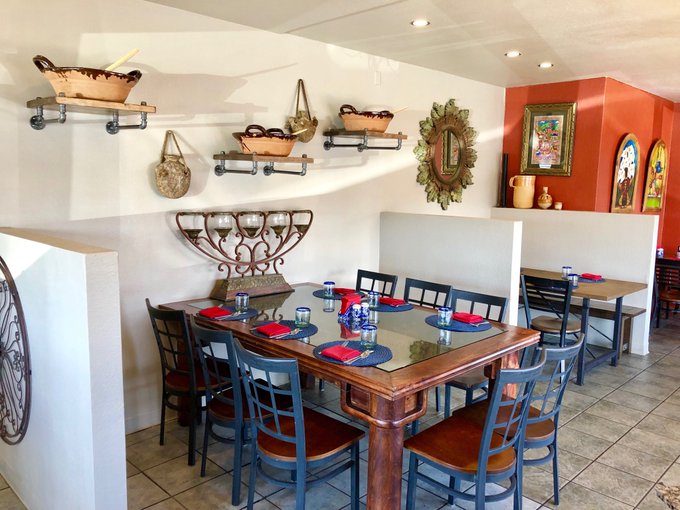 (Great food while you're getting your brakes re-lined across the street)
Decisions are easier at lunch than dinner. You can opt for burrito stuffed with al pastor pork or eggs or chicken or one of the usual suspects, or (our choice) head straight for the rotating cast of cazuelas (cauldrons) that change everyday.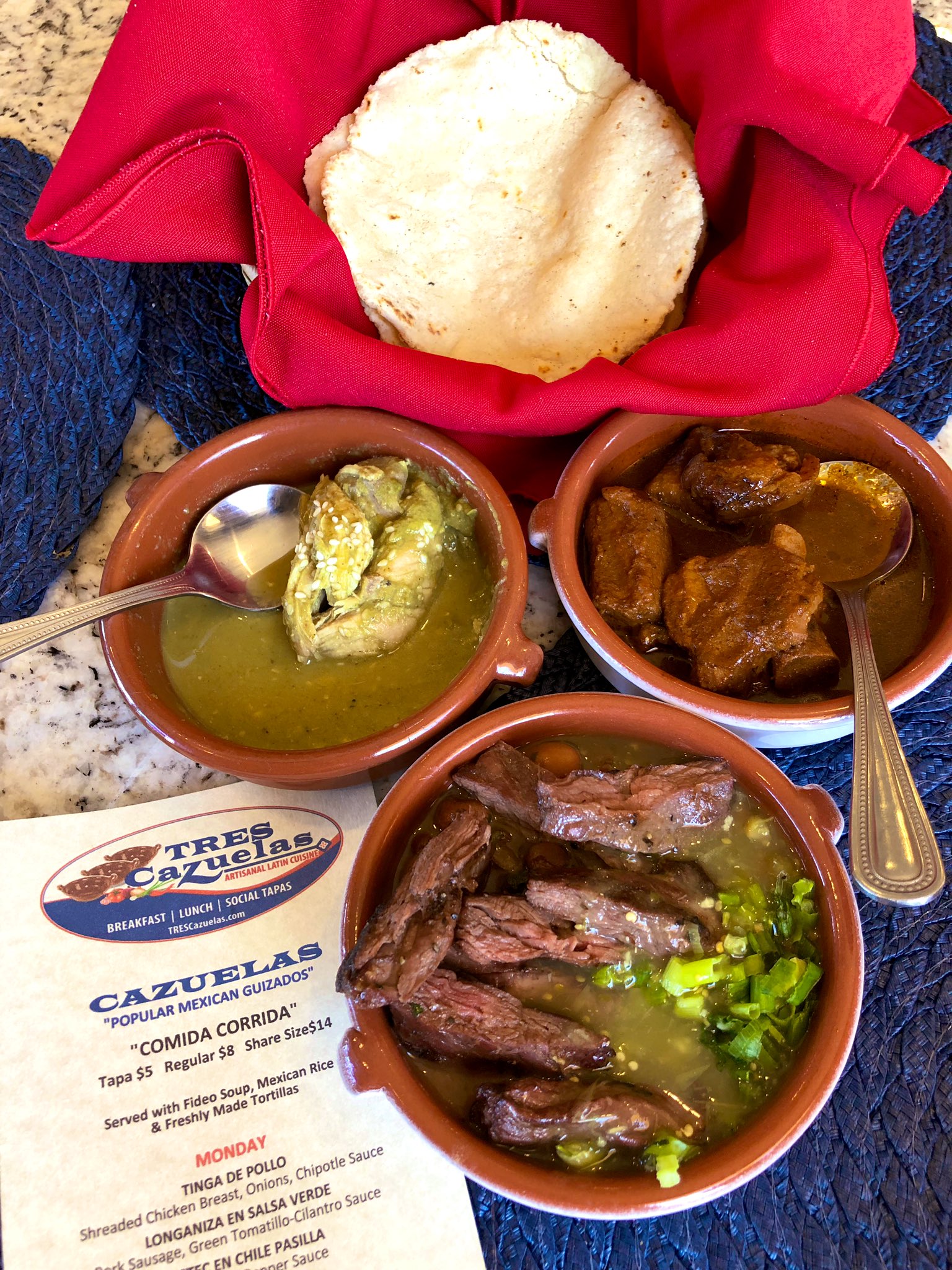 (I like my food in threes)
Monday finds your cute little trio of bowls filled with tinga de pollo, longaniza en salsa verde, and bistec en chile pasilla, while Wednesday (above) presents fork-tender pork ribs in ancho chile sauce, green mole chicken, and strips of beef amplified by beans, bacon and pepper. You really can't go wrong with any of these guizados (braised meats), and three of them for $15 is a steal.
And did I mention that the house-made corn tortillas are worth a visit all by themselves?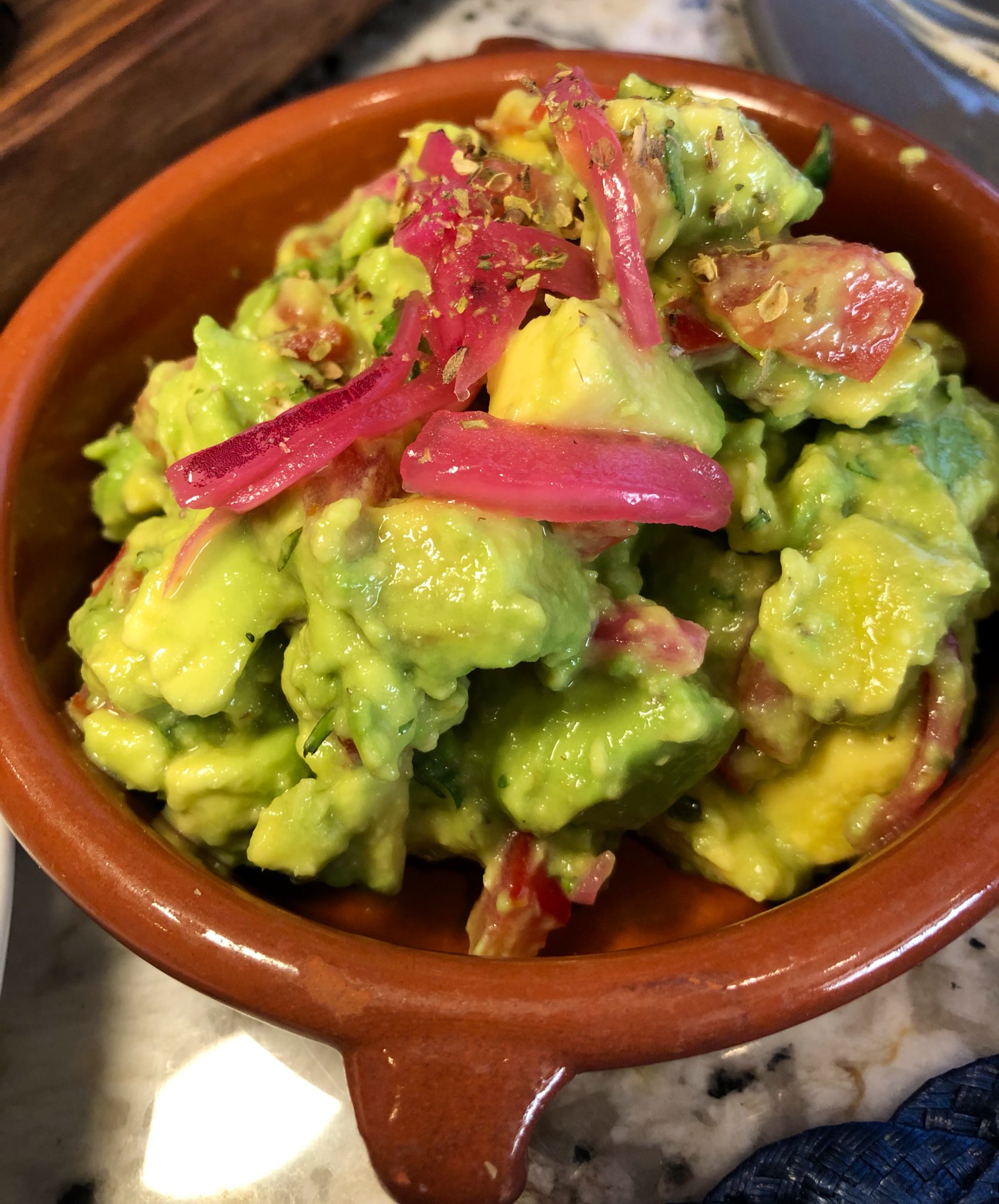 (The best, Jerry. The best!)
Dinner is where this minuscule kitchen punches way above its weight. You will start with guacamole tinged with habanero (above) because it might be the best in town. From there you can't go wrong with any of the tapas or apps.
We were partial to the garlicky gambas al ajillo, queso fundido, and organic beet carpaccio, but other beauties like a single lamb chop "moruño" (redolent of cumin and coriander), a nice (if small) crabcake, and roasted corn (off the cob) "esquites", all compete for your attention. The very Spanish papas bravas also do owner Angelo Reyes' Latin heritage proud, as do his Churrasco Argentino (short rib skewers), and a tart, chunky mahi mahi ceviche.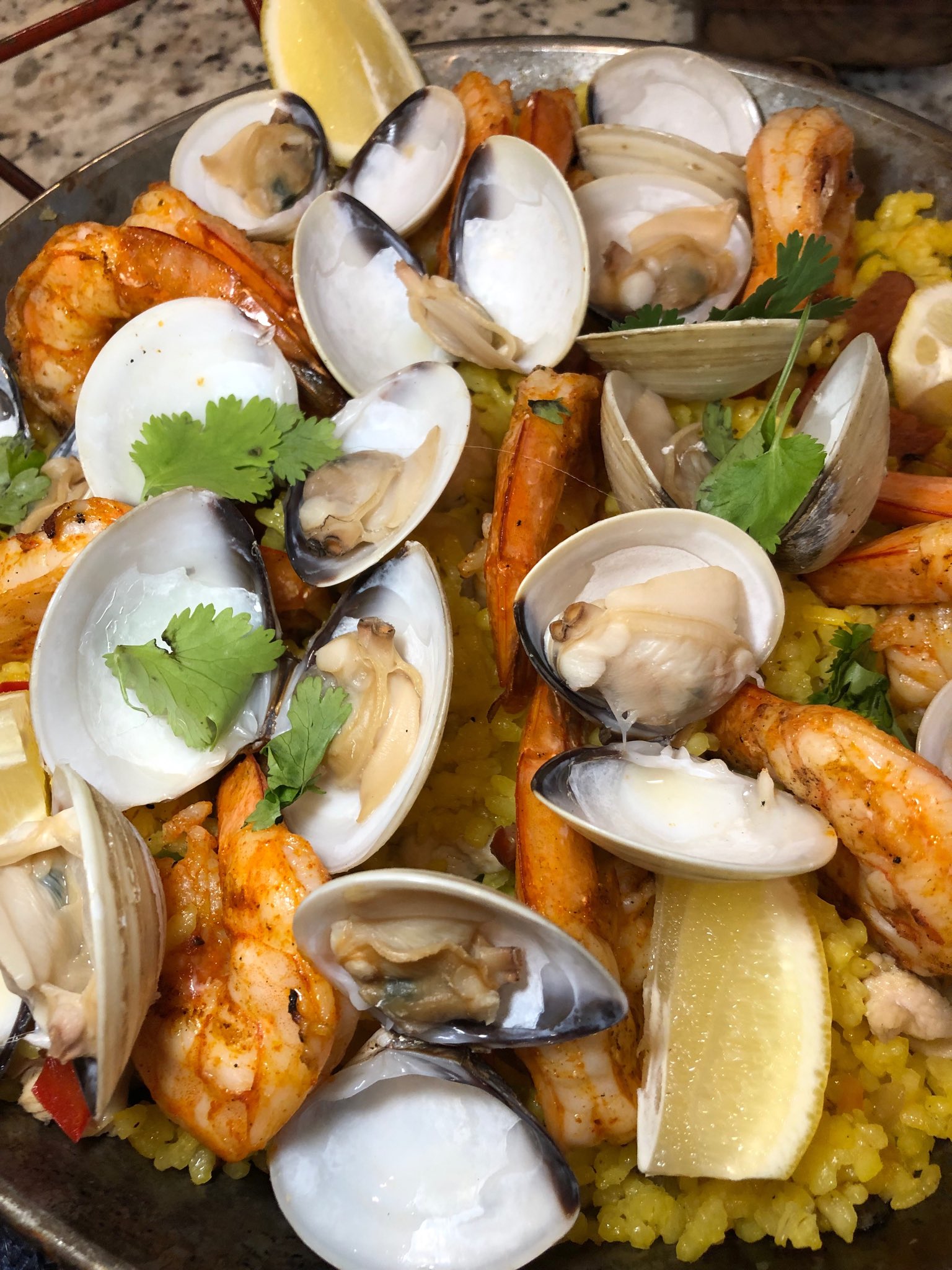 (Positively pulchritudinous paella)
Main dishes are large and mostly meant for sharing — whether you're getting more of those lamb chops, or diving into a clay pot roasted chicken perfumed by rosemary-garlic sauce, or tucking into more seafood paella (above) than any four-top can handle.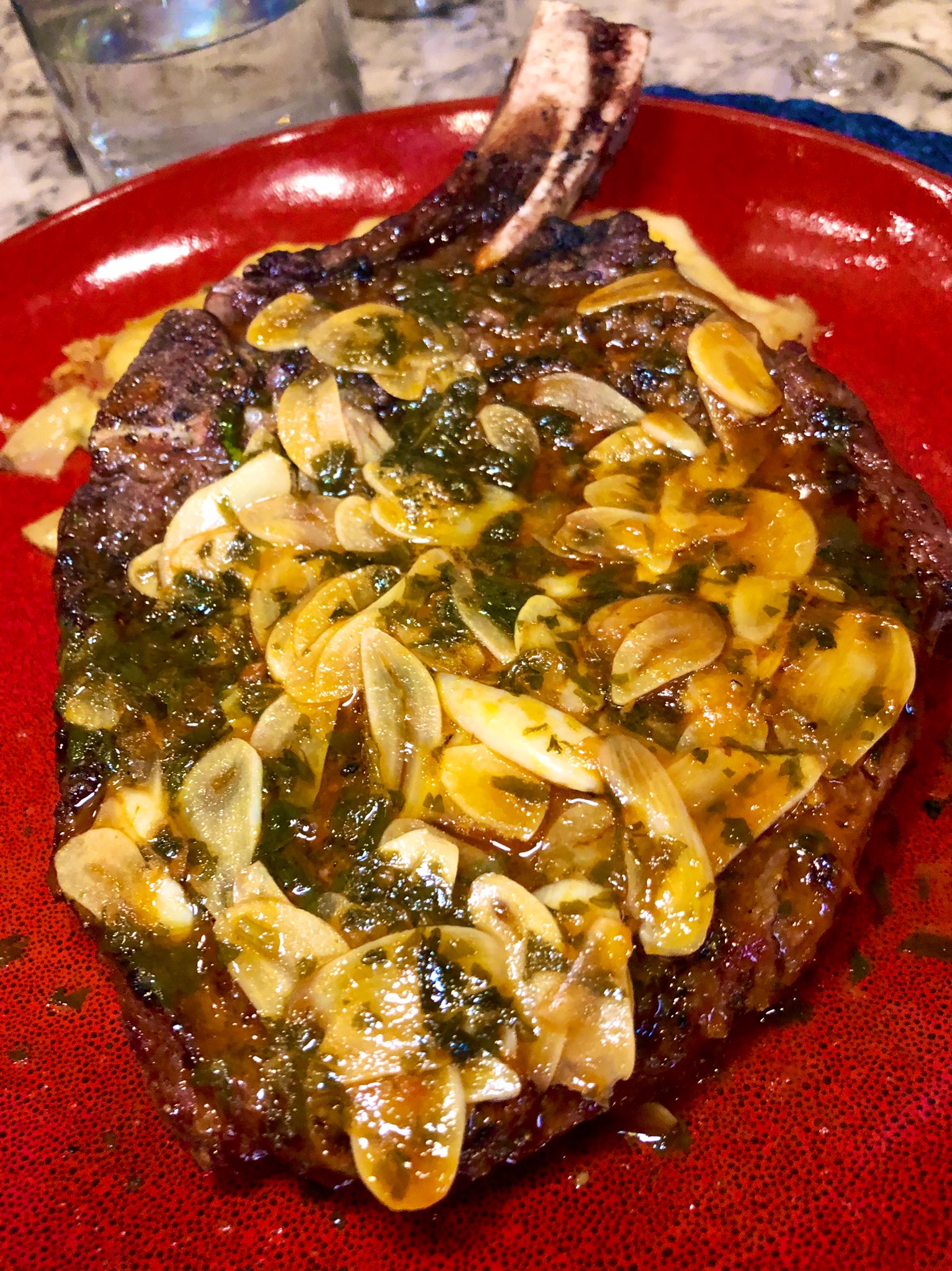 (Allium avoiders beware)
A rib eye "Del Torero" (above) is the most expensive thing on the menu ($39), and comes shingled with garlic chips and coated with chimichurri — both announcing the "no prisoners" approach this kitchen takes with its seasonings and spices.
Which is why you come here. Not for some namby-pamby attempt to make Latin cuisine(s) palatable for gueros — these Hispanic dishes strut their stuff, smacking you left and right with garlic, herbs, chilies and spices in full flower.
If Trés Cazuelas has anything in common with its Chinatown neighbors, it is in the honesty and integrity of its cooking. You might as well ask Chengdu Taste to dispense with Szechuan peppercorns as wanting Reyes to dial back the cilantro. This is they way these dishes are supposed to taste, and if you don't like it, adios muchacho.
The dense flan comes sprinkled with Mexican sea salt, and the coffee, by LaVazza, is excellent as well. The wine list is short, well-chosen and well-priced.
So why haven't you come here yet, gringo? Because it's tucked into a next-to-nothing building on a forlorn corner on the cusp of Chinatown? That's no excuse. If you love pan-Latin cooking the way they're supposed to be, and can't resist a great tortilla, and are tired of dumbed-down, warmed-over verdes and pathetic pasillas, then you owe it to yourself to get here pronto.
Lunch for two will run around $30-40; dinner about double that. Despite what the sign says, they no longer serve breakfast.

3355 W. Spring Mountain Road #35
Las Vegas, NV 89102
702.370.0751