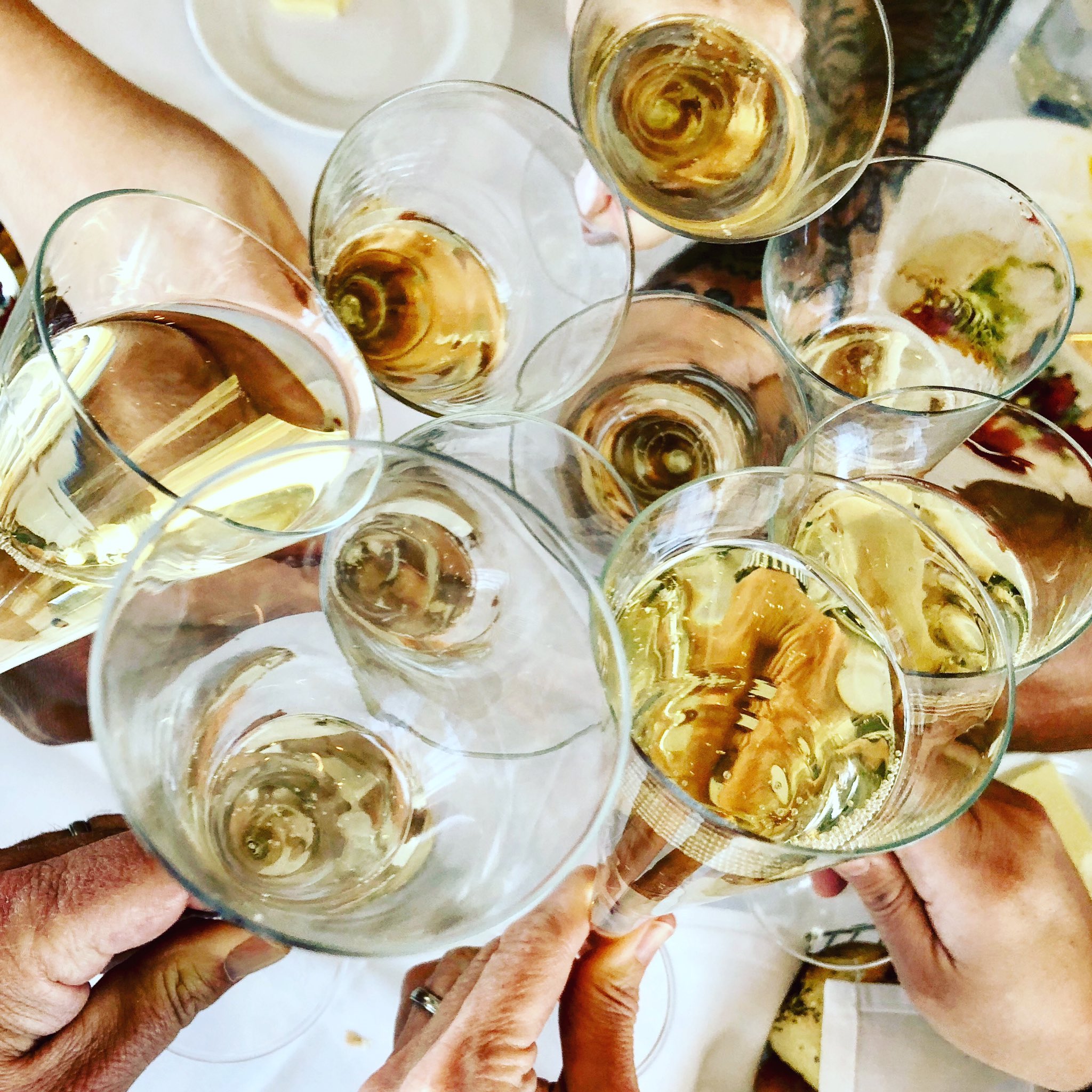 Day 69, May 24 – Who Will Survive?

This will be our last "Covid Diaries" post.
Where we go from here, no one knows, least of all the person typing these words.
Life is returning to normal in Las Vegas; restaurants are re-opening; and we've spent the last two weeks plowing through a bunch of them.
And by "plowing through them" we mean spending beaucoup bucks in support thereof.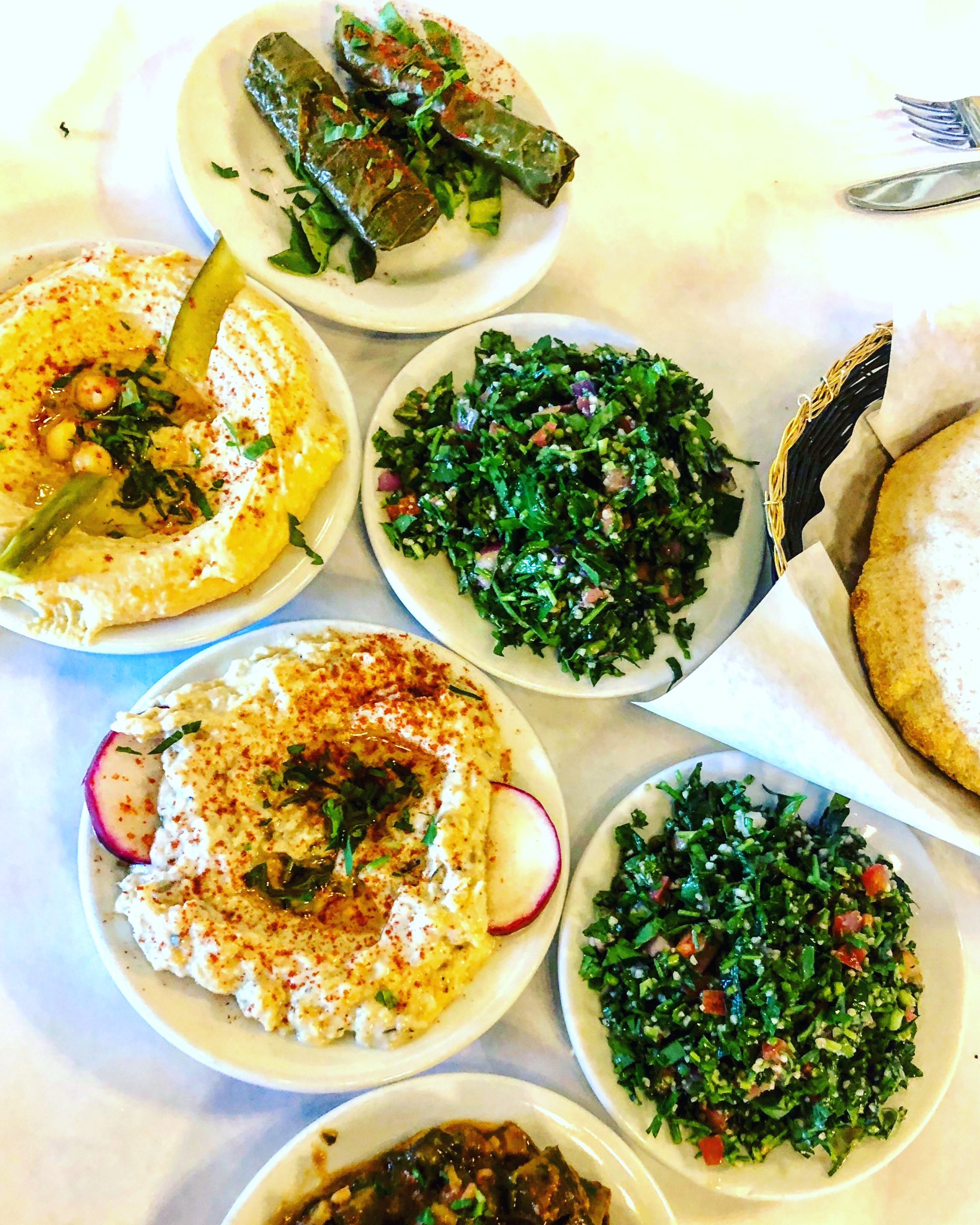 (Did you mezze me? Oh yes we did, Khoury's)
As of today, the Strip and all major hotels remain closed, so downtown and the neighborhoods have been where we've concentrated. Even when it opens, most hotels will be running at very low occupancy rates, with only a handful of restaurants being re-booted.
The Wynncore has announced five of its venues will resume operations on May 29, but other hotels aren't showing their cards just yet.
Steakhouses will lead the way in every hotel, with buffets nowhere to be found for the time being.
Here's the list of places we've hit lately in the order we've hit them since the quarantine lifted:
La Maison de Maggie
Japaneiro
Kaiseki Yuzu
Khoury's
Capital Grille
Orchids Garden
Esther's Kitchen
Marche Bacchus
Edo Tapas and Wine
The Real Crepe
7th & Carson
Carson Kitchen
Pizzeria Monzù
And right there, you have the beginnings of the next edition of EATING LAS VEGAS – The 52 Essential Restaurants 2020. (More on this below.)

Twice we've been to the Capital Grille and 7th & Carson, and the cooking at both has blown us away. Even those serving truncated menus in smaller dining rooms are working extra hard. Don't think for one second that every restaurant in town won't be busting its ass for months to come, whether it's a creperie, a Middle Eastern standard, or high-falutin' gastopub,

You'll see the same thing on the Strip when it reopens. Every cook, every waiter, every bottle-washer will be on their game. They're in survival mode now and they know it, and the only way to prevail is to impress every customer so much they will want to come back — and dazzle them so much they'll tell all their friends to go there — even if everyone looks pretty ridiculous in all those masks.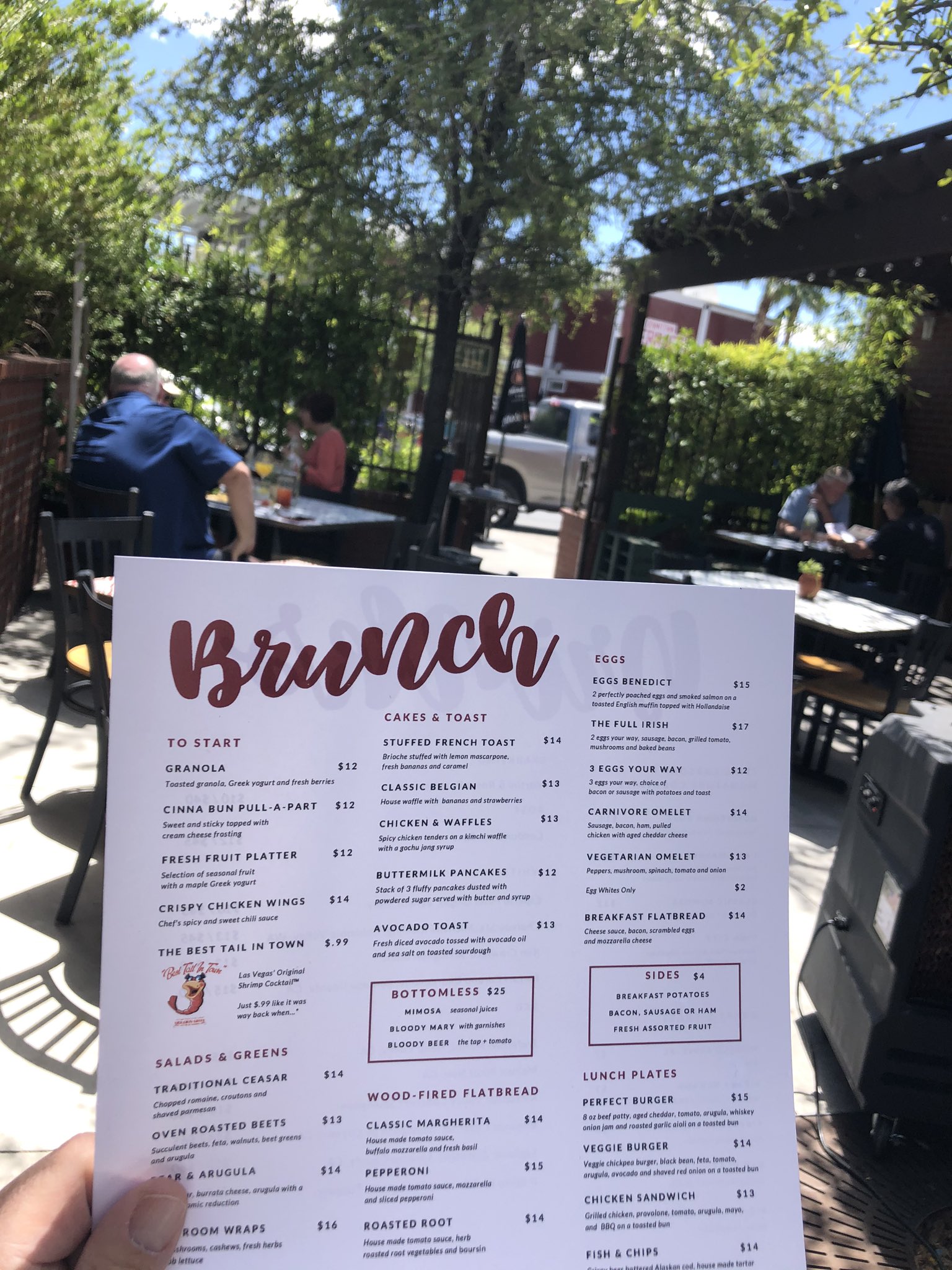 (Brunch, sans mask, at 7th & Carson)
So, you might say in some perverse way that this shutdown will be a boon for restaurant goers.
But it won't be for restaurant writers.
With the end of phoning it in (Hello, Giada!), indifferent cooking, and poor service (at least for the time being) comes the lack of raison d'etre for a critic to be in the game.
The idea of criticizing a restaurant — even well-financed, over-hyped, under-performing Strip restaurants — will not fit the current zeitgeist of everyone hanging on for dear life.
Entire hotels are being phased out, and in the ones that remain, nothing is certain until the casinos can gauge the level of returning tourism. This could take a year…or longer.
Our gubenator thinks Las Vegas won't get back to where it was until a vaccine can be found. Experts are saying this could be years away.
As a local, I've always hated going to the Strip on weekends or when huge conventions were in town, but now, the idea of wandering around Aria or Caesars Palace when it's only 30% full seems kind of creepy.
We're also mindful of the fact that once the shutdown began, our book became more artifact than all-encompassing.
With this in mind, we at #BeingJohnCurtas have been doing some thought experiments in our heads, trying to guess which of our 52 favorites (and others) will survive the #coronapocalypse.
So, for shits and giggles, we're going to list all 52 of our "essential" Las Vegas restaurants, along with a rating of chances for survival (or eventual resuscitation).
Here's how we've rated the restaurants:
4 **** – a cinch to reopen (or has already reopened).
3 *** – on the bubble, but corks could be popped, sooner or later.
2 ** – outlook is drearier than a Golden Corral steak.
1 * – put a fork in them, they're done.
As always, these opinions are worth exactly what you paid for them.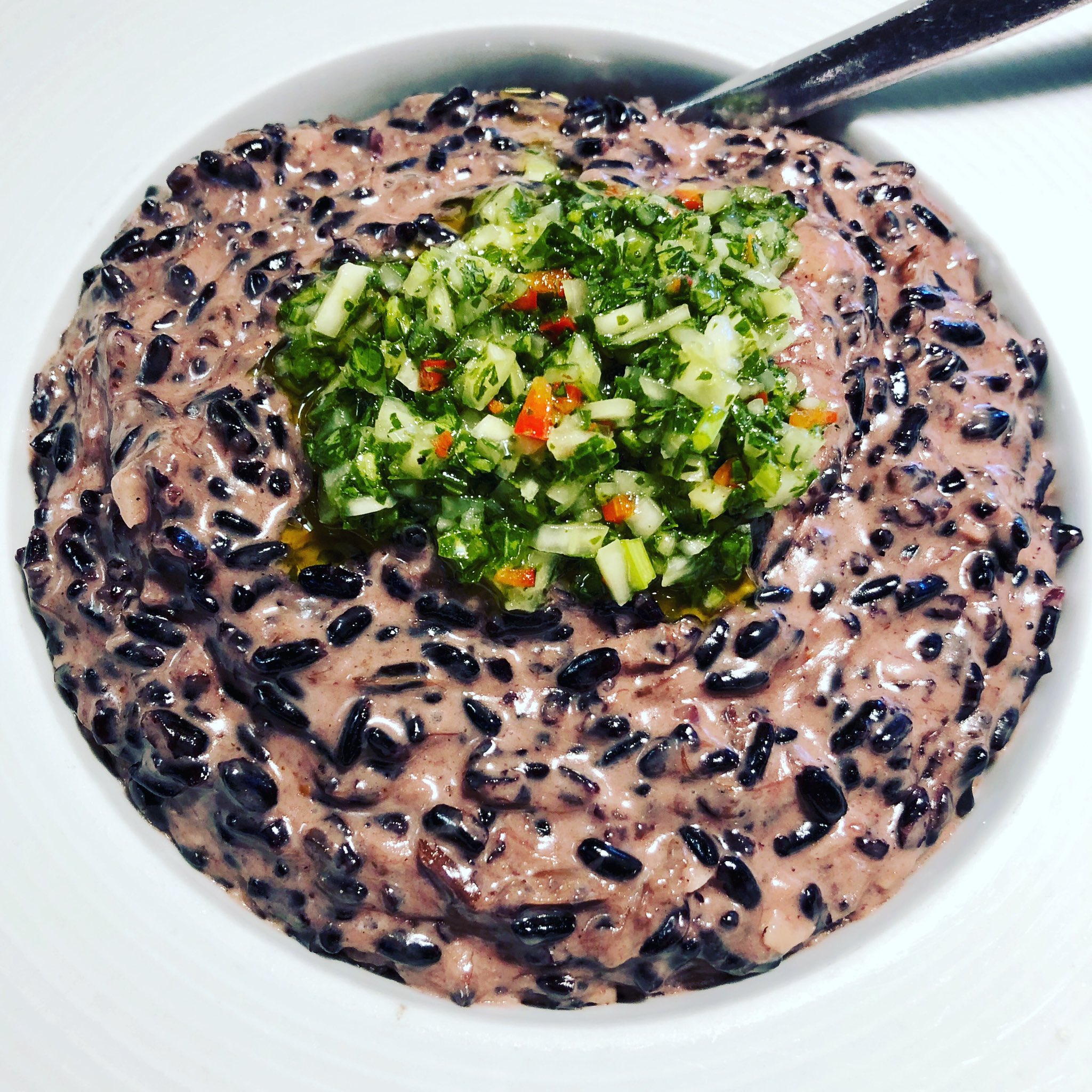 (Black rice/oxtail risotto at Carson Kitchen)
****
Carson Kitchen
Chances for survival: good to great. Downtown's popularity and loyal customers will see to that.
China Mama
Future outlook: Rosy. Good Chinese food (even bad Chinese food) could survive a nuclear winter.
District One
This is a tougher call. How Chinatown reacts to the shrinking economy will be interesting to watch.
Edo Gastro Tapas
Small and agile, with a passionate fan base.
Elia Authentic Greek Taverna
It will thrive….IF it can find a new location
Esther's Kitchen
It came roaring back a week ago. Already, reservations are harder to get than a PPP loan.
Ferraro's
I have a dream that in the year 2065, long after Gino Ferraro and I have departed this mortal vale, he will still be complaining about his overhead and offering me a sip of Chianti.
Kabuto Edomae Sushi
Will there still be a market for ultra-refined, high-end sushi once this cloud lifts? Only time will tell.
Kaiseki Yuzu
Another tiny gem now threatened by a looming recession/depression. All I know is I'm going to eat here as often as I can as long as Kaoru-san is cooking.
Khoury's
Our best Lebanese restaurant hit the ground running and won't look back.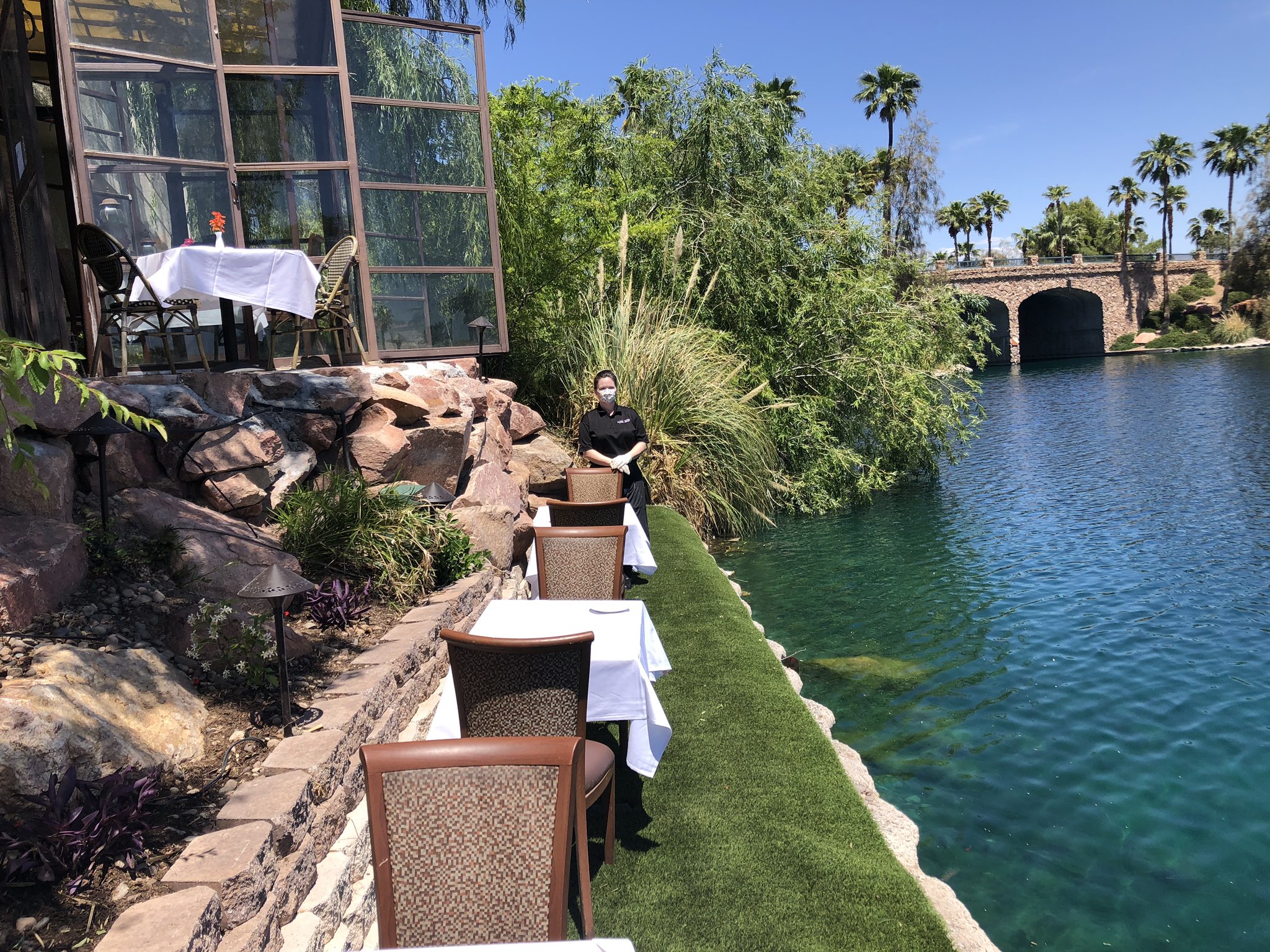 (Al fresco tables – only for the sober – at Marche Bacchus)
Marche Bacchus
Even with its new table-spacing, none of the charm has been lost and some has been gained (see above).
Lamaii
Incendiary Thai + killer wine list = a long list of food and wine professionals who treat this place like a private club.
Lotus of Siam
Will they re-open both locations or just one? Either way, they'll be packed.
Mordeo Boutique Wine Bar

Was on its way to becoming a must-stop for serious winos and foodies. Can it re-capture its mojo?
Ohlala French Bistro
Another tiny neighborhood gem. If the landlord cooperates, Chef Richard Terzaghi will be in great shape.
Pamplona Cocktails & Tapas
I love this place, but it's location was challenging even during a boom economy.
Partage
The well-spaced tables and booths here will need very little adjustment to comply with "social distancing" regulations. The food needs no improvement.
Pizzeria Monzù
Believe it or not, it's better than ever.
Other Mama
An industry watering hole that has succeeded against all odds. For that reason alone, I'm not worried about it.
Raku & Sweets Raku
Like Lotus, one of our most famous restaurants. It's worldwide reputation and customers constantly clamoring for a table will sustain it.
Sparrow + Wolf
Brian Howard is set to re-open as we type this — how he re-sets his menu will be most interesting to watch
The Black Sheep
Jamie Tran has a small, nimble restaurant with a minuscule kitchen, and a large following. But the location gives us pause. Fingers are crossed.
Weera Thai Kitchen
Won't miss a beat.
---
***
Here's where things get trickier. Timing, tourists, and multiple tabulations control the fate of (most of) these places. Being on the cusp of summer doesn't help matters, either. My guess is that each has a strong enough following (and is a critical part of a hotel's F&B program) not to be considered a good candidate for reopening sooner than later.
Cipriani
Management has told us they may not reopen until after Labor Day. This might be a smart move since summertime is bargain-hunting-time in Vegas, and the Cipriani brand does not appeal to the 2-for-1 crowd.
CUT
Steakhouses will lead the way when high-end restaurants re-open, and there's not a more famous one in town.
Bardot Brasserie
Aria will no doubt cut back on its strong lineup of top-shelf eateries; either Carbone or Bardot will get the boot, and we're betting it will be the former.
Bazaar Meat
Along with CUT, our most famous steakhouse. Between the re-branding of the Sahara and the re-booting of everything, it's bounty of beef and seafood may not fit the current mood. Personally, I wish it would re-locate to a hotel more befitting its brand and quality.
Jaleo
Jaleo is a big, multi-faceted, expensive operation. What might save it is a flexible menu which appeals to multiple price points. Plus, José Andrés may be the only surviving celebrity chef with a big following when this is all over. Several sources have told us "Julian Serrano" (its tapas competition in the Aria) has pitched its last paella.
Le Cirque
The Bellagio without Le Cirque is like Disneyland without the mouse.
Spago
The location alone will keep it alive.
Rooster Boy Cafe
Such a gem. So tiny. So perfect. My fear is Sonia El-Nawal may find catering more profitable than table service. And who could blame her?
Yui Edomae Sushi
My favorite sushi spot. Waiting with bated breath for them to start slicing again.
---
**
Here's where a higher level of pessimism kicks in.
Bouchon
Expensive French bistro in this climate? I just don't see it happening, but god I hope I'm wrong.
'e' by José Andrés
The aspirational, 30- and 40-somethings who have coveted a reservation here for nine years are the same ninnies who are cowering in fear of coronavirus. Having to sit within three feet of fellow diners is the type of stress their snowflake brains can't handle.
Estiatorio Milos
I'm hearing rumors they might be moving. I'm not hearing anything about The Cosmo's re-opening plans. Neither is a good sign.
Hatsumi
The seating is naturally "social-distanced" (at least in the booths), but Dan Krohmer's going to have his hands full with Other Mama.
L'Atelier de Joel Robuchon
Again….high end French comes back? I just don't see it.
Matteo's Ristorante Italiano
A real sleeper in the Venetian that serves incredible pasta. Having to compete with 40 other restaurants (6 of which are Italian) might be too much to ask.
Michael Mina
Will top-notch hotels need multiple "fine dining" venues? My heart wants MM to stay, but my head tells me his restaurant group is in for a thinning.
Mott 32
No conventions. No Asian tourists. No more superb Peking duck.
Old Soul
Great cooking, but a tough sell in the best of times.
---
* Put a fork in them, they're done…
Mabel's BBQ
More done than a twelve-hour brisket.
Guy Savoy
I'm weeping as I write these words, but I think I'm going to have to go to Paris to eat Guy's food again.
Joël Robuchon
On any given night, the best restaurant in America. Certainly in the top 5. But it's a big deal meal restaurant, perhaps the biggest, and too many of its customers are not coming back to Vegas in the foreseeable future.
Sage
Was already on the ropes.
The Kitchen at Atomic
Ditto.
Twist by Pierre Gagnaire
Ditto.
Vetri Cucina
We love Marc Vetri, and he tried to put a game face on things, but announcing "we won't be opening this year, maybe in 2021" is the same as saying we're history.
Wing Lei
The only type of food more endangered than high-end French in Las Vegas is high-end Asian.
---
My hearts weeps for each of these uncertain futures, and I hope I am wrong about all of them.
No matter who opens, the reopening will be the easy part. Staying open in a depressed economy is going to be the real struggle, and who is still in business a year from now is anyone's guess.
One thing is certain though: there won't be any new restaurants opening on the Strip for many, many months to come. You have a better chance of catching me at a Garth Brooks concert than you will of seeing any new concepts springing up in 2020.
Which brings us back to our book. If we do one, it'll be probably be so stuffed with neighborhood eateries that it'll be more useful as a local's guide than something for tourists.  At this point, that might be its final legacy.
Anything we can do to help the restaurant industry bounce back from this idiotic, force-fed oblivion, the better. And if that means forgetting about the big hotels until they've had time to re-adjust, that's what we'll do.
I don't know if our local food scene can sustain itself without all those Strip dollars being pumped into our economy, but we're about to find out.
Life was so much easier when all we had to do was compare the Dover sole presentations.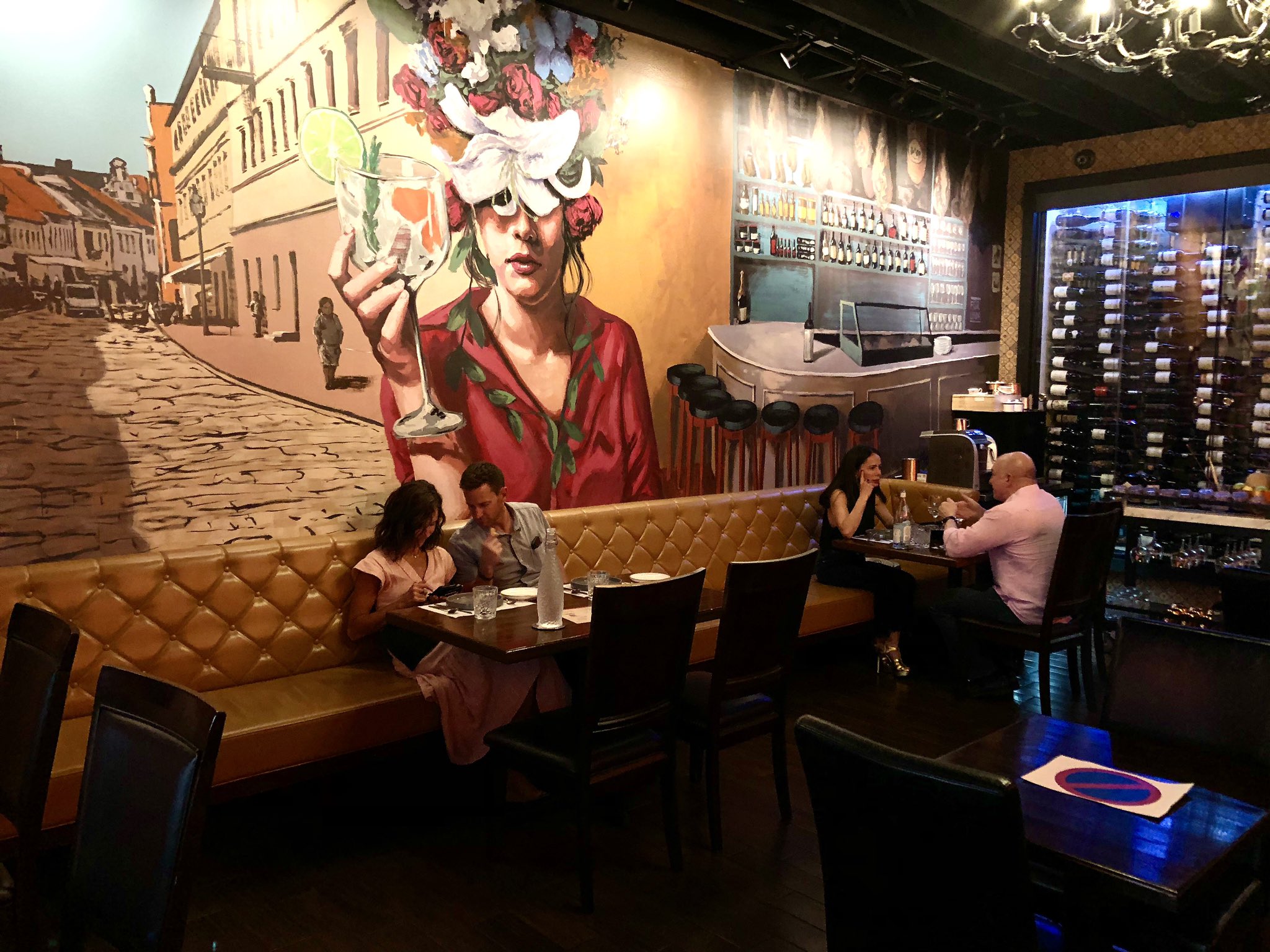 (Social distance dining at Edo)