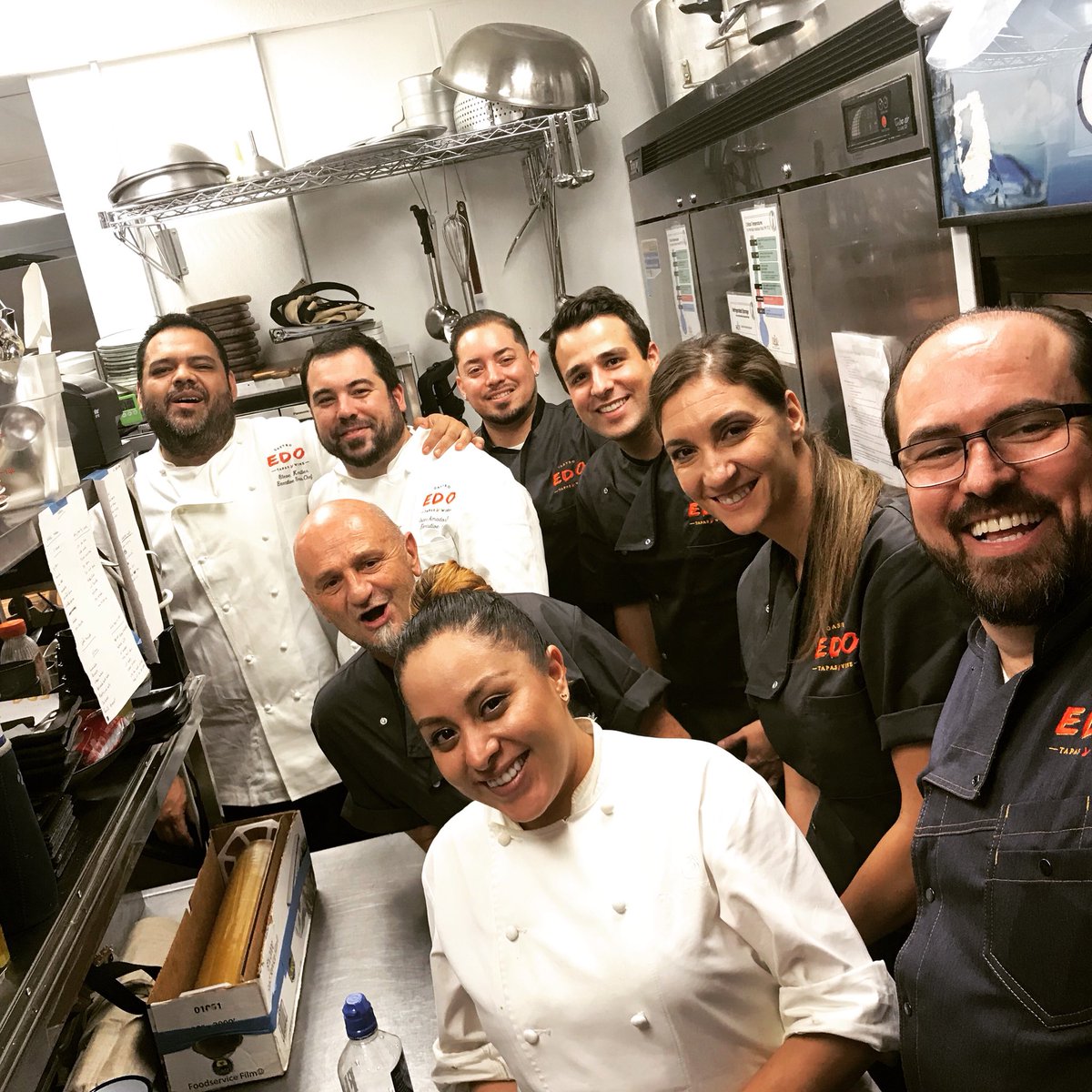 Edo Tapas & Wine is half as big as Pamplona with twice the ambition. Its matchbox size belies an attempt to expand the flavors of Spain beyond all boundaries.  By and large it succeeds, in a forty seat space that announces from the get-go you're in for a wild ride in tapas territory.
It may look unassuming from the front but it has quite a pedigree. Exec Chef Oscar Edo is a Strip veteran (and a survivor of the food truck craze of 8 years ago), while partner Roberto Liendo (late of Bazaar Meat) runs the front of the house. Between them, they have a strong sense of the food and service a place like this needs to appeal to gastronauts who demands the new over the tried and true. And while the whole small plates/tapas thing may seem like old hat by now, they freshen the genre by blending the traditional with more than just a wink and a nod to their Asian surroundings.
The small, narrow space gets a big lift from a bright mural taking up an entire wall (above). The reference to Spain is dramatic, and sets the stage for a production that punches way above its weight. It presents the requisite specialty cocktails, along with a rolling gin and tonic cart, a small-but-mighty wine list (with nothing over a hundy), and those three sherries by the glass I was complaining about Pamplona not having. There's also eight nice craft beers on hand, a variety of vermut (vermouths) and cordials, and dessert wines (all by the glass or bottle).
If you think that's a lot going on in this teeny space (formerly home to Chada Thai), then wait until you see the menu.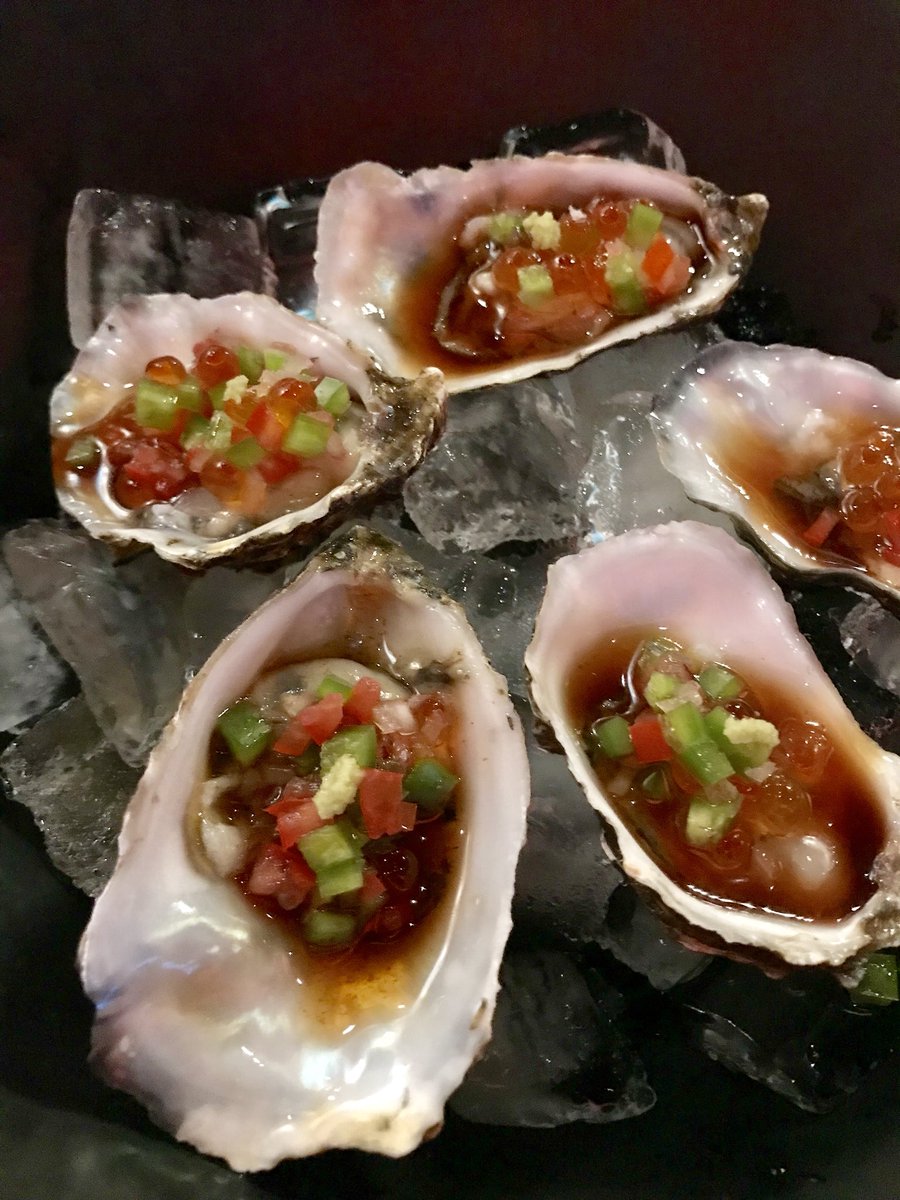 Four different dressed oysters are offered — depending upon what sort of bath you like your bivalves to take. Personally, I went nuts over the tamarind mole with pickled cucumber (above), although you might prefer yours to be swimming in kiwi leche de tigre or braised melon, lemon and mint. Bottom line: they're all fabulous.
The obligatory Spanish cheese and ham selections, and they're perfectly fine, if totally in line with what you'll find all over town. (This is not to damn Spanish jamon with faint praise — it is the tastiest cured pork leg in the world — but only to point out that these folks get their stuff from the same distributors as everyone else, so if you've chowed down on one lomo, you've probably tasted them all. The really expensive hams are too muy caro for our 'burbs, and you'll have to head to Bazaar Meat (and pay through the snout) for them.
As satisfying as these starters are, it is in the cold and hot tapas where Edo hits his stride.  His fermented tomatoes with burrata and basil air was probably the most summery summer dish I had this summer; it both sparkled and soothed the palate the way only super-sweet tomates can — making like an overripe Caprese at half the weight. While his tuna tostada was a little bland for these buds, nice big and chunky Maine lobster comes "salpicón-style — dressed with more of that "tiger's milk" — which nicely lightens the richness of the crustacean.
On the "hot tapas" side of things, the hits just keep coming: croquetas with kimchi pisto; pulpo viajero (octopus with tamarind mole), buñelos de bacalao (salt cod fritters with squid ink and lime); and something called "Bikini" — a wahfer theen, crispy compression of sobrasada and Mahon cheese — which might be the last word in tiny toast: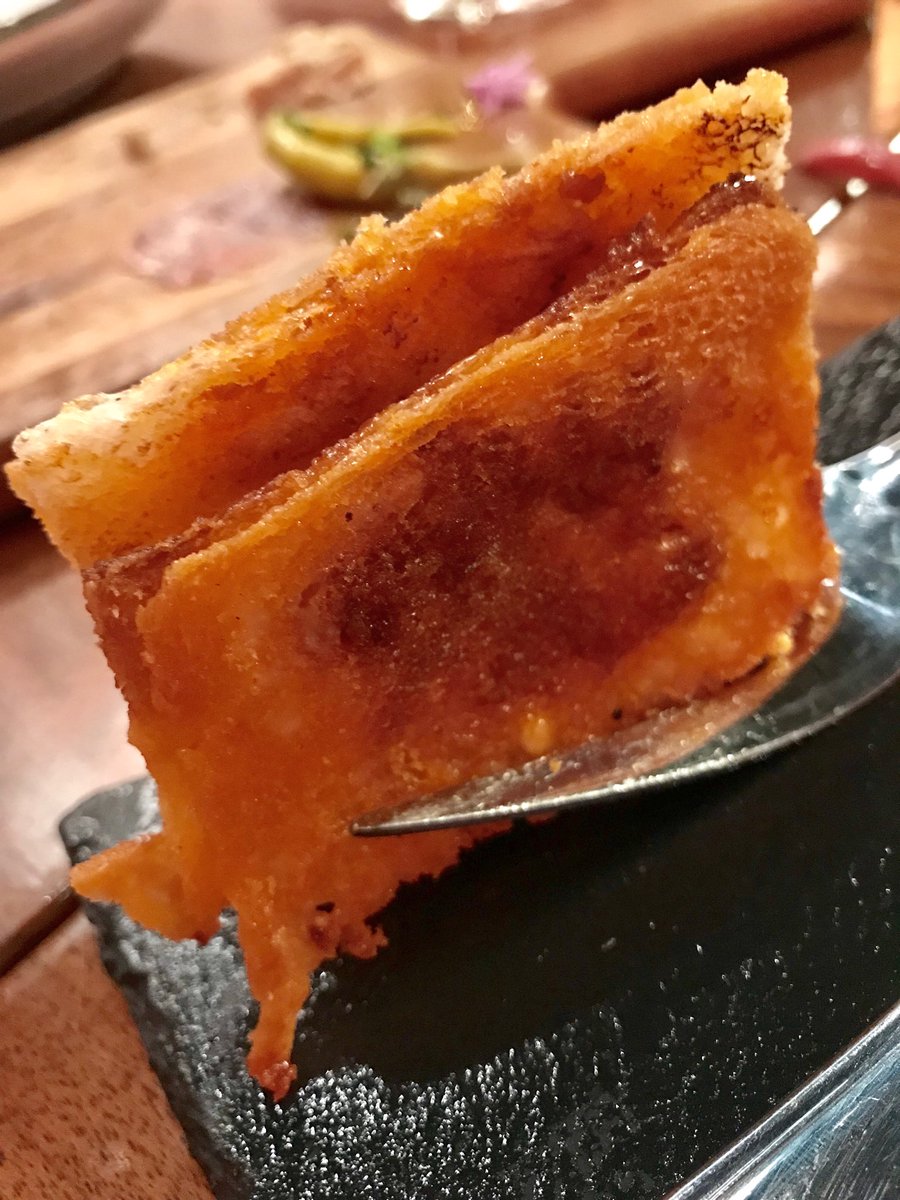 One is tempted to wax poetic about these bikinis, so packed with flavor are these two inch envelopes. So much soft crunch, so much sausage punch, my guess you'll want to order a bunch is more than a hunch.  I overplay calling certain foodstuffs "addictive" at times, but the moniker fits here like the best cheese between bread you've ever eaten.
You really can't go wrong with any of the plates here — some are just more spectacular than others — but there's not a clinker in the bunch. One of the more eye-popping ones is Huevos Estrellados: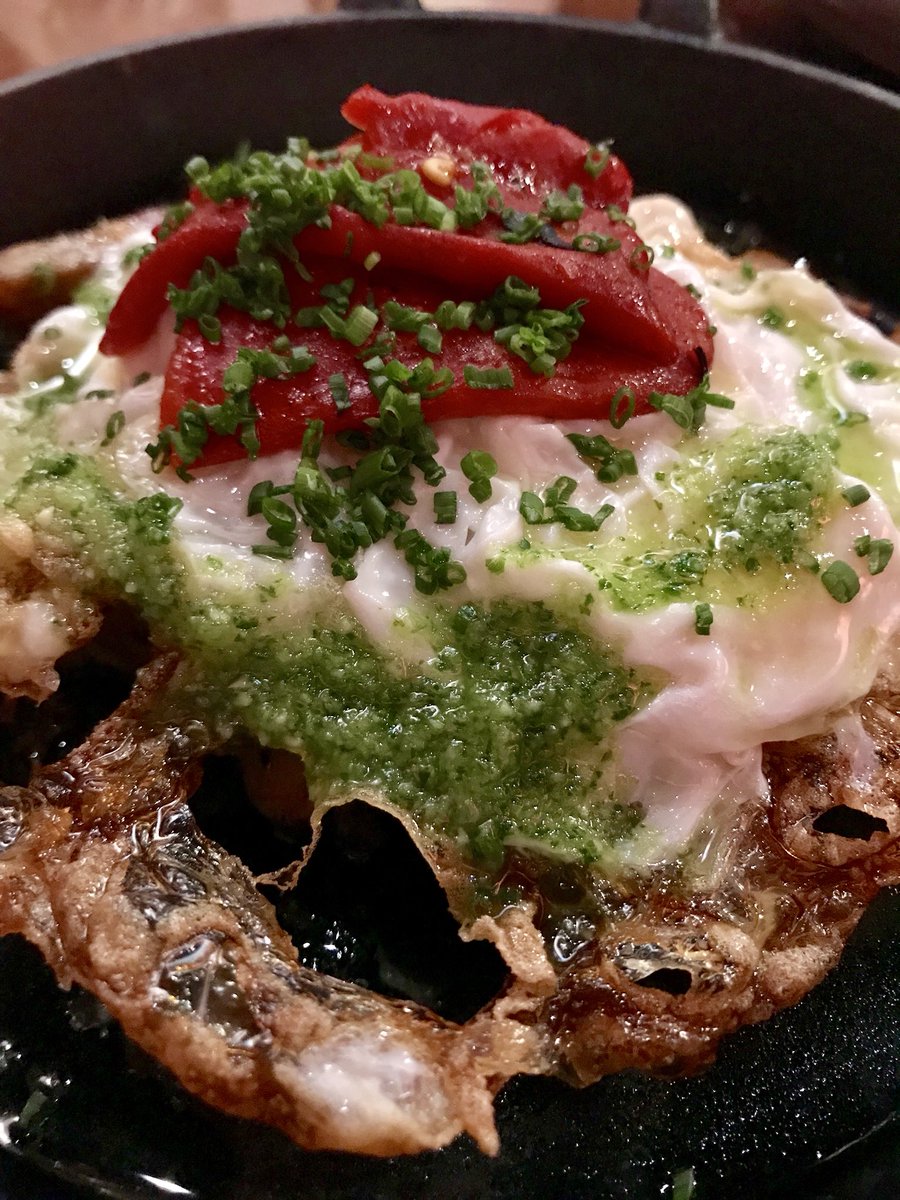 …a toothsome concoction of olive-oil fried eggs, piquillo peppers sitting atop a melange of mushrooms and fried potatoes. You can't see the 'shrooms underneath, but that collection of maitake, shitake, enoki, and king-oysters is crave-able in its own right. Top it all off with some garlic-parsley oil and you have a classic of Spain tweaked in all the right ways.
Of course, some purists might disagree. My friend Gerry Dawes — who probably knows as much about Spanish food and wine as any American — went apoplectic (on Facebook over it not being a proper estrellados, but he misses the point. Edo is using this menu to riff on the cuisine of Spain.  There will be hits and misses with some of his creations, but he's putting it out there, and when the results are this lip-smacking, what's to argue about?
The menu is nicely balanced between meat and seafood offerings, but, given that this is Spanish food we're talking about, even the seafood can have a certain dense, rich sensibility, such as these Manila clams — which get the full arroz meloso de pescadores (rice seafood stew) treatment: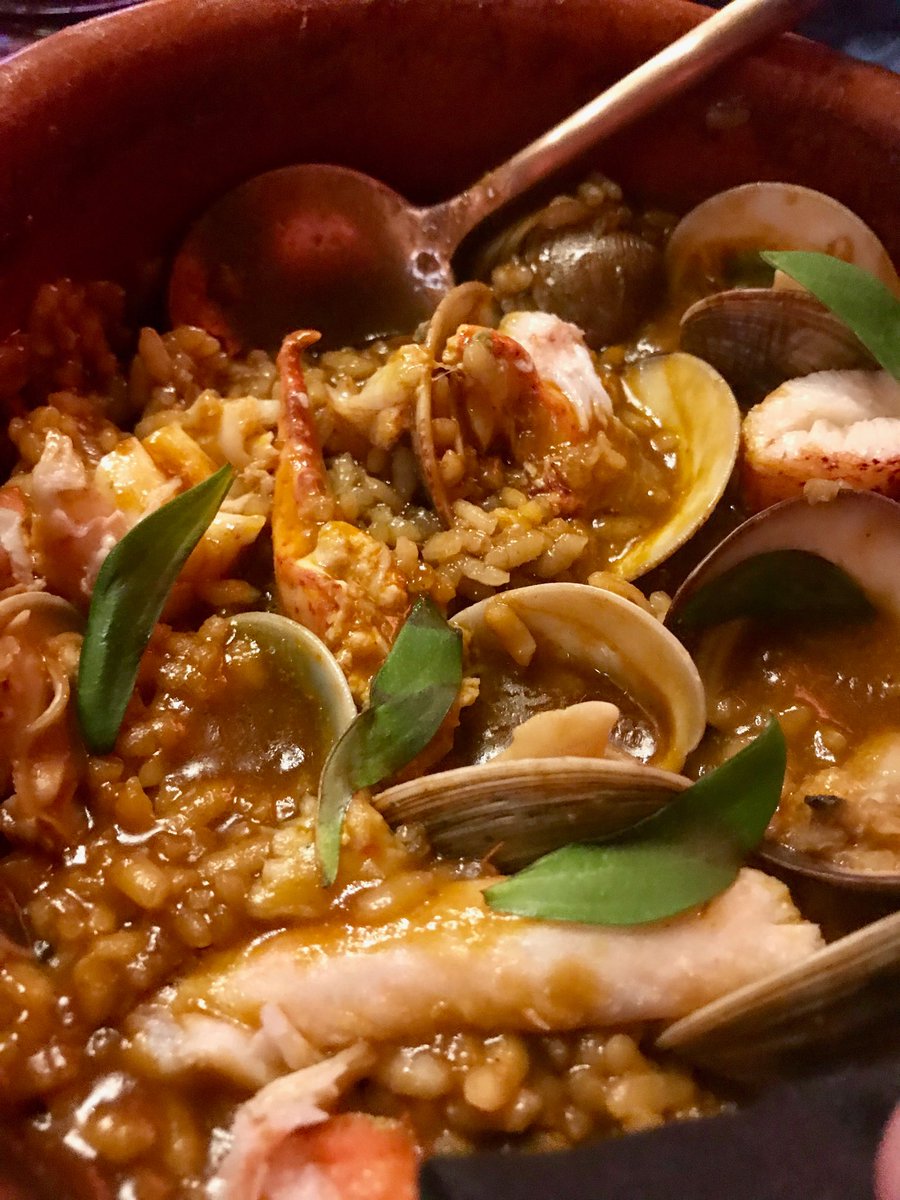 And when it comes to a certain famous Spanish rice dish, let's just say that we are now blessed with a plethora of palate pleasing paella. If I had to grade the different ones in town, I'd put both Edo's and Pamplona's a notch below Jaleo's, if only because there's no substitute for the open fire smokiness imparted by José Andrés' paella pit.
(Edo's pulchritudinous jamon paella)
None of these new places goes overboard on desserts, and this is a good thing. After bombarding your senses with oysters, clams, eggs, hams and octopus, what you're looking for is something simple and soothing. The flan here pushes all the right buttons and the olive oil dark chocolate fudge does the same while adding an inch to your waistline. If you're looking to go lighter, you'll love the intensity of this strawberry granita with popcorn mousse: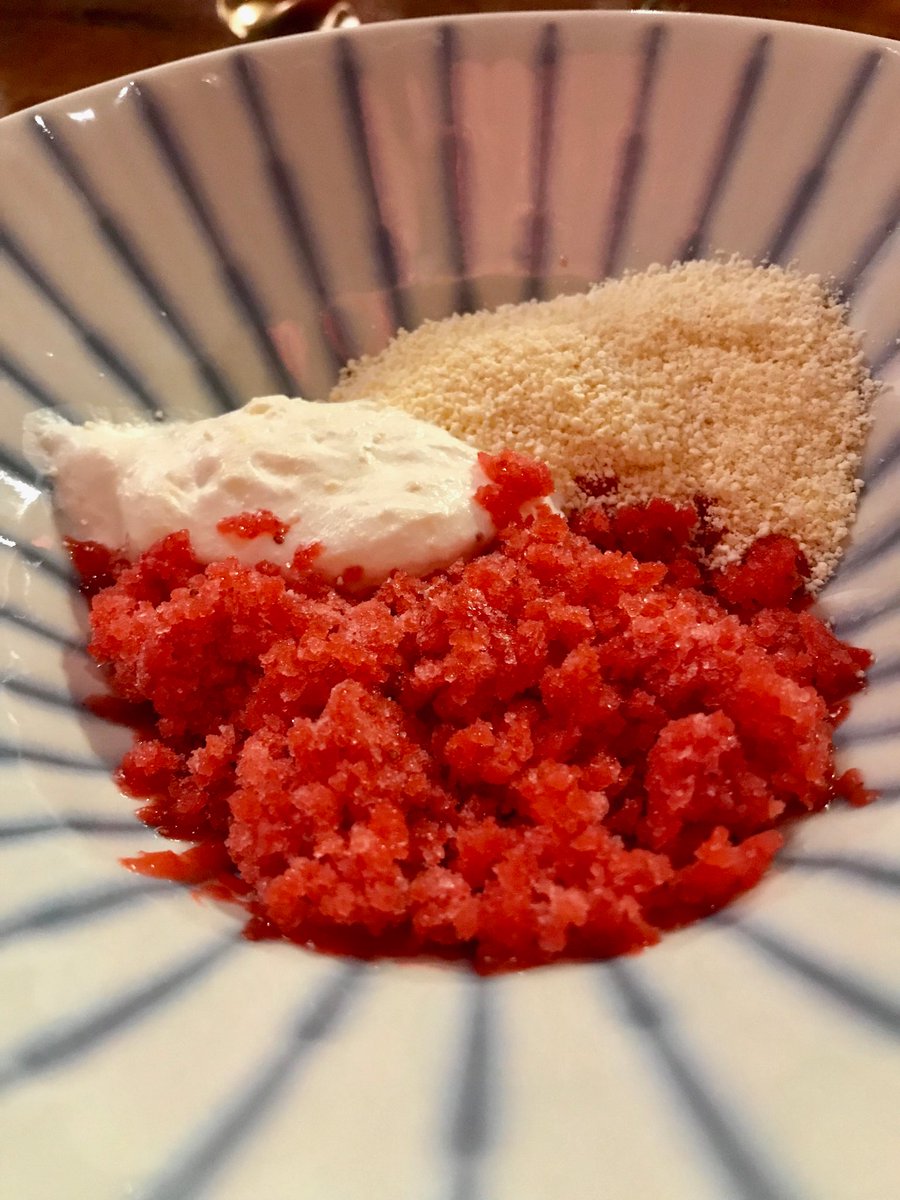 ….and if you're looking for the most interesting Spanish food ever to come to off-Strip Las Vegas, you've come to the right place.
(Drinks are $14-$16 – and worth every penny. Tapas are priced from $7-$18, with most at the upper end of that. Paellas and stews run $25 for four modest servings. Two people can eat like royalty here for less than $100, excluding tip. )
EDO TAPAS & WINE
3400 South Jones Blvd. Suite 11A
Las Vegas, NV 89146
702. 641.1345