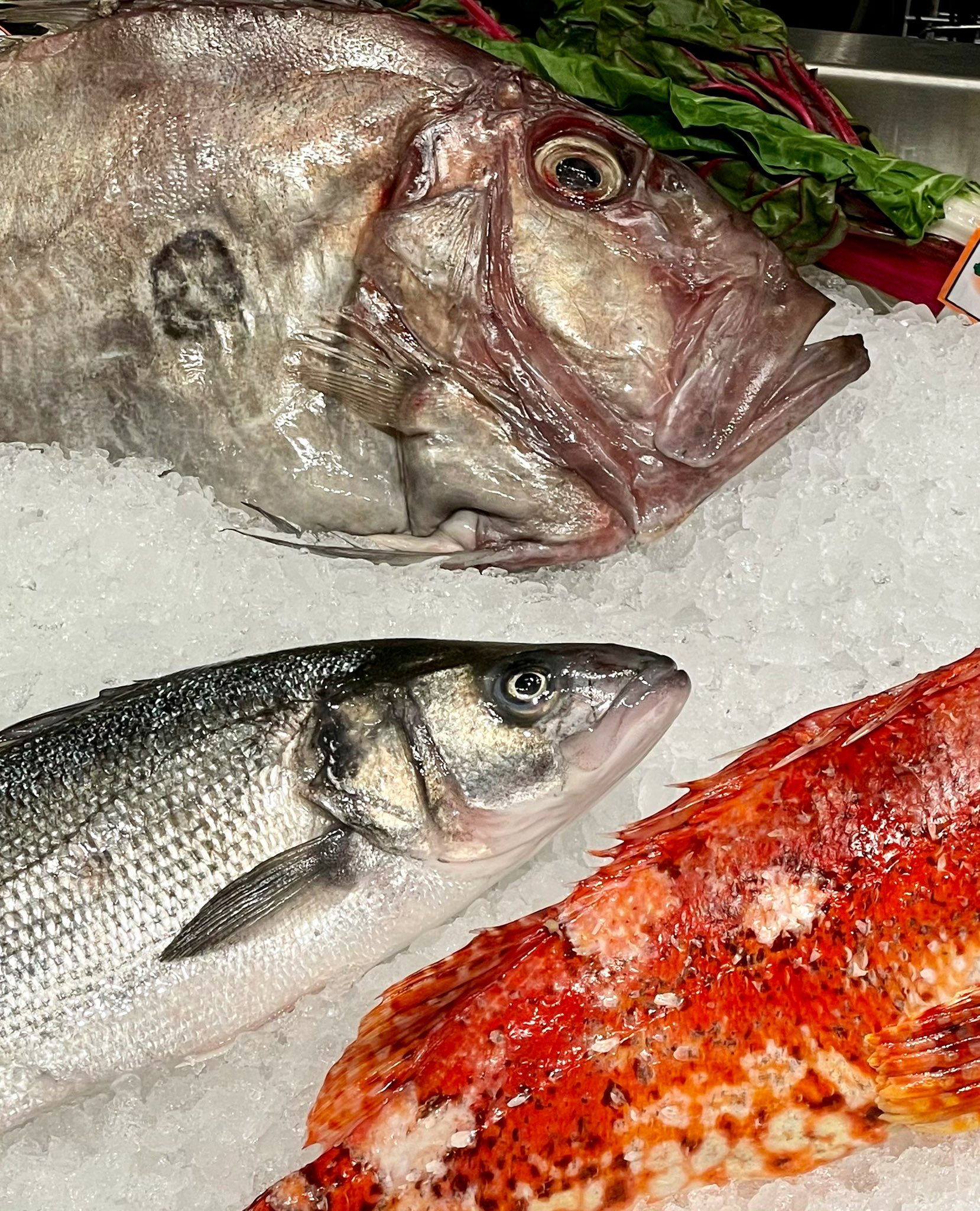 Las Vegas is to fish what tumbleweeds are to Tahiti.
Seafood and the High Mojave go together like Hawaii and gambling. (If you don't believe me, just look out the window.)
There's an old rule of thumb that goes: for every ten miles you move inland, the fish gets ten percent worse.
By this calculation, seafood in Las Vegas should be 150% worse than it is on the coast.
Of course this isn't true. The miracles of refrigeration and air freight have made fresh (or reasonably fresh) fish a reality no matter how far you are from an ocean. All you need is an airport, and presto change-o! – you can charge prices for a wild-caught turbot that would make a potentate's knees buckle.
That said, seafood in Las Vegas is still something of a crap-shoot. Much of it is farmed, and too much of it is the same old same old salmon and sea bass in restaurant after restaurant.
But we are blessed with two, world-class, seafood emporiums: Estiatorio Milos and Costa di Mare. Each of them is special in its own way, and together they put to shame the fish being flung at all but our toniest steakhouses and sushi parlors.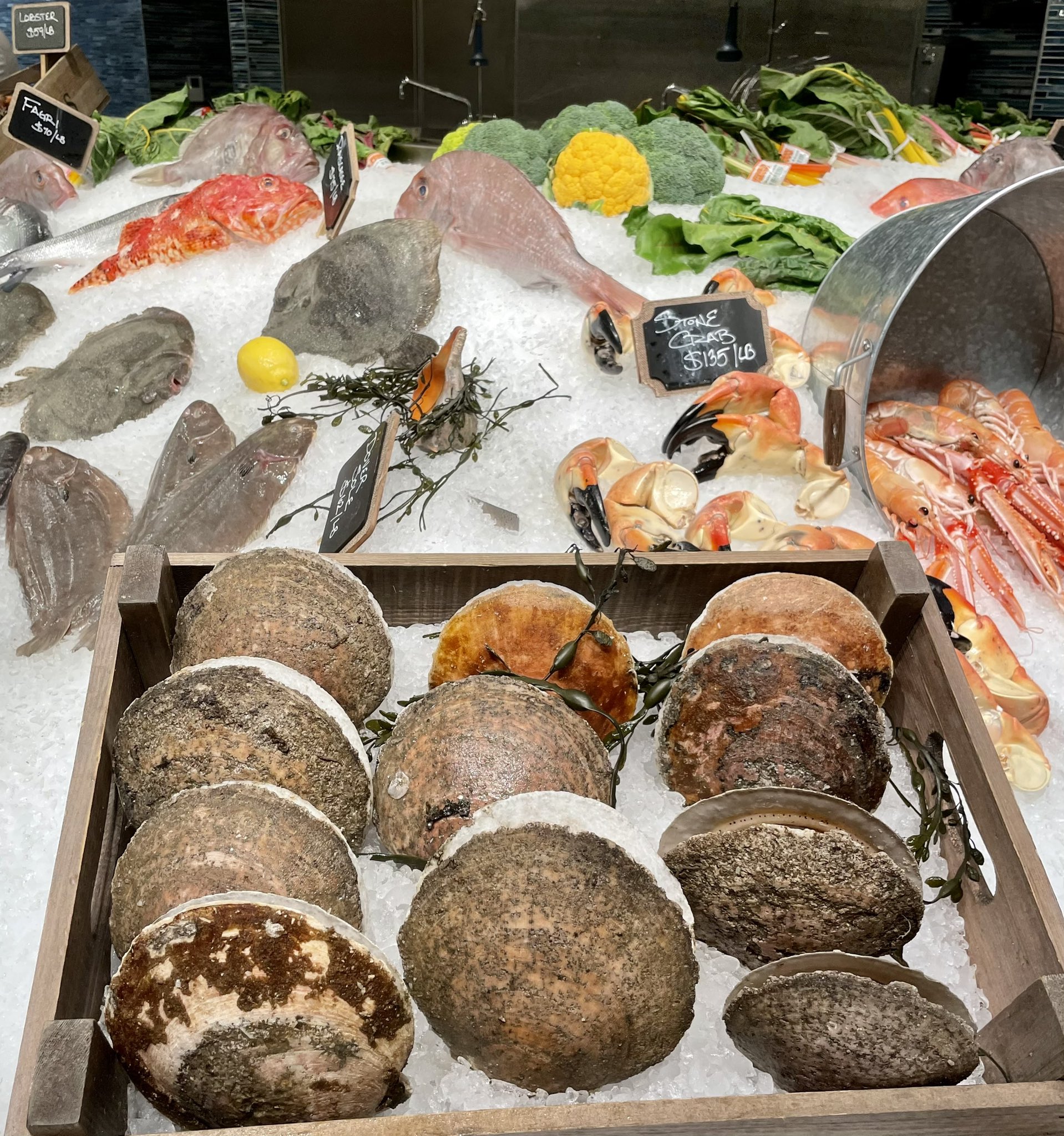 (Something fishy is going on…will salmon help me order?)
So, as a public service, we at #BeingJohnCurtas thought we'd outline their similarities and differences, to better help you decide where to drop a boat payment the next time you want to swim in the deep end of our best seafood restaurants.
As usual, only the most skillful, precise, and scientific measurements were used to chart the distinctions between the two. And by "skillful and scientific" we mean our own, historically-proven, unchallenged omniscience and infallibility.
Decor

(Feng shui in spades)
Milos's reboot in the Venetian is soothing, dramatic, reminiscent of the Greek Islands, and appetite-inducing. It's feng shui is so good there should be a picture of it beside every definition of feng shui. Plus, the fish display alone (see above) is worth major design props.
Advantage, Milos, for feng shui and all that tasty fish.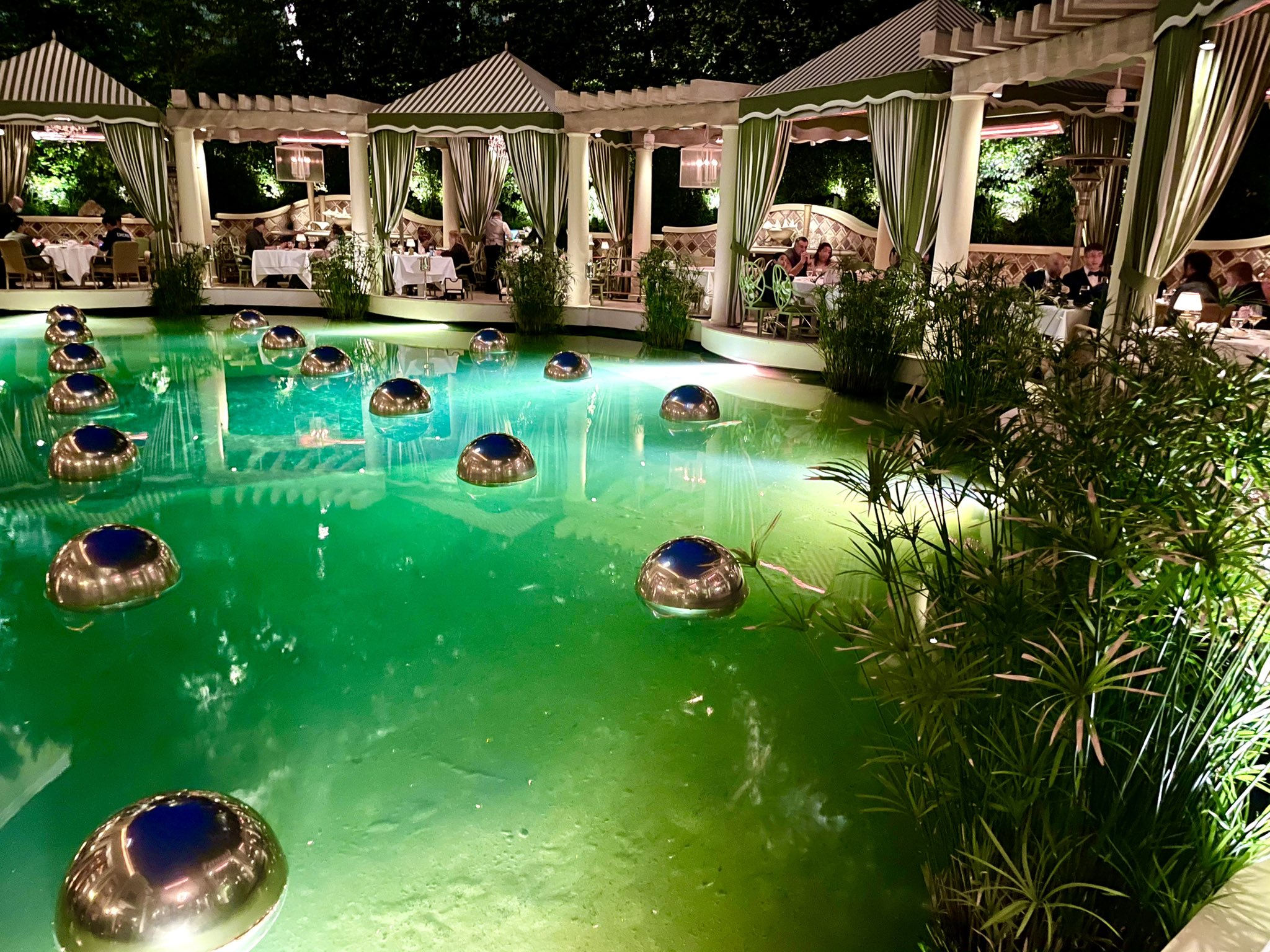 (A great place to set the hook, just for the halibut, or on porpoise, if you're fishing for a gill-friend)
Costa di Mare's re-launch in the Wynn reopens a space that is by turns eye-popping, comforting, and mouth-watering. As gorgeous as the new room is at Milos, it's hard to beat the bi-level views and poolside drama of CdM.
Advantage CdM for outdoor dining, romantic lighting and jaw-dropping design.

In other words: Draw
Greeting
At Milos, they treat me like a big shot who owns the place; at CdM, they treat me like the King of Siam. I've been comped at both and I've paid through the nose at both.
Draw
Service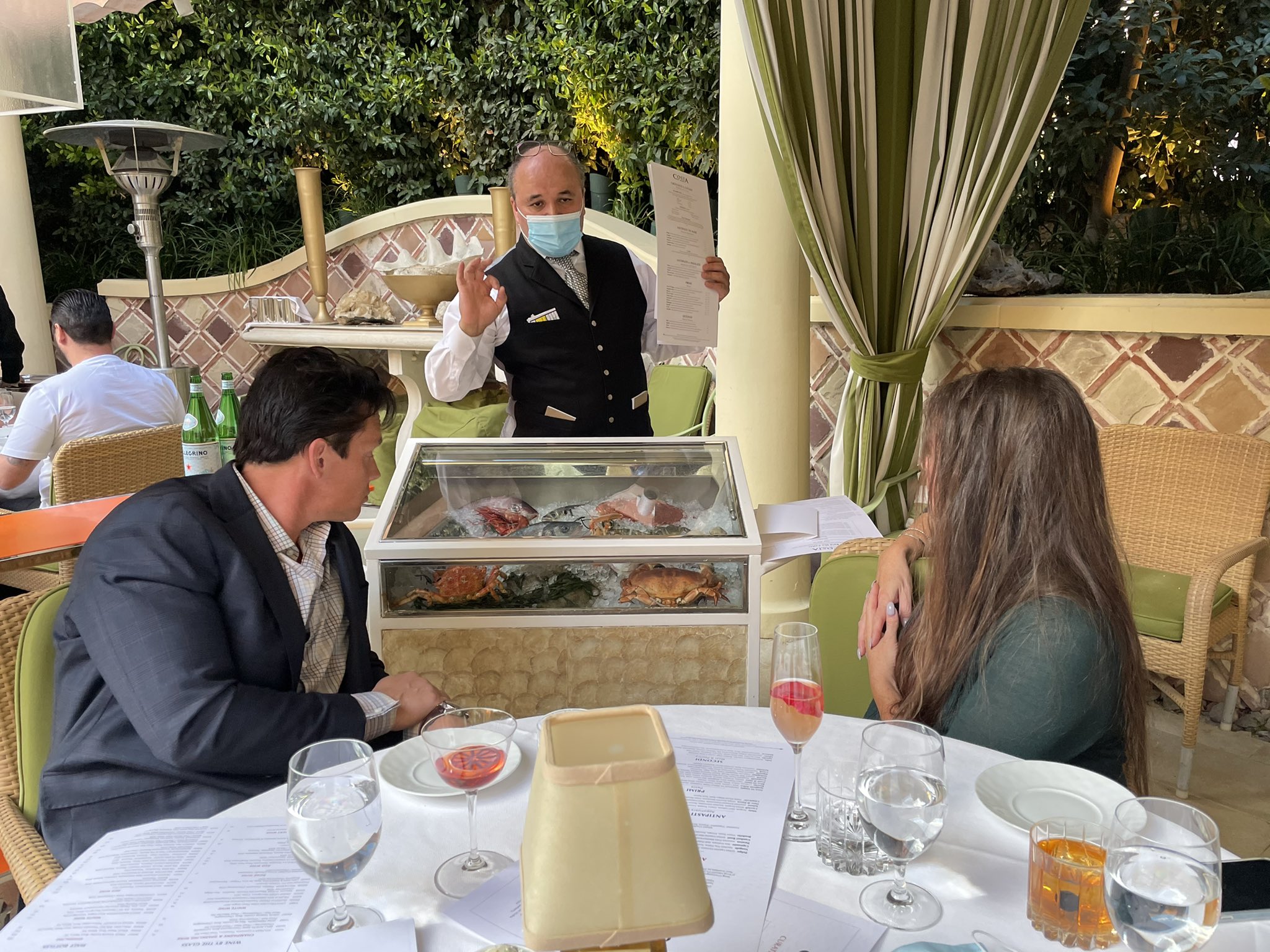 (Oh for cod's hake, we've haddock enough! Stop floundering and choose!)
Intensive care service is the rule at both. Milos is still in its shakedown cruise, so things are a bit wobbly — well-meaning, but not as polished as they will be.
CdM (above) is operating like it never closed in the first place. Both plaices are so solicitous it feels like someone would cut your food, sand dab the corners of your mouth and troll you to your car if you asked them too.
You expect nothing less than consummate professionalism from both operations since two of the smoothest cats in the business (Ivo Angelov and Fabian Forlini) hold down the front of the house — at CdM and Milos, respectively.
You also can't fault Milos for having to adjust to a huge new space with a brand-new crew, but at this juncture, we'll award…
Slight advantage, Costa di Mare 
Price
Bring $$$. Lots of it. Seafood this spectacular has gone through quite a journey to get to your table within a single day. What you're eating Thursday night was probably flopping around on a boat Wednesday morning….6,000 miles away.
A small rouget or racasse (for two) will easily run $150 at either place. A five pound St. Pietro (John Dory) set us back $275 at CdM, but easily fed five. Plan on at least $125/pp minimum. These beautiful scallops at Milos, are $17 apiece, and you'll want one each…or two.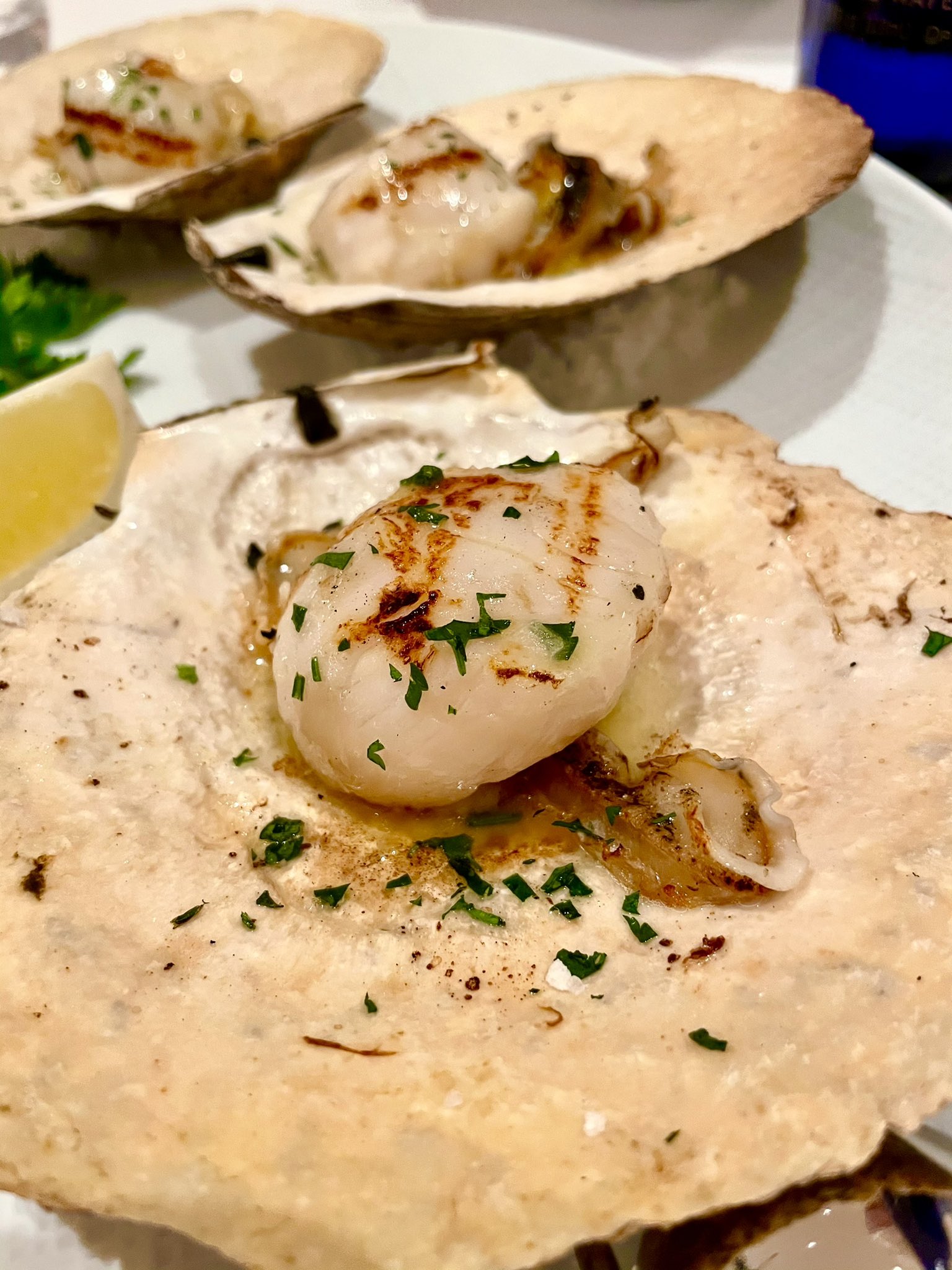 (So good we can't clam up about them)
Ordinarily, we'd call the price war a draw, but Milos scores an early knockdown with something in its arsenal CdM can't defend against or counter…..
Lunch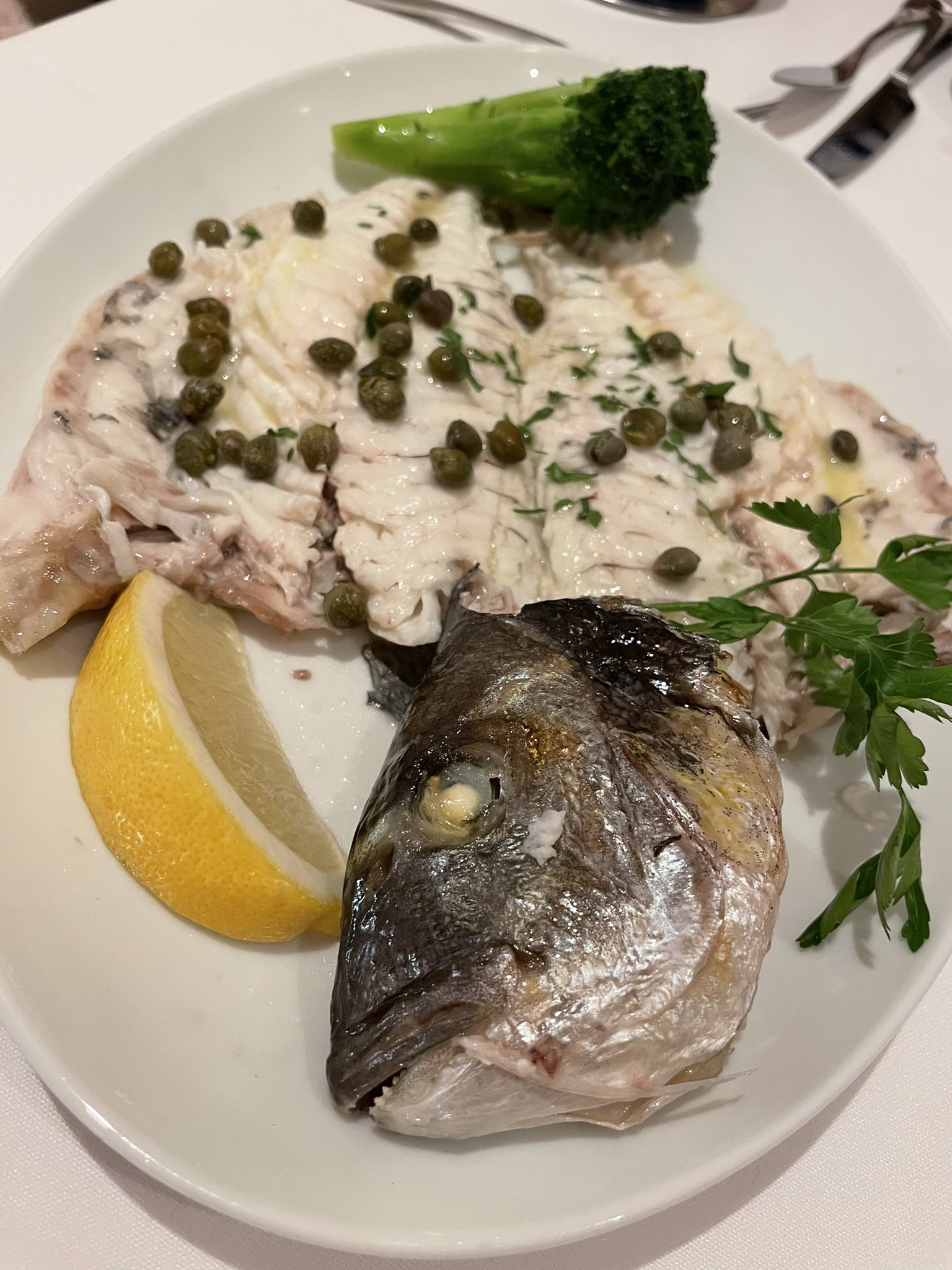 (We're in lavraki)
Milos serves lunch. A great one. And quite a bargain to boot. Its special $36, 3-course dejeuner is justifiably famous as the best lunch deal on the Strip. Yes, there are surcharges on some dishes, but stick with the basic menu (like the gorgeous lavraki above) and you'll eat a very healthy, very Greek midday repast and feel a little like a thief while you're doing it.
Costa di Mare: no lunch. This is a tragedy of unspeakable proportions, and thus…
Advantage, Milos
Hours
For the time being, CdM is only open Thurs.-Sun nights. Milos is open 7 days for lunch and dinner.
We'd like to give a point to Milos for being so accessible, but the shutdown of restaurants put them in a no-win situation, so as they re-open, it wouldn't be fair to judge them harshly on what they have to do to stay afloat. Still…
Advantage, Milos
Bread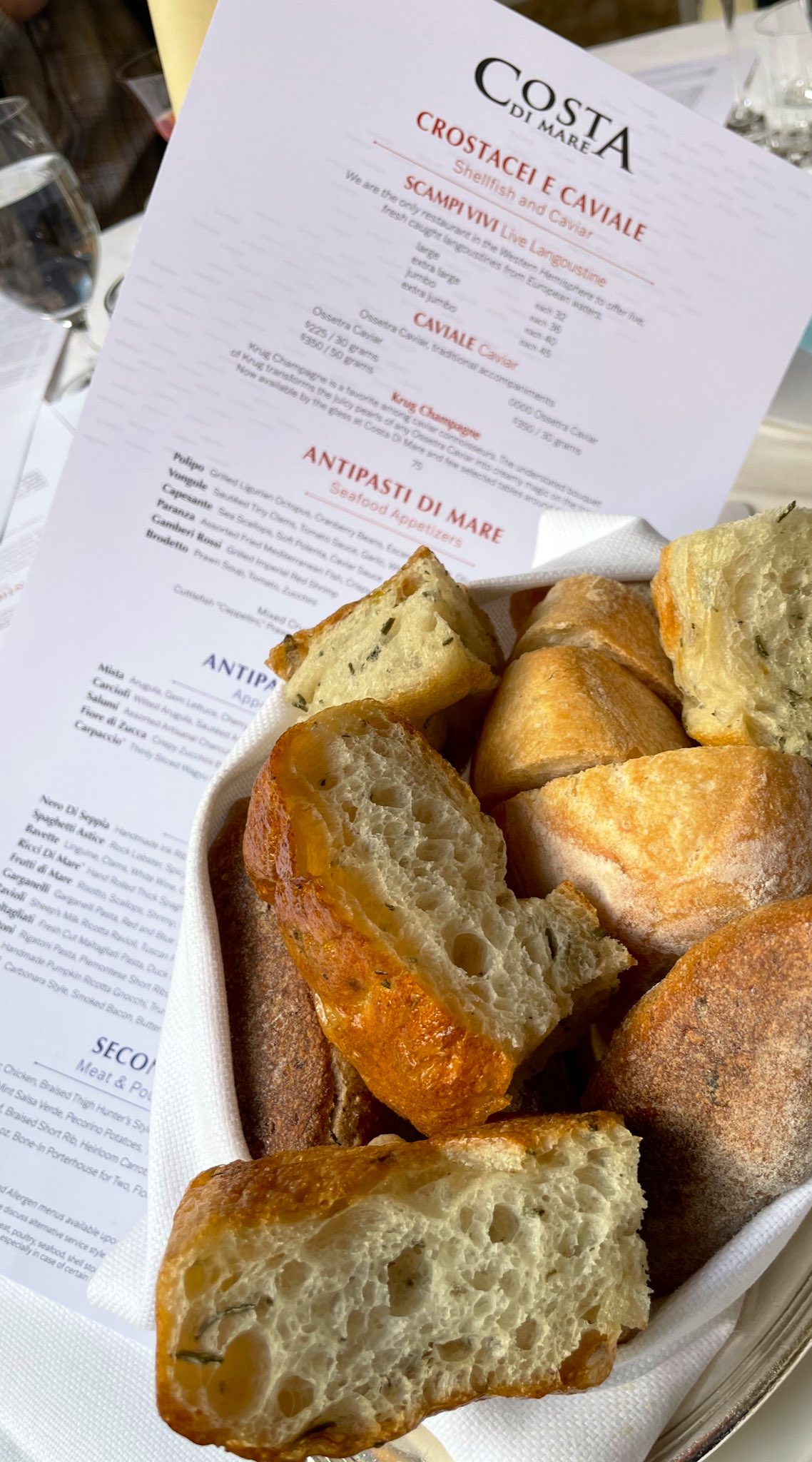 Costa di Mare gets its superior basket of baked goodies from Wynn's in-house shop. Milos serves its single, toasted, thick nutty slices of sourdough pain de campagne with some of the best olive oil in the biz.
Draw
Appetizers
Both are minimalists. Both let the ingredients sing for themselves. Each does the best langoustines and crab dishes Las Vegas has ever seen. Even with Milos offering the nonpareil "Milos Special":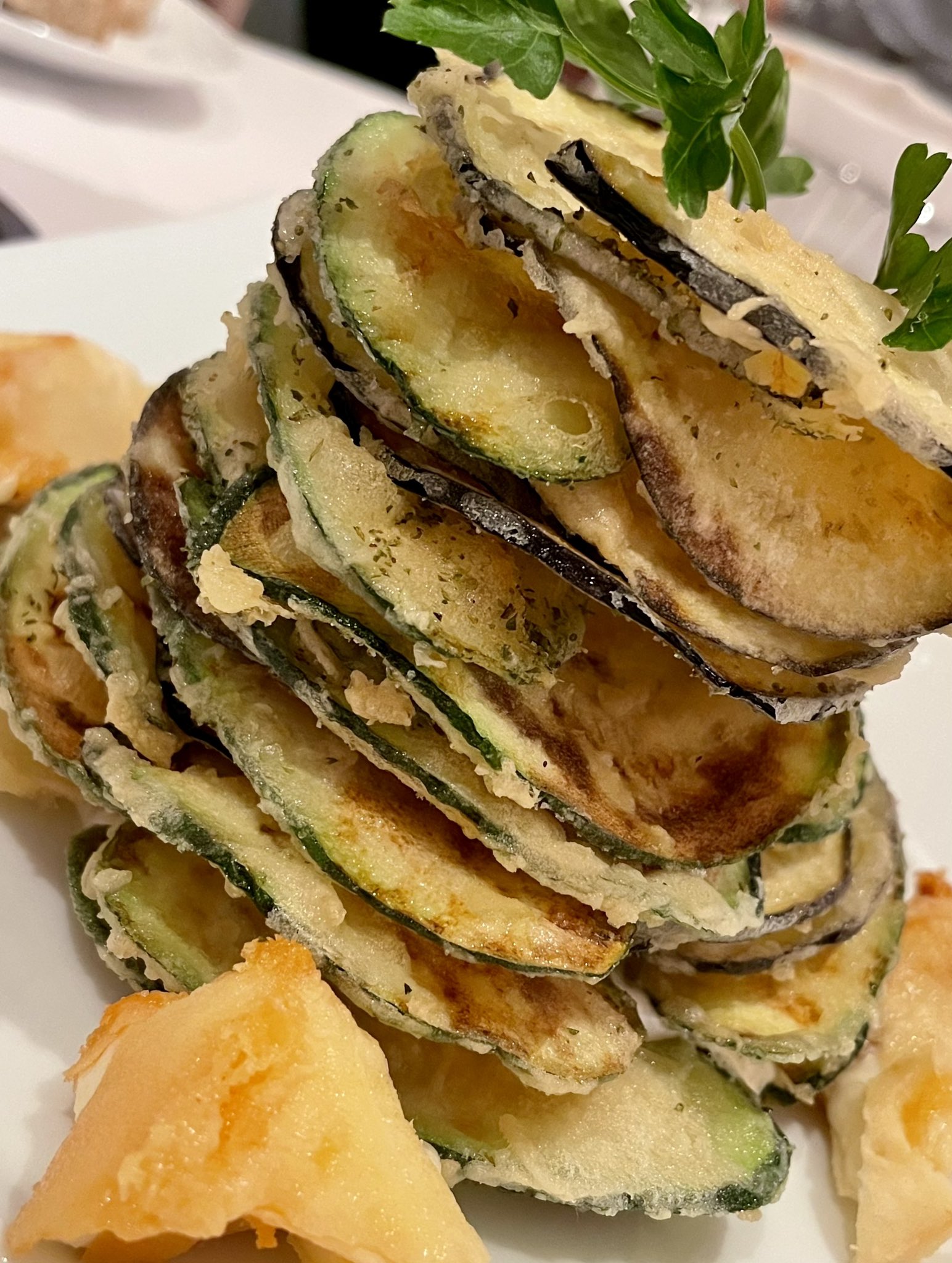 …we 're calling it a….
Draw
Seafood Selection
This one is relatively easy: there is no competition with Milos when it comes to a daily variety of fresh fish and seafood. CdM has a beautiful, impeccably chosen but smaller selection.
Advantage, Milos
Bar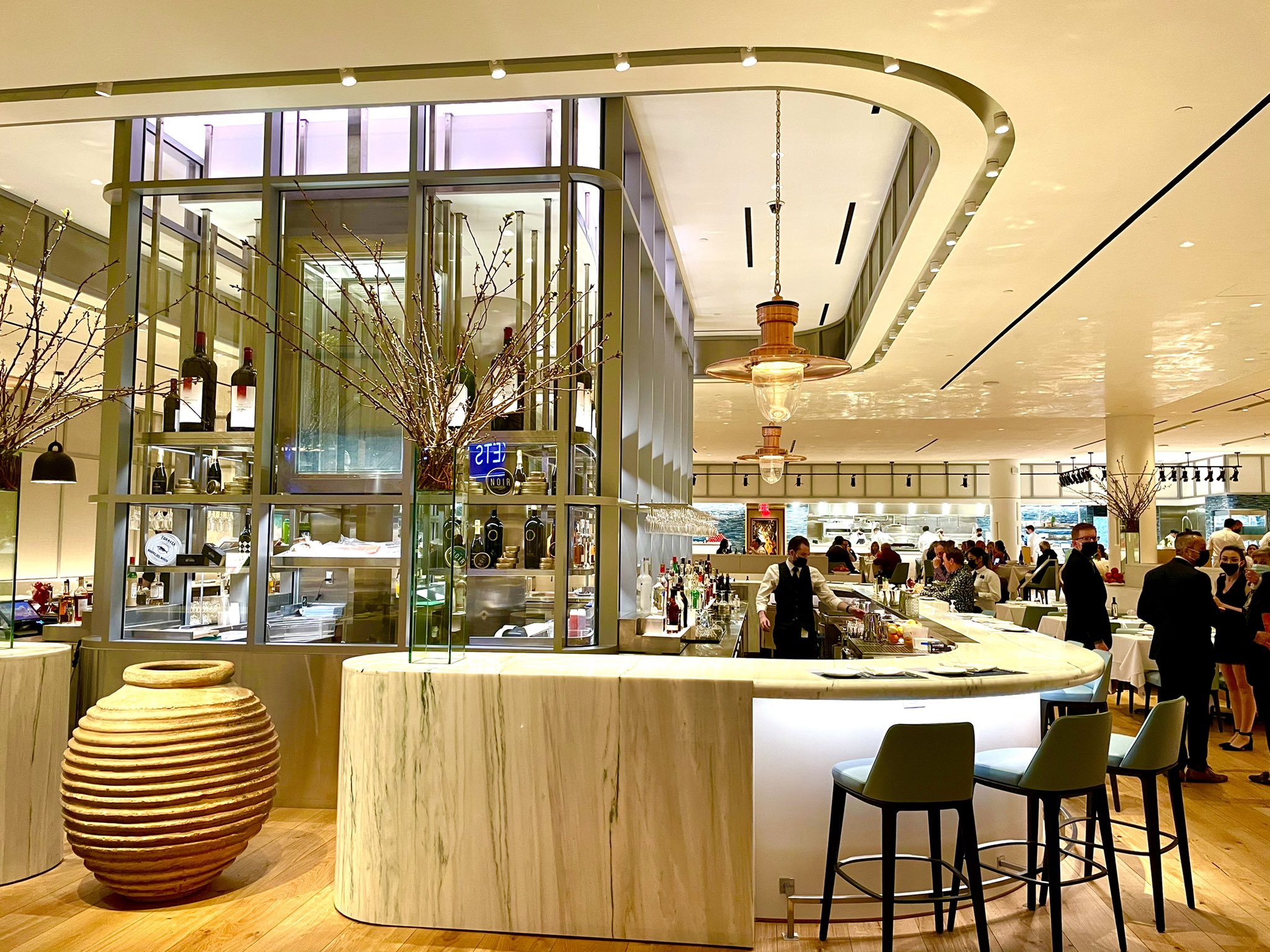 (Swanky and sexy)
The new bar at Milos is huge and a focal point. It is destined to be a hangout in its own right. CdM bar is smaller and more of a way station for those waiting for a table. Both have impressive collections of pre- and post-prandial booze. I'm not the guy to judge the mixology, but I've never had anything less than a stellar cocktail at either.
Draw
Pasta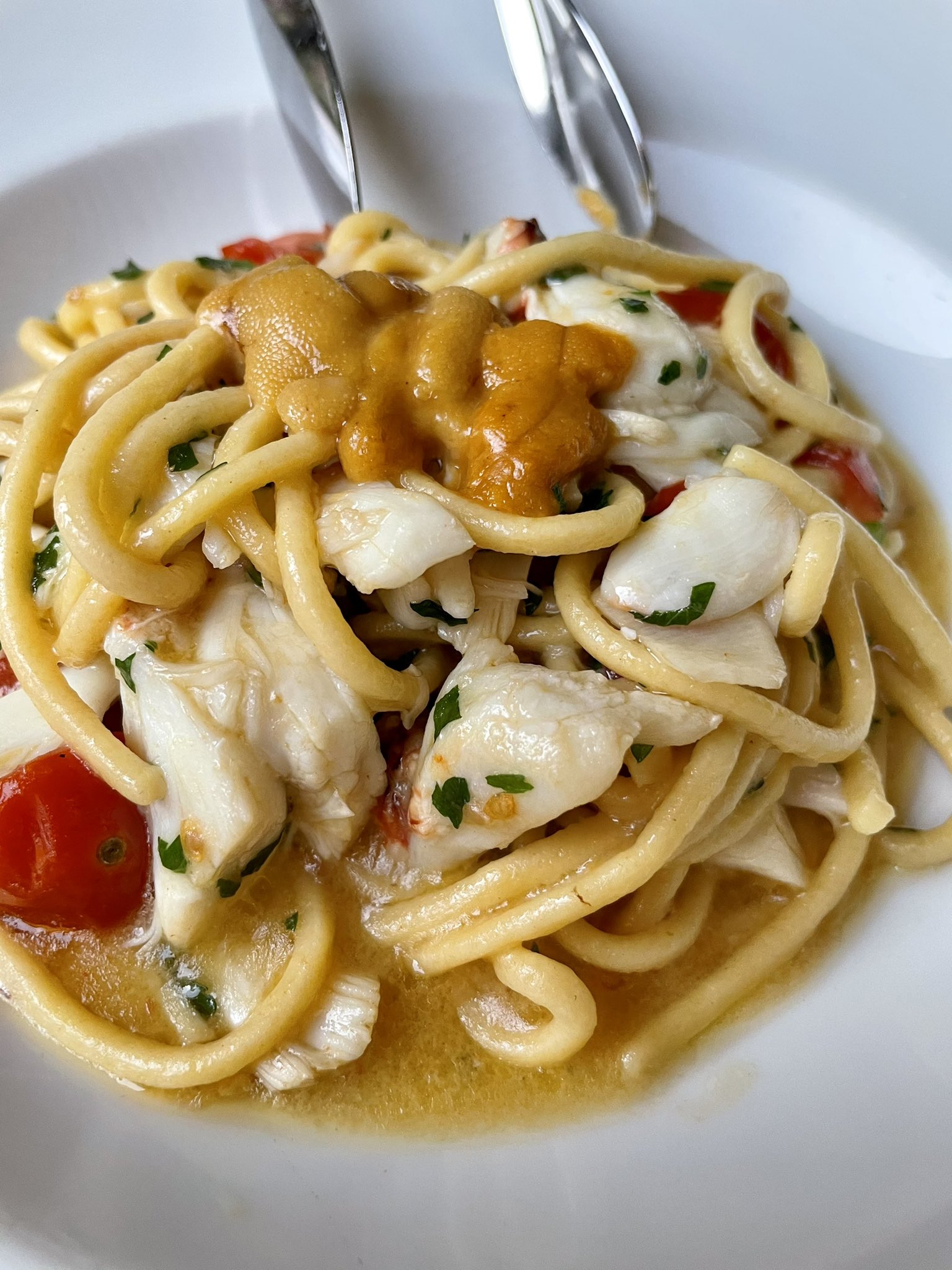 (Uni pasta a la LoRusso)
No contest. Costa di Mare has some of the best Italian pastas you will find in Las Vegas….or anywhere in America for that matter.
Advantage, Costa di Mare
Food/Cooking/Menu
Milos doesn't know how to improperly cook a piece of seafood. But CdM has serious kitchen talent at the stoves in the form(s) of Mark LoRusso and Daniela Santos.
Milos has tried and true formula which works across the world; CdM is more inventive with its menu and cooking, and its pastas alone are worth a special trip.
Advantage, Costa di Mare
Dessert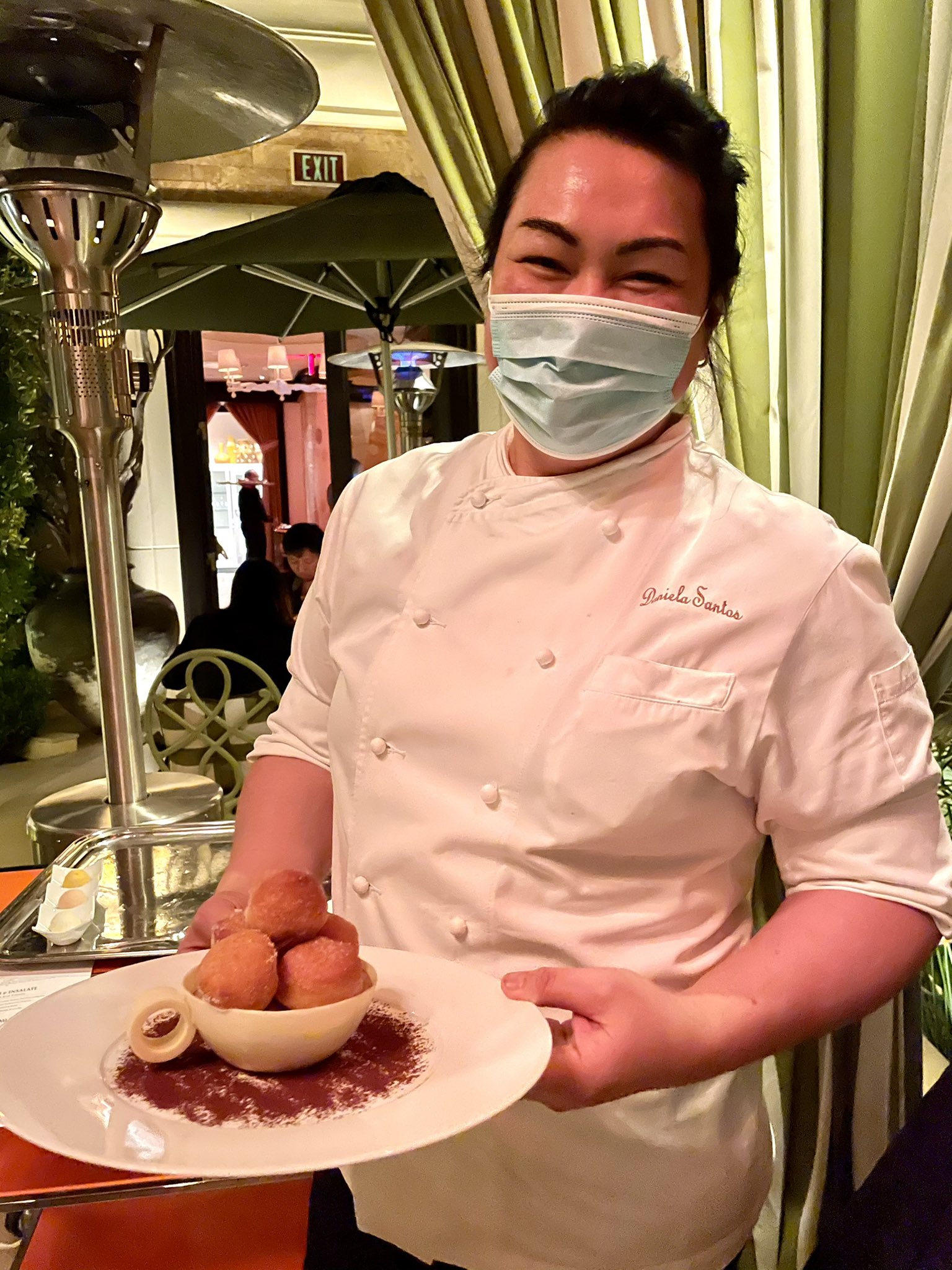 (We heart Daniela)
Once again, you can't fault Milos for its tried and true Greek sweets, but CdM has a first-class pastry chef (Santos) in the kitchen.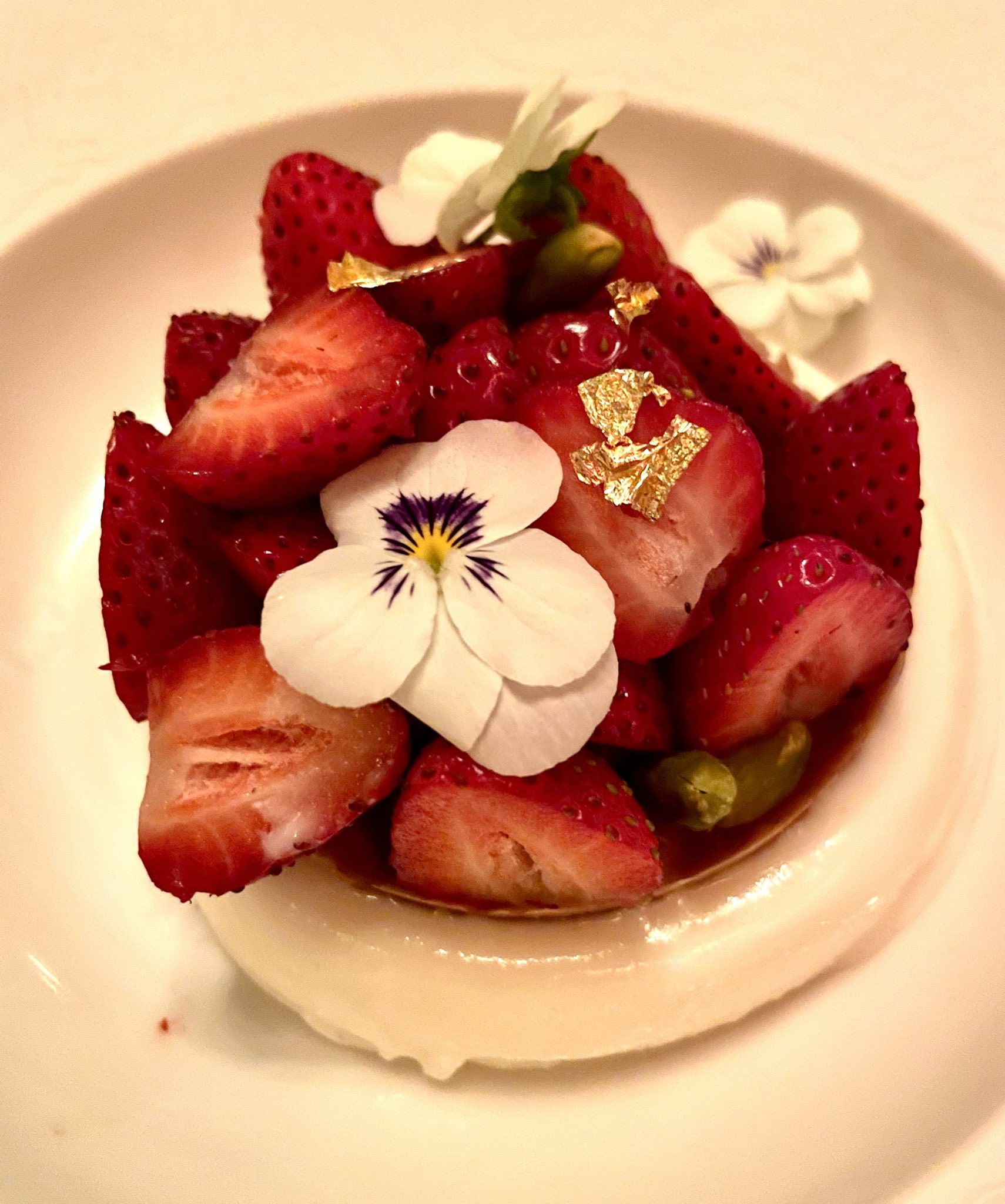 (Berry, berry good)
Advantage, Costa di Mare
Wine
Greek wines go with seafood like mint leaves and lamb. You may not be able to pronounce them (see below), but that's why they're so reasonable.
The list at CdM is objectively better, deeper, and broader in its selections. It is also priced for the big boys, not mere mortals. Trying to find a wine bargain at the Wynn is more useless than looking for a ham sandwich at a bar mitzvah, BUT Covid has caused a huge surplus of un-drunk bottles up and down the Strip, so CdM now offers some discounted "Cellar Selections" with softer markups.
Selection – Advantage, Costa di Mare
Price – Advantage, Milos

Wine Service –  Advantage, CdM
Country of Origin – Advantage, Milos (You may disagree, but Greeks were washing down their Χταπόδι (Chtapódi/octopi) with Asyrtiko when the Romans were suckling on the teats of wolves.
Therefore, Draw…unless you're fishing for big game, in which case you'll love the Costa di Mare list. If you're looking for a good bottle at a less predatory-shark price, it's Milos.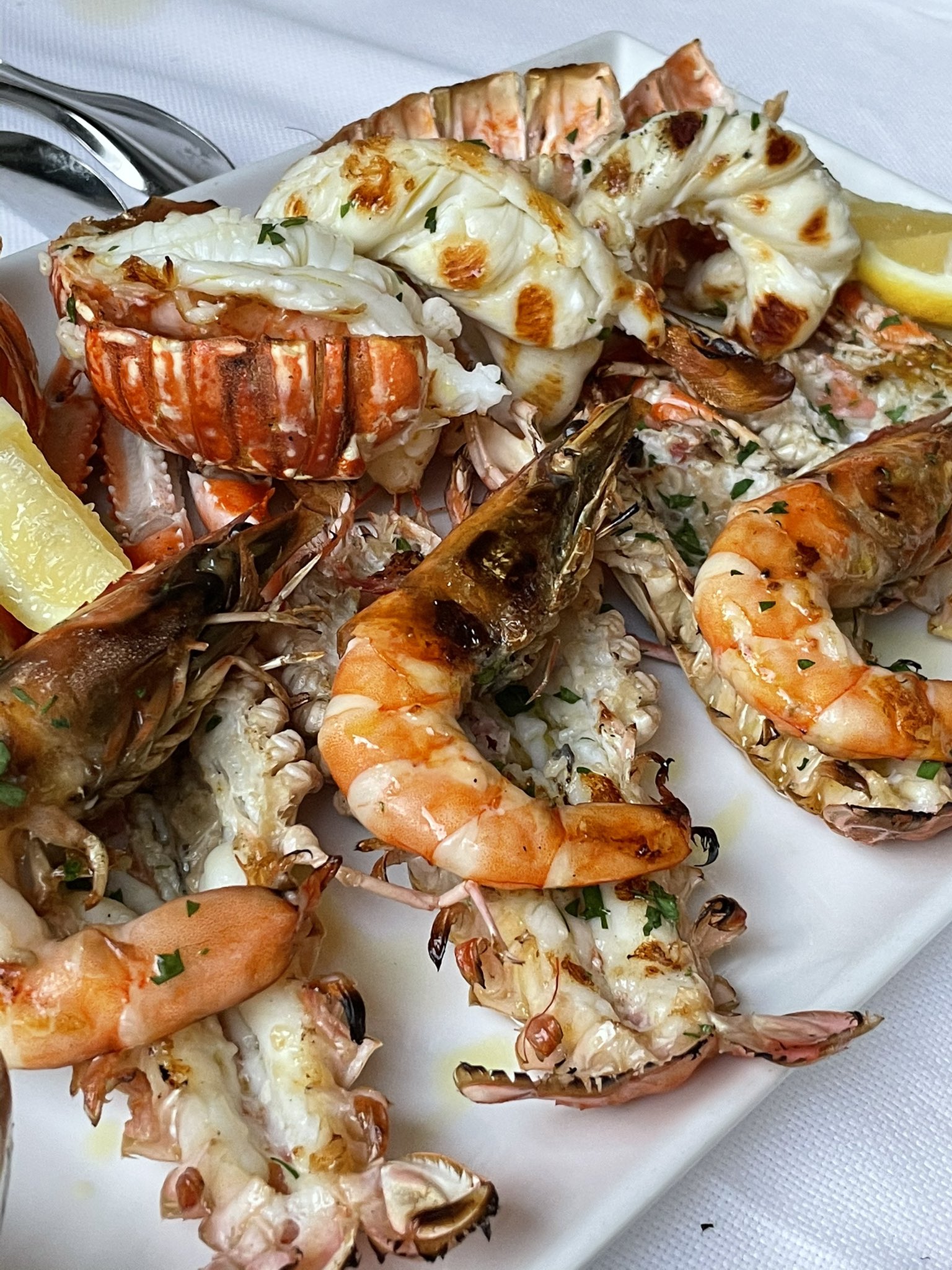 Let's Recap:
Wine – Draw
Dessert – Costa
Food/Cooking/Menu – Costa
Pasta – Costa
Bar – Draw
Bread – Draw
Appetizers – Draw
Seafood Selection – Milos
Hours – Milos
Lunch – Milos
Price – Draw
Service – Slight advantage to Costa because of Milo's new digs

Decor – Draw
Judgment
If you're scoring, you'll see a 1 up victory for Costa di Mare by the thickness of a soft shell crab shell: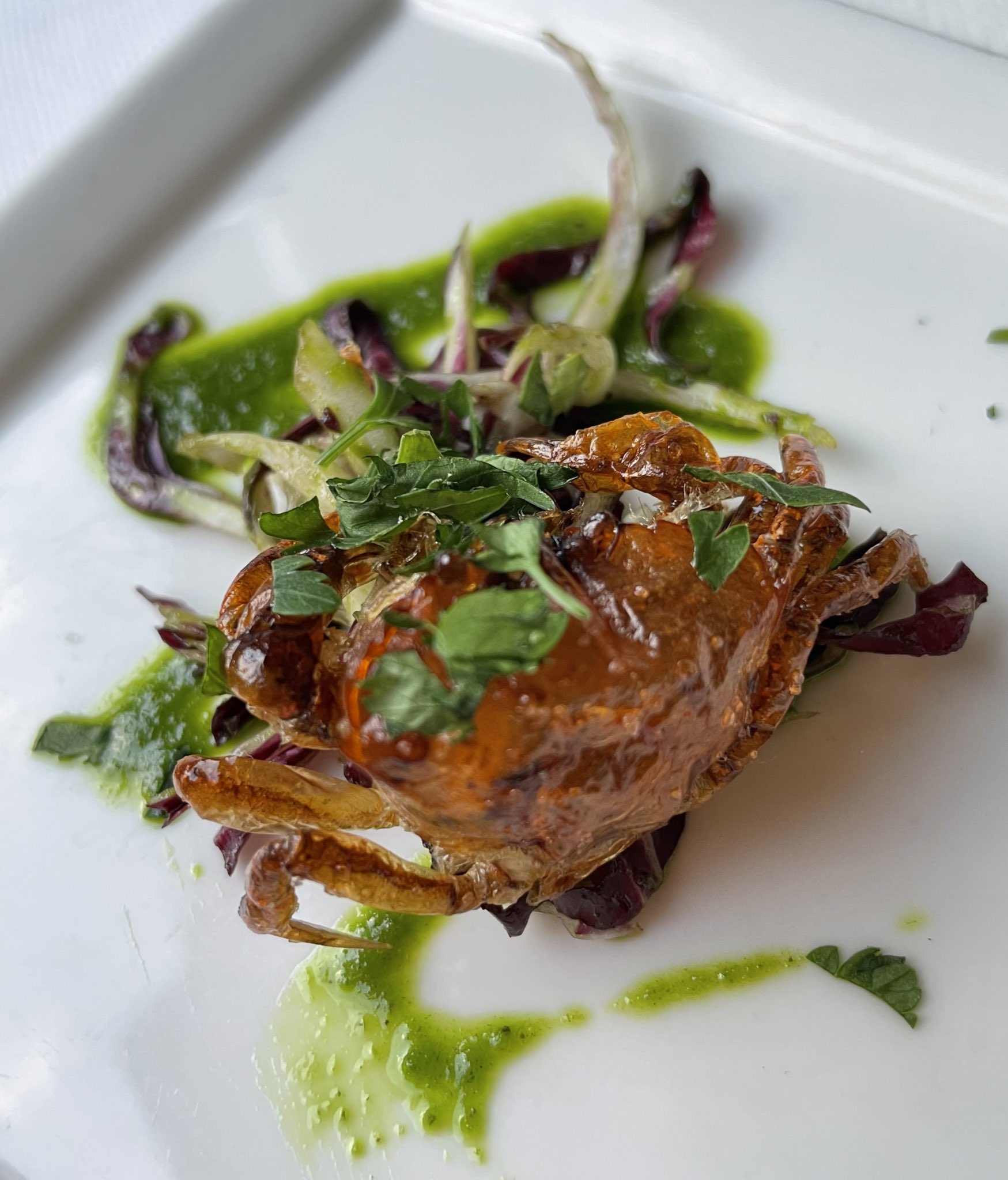 However, if you're paying attention, you'll notice that what looks at first like two similar restaurants are, in fact, two entirely different experiences.
Costa di Mare is a big deal meal Vegas restaurant with all the luxury trappings, right down to the exotic amaros, ports, and digestivos.
Milos is very much like its chef/owner Costas Spiliadis: welcoming, informal, but very serious about its Greek food.
Wherever you find a Milos (from Montreal to Miami) it is always one of the best seafood restaurants in town. It is, by far, the best Greek restaurant within ten miles of the Las Vegas Strip, and you'll have trouble finding a better one anywhere west of the Mississippi.
Costa di Mare is Italian in focus, a lot more chef-y, and sui generis. If I wanted to impress a date, I'd take her to the Wynn; if I want simple, beautiful fish that tastes like it jumped out of the sea and directly onto my plate, I'll go to Milos.
No matter where you end up, you won't regret it, because, and you can sea, both are fin-damentally….wait for it….wait for it… soleful: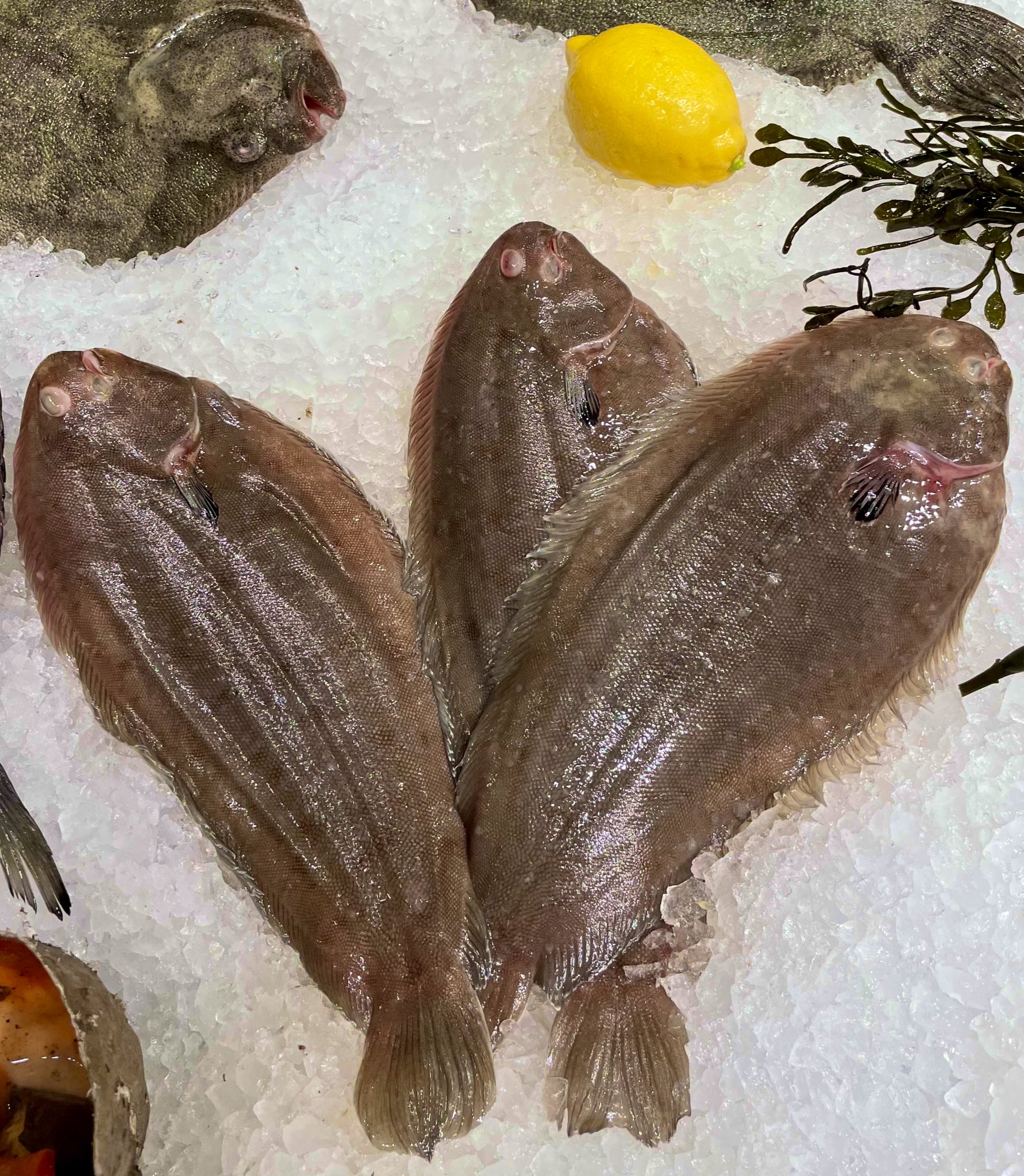 (Face it, you're bass-ically hooked on these sofishticated puns)
COSTA di MARE
Wynn Hotel and Casino
3131 Las Vegas Blvd. South
Las Vegas, NV 89109
702.770.3305
ESTIATORIO MILOS
Venetian Hotel and Casino
3355 Las Vegas Blvd. South
Las Vegas, NV 89109
702.414.1270