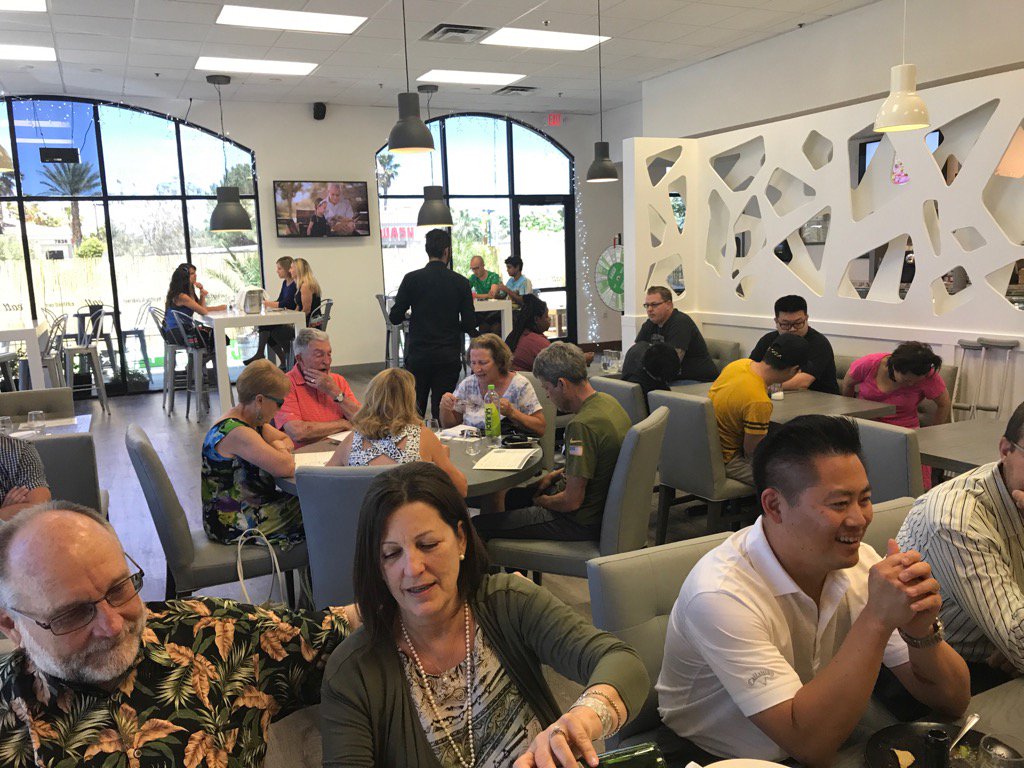 When Eatt Gourmet Bistro opened its doors a year ago, I was less than confident in its chances for success.
The location on west Sahara had been the graveyard of a number of places — ranging from health food to barbecue — and the name it began with ("Eatt Healthy Food"), did not inspire appetite or optimism.
What the place had in spades though, was the assurance of its owners. The three of them (chefs Yuri Szarzeweski and Vincent Pellerin, along with manager Nicolas Kalpokdjian) exuded the confidence of youngsters who didn't know what they were getting into. To be frank, even after a couple of fabulous meals here, I was worried about them. What impressed me early on was their technical proficiency with some pretty high-flying recipes. What concerned me was a certain timidity about the seasonings, and the fact that they were perhaps too good for the 'burbs — it being a well-known fact that most of our citizens who eat out are hunting for familiar food at bargain prices. And to be blunt about it: familiar this food is not.
There's nothing ordinary about gorgeous cantaloupe "roses" accented with balsamic crisps: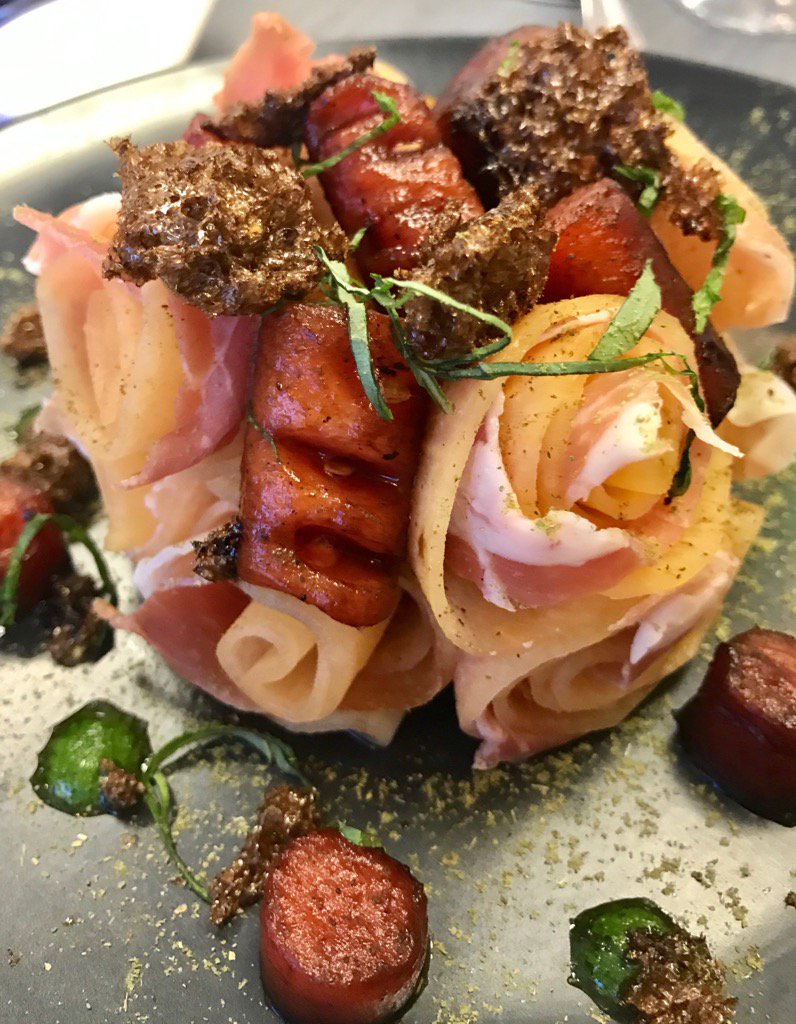 …or octopi carpaccio of uncommon awesomeness: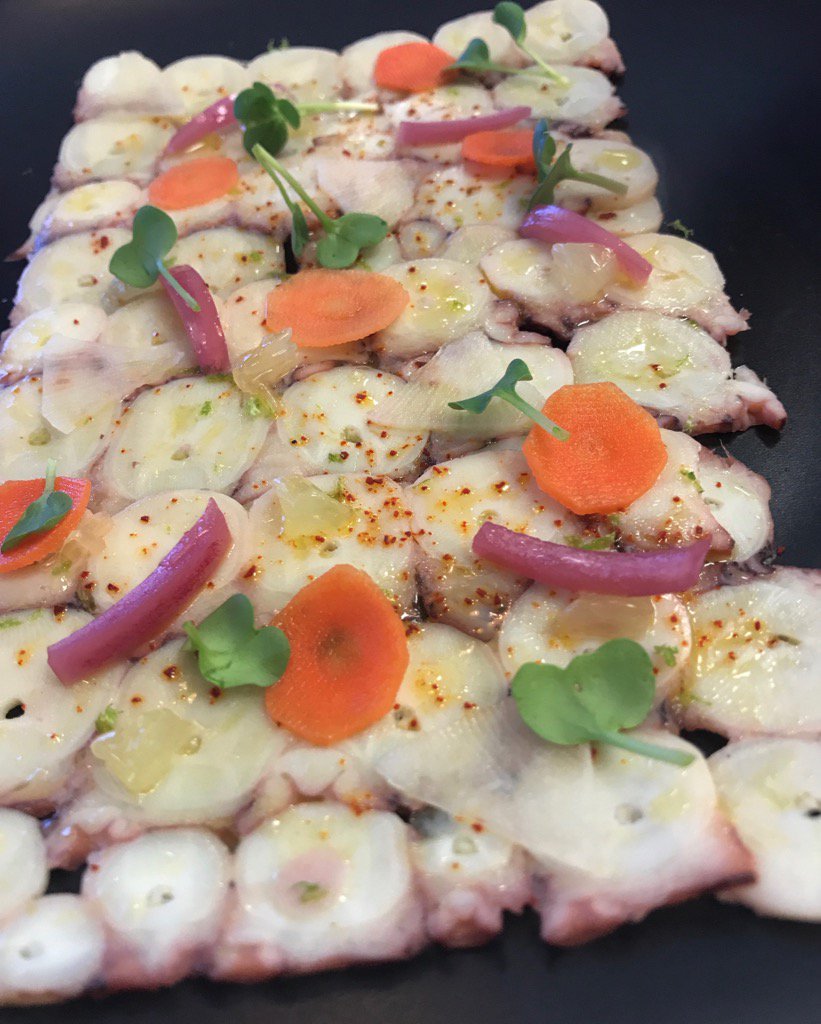 And let's face it: medallions of glazed pork in a pea puree, are a tough sell even a half mile off the Strip: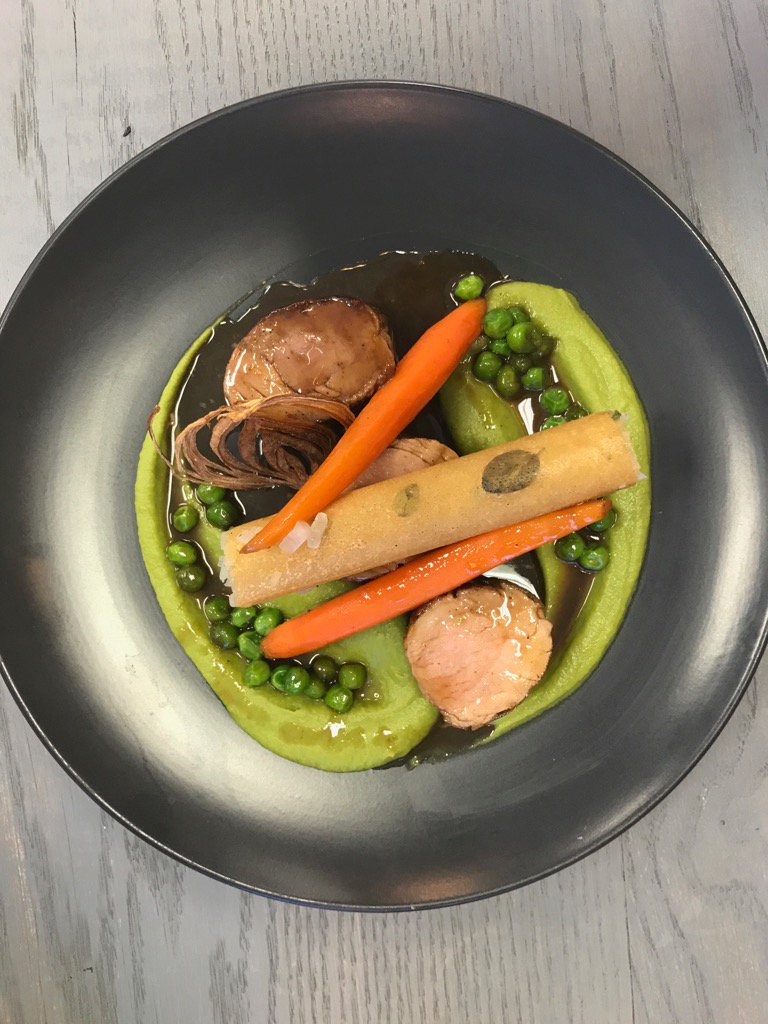 The suburbs of Las Vegas have never seen anything like a supple duck breast atop a silky corn puree, dotted with fresh blueberries, baby corn and popcorn (yes, popcorn) — a dish that sounds a bit odd, looks a bit strange, and tastes more than wonderful: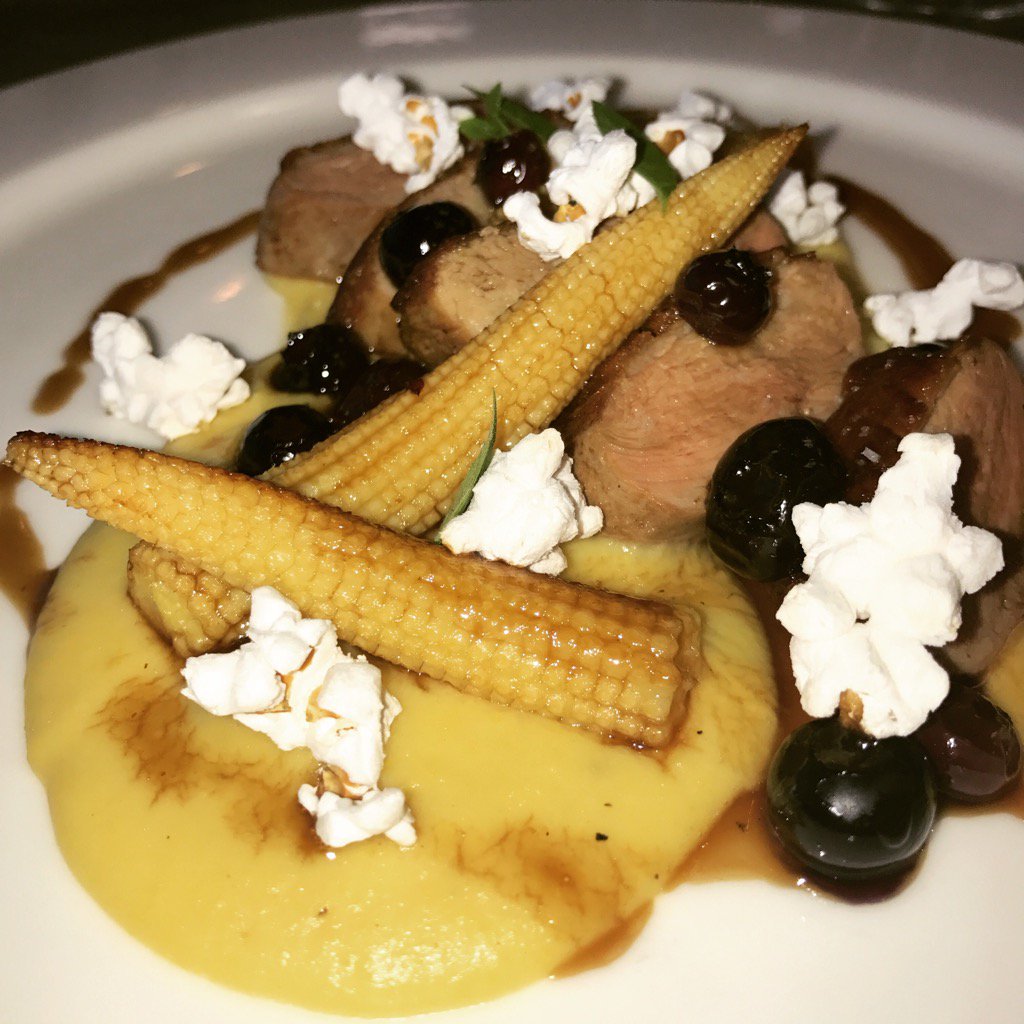 Seasonal eating is something to which most neighborhood joints only give lip service. At Eatt, you get not one seasonable soup but two: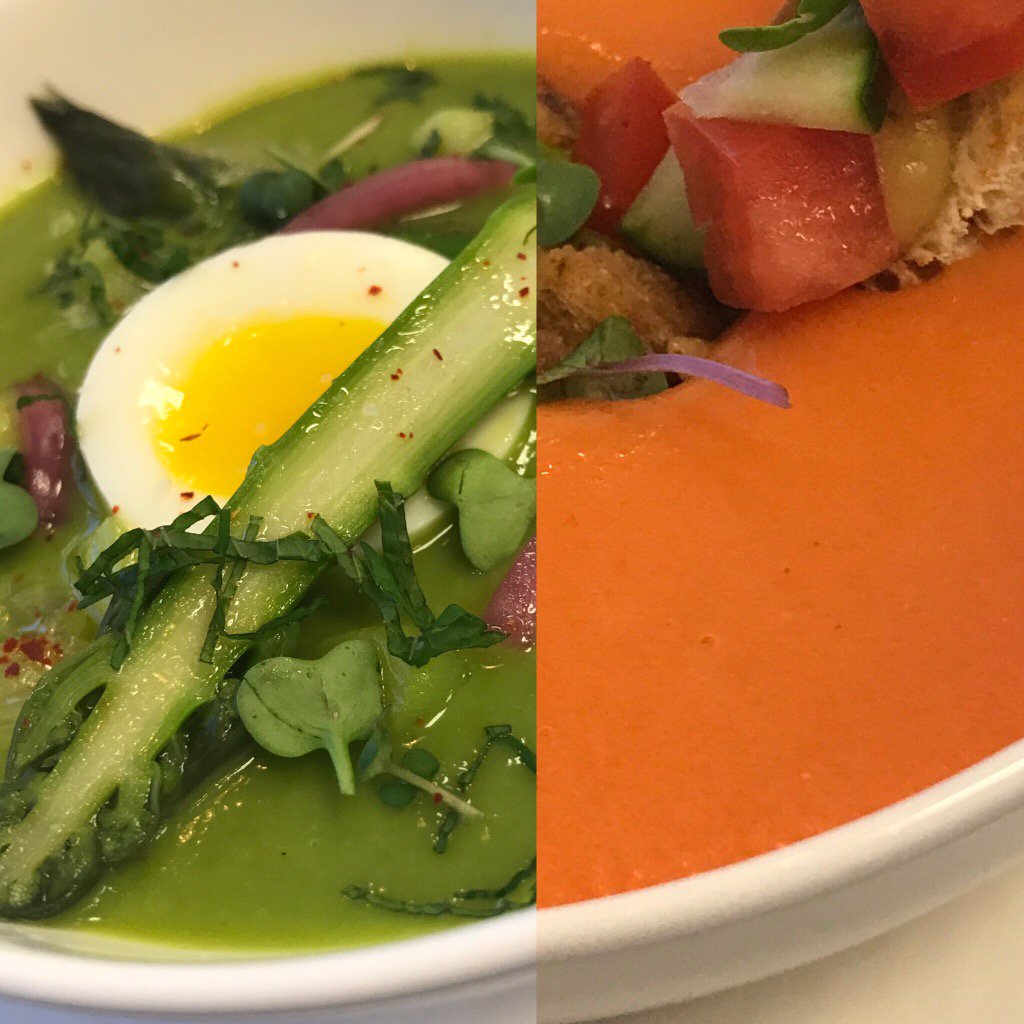 …a cold asparagus, and a gazpacho, both so vibrant with veggies you're tempted to order a second bowl and forget about the rest of your meal altogether. The seasonal vibe carries through the entire summer menu, from the martini glass of king crab through to the beautifully composed burrata with cubed tomatoes and pesto. Everything being more aggressively (dare we say confidently?) seasoned and presented than it was when they first opened.
One thing that hasn't changed a bit are Pellerin's desserts. It would be hard to improve upon perfection, and top to bottom, they're just about perfect.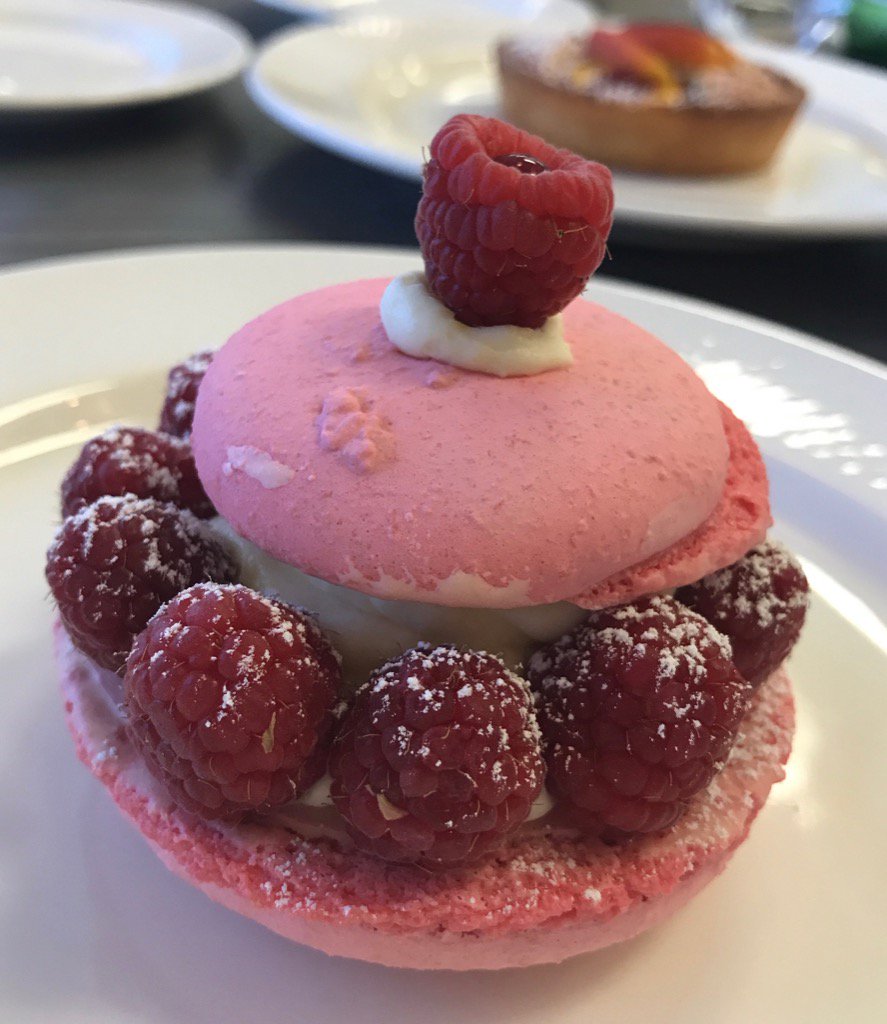 This is sophisticated food to be sure — the most refined cooking, by far, anywhere outside of a major hotel. In many ways it reminds me of a more casual, slightly less refined version of Twist by Pierre Gagnaire. Clean, precise, inventive French food, on west Sahara at Buffalo, that the crowds are now responding to. Who would've thunk it?
Cold