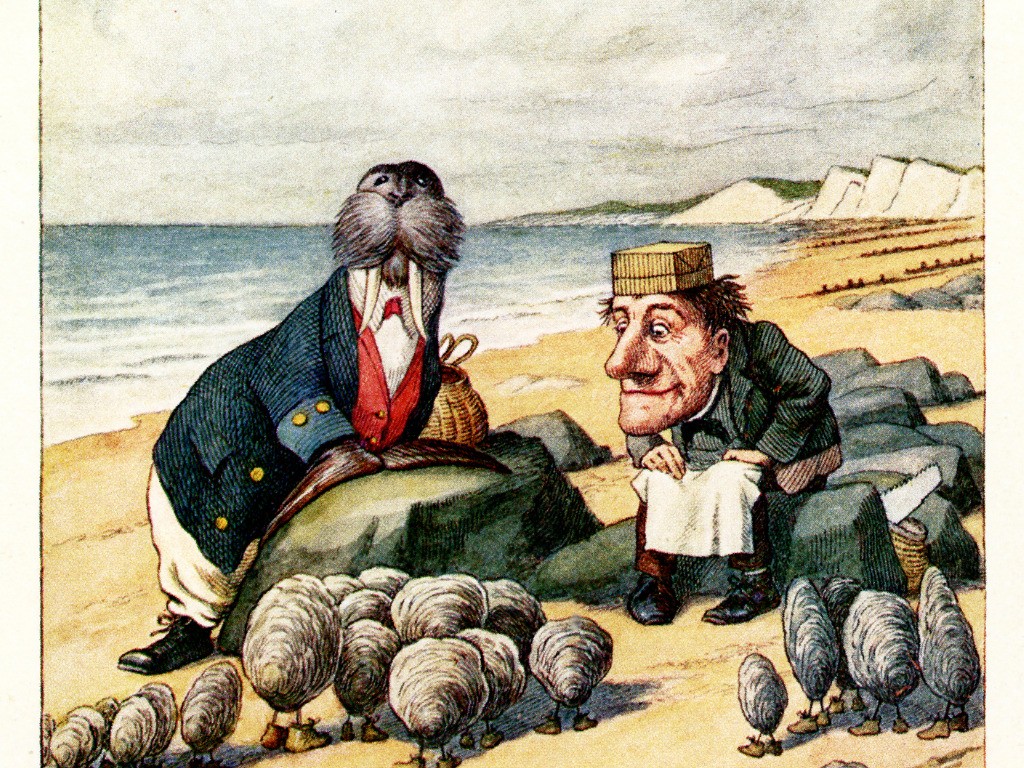 'The time has come,' the Walrus said,

'To talk of many things:
Of shoes – and ships – and sealing wax –

Of cabbages and kings
And why the sea is boiling hot –
And whether pigs have wings.'
– The Walrus and the Carpenter, Lewis Carroll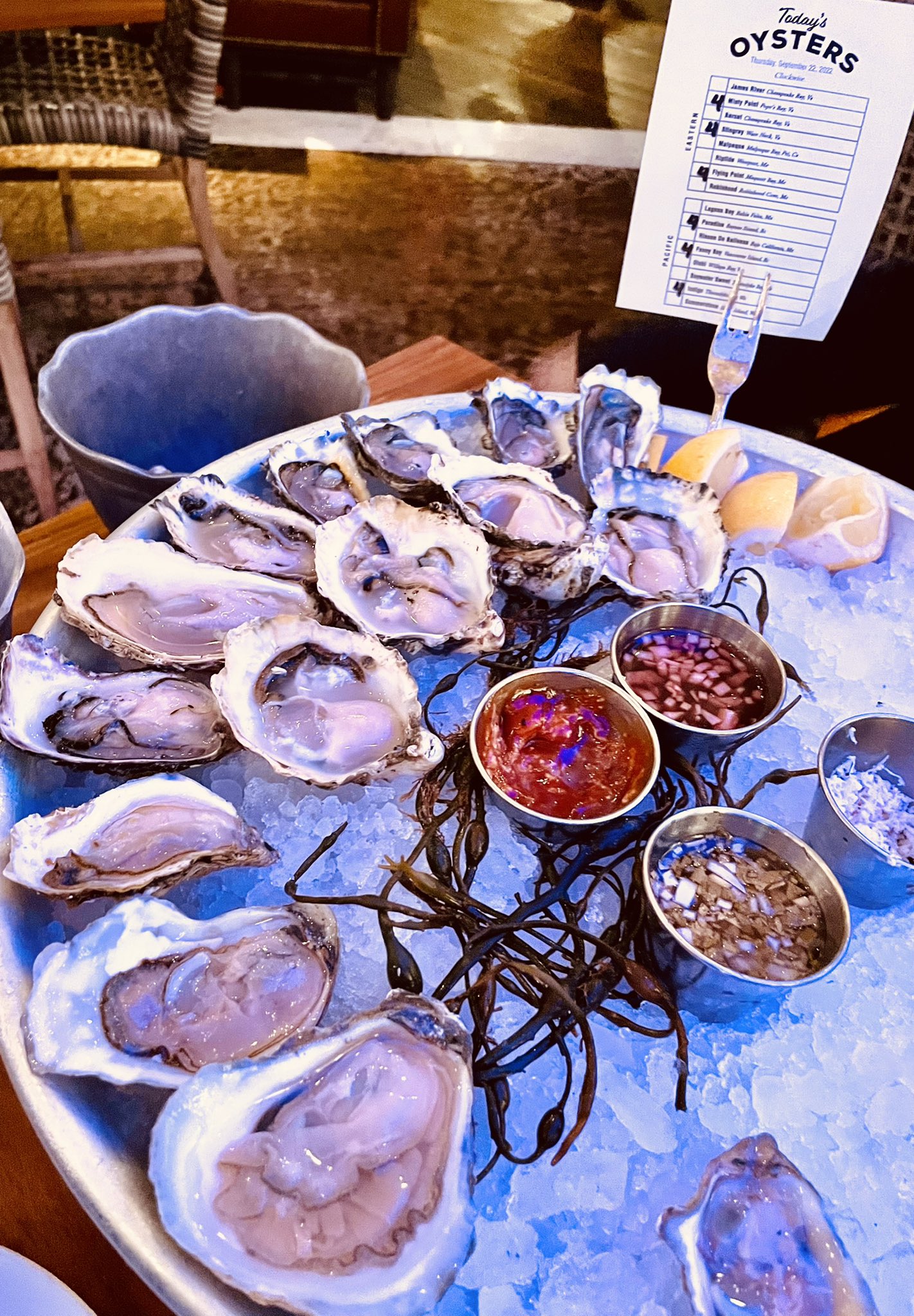 (And all the little oysters stood, and waited in a row)
Oyster season is upon us. The days in Vegas aren't quite so hot; and the nights are even a bit cool. Spirits brighten, paces quicken, appetites increase, and Las Vegans come out of their shells, as do bivalves…inasmuch as the latter involves being on the end of an oyster fork.
Summers you see, are for hibernating, both for certain shellfish, and people accustomed to enduring 108 degree heat for weeks on end. Oysters mate in the summer (and get watery and flabby in the process), while residents of the High Mojave do the same, at least as it involves staying in our air conditioned shells, or in a swimming pool, as much as possible.
Every year, almost like clockwork, we get hungrier on September 15th. Labor Day may be the unofficial end of Summer, but for us, the weather always seems to break about two weeks later. Sure, the hot days don't disappear entirely until mid-October, but as soon as we feel a nip of cool in the morning, we start celebrating. And by celebrating we mean going out to eat like a starving man attacking a banquet.
Through happenstance as much as planning, this year we found ourselves overwhelmed by Italian, suffused with seafood, and awash in oysters. Below are some impressions of our more noteworthy meals…and by "noteworthy" I mean ones we either loved or hated.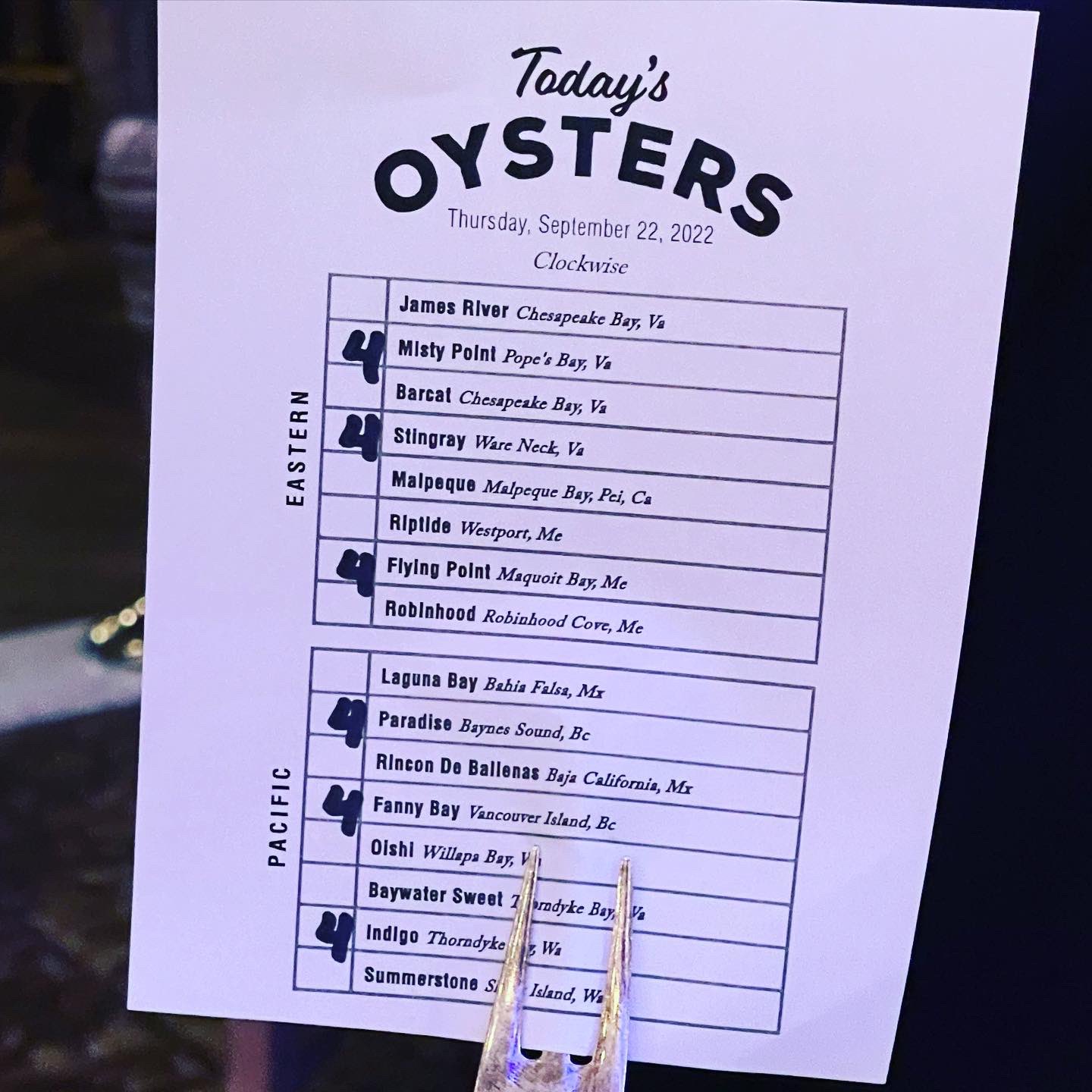 (Never eat 'ersters in any month without a paycheck in it)
Like the Walrus and the Carpenter, we eagerly await the arrival of plump, firm 'ersters from both coasts, and the best and freshest collection in town can usually be found at the Water Grill. Unlike the Walrus, we feel little guilt in luring a couple of dozen of these eager little creatures into our greedy maw. Instead of poetry and persuasion, we use cash…in this case around $42/dozen. Stick with West Coast is our usual mantra: they have traveled less and have more of the mineral-rich salinity we look for. The WG may be part of a chain, but it's a chain restaurant with sole…that knows it plaice, and hasn't floundered since landing on the L.A. scene 30 years ago.
After gorging ourselves on Fanny Bays and Indigos, we next found ourselves inundated with Italians. (In case you haven't noticed, Vegas is lousy with Italians these days.)
An old friend met us at Piero's for a birthday party (and we stayed for a bite); another epicurean acquaintance lured us back to Lago; everyone said Amalfi was amazing, so we had to see for ourselves. Then RPM opened for lunch, and of course we had to go. In between all these, we also squeezed in multiple lunches at Cipriani, a lunch at Esther's Kitchen, and dinners at Milano and Rosa Ristorante. Between the eight of them, we noshed on enough noodles to numb a Neapolitan.
But you do not come here to hear about our digestion, dear readers, you come for the piquancy of our opinions. So let us get straight to the nitty Pecorino.
SHIPWRECK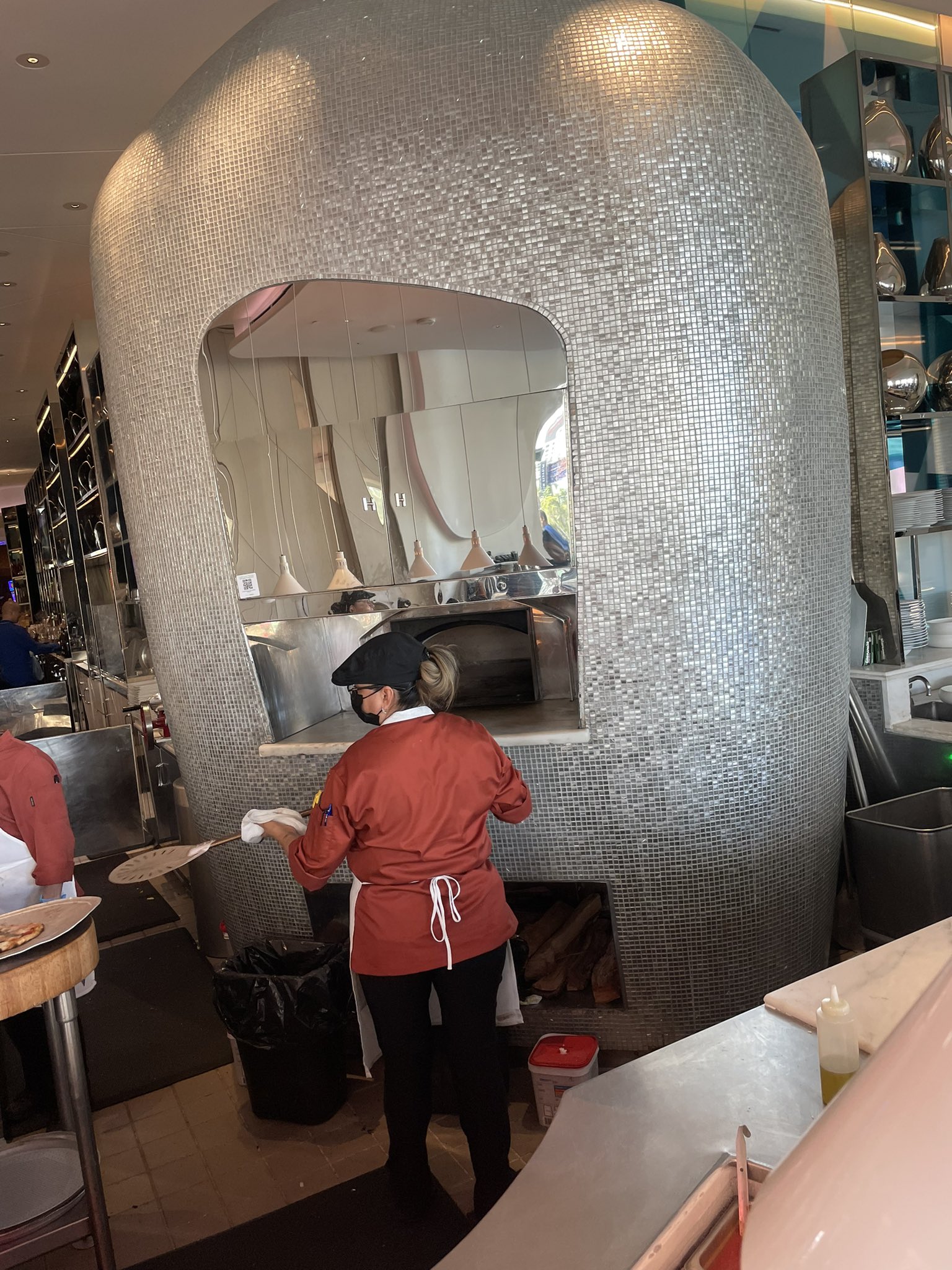 (All show no dough)
Lago has always suffered from unfortunate nautical design that puts one in mind of a cruise ship. Which is fine if you like dining with people whose idea of culinary adventure is a carving station with a salad bar. There is truth in advertising, though, because the food here lives down to the decor.
The cheesy design also commits the sin of raising expectations. "You'd think with a contraption that impressive, they'd turn out something less crappy," one of our companions  observed after being confronted with a pizza oven that had to cost more than a Ferrari, and is the size of a walk-in closet (above). Another dining companion (let's call him the Restaurant Pro) said: "If they were serving this stuff in a neighborhood Eye-talian joint, you could forgive it." What he referred to was a meal of seven different items, each more sloppy and less worth it than the first
What is unforgivable is a mini "pizzette" tasting as if the Pillsbury Dough Boy poured a thimble of so-so sauce on a saltine: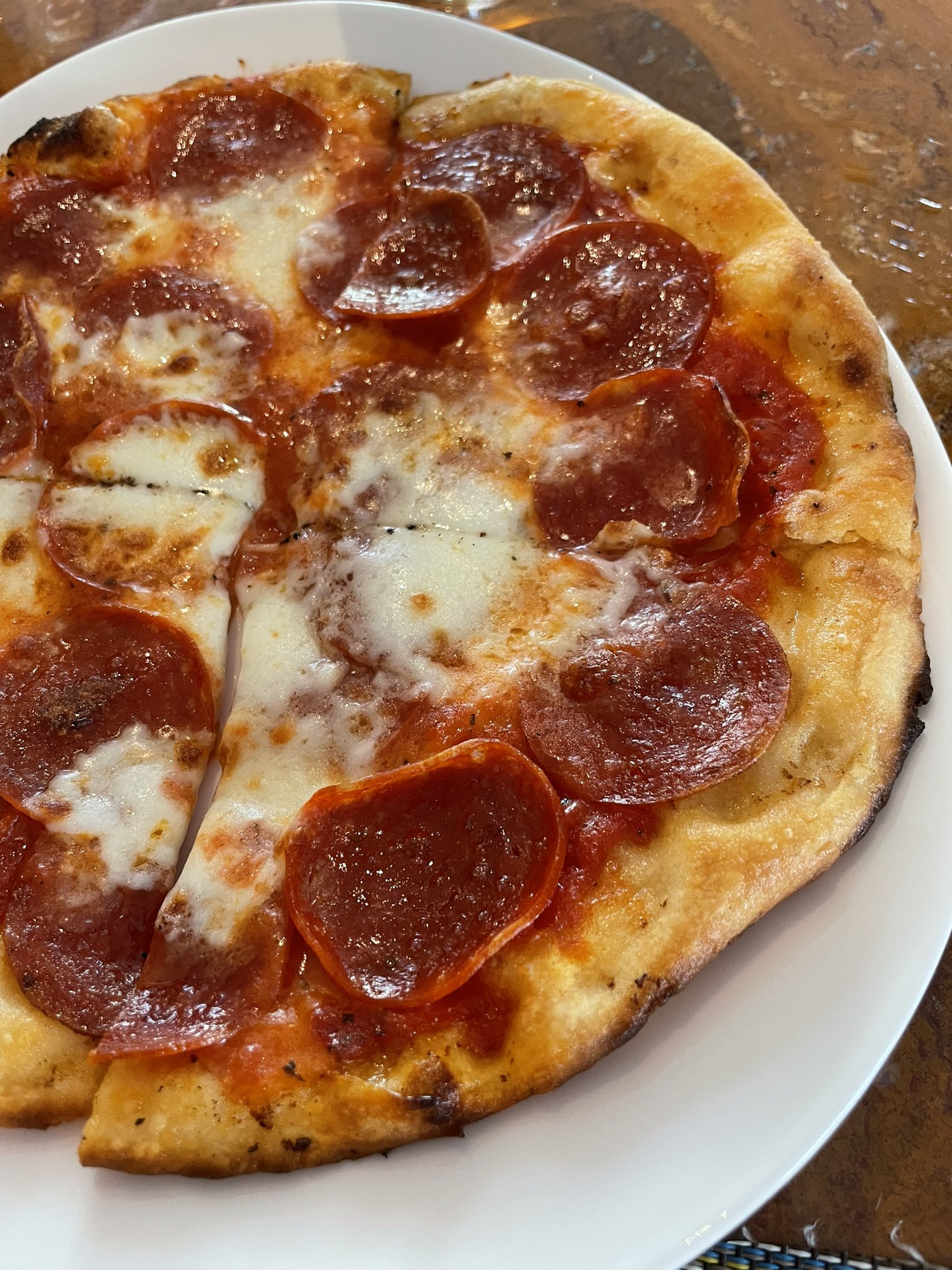 (Fuggidabadit)
….followed by gloppy, overpriced pasta, pedestrian, puny panzanella (bread salad), and pathetic chicken parm (see below) — the whole tourist-trapping shebang aimed at separating the credulous from their cash.
Lest you forget, Lago is located smack dab in the center of the Bellagio — a hotel which once had the greatest assortment of restaurants in Las Vegas, and maybe the world. It replaced Circo, a gastronomic gem of design, wine, solicitous service and Tuscan excellence. All Lago is servicing is the bottom line.
Sirio Maccioni must be rolling over in his grave.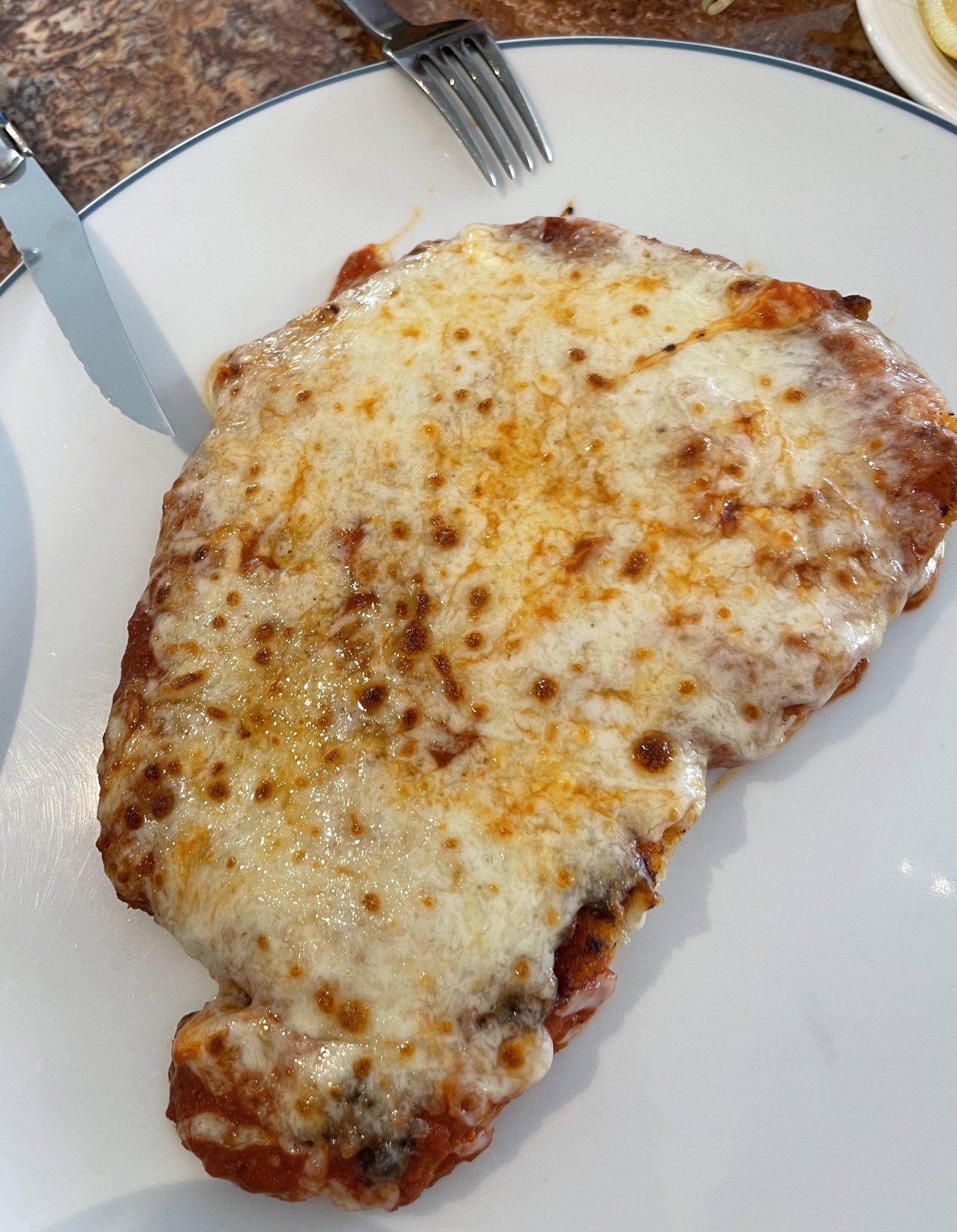 (Somewhere, Vital Vegas is salivating)
If you're interested (and you shouldn't be), lunch for five, with tip and a single, modest bottle, set us back a cool $411. This included seven tubes of rigatoni for $32 which in quantity and taste would've been a perfect meal for a three-year old.
LET'S GO FISH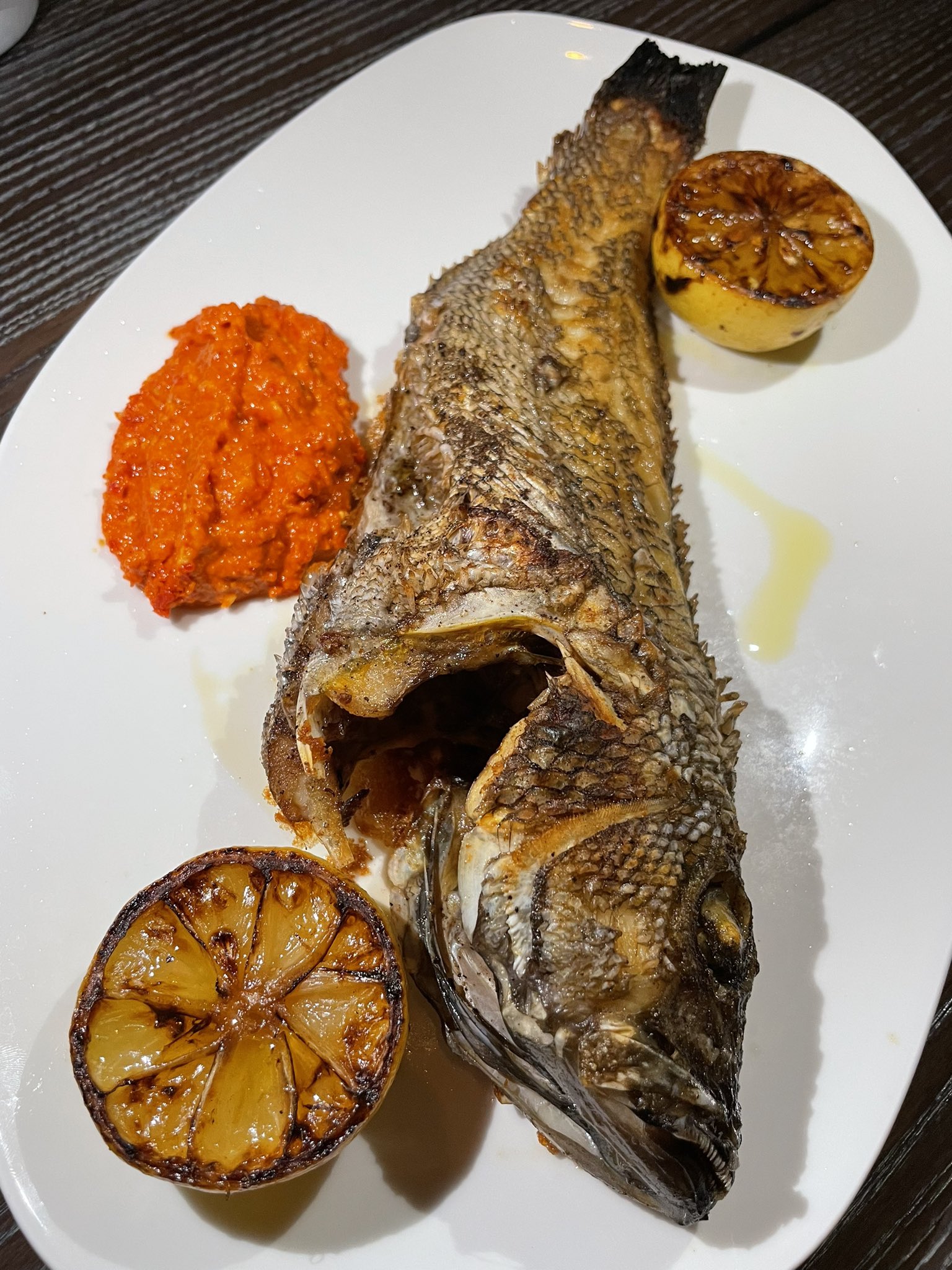 Amalfi by Bobby Flay was a pleasant surprise, and RPM blew us away so much we can't wait to return for dinner. Both feature by-the-numbers fare, with nothing to scare, tweaked here and there to give the place some flair.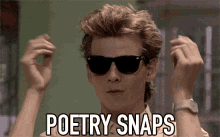 The whole point of Amalfi is pesce, and it takes its template from Milos by pricing fish by the pound and letting you choose it from a display at the back of the restaurant: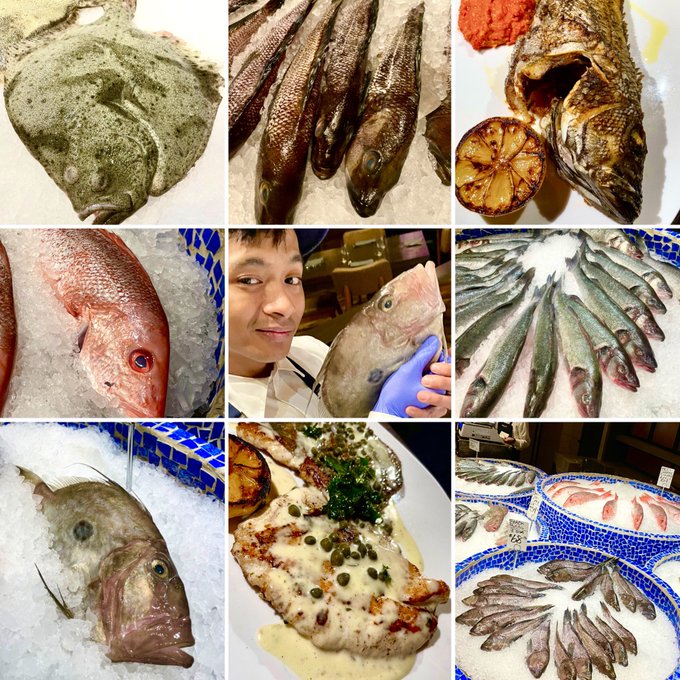 (Bobby's wet dream)
As with Milos, the fish is impeccably fresh and eyebrow raising-ly expensive (although we noticed a couple of species priced a buck or two/lb. less than at Milos). Appetizers toggled between ordinary (tuna tartare) to interesting (lemon-oregano prawns) to impressive (soft scrambled eggs with bottarga and tomato toast). Pastas were surprisingly astonishing, with a spaghetti limone that was loaded with Dungeness crab, and pasta "rags" (below) that showed spice, brightness, and restraint.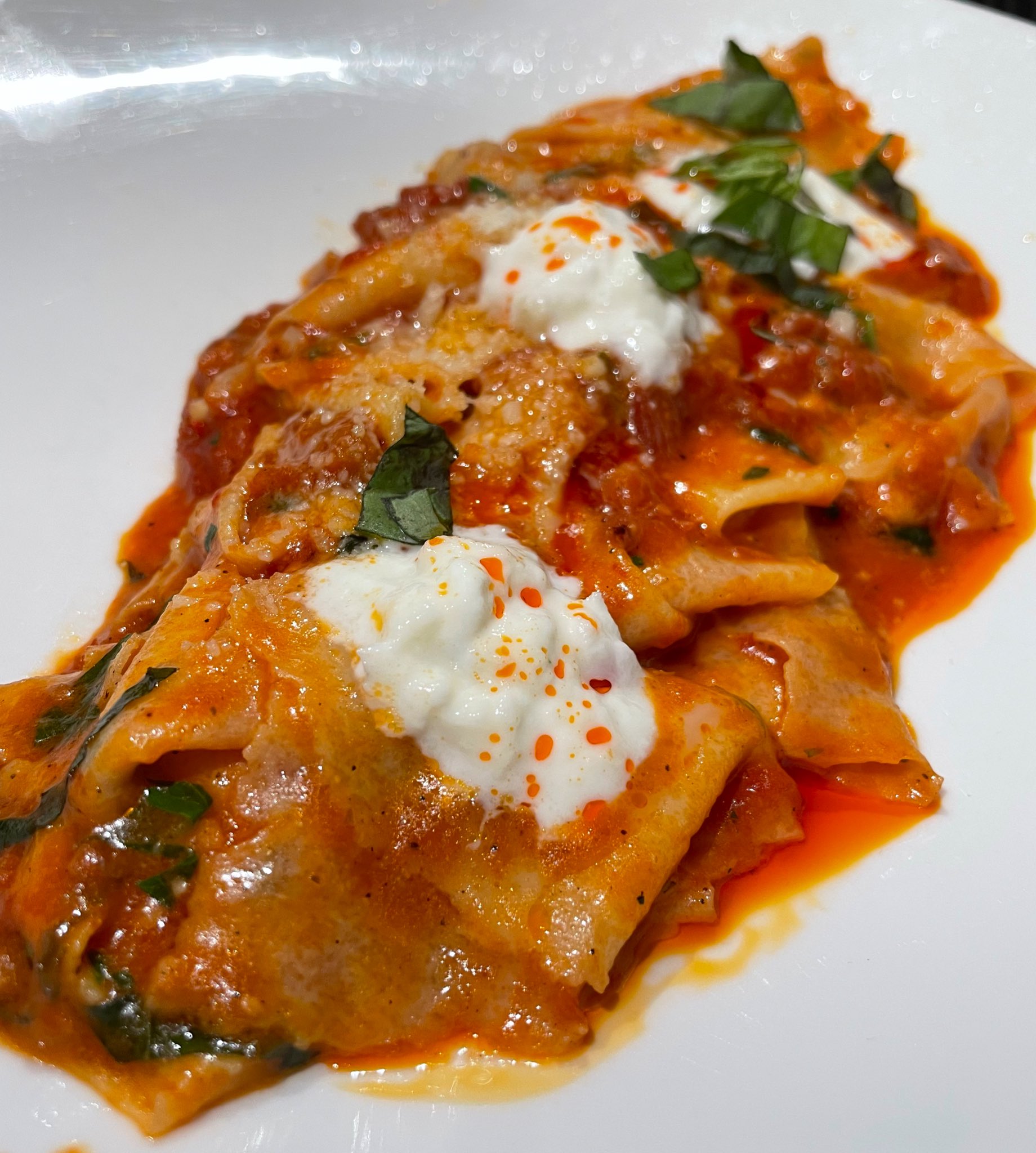 (From rags to richness)
These pastas prey among the pecunious, though, as they're priced from $28-$38.
As splendid as the food was, the crowd was even more inspiring, because 1) there was one (it was packed on a hot, Tuesday night); and 2) everyone looked their best, rather than the cargo shortswearing/hat-backwards/flip-flopping/t-shirt sporting/mouthbreathers who usually infest this hotel in summer.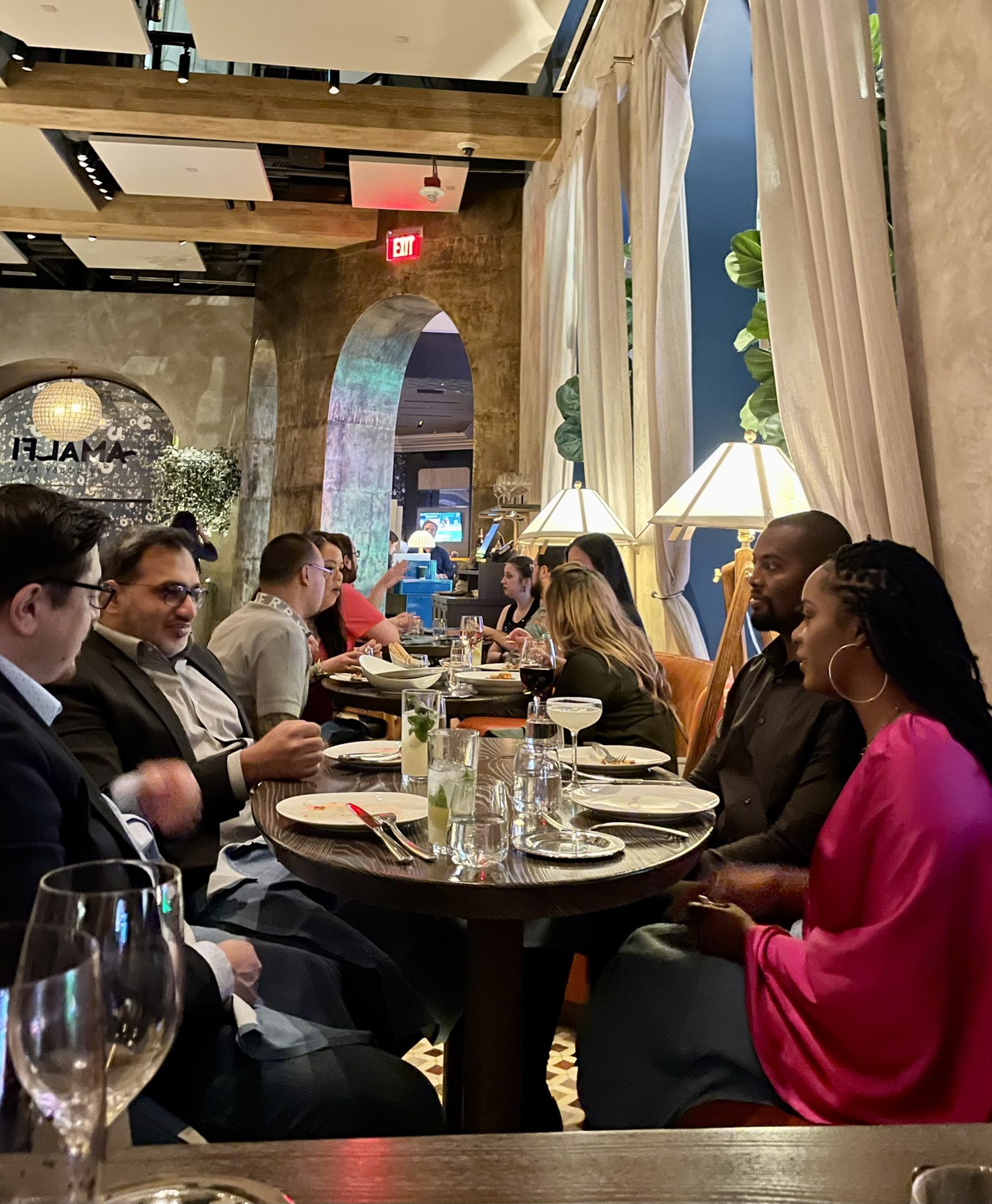 (Missing: wife-beaters and Bud Lite)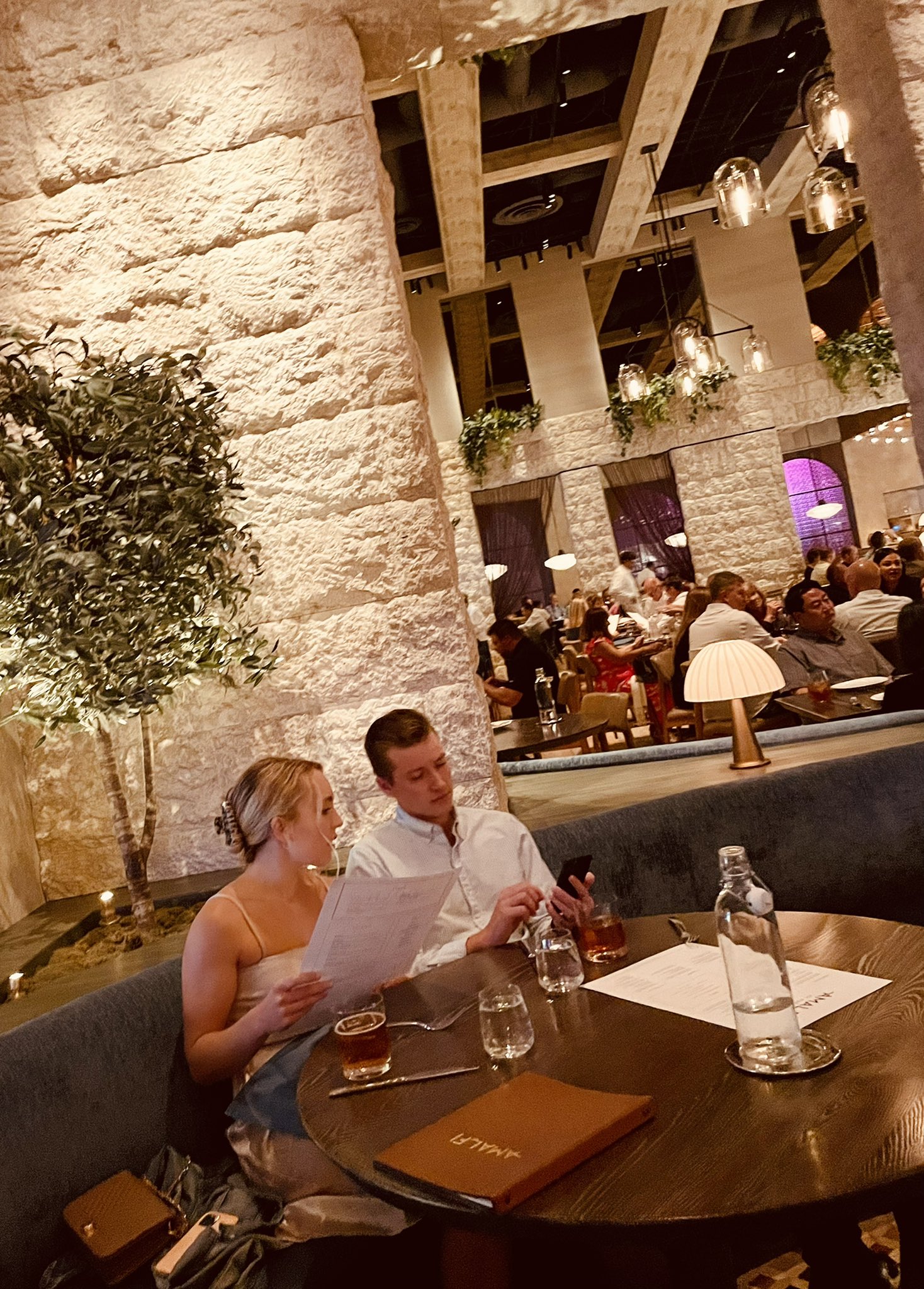 ("This guy Curtas says we should get the turbot…")
If Bobby Flay can motivate people to dress for dinner (and by "dress for dinner" we mean put on a collared shirt), maybe there's hope for humanity yet.
ENDLESS PASTABILITIES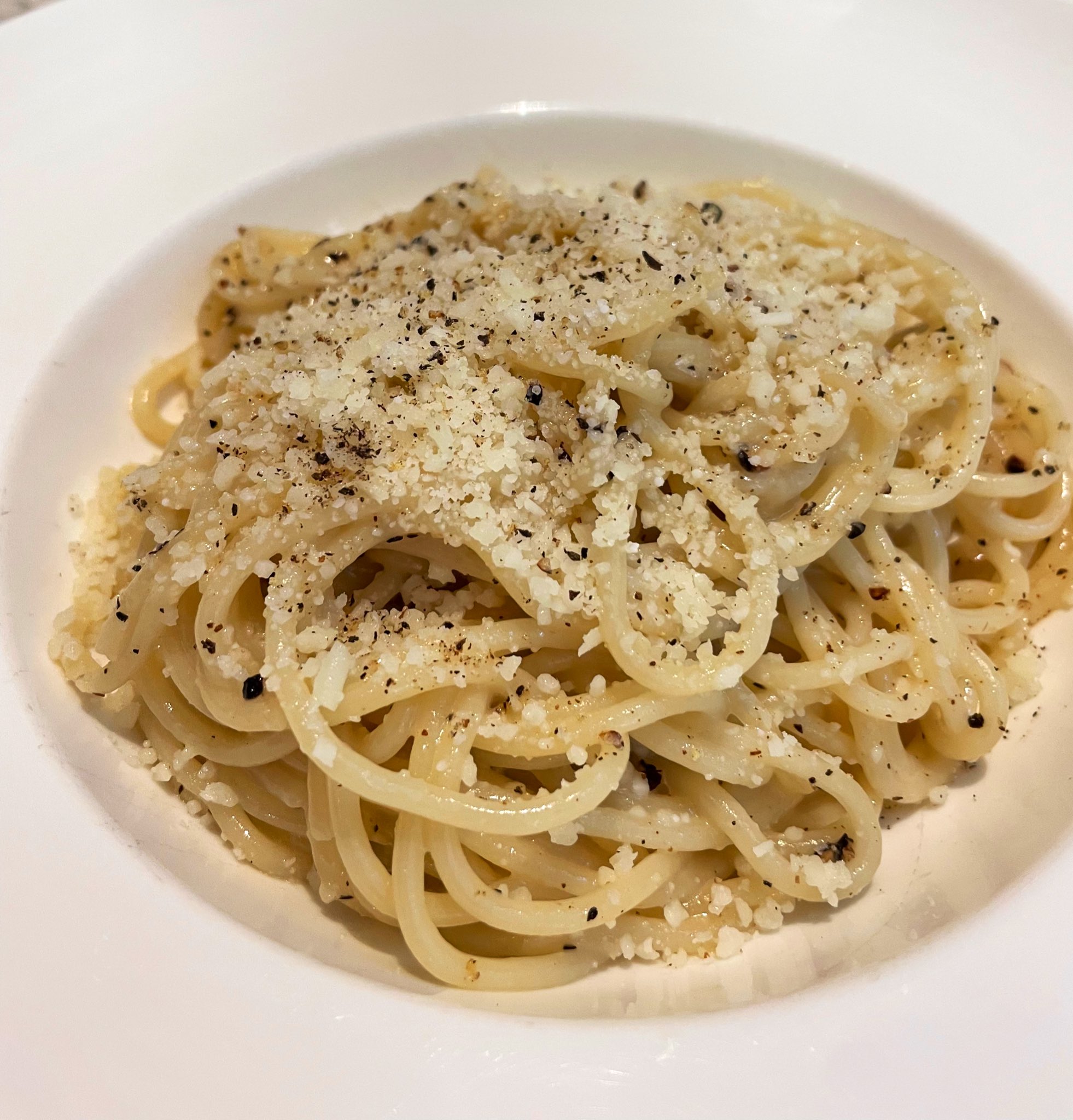 (Classic cheese and pepper)
RPM is the latest Italian upgrade on the Strip, and like its competition, it plows no new ground, preferring to concentrate on quality cooking over cartwheels. One lunch for two people does not a good sample size make, but we found our charred pepperoni pizzette to be almost perfect — a slightly spongy charred crust supporting a thick layer of strong, melted cheese and good sausages: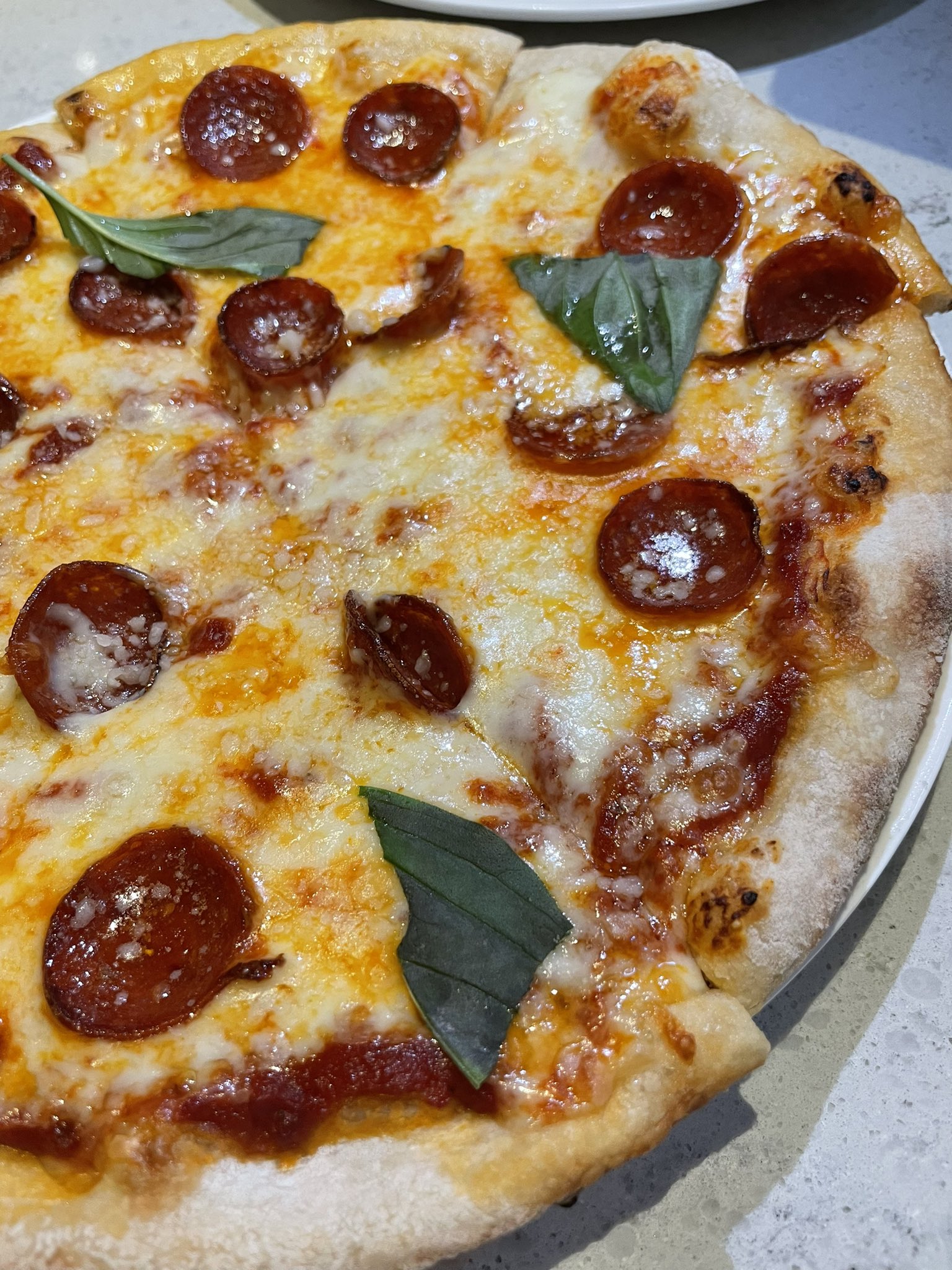 (Cheesy does it)
Look closely (above) and you'll see dough, properly proofed and baked with just the right amount of a tomato sauce  — smothered in an amalgam of nutty, serious cheese — so vibrant and umami-rich it practically explodes in your mouth. Finding a better mini-pizza in Vegas will not be easy. The cacio e pepe (above) and carpaccio were also first rate, as was the torta meringata, which roughly translates as "baked Alaska."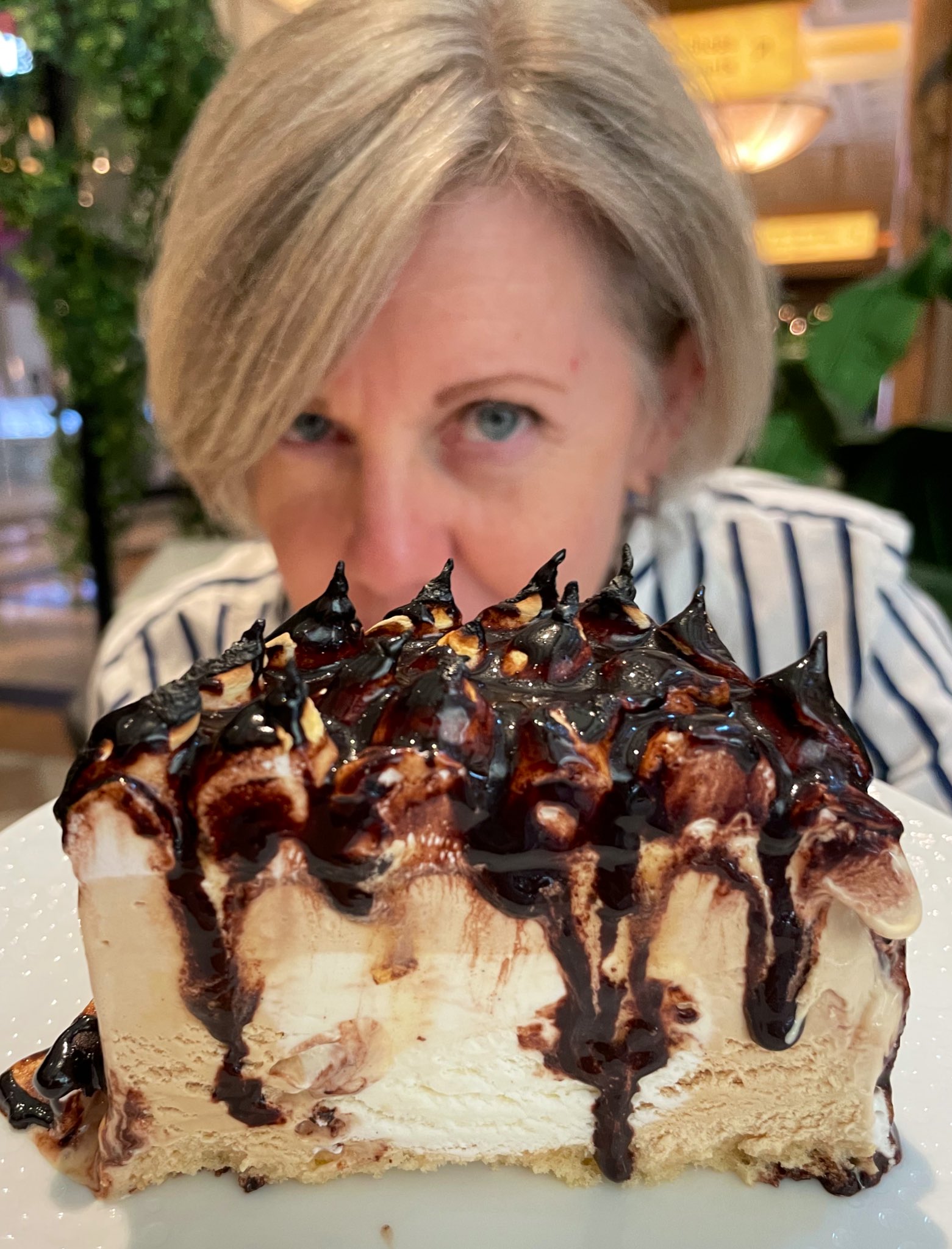 (Don't think Alaska the Food Gal to share)
I'd rate the pastas at RPM (carbonara, pappardelle, pomodoro...) as a little more basic than the seafood-forward ones at Amalfi (scialatielli, squid ink fettucine, gnocchi, agnolotti, and the like), as well as being slightly lower in price ($17-$42). Both show real commitment to careful cooking of Italian classics, which is a lot rarer than you'd think in this genre — it being painfully easy to throw any slop on a noodle and have Americans beat a path to your door.
A final bonus: RPM may have the best Italian wine list of any place in town that isn't named Ferraro's. Organized by region, it is full of interesting, off-beat bottles at acceptable markups. Only time will tell if they stick with such an ambitious wine program — Vegas is littered with the remains of interesting lists which regress to the mean once the original hoopla dies down, and the incessant demands of satisfying the less adventuresome grabs the bottom line.
Until that happens, you'll find us scouring it for Sagrantino, Aglianico, Primitivo and all sorts of bottles you won't find elsewhere:
TIME FOR YOUR PIA ZADORA BREAK…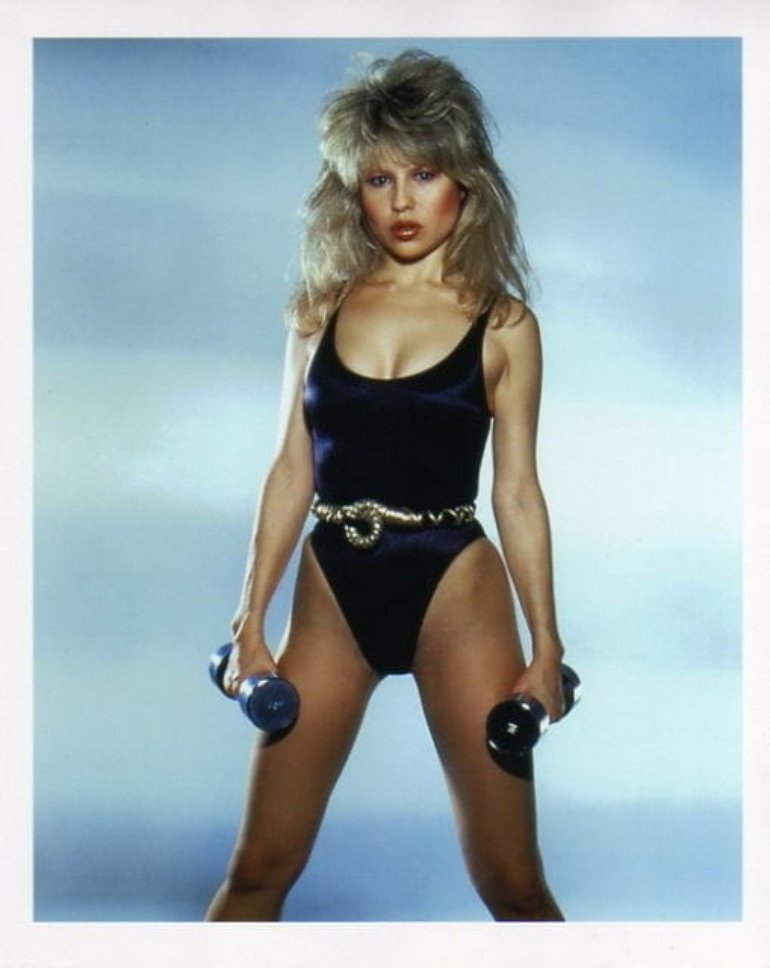 (Pia's not Fonda Jane )
Why Pia, you ask?
Because Pia Zadora, like Piero's is a pleasant reminder of days gone by — when men were men, women had big hair, and Vegas wasn't run by a bunch of bean counters. A time when a young man could make his way in Las Vegas by sheer chutzpah, shameless womanizing, and a tolerance for substance abuse that would make Keith Richards blush.
Or so I've heard.
For the uninitiated, Piero's is a Las Vegas institution I have loved to hate since 1985. Perhaps I am softening in my old age, or maybe the time has come for a reassessment, or maybe I was wearing rosé colored glasses on the night we dined. Whatever it was, it has to be on me, since the restaurant hasn't changed a thing about itself in decades.
You still valet your car in the port cochere; enter a short hallway leading to the hostess stand; admire the giant chimps adorning the walls; and then find one of two large bars which flank a warren of dining rooms (some cozy, some huge), which are packed with a crowd who thinks nothing of slugging down a few martinis with their marinara.
(Cheers to you, Pia!)
The pint-sized chanteuse now entertains the conventioneers at "Pia's Place" inside Piero's on weekends, and as if on cue, we bumped into her on our way in. She's starting to shrivel at bit (like all of us), but it's nothing that muted lighting, pancake makeup, and an appreciative crowd can't fix. Since sunlight and Piero's are strangers, everyone can watch her show, and tuck into their (decent) osso buco, and (very good) linguine with clams with the confidence they look twenty years younger in these subdued rooms.
I"m not saying this place is a time warp, but if Dan Tanna walked in sporting poly-quad, triple knit bell bottoms and ordered a Harvey Wallbanger, no one would bat an eye.
Pia's still belting them out like it's 1982. Like all of us, she is fighting the ravages of time they only way she knows how: by sticking with what works. Piero's works, both as a memory and institution. The food won't win any awards but there's plenty of it and it fits its clientele like a Tommy Bahama trunk show. The drinks are huge (and well-made) and the servers are always on it like a bonnet. When it and Pia depart this mortal vale, Las Vegas will be a poorer place.
DEEP POCKET DIVING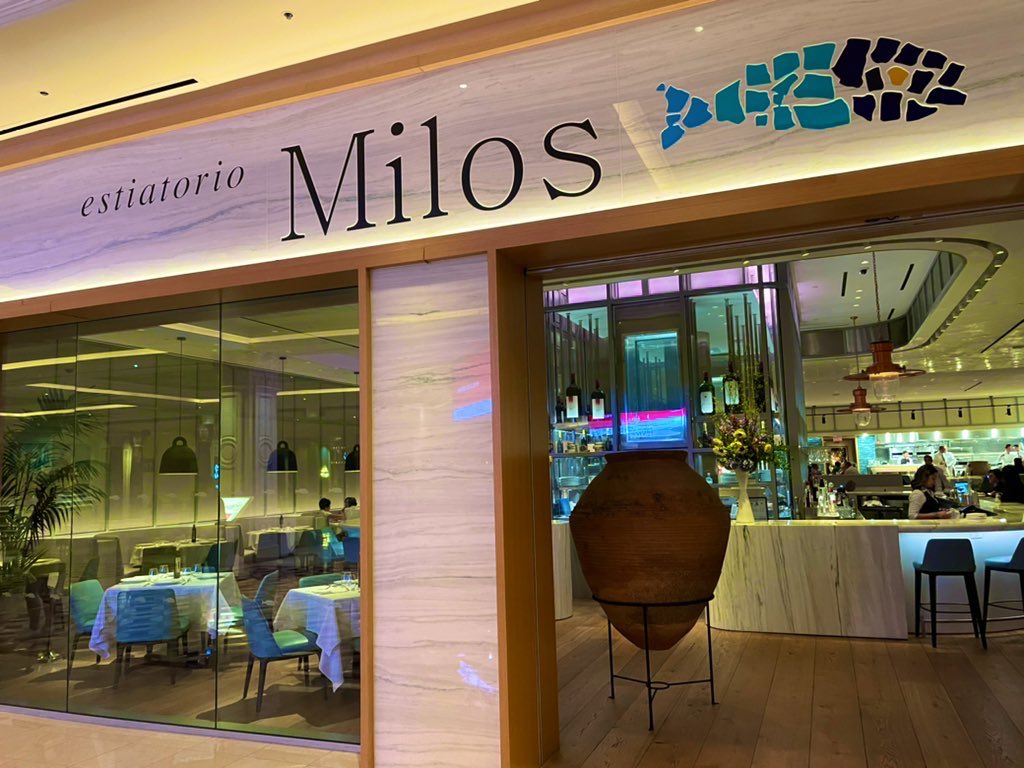 Speaking of being poorer for it, if deep sea diving (into your wallet), is how you cast about, then snorkel on down to Estiatorio Milos, where dropping 400 sand dollars on a 5 lb. fagri (red porgy, below) is a delicious way to get soaked.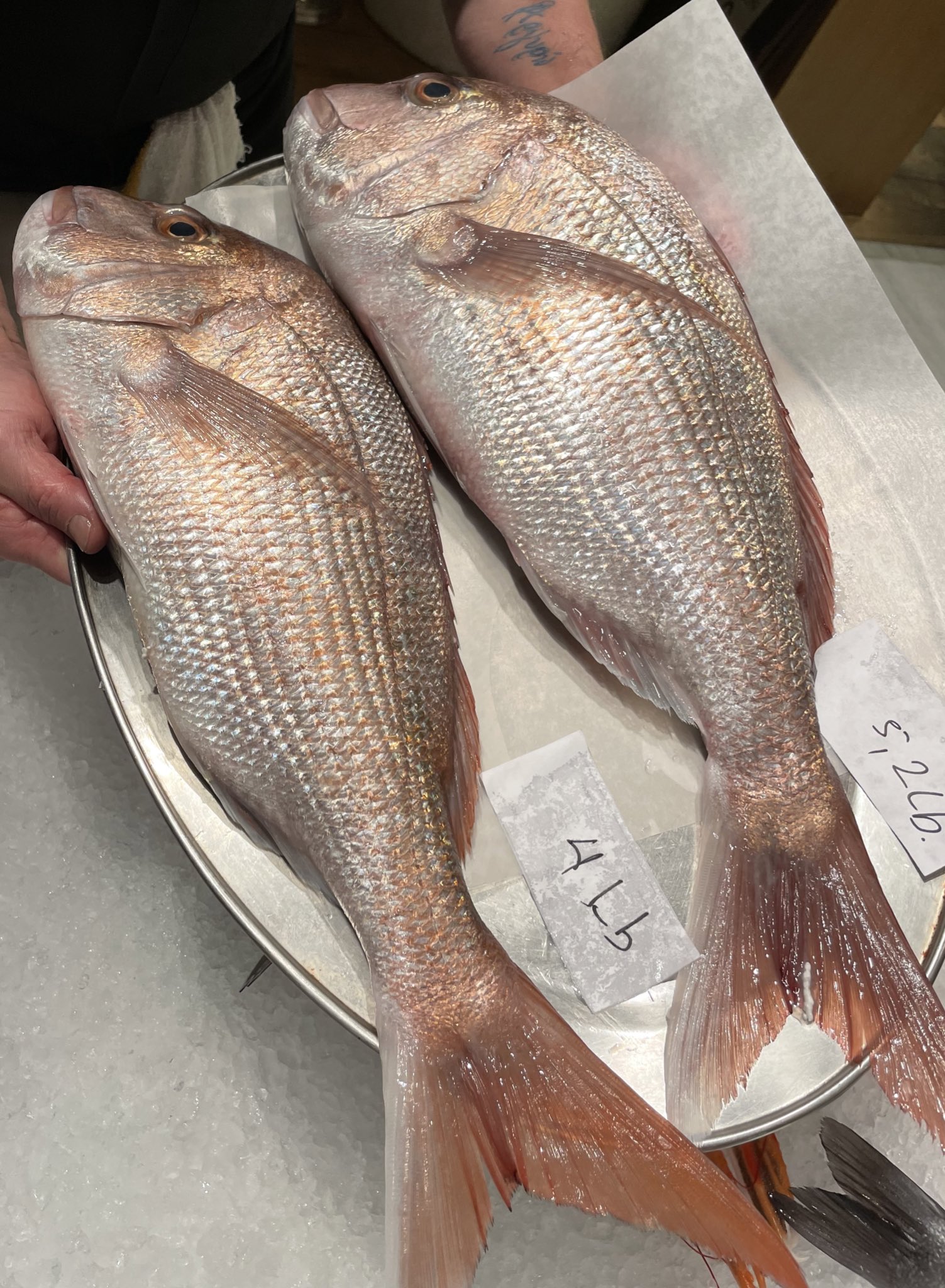 (Porgy is the best)
On the plus side, this beauty easily feeds six. But do the math: any way you sashimi it, you're still dropping a lotta clams. Milos does a wonderful job of casting for (and landing) those angling for trophy-sized seafood, as well as others bobbing for much smaller fry. The latter usually can be found taking the bait at lunch — where the $30 special is still a steal, which allows you to drink like a….to drink a lot.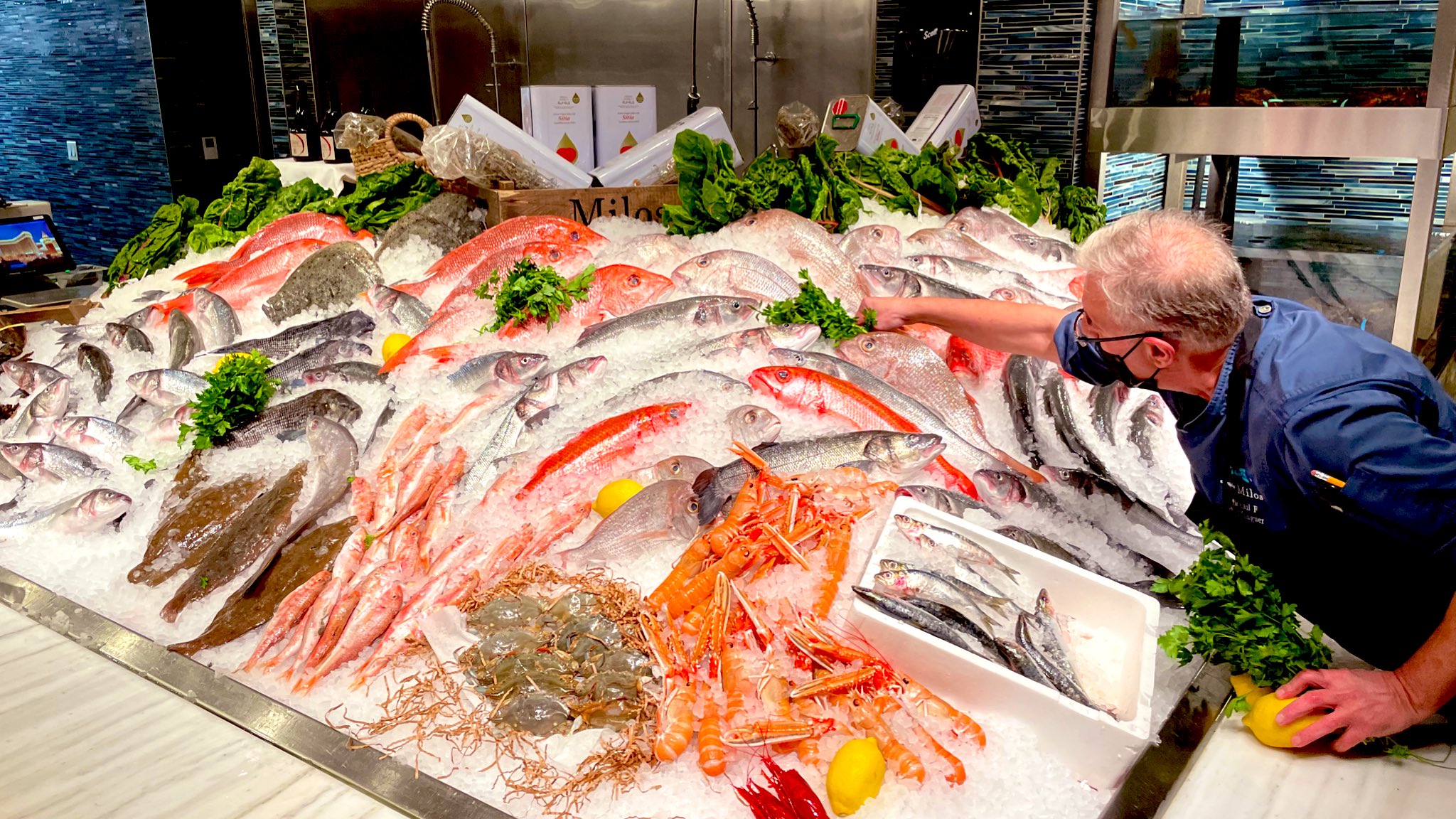 (Gone fishing…at Milos)
Take us home, Lewis:
"O Oysters,' said the Carpenter,
      You've had a pleasant run!
Shall we be trotting home again?'
      But answer came there none —
And this was scarcely odd, because
      They'd eaten every one."