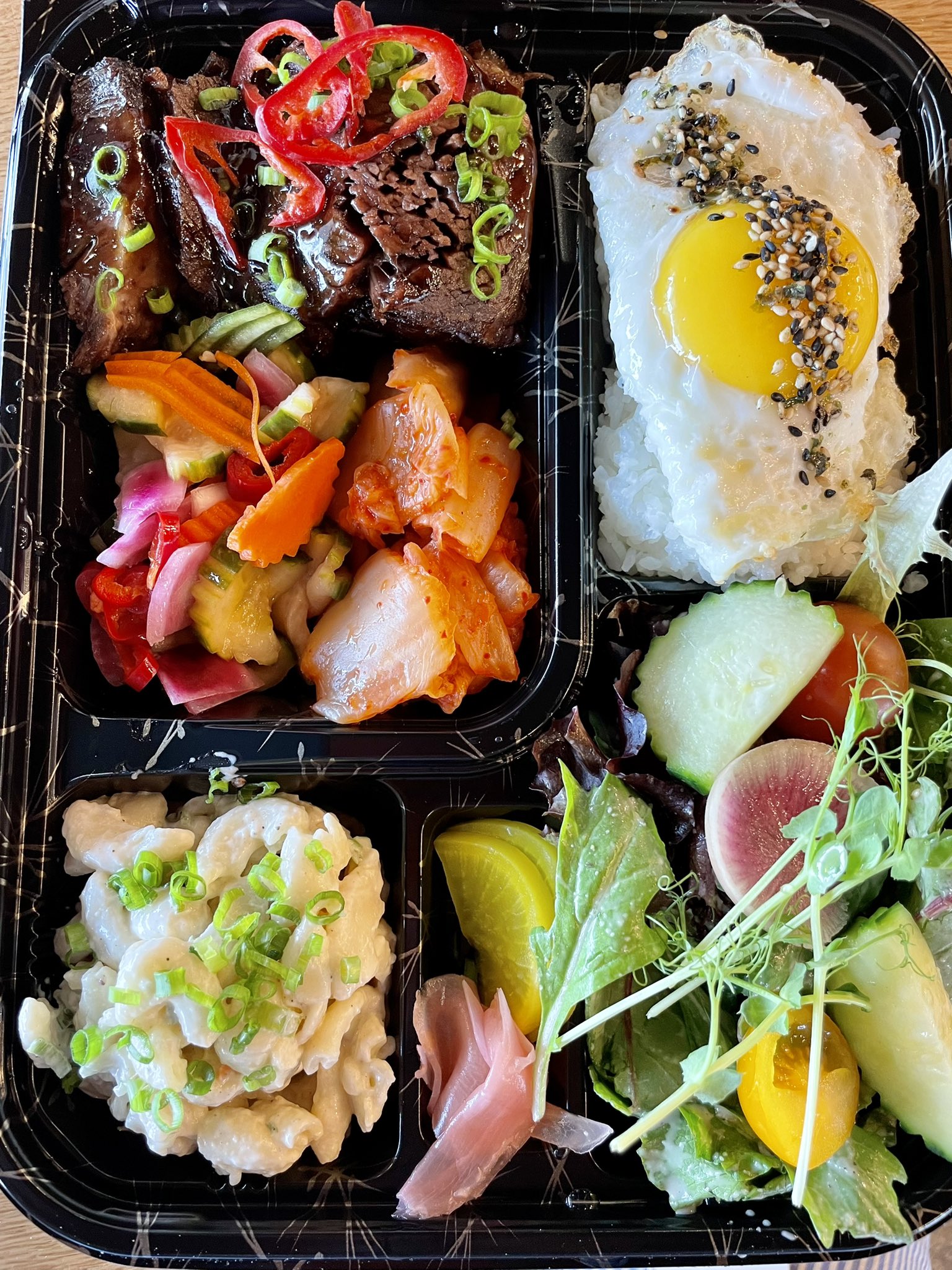 (Bento lunch at PublicUs lately?)
Try as we might, it doesn't look like we'll get to 400 restaurants this year. As of this writing, we've hit 333 establishments, and even if we kick it into high gear, it's doubtful we have 70 more meals in us in the next 50 days.
By way of comparison, back in my halcyon/salad days (ten years ago), 500/year was pretty much the norm…for 20 years in a row.
Now, The Food Gal and I will go two, three, sometimes even four days in a row without eating out. Once unthinkable, now, a concession to the down-sized Strip  and our not-getting-any-younger selves.
But serious ground was still plowed in the past few months….with some new and not-so joints floating our boat in all the right ways.
Compared to a year ago, Las Vegas is now a target-rich environment, but lezbee honest here: it is still a pretty weird place, restaurant-wise.
The Strip has rebounded, but has become something of a shitshow on weekends. There has been a tectonic shift in the food and beverage industry here, but the ground is still moving beneath our feet and I cannot yet opine on just how the dust will settle. Suffice it to say, things are palpably different: options are down, prices are up, reservations challenging, and sourcing a real problem at the epicurean end of things. All of our big-hitter spots want to pretend they have gotten back to their 2019 selves, but they have not and you can feel it.
The newly re-opened Le Cirque, for example, seats only on Thurs.-Saturday nights. If you're hungry for better restaurants Mon.-Weds., good luck picking your way through the meager offerings available on Las Vegas Boulevard. Things are easier in the 'burbs, but aside from Italian, very few interesting ideas are floating out there.
And when you run off one of the best Mexican chefs in the world (Enrique Olvera) for a joint called "Casa Playa " (at the Wynn), include me out.
So, the Strip is mostly a pain (or, even worse, boring), but local eateries are booming, so you would think that would satisfy us, wouldn't you?
Wrong.
Both have a long way to go before Vegas claims its destiny — which is to be one of the most exciting restaurant cities (for tourists and locals) in the world.
A short list of what we still need (in the neighborhoods):
Some decent French bistros. It seems like every other opening is Italian these days. C'mon frogs! Show the flag! Vive La France and all that!

More affordable wine, less crappy "craft" beer.
A few new interesting Mexicans (to compete with a raft of mediocre places going through the motions for the mucho macho grande burrito crowd).
Who does a guy have to blow to get a decent sandwich shop around here?
Less shitty breakfast joints; more in-house baking.
For all the Insta love for John Arena and friends, there are still only about four places in Vegas to get a decent pizza.
Why isn't there a ramen shop downtown?
How about a good, retail bread bakery somewhere fer chrissakes?
Or gelato? (There is an ice cream shop on Main Street, but it is terrible.)
It's time for crepes and fondues to make a comeback.
Outside sidewalk dining….EVERYWHERE!
And finally, what the f*ck happened to good Indian food in this town?
(As usual, all restaurants come highly recommended unless otherwise noted.)
THE LIST

MANGIA MANGIA!

Italian food never goes out of style, but the boom in quality over the past few years has been a little crazy. No longer is Vegas the home to cookie-cutter eye-talian straight from a can. There are so many good ones popping up (and older ones upping their game), that we thought we do homage to Italy by painting THE LIST in the color of its flag.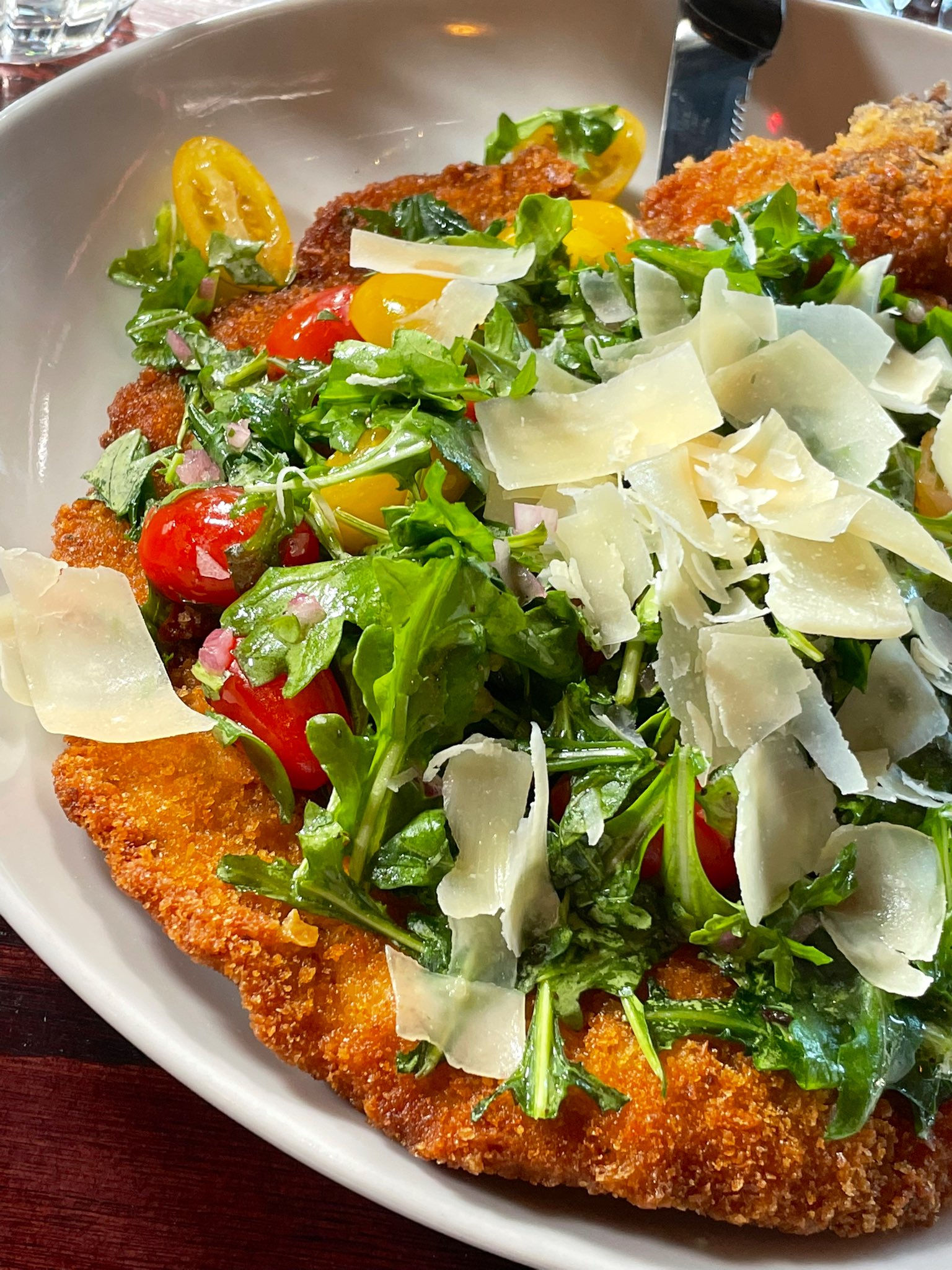 Of all the beautiful Italian food now available in town, this may be the most compelling. Simple, striking dishes that let the elemental flavors of Italy shine through. Great breads, challenging location, reasonable prices. Too hip for the room, but southern Strip foodies, and industry pros (starved for decent, non-franchise food in this part of town) may save it.
We need to get back here. Best cioppino you'll find this far from the Amalfi Coast.
Open every night and already a tough ticket. Set to become the worthy successor to Carnevino as our best Italian steakhouse.
Cipriani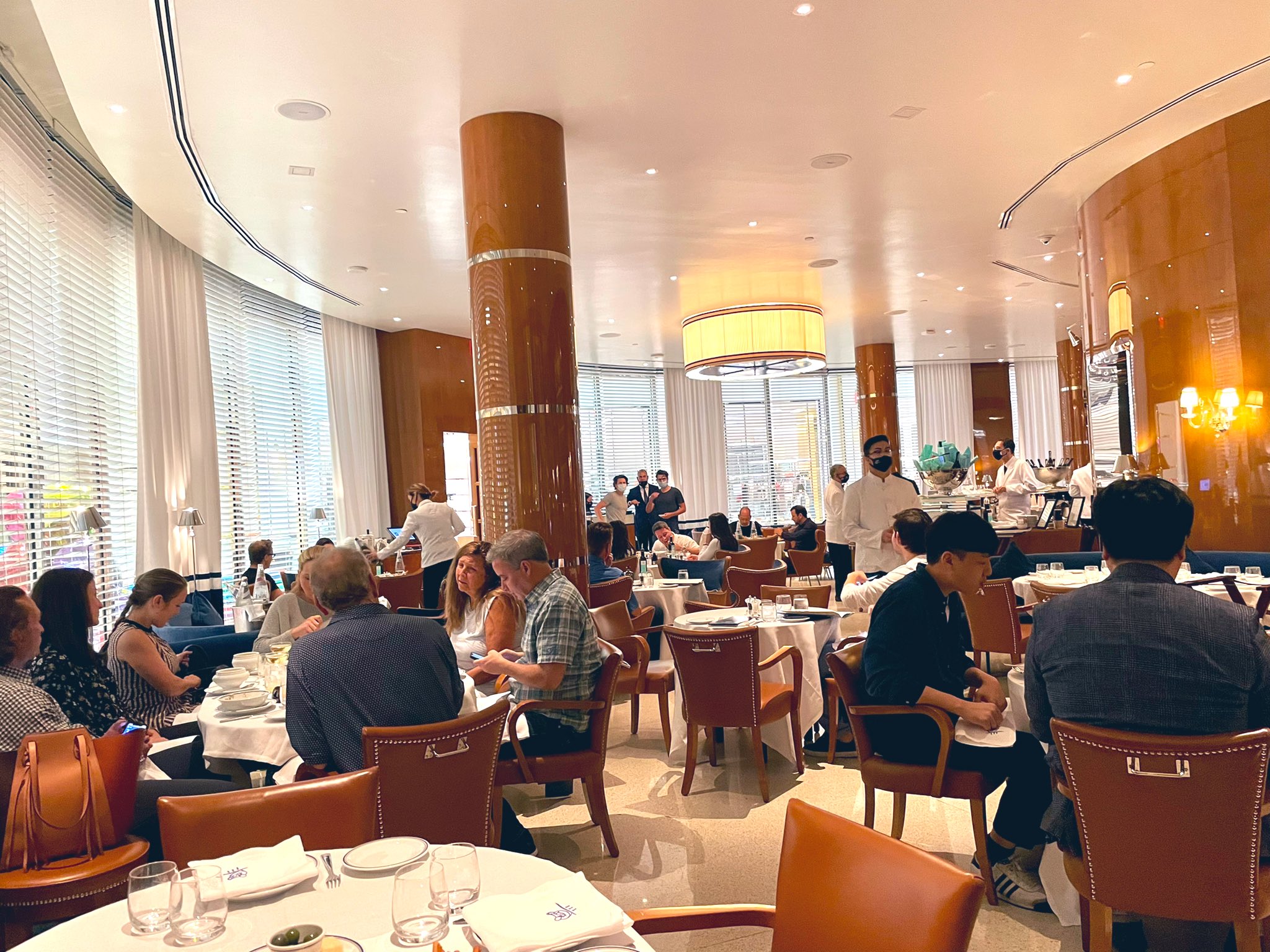 Every Friday for a reason. Northern Italy served by the smoothest crew in town.
Esther's Kitchen
My last lunch was a disappointment. Covid hangover? Staffing issues? Coasting on reputation? Sadly, I fear my love affair with Esther's has run its course. Remember that hottie who once fascinated you? The one of whom you could never get enough? The mere mention of her name aroused something primal — passions rumbling deep and seemingly forever, never to be quenched. Then, time, the enemy of us all, came between you. You see her again after you've both strayed and what once seemed fresh, so beckoning, now suddenly feels forced and stilted. Both your energies falter at the sight of each other. The sparks that once ignited, the fires that once burned so brightly have been dampened forever. You try, but both of you know you're just going through the motions.
Yeah, that's me with Esther's. Nice new barstools, though.
Ferraro's Italian Restaurant and Wine Bar
The only reason I don't eat here more often is I would end up spending my children's inheritance (we're talking hundreds and hundreds of $s here) drinking from this wine list.
Eduardo Perez does some of our town's most impressive pastas at these sister restaurants in the Venetian. Great pizzas too. And salads, and carne, and deserts, and…
.Osteria Fiorella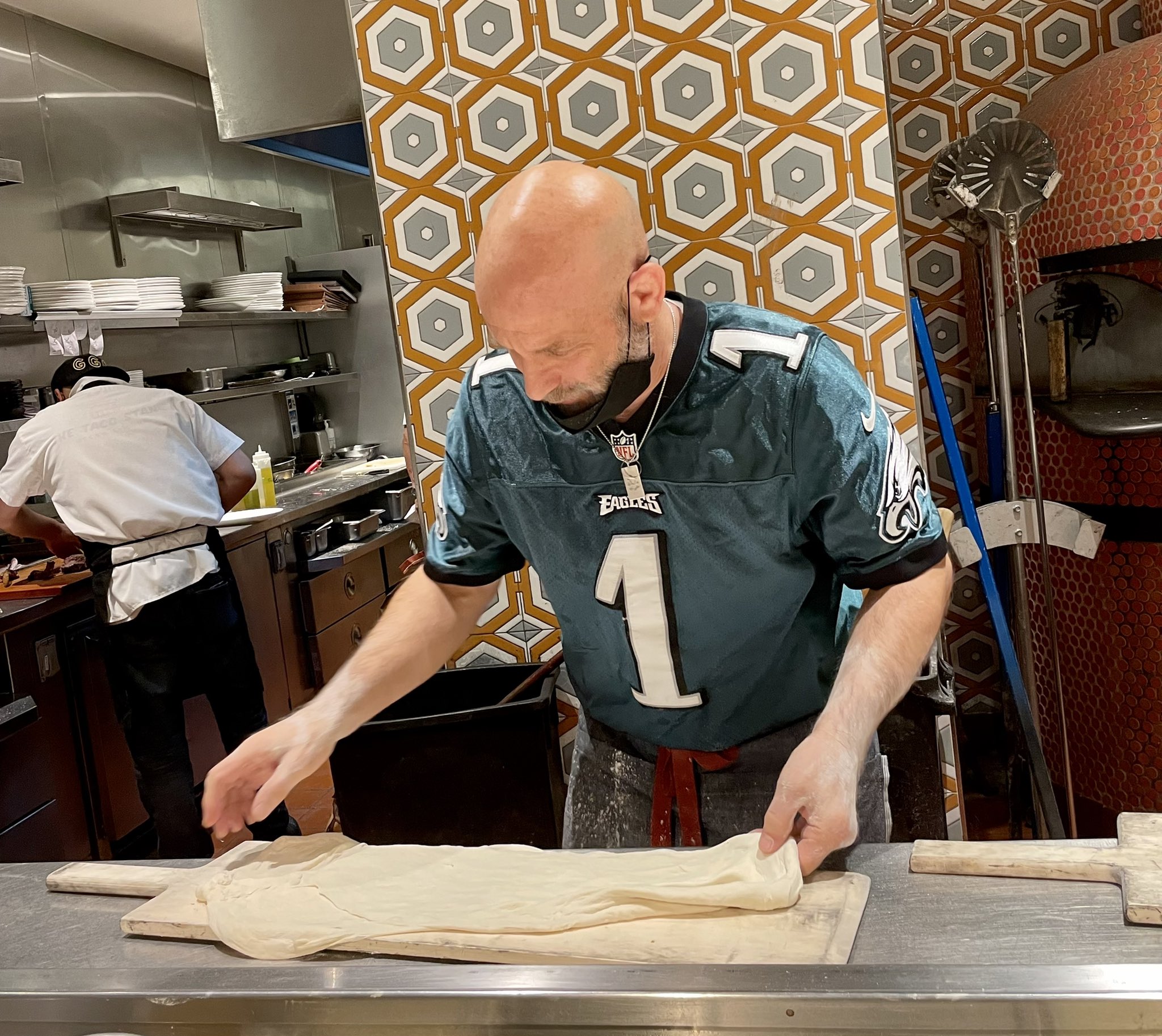 Our cheffiest Italian. Marc Vetri (above) can stun you with his in-your-face flavor combinations…and the restaurant can stun you with the size of the bill.
FRENCH CONNECTION

We're light on French food this year — a condition that will be rectified with a vengeance come January.
Burgundy French Bakery and Cafe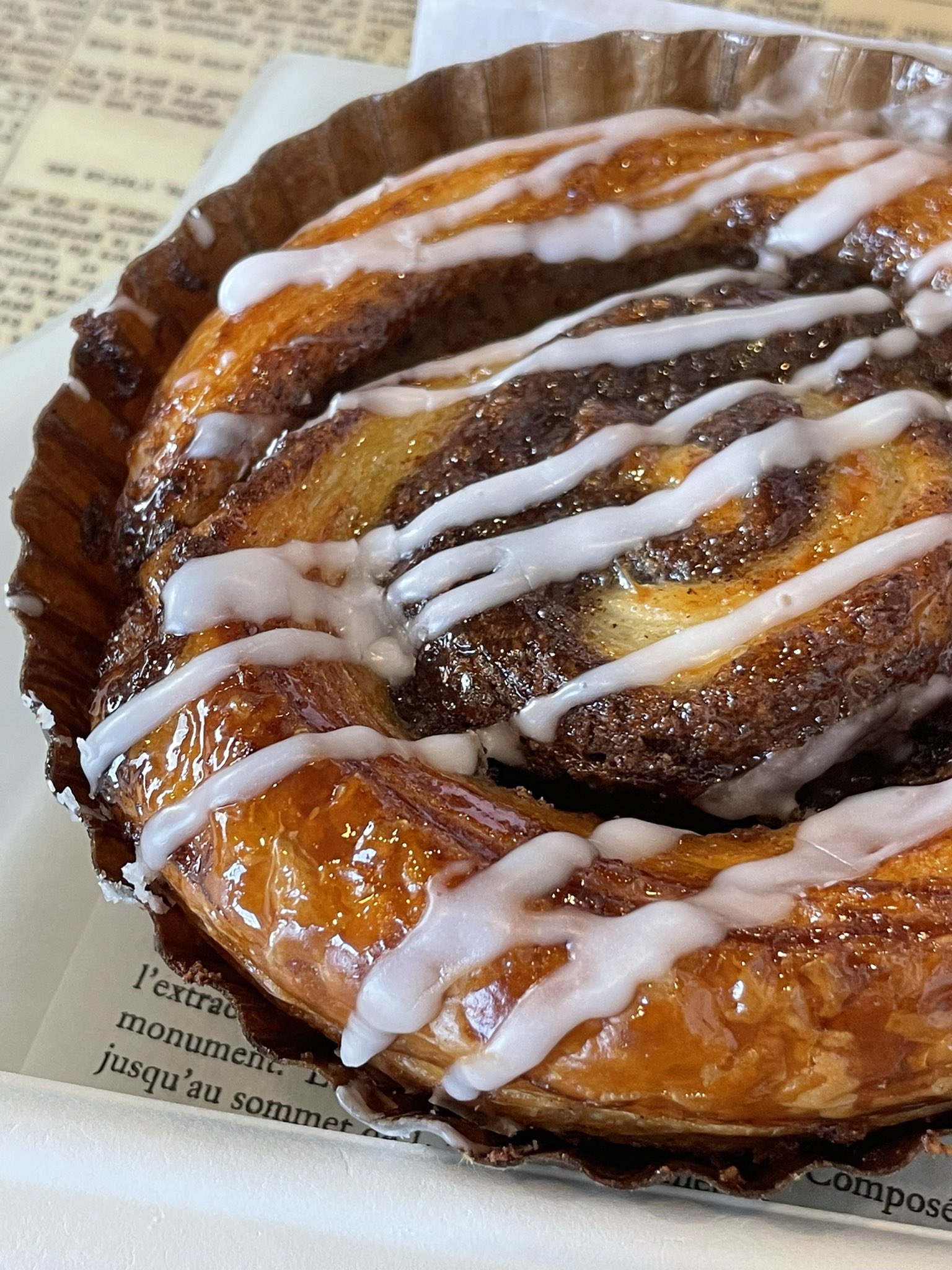 (Cinnamonfully good)
First class French pastries (above) have made a name for themselves off the Strip, and there's no putting that genie back in the bottle.
Le Cirque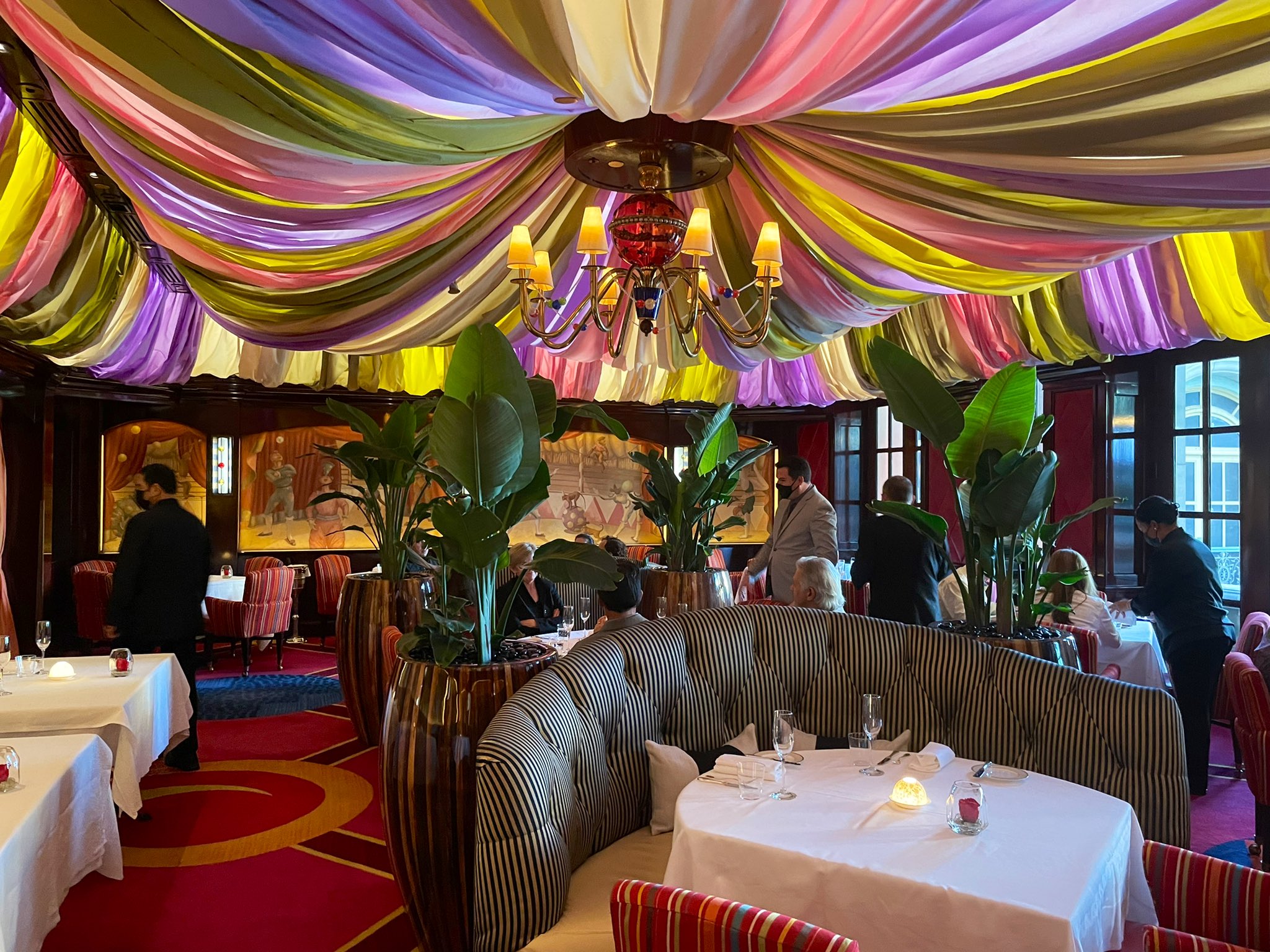 Love what they've done to the place (above). We don't love the exclusively prix fixe tasting menu (with no a la carte options). At this point, Le Cirque is like the grande dame of Vegas: an aging diva seeking to recapture her past glories. Can she do it? Well, just about everyone is rooting for her, but the applause may dim once they realize it will cost a house payment to eat here.
GO FISH

Good seafood in the dessert used to be harder to find than a hooker who would take a check. No longer. The wonders of air freight have brought the best stuff to the 'burbs.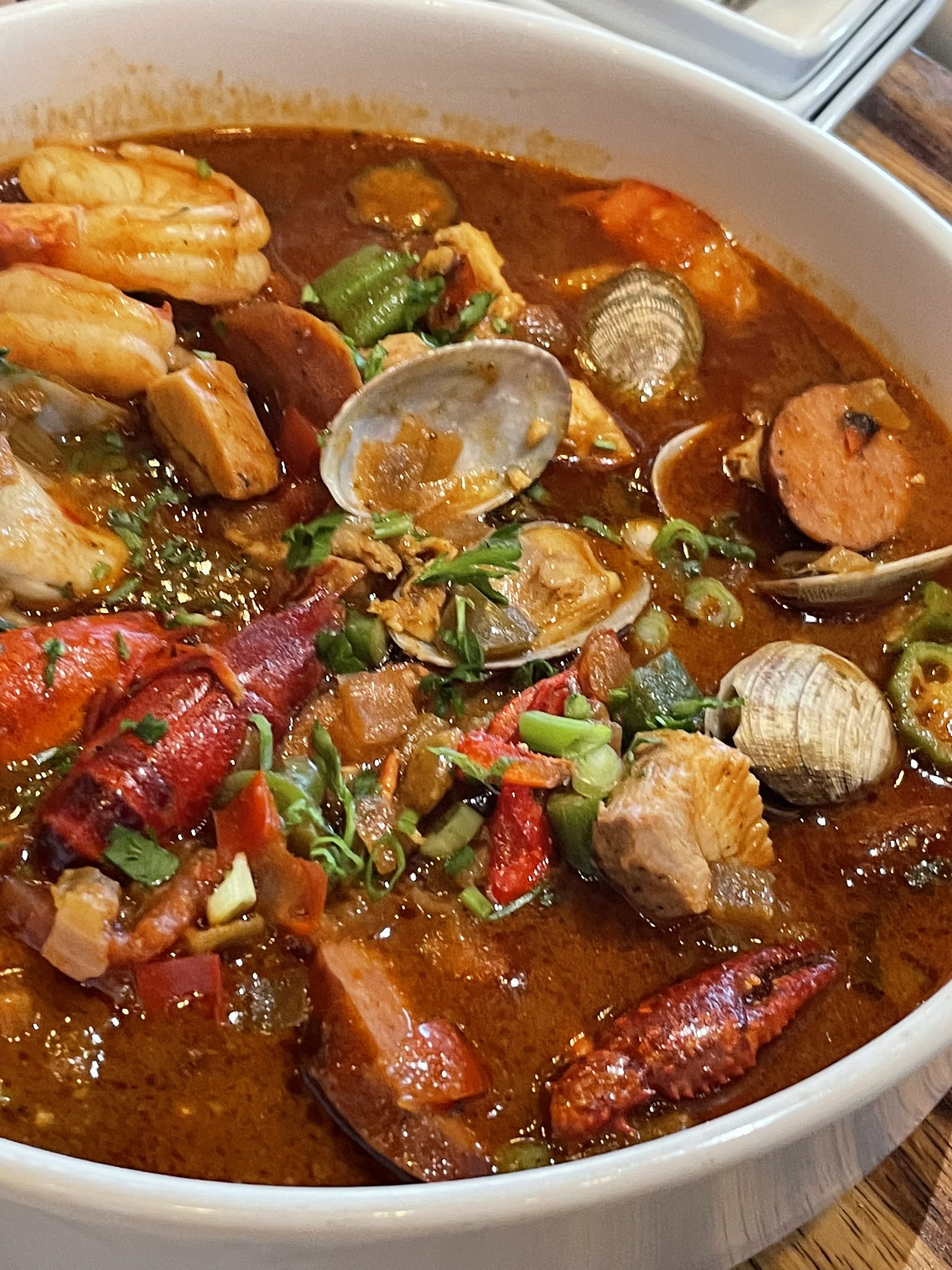 (Mumbo gumbo at Legends)
The Legends Oyster Bar & Grill
Top shelf seafood in an unlikely location. All-over-the-map menu seems disjointed, but the quality of the cooking (and those groceries,) comes through in the gumbo (above). About the only thing I wouldn't order here is the beef stroganoff.
(Shrimply delicious)
There is no better tube steak in Vegas. Or waffles. Or breakfast sandwich. Or the tiny, open-faced shrimp sandwiches (the shrimp not the sandwiches).
Yu-Or-Mi Sushi Bar
Great neighborhood sushi. Great bar too.
Elia Authentic Greek Taverna
Don't even think of eating Greek anywhere else.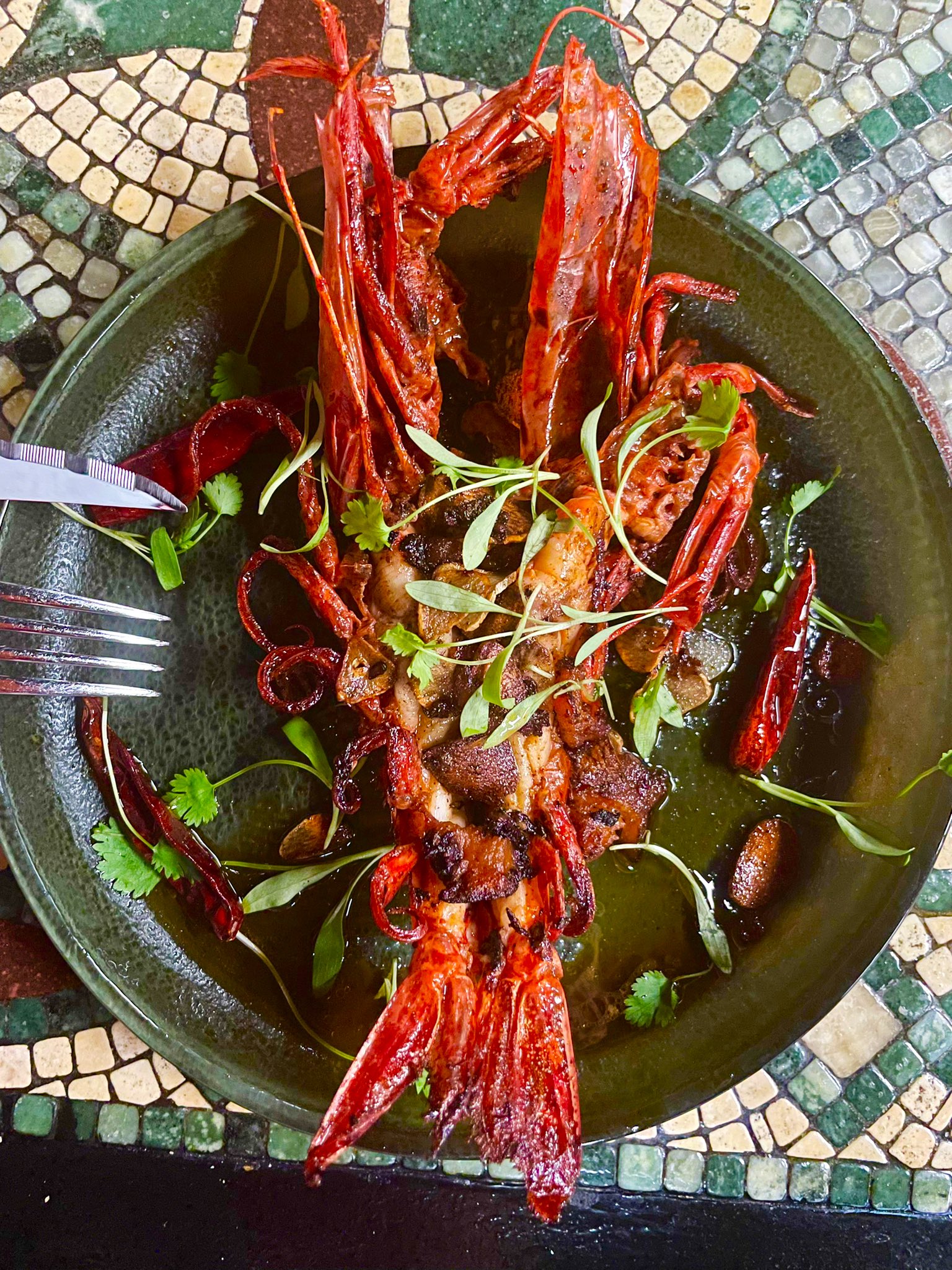 (Prawn star)
The name means "ham ham" but the seafood is fine fine indeed. I'd eat here every week if a dozen other restaurants weren't beckoning me.
WORKING CLASS

Informal eats that have fueled us to a fare thee well over the past six months.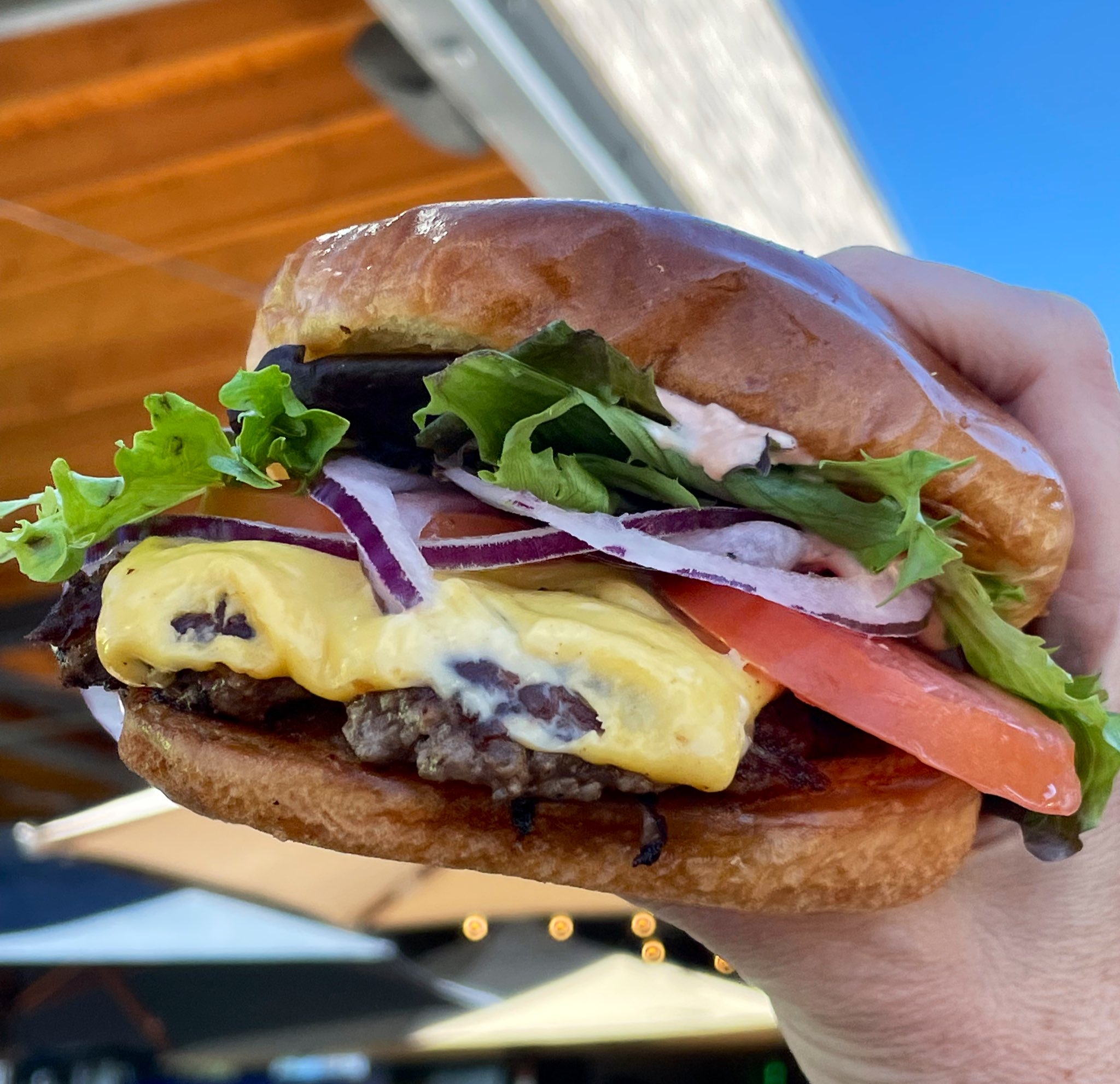 The Food Gal® prefers this smashed/caramelized/fromage-filled beauty (above) to Soulbelly's thicker, juicier patty: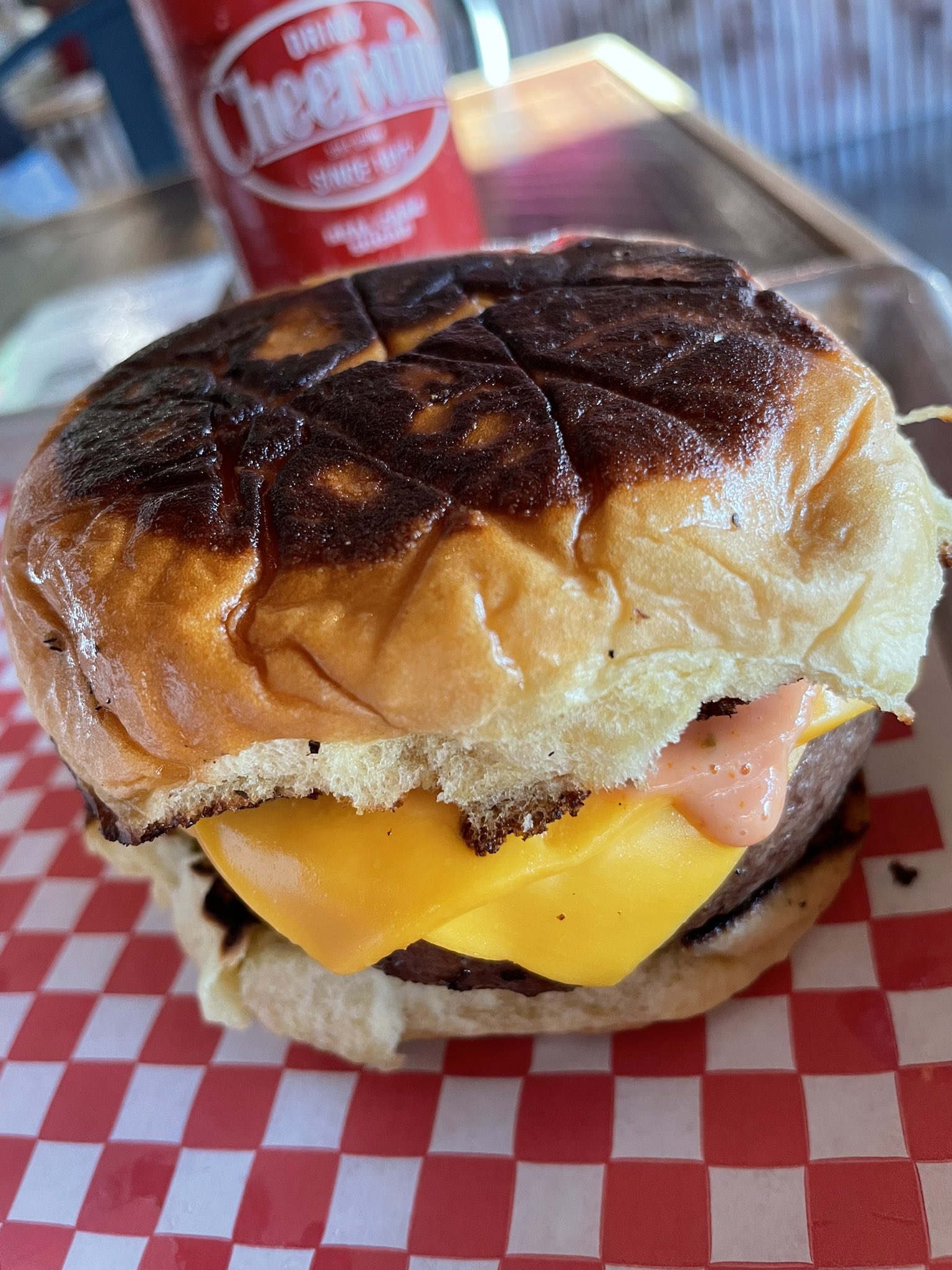 We've almost come to blows debating the issue.
Letty's de Leticia's Cocina
…and on the eighth day, the lord invented the quesotaco: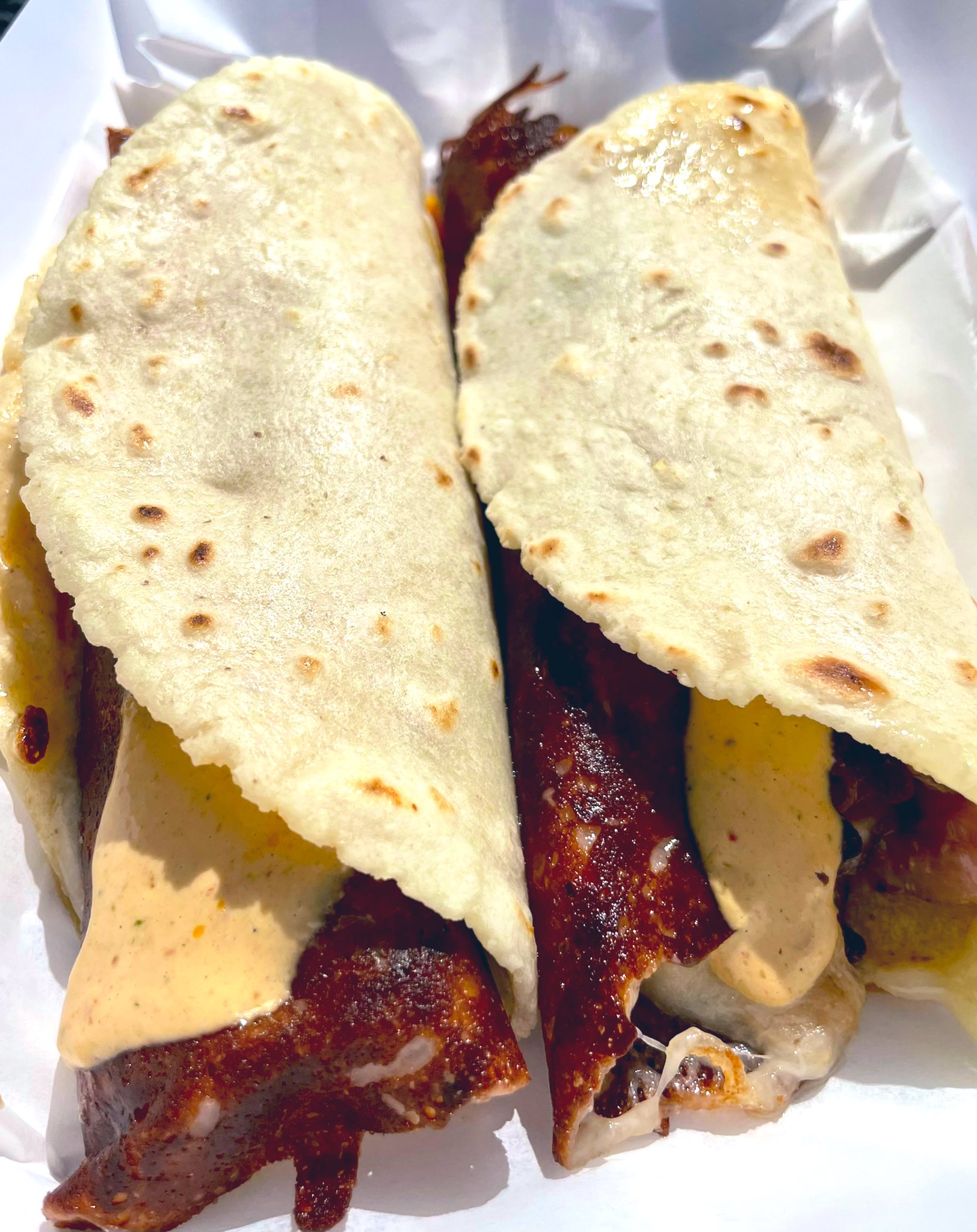 Reminds me of the Connecticut roadside diners of my youth. Nothing fancy, but decent eggs, biscuits and gravy, and great service.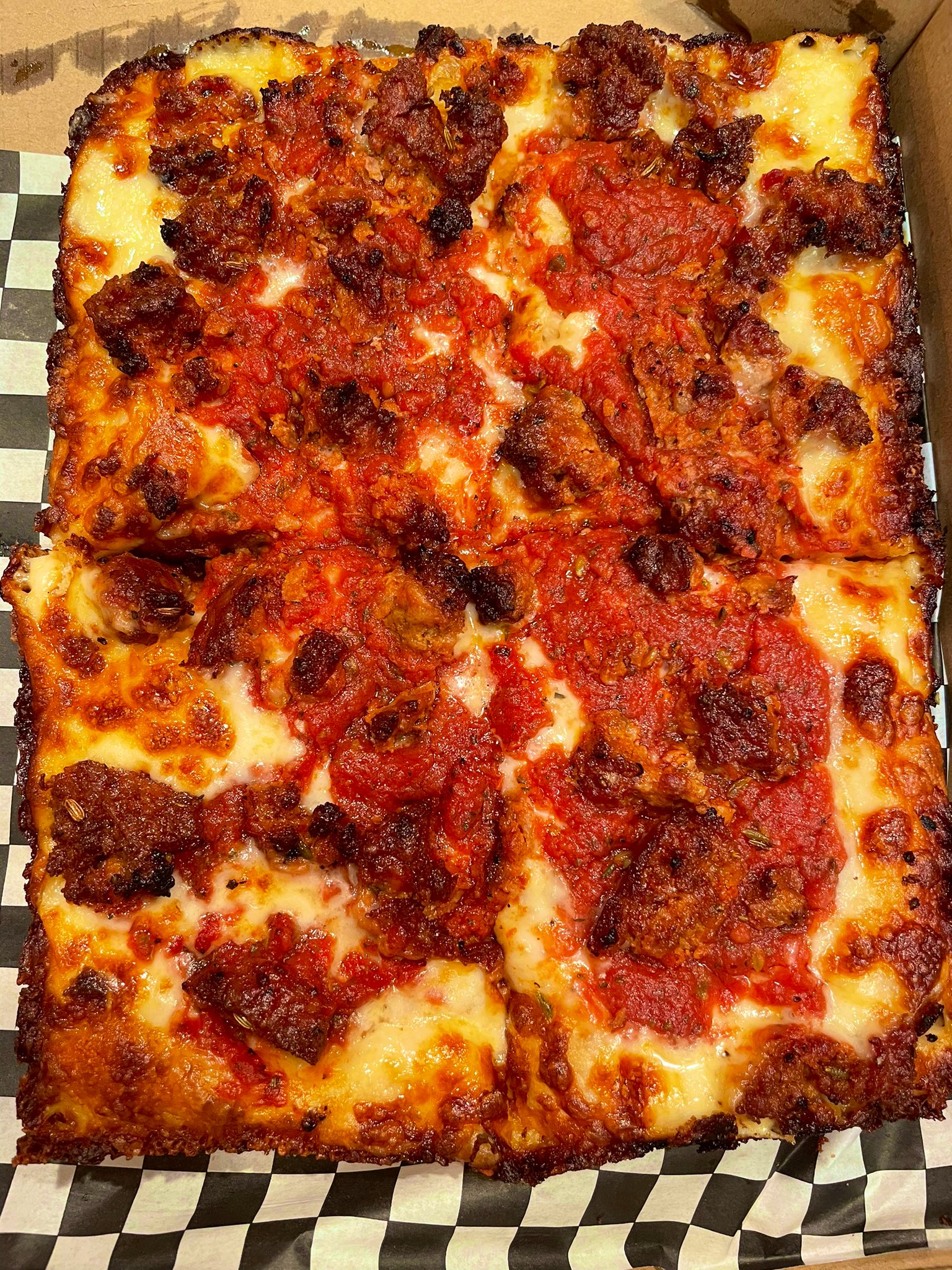 (Get a pizza this!)
The idea of finding me in a joint called the "Hard Hat Lounge" would seem as unlikely as finding me changing my spurs at a rodeo. But the square, Detroit-style (thick, cheese-encrusted crust) pies (found on the "Guerilla Pizza Menu") have developed a real following in this "upscale dive bar." It's stoner food to be sure, but it is good stoner food….even if you're not stoned.
Soulbelly BBQ
The best 'cue in town. One of the best burgers, too. 'Nuff said.
PublicUs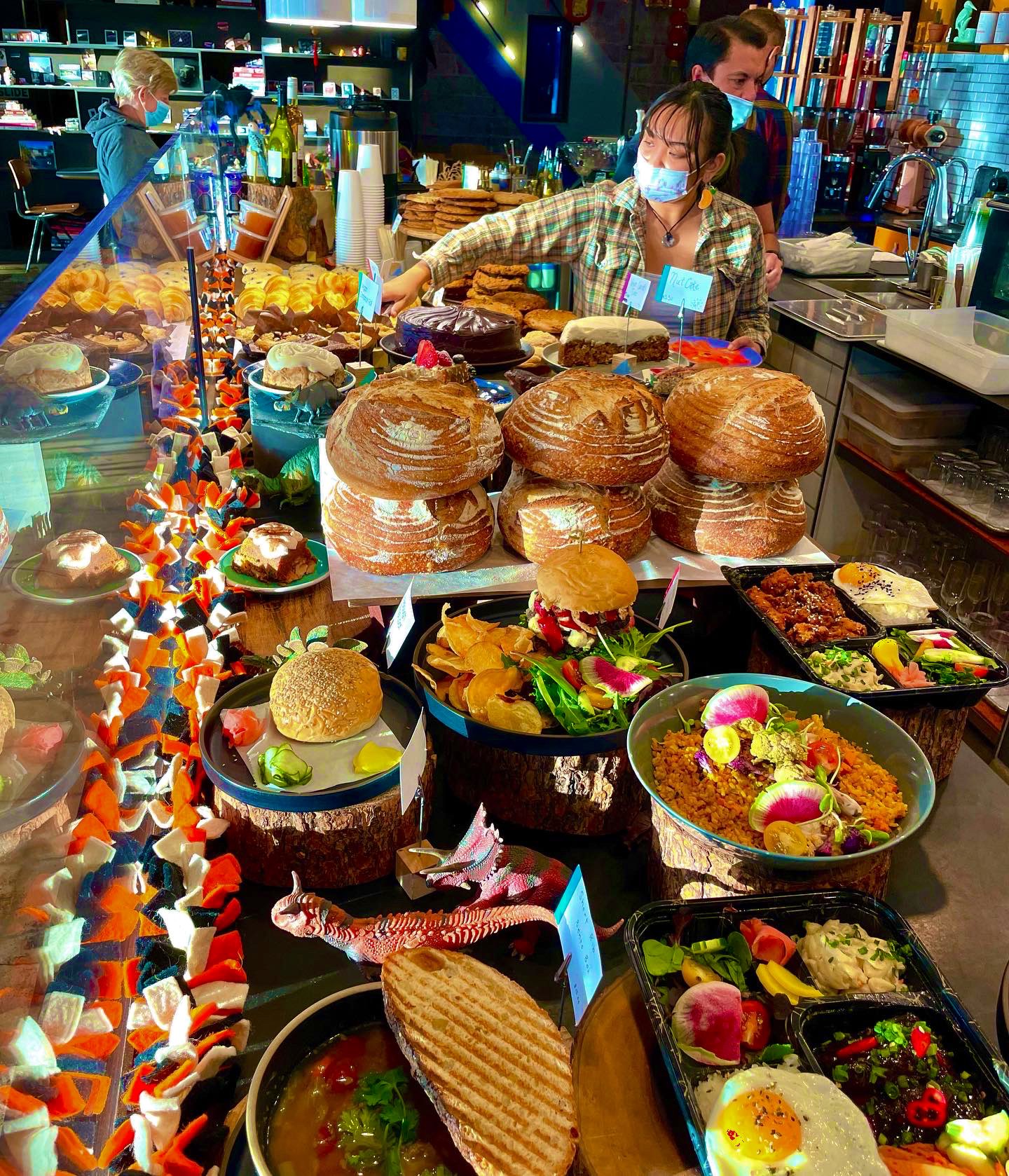 Coffee, baked good, and breakfasts fit for the gods (see above).
Nothing fancy, just solid Mexican home cooking with a friendly and appreciative staff. At lunch it is filled with day-laborers who know a good thing and a good deal when they eat one.
…has re-opened! On West Charleston.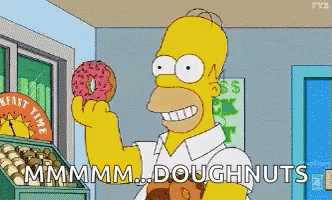 My go-to for deli. Nothing else in town can touch it. Wish it was easier to get to.
Oh those snap dogs from Vienna beef. The Polish is a winner, and like everything here, is straight from the City of Big Shoulders.
A nice slice from a place you would never expect to find one.
PACIFIC RIM
It wouldn't surprise me if one day our Asian food scene surpasses the Strip in gastronomic preeminence.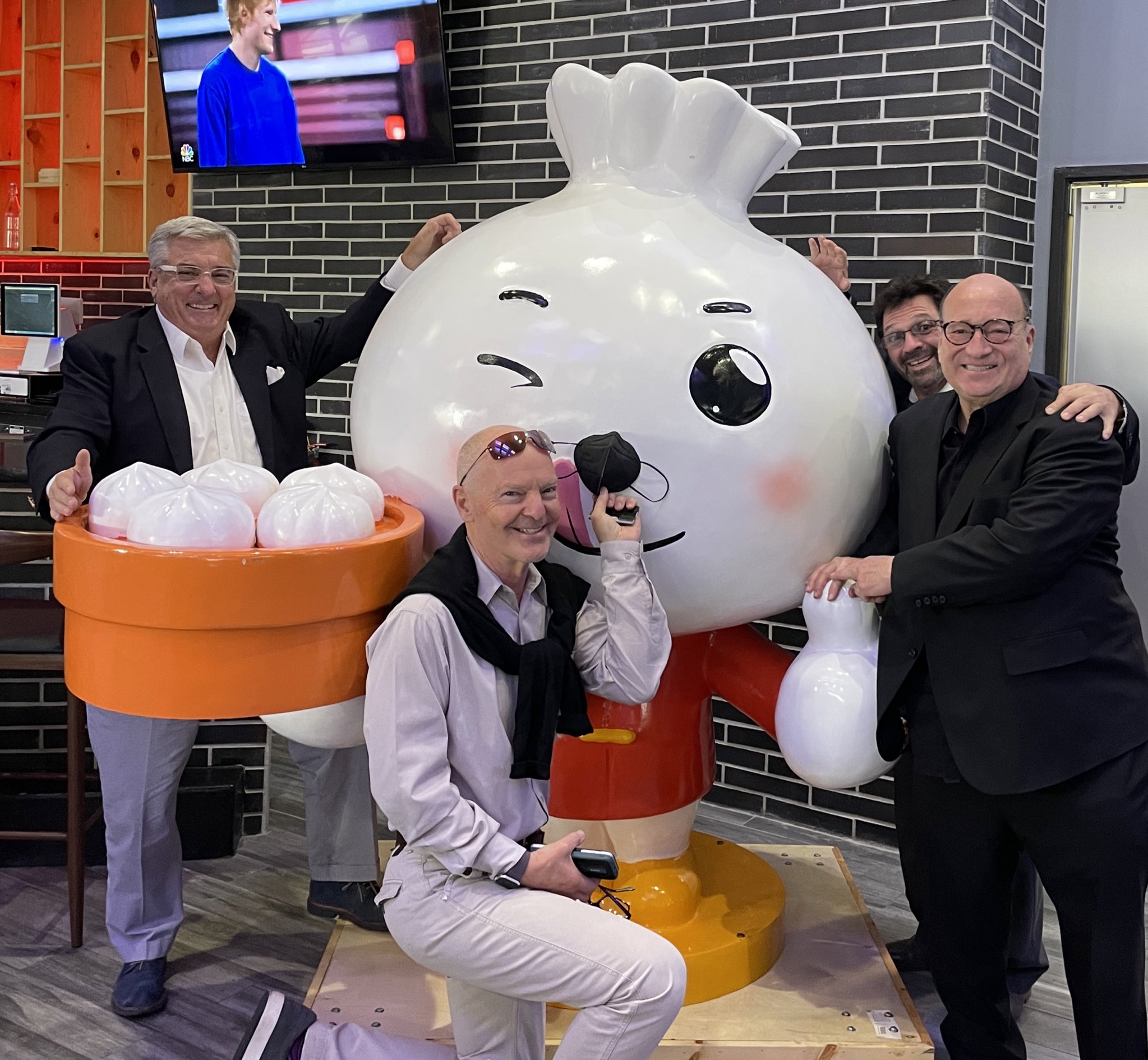 (Legal eagles bao before me)
There's a new dumpling in town. Actually, they now seem to be popping up all over. This one is serious about their folds, and its gigantic selfie-magnet mascot (above). Nice build-out of the old Harbor Palace space — so sleek and clean will make you forget how badly the former operation sucked.
The Cantonese food impressed us more than the "wine bar" did. But we'll go back for the mapo dofu (pockmarked woman's bean curd) along with a more than decent Peking duck.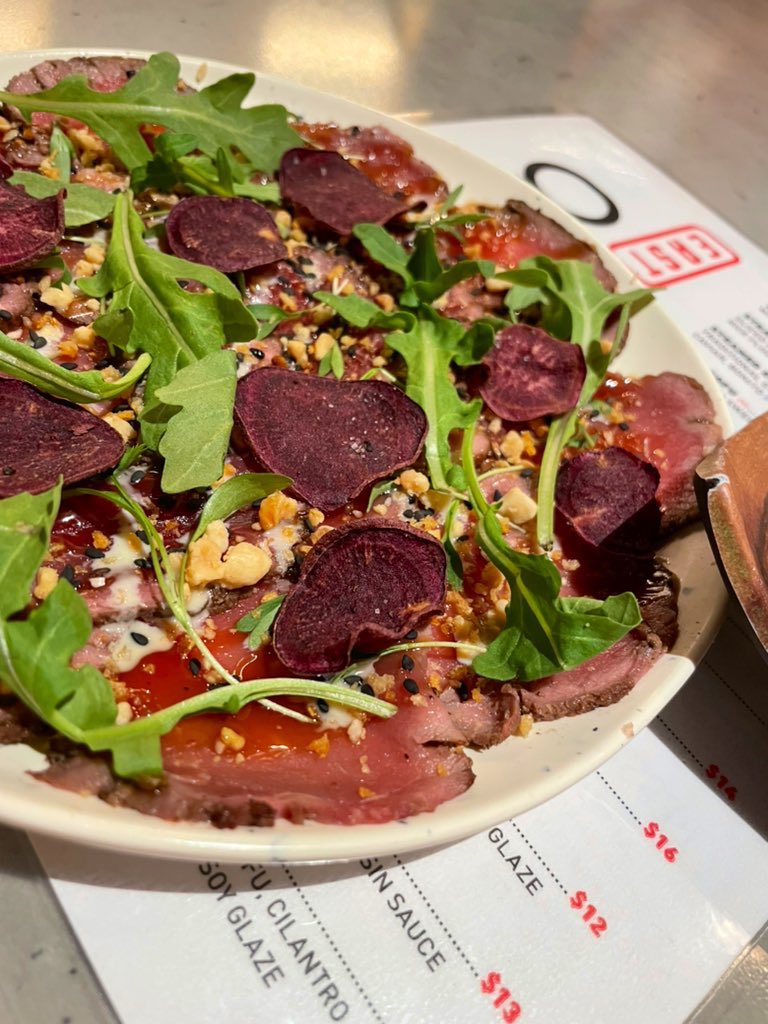 We don't get here often, but when we do, we kick ourselves for not coming more.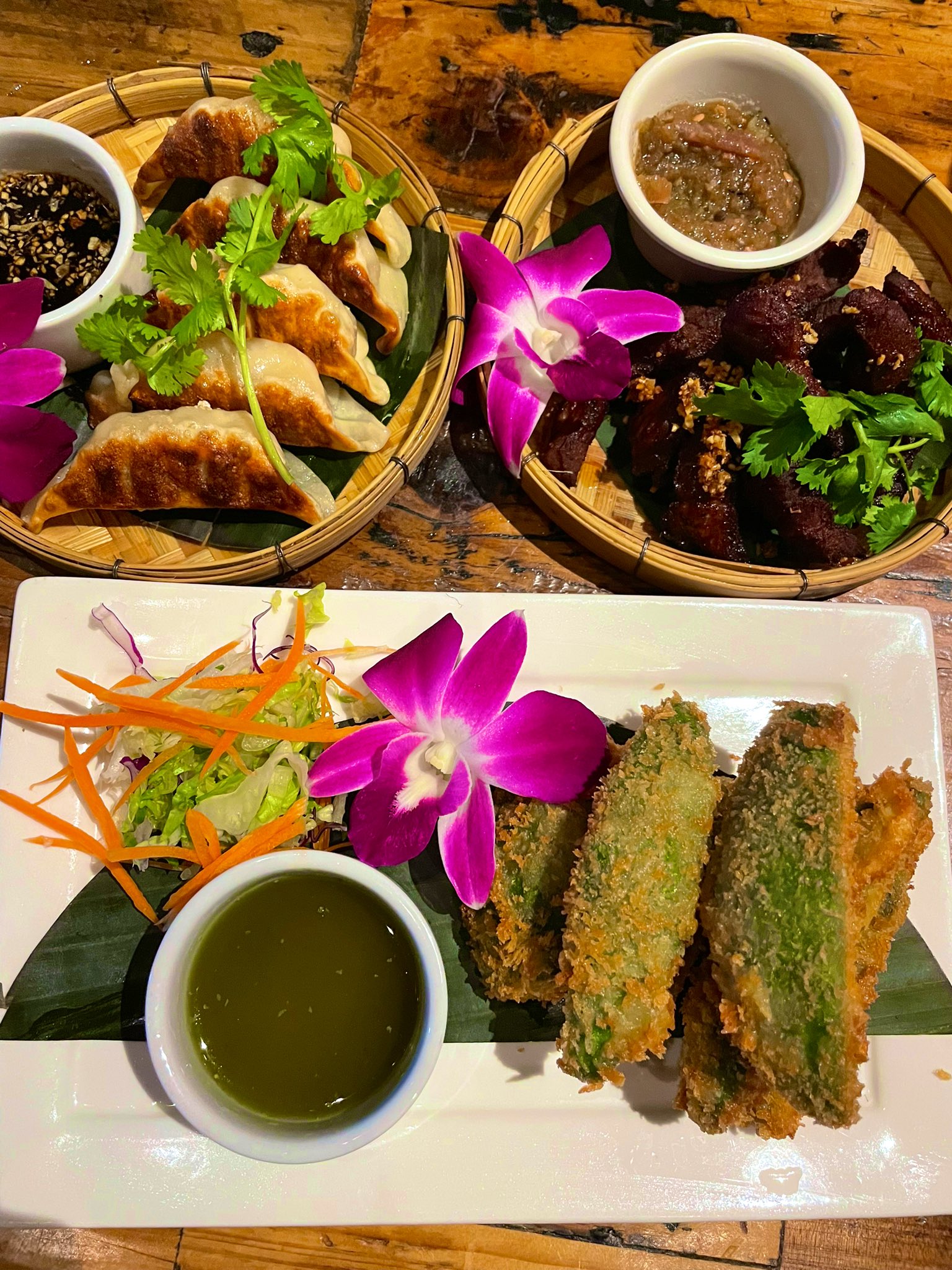 New digs, better food, fun place for a full panoply of sweet-hot Thai classics.
Dark and cozy, feeling almost illicit when you enter, like it's a speakeasy with a secret password. Those feelings evaporate as you're taken to high chairs around a U-shaped central bar where waiters deliver decent sushi, potstickers, swish-swish (shabu-shabu), and other izakaya fare. Not in the same league as Raku, but fun and informal at a gentler price point.
Still our go-to for xiao long bao and other starchy delights.
Every Chinese restaurant in Vegas is judged by a single standard: Is it as good or not as good as China Mama?
…is as good as China Mama. Better in some areas (roasted fowl, seafood, dim sum); not as good in others (noodles, soups, stir-fries and such).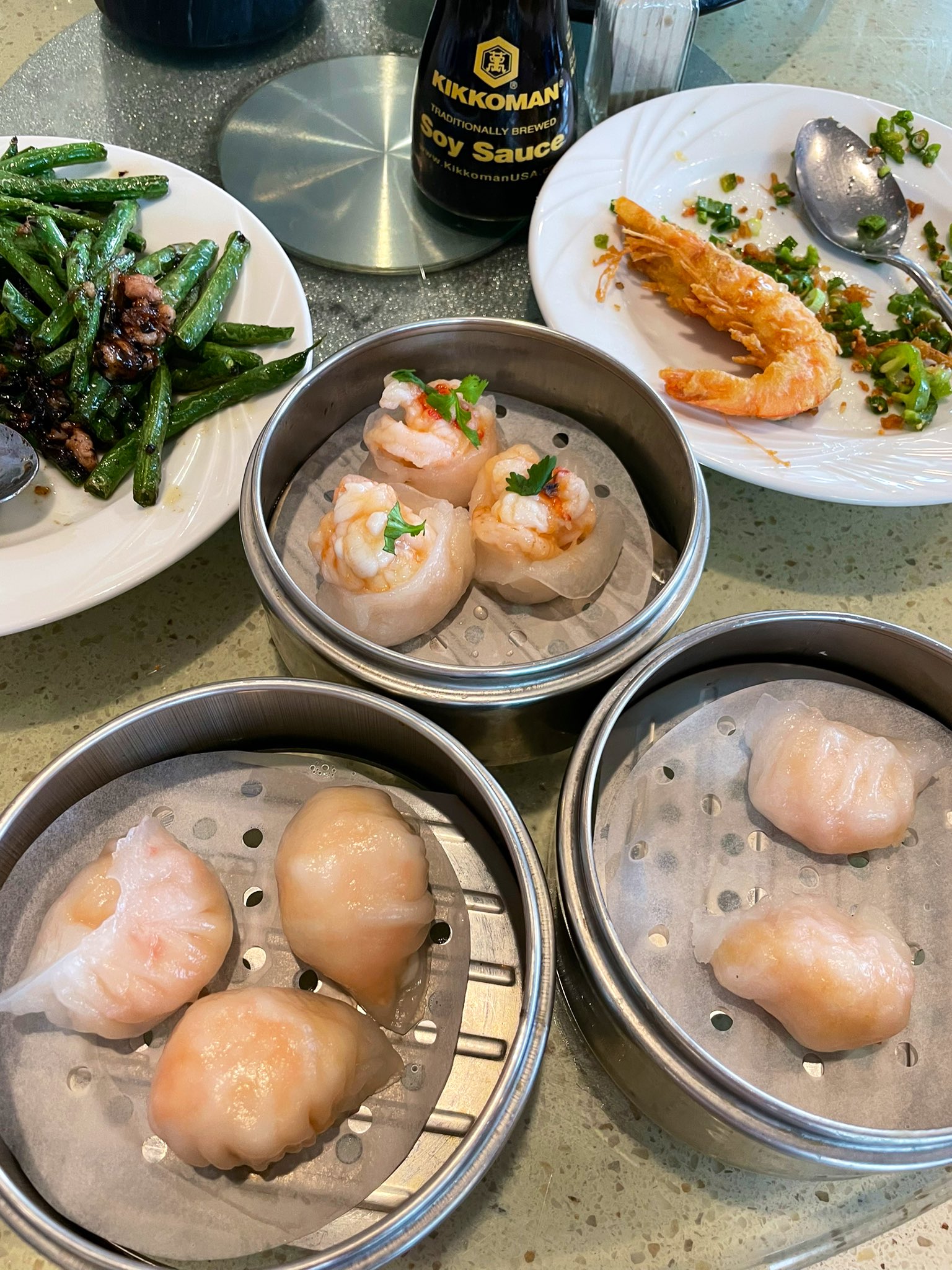 On our regular DTLV lunch rotation for a reason. The small menu never gets old and still will kick your ass.
LET'S MEAT
Inviolable Food Axiom No. 26: Every restaurant in Las Vegas would be steakhouse if it could be.
Bazaar Meat by José Andrés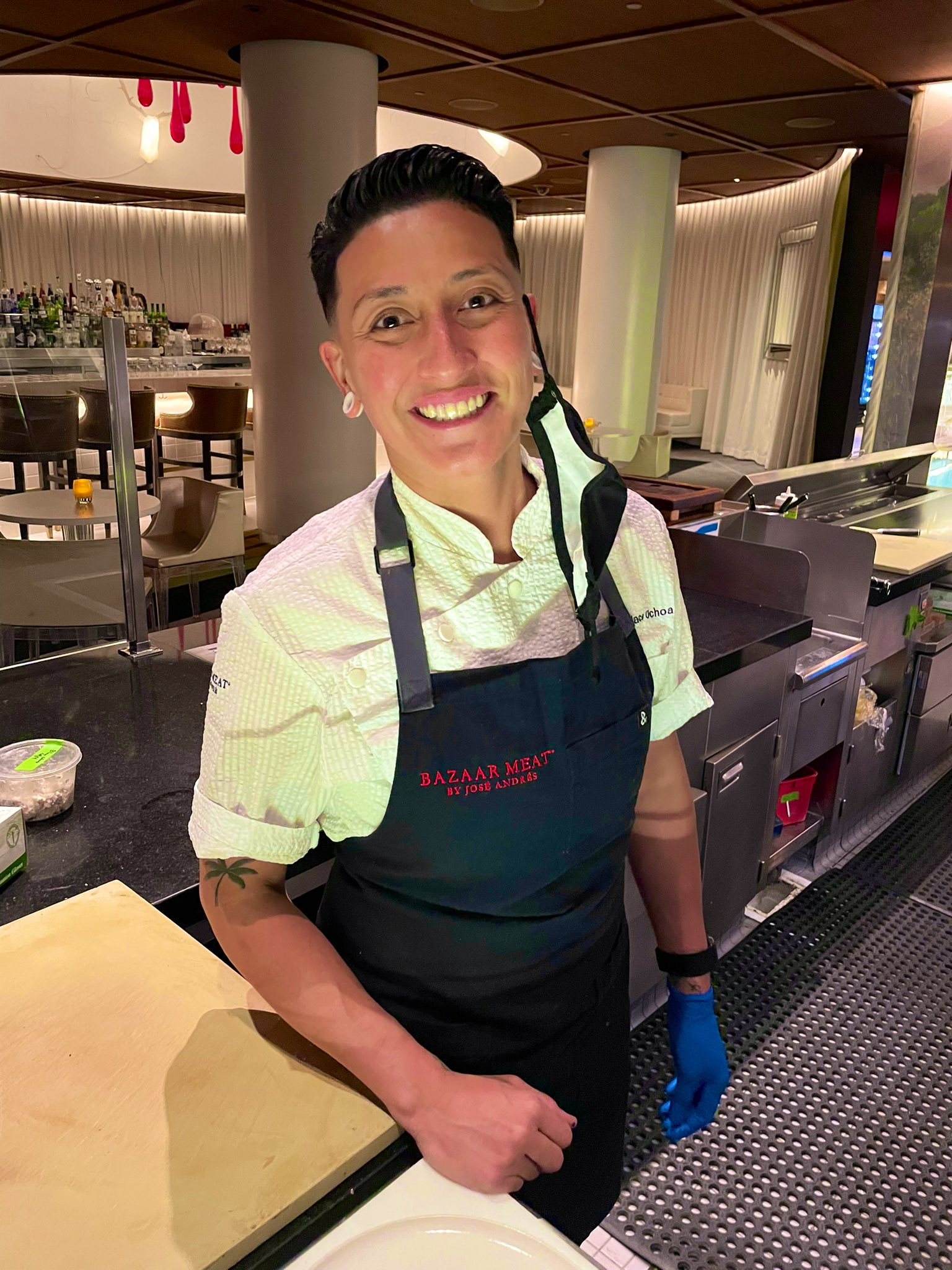 Someone asked me the other day what was my favorite steak in Vegas and I said the "vaca vieja chuleton" from here. They've reduced the menu and the wine list, but I'd still put it up against any steakhouse in America. With Candace Ochoa (above) at the stoves, there's no doubt it will stay that way.
Main Street Provisions
Justin Kingsley Hall does a lot of things well — from Scotch eggs to hummus to empanadas — but it's his burger, steaks and (rabbit) boudin that keep us intrigued.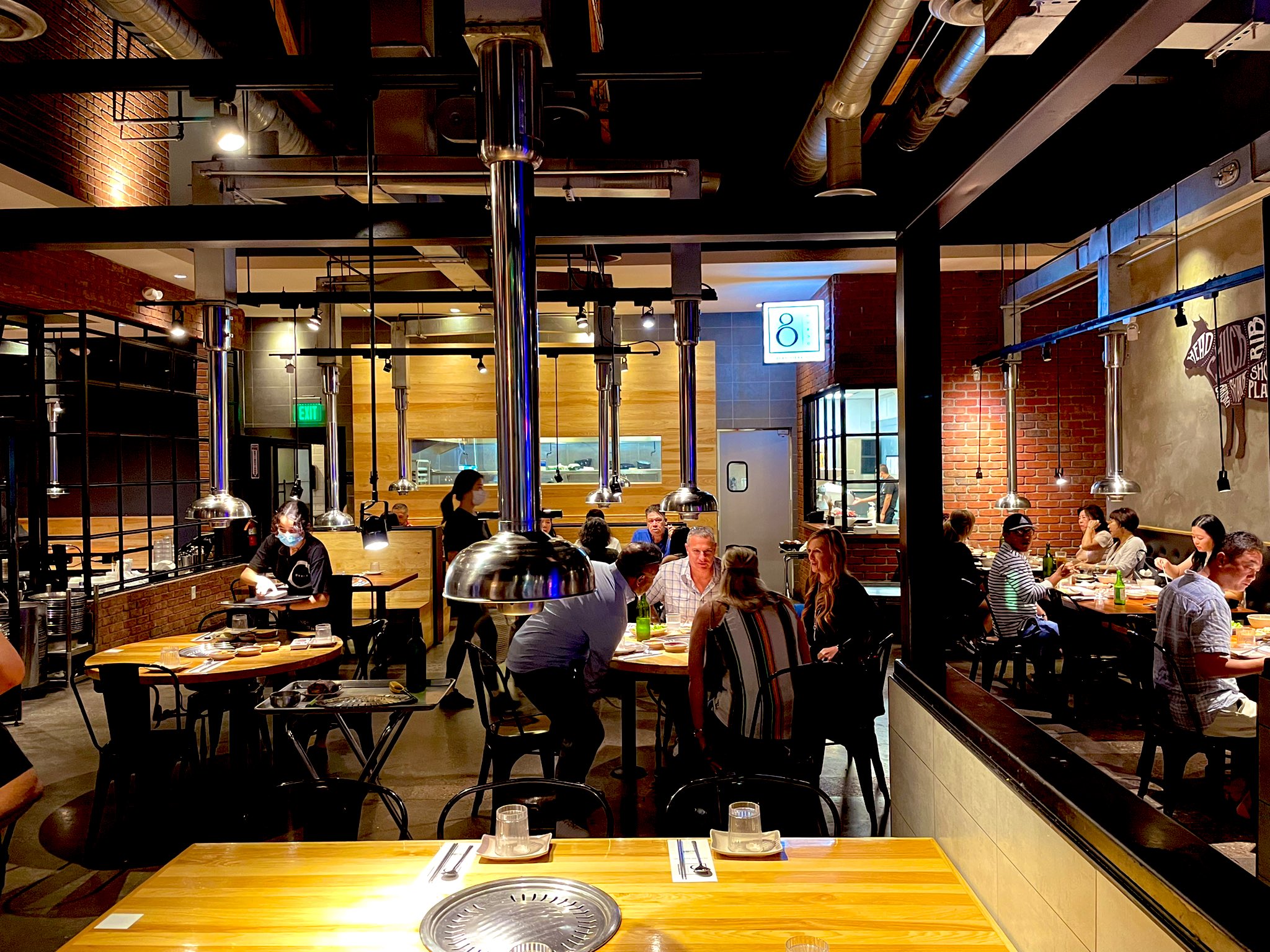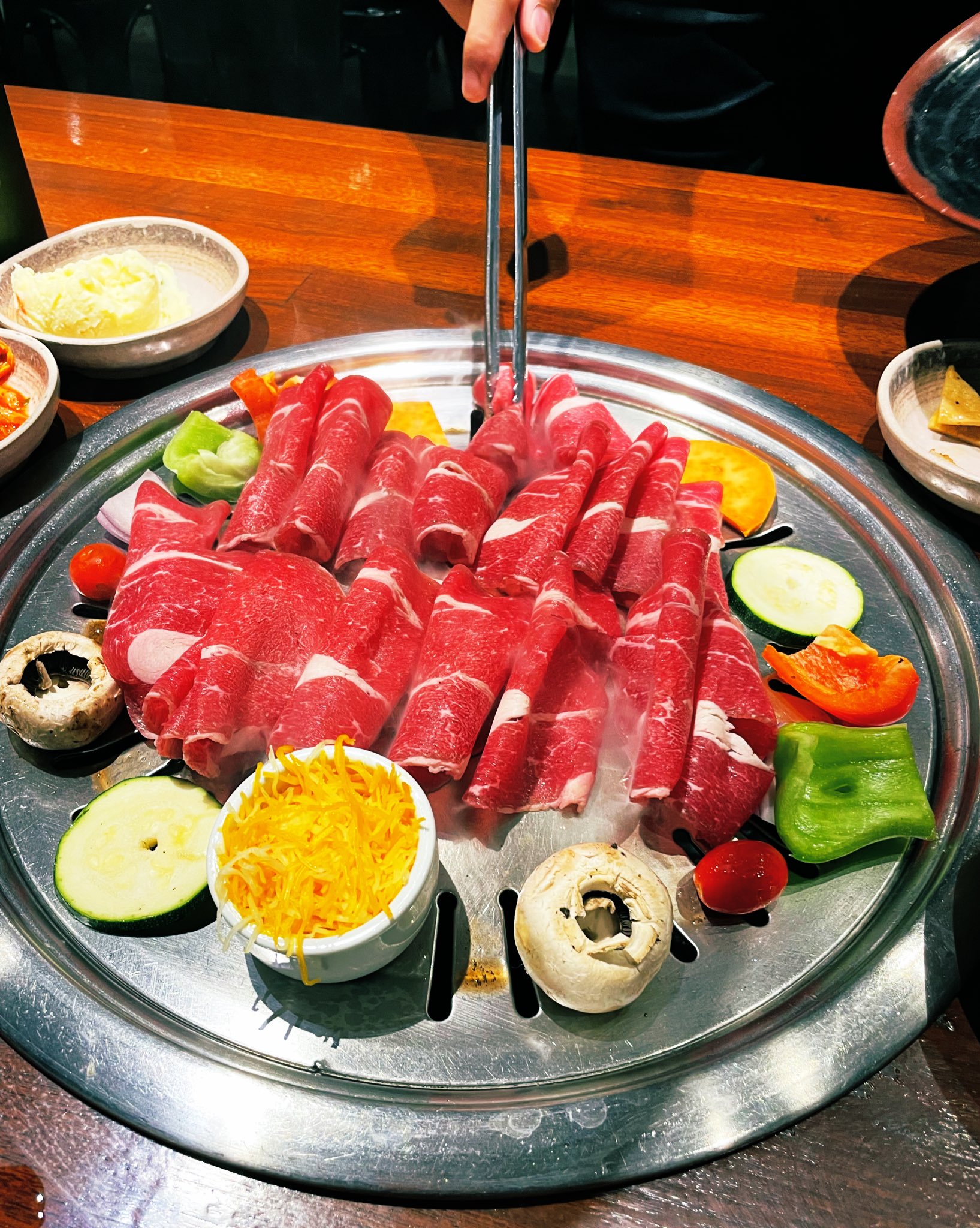 A few years ago, in the space of about a year, Vegas went from having like two Korean steakhouses to having ten of them. 8oz. is, far and away, our favorite.
It'd been years, but then we went back twice in a month. A meat fest at a good price for all the steer muscle you need. Nice service; nice Argentine wines too., but we wish there were more of them.
SW Steakhouse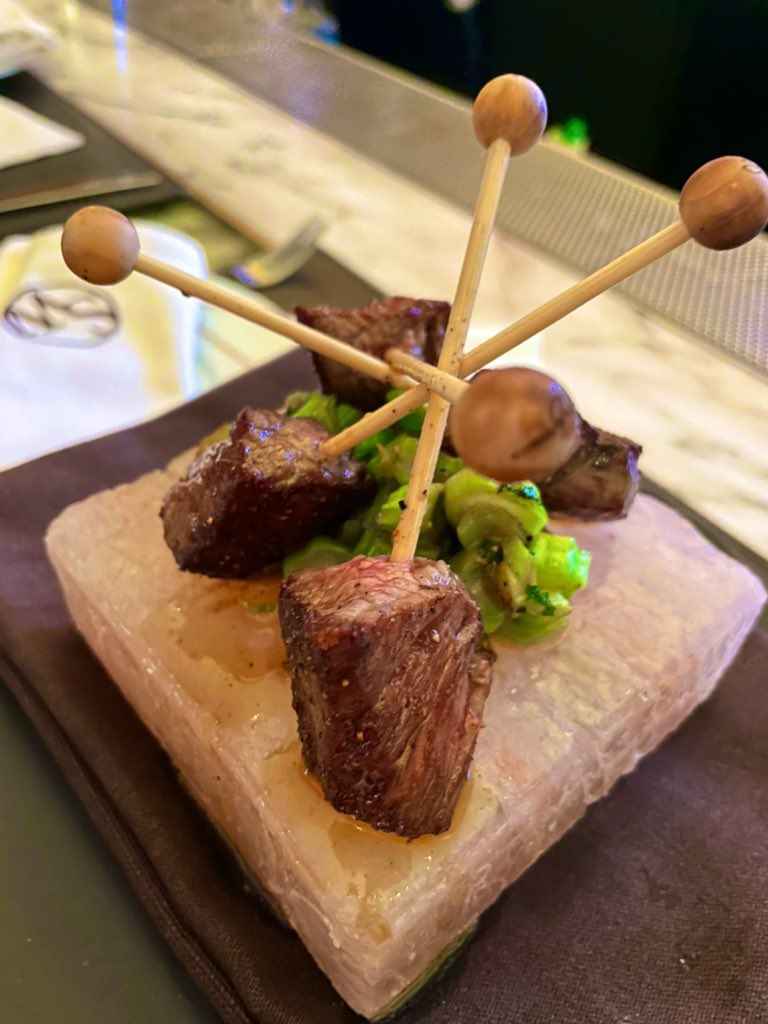 God bless Mark LoRusso: he's one of the few chefs in town who could move seamlessly from upscale Italian seafood (the closed Costa di Mare) to helming a big-hitter American steakhouse without missing a beef. Thanks to him and his crackerjack team, including Michael Outlaw, and Lauren Adkins: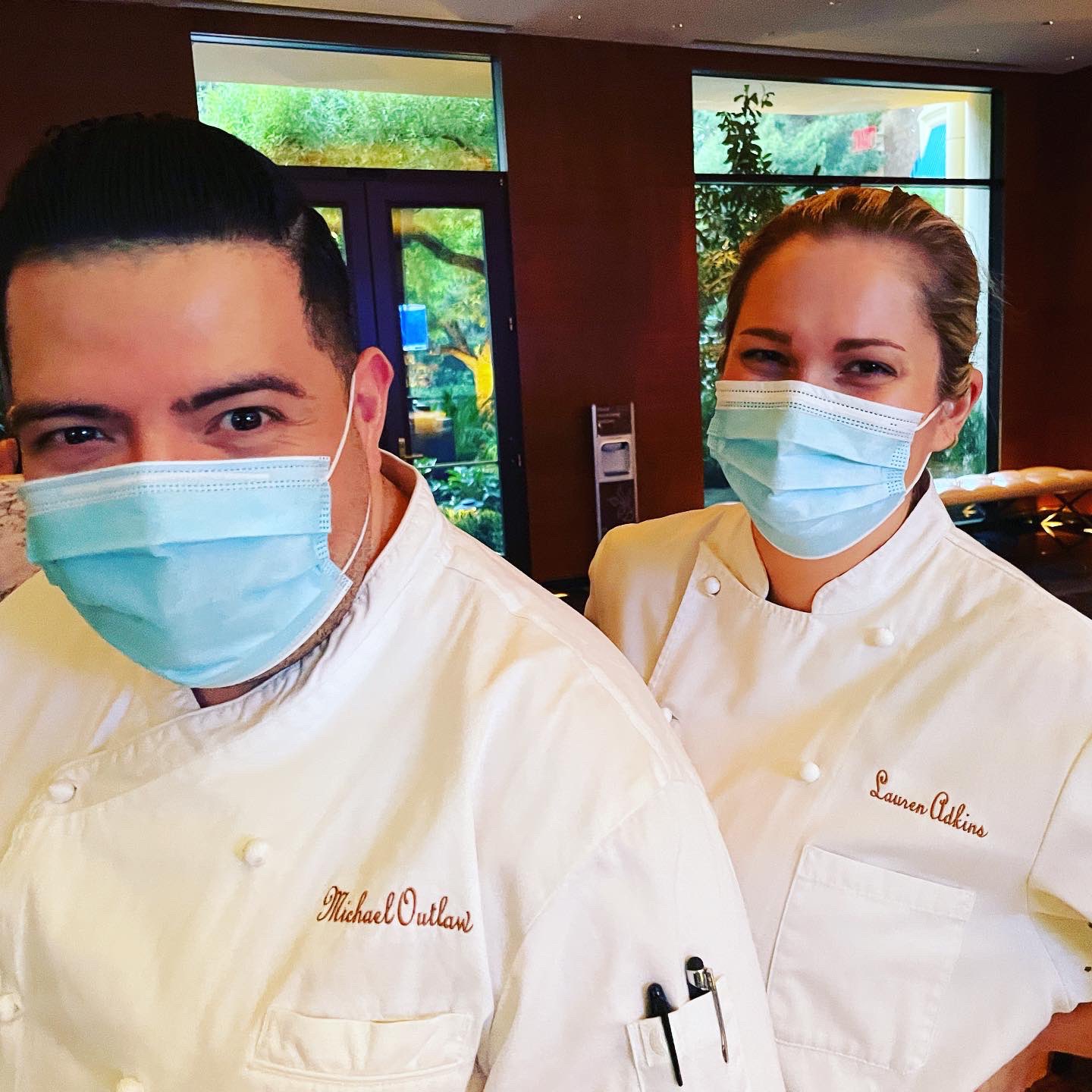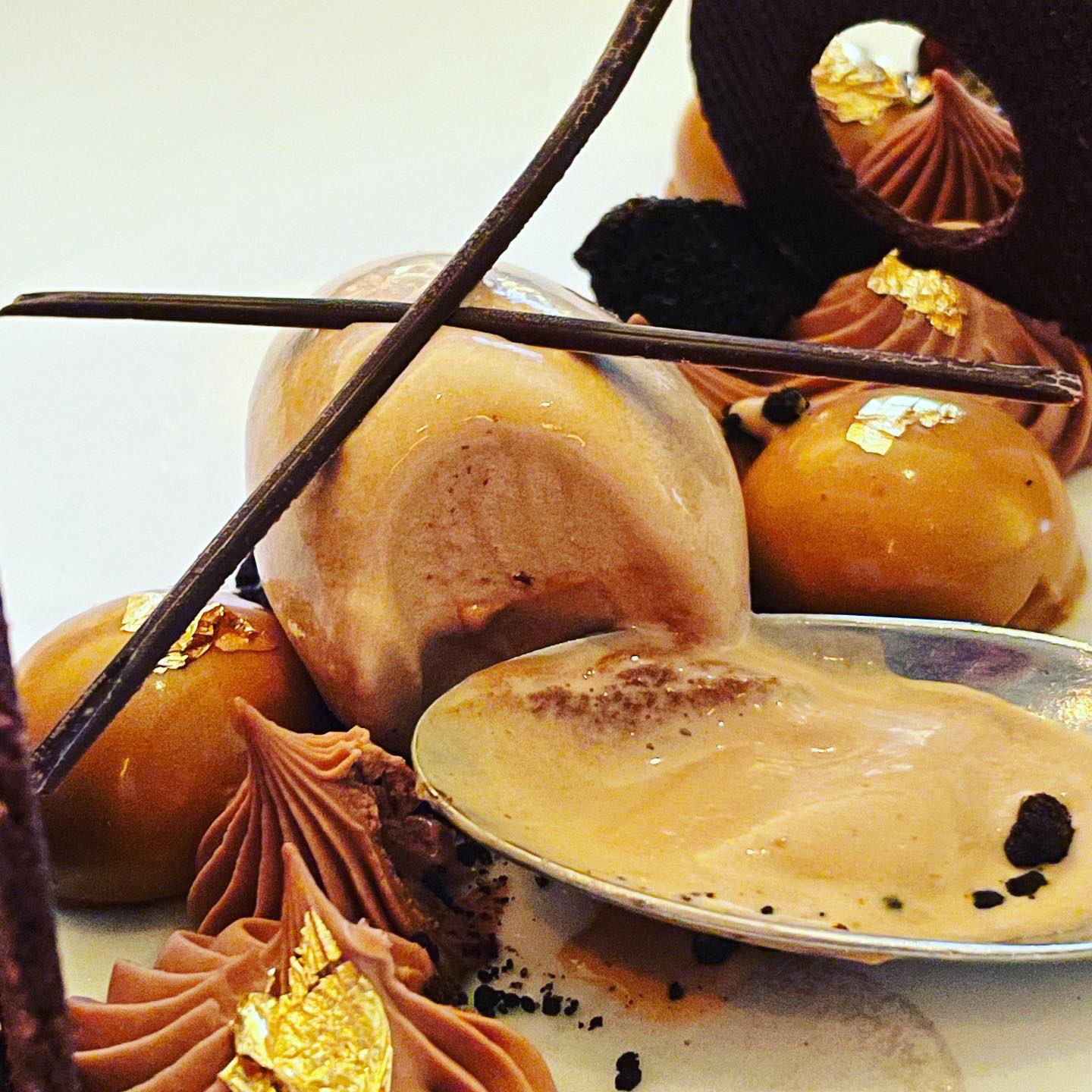 ….this bastion of beef has taken on a whole new level of sophistication.
Vic & Anthony's Steakhouse
Difficult to get into these days. Don't even think of showing up without a res. Competes with Oscar's across the street, and Barry's down the street for downtown prime supremacy. As our foodie friend JB says: "Solid. Unspectacular but solid across the board." GREAT wine list chock full of bargains.
Capital Grille
A white tablecloth lunch with a view to boot!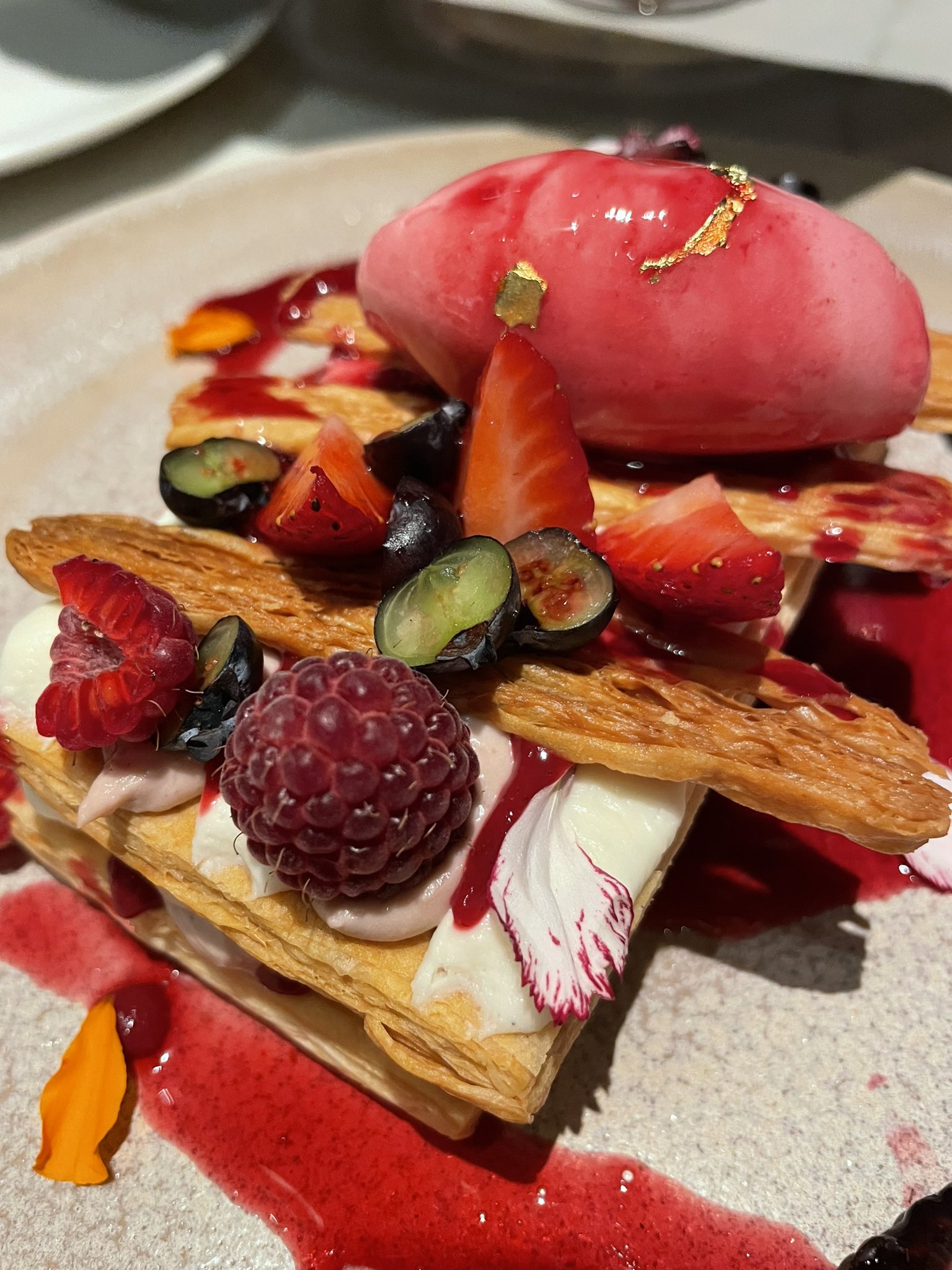 We are of several minds about Wally's. We love the wine list, the wine store, the menu, the cooking of Chef Eric L'Huillier (who does the best steak frites in town), and just about everything we've tasted (except the pizza). We're glad it's open for lunch and staffed by a bunch of old Vegas pros. On the other hand, you'll easily drop a hundy for two for lunch without whetting your whistle a bit.
FUGGIDABADIT
"Not plain terrible, but fancy terrible. Terrible with raisins in it." – Dorothy Parker
Delilah
Food and decor by Carnival Cruise Lines. You will be told upon entering that you have two hours to eat and to listen to a lot of dumb music.
<<<<<<<<<<<<<>>>>>>>>>>
That's it. My last list of the year. We'll probably weigh in on these pages in another few weeks with our Best Of/Worst Of year-end "major awards", but in the meantime, eat out often and eat out locally. And if you eat out more than me, we need to talk.
And remember: Life is short; eat more doughnuts.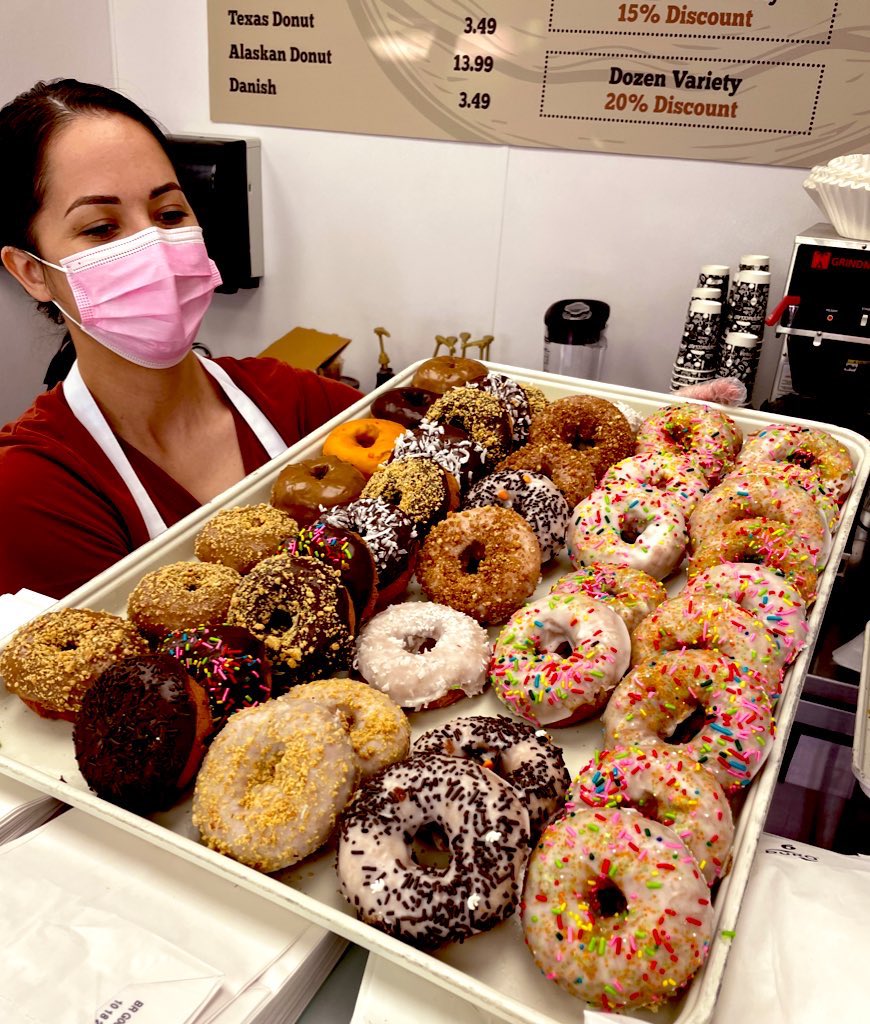 (You donut want to miss Tonya and her sprinkly cakes of pure pleasure)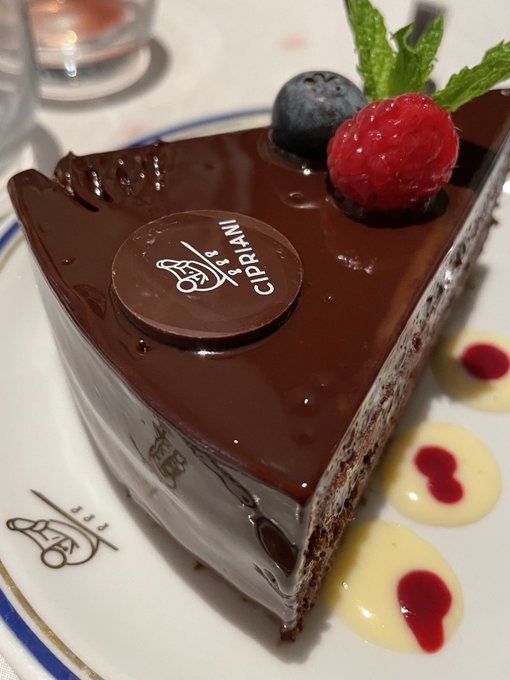 THE END