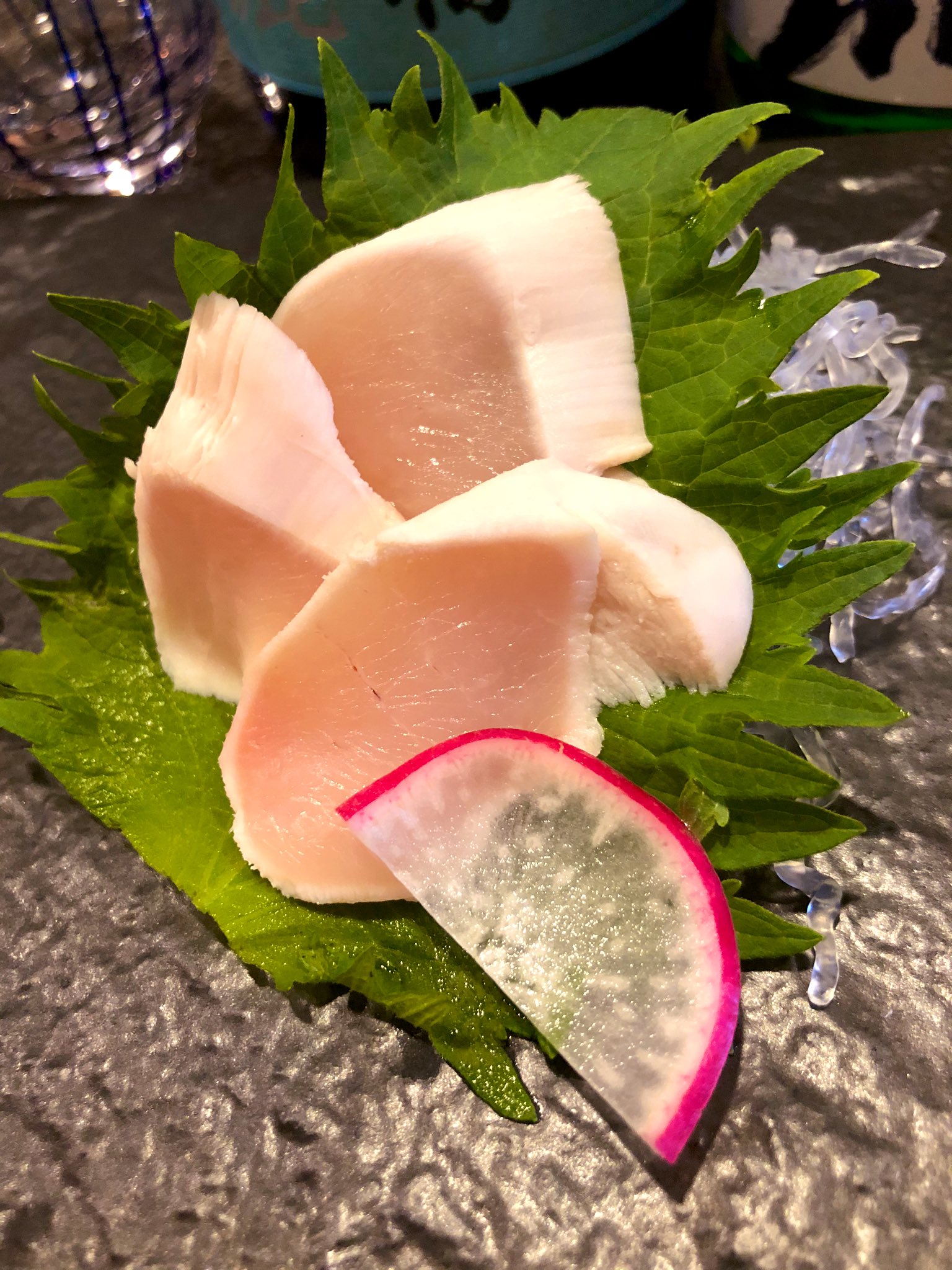 (Try it, you'll like it)
Remember all the things you used to take for granted? Your health? A job? Walking around without looking ridiculous? Shopping? Going out to eat whenever you felt like it? Overpaying for food on the Las Vegas Strip?
Almost nothing is as it was four months ago, but some degree of normalcy has returned, once you get a table inside a good restaurant.
Yes, the staff will be speaking in muffled tones (and this will infuriate the both of you), and yes, the seating has been re-jiggered in many places at  awkward angles, but by and large, once the grub start showing up, you won't be disappointed. The restaurants that were good-to-great before the Panic of 2020 hit are still putting out delicious meals, and surprisingly, there are openings planned which have us excited (one of which happens this week – see below).
These openings aren't happening on the Strip as much as off it….as the Strip now resembles nothing so much as a giant, three mile long aircraft carrier that has been bombed and strafed into submission. No one knows the extent of the damage done, and they're getting underway without a clue as to how seaworthy the old rustbuckets are.
Some encouraging notes:
High altitude eating got a boost this past week with the opening of Restaurant Guy Savoy in Caesars Palace. No need for much social distancing at its elegant, well-spaced tables, but the champagne bar is usually where you'll find us, noshing on nibbles and perusing one of America's greatest wine lists. Going there tonight, actually. (Ed. note: went last night, dropped a bundle, had a whale of a time. ;-))
Elio has opened in the Wynn. We have a res later this week and are totally jazzed about its take on modern Mexican gastronomy. Our meal last summer at Cosme in NYC was one of the highlights of 2019. As with most big deal meals in town, it will only be open on Thursday-Saturday for dinner.
Speaking of big deals: three very different restaurants had us jumpin' for joy in the last week. One of them will open to the public this Friday and was a dinner most fowl:
This is No Yolk: Raku Toridokoro Opens Friday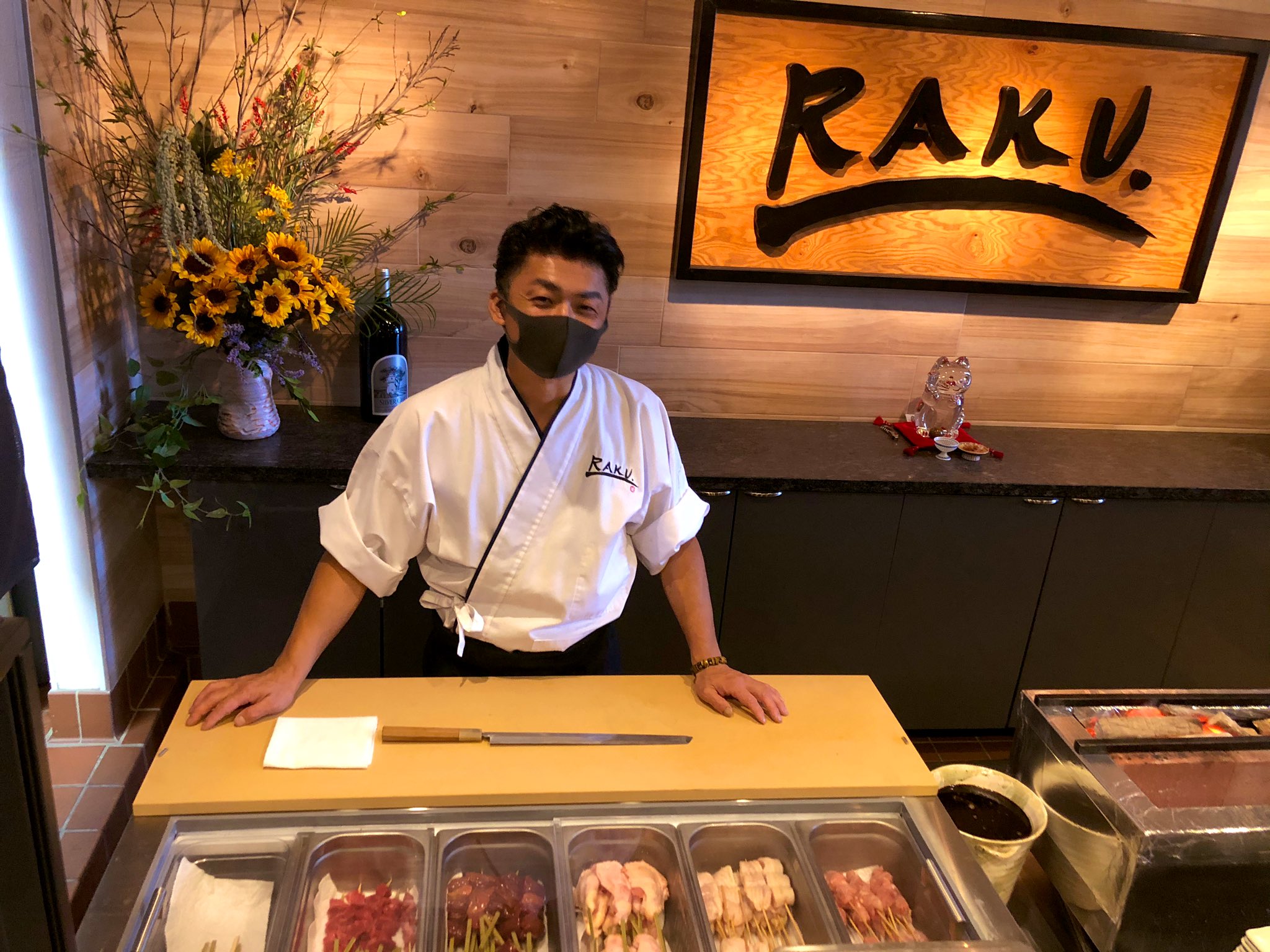 Yes, we're talking about an entire meal comprised (mostly) of chicken parts. But the star of the show was….wait for it…chicken sashimi!
Peck-uliar I must admit, but also, flocking amazing. A flight of fancy, if you will. A notable chef's beak performance no doubt.
So without feather ado, I'll give you a hent….and a bird's eye view.
We're talking conspicuous chicken here. Like nothing Vegas has seen before. No one is more fanatical about their fowl than the Japanese, and their chefs usually have a bag of chicks up their sleeve….which makes for eggcellent dining.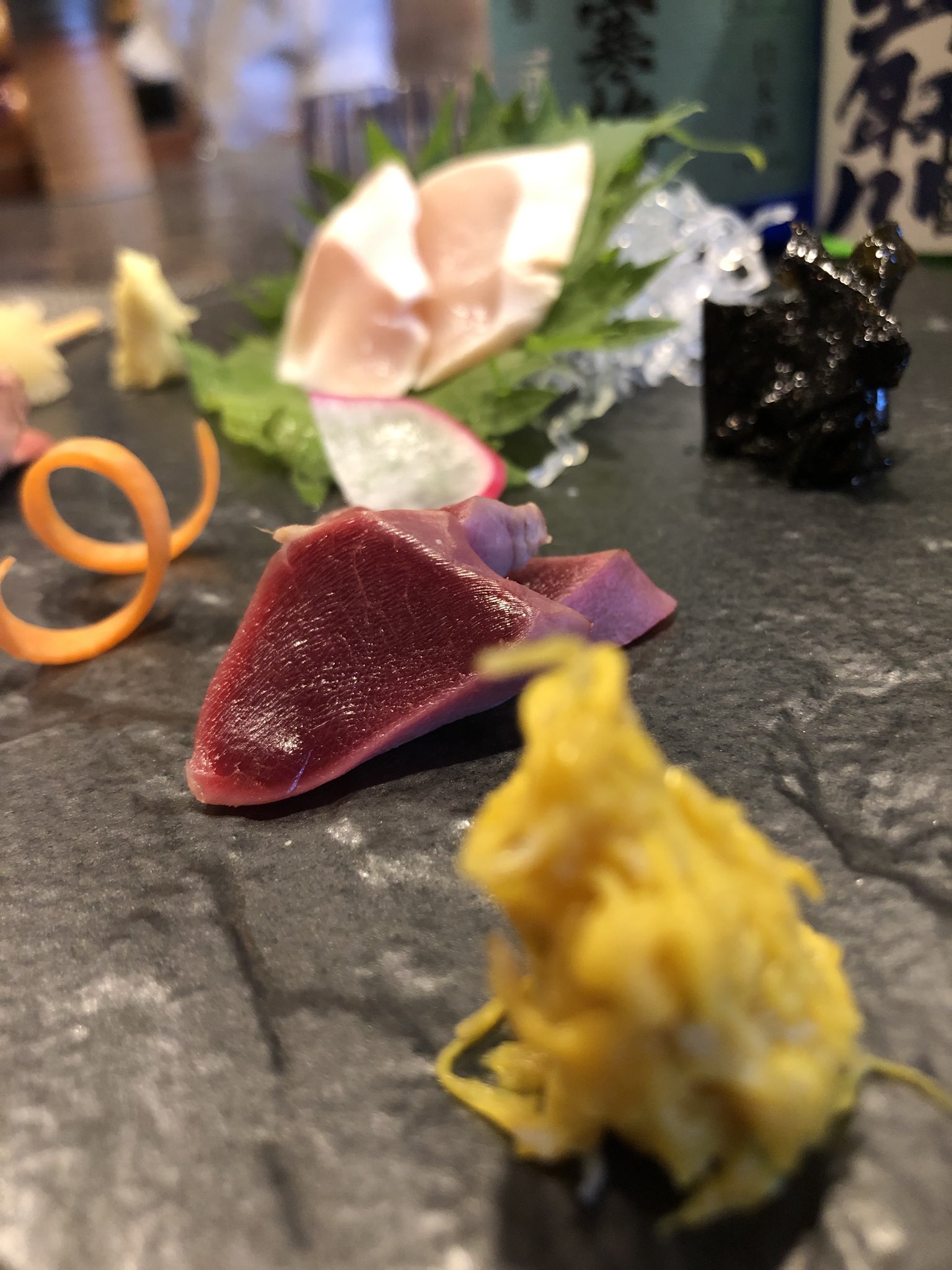 (Around here, they call me the gizzard king)
Yep, raw chicken. eaten by the slice, like sushi. Not a lot of it, a couple tender slices (of breast, gizzard and liver) will do ya.
It exists, in Japan, and, like fugu, is quite safe if the chef/restaurant knows what it's doing. In this instance, the chef in question is Mitsuo Endo — the chef/owner of Raku and Raku Sweets. You can take it on faith that he knows what he's doing.
Of course, that doesn't mean that Americans won't freak the fuck out over it. Because freaking the fuck out over foreign foods is what Americans do.
Let's get to the details, shall we?
The restaurant in which you will be sampling your chicken sashimi will open on July 3. It is called Raku Toridokoro (toridokoro = poultry house). It is not just a simple yakitori parlor, although lightly seared chicken skewers will be a substantial part of your meal.
The restaurant occupies the space formerly occupied by Tatsujin X — one of our 52 Essential restaurants for EATING LAS VEGAS 2020 — which closed within weeks of the book being published late last year. This incarnation promises to be more crowd-friendly and compelling, capturing more the izakaya-vibe of its namesake, as well as serving things unheard of in Las Vegas before…like raw chicken parts.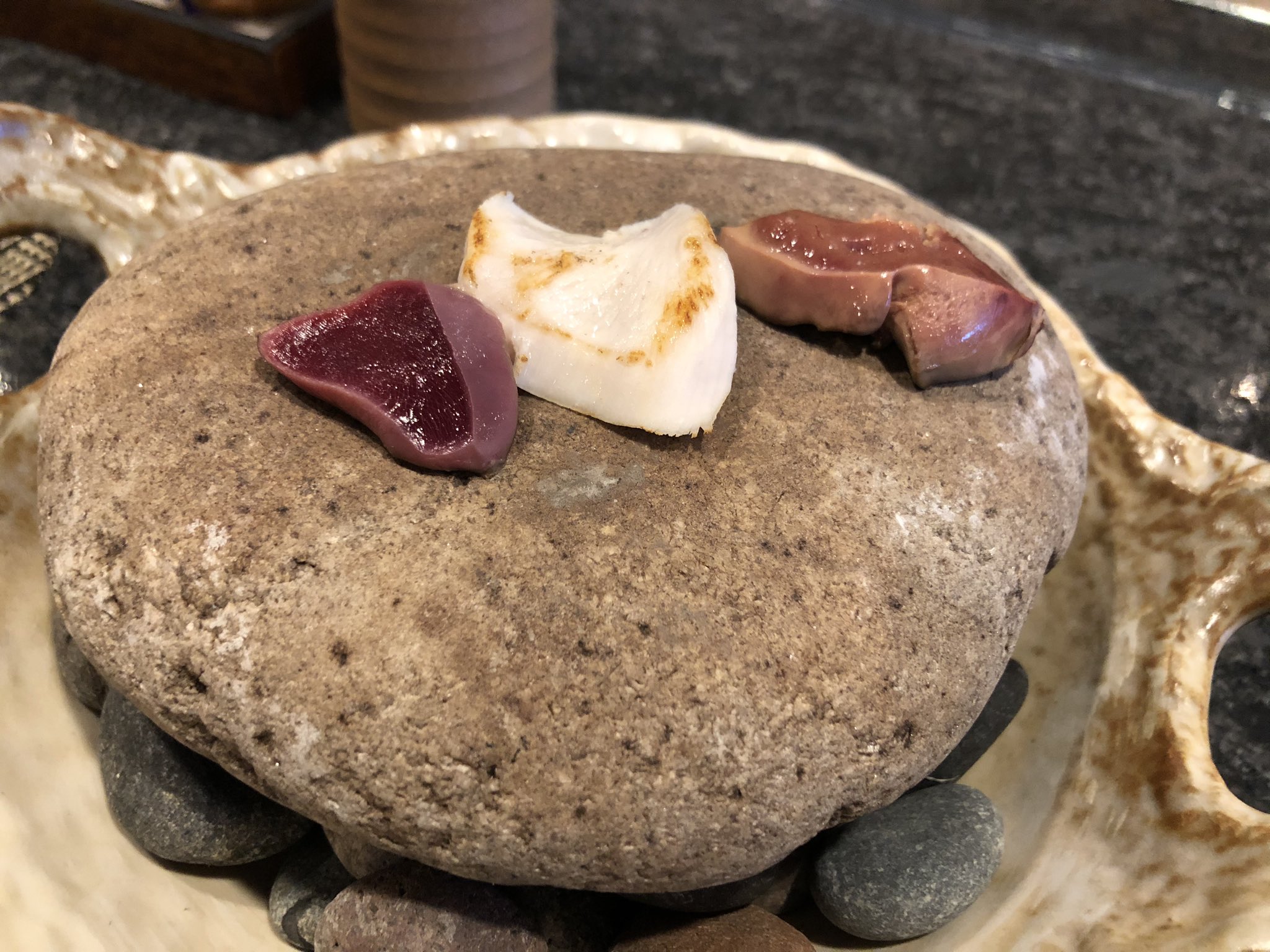 (Liver a little…try it raw)
The raw poultry parts you will eat will not be slimy or old or taken from the outer flesh of the bird. They will be quickly poached (as you will see on the exterior) to kill some outside bacteria and firm up the meat.
Don't worry, if you chicken out (sorry, that pun wrote itself), the restaurant provides a very hot rock (above) for you to quickly sear/cook the meat thoroughly. Texture-wise it'll remind you of lean blue fin or Big Eye tuna. Taste-wise it is almost sweet, but very, very mild. With your eyes closed you wouldn't peg it as poultry until the merest hint of fresh, raw chicken taken from the refrigerator surprises your back palate.
This rarest of rare treats (and a Vegas first) is only one small course in a multi-plate production spanning the entire length of the bird. Skin, gizzards, liver, heart, you name it, almost everything except the pecker.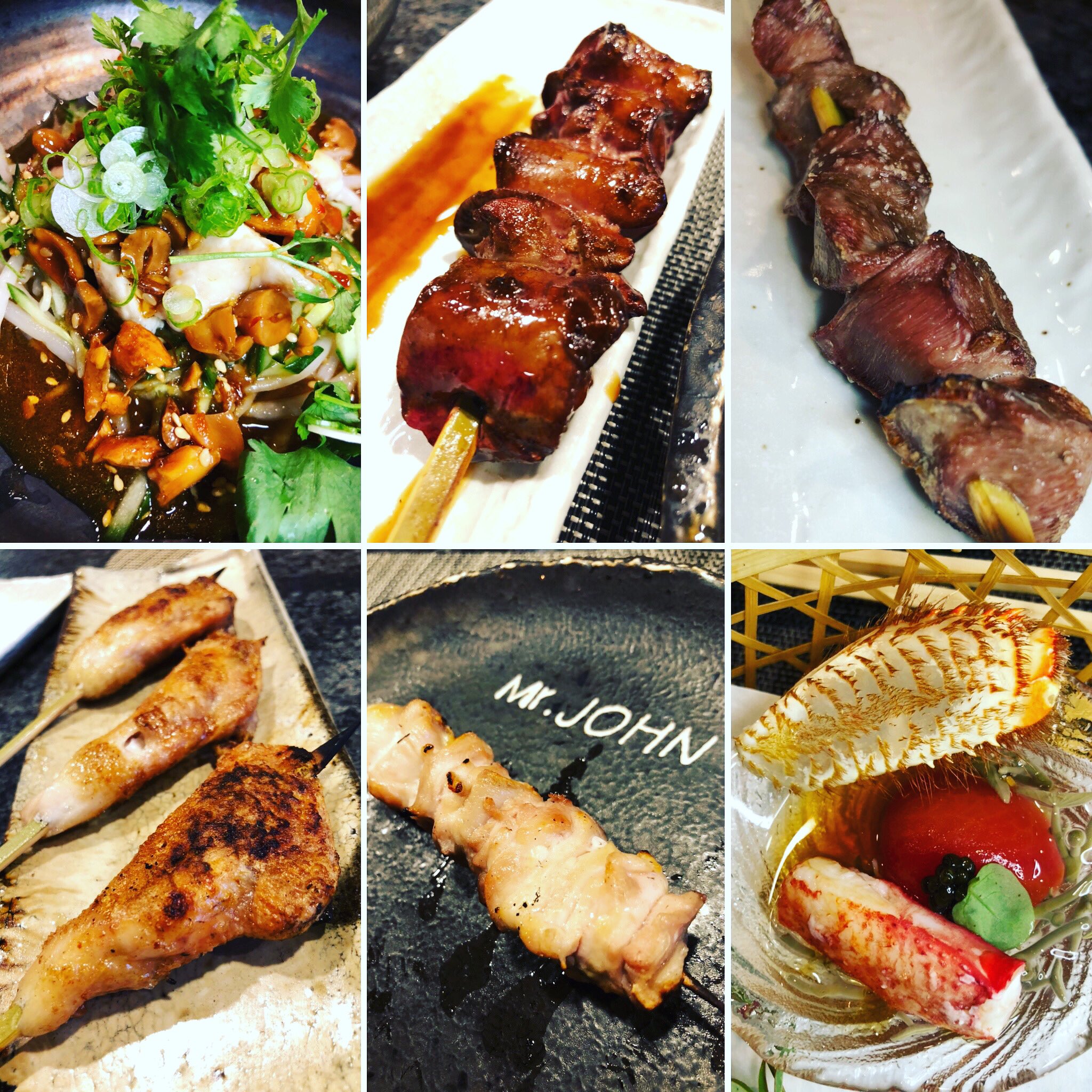 (Our love for this food is a bit skewed)
You will start with an appetizer platter served in a basket, and end with what might be the richest chicken soup you've ever tasted without cream in it.
In between will be skewer after skewer of different parts, each of them challenging your preconceptions about this (heretofore) bland bird. Endo-san can be credited with jump-starting our Asian food revolution in 2008, when he opened Raku. With it he took Japanese food to another level. People were ewwwing and ahhhing then over such exotica as beef liver sashimi, dried sardine salad, monkfish livers, and uni custard back then. Now they're as common as California rolls. Well, almost.
Life is short, pilgrim. It's time to enjoy it to the fullest. Eating dangerously is the best revenge (even though it is not that dangerous). But don't dispel your friends' fears, exploit them!  Dive in and take the accolades. It's really not a big deal, but don't tell them that. Eating chicken sashimi will give you bragging rights among your gastronautic comrades for years to come. They'll look at you as the Tenzing Norgay of poultry, the Sir Edmund Hillary of farm-to-table conquests.
See for yourself and eat here soon, before a reservation is harder to get than a martini at a Mormon wedding.
Tacos, Tacos y mas Tacos!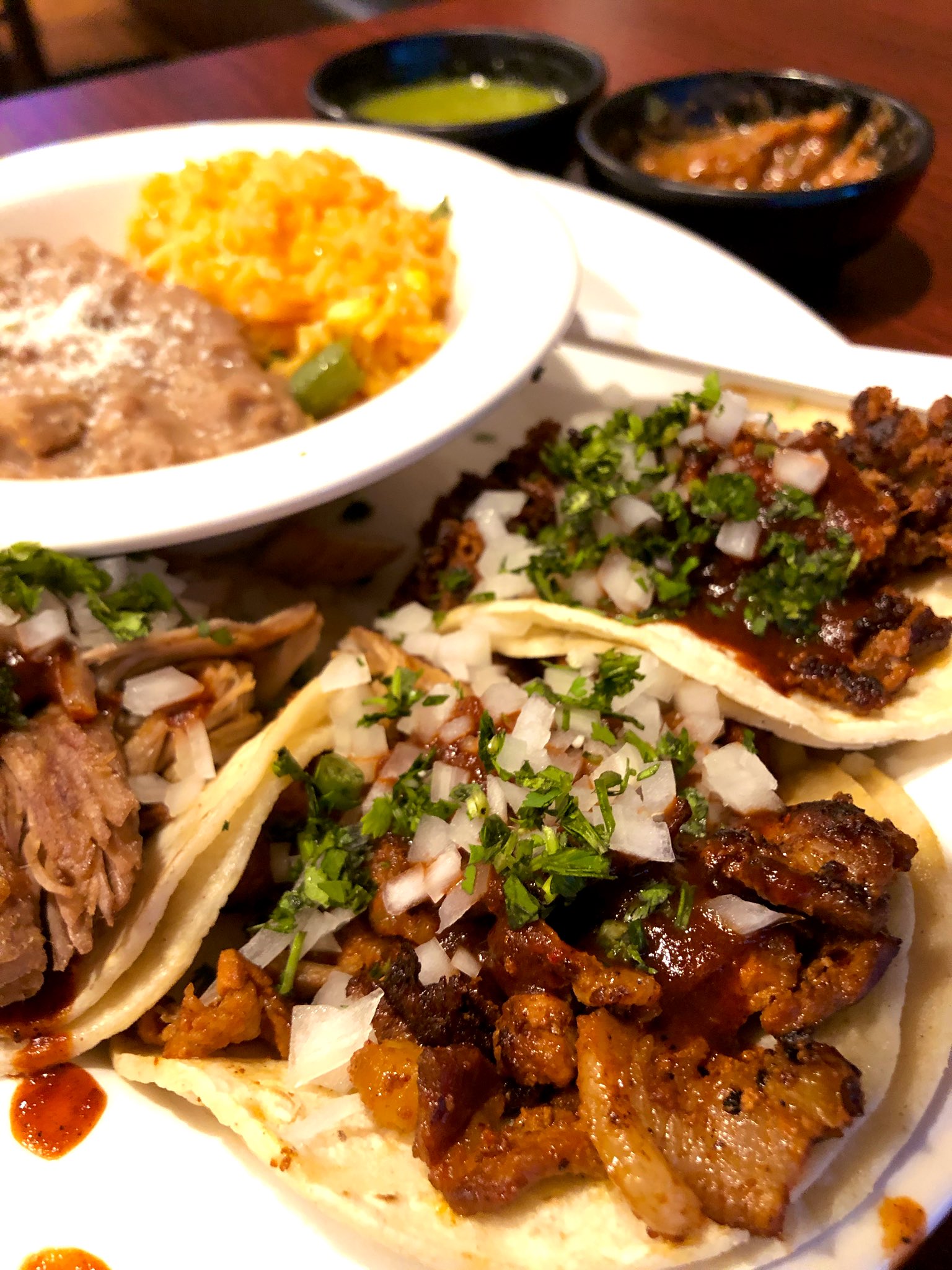 When you walk into a Mexican restaurant, and the chips and salsas blow you away from the first bite, you know you're on solid ground.
Chef Jose Aleman calls Sin Fronteras a "no Tapatio zone" and a splash of any of his five, "grandma sauces" will convince you never to hit that bottle again. He charges a buck apiece for them and they're worth twice that much. We're partial to the Verde and Roja (both on the mild side), but there's not a loser in the bunch, and the Morita (habanero chipotle), and the arbol-based Diablo will light you up and set you free from the tyranny of Mexican tepidness which infects what so many think of as true south-of-the-border flavor.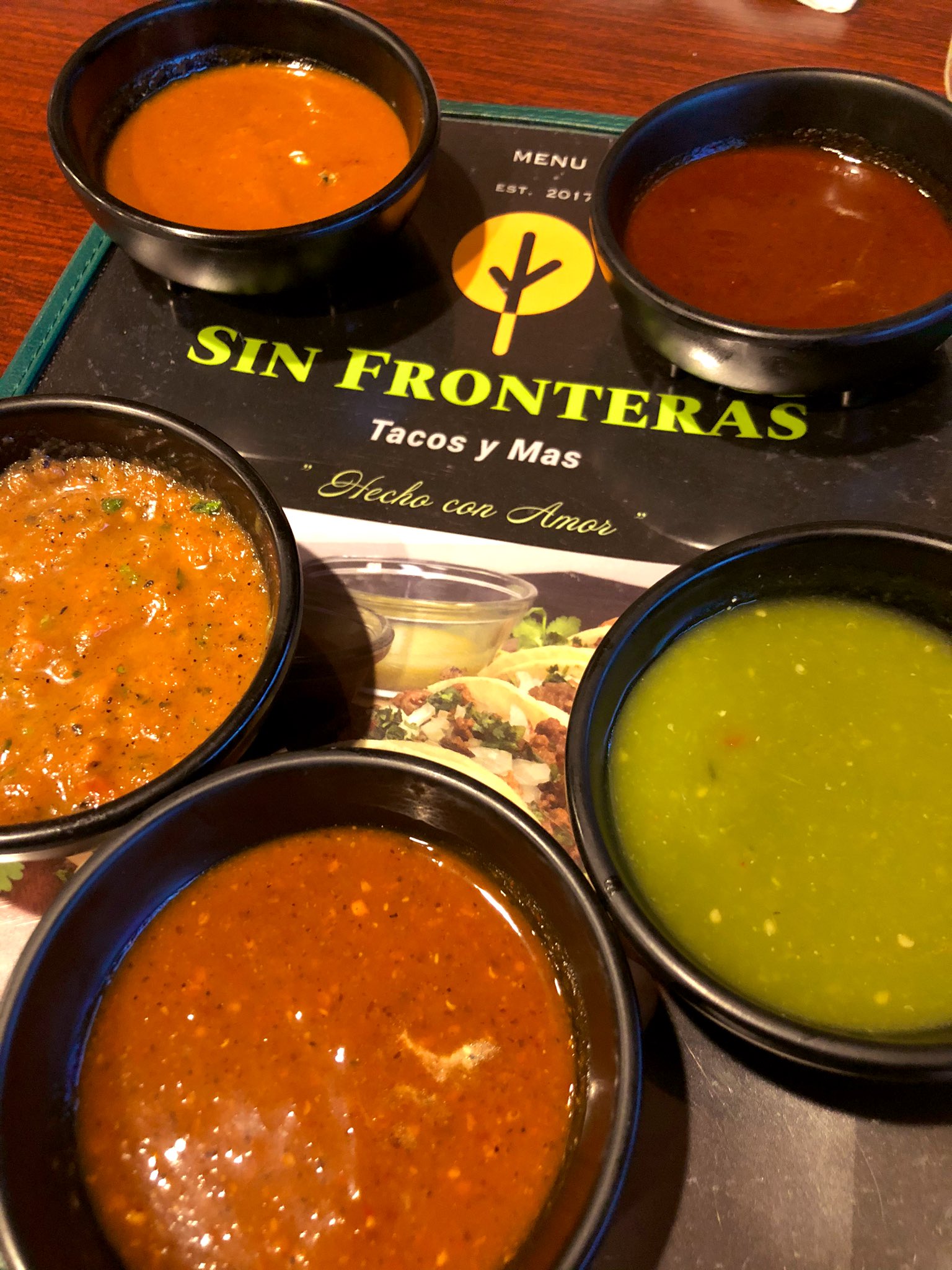 (These are nacho average salsas)
These are salsas where the fruit and piquancy and smoke of the base ingredients come through — as far from bottled or canned Mexican salsas as a fresh corn tortilla is from a bag of Doritos. But the salsas and the house-made, addictive chips are just the beginning. You won't find better nachos (above) anywhere this far north of Piedras Negras, and the chile relleno (stuffed with melted Oaxacan cheese and swimming in roasted tomato salsa) is a thing of beauty: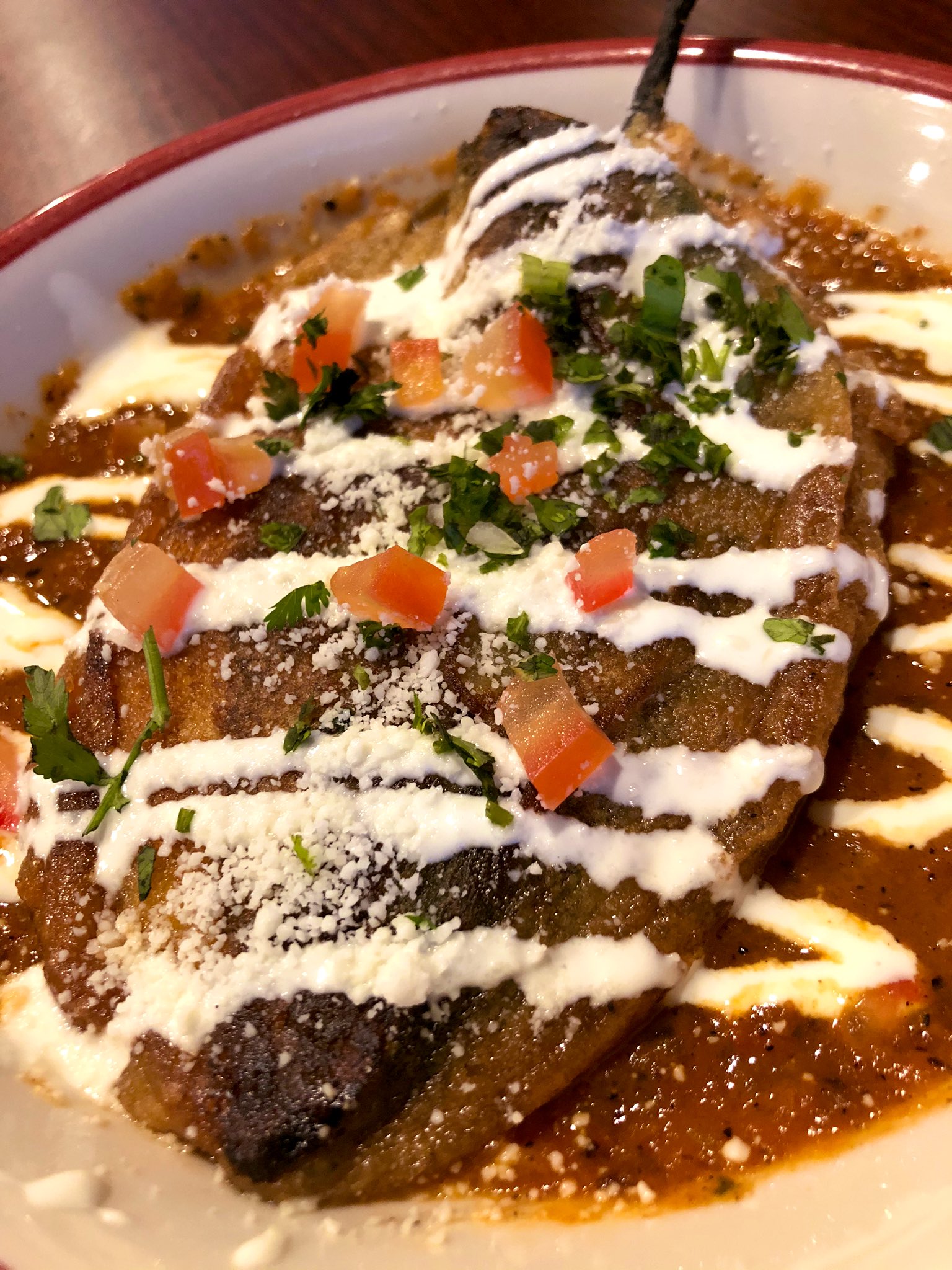 And we haven't even gotten to the tacos yet.
Suffice it to say they are great across the board, using meat, veggies, cheese and those sauces which put them light years beyond what you find in your standard neighborhood, straight-from-Sysco taco assembly line. Spoon-tender carnitas, smoky carne asada, crisp, non-greasy chorizo — these tacos are given a proper chef's touch, befitting Aleman's former stints in top-flight restaurants on and off the Strip.
At this point we're tempted to say you won't find any better tacos anywhere in Vegas. You certainly won't find better salsas. It may be in an odd location — sort of a restaurant no man's land at Tenaya and Alexander in the northwest — but wherever you're coming from, you'll find the trip was worth it. The churros alone are worth the trip.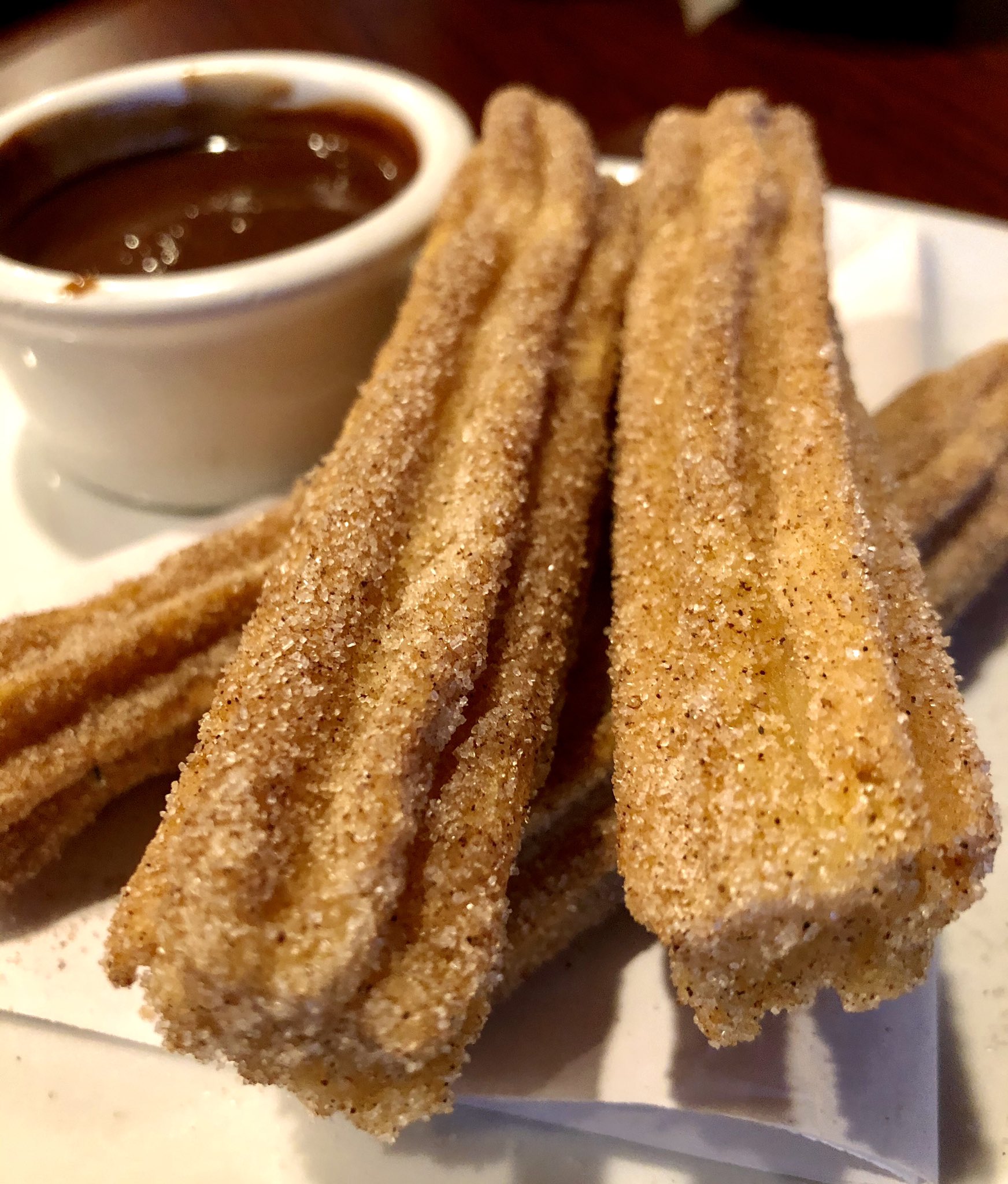 Something for Everyone…in a Sports Bar…Go Figure

I generally hate something-for-everyone restaurants and sports bars, but if I had to choose between the lesser of two evil meals, I'd pick the latter every time. Sports bars may not be known for great food, but within a narrow range, they can fill the bill. Salt and fat rule. Paltry pizza, afterthought burgers, frozen wings, and flabby fries. all of it soaked in ranch dressing. (Yuck!) Expectations are always low and usually exceeded, at least if you've parked five beers, your team is winning, and the waitress has a nice rack.
(When quality reigned over quantity)
Something-for-everyone eateries are the enemy of good cooking. The specter of the dreaded "family restaurant" looms over all of them. The HoJo's of my youth (above) were, in fact, family restaurants, but they didn't call themselves that.
Howard Johnson's was all about feeding families, but it gets a pass because it was divine — 28 flavors, fried clams, twin, butter-grilled hot dogs (called "Frankforts") in those cradle buns, chicken pot pies with flaky crusts  — food overseen in later years by chefs like Pierre Franey and Jacques Pépin. (True!) It was, as far as I'm concerned, the last family restaurant in America worth a split-top.
Simple Simon and the Pieman may be long gone, but their legacy lives on. From Olive Garden to Cheesecake Factory, chain restaurants serving standardized, all-over-the-map fare are HoJo's progeny. They prove daily that it really is impossible to do cross-cultural cooking under one roof with any authority. But, if you downsize, and put your cooking in the hands of a real chef, there are exceptions to the rule that culinary genres should never mix on one menu.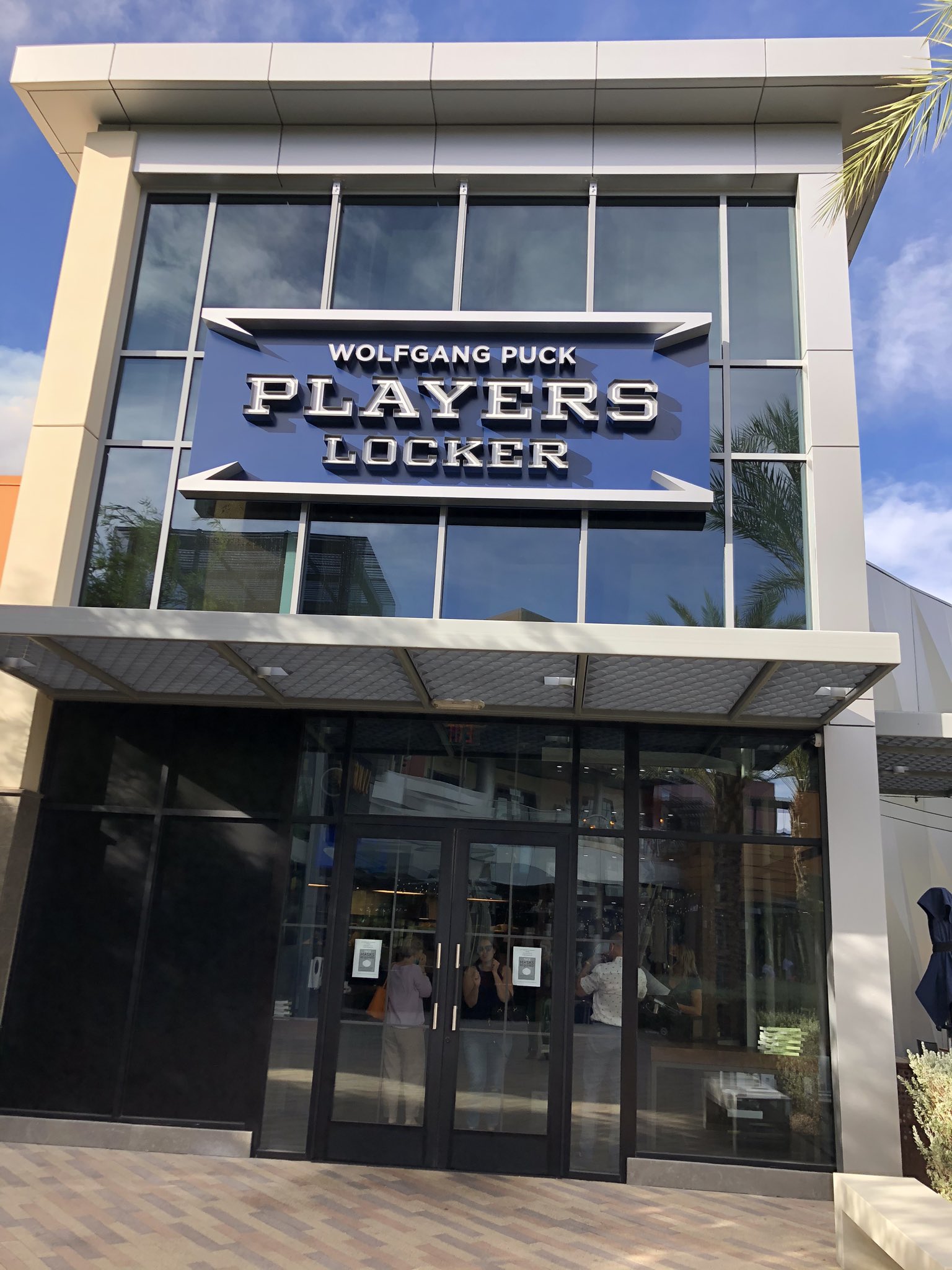 And by "exceptions" I mean the Wolfgang Puck organization — the only collection of chefs I know who seem to be able to toggle between cooking styles and genres without missing a bean sprout.
They kept the flame alive at Player's Locker over the three-month lock-down, and now they're seating customers like nothing ever happened. Of course the tables look strewn about willy nilly — but big comfy booths let you social distance without feeling like you've been sent to detention.
The menu includes a lot of "best hits" from the Puck oeuvre, but you won't be disappointed with any of them. If you're looking to feed a crowd (whether of picky eaters or picky epicureans). it's probably your safest bet this side of Spago, which is no coincidence.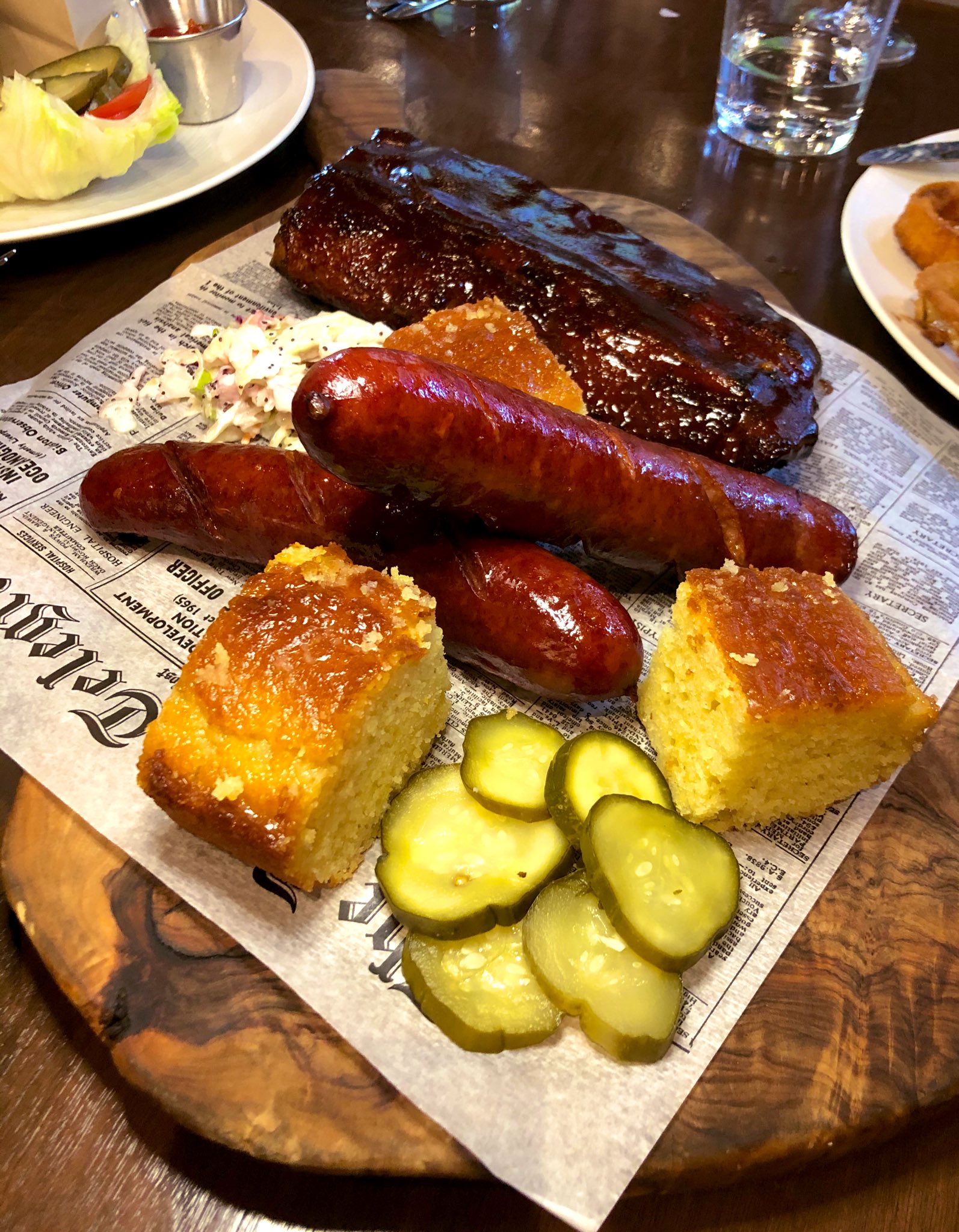 (I'm really piggy when it comes to a porcine of interest)
It's hard to find fault with any of it: great breads, good pizza, serious sandwiches, a killer burger, garlic shrimp, meatloaf, pastas, superb roast chicken, the famous Chinese chicken salad… good god this place even had me (a noted hummus hater) eating hummus…. All of them co-exist easily on a menu full of confidence and bold flavors.
The ribs are KC-style and righteous — easily pulled from the bone, but not falling off it, served under a blanket of thick, dark, sweet sauce and with some honey-sweetened cornbread my Georgia relatives would recognize.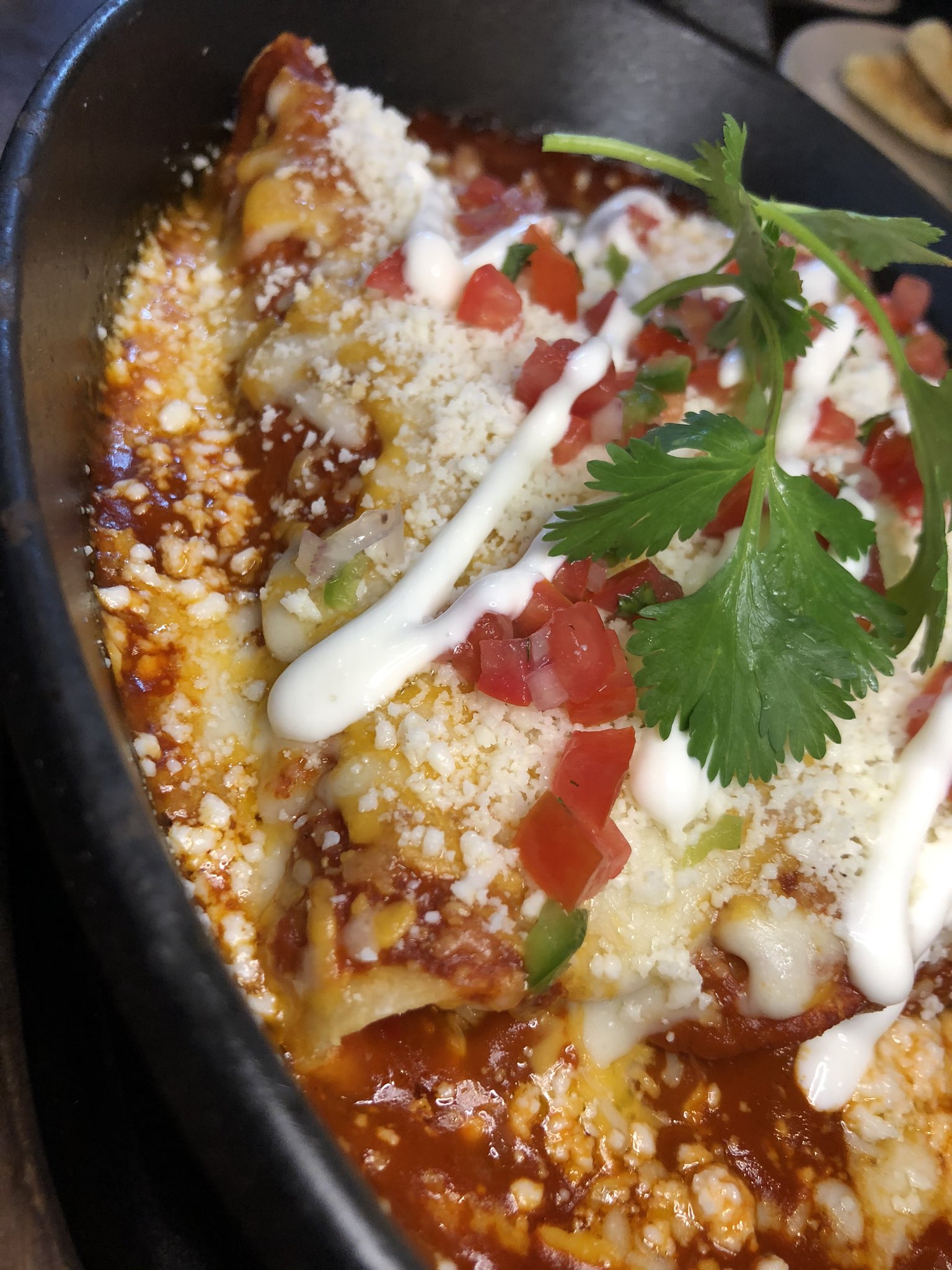 (Poultry in motion – Puck's chicken enchilada)
Even the deeply-spiced chicken enchiladas got our attention, as did the house-made pickles, the onion rings, the apple pie, banana pudding, you name it…It's hard enough to run a restaurant where they do a couple of these things well, but Chef Robert Rolla and his mentors have an attention to detail a lot of sloppier places (some within a few hundred feet of this one) could learn from.
Player's Locker is basically a good restaurant masquerading as a sports bar.  You could also call it a family restaurant, or a something-for-everyone eatery, but spare it those insults. If indeed there is such thing as an American bistro, it captures the essence of whatever the term means, in all of its mashed-up mixed metaphorical glory.  It is the restaurant every Applebee's, Chili's or Cheesecake Factory wishes it could be. It is the best food you will ever find among oversized screens displaying over-hyped sports.
(Here's how things work in the John Curtas universe these days: We go to a restaurant. We order modestly, then, 4Xs more food shows up at the table. We fight for a bill. Sometimes we get a bill, but it is usually for a fraction of what showed up on the table. We then leave a monster tip. Our meal at Raku Toridokoro was a special pre-opening tasting, so no charge, but our sake bill was $130 and left a $100 tip. When the restaurant opens, the set menu will be $80/pp and there will be a la carte options. At Sin Fronteras, we ordered 3 tacos ($8.25) and then had five more dishes hit the table. No bill, but we left $40. At Player's Locker, the entire menu showed up (or so it seemed), but they only charged us for about $40/couple. To compensate, we bought an $80 bottle of champagne and left a combined $70 tip.)
RAKU TORIDOKORO
4439 West Flamingo Road
Las Vegas, NV 89103
702.337.6233
4016 N. Tenaya Way
Las Vegas, NV 89129
706.866.0080
PLAYER'S LOCKER BY WOLFGANG PUCK
10955 Oval Park Drive, Ste D3
Las Vegas, NV 89135
702.202.6300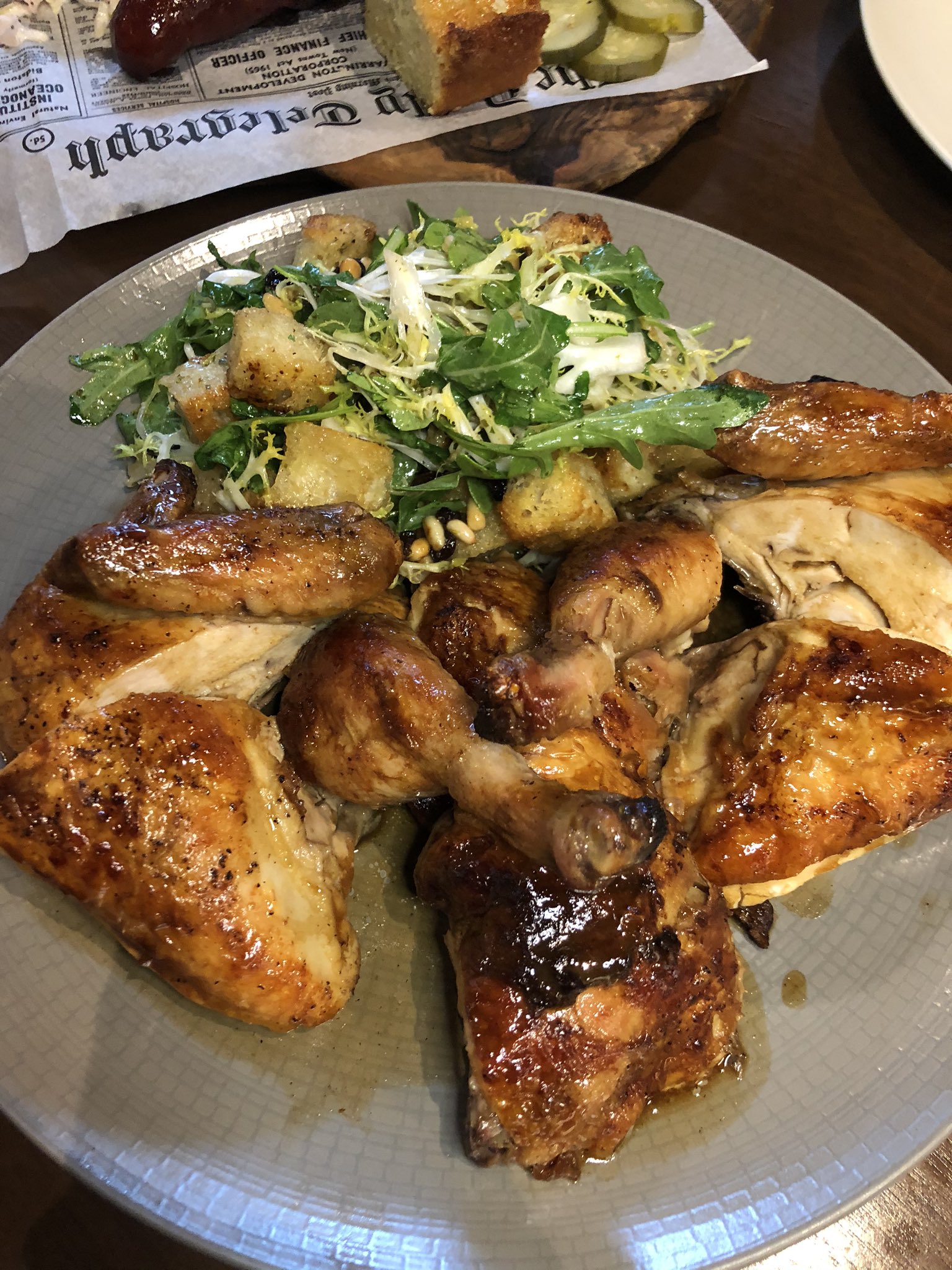 (Because we knew you wanted another chick pic)