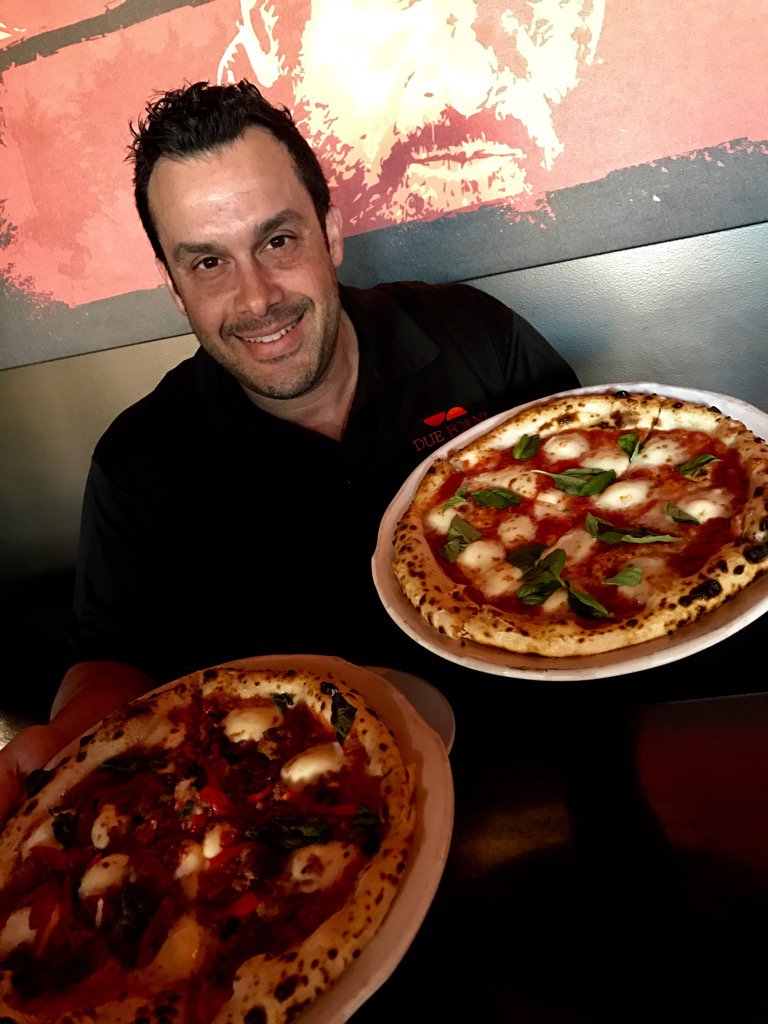 The pizza ovens will remain. The pastas will continue to be made. The uber-cool drinks, funky wine list and Neapolitan pies aren't going anywhere.
But Due Forni is losing the man who (along with Alex Taylor) invented the concept and has kept it going for the past six years.
Yes, Carlos Buscaglia is moving on, going back to the Strip, and leaving his pizzeria progeny behind.
And suddenly, Las Vegas feels a little less artisanal, more by-the-numbers, and not quite as culinarily compelling.
Six years ago it was a match made in heaven. Six years ago, the Strip was in the doldrums, and chefs like Buscaglia, Howard Choi, and Daniel Ontiveros were looking to make their mark in the 'burbs. One by one they sought to pioneer and present a better way of eating to the citizens of Las Vegas. One by one they tried to elevate our food scene, and one by one they (along with David Clawson, Bradley Ogden and others) have crashed upon the rocks of our insatiable addiction to prefabricated, freeze-dried and franchised food.
There have been some success stories, to be sure: Dan Krohmer's Other Mama being the most notable of the bunch. But by and large we are a blue collar town who prefers the sanitized and safe to the original and thought-provoking.
"There's too many chain restaurants and too many people who want to eat in them," is how Carlos put it to me last night. "It can be very discouraging."
Indeed it can. Every day at my office I'm confronted by staff and co-workers who prefer Jimmy John's and Claim Jumper to something owned by a local. All they really know is that these places are safe and predictable, and that's all they really want. Instinctively they know, what Buscaglia and I know: that it takes a certain leap of faith to put yourself in the hands of a local chef. Better by far to trust the judgment of thousands before you, and give yourself over to a formula that's worked millions of times, be it in making a mediocre sandwich or a fried chicken chalupa.
That's what Due Forni and Buscaglia have been up against from the get-go, and that's what they've succeeded against, against all odds.
But, as he explained to me, it's time to move on.
"Frankly, I'm tired of cooking everything in two ovens and in a 400 square foot kitchen with no stove. I'm looking forward to managing a big kitchen again."
That shouldn't be a problem where's he's going since HEXX (where he'll be running the kitchen), is a multi-tiered, high-volume operation that will keep Carlos on his toes.
What they are gaining Due Forni will be losing: a chef with great taste, and serious cooking chops. Buscaglia has been on the Vegas food scene since the early 90s when he was slinging noodles at Pasta Mia. From there he worked his way up the kitchen ladder all the way to becoming top toque at Fiamma, before departing to pursue his dream of bringing great ingredients and great pizza to the neighborhoods.
He succeeded and Due Forni succeeded, but time marches on and new challenges must be faced. From the sound of things, new ownership is taking over DF and, for the time being, the template will remain in place. (It still does a bang-up business most nights of the week, despite being surrounded by shopping malls with loads of shitty dining options that the public can't get enough of. I'm talking to you, Downtown Summerlin.)  It remains to be seen if they do Carlos's legacy proud, but let's keep our fingers crossed that the dough will be just as crispy-chewy, and the toppings just as top-shelf as ever.
Even if they do, however, not having Carlos Buscaglia cooking off the Strip just made eating off the Strip a little less tasty.