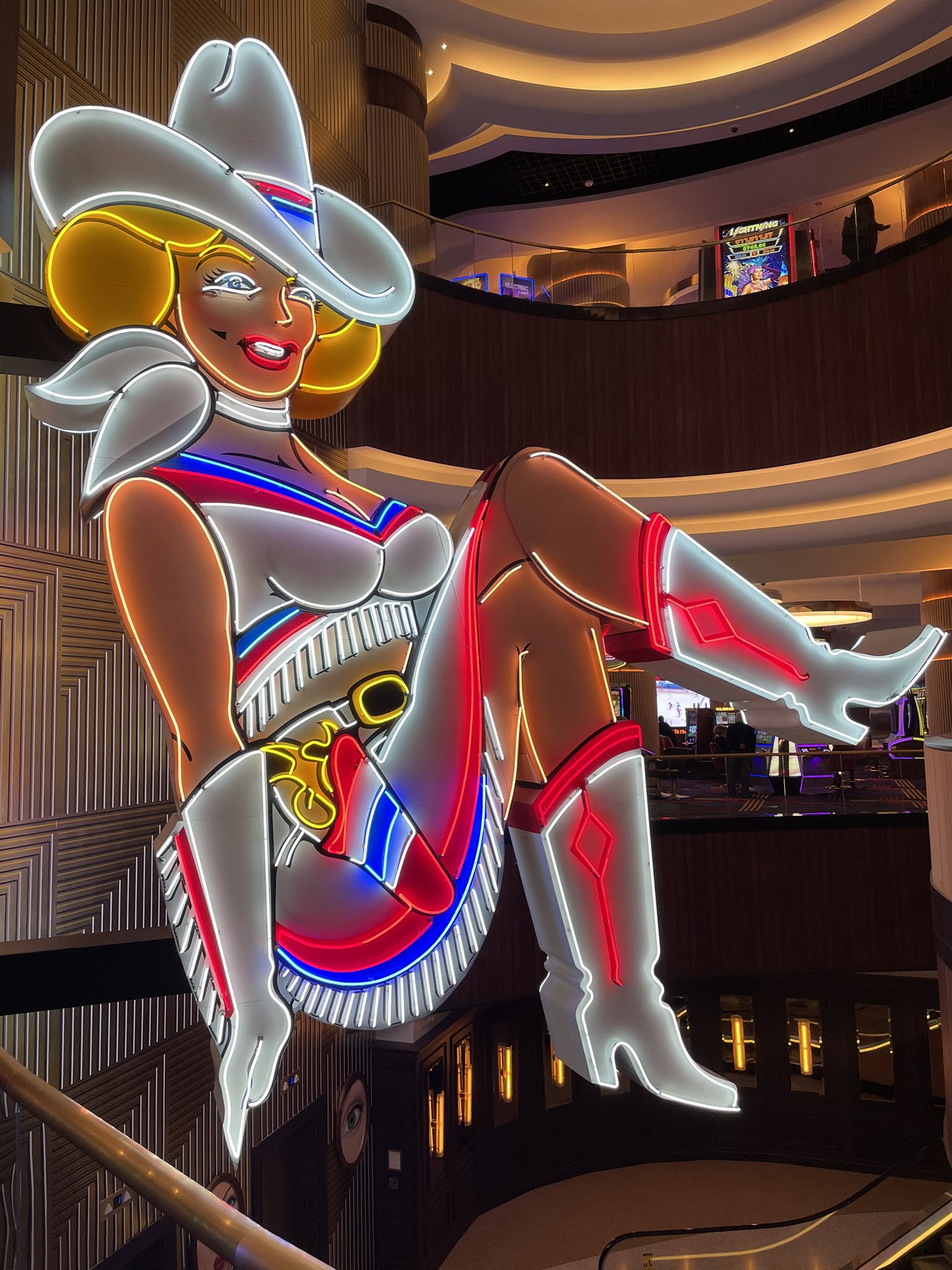 You can't talk about Las Vegas without mentioning Circa. A modern behemoth on the western end of Fremont Street, it is the first major hotel/casino to open downtown in forty years.
It sits at the far western terminus of Fremont, catty-corner to the Plaza Hotel, and across the street from the Golden Gate — Las Vegas's oldest hotel. To say it brings a breath of fresh air to the run-down environs of downtown is like saying a Rolls Royce adds a touch of class to a drag race.
The resort has gone all-in on sports betting and pool-lounging, with Olympic-sized video screens indoors and out. The effect in the sports book is one of immersion: bringing the hi-def athletes so close to the viewer they appear larger than life.
The Legacy Club and rooftop pool have quickly become attractions in their own right, and on the second floor you'll find two very different restaurants, side-by-side, which are two of the best of their kind anywhere in town. In the basement is the show pony — a new high-steaks entry in our beef emporium wars.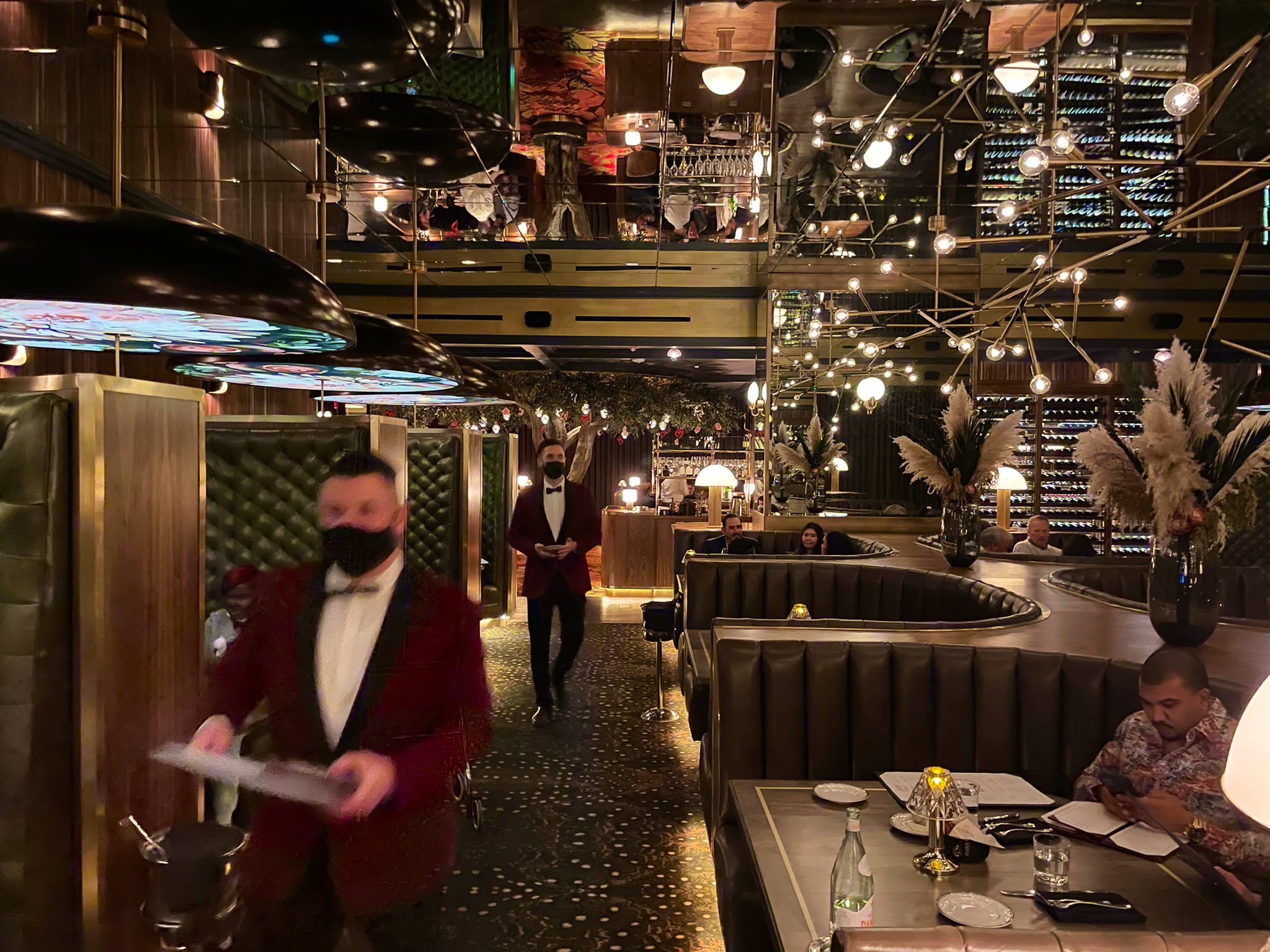 Could a new gilded age be upon us? One look at Barry's and you'd think so. All brass, glass and sass, the decor echoes the 70s (a fern bar without ferns springs to mind) with its gleaming surfaces inset with oversized booths. It is a huge (300+ seats), underground space, but the muted lighting (and the way they've chopped it up), creates a certain clubby intimacy. What it has also created in a few short months is buzz — the sort of vibe that spreads like jello shots through a day club.
What Barry's has in spades is the sort of steakhouse-as-nightclub atmosphere first perfected at N9NE in the Palms, and then carried forth by the STK Steakhouse chain (a meat market as concerned with beefcake and babes as it is with its beef).
Now, it's a well-known fact that celebrities, short skirts and superior sustenance go together about as well as chocolate chips and shrimp. An inviolable alimentary axiom posits that the quality of the cuisine always is inversely proportional to the number of hot chicks at the bar. NO ONE DENIES THIS!
(Parenthetical digression: last month I went on a barbecue tour of Eastern North Caroline (the spiritual home of whole hog 'cue), and there wasn't a babe within 30 miles of the smokehouse. FACT. You won't find any cleavage or clippy-cloppy stilettos at a New England lobster shack, either.)
The point is: the food at Barry's is beside the point. It's really just a placeholder for having a good time. Chef Barry Dakake made a name for himself (and perfected this template) at N9NE at the Palms. Now he's gone underground to take his steak fame to another level.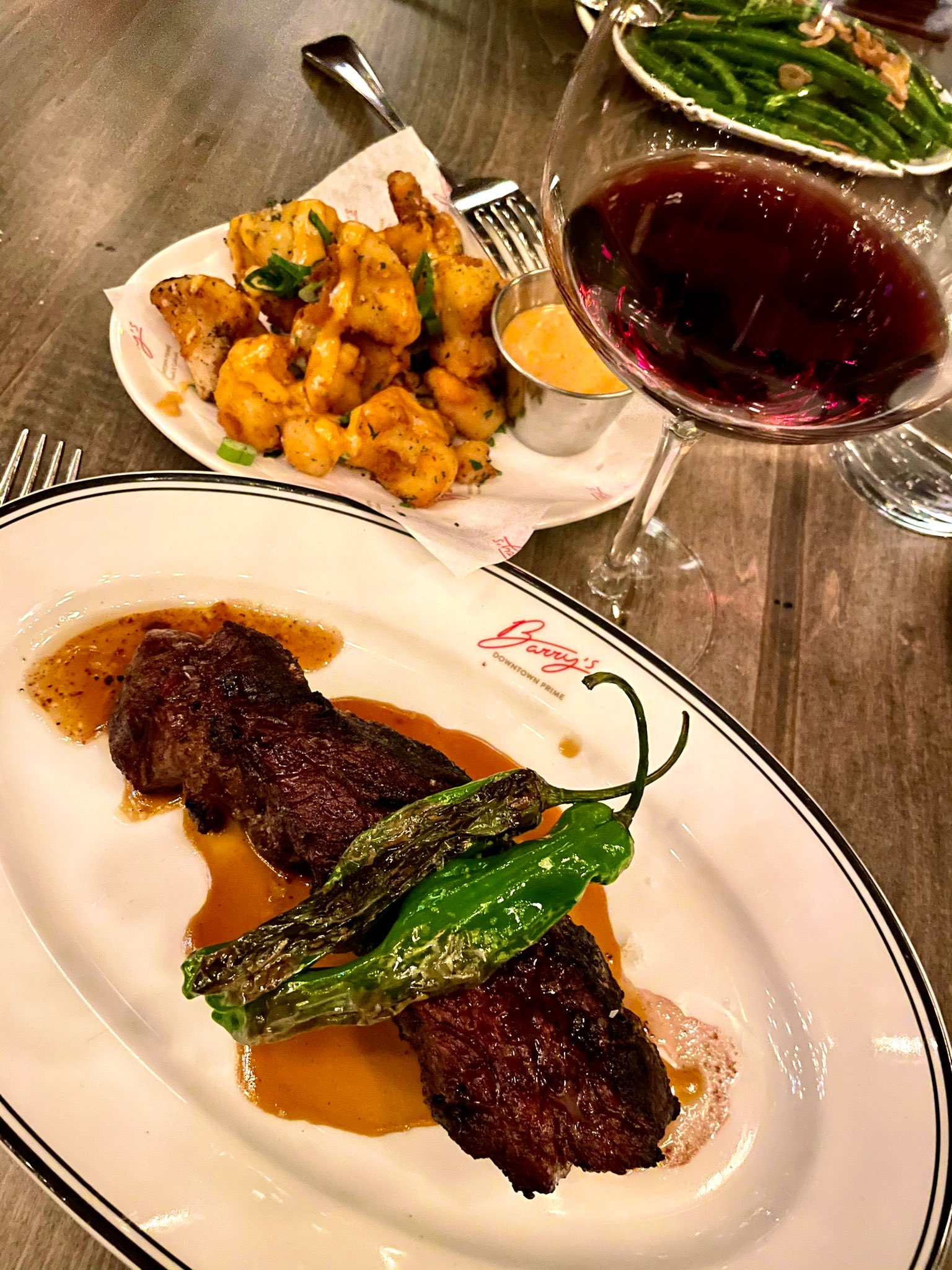 (Rib cap with mandatory shishitos)
Dakake knows how to make a steakhouse good but not too good. This is not to damn him with faint praise but to admire his tightrope walking/business acumen. Barry's doesn't want fussy gastronomes sniffing around; it wants big wallets and big egos prowling for hot trim. Eventually, it will turn into a Lavo, Tao (or the aforementioned STK), and it's only a matter of time before it is crawling with hockey and football players. Until then, it is a worthy addition to the Vegas steak roster.
The aforementioned bar has plenty of top-shelf booze and expensive cocktails to whet your whistle. Pound down a couple for a cool forty bucks, and then check out the wine list.
To be fair, it was conceived in a pandemic and executed in a panic so you can forgive its lack of imagination. Prices are high (but not pre-Covid Strip high); interesting bottles are few and far between. To give you an idea: a $24 of Nozzole Chianti Classico will set you back $70. Nothing is under fifty bucks and good bottles for under a hundy are harder to find than a collared shirt in the casino. Settle for an Oregon Pinot Noir or some weak-ass Merlot, or bring your own if you don't mind a fifty buck corkage.
With those preliminaries out of the way, it'll be time to tuck into the menu. Prepare yourself for the shockingly bad (gummy-flabby lobster potstickers), the bizarrely bad (a "real" garbage salad, appropriately named), and the could-be better (a bland steak tartare)…as well as the usual steak suspects.
Venture too far from the herd and a mixed bag awaits. A braised short rib in an eye-opening harissa-mint sauce wins "best in class" no matter whose you compare it to. But then there's a Mary's Farm organic chicken both voluminous and sloppy. (Adorned with a prosciutto "crisp" of no consequence other than to impress the rubes.)
The $76 Dover sole is good….but not $76 good, and I can't recommend the salmon. Not because I didn't like it, but because ordering salmon in a steakhouse is like going to a bordello for a back rub. AMIRITE?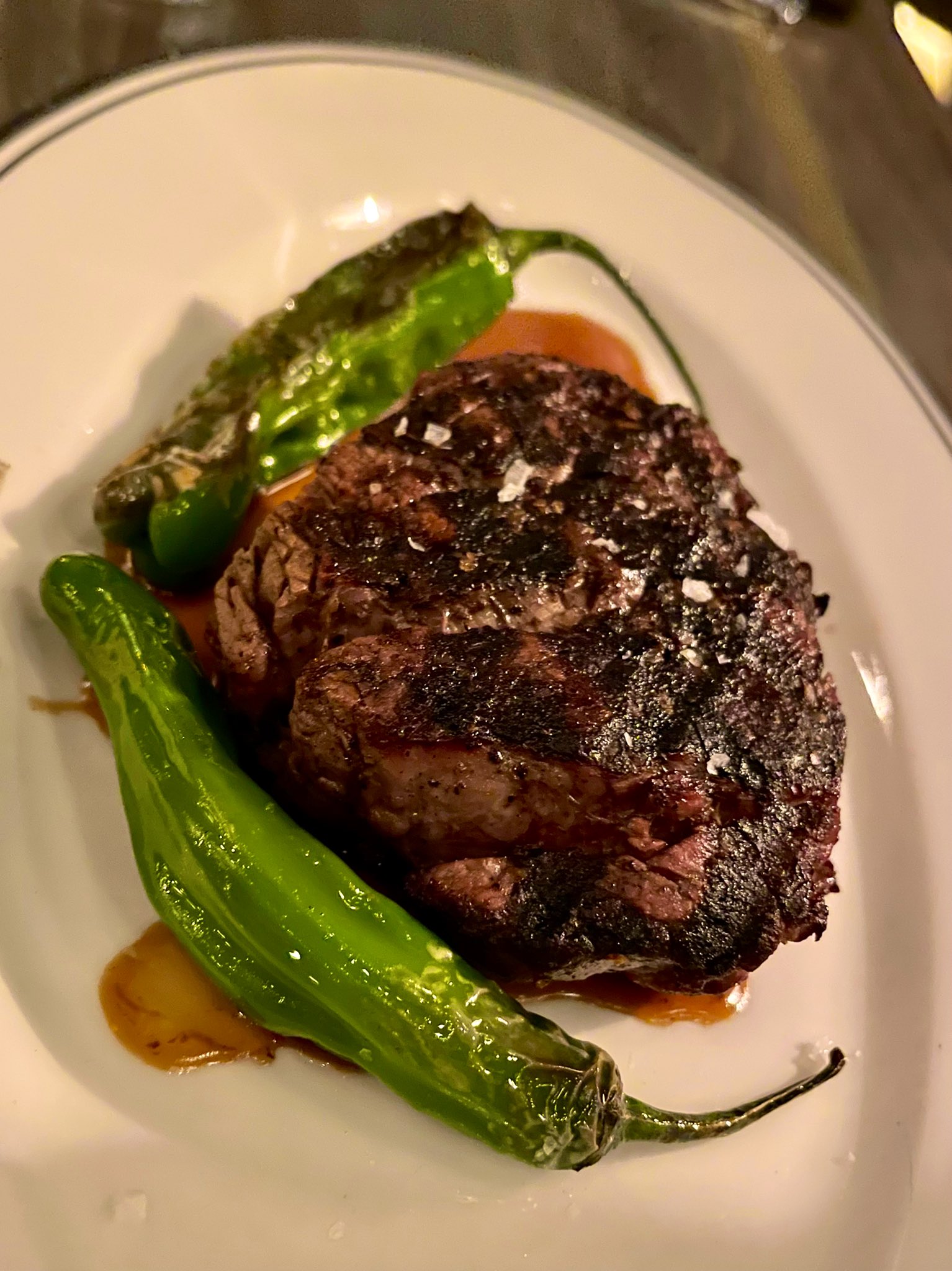 (This filet slays)
Dakake doesn't know how to make a bad steak, so you're on solid turf if you decide to skip the surf. Everything is flawlessly charred, slightly smokey and seasoned so well that saucing them becomes an afterthought. All meat comes at a price and with a pedigree, but even the 8 oz., $56 filet (above) is a succulent slice of superior steer. I can't remember the last time I praised a filet.
As good as the steaks are, it is a pasta dish which is destined to be a showstopper: the lobster mac 'n cheese. Brimming with enough richness to induce an infarction, it has "signature side" written all over it: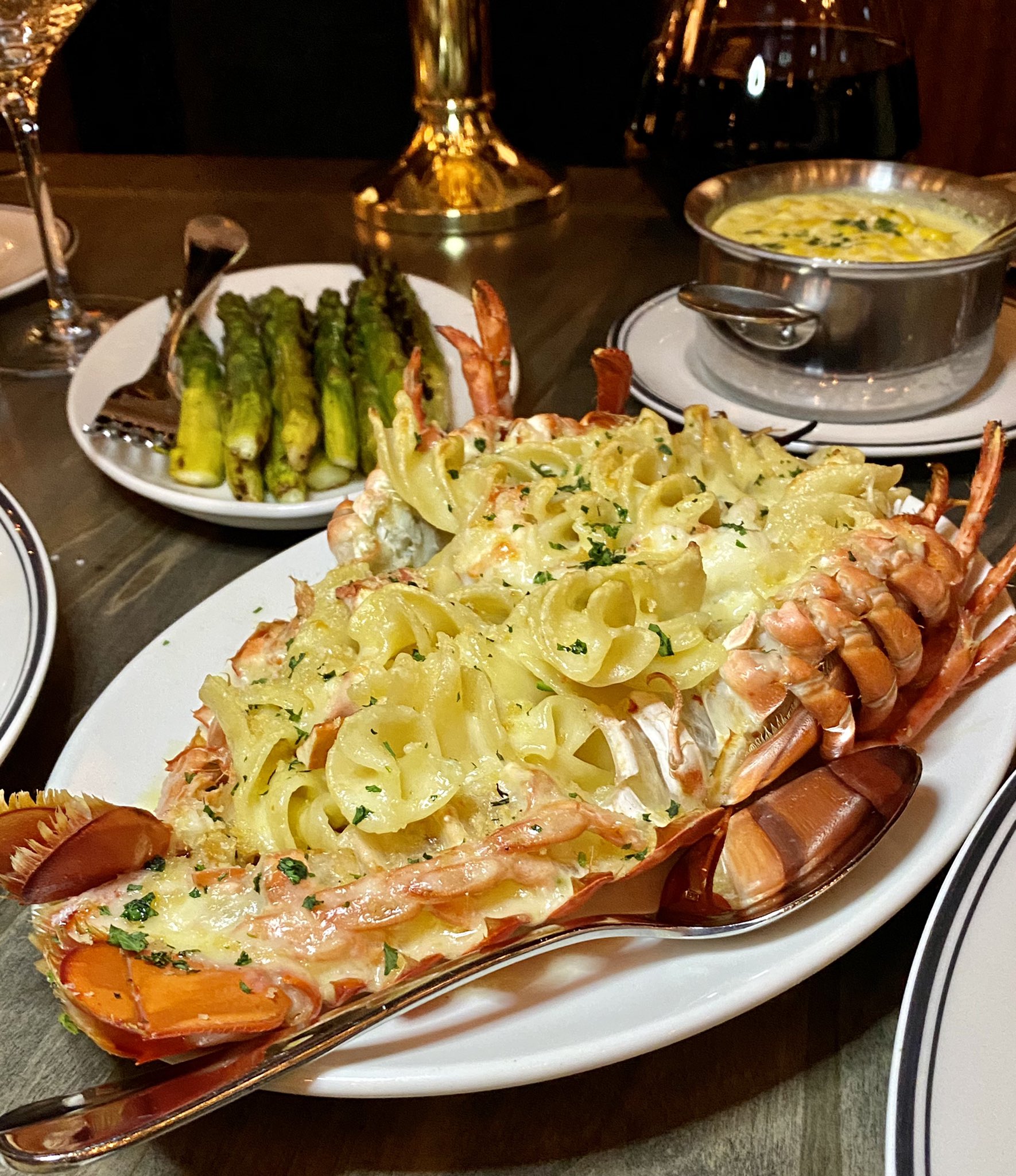 (Lobster 'n mac me, please)
For dessert you will get the baked Alaska, not because you love baked Alaska but because you'll see it being flamed table-side all around you. I've never understood the appeal of too-hard, mediocre ice cream inside a charred meringue crust, but I've ordered it here, twice. This is because I'm a fool for fire, and an idiot for anything singed tableside.
If you don't identify as a self-loathing pyromaniac, the carrot cake and campfire s'mores are worthy alternatives.
A meal for two here, exclusive of booze, gets to two hundred dollars faster than you can say "medium-rare." One of our three meals was comped; one of them happened anonymously. The service was excellent each time.
BARRY'S DOWNTOWN PRIME

Circa Hotel and Casino
8 Fremont Street
Las Vegas, NV 89101
702.726.5504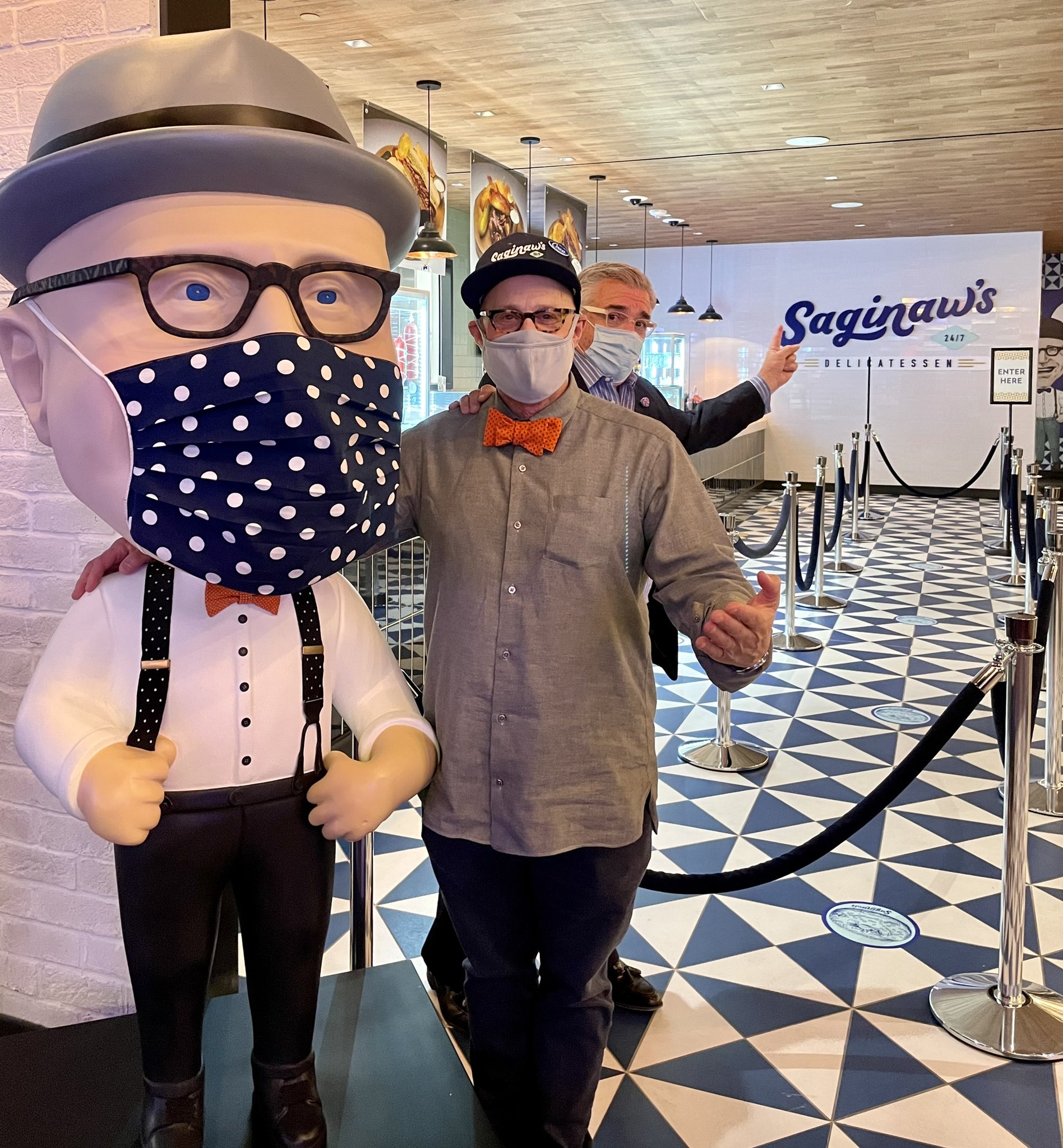 (Real men eat deli)
I hesitate to name Saginaw's "The Best Deli in Town" because every time I bestow such benefaction, the recipient of my beneficence is out of business within a year. (Same thing happens with barbecue.)
But it is, and the proof is in the latkes. "Most of them in other restaurants look like a hockey puck," Paul Saginaw (above) will tell you. "Ours take longer, and they have a good amount of schmaltz in them."
That's really all you need to know about this place. It's full of schmaltz — Jewish olive oil — the kind of bred-to-the-bone Jewishness which is proud of its culinary heritage, not running away from it.
"When we first opened," he continues, "our corned beef outsold turkey by this much (placing his right hand high above his left). Now, they're about equal."
"Nobody eats lox (cured salmon) anymore, even though it is cheaper," Saginaw says. He then admits other smoked fishes, despite their keto-approved healthiness, are considered the domain of 80 year old Bubbees. These admissions come after I question whether the classic Jewish delicatessen is now about as fashionable as Henny Youngman.
He admits that it has. Pickled herring, smoked whitefish, lox used to fly out the door. No longer, he says wistfully. Lox now takes a back seat to cold-smoked Nova, if you can sell it at all.
This may not bode well for the future of delicatessens, but as a dedicated faynshmeker, I would urge you to take one bite of this beauty before writing them off entirely: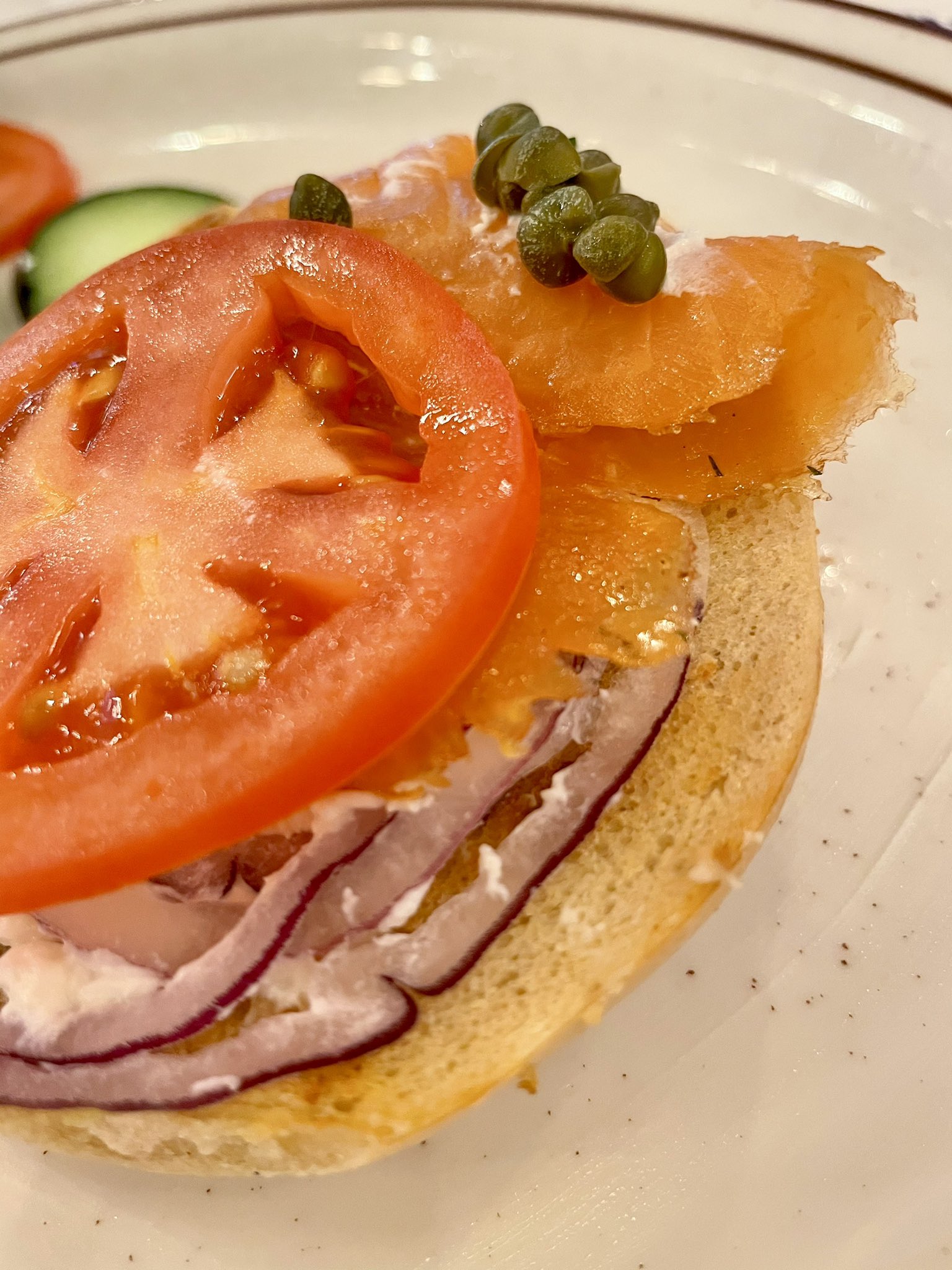 (Whatever you do, don't Passover this Nova!)
At the drop of his fedora, Saginaw will wax poetic about rendering chicken fat and skins down, filter it into schmaltz, then frying the gribenes (cracklings) before whipping them into the chopped liver and sauteed onions. The result, when done right, like it is here, is otherworldly: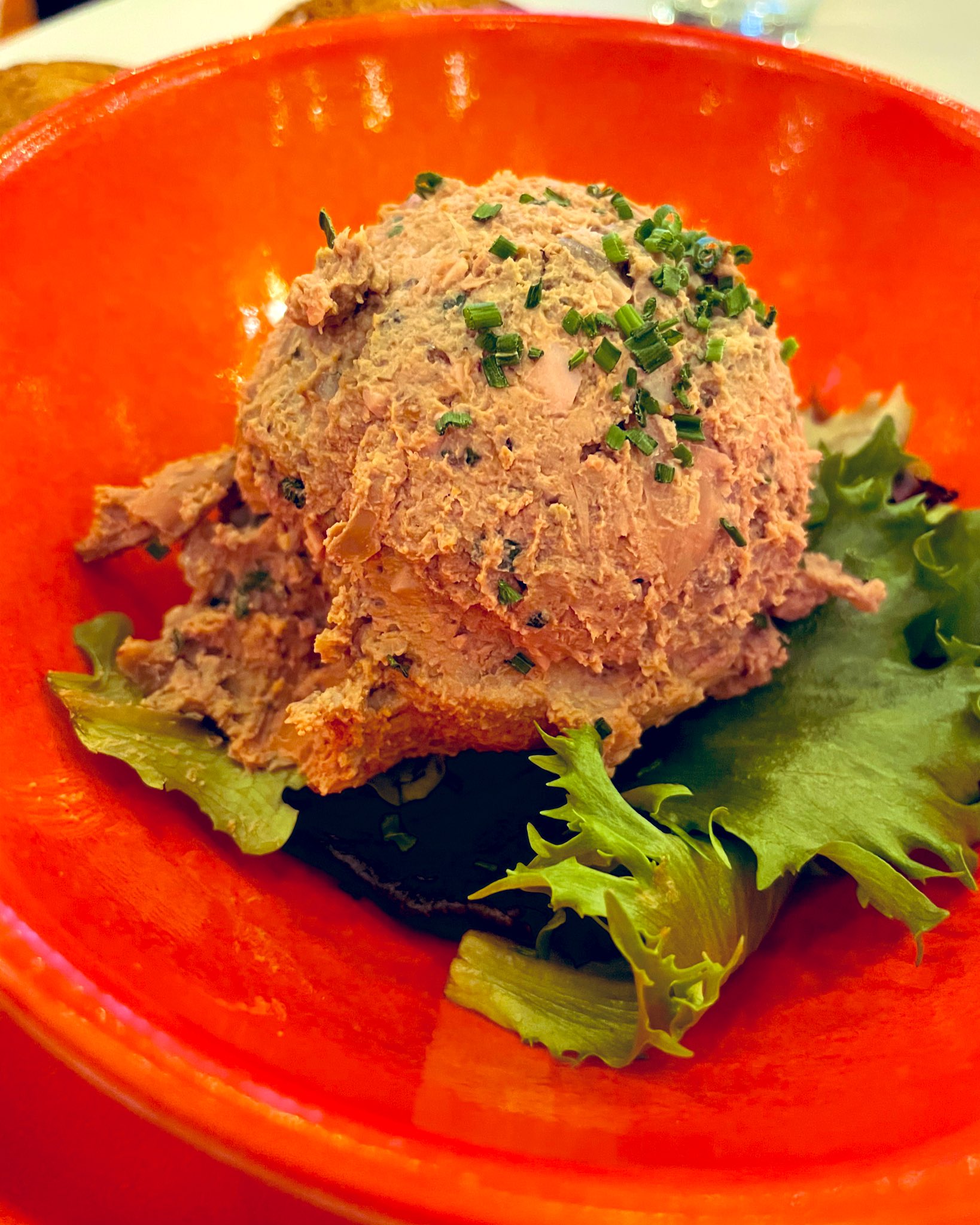 (Not just any chopped liver)
You'll have to travel to New York, or Ann Arbor, or Los Angeles to find any as good.
He admits no self-respecting Millennial would be caught dead professing admiration for chopped liver…even if they swoon over some fancy-schmancy paté. Such are the tides Saginaw's is swimming against.
And then there is the corned beef — the holy grail of edible Judaism.
Brined in Michigan to Saginaw's specs, flown to Vegas and finished on-site, it is so good it could turn a Hindu into a Hebrew: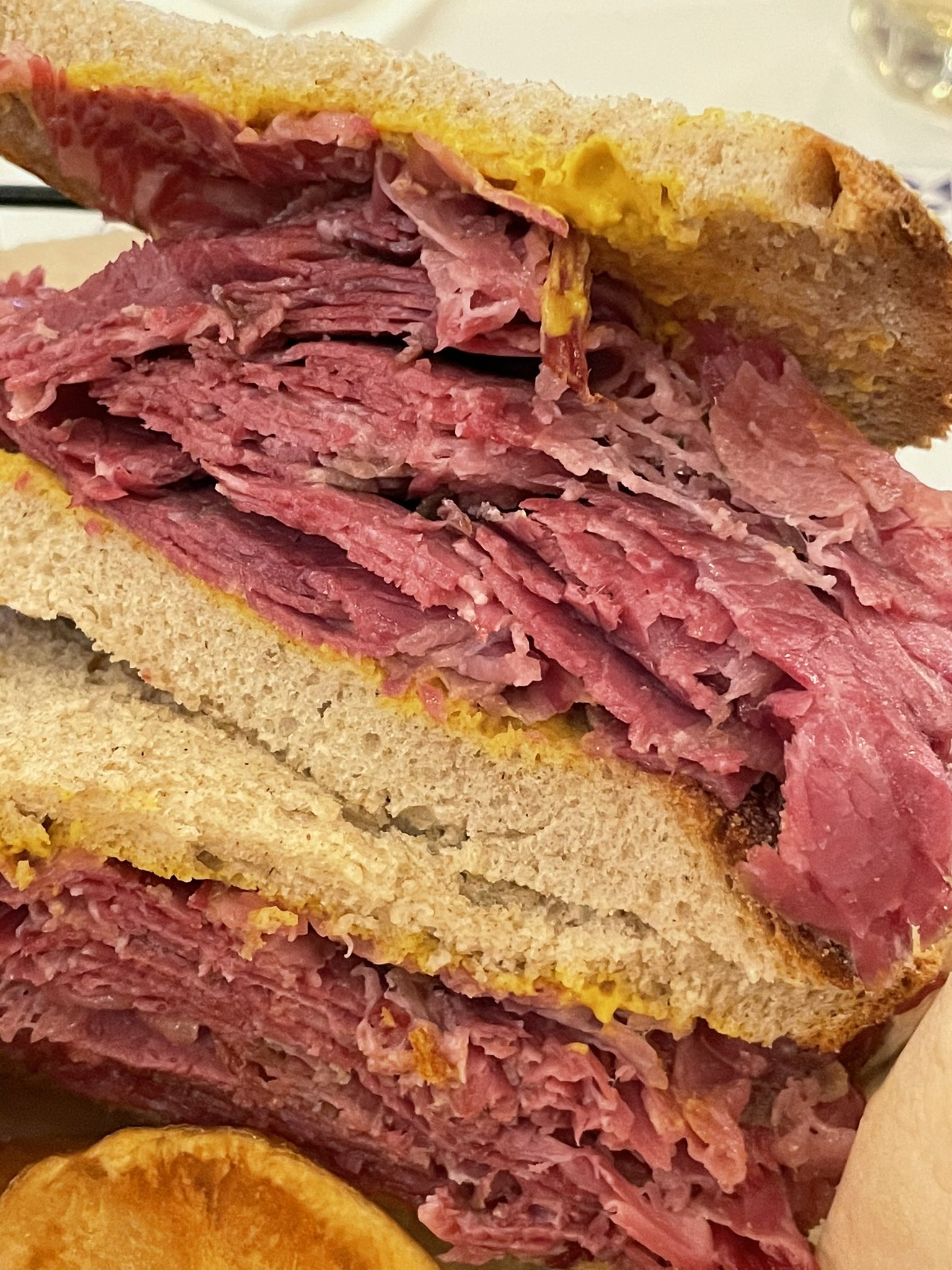 (Beef – properly curated and corned)
As I've said on social media, don't even talk to me about the best corned beef in town until you've had this bad boy.
Bread crust with real crackle, soft-yet-dense chewy rye enveloping lean, salty/spicy meat, it is a sandwich that puts its competition to shame. "Even the New York delis use cheaper bread and pre-slice it these days," he rues. "Ours takes more time but we think you can taste the difference."
Saginaw's house-made, slightly-spicy Russian dressing has twelve ingredients in it and is worth a trip all by itself. So are the house-fried potato chips. They get their breads from Bon Breads locally, and he's looking for a local bagel bakery which meets his standards. (Right now they're coming par-baked from New York).
The desserts are from the nonpareil Zingerman's Bakehouse. They also do real half-sour ("new") pickles here along with fully sour ("old") ones; the cream cheese is "the cream of the cream cheese crop" (according to Cooks Illustrated), and even the kneidlach (matzoh ball) soup is a deeper, denser, more intense broth than the shiksa stuff you're used to.
Spend five minutes with Paul Saginaw and you'll find his enthusiasm for good deli is infectious. He's in the restaurant every day, and is a non-stop fount of opinions you can learn from. (Get him talking about bread and fatty brisket and he'll make a convert of you forever.)
This deli is his labor of love and it tastes like it. Don't even think about telling me your deli is better until you've tried it.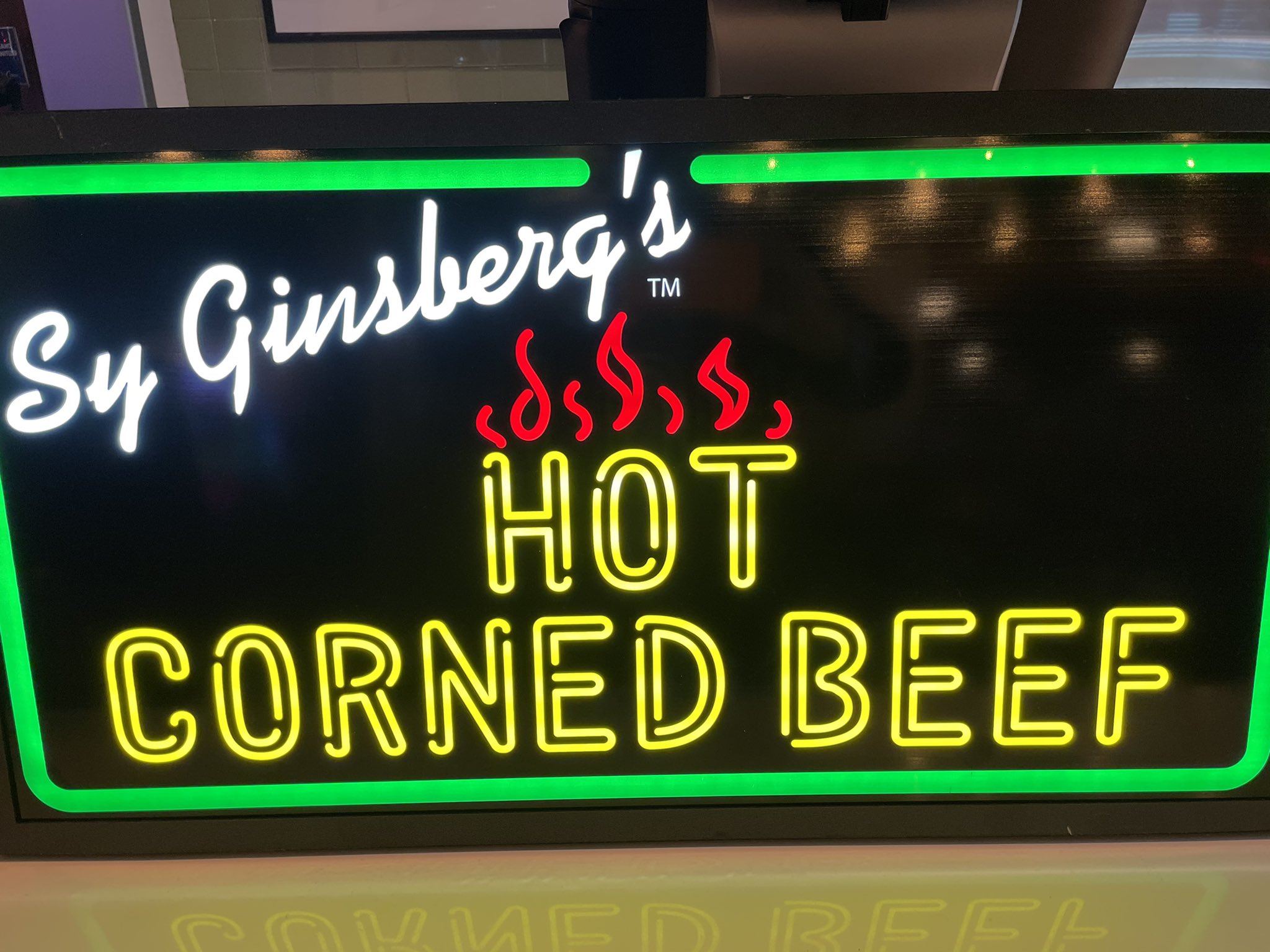 Sandwiches are in the $15-$22 range but easily feed two. A meal for two with plenty of leftovers should be about $50, including tip. I had five meals here before I met and interviewed Mr. Saginaw. Service was always friendly and helpful and lickity-split.
SAGINAW'S
Circa Hotel and Casino
8 Fremont Street
Las Vegas, NV 89101
702.726.5506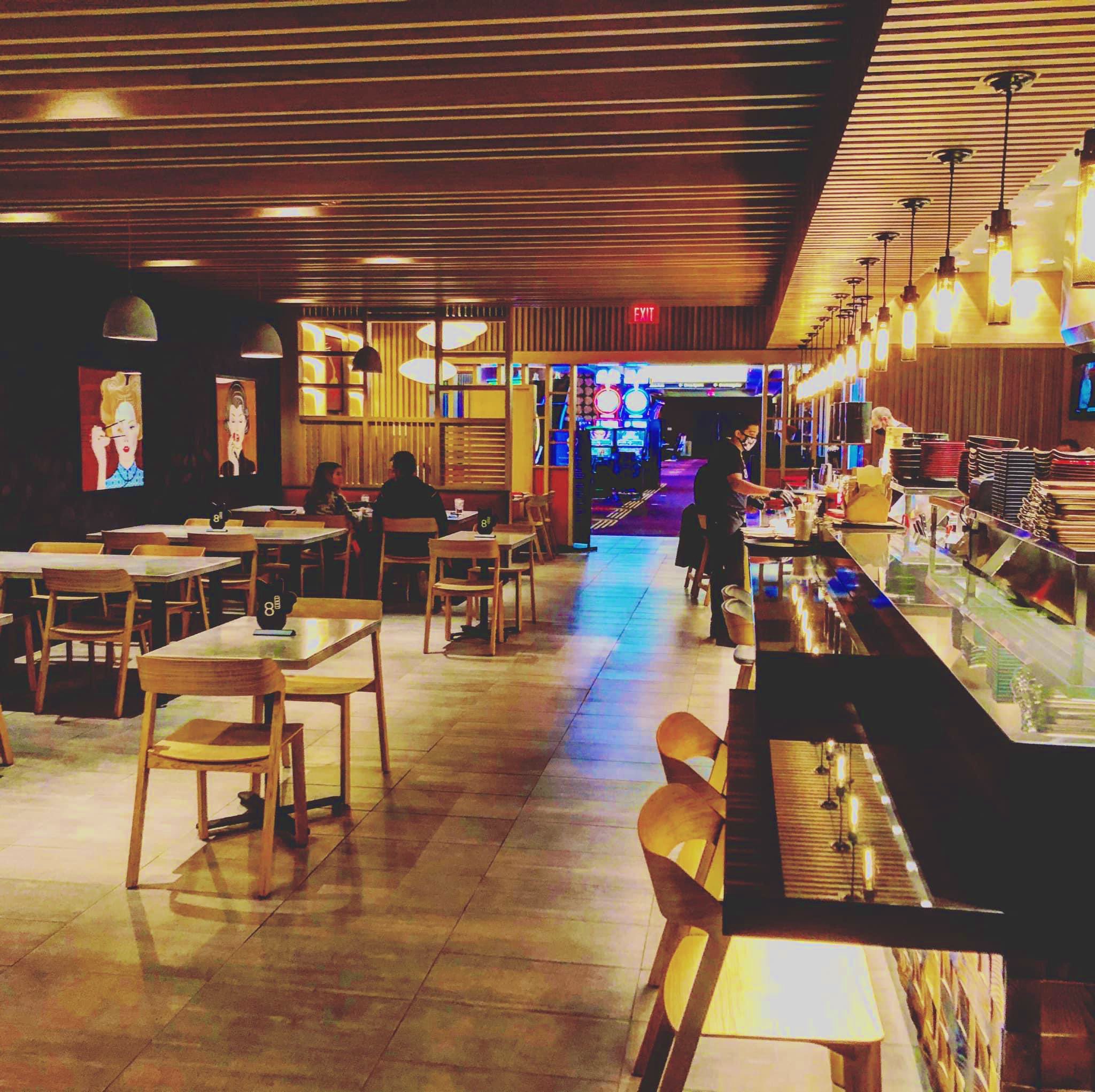 Sitting within a stone's throw of Saginaw's, on the same side of the second floor, is a stark contrast to a traditional deli and big hitter beef emporium. 8East checks the boxes for those wanting something Asian, unique, modern, and flexible. It is not a noodle bar, per se, nor is it all about bao, or dedicated to dumplings. What you'll find is a mix and match menu of Asian nibbles from across the Pacific, given a personal spin by chef/owner Dan Coughlin.
Coughlin is something of an Asian-American phenomenon. His family has run traditional Thai restaurants for years, and he struck out on his own a decade ago with the fabulously successful Le Thai on East Fremont. Given a bigger space to work with (above), he's let his imagination run wild (but not too wild) with the various techniques  of the Far East.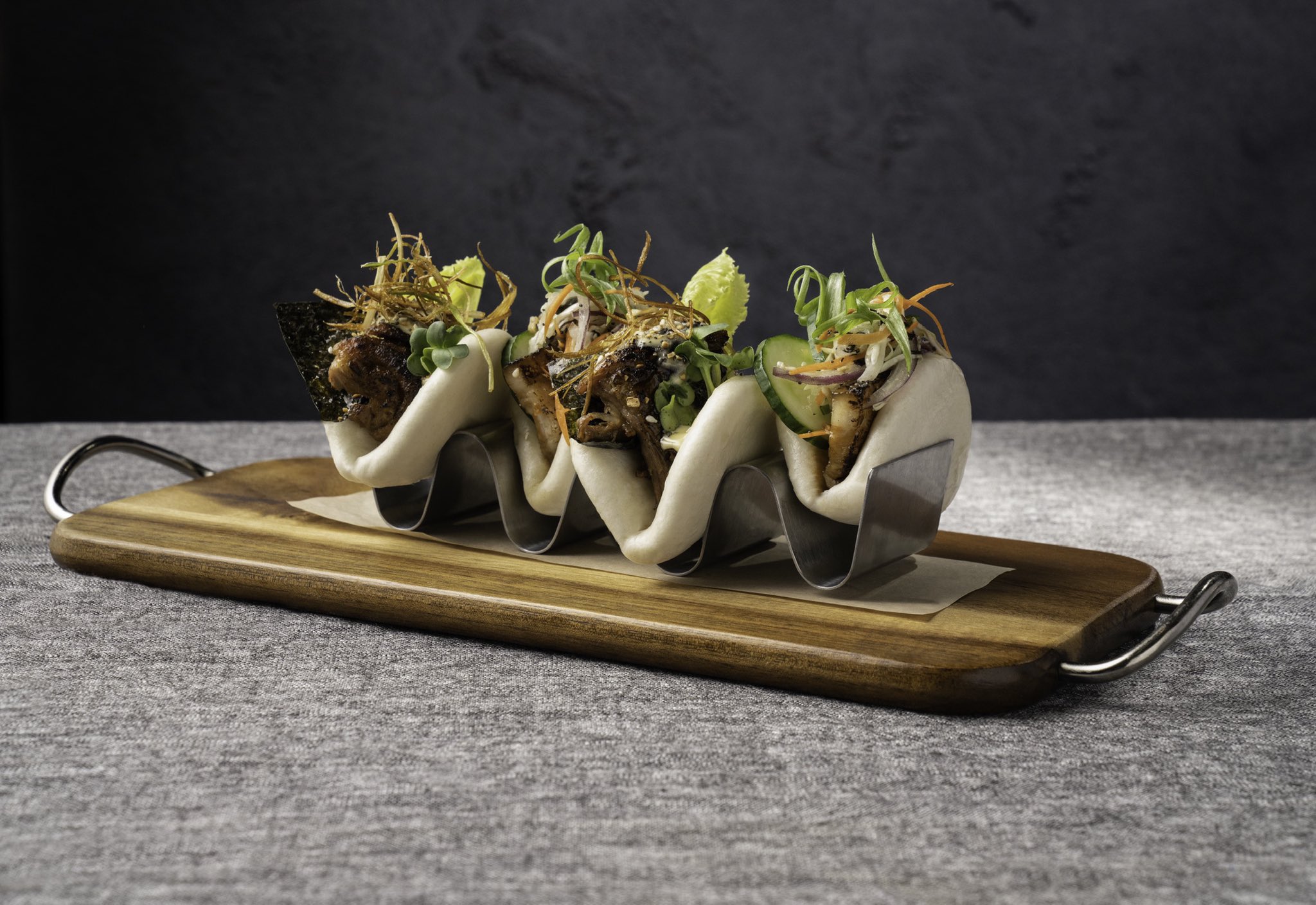 (Boffo bao)
The cuisine itself is hard to pigeonhole, but that's part of the fun. Coughlin may be playing with flavors from all over the Pacific, but he has enough restraint to keep things in focus.
You can toggle between the traditional (a steamed egg custard with soy and sesame), to the trendy (pork belly bao) and never find a flaw. His Dan Dan and Sizzling Noodles would be right at home on Spring Mountain Road, while seared circles of carpaccio, adorned with baby tatsoi greens and dressed with citrus wasabi creme, are straight from the Nobu playbook.
Coughlin is unabashed in wanting to use the entire Asian flavor palette, as when he drops traditional Chinese sauteéd green beans with ground pork, right next to bites of Hawaiian musubi, and a Tokyo crepe rolled, sushi roll-style, around sauteéd mushrooms and fried tofu.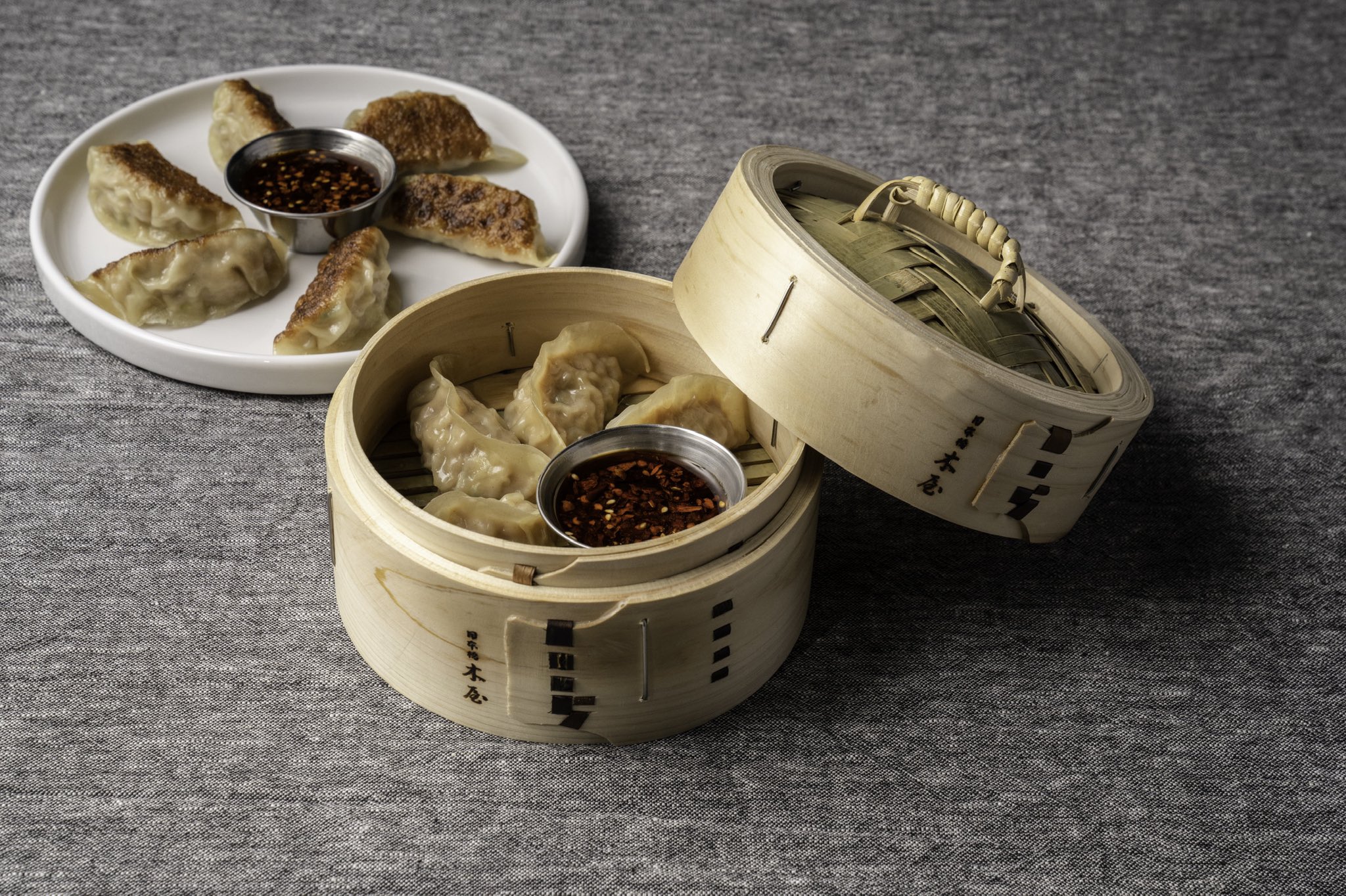 (My little dumplings)
He doesn't make a big deal about his vegetarian offerings, but he should. Dishes like the simple, stir-fried bok choy in oyster sauce, the fried tofu, and the mélange of mushrooms in butter are some of the tastiest plant-based recipes you'll find, in Asia or anywhere.
Page two of the menu finds a plethora of impressive proteins  — from definitive salt & Szechuan pepper wings to cumin lamb lollipops to crispy pork belly — square chunks of sticky sweet pork that could be sold as meat candy if someone wanted to make a killing. The only entree over twenty bucks is the Five Spice New York Strip ($25), with echos of Chinese spices playing off good beef and a tangy "butterfall" sauce.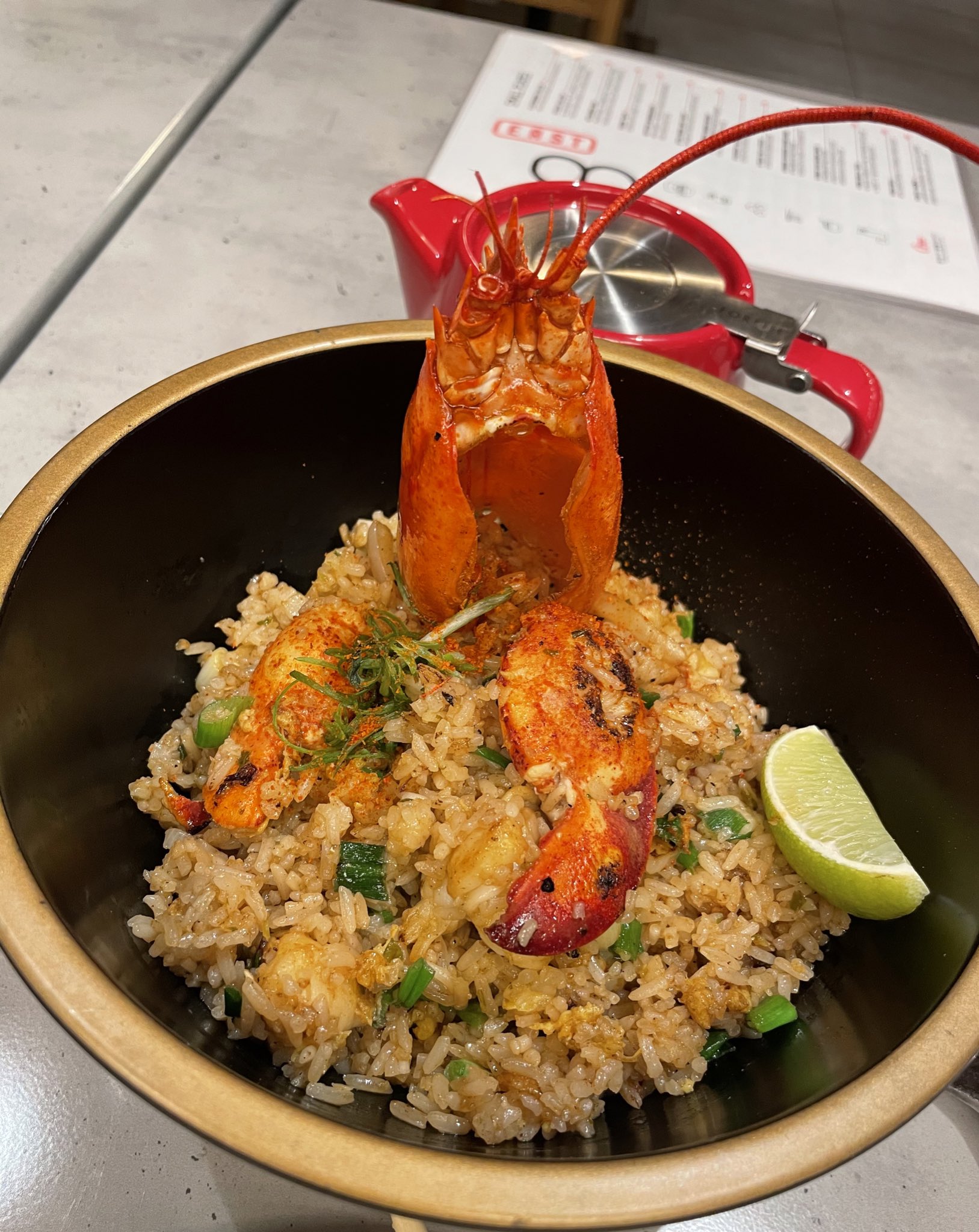 About the only thing we can't wholeheartedly endorse is the "$MKT-priced Lobster Fried Rice" (above). It's plenty good, but (as we like to say), it ain't $55 good. Stick with the Brisket Fried Rice ($16), or one of the noodle dishes if starch is what you seek.
Sharing is the mantra here, and experimenting with Asia, the theme. Coughlin's menu has something for everyone and packs quite a punch for such a small operation (at such a small price point). The only thing it needs now is customers.
Nothing on the menu (except that steak) is over $16. Two people can eat like kings for $50, and four will be stuffed for a Benjamin, exclusive of booze. We haven't tried any cocktails, but they're quite proud of them. The wine list is barely adequate to the task; the sake selection a little better.
8EAST
Circa Hotel and Casino
8 Fremont Street
Las Vegas, NV 89101
702.726.5508
>>>>>>>><<<<<<<<
To summarize: Barry's is a worthy addition to Vegas's high-end sweepsteaks; Saginaw's is best in show by a Moses mile; and 8East is a breath of fresh Asian-fusion air in a part of town that needs one.
Derek Stevens' team should be applauded for shaking up a hotel's culinary offerings with something other than the usual steak, Italian, coffee shop suspects. There's also a burger restaurant (Victory Burger, below) which is fine, if not life-changing, and a coffee bar (Jack Pots) with some tasty brews and tastier breakfast cakes straight from Zingerman's.
Bottom line: You don't need to leave the premises to eat very well, and it's been a long long time since anyone said that about a hotel on Fremont Street.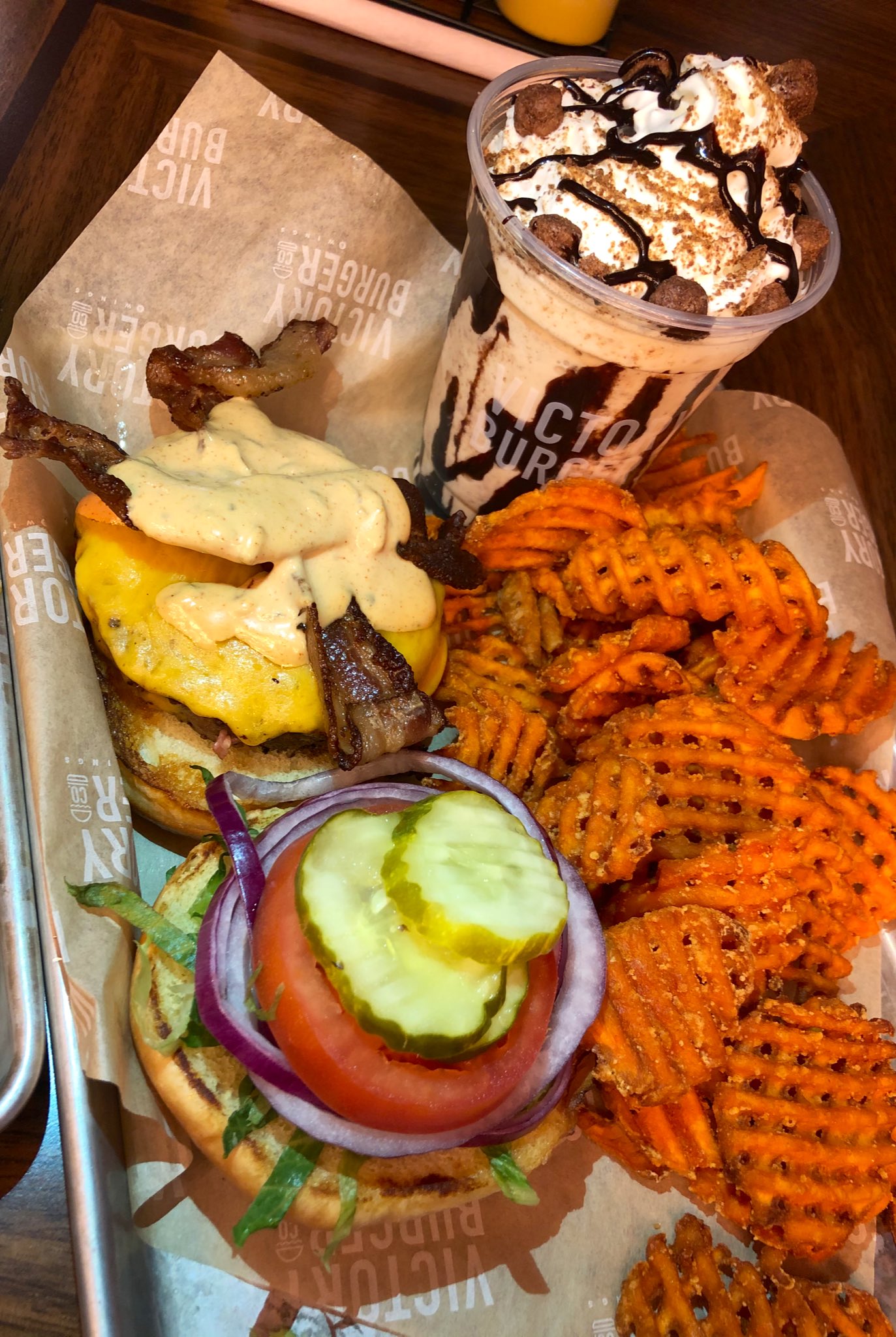 (Victory Burger!)