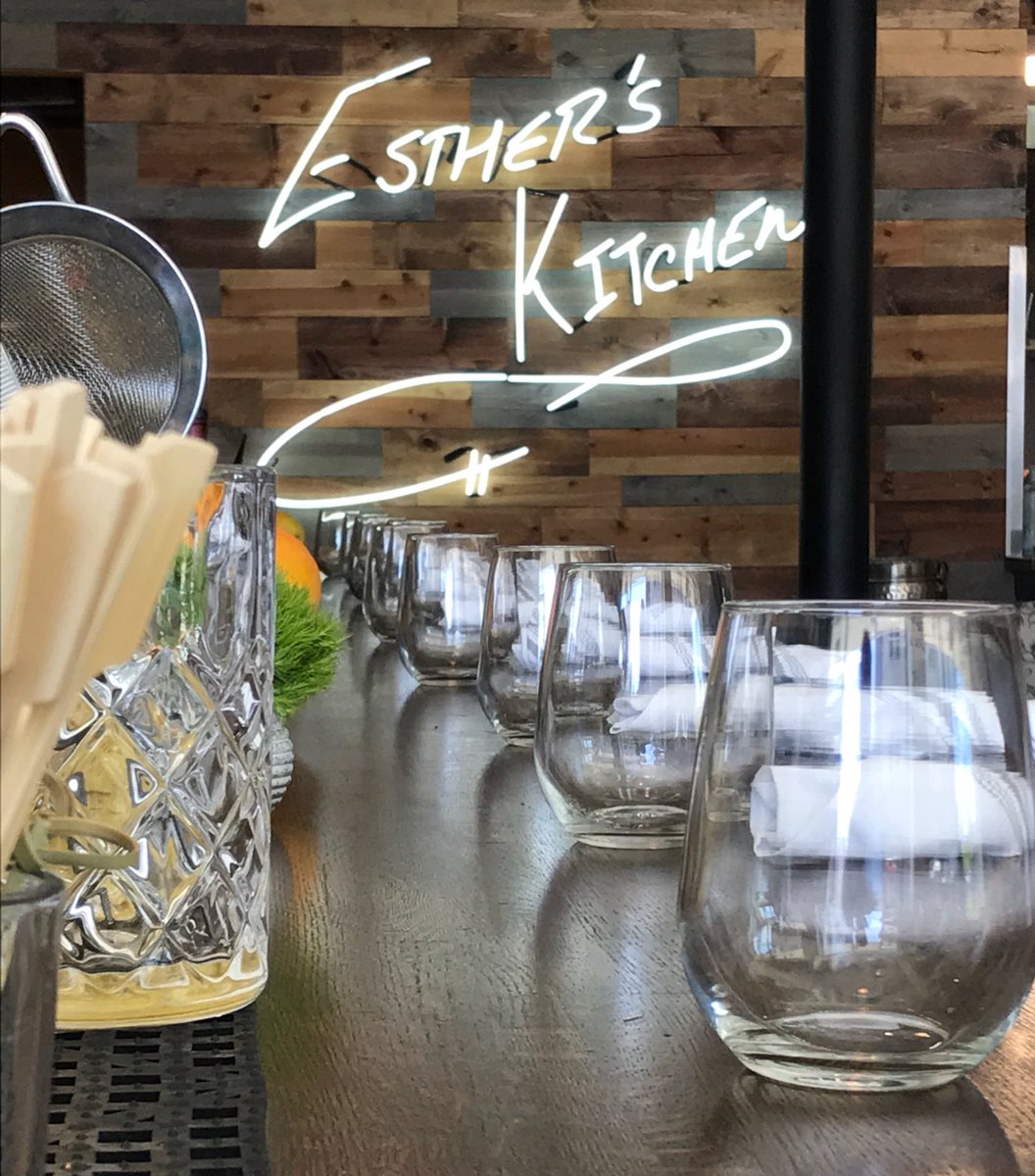 Ground Zero for downtown's dining renaissance. So crowded, as Yogi Berra said, no one goes there anymore. So popular, a seat at the bar (any night of the week) is harder to find than a Mario Batali fan.  This doesn't mean you shouldn't plan a meal here….only that when you do, you'd better plan ahead, before the downtown denizens descend.
What began with Carson Kitchen four years ago took a giant leap forward in 2018 with the opening of this intimate space just off Main Street in the Arts District. But where CK is all gastropub-y with it's burgers, salads, wings and such, here chef/owner James Trees goes full Italian, bombarding you with antipasti, verduras, pastas and pizzas straight from a Roman's playbook. He even throws in a fish of the day (always worth it), brick chicken (a crowd favorite), and porchetta (never as good as I want it to be). Nothing wrong with a giant loaf of rolled pork, mind you, I've just never been impressed by the dish, in or out of Italy.
Another thing CK and EK have in common is ear-splitting, military jet afterburner noise levels. Be forewarned: this is not a place for intimate (or even business) discussions. If anything, it perfectly captures the zeitgeist of modern urban dining — an atmosphere where people come for the food and "to party" (as Trees puts it), not for contemplation or conversation. My solution is to come either for a late lunch or an early dinner, or, weather permitting, sit outside. Another minor criticism is the way you order and pay at the counter at lunch, grab a number, and wait for your food to be delivered. None of this affect the exquisite food coming out of the open kitchen, but it does give the place a fast-casual feel that detracts from the foodie vibe. On the plus side, once you're done eating, there's no waiting for a check, you just get up and go.
Picky picky picky, you're probably saying to yourself right now (especially if you're under 40), but like I said, none of this affects the food, almost all of which is drop-your-fork gorgeous.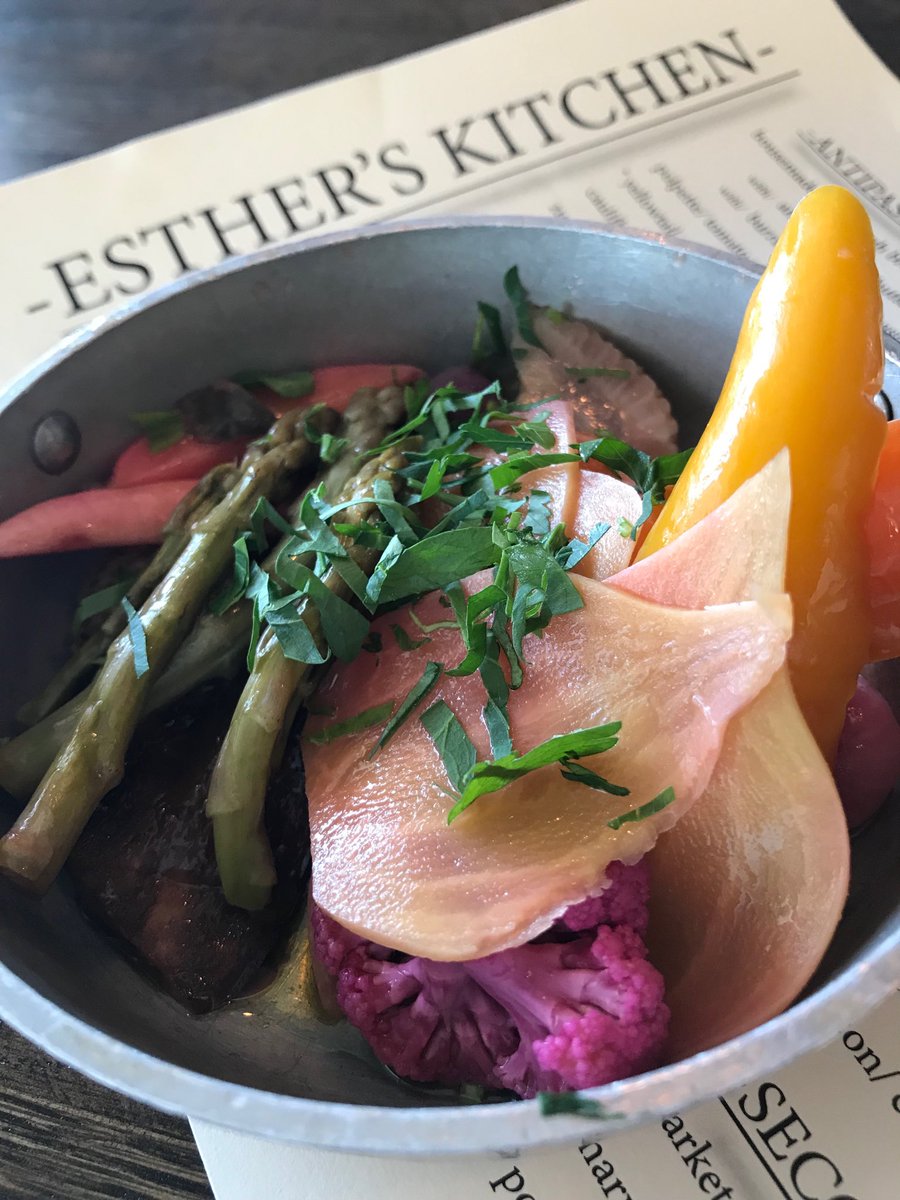 Begin with the bread, because it's baked in-house and out of this world. Then proceed to the meat and cheese platter — one of the prettiest in Vegas. From there, dive into the verduras (veggies): cauliflower with anchovy, chili, garlic, and capers, mushrooms with house-ground polenta, an above-average Caesar, and a chopped salad so enticing everyone at your table will grab a forkful. At lunch you'll love most of the sandwiches, with the grilled truffle cheese with mushroom, on house bread crusted with fontina cheese, attaining second level status in the pantheon of grilled fromage. The garlic poached tuna "Niçoise Things" is too healthy for us (and occasionally under dressed), but the "Spicy Greens" with candied pecans, pickled (and we mean pickled) plums, brie and prosciutto, hits just the right balance between produce, spicy and sweet.
As good as the left side of the menu is, the pastas and pizzas are where the kitchen really shines. Trees is a veteran of the Los Angeles restaurant wars and he knows a thing or two about how to grab a diner's attention. The spaghetti pomodoro, chiatarra cacio e pepe (with pecorino cheese and black pepper), bucatini all'amatriciana, and rigatoni carbonara are handmade, portioned for two and presented to elicit oohs and aahs for their perfection of pasta porn.
Where you'll really gasp, though, is when you see his radiatorre with black garlic, lemon and cream, a palate-coating belly bomb of the best kind: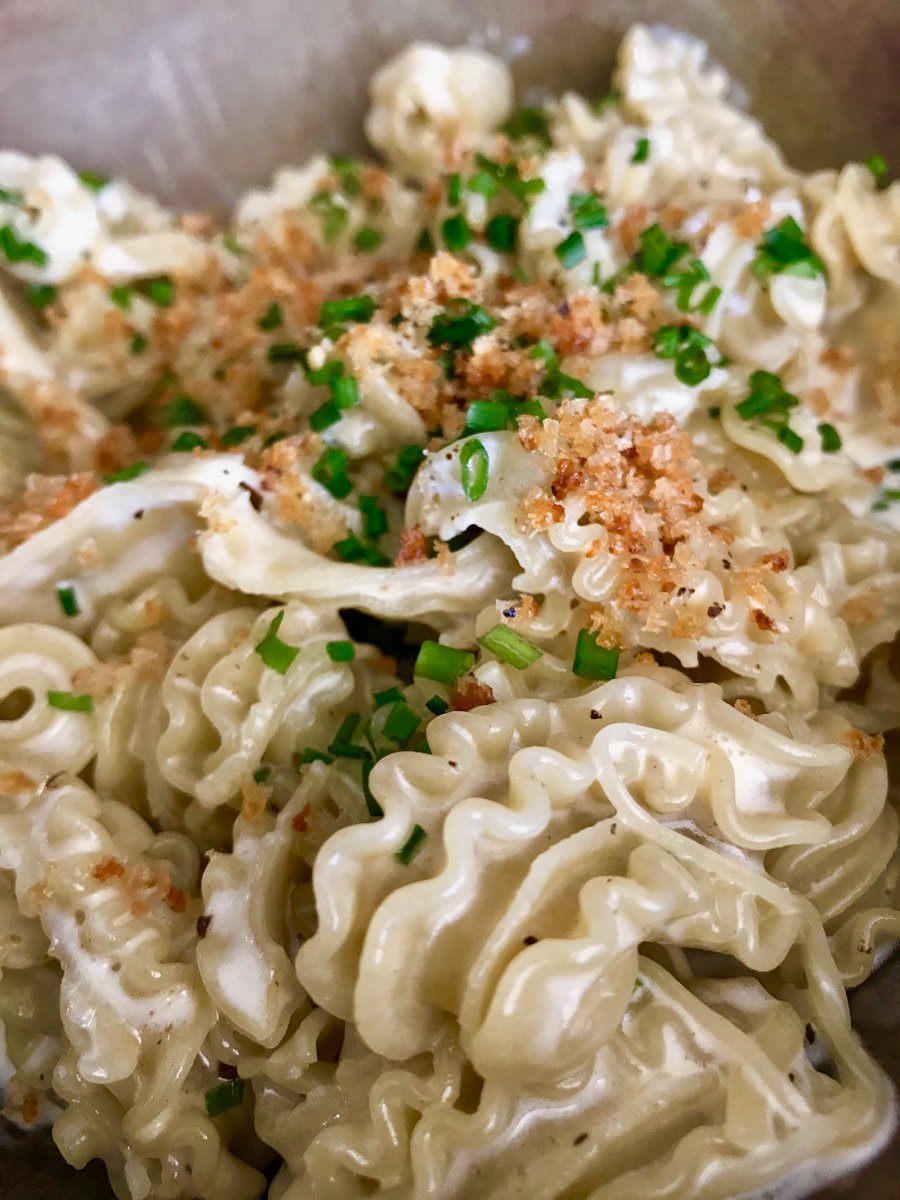 Nothing is run of the mill about these noodlelicious dishes — they use top shelf groceries, rotate the recipes seasonally, and unlike so many other restaurants, aren't afraid to get in your face with flavor. When Trees says "amatriciana" he means it. The spice will be there as surely as the pepper in the cacio e pepe will light you up.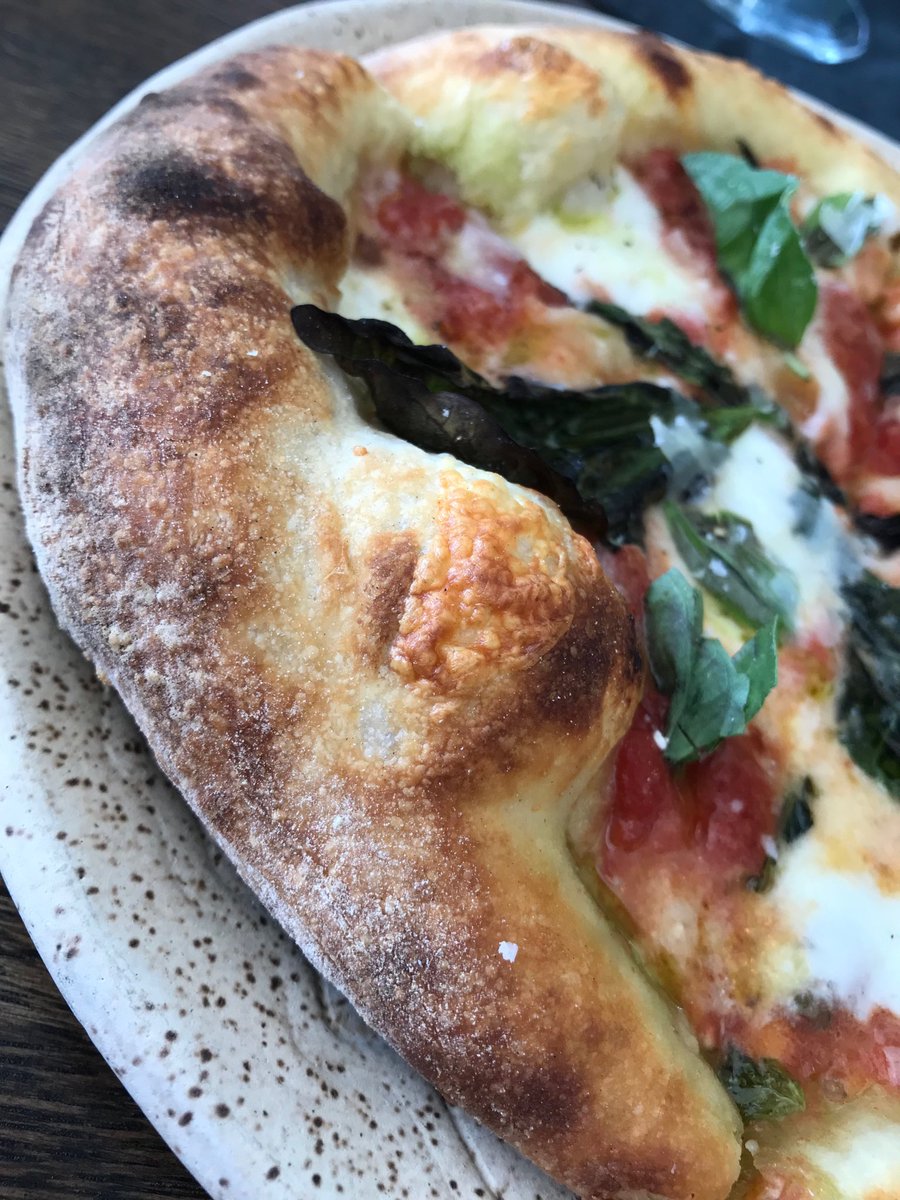 Pizzas are far from standard issue, either, with beautiful, charred cornicione (above), good cheese, and always a surprise or two in the topping department — like salty bacon with caramelized onion, or Greek sausage and fennel.
All of it amounts to updated Italian comfort food for the 21st Century.  It may not be like any Roman trattoria I've ever been in, but with a significant cocktail program, amazing amaros, and a wine list where everything is $40 (by the bottle, not glass), it is most assuredly a modern American version that seeks to do the same thing: feed its customers (and quench their thirsts) in a way that will have them returning again and again.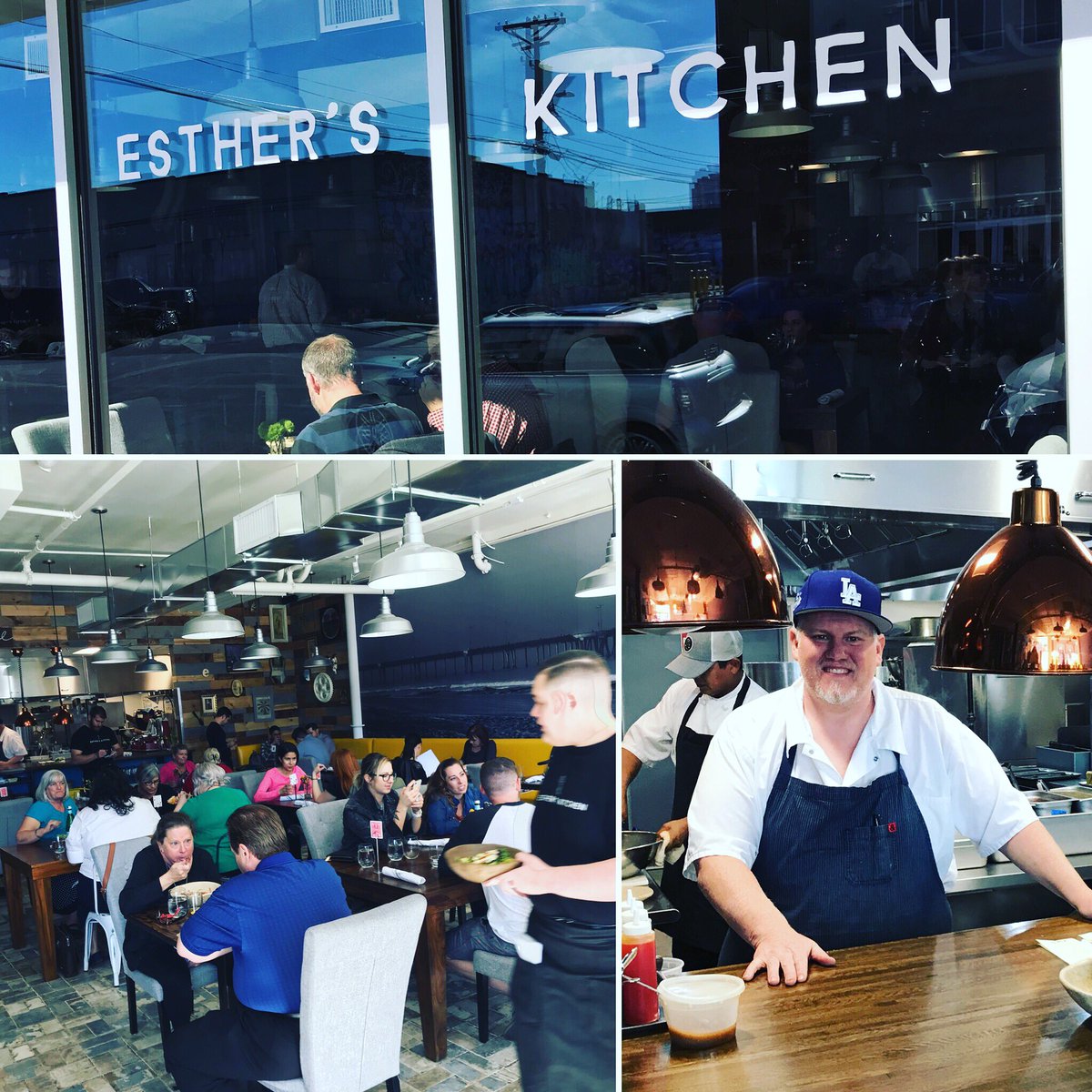 (Lunch for two should run around $40, with dinner about double that, exclusive of drinks, which shouldn't be excluded, ever. There's a reserve wine list in addition to the $40/btl  one, and it's a lot pricier, if no less exciting.)
ESTHER'S KITCHEN
1130 S. Casino Center Blvd.
Las Vegas, NV 89104
702.570.7864