Chinese food used to be everywhere and nowhere. Every town had one; no one paid much attention to them.
Those of us of a certain age remember Chinese food as it used to be — slightly mysterious, slightly boring, and ubiquitous.
Today, if TED talks are to be believed, there are more Chinese restaurants in America than McDonald's, KFC and Burger King combined.
There isn't a backwater anywhere in America that doesn't sport at least one Chinese restaurant. In places as far flung as rural Texas, godforsaken South Dakota,  or suburban New Jersey  — there would always be a "Jade Palace" or "Chang's Garden" holding down the corner of a building, slinging their stir-frys and satisfying customers with gloppy sauces and kung pao predictability.
In many of these places, the family running the joint (and make no mistake, the entire family worked there) would be the only Chinese-Americans in town. Like many poor immigrants, they were shunned at first and had to find work where they could. And feeding people (themselves included) was one business readily available. So the Chinese spread throughout America in the 19th and 20th centuries, bringing their tasty-if-predictable food with them. And for about 150 years, things stayed pretty much the same.
Like many Americans, I didn't discover Chinese food until I left home as a young adult. (I don't think the idea of going to a Chinese restaurant ever occurred to my parents.) I remember thinking how strange moo goo gai pan was the first time I tasted it. Ditto, shiny roast Chinese turkey, won ton soup and a host of other standards. What was chop suey? And what were these strange, slick, shiny sauces on everything? Who was this Foo Young character, and why was he deep-frying my eggs and bathing them in brown gravy? Confused I was, but intrigued as well.
Making things worse (and almost blunting my enthusiasm entirely) was a concoction put out by La Choy called Chicken Chow Mein— which was probably many American's introduction to non-restaurant Chinese food. It's probably no exaggeration to say that La Choy did for China's gastronomic reputation what Mao Tse-Tung did for high fashion. Amazingly, even though one of the founders of La Choy was killed by lighting (a sign from the heavens, no doubt, concerning his product), it perseveres.
Thus did generations of Americans learn about this cuisine through a cultural prism refracting decades of tribulation, compromise and synthesis, until the red-gold, banquet hall Chinese-American restaurant became as familiar as an old shoe…and just about as interesting.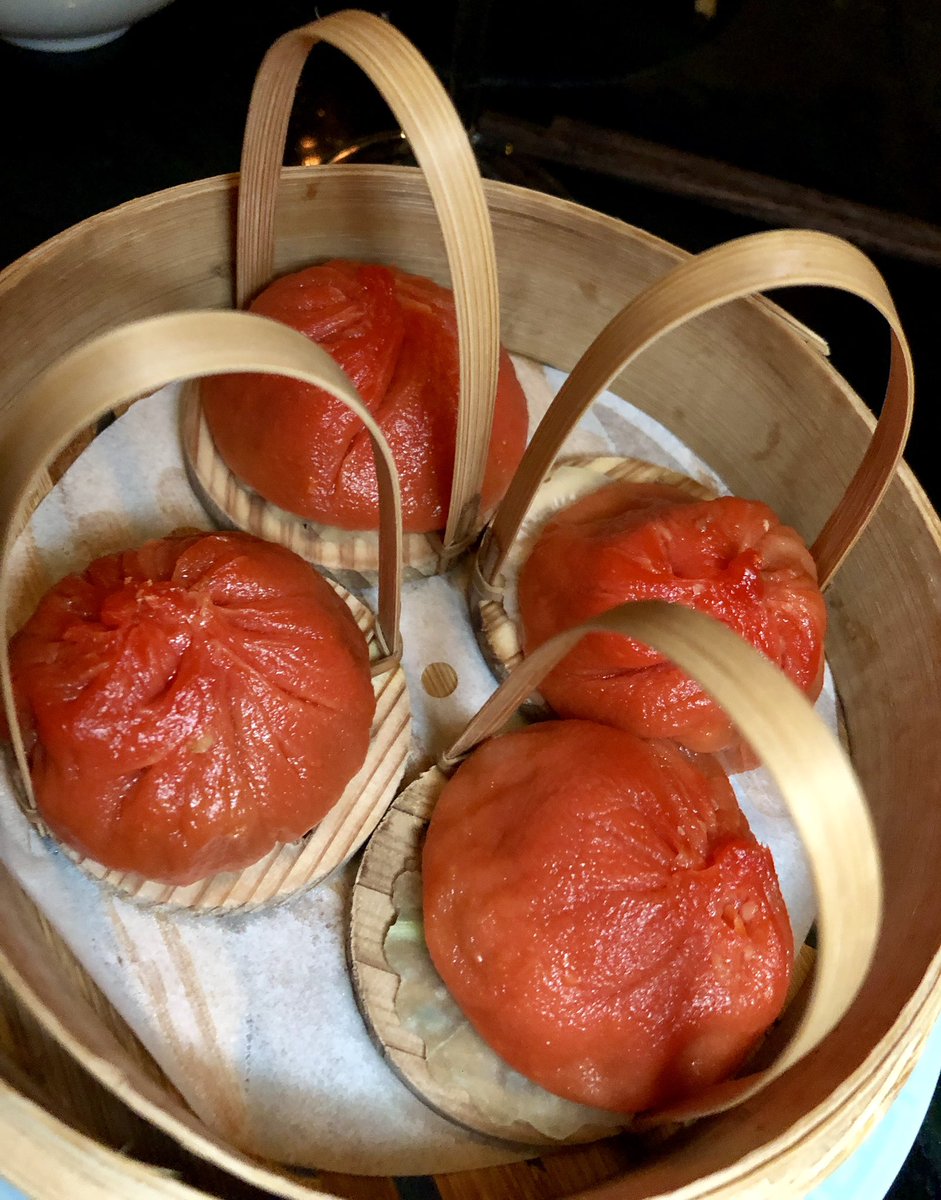 (Hot and sour Shanghainese xiao long bao
)
All of that started to change in this century, as almost by sheer weight of China's cultural muscle did its various cuisines start to assert themselves on the American palate. In place of egg rolls came xiao long bao. Candied spare ribs suddenly took a back seat to cumin lamb skewers, and dry-fried this and boiled that became the order of the day, with luminous, supercharged Sichuan fish opening up our sensibilities as well as our sinuses.
If the 19th and 20th centuries represents American-Chinese food's birth and growing pains, then the 21st century is truly version 3.0 — with a blossoming of taste awareness and appreciation that this cuisine's great great grandparents could only dream off. The textural subtleties of Canton province have been replaced by the noodles of the north, the dumplings of the east, and spices of the western plains. Regional differences are now celebrated, not glossed over in a sea of cornstarch, and intrepid fellow travelers scour the internet for the best bao, or the most luscious lamian. Knowing your chop suey from your chow mein is no longer enough, now one must be able to parse the fine points of jelly fish salad and fried pig intestines.
So, how does the novice reconcile all of these regional specialties into an easily digestible format? The hard way is to seek out little warrens of authenticity –the holes-in-the-wall in Chinatown (wherever you find a Chinatown) –where unique dishes are celebrated and compromises few.
Or, you can make it simple on yourself and go big box — in this case, with a trip to Mott 32 — the pan-Chinese restaurant that does to Chinese food what Morimoto did to Japanese cuisine a decade ago: present a modern menu in a hip, funky-cool space having more in common with a nightclub than any Chinese restaurant you've ever seen.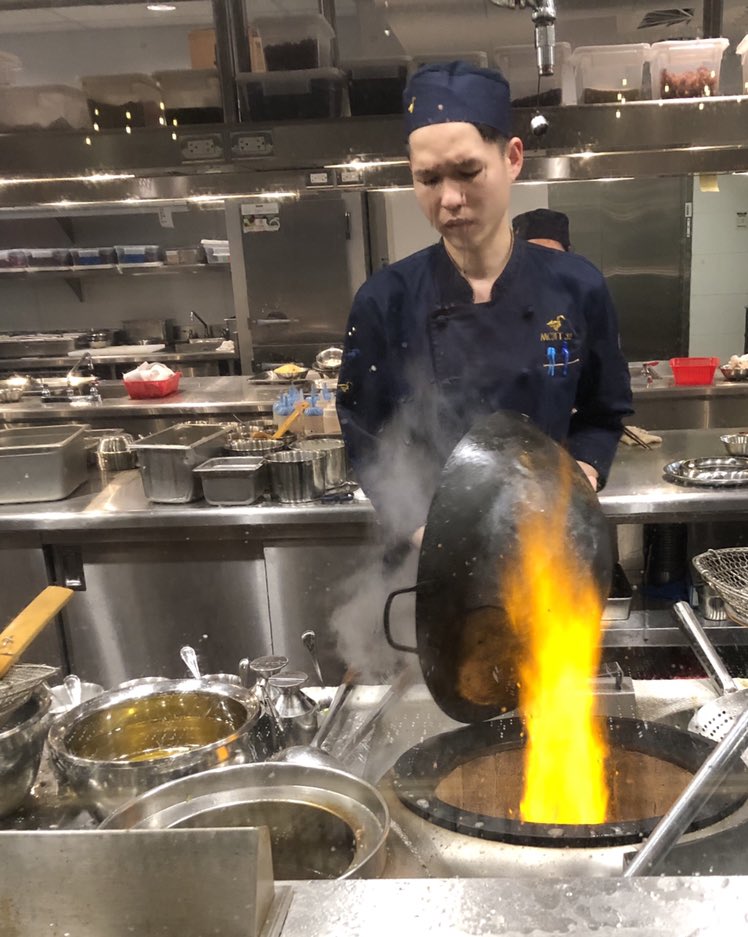 (Dinner and a show – this kitchen provides both)
Mott 32 seemed to pop up out of nowhere in 2014 in Hong Kong, and immediately asserted itself as a major player on the upscale Chinese restaurant scene. Its website is deliberately opaque about its origins, stating only that it is named after an address in New York City(?). It opened here around New Years and plans are underway for global, big-box Chinese restaurant domination. Singapore and Bangkok are next on the horizon. Vancouver and Dubai have already been conquered.
The glamour you'll see from the get-go; the money behind these digs drips from every opulent detail. It takes about 10 seconds of checking out the fabrics and comfy booths to figure out that you're no longer in "Wok This Way" territory. Giant doors off the casino floor lead to a broad and deep bar area, with an ocean of top-shelf alcohol on the shelves, ready to bathe the long bar with their magnificence alchemy into complicated cocktails. (I don't much bother commenting on great cocktails anymore, because interesting libations are everywhere in Vegas these days. For the record, this bar's A-game is better than most.)
The lighting is diffuse and muted, but not too much, and the young women dotting the place (at the hostess stand, behind the bar) are as sexy and shiny as a lacquered Chinese box. Dresses are short, black and tight, and the cleavage is so profound, this joint's nickname ought to be Mott 32D.
Don't let all the comeliness fool you, though, because the food is the tits as well.
With a bases-covering menu of everything from Cantonese dim sum to hand-pulled noodles to Peking duck ($108), the whole point of M32 is to present upscale Asian with fashion-forward cocktails, in a glamorous setting in hopes of enticing a stylish crowd to descend. The website touts its Cantonese roots, "with some Beijing and Szechuan influences in our signature dishes" — which explains the nightly dim sum (limited if great), and perhaps the best roasted duck you've ever eaten.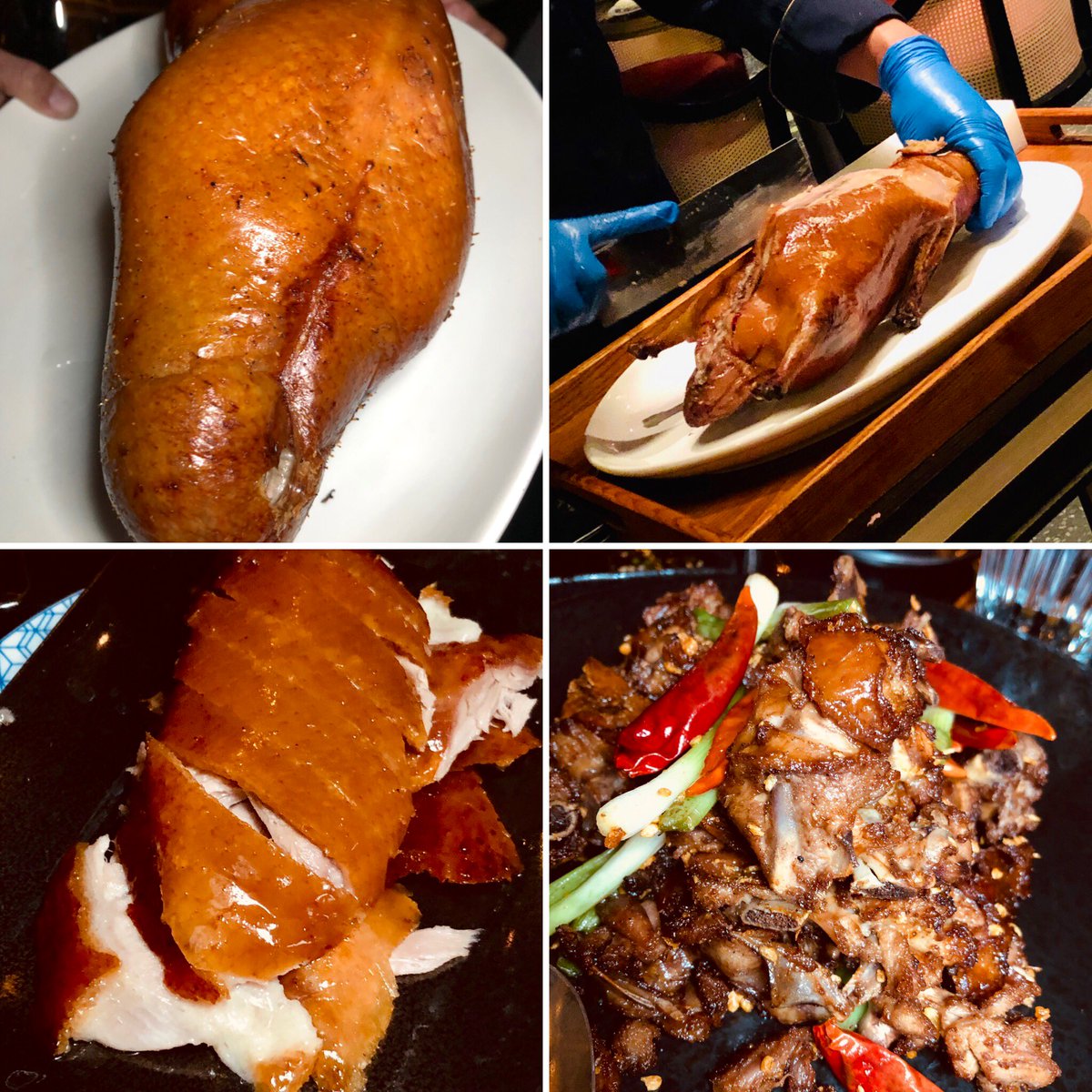 (Just ducky)
The duck ($108, above) is the centerpiece of every meal here and it deserves to be. The two-day process it takes to bring one to table produces a bronzed, brittle, gleaming skin having bite-resistance of a thin potato chip. There are decent Peking ducks all over town (Wing Lei, Jasmine, Blossom, New Asia BBQ and Mr. Chow spring to mind), but the effect here is an otherworldly contrast of moist, rich meat topped with a duck fat-slicked crisp. Duck doesn't get any duckier — its only drawback is you should have at least four people at your table before you order it. When you're asked how you want your second course — as a deep-fried duck "rack," or minced meat in lettuce cups — insist upon the latter, as the former (above bottom right), is a waste of time and bones.
It's a shame they aren't open for lunch, because dim sum at dinner feels as strange as dried fish maw ($498/pp(!)) for breakfast. Those dried fish bladders are for Chinese high rollers who love their squishy, gelatinous texture. (Their appeal to the western palate is, shall we say, a bit elusive.)
The dim sum are more approachable, and you'll find no better xiao long bao (here called Shanghainese soup dumplings) in Las Vegas. They come four to an order ($14), and you'll want to try both the traditional pork and hot and sour versions — the latter providing plenty of punch.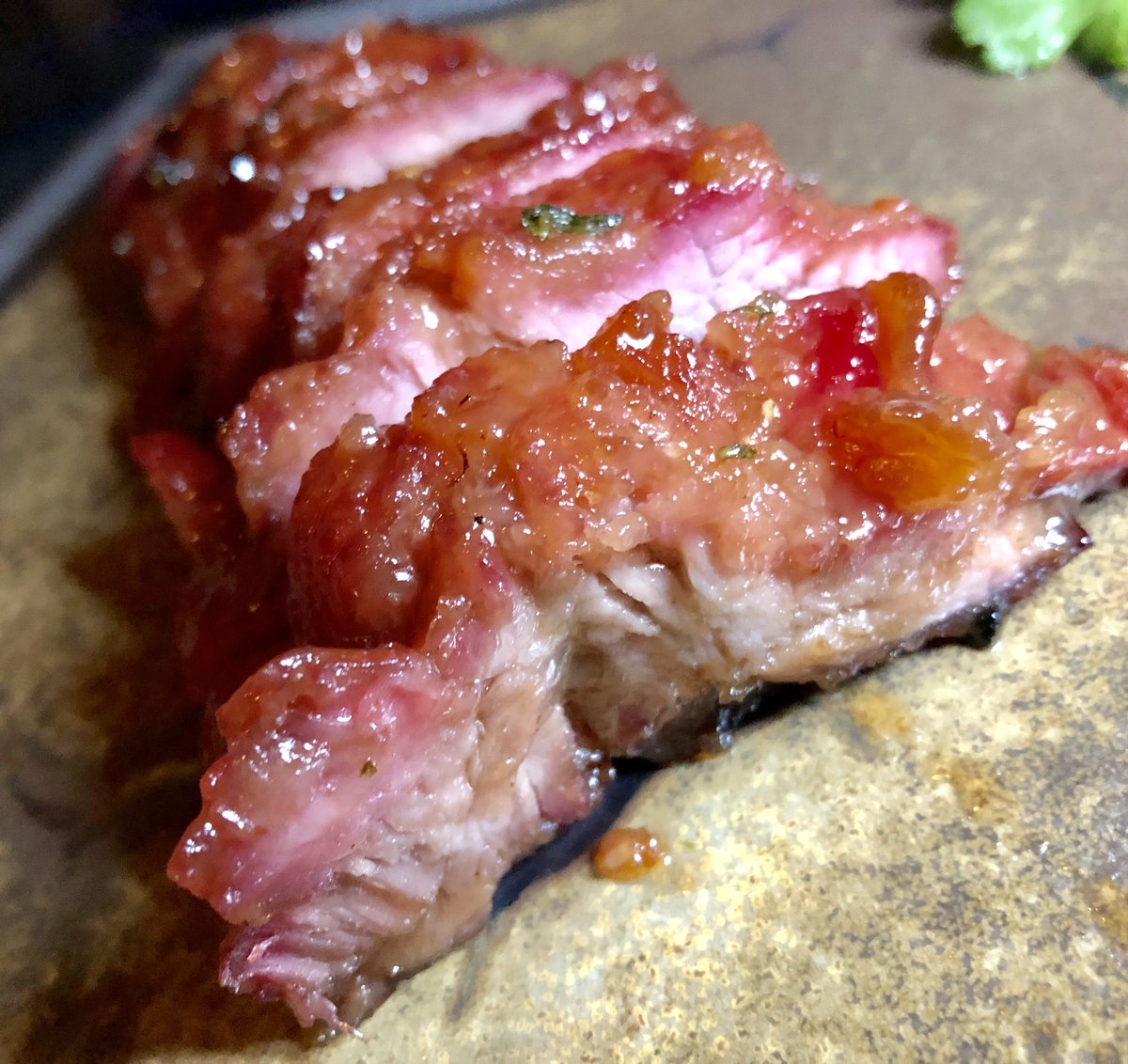 Next to the dim sum and the duck, the Pluma Iberico pork (above, $42) gets pushed the most by the staff. It is dense with flavor, a bit too sweet, and juicy  — with as much in common with basic Chinese BBQ as that duck has with a McNugget. Before it arrives, you might want a few smaller plates, like the crispy dried Angus beef (below, $16), which comes out like a tangle of wispy, deep purple folds that shatter in the mouth with barely a bite. It is the barest gossamer beef, the antithesis of jerky. In another type of restaurant you might even call it molecular.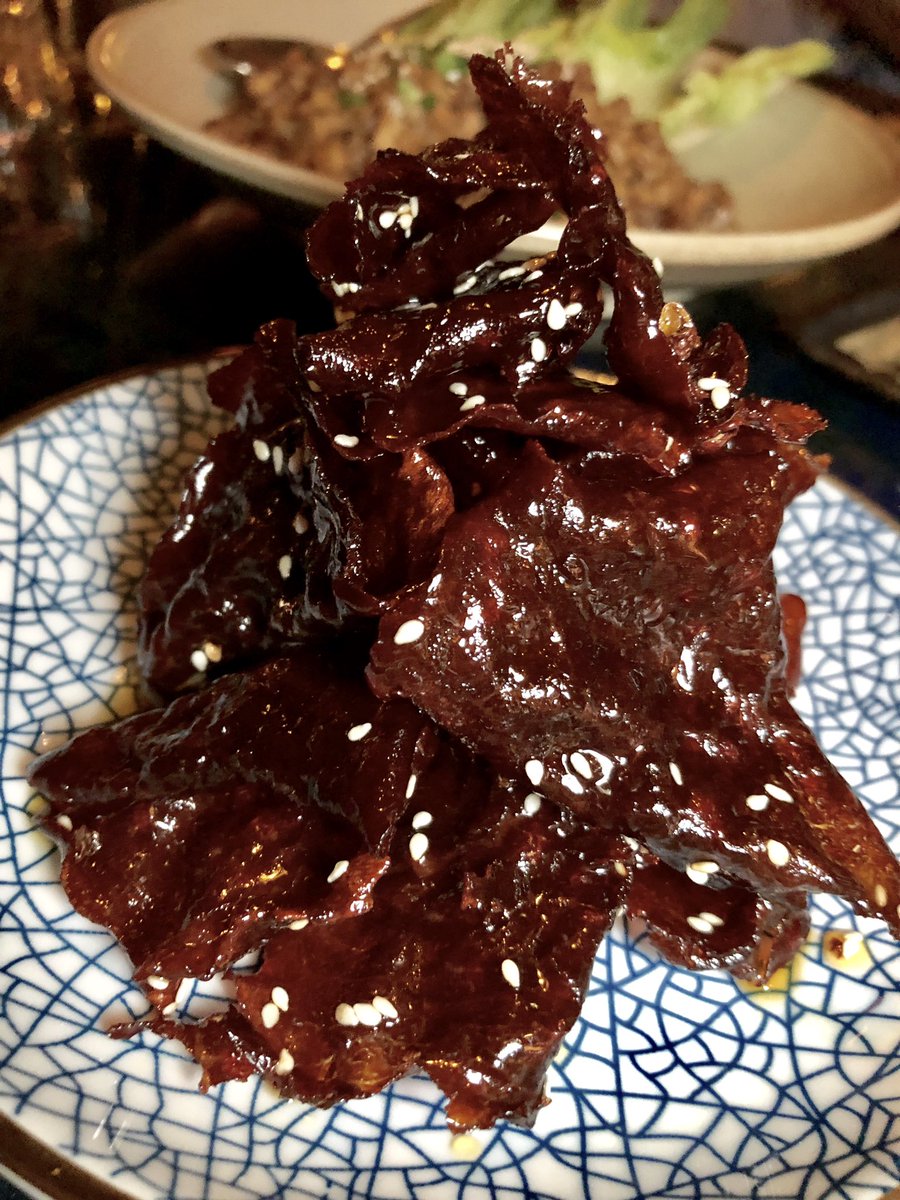 (We're not in Panda Express anymore, Toto)
For those wishing something meatier, the Triple Cooked Wagyu Short Rib ($88) provides enough beef for four hungry souls to gnaw on…although its inclusion on the menu feels like the restaurant is (literally) throwing a bone to its conspicuous carnivorous customers.
Those not wanting to spring for a whole duck can get some shredded quacker in a Peking duck salad ($18) with black truffle dressing. Lighter appetites will appreciate the wild mushrooms in lettuce cups ($20), or thick slabs of deep-fried Sesame Prawn Toast ($18) — which, in bulk and pure shrimp-ness, redefines this usually bland standard.
Not many non-Chinese are going to drop two Benjamins on the kitchen sink soup known as Buddha Jumps Over the Wall  ($198), but hot and sour ($14) and won ton ($11) give plenty of soupy satisfaction for the price. If you're dying to try fish maw, $68 gets you a cup of spongy, tasteless collagen. Yum!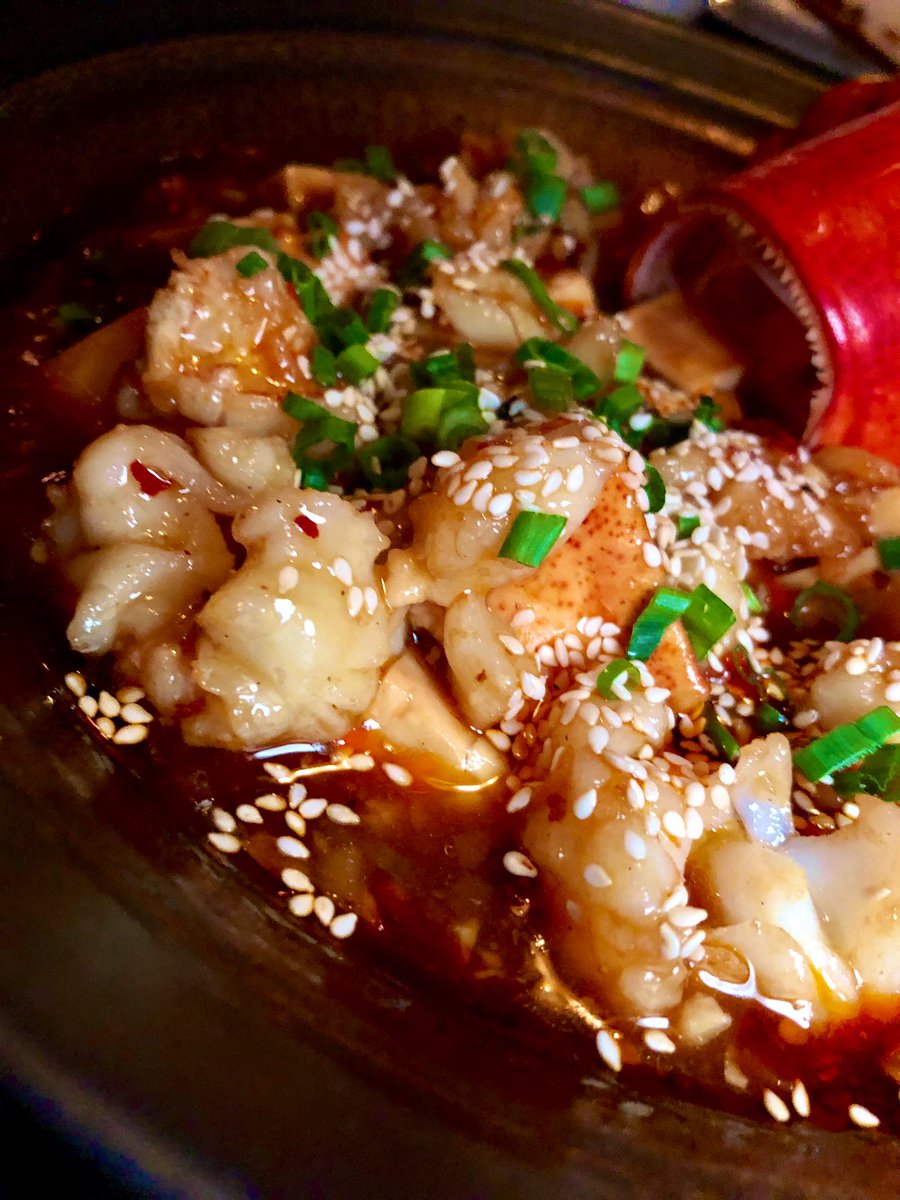 In keeping with its Cantonese roots, there are plenty of expensive seafood options, none of which (abalone, sea cucumber, etc.) make much sense for Occidentals. But there's plenty to love about the lobster "Ma Po Tofu" (above, $68) with its chunks of shellfish swimming with spicy/silky bean curd, as well as the smoked black cod ($42), and the poached fish (usually sea bass, $42) — floating in a Szechuan pepper broth —  makes up in refinement what it lacks in kick.
Just for grins and giggles, we ordered two old reliables — Kung Po Prawns ($38) and General Tso's Chicken ($28) — on one of our four trips here, and they each were flawless, properly spicy and not too sweet. You'll have no complaints about the nutty shrimp fried rice, either.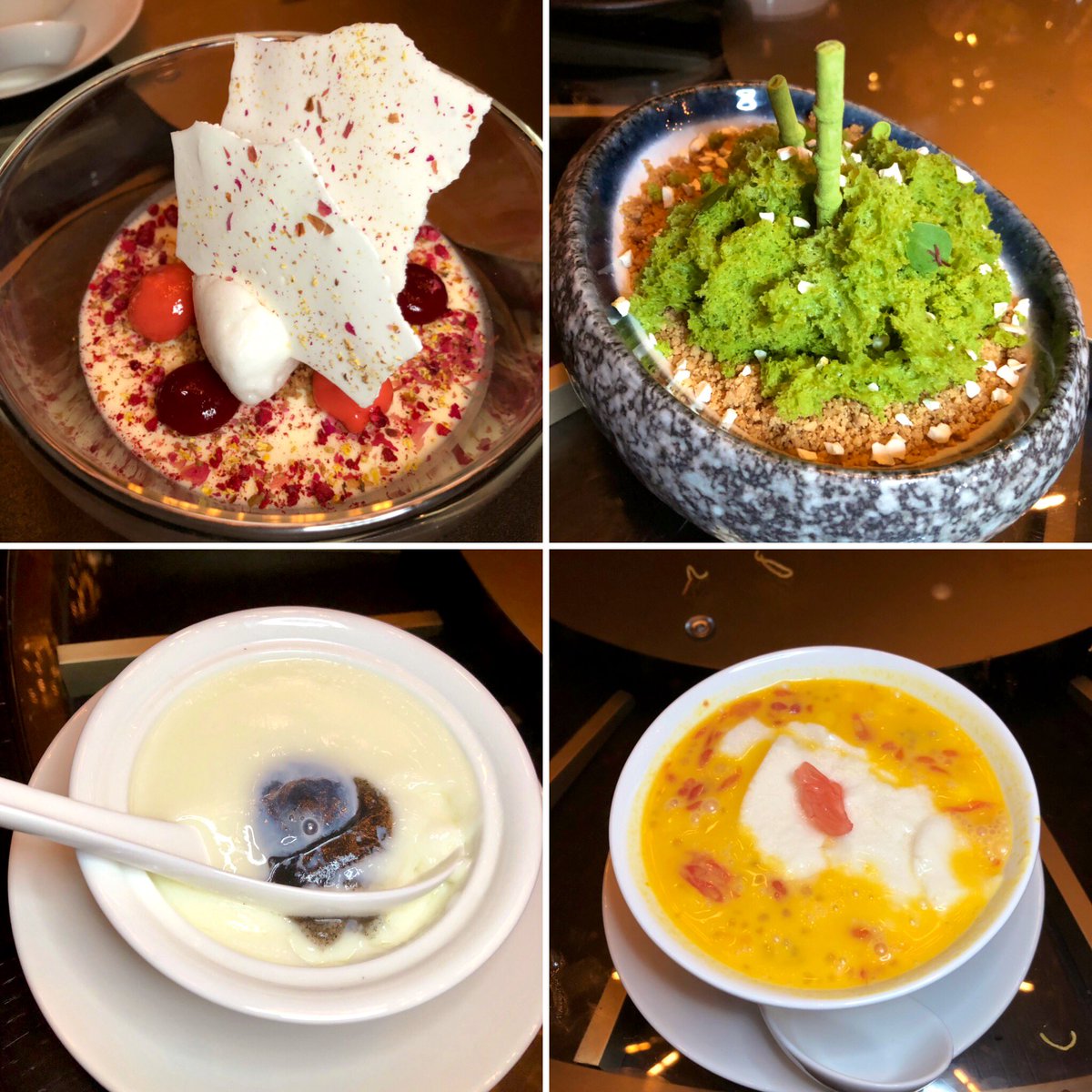 (The Cantonese love their custards)
Desserts got my attention as well. (When's the last time that happened in a Chinese restaurant?) They feature the au courant (Bamboo Green Forest (top right, $16)) alongside the classical (Mango with Coconut (sticky) Rice Roll ($12) on the split (Modern/Classic) dessert menu. Even an old bean paste hater like me found myself slurping the pure white custard-like Double Boiled Egg White (bottom left, $12) , on top of some grainy/pasty Black Sesame something-or-other. The pastry chefs at Guy Savoy have nothing to worry about, but for a restaurant working within the Chinese vernacular, these are damn tasty.
Mott 32 is as slick as that duck skin, but no less satisfying.  The eclectic menu signifies that Chinese food has now taken a great leap forward into the promised land of high-end, gwailo dining dollars (something Japanese food did twenty years ago). Just because it's a huge, expensive, well-financed chain doesn't mean that it should be dismissed. The casual, luxurious vibe and ingredient-forward cooking are calculated to appeal to purists and tourists alike, and by and large, they pull it off.
More than anything else, though, Mott 32 represents a modern Chinese invasion. A China no longer burdened by its past; a cuisine no longer defined by egg rolls, fortune cookies and orange chicken. Whether you're impressing a date or hanging with a crowd of conventioneers, you won't find any better Chinese food in Las Vegas.
Like I said, this place is expensive. Expect to pay at least $100 for two (for food) unless you go crazy with the high-end, Chinese gourmet stuff, which you won't. The wine list is Strip-typical, meaning: aimed at people with more money than brains. The somms are very helpful, and eager to point you to the (relative) bargains on the list, most of which go much better with the food than overpriced Cali cabs or chichi chardonnays. One of our four meals here was comped; another (for three) set us back 460 samolians, with a $100 bottle of wine.
The Palazzo Hotel and Casino
3325 Las Vegas Blvd. South
Las Vegas, NV 89109
702.607.3232