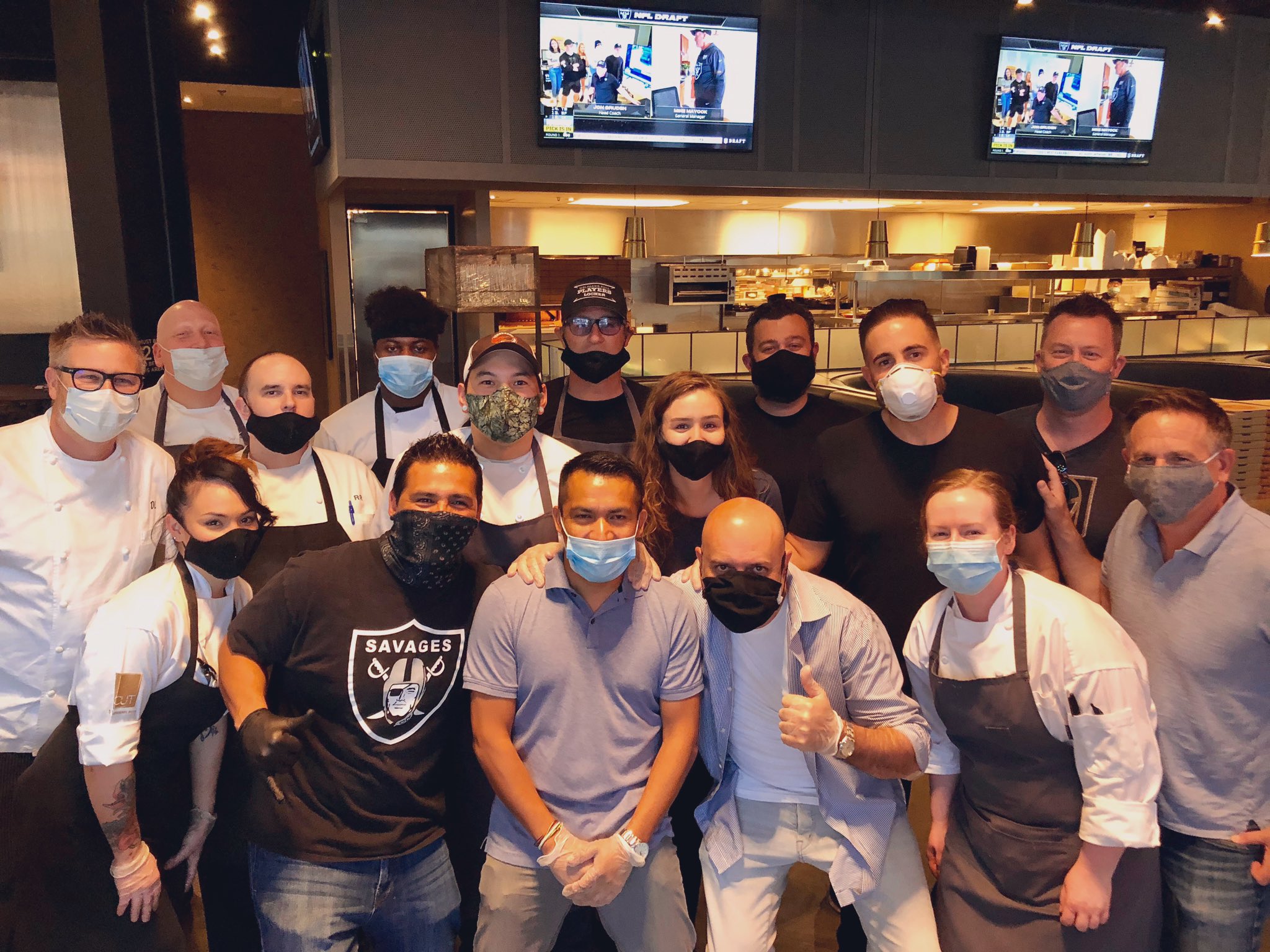 (Puck's peeps knock it out of the park)
Day 50, May 5 – Where We Ate

The Great Cessation is winding down. What began in a fit of panic will end in a cloud of failure and despair.
Lives have been ruined, businesses crushed, hopes dashed….but the media and government did its job: whipping everyone into a frenzy so they would buy into the ham-fisted, blunt instrument approach to public health — one akin to "we have to destroy the village in order to save it."
Both (media and government) are better at getting into messes than getting out of them, so picking up the pieces will be left to the citizens.
And there will be pieces aplenty: 30 million unemployed; an economy in shambles; poverty, disease, murder hornets, you name it.
Las Vegas will be hit hardest of all, just like it was by the Great Recession. (If you don't believe in Karma, you might consider these double-whammies, twelve years apart, have followed 20 years of unprecedented growth. Yup, Vegas will end up paying double for all the unbridled prosperity it enjoyed between 1989-2009.)
But enough depressive pontification, We are here to celebrate the places that have fed us so well over the past six weeks.
As you might guess, we didn't let some little old Covid-19 shutdown interfere too much with our gustatory gallivanting. The biggest issue on a daily basis was lunch. Only a few places are open for takeout, so most days it was homemade sandwiches, fruit and cheese brought to work. (I've actually lost a couple pounds.)
Dinner found more places open, but even then, we ordered out far less than our habit. (In peak season, The Food Gal® and I easily hit 10+ restaurants a week.)
When we went out, more often than not, we brought our own table and chairs and ate on the sidewalk outside the restaurant with our friends, Deanna and Greg. (They got stranded here, from their Boise, Idaho base, on March 15 and have been toughing it out by working at home and helping us relieve the boredom.)
Occasionally, a restaurant would wave us inside and serve us like the old days — this helped everyone feel as if a little sanity had been restored to a world turned upside down. (These restaurants will not be named for fear the Covid Gestapo is only too eager to hate-shame (or worse) anyone who doesn't share their misery.)
Dinner was confined to far fewer options than you might expect (good pizza, amazingly was not in abundance throughout this crisis), but if you wanted to drive, lots of quality is/was out there. Very little of it compared to what those same restaurants could turn out at full throttle, but at least you knew a real chef was busting her/his ass to feed you.
We are listing the restaurants in the order in which their takeout menu most closely approximated the quality of what they do when firing on all cylinders. But there are no losers here. Even the most mediocre meal was savored with the appreciation of Lucius Beebe contemplating the nesting habits of a recently-devoured woodcock.
At the end of The List, we'll have a few choice words for people who continue to accuse us of criticizing the shutdown only because we only want to get back to eating in fancy restaurants.
The List:
Raku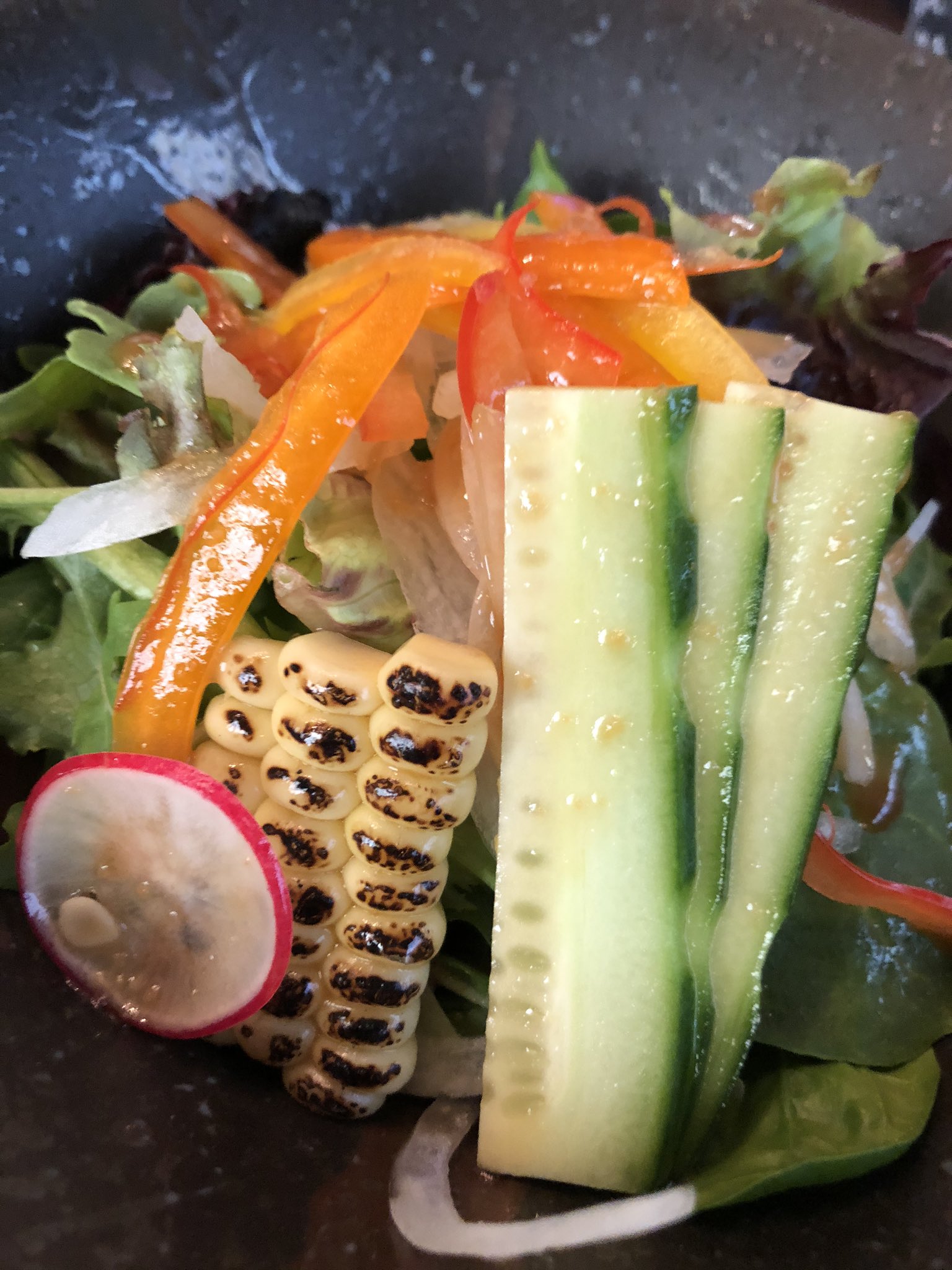 Both The Food Gal and I forgot our anniversary (on April 29). That is how soul-deadening this has been. Endo-san and Haruko-san bailed me(us?) out big time by bringing their "A" game — from bento boxes to grilled Japanese wagyu — for a meal that, if you closed your eyes, was a dead ringer for any other of the dozens we've had there.
Kaiseki Yuzu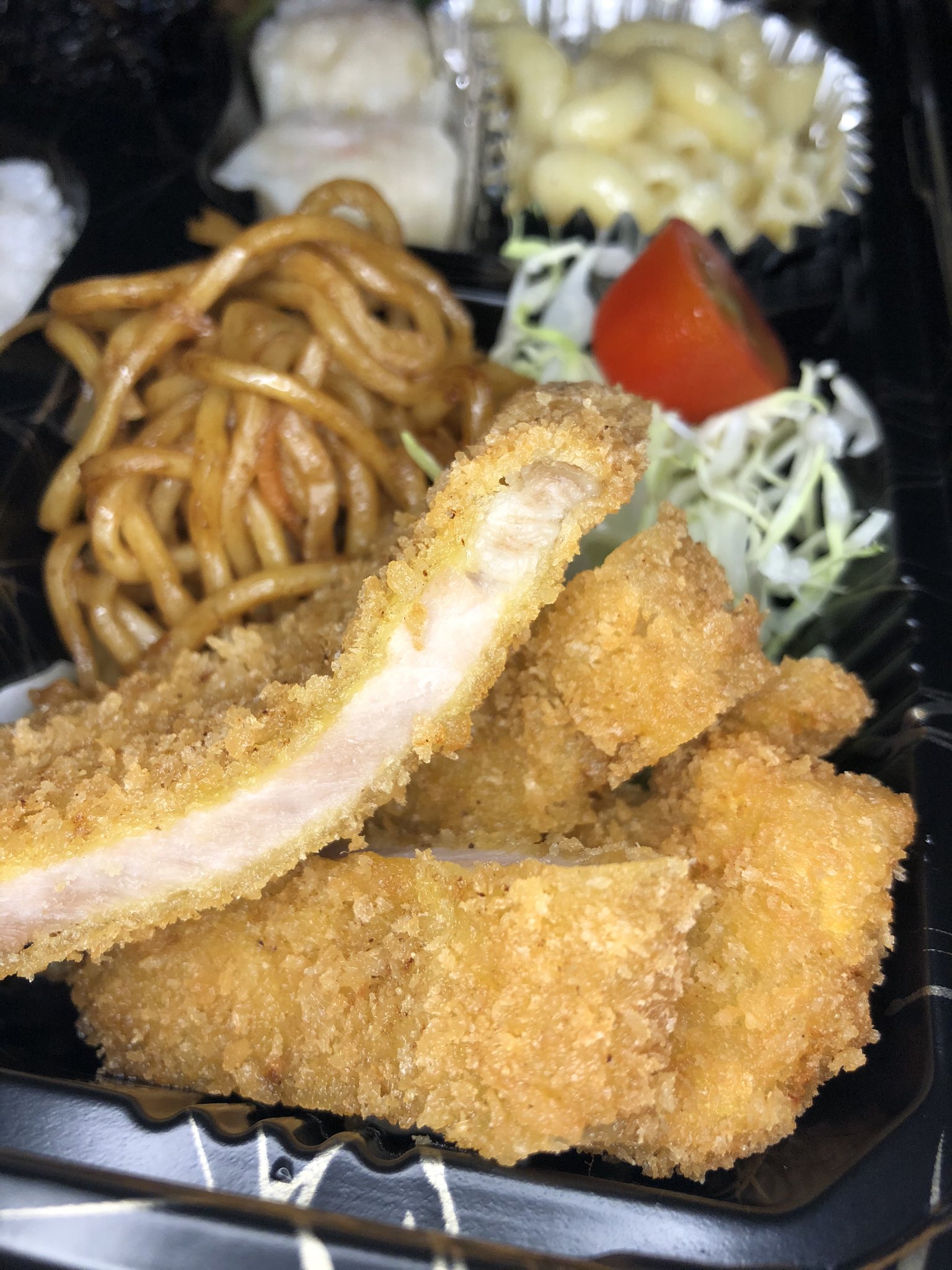 (Katsu-preme chicken)
Las Vegas's most beautiful bento — because, if you need to be reminded, the Japanese perfected takeout food when Americans were still living in log cabins.
Player's Locker by Wolfgang Puck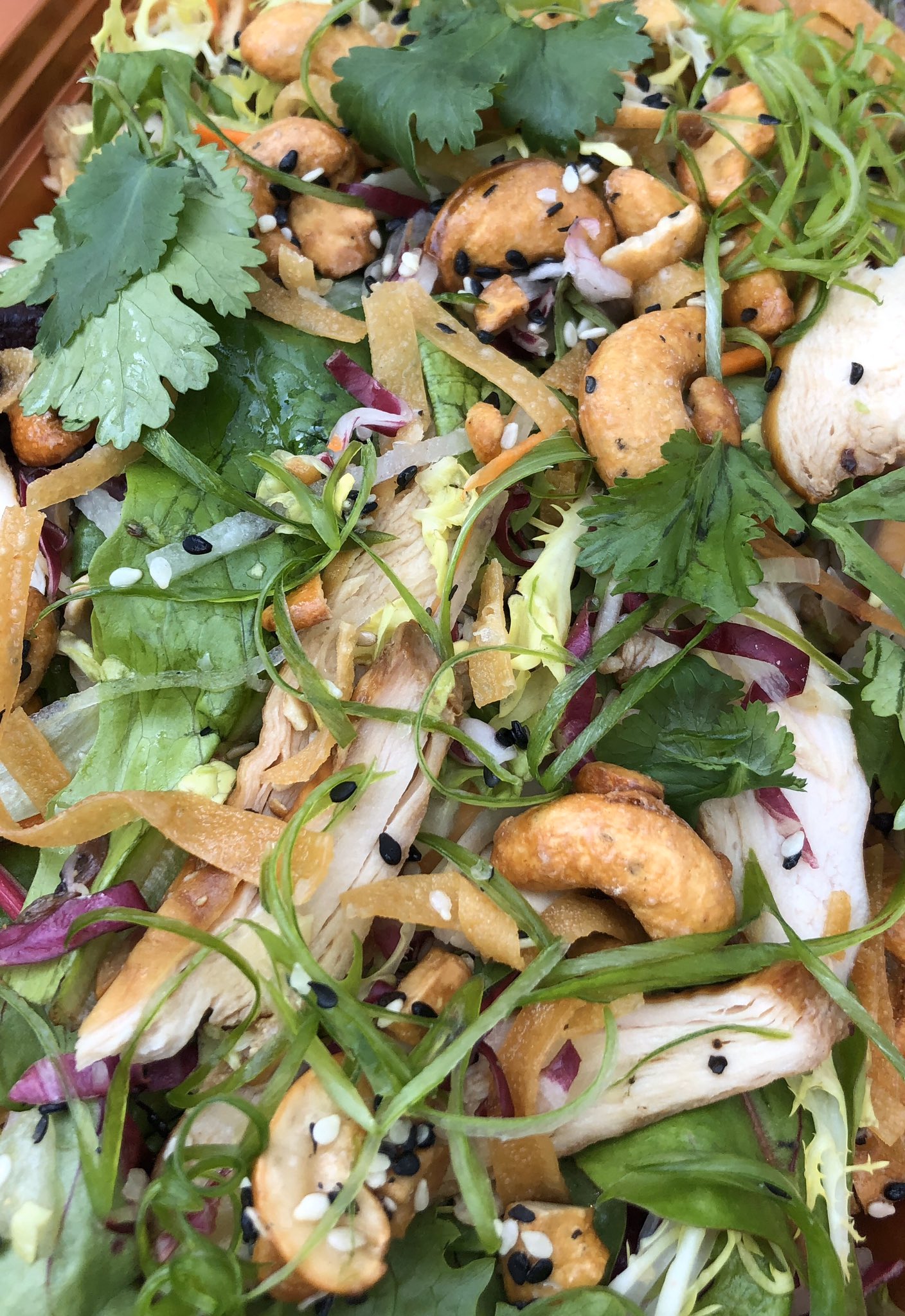 (Chinois Chicken Salad never goes out of style)
All hail to the Wolfgang Puck Restaurant Group! It has the horsepower to do what few restaurateurs anywhere could: bring a murderer's row (at top of page) of its local chefs together (at its Summerlin location) to produce an ever-changing menu of Puck classics (above), as well as dishes from each of its six local restaurants. Stars like Matthew Hurley, Kamel Guechida and Nicole Erle, the are producing food, bread, and desserts as eye-popping and fork-dropping as any restaurant in America over these past six weeks. With all that talent at the stoves, how could they not?
Tres Cazuelas
We ate on the sidewalk, but the food would suffer very little if taken home. Braised dished always travel well.
Lamaii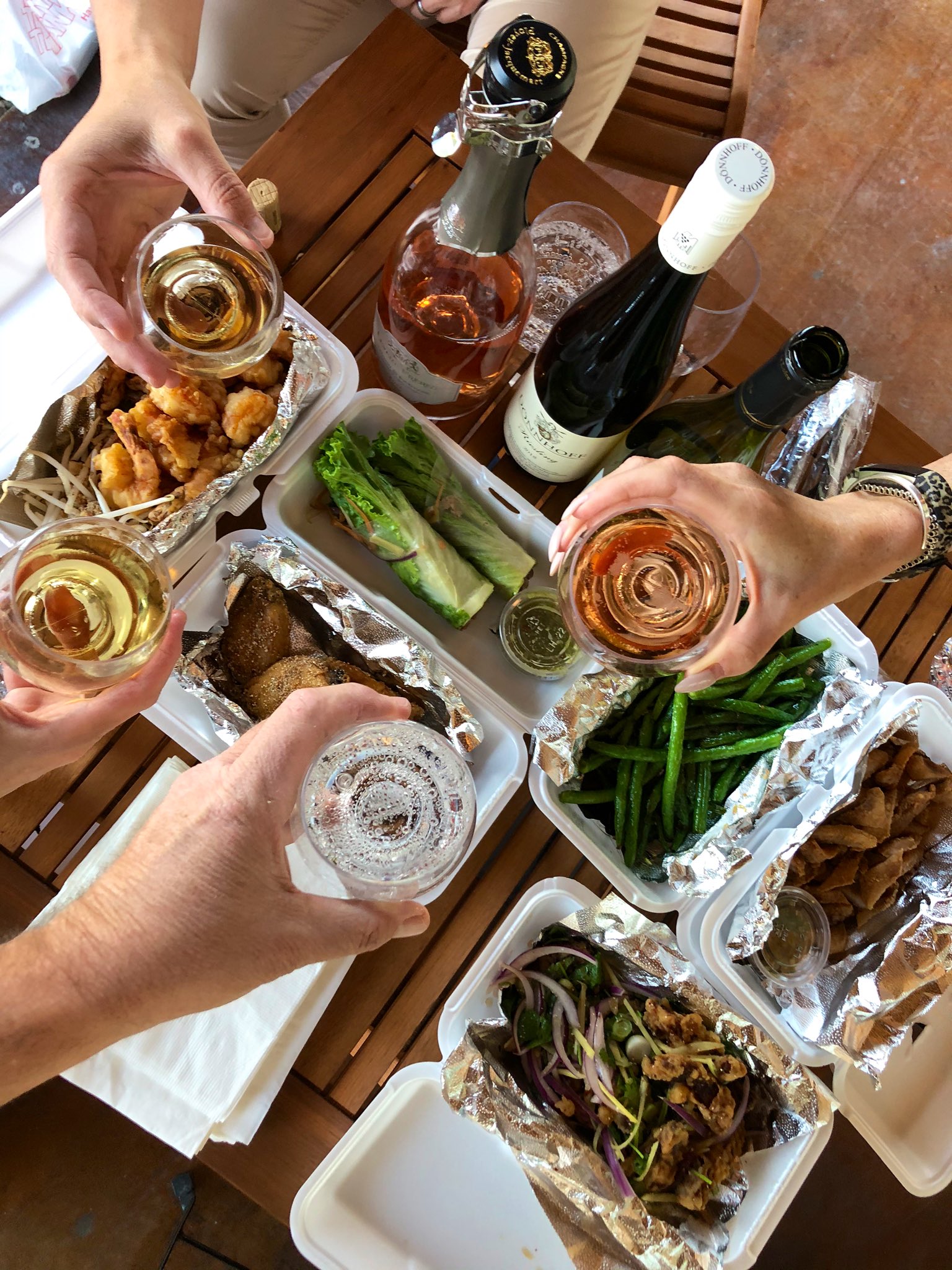 (Tangy Thai needs terrific Riesling)
Another sidewalk dinner — straight out of Styrofoam — but one that knocked our socks off.
Café Breizh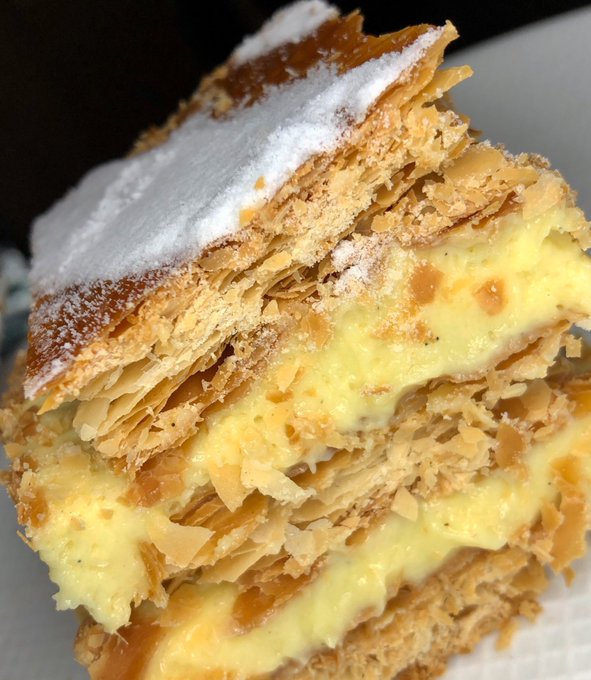 (Napoleon would be proud)
A lifesaver each week, turning out French pastries and breads worthy of Pierre Gatel's "Pastry Chef of the Year 2019" award.
The Black Sheep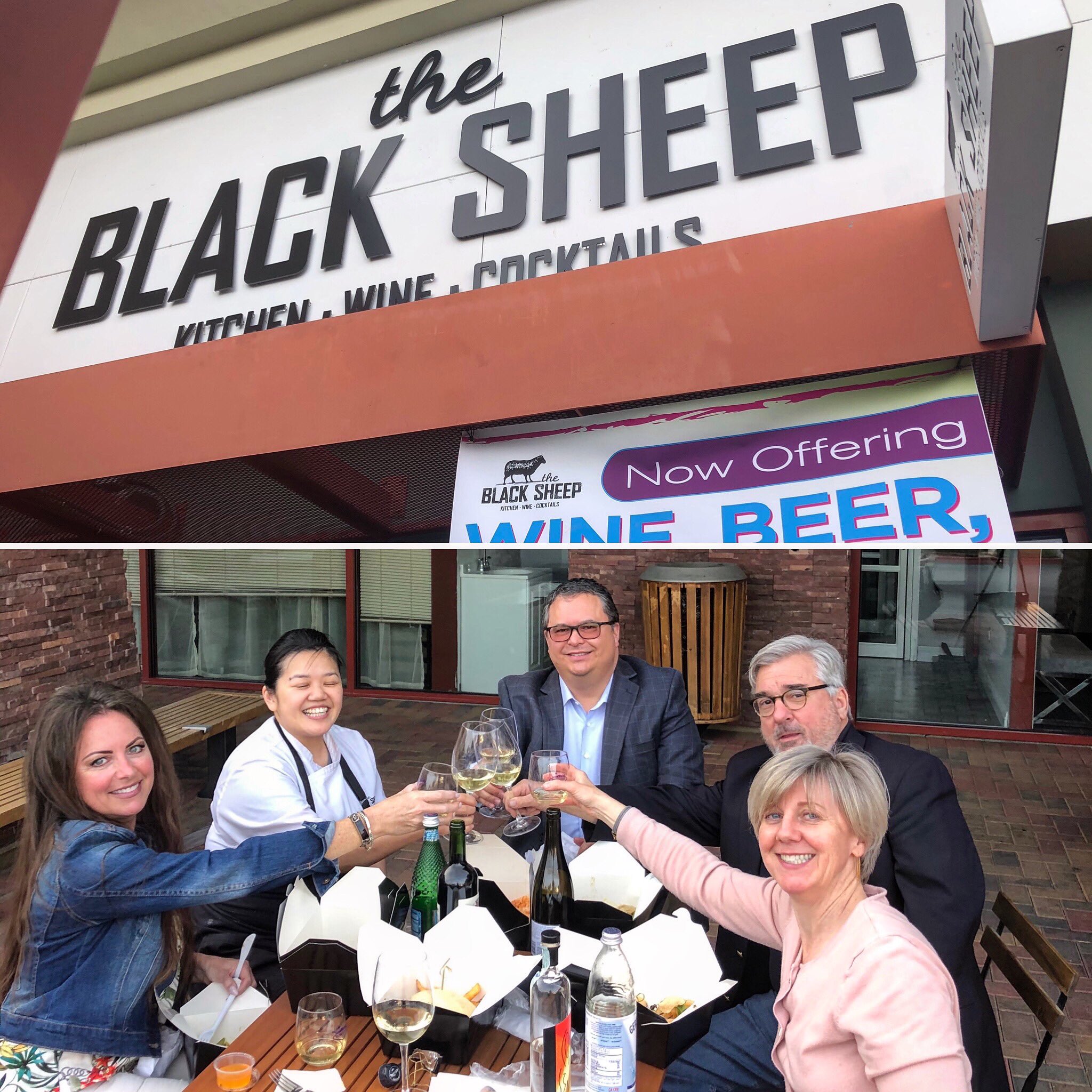 (No table? No problem. We bring our own!)
Jamie Tran now owns the restaurant herself, and herself and a helper are staying strong and producing a truncated menu of her standards that are as tasty as she is adorable.
DE Thai Kitchen
Thai restaurants seem to be weathering the storm better than pizza joints. DE Thai hasn't missed a beat.
Saga Pastry + Sandwich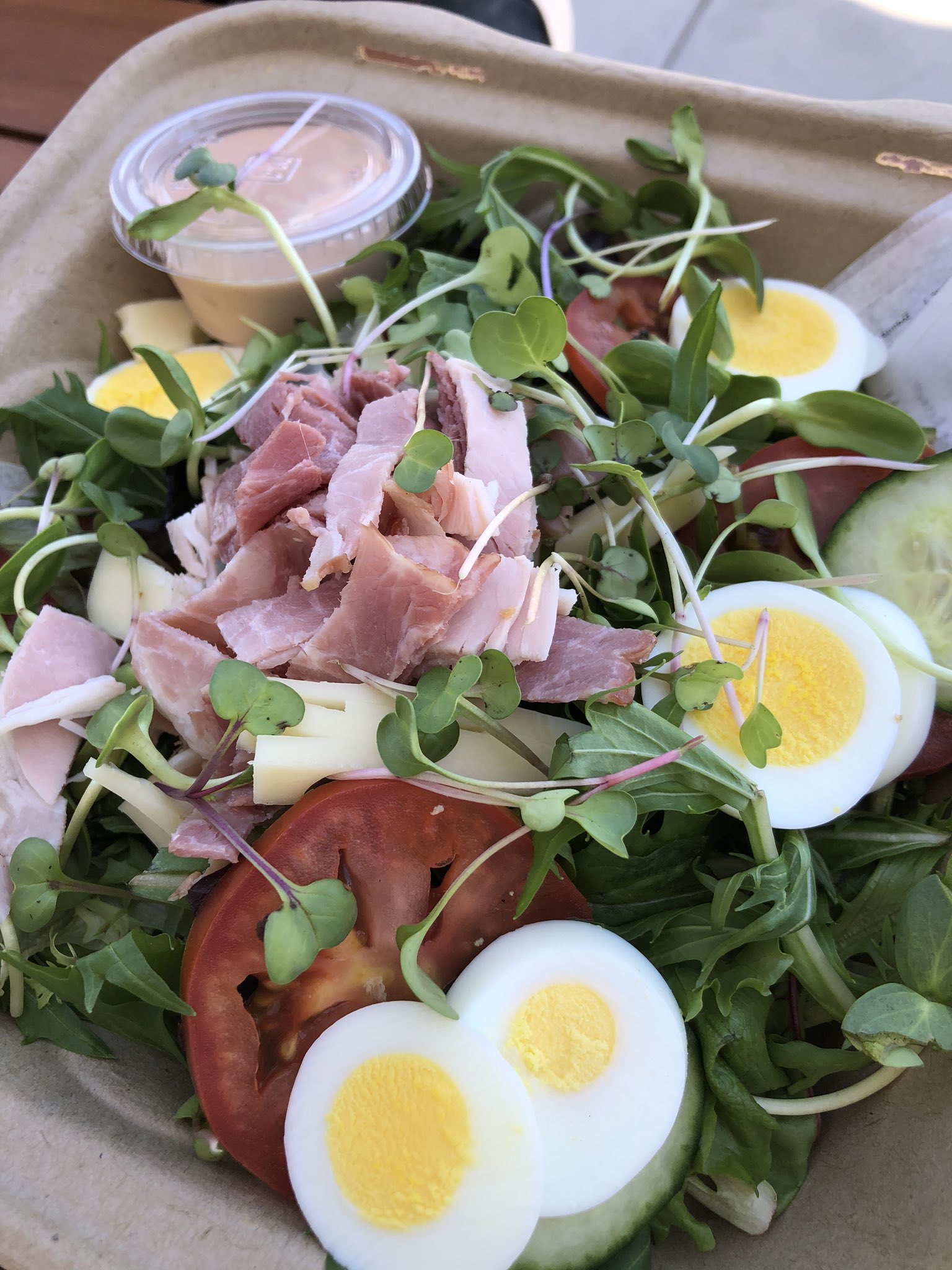 I love this place — even if they can't get those beautiful tiny, sweet, Scandinavian shrimp for their smorgasbord sandwich right now. It's one of only two reasons that can get me to the restaurant black hole that is Henderson/Green Valley. I love it, but I also fear for its future.
Ohlala French Bistro
Richard Terzaghi is doing it all himself, and what he's doing is doing his French tradition proud.
Sin City Smokers
Ribs and a pork sammie blew me away the other day on an episode of Las Vegas Food To Go.
L & L Hawaiian Barbecue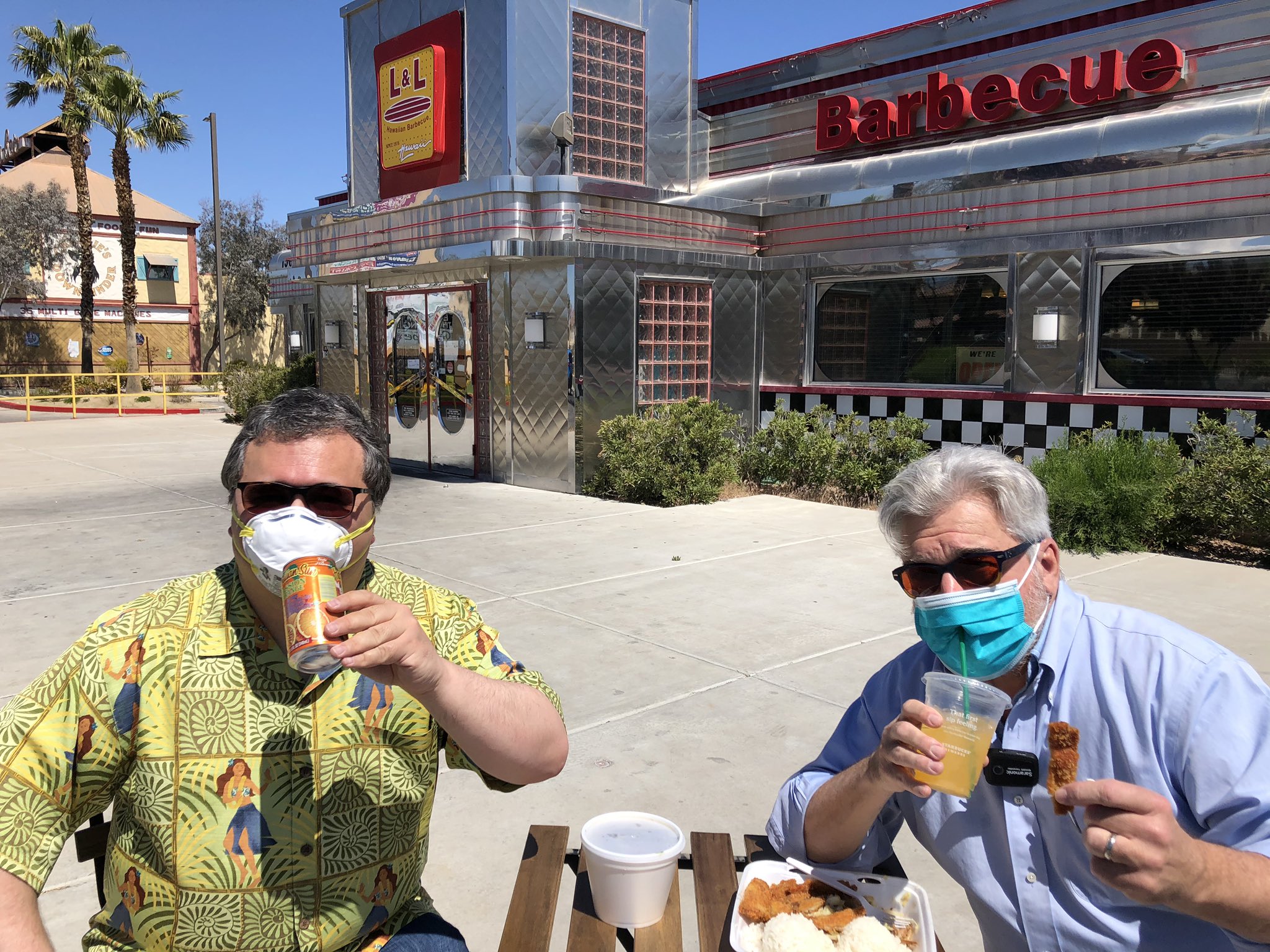 (The Burly Boyz take on Hawaiian 'cue)
Best Kaluha pig I've had in Vegas. My comments on Spam Musubi are best left for a time when I'm not struggling to say only nice things.
China Mama
I dream about their xiao long bao and Dan Dan noodles. All of the proteins here — from boiled fish to lamb with cumin — are stellar as well. The fish dishes do not travel well, however.
PublicUs
Another lifesaver. Has become our morning go-to for coffee. The tips we leave often exceed the size of the bill…and they're worth it.
Locale Italian Kitchen
Nicole Brisson has left the building. Before she left, she cooked us one helluva meal.
Rooster Boy Cafe
We would frequent here more often if Sonia El-Nawal didn't have her hands full servicing customers who can't get enough of her catered dinners and superb pastries.
Delices Gourmands French Bakery & Cafe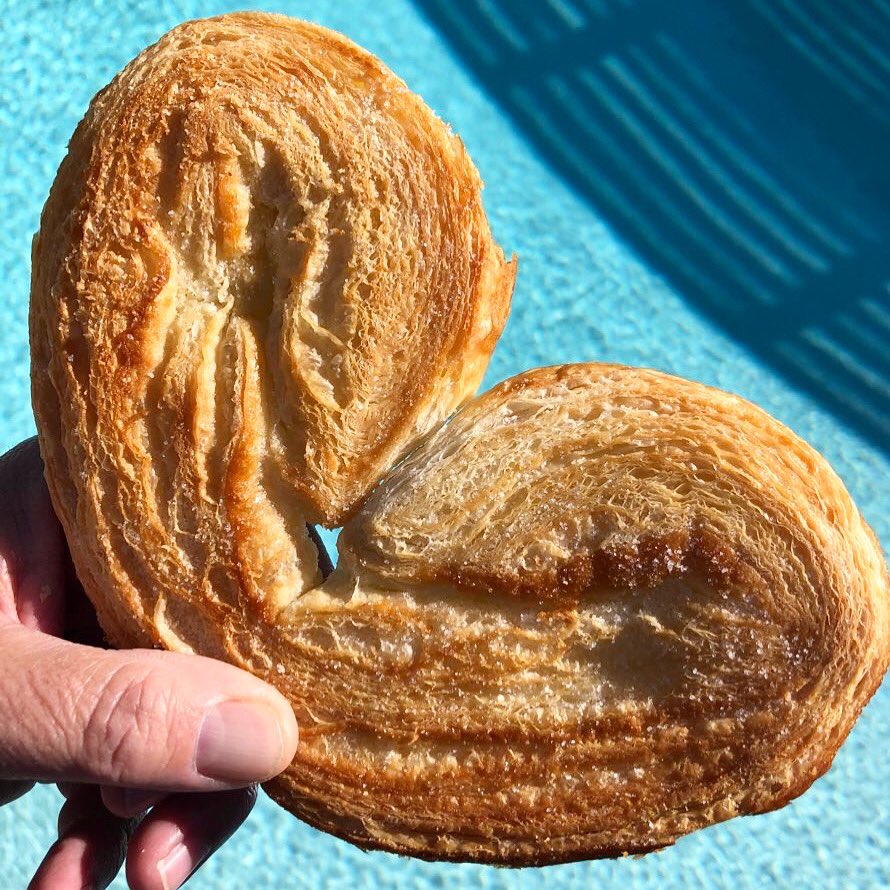 (Palm tree perfection)
I like Pierre Gatel's baguettes better at Cafe Breizh (by the width of a mille-feuille layer), but the bread selection (and pastries) here is a close second on all other fronts, and I would walk three miles for one of their palmiers…and have!
Kung Fu Thai & Chinese
Any place that's been in business since 1974 is doing a lot of things right. Just the spot when you're craving some cashew chicken or Yen Ta Fo soup.
7th and Carson
Still one of Vegas's most boffo burgers. So good we were fighting over the last bite.
Yummy Rice
Simple little rice bowls studded with veggies or proteins. Normally, they serve these in super-heated clay pots – Hong Kong style. Now, the rice caramelizes on the bottom of cheap, to-go aluminum.  Something is lost but the bowls are still damn tasty. A Food Gal® favorite.
Weiss Deli & Bakery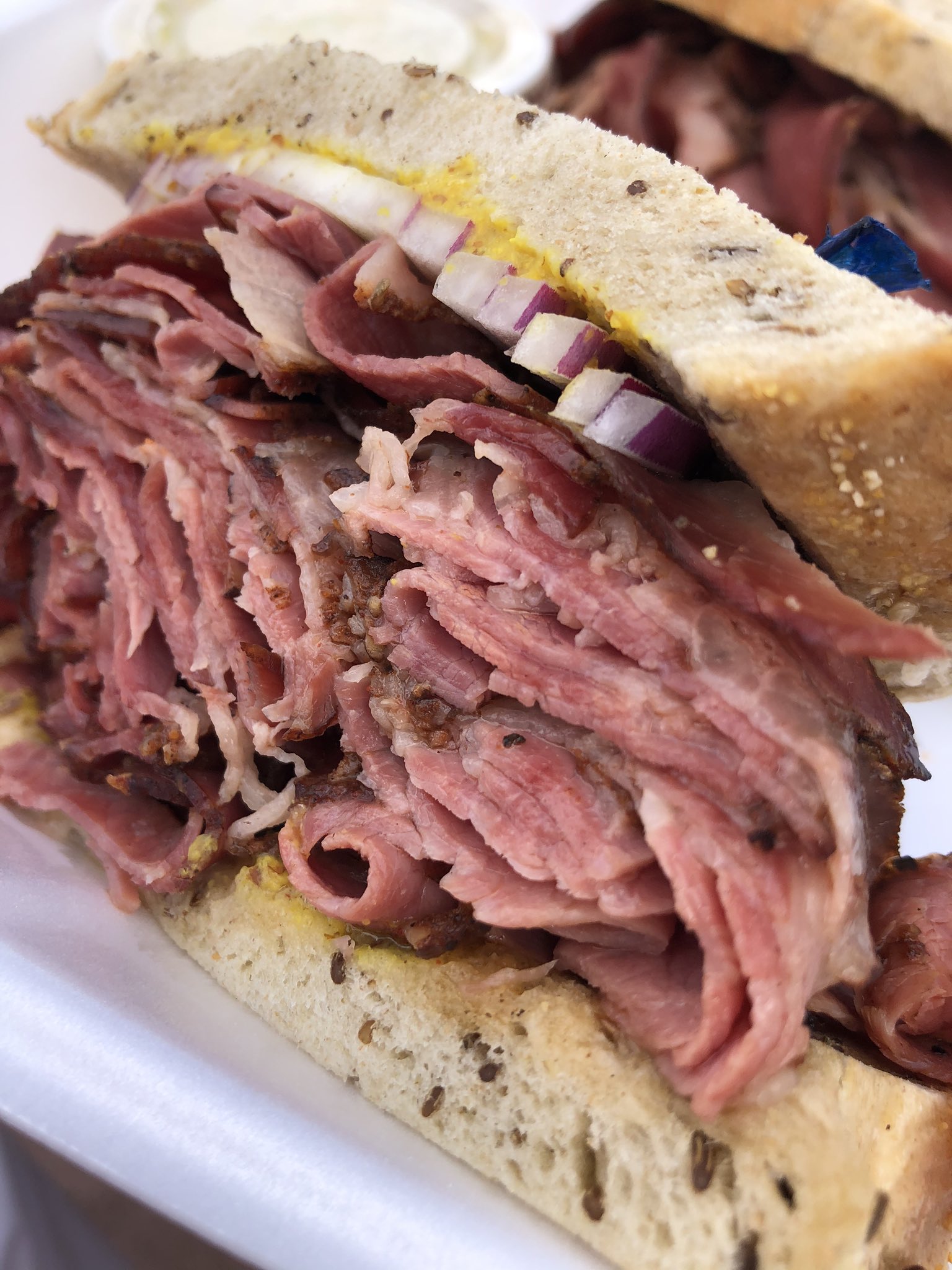 (Righteous pastrami on rye)
Jewish food and Las Vegas go together like craps and born-again Christians. Our best bagels are made by an Italian. Go Figure. Weiss is the closest we have to real, big city deli. Bagels, lox, pastrami, rugelach, the works — they have it all and all of it is worth traveling to Sunset and Sunset for.
Valley Cheese and Wine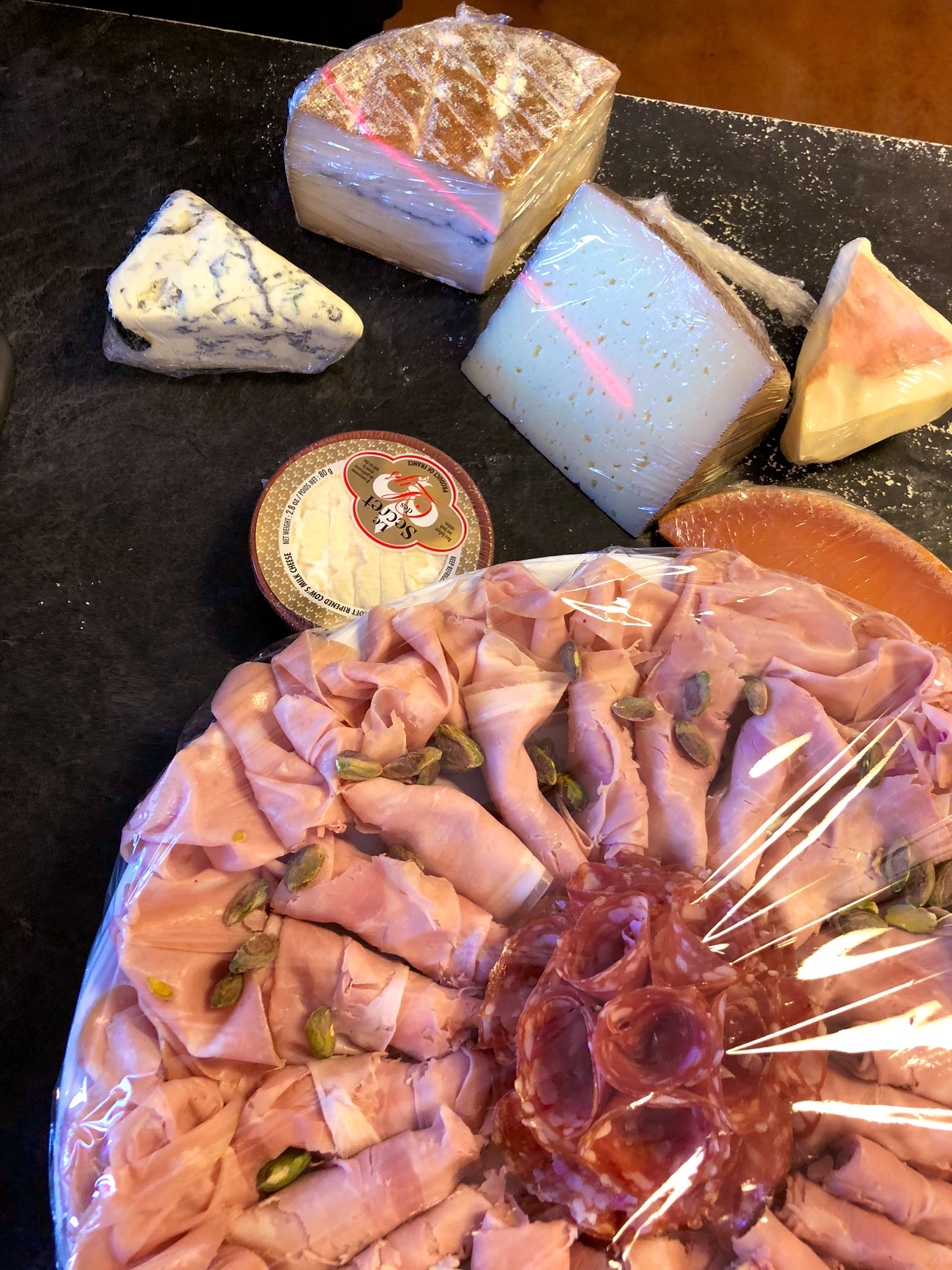 Three weeks in a row we've headed to the far corners of Horizon Ridge to grab some cheese and wine here. We never fail to blow at least a couple of Benjamins, and we'll spend twice as much if means keeping this little gem in business.
Ocha Thai 
Always a fave. Always there when we need a Thai fix.
Now, some final thoughts.
Many times over the last six weeks we've been accused (by self-righteous supporters of the shutdown) of being opposed to it solely because it prevents us from eating in fancy restaurants.
Here's a typical (but by no means uncommon) barb tossed my way by those who, over the past month or so, have decided to really, really care about old, sick people dying in hospitals thousands of miles away:
So, just to be clear, if you've had COVID -19, have it, or lost somebody to it, John wants you to know that you're nothing more than an inconvenience to his dining agenda. [B}efore they died, did you tell them to their face that you were glad they were dying, because it meant you could dine out sooner?

My response on Facebook was a little blunt: I told the writer (politely) to go fuck himself.
A more nuanced response would have been as follows:
The only thing I've obsessed about during this debacle has been how brutal it has been on working people in the hospitality business. Whether I ever eat another foie gras torchon has been the furthest thing from my mind.
I eat out now because I love restaurants and restaurant people — love supporting them, love watching them thrive. My devotion is like someone who loves a sports team — it is unconditional. But it is also different. Because every day I evince my passion with my time, my appetite, my prose and my paycheck. My life has been a full one; I will eat well no matter what happens.
What I've also realized from fifty years of obsessing about food is how important restaurants are to the soul of a community. We are social beings. Gathering to eat and drink has been inculcated into our DNA since time immemorial. You can no more prevent people from talking, rubbing elbows, sharing food, or passing the platter than you can keep the sun from shining.
The idea that you should take a society and shut it down to keep people from breathing on each other is the dumbest thing since the Vietnam War. Unlike the war, however, this policy will ruin tens of millions of lives across the globe.  It is those lives who deserve our sympathy, not people you don't know — people you're only pretending to care about because it makes it easier to disguise your fear and makes you feel better about yourself.
You're right about one thing, though. Because of your irrational fear(s), the Golden Age of American Restaurants is over. The way has been cleared for soulless, antiseptic, corporate eateries to dominate our landscape for years to come. But for as long as I can still chew, I going to fight you and your fright, and put my money where my mouth is to keep places like those above alive.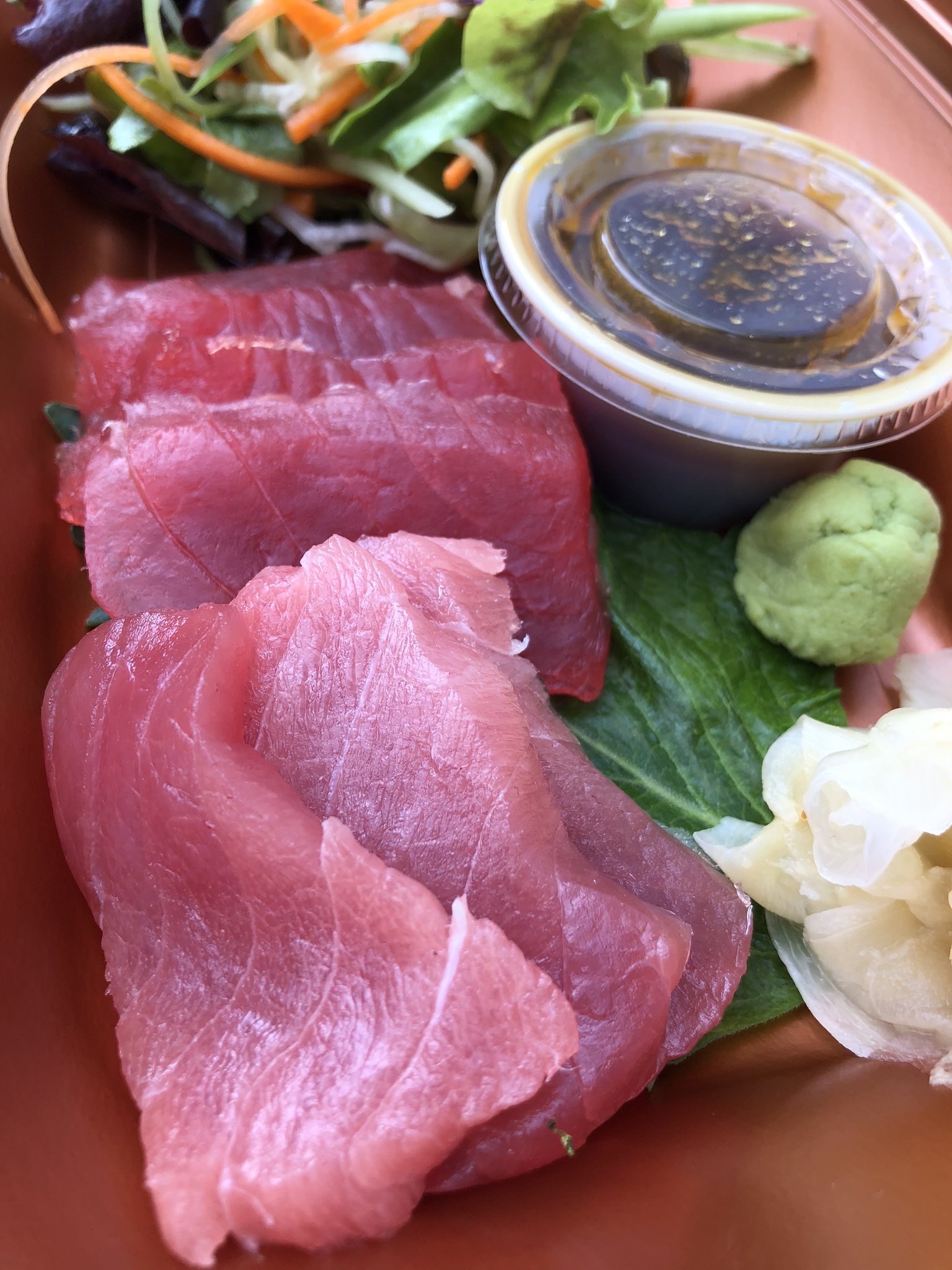 (Big eye tuna from Player's Locker)