DESERT COMPANION AWARDS 2021
Ed. Note: The Desert Companion Restaurant Awards came out a couple of weeks ago, citing our most worthy eateries for their contributions to our dining out scene in the past year. As there were no awards in 2020, they are slightly expanded this year, with multiple winners in a few categories. Click on this link to read about them in their entirety, or scroll below for the ones yours truly wrote (for the 25th year in a row). Bon appetit and congrats to all the winners!
RESTAURATEUR OF THE YEAR
Gino Ferraro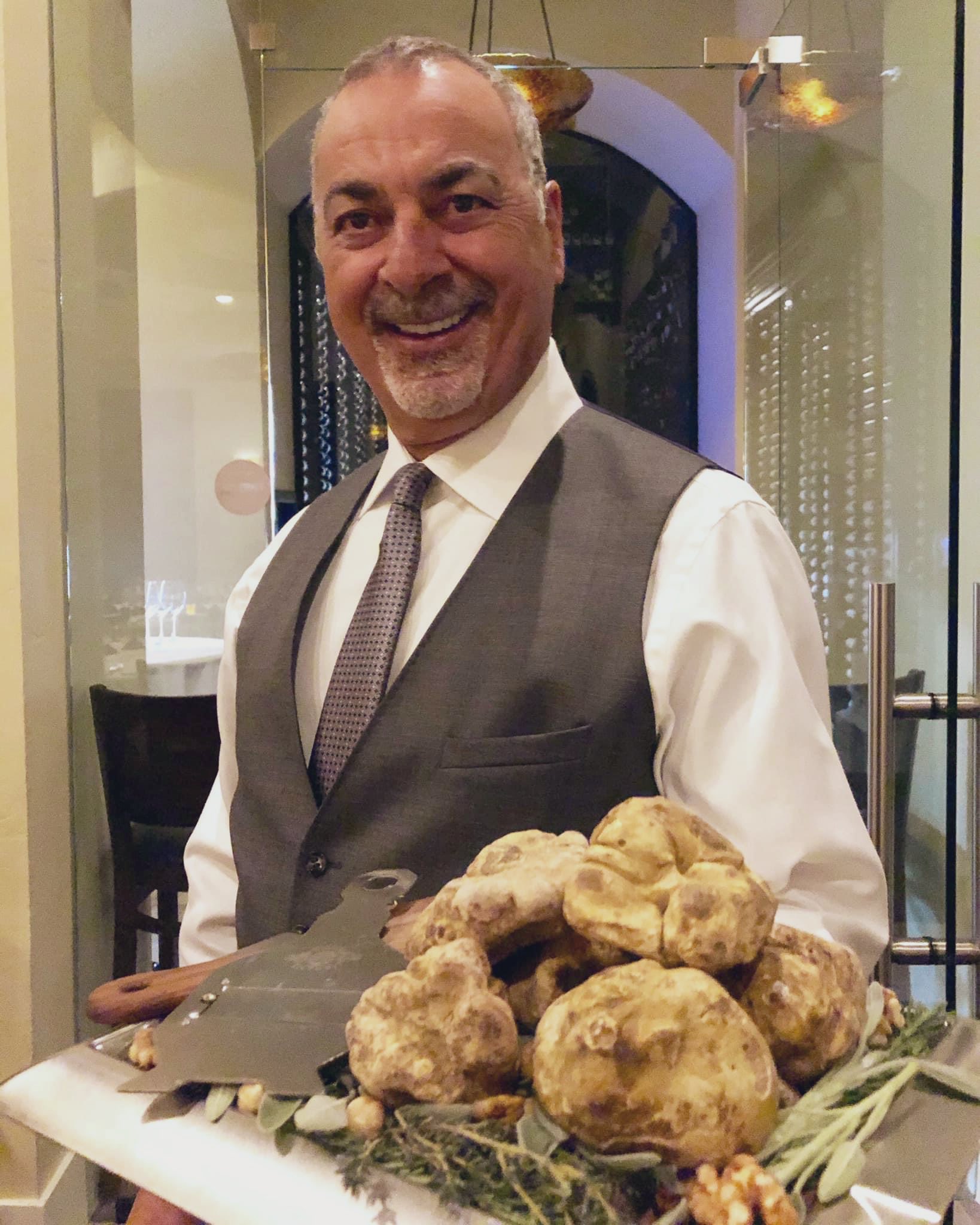 To be a great restaurateur, one must be perpetually in a bad mood, or at least a world class worrywart. Gino Ferraro certainly fits the latter bill, and one suspects he is always seconds away from the former – continually bracing himself against some imminent operatic tragedy about to befall his restaurant, be it a service misstep, or anything he doesn't think is up to snuff. This is not to say he is never happy. To see him touching every table, decanting an aged Barolo, or advising customers what to order, is to see a professional at the top of his game, albeit one who knows how vigilant he must be to stay there.
Like all Italians, his passion for food and wine runs deep. What began as a wholesale/importing business in Las Vegas in the early 1980s, quickly became a tiny trattoria/retail store on West Sahara, then a full-blown Italian ristorante, replete with wine and piano bars, then to its current digs on Paradise Road, where he and his family have flourished since 2009. Three versions of the same restaurant in thirty-five years, each one bigger and better than the last, is a feat almost unheard of in this industry. Ferraro's has always been classic without being stuffy and old school without being hidebound, with a formula based upon hospitality first, and a menu of old favorites (a legendary osso buco) and Italian standards (a simply perfect spaghetti alio e olio), along with lighter fare (a gorgeous Caprese salad), guaranteed to satisfy the old guard and adventuresome gastronomes alike.
To pull off this feat for a decade takes the soul of an entrepreneur, the stamina of a bricklayer and the discipline of a drill sergeant. That Gino and his family – aided by wife Rosalba and chef/son Mimmo – have kept Ferraro's at this level of excellence, never losing a step, and surviving the rigors of Covid, is a feat as impressive as his world-beating wine list. Come any night and you'll see Gino on the prowl, eagle-eyed, surveying his guests like a paterfamilias looking after his flock. Look a little closer and you'll see a twinkle in those worried eyes – a sense of satisfaction from knowing he and his staff have done all they can, since 1985, to ensure your happiness.
Saga Pastries + Sandwich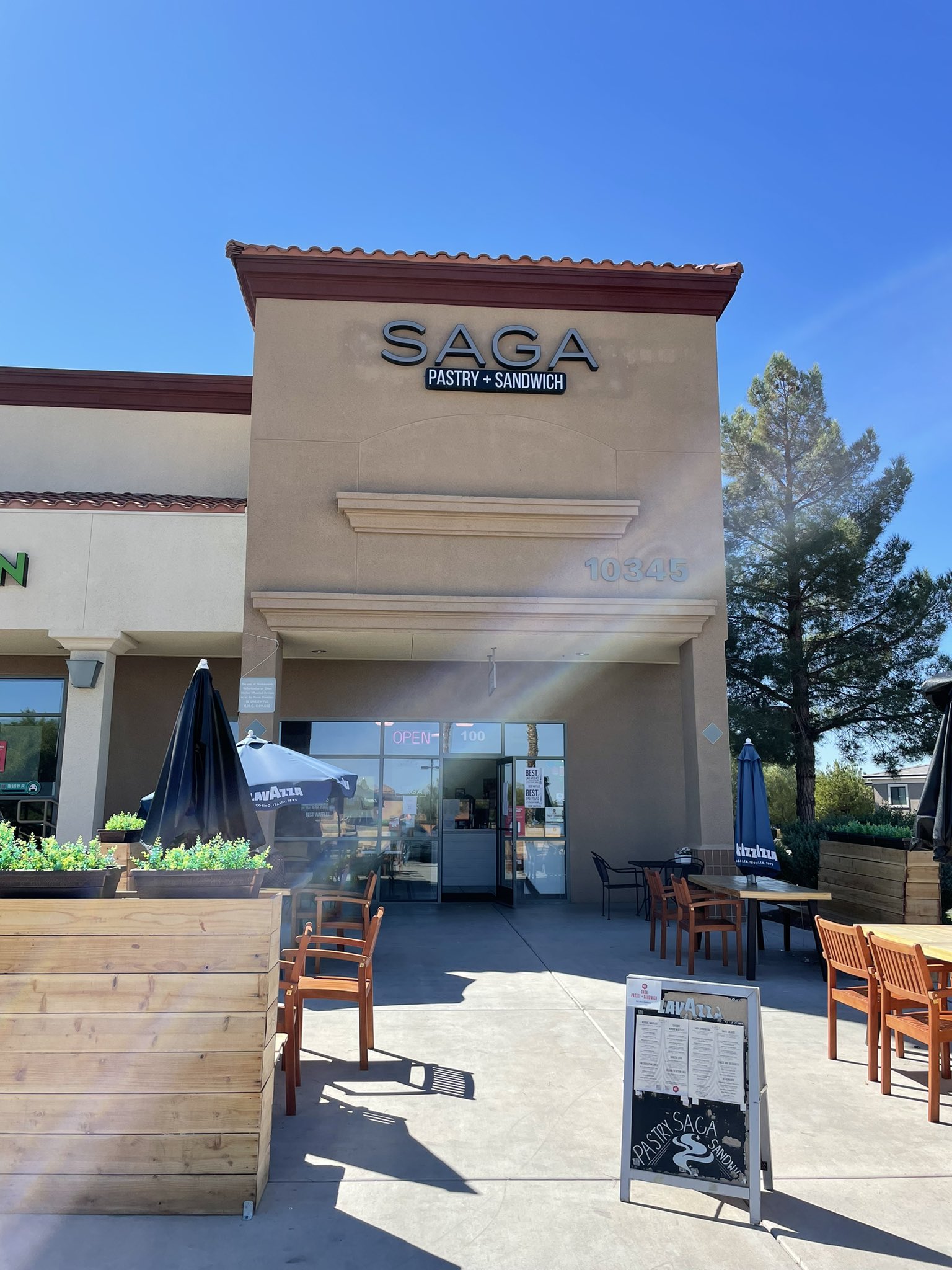 Scandinavia and Las Vegas have as much in common as pickled herring and high-stakes poker. To be blunt: the words "eat like a Viking," do not exactly roll tripping-ly off the tongue when it's 110 degrees outside.  But there are enough Norsemen in town (and lovers of all things Nordic) to keep  this sleek and gleaming breakfast/lunch spot on Eastern Avenue humming with a steady stream of regulars — folks who lust for Swedish waffles, insanely good "Danish Dogs" (Denmark's unique contribution to the tube steak ouevre), and what may be the most unique sandwiches in Vegas.
Those waffles come either flat or folded, stuffed with savory fillings, or dripping with berries and sour cream. One bite and you'll see why chef/owner Gert Kvalsund proudly displays his "best waffle" accolades, and has pretty much retired the award. He also does classic pancakes, various pastries, and good Lavazza coffee, but what keeps us returning are his Saga Smørbrød: open-faced sandwiches overflowing with your choice of lightly-cured ham, salmon and/or the sweetest Arctic shrimp you'll ever taste. (First timers should try all three.) No matter the season, they'll fuel you for whatever conquering and pillaging comes to mind.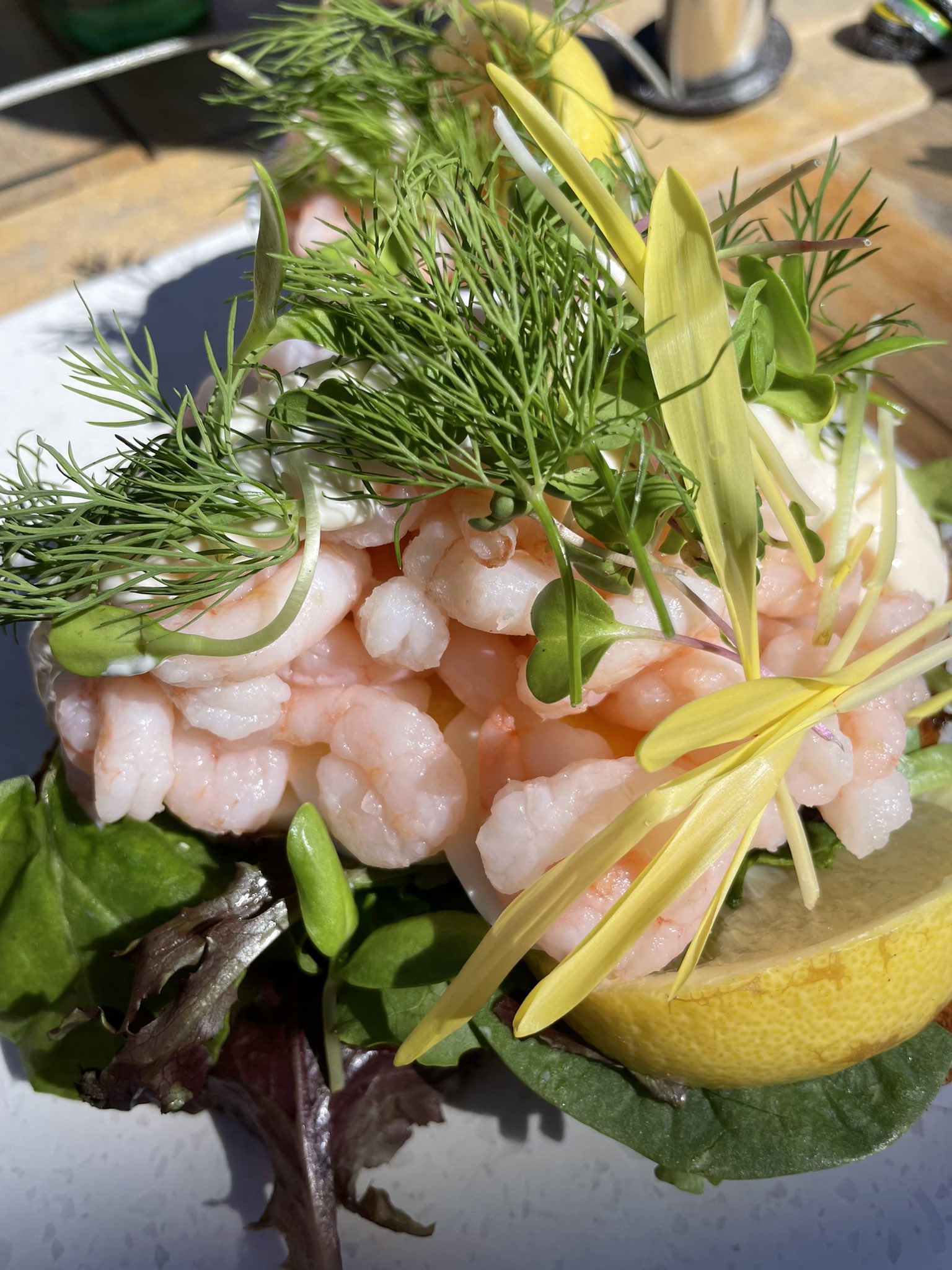 NEIGHBORHOOD RESTAURANT OF THE YEAR
Elia Authentic Greek Taverna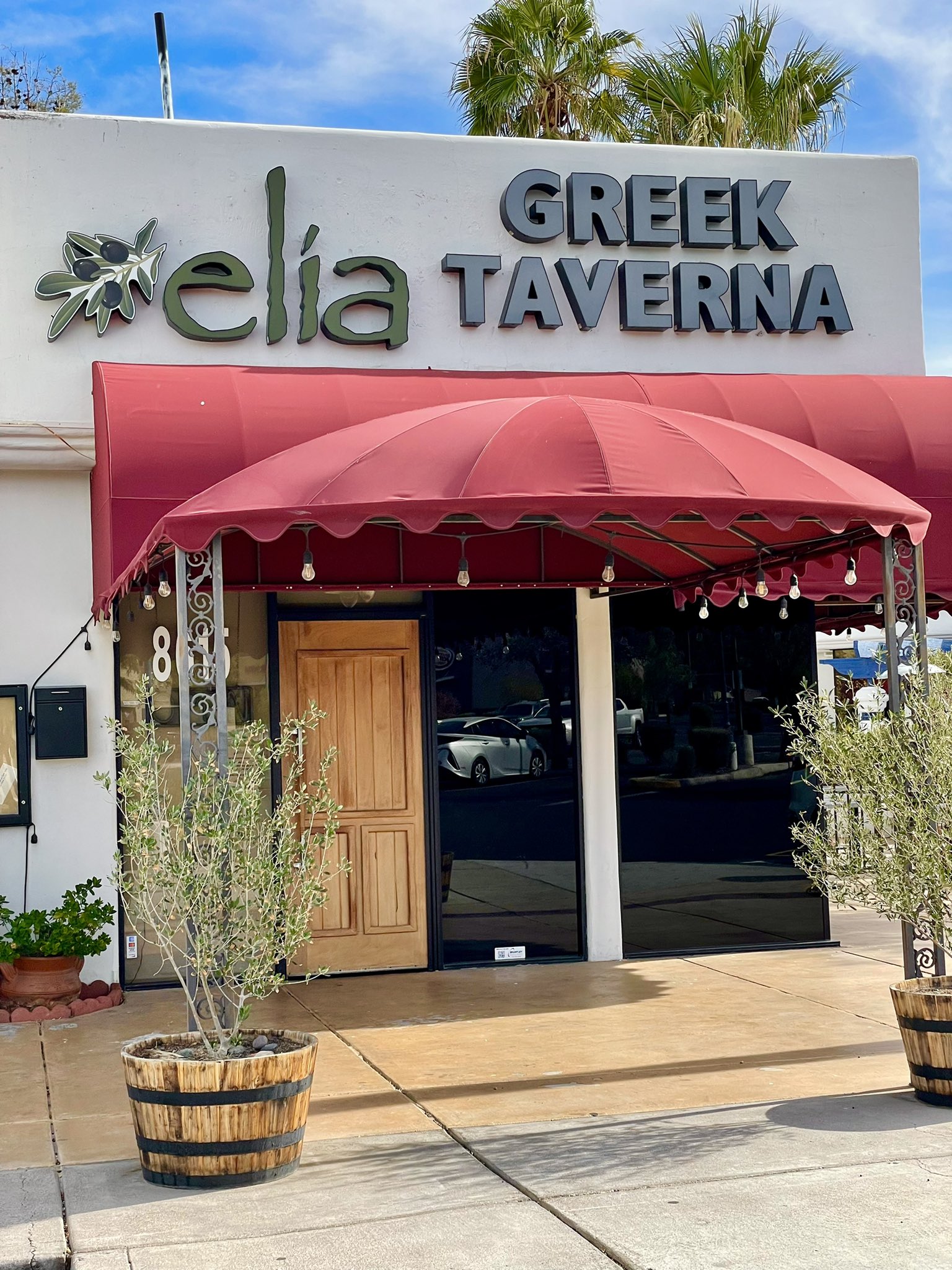 Like Italy and Mexico, the cuisine of Greece is a victim of its own cliches. If you ask most Americans to define a Greek restaurant, they will describe a sea blue and white room, reeking of garlic and bouzouki music (including "Never on Sunday" played at least four times an hour), along with boring gyros, wet cardboard souvlaki, and baklava so dense it could be used as a doorstop. Elia challenged all those tired tropes when it opened a few years ago, and in doing so, immediately became our best Greek restaurant, right down to the indecipherable Greek lettering and unpronounceable names on the menu. (Not to worry – translations are provided.)
The aim is to make you feel like you're on a side street in Athens, sipping Retsina and eating at a local taverna, and boy did it hit its mark. Right from the jump, customers responded to the straightforward cooking, even as it was served in a modest, tiny space on south Durango. Then, when everyone else was simply trying to survive 2020, owners Savvas Georgiadis, Alexadros Gkikas, and Keti Haliasos made a bold move to a larger location, tucked into a corner of west Sahara, and never missed a beat. If anything, the new digs, complete with bar and outdoor patio, have given their cooking a larger stage — serving fresh roasted lamb, salt-baked fish, fried zucchini chips, and spicy tyrokafteri (cheese dip) to fellow Greek-Americans, and others eager to learn what a proper mezze platter and galatoboureko taste like.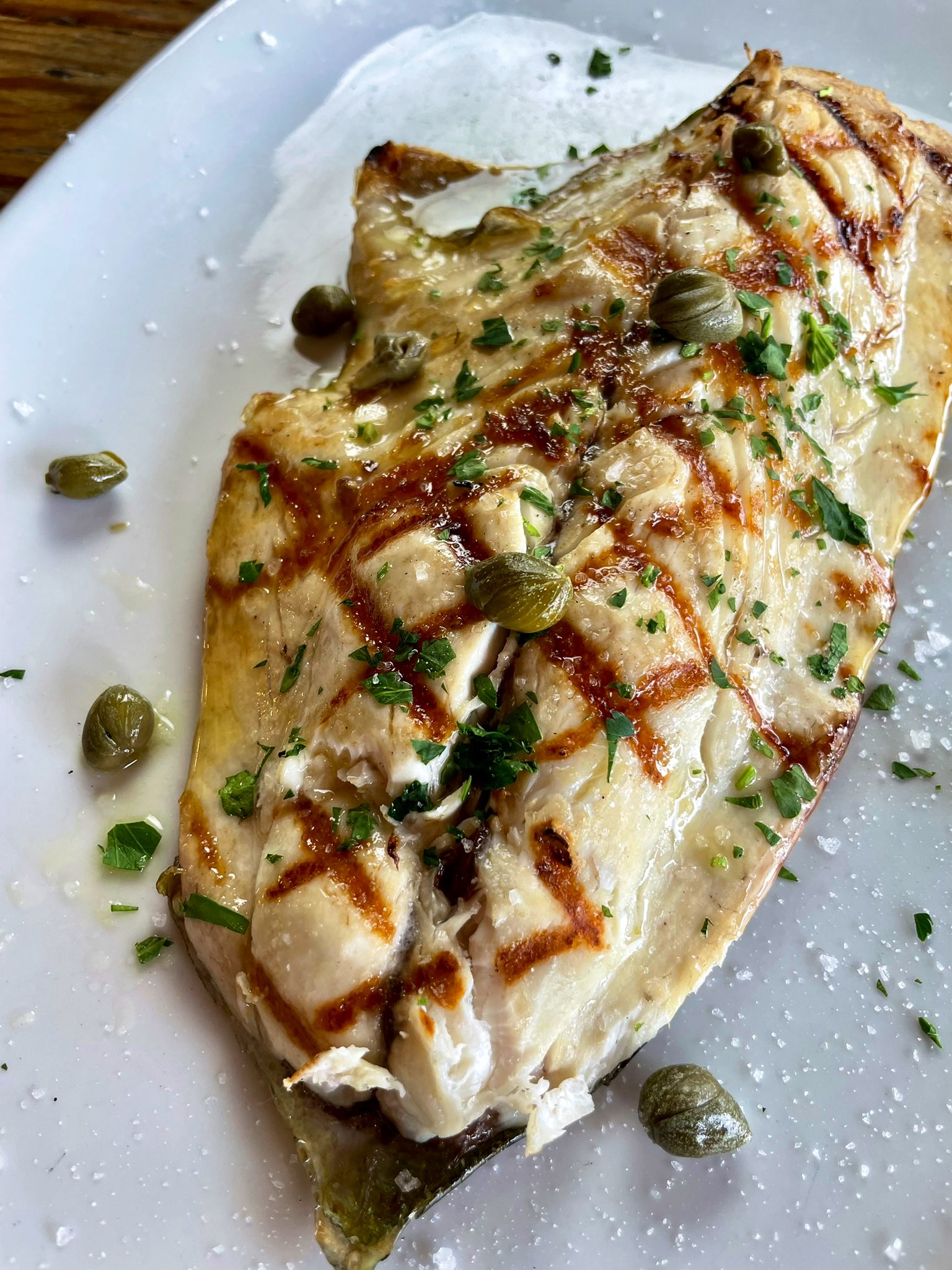 Thus has Elia become a taverna to call our own (and practically a club for the local Greek-American community), but also an education in how real Greeks eat (more fish and veggies, less pita bread and chickpeas). Las Vegas has taken to these lessons like an octopus to sea water. There is nothing by-the-numbers here; it is cooking from the heart, by Greeks eager to share their country's food and wine. "Authentic" may be an overused (or frowned upon) word in some food circles these days, but this is the real Greek deal, and Elia wears its name like a point of Hellenic pride.
PASTRY CHEF OF THE YEAR
Florent Cheveau, Burgundy French Bakery Café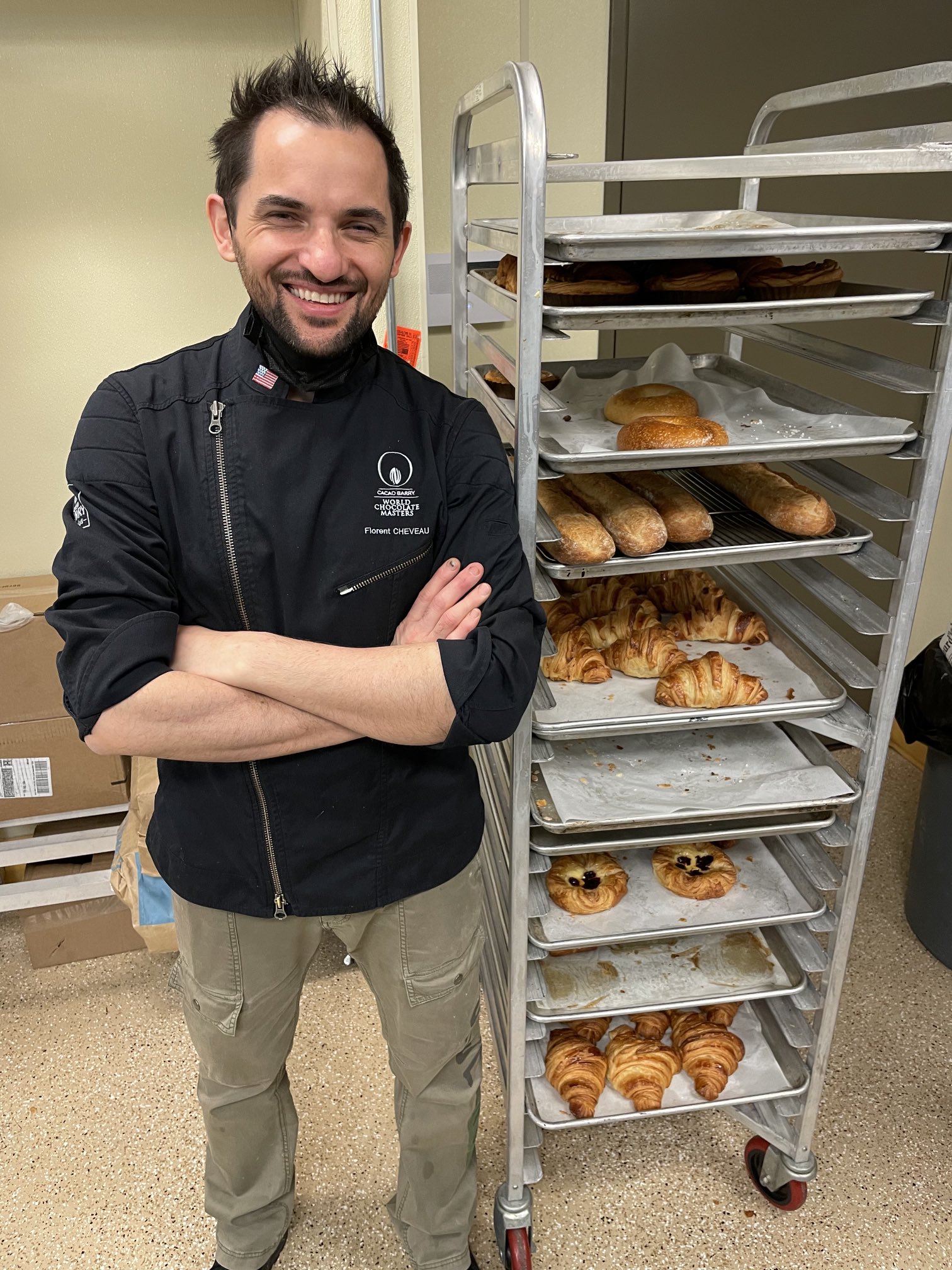 You might be sensing a theme with many of these awards: people who have survived and thrived through the worst economy for restaurants in over a decade. If necessity is the mother of invention, then this pandemic has surely been the genesis of revolution — specifically a gastronomic uprising — affording major kitchen talent a chance to strut their stuff in the suburbs. Lovers of French pastries could not have been happier when seemingly out of nowhere, Florent Cheveau (former MGM executive pastry chef and World Chocolate Master), opened the Burgundy French Bakery Cafe on West Sahara early this year, at a time when the prospects for success looked as sunken as a fallen souffle.
Taking over a fast food smoothie space across from the Village Theaters, his timing turned out to be as perfect as his croissants. People were hungry for handmade food, and anyone who bit into one of his macarons or cinnamon roll knew they were in the presence of something special. These were baked goods on par with the best restaurants in the toniest hotels, and here they were, for taking home or eating in, seven days a week. His savory quiches, croque Monsieur, and sandwiches are just as compelling as his sweets, but what keeps us coming back is a mille-feuille ("thousand layers") of incomparable buttery-lightness, woven into breakfast pastries that take us straight back to Paris

STRIP RESTAURANT OF THE YEAR
Bazaar Meat by José Andrés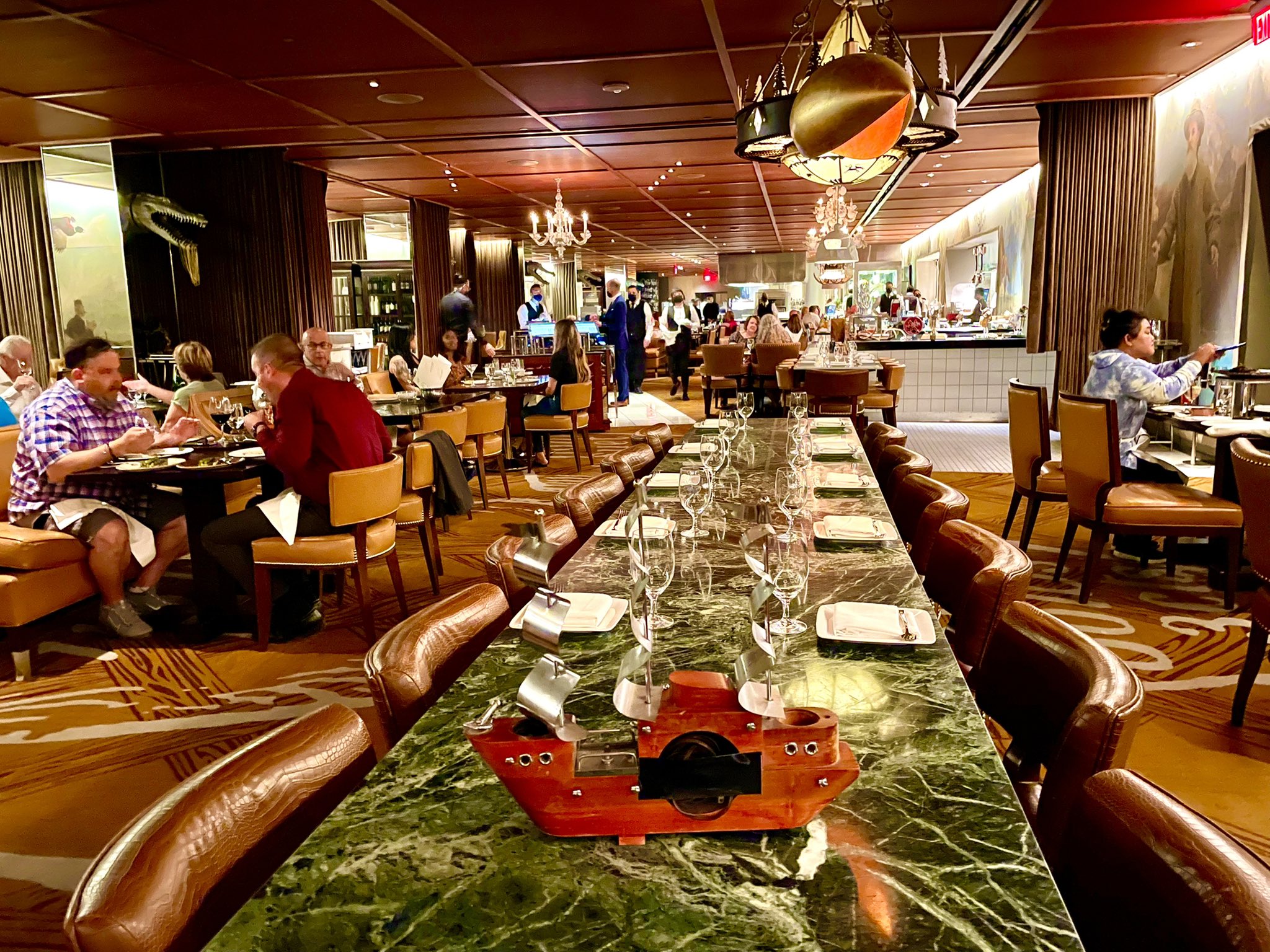 When he isn't out saving the world, José Andrés oversees a galaxy of restaurants that are the envy of every chef in America. He is more of a philanthropist than a working chef these days, but his ThinkFood Group has been running four gorgeous eateries in Las Vegas for over a decade, and their excellence continues to impress, from the molecular ('e' by Jose Andres), to tapas (Jaleo), to the Mexican-Chinese mashup that is China Poblano.
As good as each of these are, the one restaurant that is sui generis and without peer is Bazaar Meat. It is all about meat, of course, but also a tour de force of Iberian cuisine — from the wacky (foie gras cotton candy) to the sassy (chicken croquetas served in a shoe) to the substantial (haunches of some of the best beef on the planet). Calling it a steak house doesn't do it justice, since you can compose a meal here any number of ways — from completely vegetarian to nothing but raw fish — and it is the go-to place in Vegas for all those iterations of Spanish pork.
Spaniards know ham like a Korean knows cabbage, and here you can indulge all your cured meat fantasies like nowhere else. Covid put a crimp in this restaurant's style as it did all up and down the Strip, but Bazaar's bounce-back has been impressive. Even when lay-offs were everywhere and everyone was struggling with seating restrictions, José's showplace soldiered on and thrived in its back corner of the Sahara hotel, enduring more hardship than any gastronomic restaurant deserves, much less one that is easily one of the top ten steakhouses in the country. (Who knows what records it could set if its constantly-in-flux hotel ever gets its act together.)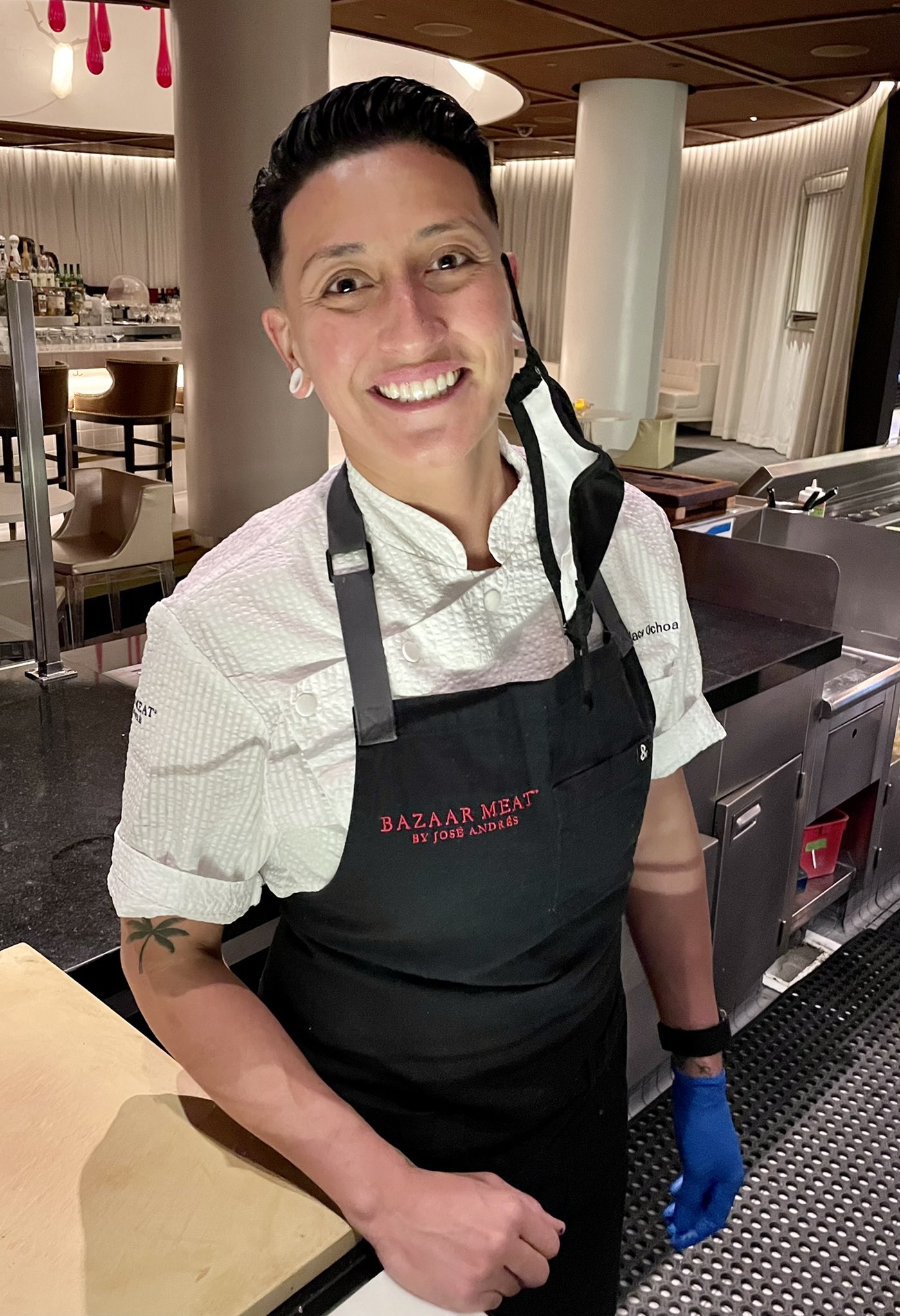 But Bazaar Meat is more than a steakhouse: it is also a wine bar, a ham bar, and a raw bar all under one roof. It announces its brilliance from your first look at the meat locker (behind a wood-fired grill the size of a small truck), and keeps the magnificence going from one course after the next The menu is shorter than it was two years ago, and the wine list is now two pages long, not twenty, but the precise cooking (now headed by veteran executive chef Candace Ochoa), impeccable service and super-sharp management remain intact. Like the entire Strip, Bazaar Meat has weathered quite a storm, and still operates in choppy seas, but through it all, José has kept his Spanish flag flying high.
HALL OF FAME AWARD
Restaurant Guy Savoy
Since opening in May, 2006, Guy Savoy's straight-from-Paris masterpiece, has loomed like a chapel of fine dining over the Las Vegas Strip. Its splendor announces itself from the huge double doors that greet you at the entrance, leading to a dining room with a ceiling reaching even higher, resulting in muted conversations and hushed tones meant to show proper respect to the surroundings and not give offense to the food. The cathedral metaphor is apt since the French treat their cuisine as a religion, and their greatest restaurants (even in offshoot form) are temples of the culinary arts. There are only a handful of restaurants in America where reverential attention is paid to what's on the plate, and Restaurant Guy Savoy, in Caesars Palace, is one of them.
What Guy Savoy meant to our dining scene cannot be overstated: When he arrived with his brigade de cuisine fifteen years ago, it confirmed Las Vegas stature as a world-class dining destination, one that even the supercilious French had brought to their bosom. In planting his flag here, he, along with compatriots Joël Robuchon, and Pierre Gagnaire (two other titans of gastronomy), recognized our tourist industry as an eager market for their impeccable cooking, with a restaurant scene (and talent) on par with much larger cities with much deeper culinary traditions. Even if you have never eaten here or can't imagine doing so, having the world's best in our own backyard created a climate of excellence that raised everyone's eyebrows and standards.
The significance of their arrival was felt for over a decade. International acclaim, national media, food festivals, awards, and other world-renowned chefs followed. Suddenly, people from all over the world were coming here just to eat, and our very own French Revolution from 2005-2009 was the reason for it. Savoy's influence has been unmistakable, but what garners him Hall of Fame status is doing it so well for so long. Through the Great Recession and now a pandemic, this dining room has never faltered, turning out food very close to what you will find in France, albeit without the cost of a round-trip plane ticket. When everyone was still on their heels from shutdowns in mid-2020, Caesars Palace made the bold move to reopen this dining room, and was rewarded with an avalanche of reservations — pent-up demand for one of Las Vegas's most expensive meals — cooking that sets a world standard, the ultimate haute cuisine experience, from one of the world's greatest chefs — proving how important this restaurant has been, and will continue to be, to Las Vegas's culinary reputation.
RESTAURANT OF THE YEAR
Cipriani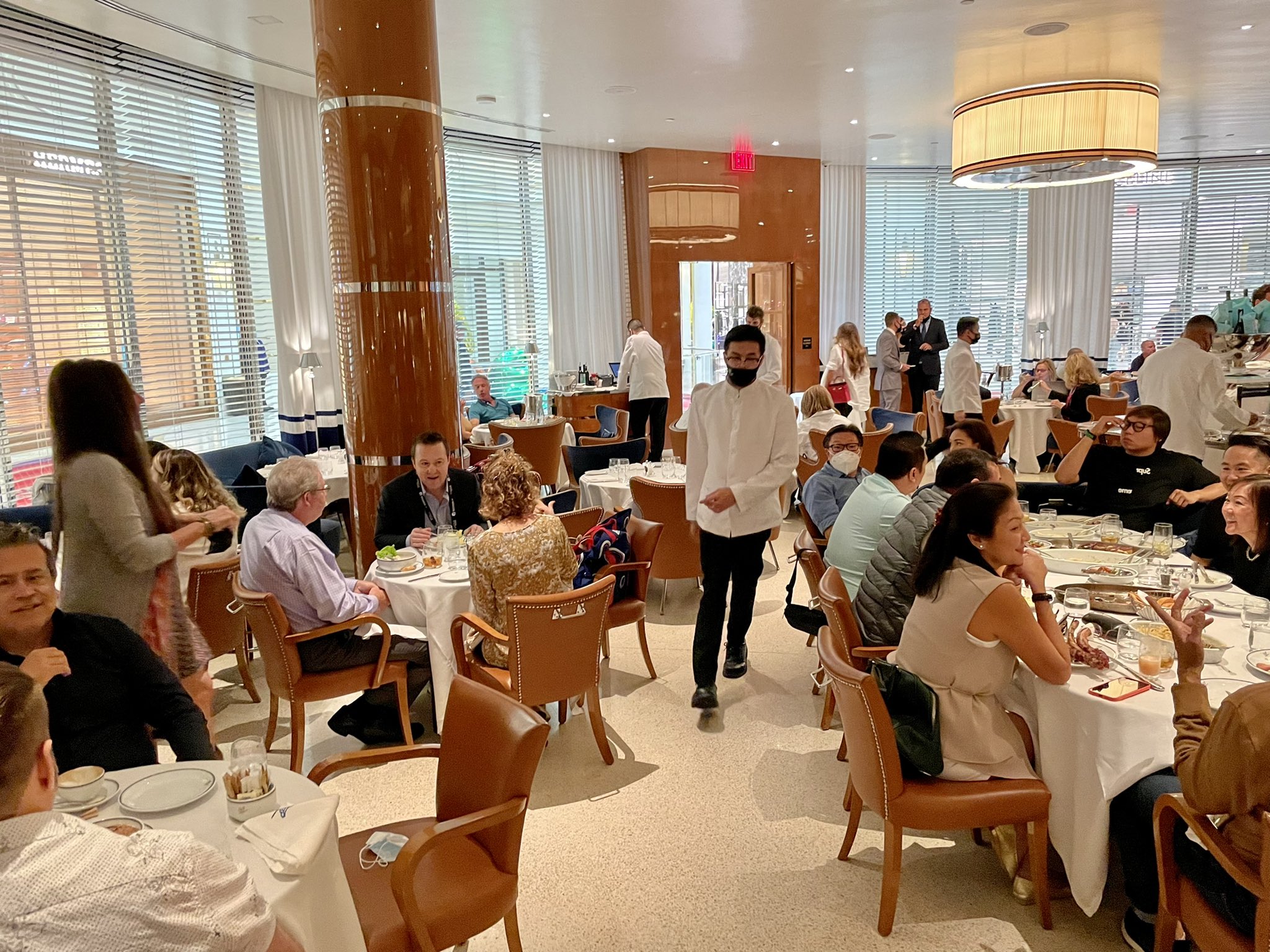 Cipriani is neither new nor cutting edge nor unique to Las Vegas. Nevertheless, it represents something very special to our restaurant scene: an outpost of a luxury brand displaying a style of dining that seemed in danger of extinction just a few years ago. In an era overrun with casual gastropubs, a retro-chic restaurant trading in classic Venetian recipes might have seemed as out of place as Dolce & Gabbana at a beer bash. But open it did, in late 2018, appealing to locals and tourists alike looking for something more refined than formulaic Italian. Then Covid hit, and Cipriani (pronuounced CHEEP-ree-ah-nee), became more than just a restaurant — it was a lifeboat and a beacon to all seeking a good meal on the Strip — a lunch and dinner stalwart, open every day, keeping hopes alive that Las Vegas might yet return to its former glory.
For a restaurant tracing its origins to 1931, the cuisine is remarkably timeless: simple, sophisticated northern fare with nary a garlic clove in sight. In place of tomato sauce and cheese you get refinement: top-shelf salumi, carpaccio (invented by founder Giuseppe Cipriani in 1933), spoon-tender baby artichokes, baked tagliolini with ham, and pastas in celebration of rich noodles, not in disguise of them. The unsung heroes of the menu are the meats (including the elusive fegato alla Veneziana – a liver dish so coveted by organ eaters it is almost mythical), pizzas (expensive but worth it), and vanilla gelato so good it ought to come with a warning label: "in case of addiction, don't say we didn't warn you."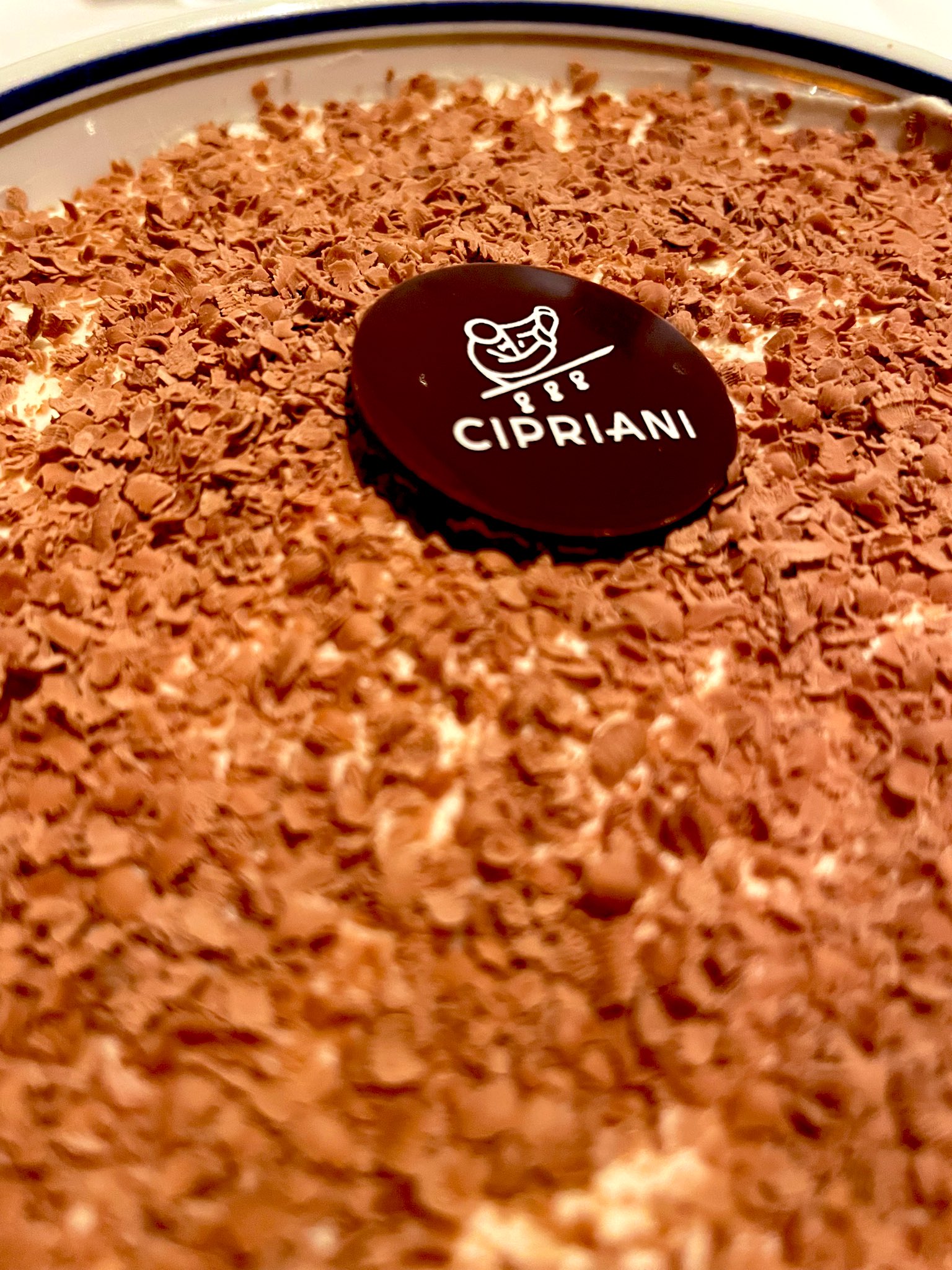 And then there is the service: snappy barkeeps (always ready with a Bellini), crackerjack waiters, and sharply-dressed managers, all at the top of their game. The staff does everything from cosseting celebrities (yes, that was Jay-Z and Beyoncé making an entrance) to boning fish, dividing up desserts, and speaking multiple languages (the Cipriani brand is huge with international gastronomes). Here it all flows effortlessly — old school attentiveness, done with understated flair in synchronicity with the posh surroundings.
More than anything else, this ristorante signifies a return to a time when atmosphere and elegance went knife and fork with good food. When classic cooking was the rule, and meals were something to be celebrated with family and friends in high style. Everything old is new again, the saying goes, and Cipriani is taking us back to the future with the most stylish Italian in town.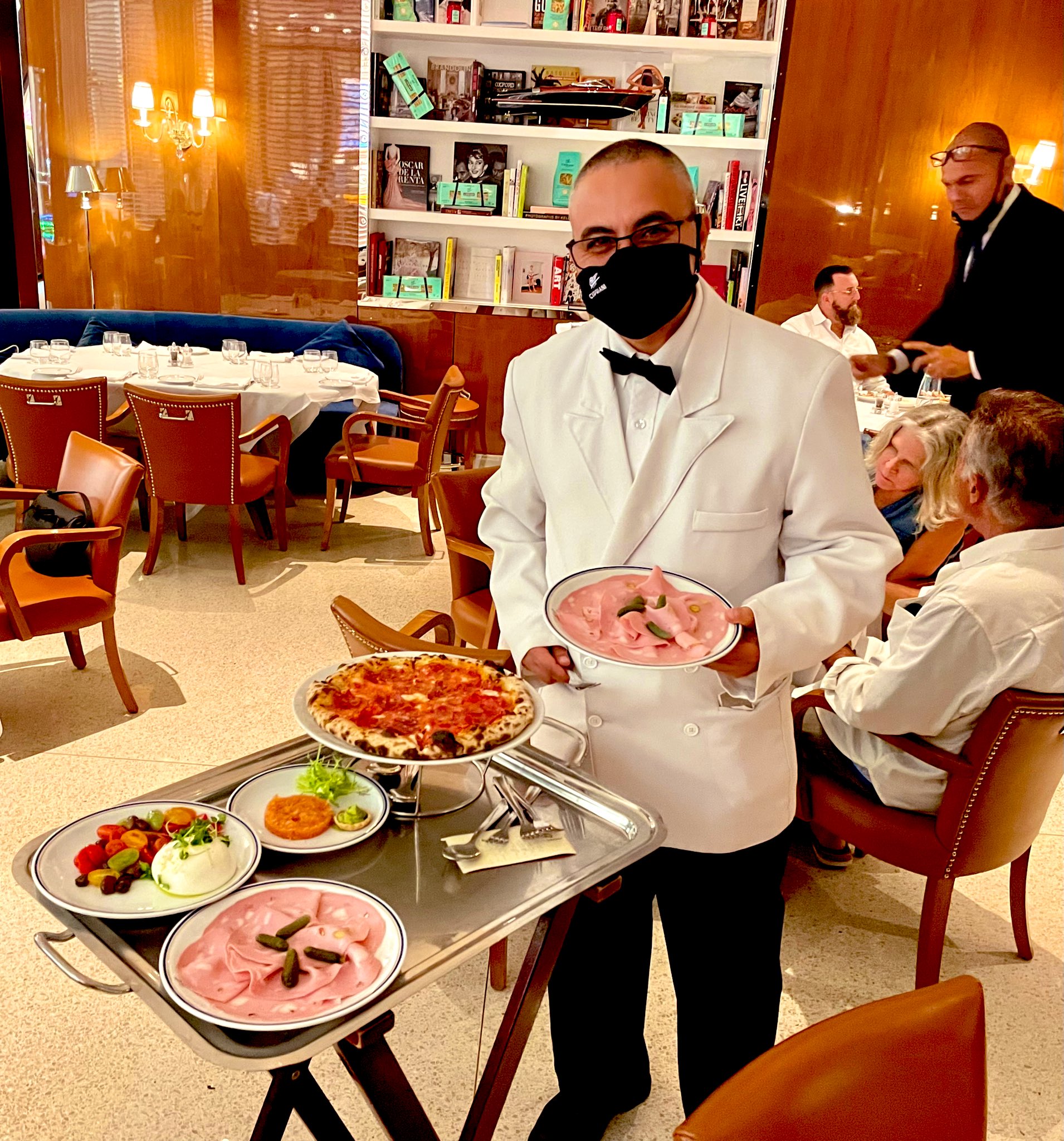 Vincenzo il Grande