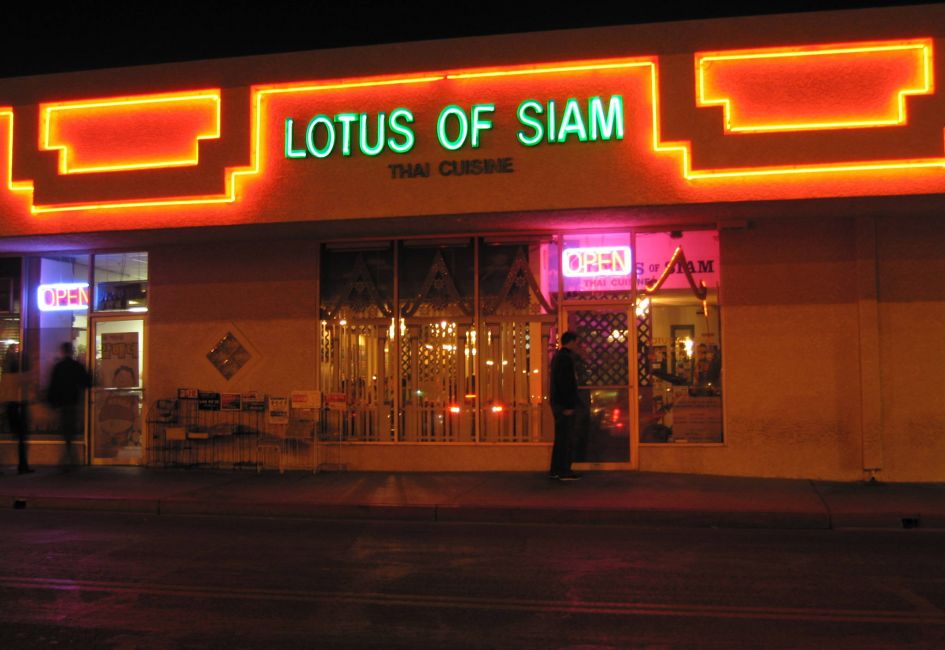 LOTUS OF SIAM TO REMAIN CLOSED FOR MONTHS
A botched roof repair job, a negligent landlord, and a fairly typical late summer rain provided the perfect storm for a major roof collapse at Lotus of Siam last Friday night. Because of it, Las Vegas's most venerable (and internationally famous) Thai restaurant will remain shuttered for a least the next three months.
When reached for comment, Penny Chutima, the general manager of Lotus, said that the landlord, Mark Kaufman, had begun repairs weeks before the fateful rainstorm, but that the roofing contractors were unlicensed, uncoordinated and unfit for the job. "They never coordinated with each other or the businesses in the (Commercial) Center about what they were doing," Chutima said. "They tore up entire sections of the roof, leaving bare wood and the structure exposed. When I asked about it (because rain was in the forecast), they only tarped my hood ventilation system. "
Chutima then posted on Facebook: "I was forced to go up onto the roof to try to sweep the water away to protect my customers, but it wasn't enough."
According to Chutima, she became concerned about the pending rainstorms last week, but got no response from Kaufman, right up until the time "I (had) a legit waterfall in my restaurant."
With severe damage to both the dining room and kitchen, the operation won't be back on line "…at least for a few months," says Chutima. Until then, she anticipates continuing issues with her landlord, but the business has taken steps to repair the roof and water damage itself, rather than continuing to fight with Kaufman about things that should've been repaired months ago.
Interestingly, Chutima's and Lotus's Facebook pages were filled with loyal customers and fans expressing sympathy, but also more than a few comments decrying the location of the restaurant as a "dump," and "borderline dangerous," with entreaties to the Chutima family to find a new location for their iconic restaurant.
The Chutima family (which won a James Beard award in 2011) expressed loyalty to both their employees and the neighborhood: "We've been here since November 1, 1999," said Chutima. "I support this neighborhood because there are many working families who want a job than can get…a house (and) most of them live on this side of town."
In the meantime, Chutima, her chef mother Saipin, and her wine-collecting dad Bill, are looking for a temporary location to continue serving what many believe is the best Thai food in America alongside one of the great wine lists of the world.