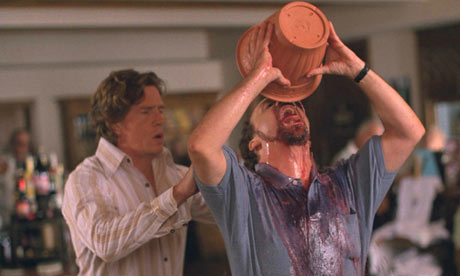 Dear ELV,
One of my first great dining experiences was with my father at Picasso in 1998, and it remains one of the best meals of my life. I've returned to Las Vegas dozens of times since then, first for the innumerable temptations your city offers a young man and, as I've aged, increasingly for the food.
I believe any frequent visitor to Las Vegas understands and accepts there is a surcharge for the fun. The games favor the house, "complimentary" wi-fi is $25, and food will cost a bit more than back home, even if home is New York or Chicago. What the visitor gets in return, especially folks like me who live as far from New York and Chicago as Las Vegas, is unparalleled access to things like gourmet restaurants. It's a long, long shot that I could get a seat at Marea, Daniel Boulud, and Per Se on back-to-back-to-back nights, but I can eat at Guy Savoy, Twist, and Sage on any given trip.
All this (and this is the toughest part to express), and I can live the fantasy of being a bit more sophisticated, a bit better looking, a bit cooler than I am. Your city does a great job of fostering this fantasy, despite the porn slappers, drunks, et al. All I have to do is pony up a little bit more cash than I'm accustomed to, but nothing too extreme (I'm omitting bottle service, as I missed that boat by about a decade), and I can half-believe I'm Danny Ocean.
That brings me to wine lists and wine prices in Las Vegas. Your recent photo of pinot noirs offered at DB Brasserie struck a nerve. I have been snapped out of my fantasy time and time again by the markups on wine. While I am confident I can't prepare anything on L'Atelier de Joel Robuchon's menu and am happy to pay for the experience, I'm equally confident I can pick up a bottle of almost any wine I recognize for 1/3 to a 1/4 of what it's listed at in most LV restaurants. I have yet to visit a city whose restaurants charge a higher wine markup. Despite my best efforts, I feel like a sucker, then a cheapskate for flipping to wines by the glass. More and more, I just drink good beer and order more food, but a part of me is invariably disappointed.
I have had a few really good experiences with Las Vegas sommeliers, and I've returned to their restaurants many times. I've also had several experiences that left me convinced that the wine prices are the way they are because conventioneers and whales will pay those prices whether they know any better or not.
Mostly I'm frustrated that I don't get to enjoy the full fine dining experience. I'm also a little angry that a place that markets itself to gourmands doesn't recognize — or doesn't care — that those same diners will see how much a familiar wine costs and will instantly feel like dupes. Bring the markup more in line with what you'd find in other dining destinations, and folks like me would spend a lot more in your restaurants. Plus we'd get to keep living the dream, at least until we hit the security line at McCarran.
Best,
Averse to Alcohol Avariciousness Andy
ELV responds:
Dear AA x 2,
We at ELV feel your pain. We have railed on for years (decades now) about the gouging that goes on on Las Vegas (Strip) wine lists. To be totally (un)fair about it, those outrageous tariffs mirror the food prices — which demand the diner bend over and like it, without even the common courtesy of a reach-around.

(As luck would have it, we were reading your letter the other day at Palm (hardly the most expensive place in town), and almost on cue the wine list was placed before us. Right there under the $14 glasses of chardonnay, sat Santa Margherita Pinot Grigio…for $78 bottle! This, for a bottle that retails for twenty one dollars and probably cost the restaurant ten.)
And Palm is hardly the worst offender.  When ELV first started writing about restaurants — back in the Pleistocene era — the rule of thumb for restaurants pricing their wines was 2.5x's retail or 3x's wholesale. These days, triple the retail cost is the norm, with many places shamelessly pricing their wines at four times that….which represents a 500+% markup over what they paid for the bottle.
We must add that all of this gouging is unique to the Las Vegas Strip. No place else in America (probably the world) inflates their bottle prices like we do — all in order to hit the tourist/conventioneer/high roller as hard as possible during the 3.5 days they stay here. Part of this can be explained by the arcane comp rules which casinos use to seduce their players. It behooves them to have that guest use up his freebies quickly — and what better way than saying he received $1,000 worth of wine that can be bought anywhere else in America for $300.
That's also why you see so many expensive watch and jewelry stores in casinos — places also known for their insane markups. (ELV has had a casino accountant explain the principles and bookkeeping behind these kabuki dances of greed between casinos and their customers, but it always makes his head hurt.)
Over the years, we have discussed these issues with many a wine professional in our humble burg. Their reactions run the gamut from a "we charge what the market will bear" shrug to straight up "our prices aren't any worse than New York's or L.A.'s" defensiveness. No one ever wants to address the underlying philosophy of why restaurants (especially one's not paying actual rent – like the ones in the Bellagio or Caesars) feel compelled to price a pre-made beverage so far out of so many people's reach.*
The best explanation came to us from a sommelier at one of our tonier restaurants: "For every 3 or 4 parties that come in and order by the glass (presumably because they balk at paying $150 for a $40 bottle of wine)," he told us,  "some bigshot will drop a couple of grand on three bottles and more than make up for it."
We know these explanations won't exactly ease the hurt, but at least now you know why you will only find us paying for bottles of wine at Chada Thai, Lotus of Siam, and Marche Bacchus.
Oenophilically yours,
ELV
>>>>>>>>>>>>>>>>>>>>>><<<<<<<<<<<<<<<
* We hope the Millennial Generation will put a stop to all the snobby falderol that has kept wine priced as a luxury item to the Baby Boomers for the past 30 years. Once we boomers start kicking the bucket, there's going to be a lot of  fermented grape juice on the shelves which will need to be priced to sell….instead of show off.